Hey there! Some links on this page are affiliate links which means that, if you choose to make a purchase, I may earn a small commission at no extra cost to you. I greatly appreciate your support!
This post shows you 30 stunning bedroom ideas with dark-colored walls.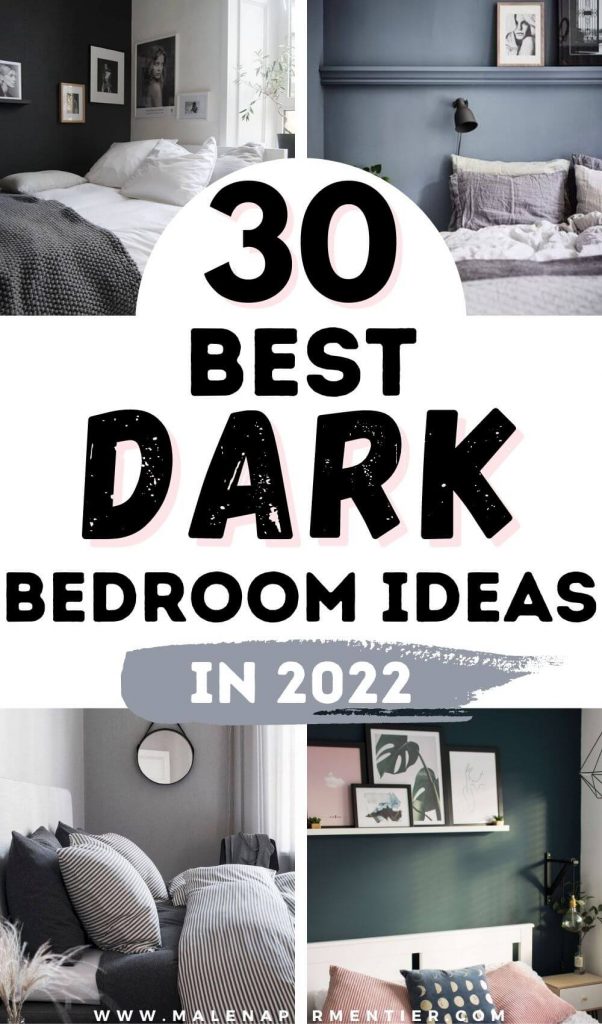 Dark bedrooms are cozy, stylish, and modern.
Go for an accent wall, paint all your bedroom walls charcoal gray, or choose a calming green-painted wall instead.
The options for implementing dark colors in your bedroom are genuinely endless.
This post will stimulate your creative juices to revamp your bedroom and perhaps paint a wall black.
People often worry that bedrooms with dark walls look too… well, dark.
But think again! There are many subtle ways to use dark paint colors in your bedrooms.
Don't take my word for it; let's look at these great examples of making accent walls in your bedroom and the best ways to implement dark colors.
These bedrooms mix elegant, timeless, minimalist, cozy, and modern aesthetics.
So whatever interior style you're going for, you'll find designs that fit your taste.
Dark bedroom ideas [Modern & Cozy]
1. Dark cozy bedroom

Paint the wall behind your bed black while leaving the rest white.
A black wall gives your bed a cozy and shielded feel. Pick light-colored furniture, and hang a floating shelf over your bed.
The art pops with the dark backdrop. This is one of my favorites for the best dark bedroom ideas!
2. Gray accent wall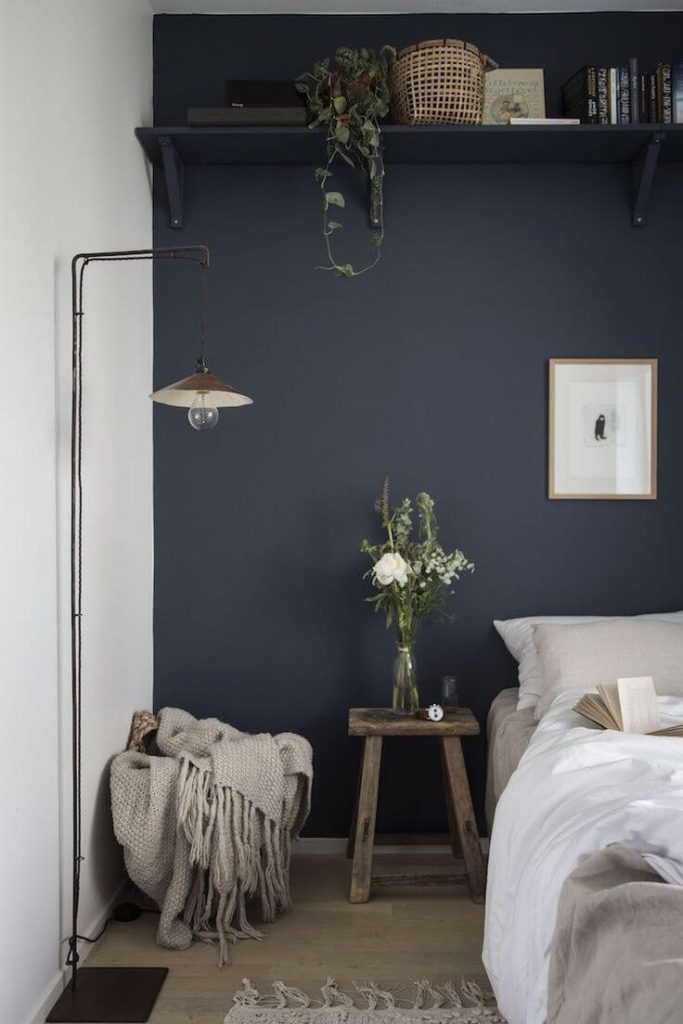 Charcoal gray is an excellent choice if you're going for a dark accent wall in your bedroom.
It looks great with white, rustic details and neutrals. Plus, it's not as contrasting as a full-on black wall.
Also, I love this floating shelf idea near the ceiling.
I've seen this trick used in small bedrooms to create extra storage space, and I love it.
Use cute baskets and decor to make this shelf elevate your room.
3. Dark green bedroom wall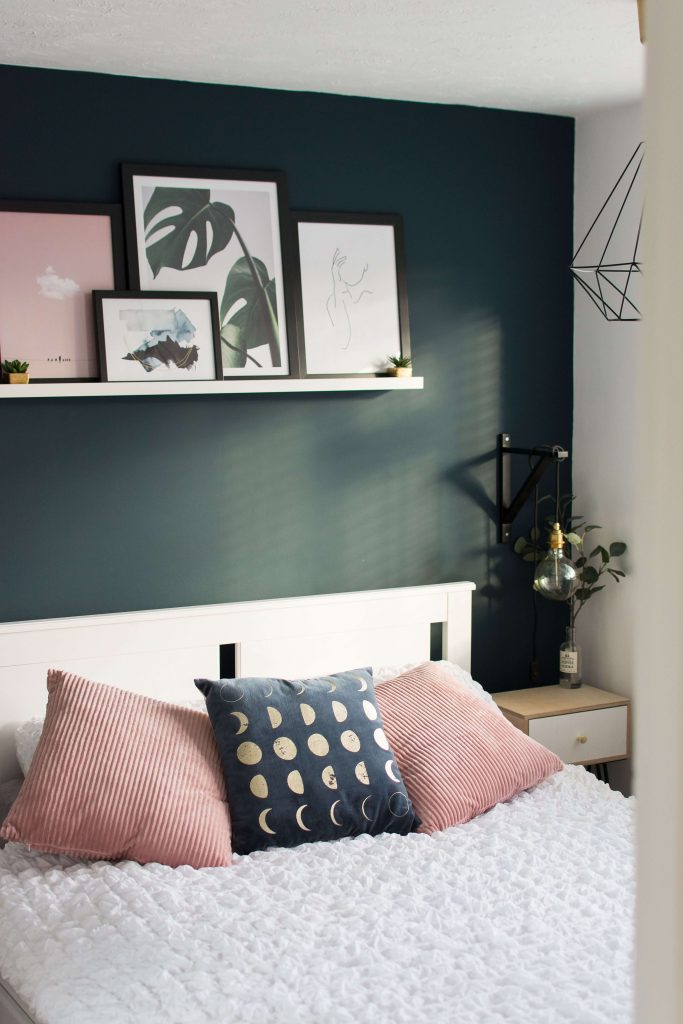 Green is one of my favorite colors because it feels grounding and calm!
That's exactly the atmosphere you'll want in your bedroom.
This cozy and modern bedroom combines green with neutrals and a pop of pink.
The leafy prints and vases on the nightstand are also an excellent touch.
4. Minimalist bedroom with gray walls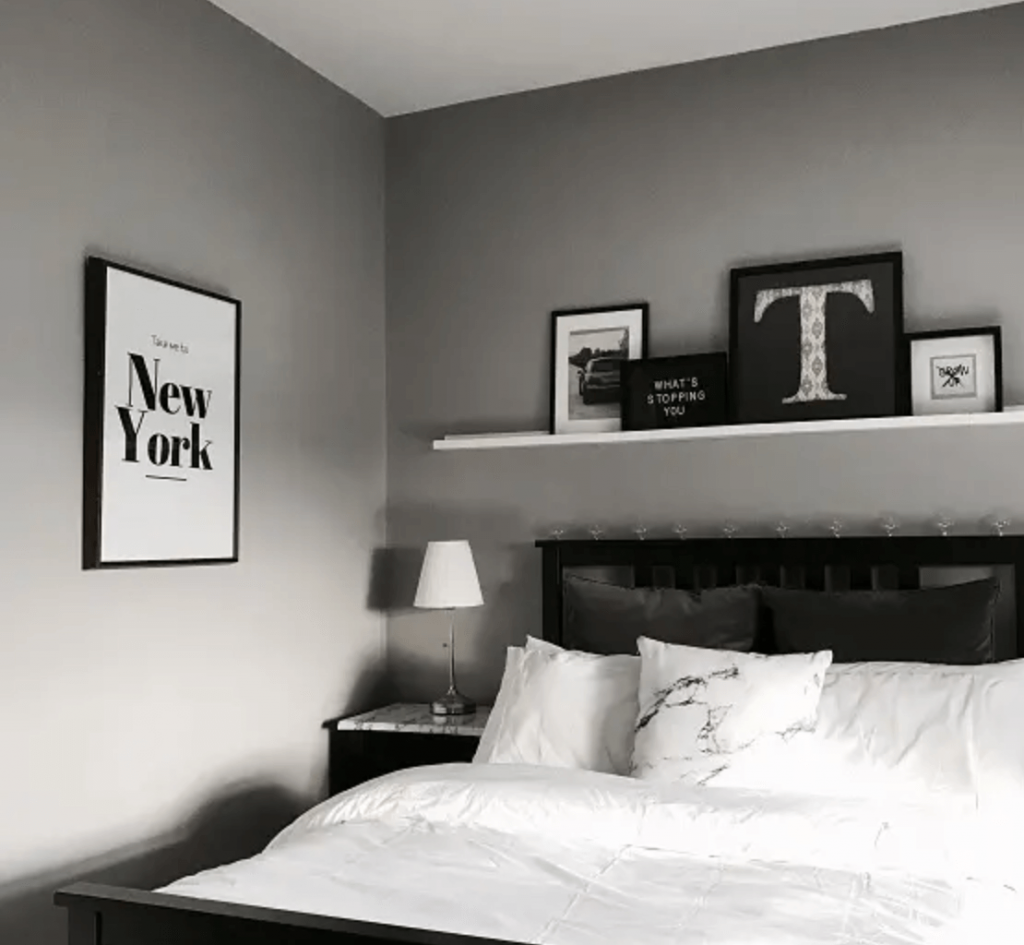 Gray or light gray is a great accent wall choice if you're going for a super minimalist and monochrome bedroom interior style.
The first choice for a minimalist room is usually white walls, but this bedroom proves that a gray-painted wall is an excellent choice!
It also visually pulls the space together without making the room look small.
5. Charcoal gray accent wall in bedroom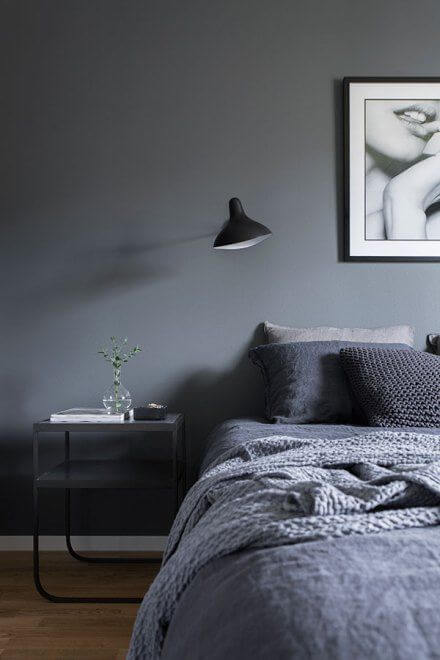 Go for a bedroom color scheme with lots of gray shades.
This looks super luxurious and cozy! Pick the right color, gray for your walls, and then be super playful regarding your duvet covers, throw blankets, and pillows.
Opt for different textures, fabrics, and gray tones to create the luxurious feel of this bedroom.
6. Dark walls and wall art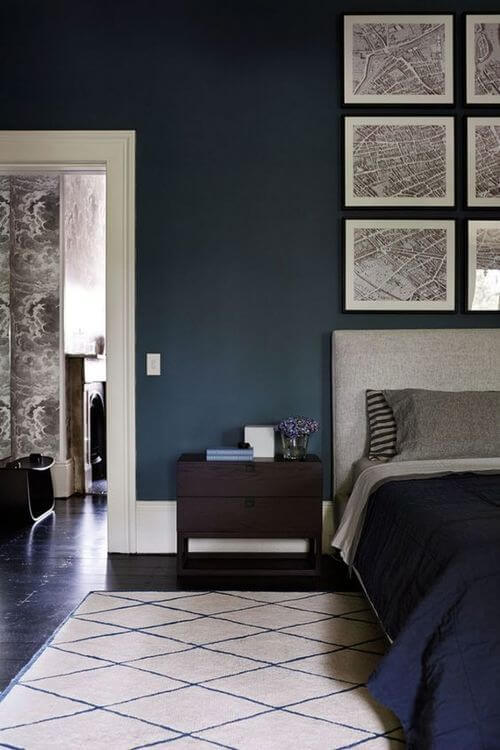 A dark accent wall + art = such a powerful combo!
As I mentioned earlier, art pops on a dark wall.
Pick art in lighter colors to take advantage of this aesthetic combo.
The painted wall in this room is a mix of blue and gray, bringing warmth and coziness to a modern space.
7. Elegant dark bedroom with navy walls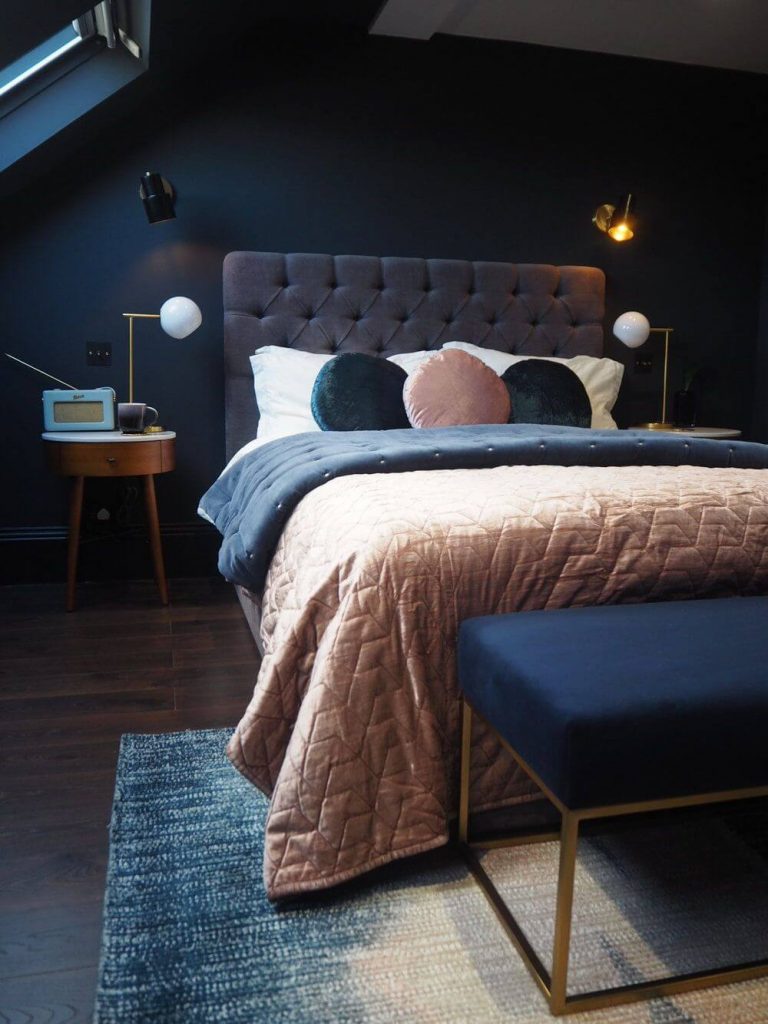 Consider mixing navy blue and dusty pink if you like an elegant bedroom!
Add in some furniture and decor with gold hardware, and you've nailed the elegant interior aesthetic.
A color scheme like this looks cozy and inviting for a bedroom.
8. Dark bedroom with picture ledge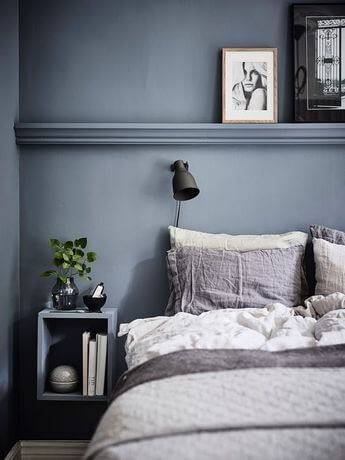 I love this minimalist but warm space! Light blue-gray, neutrals, and industrial details are a beautiful mix to recreate in your space.
The picture ledge over the bed is a great spot to place art and gives the space depth and interestingness.
9. Earthy green wooden panels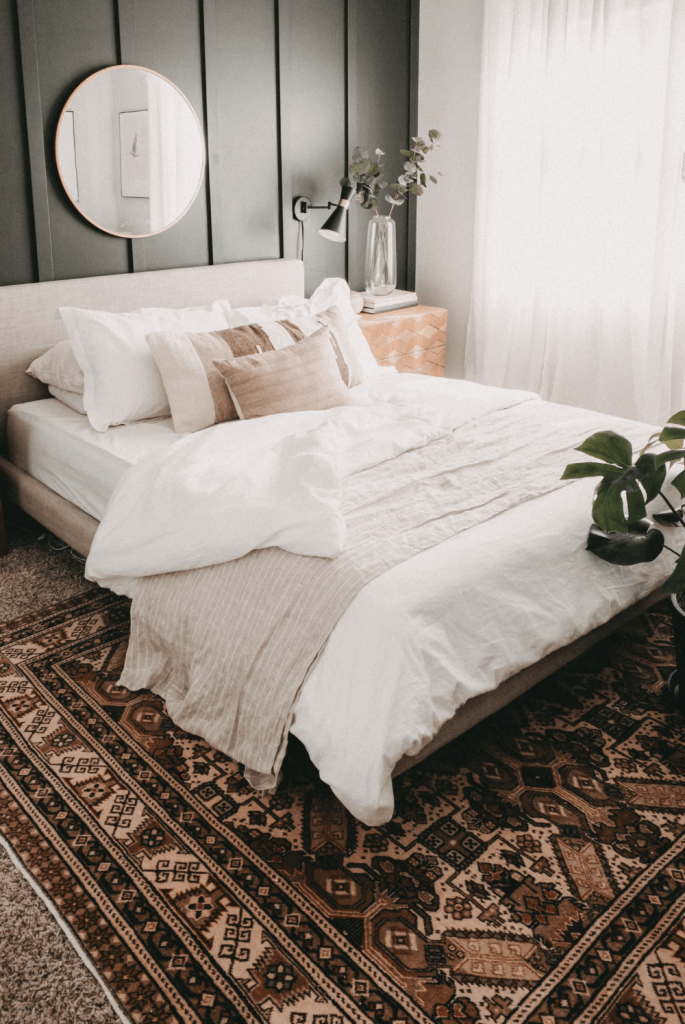 Instead of a painted dark wall, you can add texture with wooden panels.
I love this idea, but it's a more advanced DIY!
A beautiful but simple touch is the clear white vase with eucalyptus stems.
10. Black bedroom wall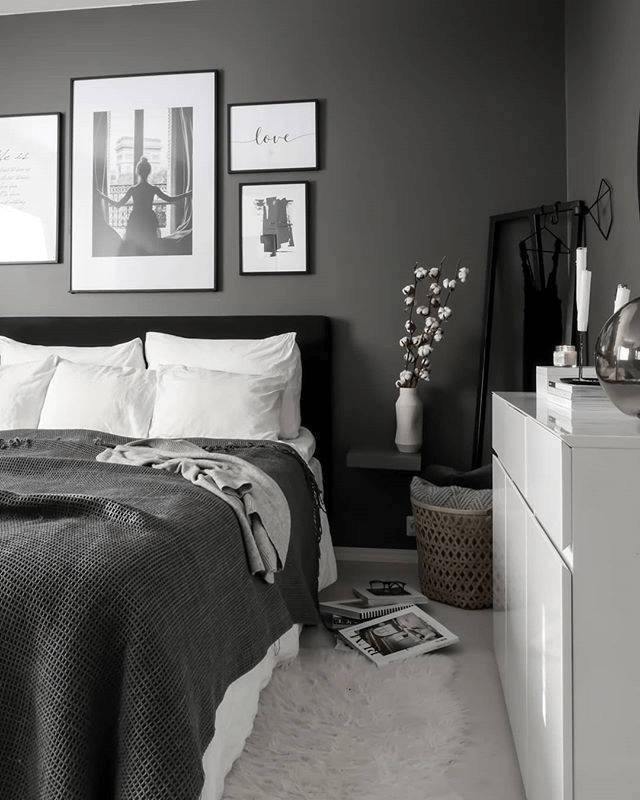 This room proves that a black and white bedroom can also look cozy and inviting!
Let your bedroom wall color come back in your duvet cover, furniture, or decor.
11. Moody dark bedroom with industrial accents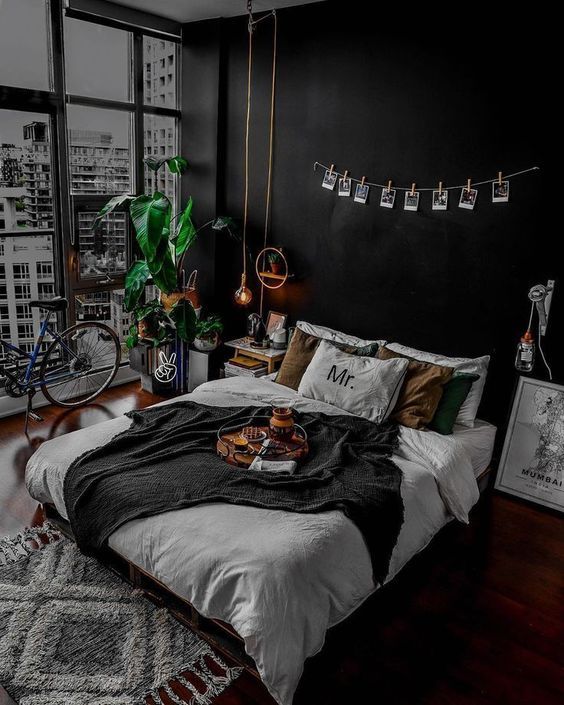 Gosh, how cool is this room? I love this idea for a small New York studio apartment.
Especially if you have large windows, you can get away with using a dark wall in your apartment.
It adds depth to your space and is an excellent choice if you like rustic and eclectic apartment decor.
12. Dark accent wall over bed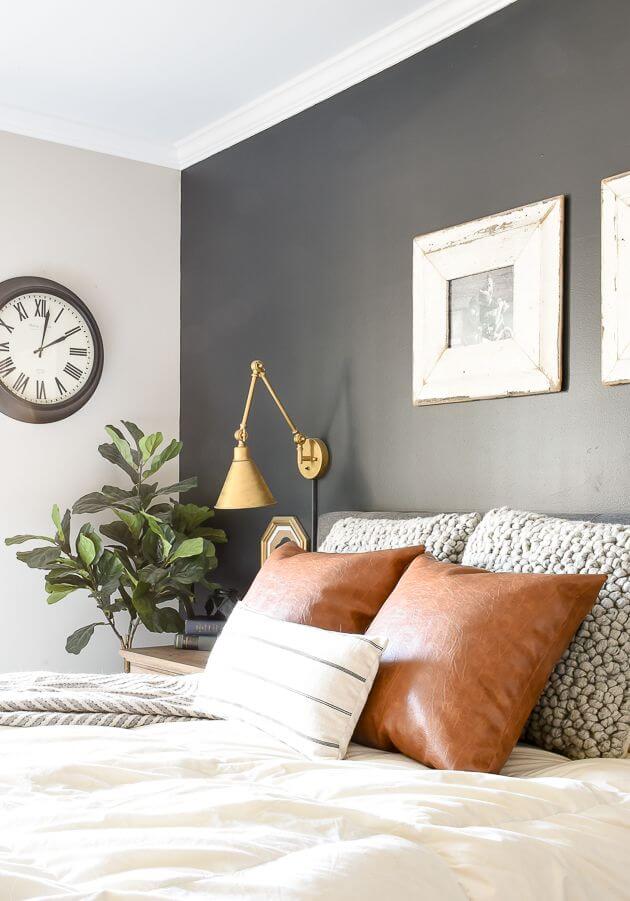 Dark accent walls don't have to make your space look small or cramped!
This light-filled and cozy room shows how a dark wall can perfectly balance a bedroom with neutrals and boho accents.
13. Eclectic bedroom with dark walls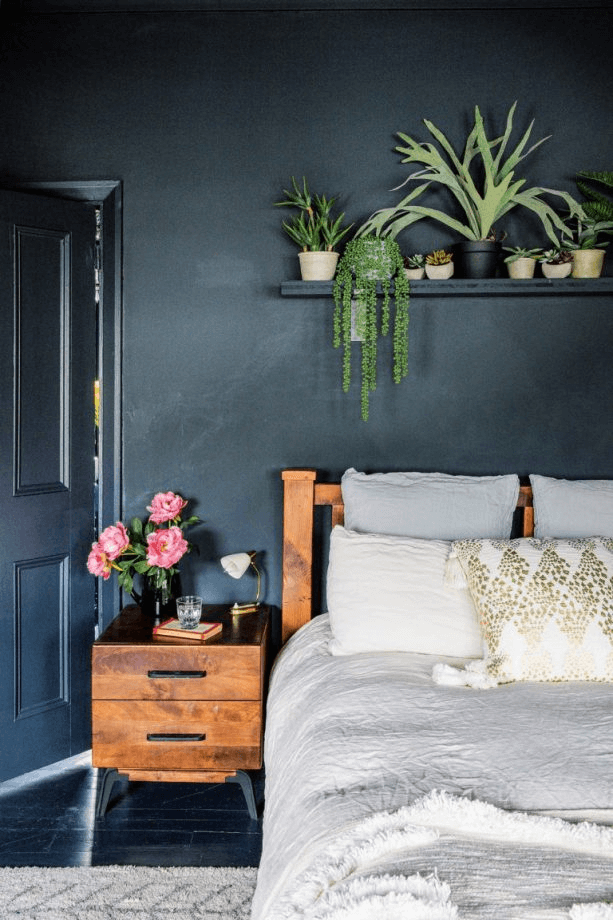 This eclectic room shows how to mix botanical and rustic elements in a space with dark walls.
Once again, loving the floating shelf above the bed idea!
A great little spot to place meaningful decor and a few small plants.
14. Black accent wall in a Scandinavian bedroom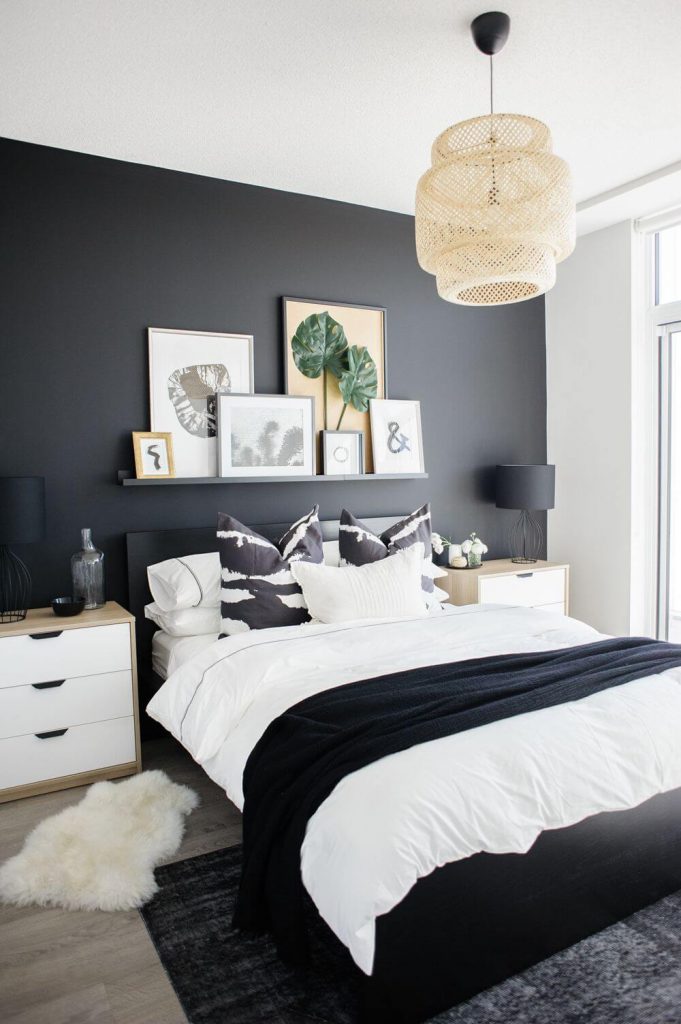 Scandinavian interiors are typically known for their focus on white.
But his room shows you that a black wall is a great way to spice up a nordic interior.
You can combine a black wall with a black floating shelf and dark accents like a rug and a throw blanket on the bed.
Also, how cool is that leaf art on the shelf?
15. Blue walls in the bedroom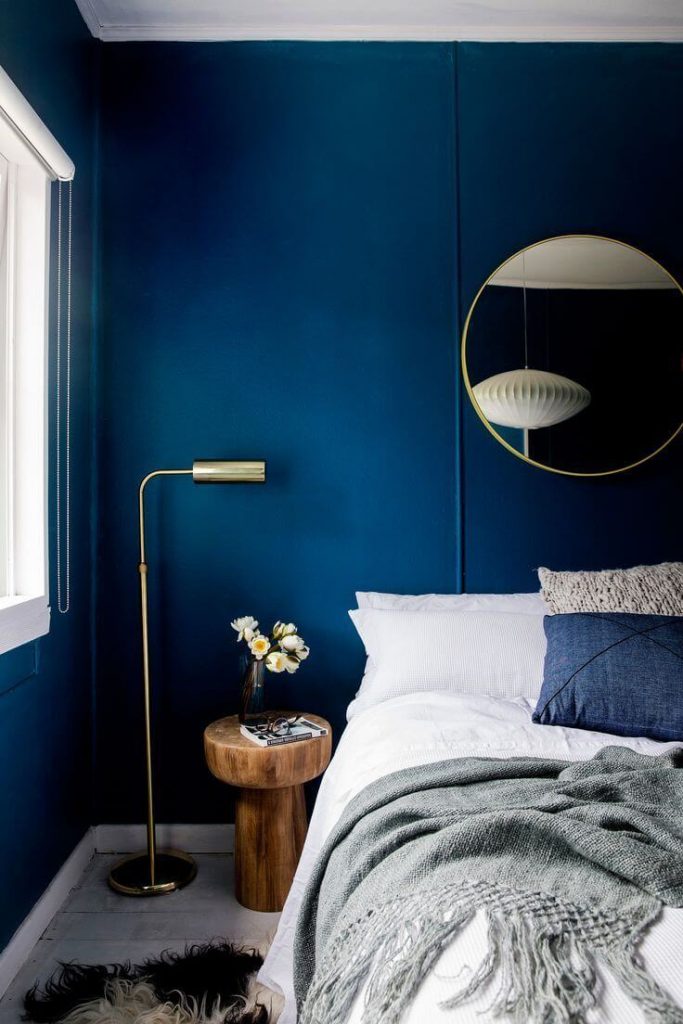 Blue is a great bedroom color! This blue color looks unique with gold hardware and wood.
Keep your ceiling white to create a beautifully balanced look.
Not everyone likes having a mirror over their bed because of feng shui, but it looks so good in this room!
16. Monochrome bedroom decor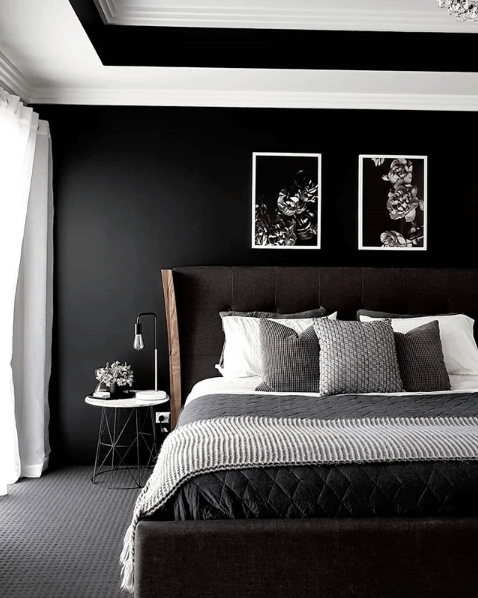 This room is another great example of how to pull off a monochrome color scheme in a bedroom!
Things like wood and art soften dark colors and make the room feel inviting and warm.
17. Black paneled accent wall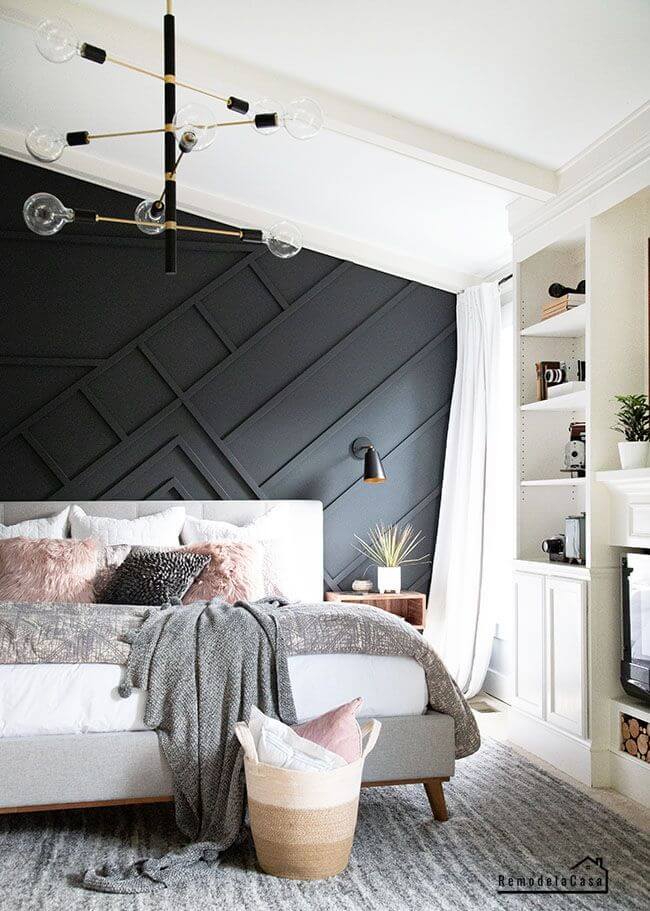 Doing research for this post about dark bedroom ideas helped me have a soft spot for wooden panels behind the bed in a dark color!
I love how creative the shapes of these panels are. This is a great idea if you have high bedroom ceilings and want to give your space character and depth.
This idea would also work in living rooms!
18. Small dark bedroom ideas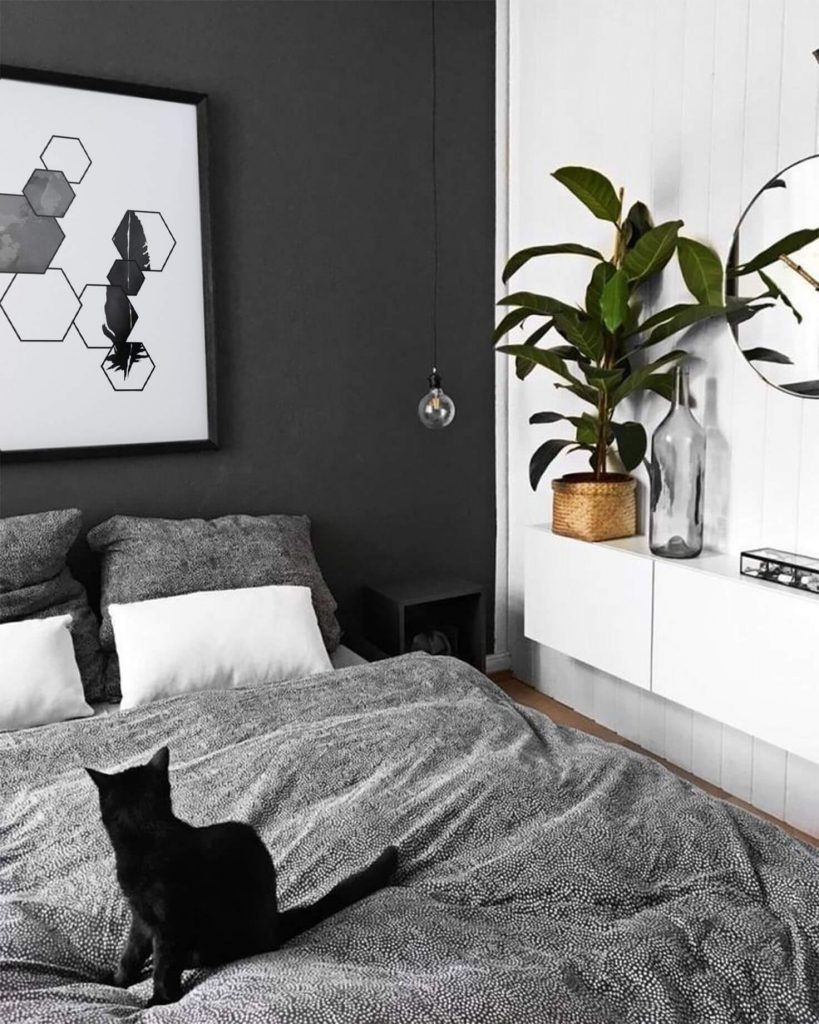 Yes, dark walls are also great in small bedrooms! As long as you pair a dark bedroom wall with white furniture and light accents.
The wall behind your bed is the most popular spot to implement an accent wall.
This pulls the space together and lets you play around with different colors.
19. Feminine bedroom with dark wall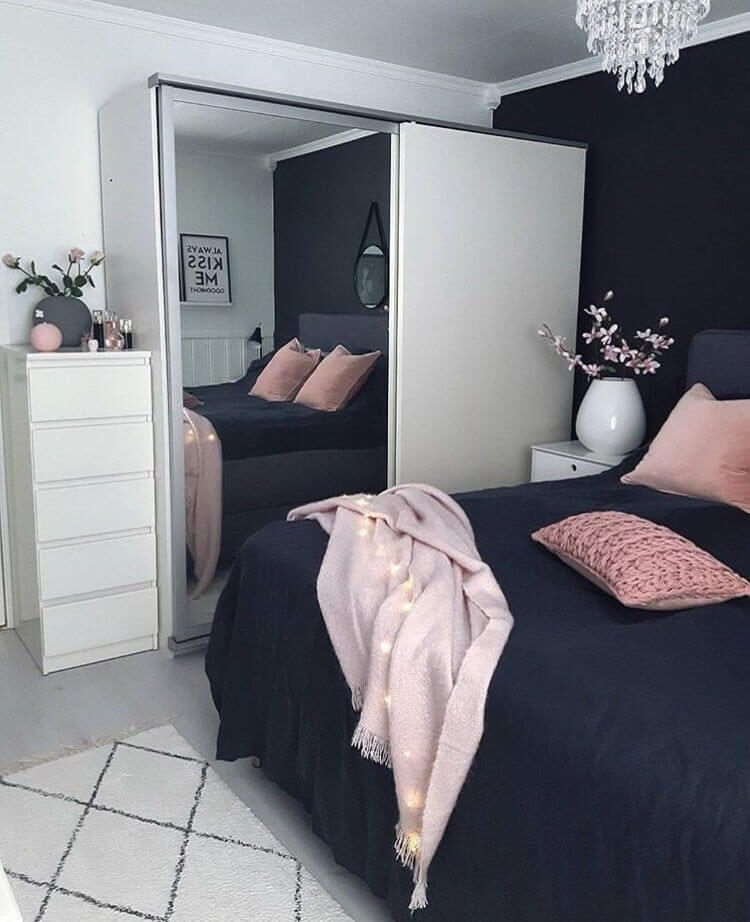 Pulling off dark walls is easy if you're going for a feminine aesthetic in your bedroom!
Soft shades of pink and neutrals look great with black, dark gray, or midnight blue.
20. Dark bedroom color scheme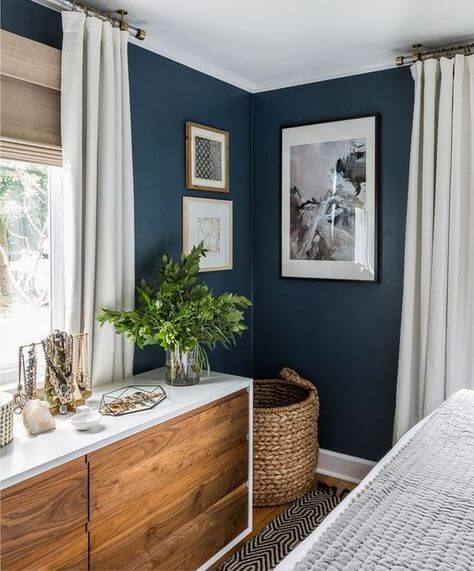 This room shows how to pull off a dark wall in a bedroom corner alongside natural wood, botanical elements, and luxurious neutrals.
Especially if you're looking to hang art or create a small gallery wall in your room, a dark wall is worth considering.
21. Dark peel-and-stick wallpaper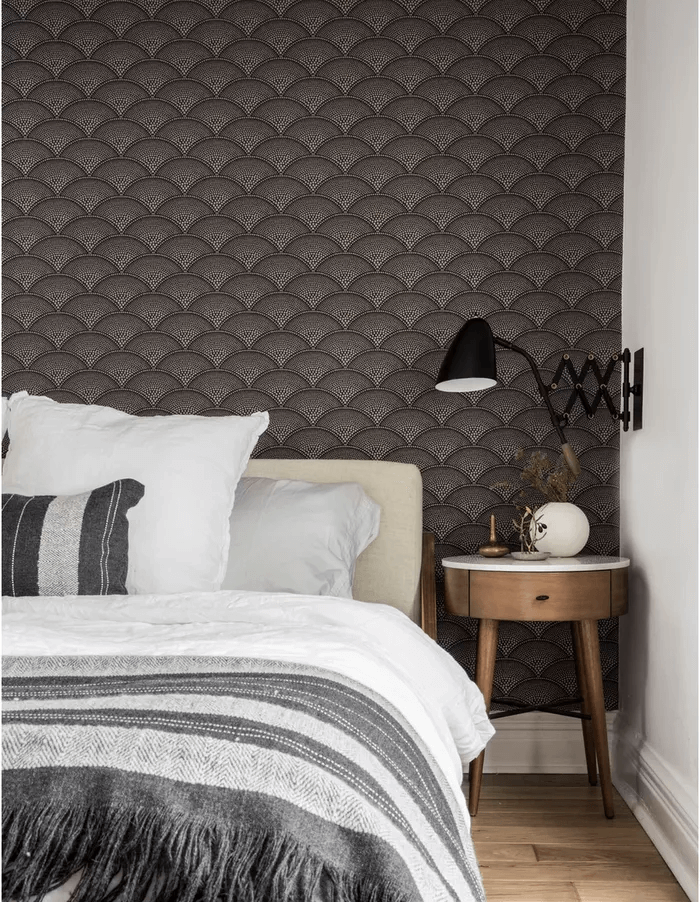 Do you love this wallpaper print? It's called mosaic scallop!

Don't feel like painting a wall? You can also create a dark accent with peel-and-stick wallpaper in your bedroom.
The easy thing about this wallpaper is that you can easily remove it if you live in a rental.
Peel and stick wallpaper is inexpensive, so it offers an excellent opportunity to go for a print or pattern that's a little daring and fun.
22. Gray walls & minimalist art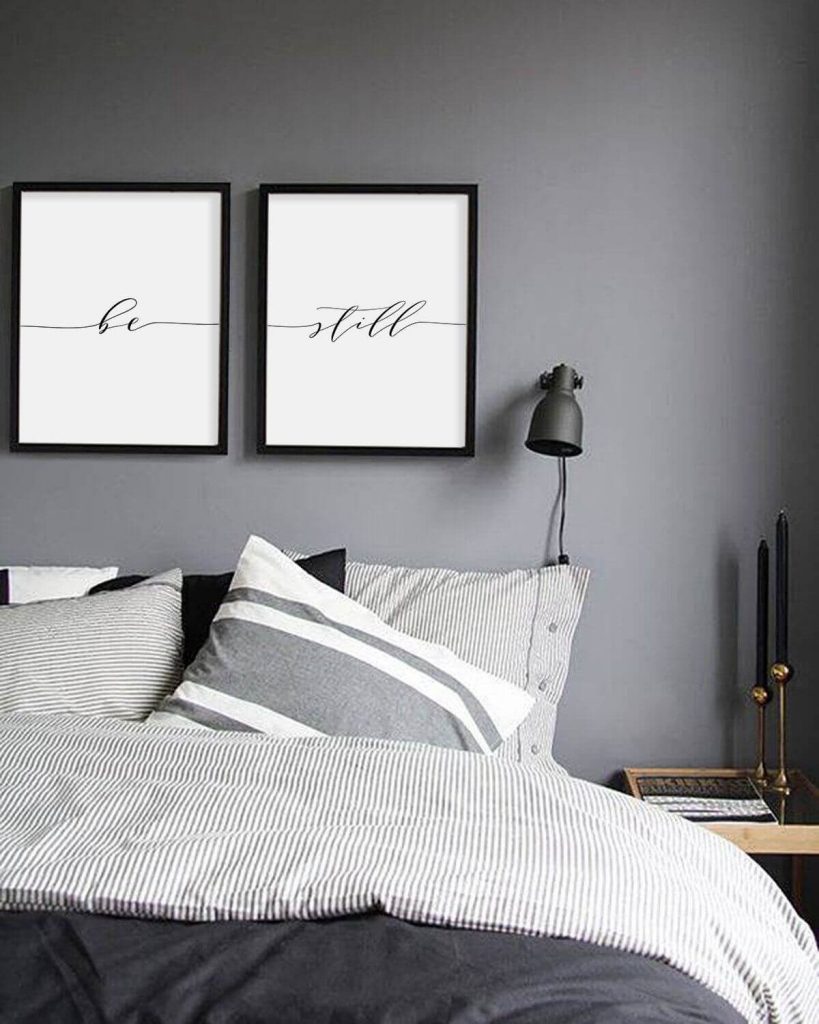 I love this minimalist art on a gray wall backdrop.
Place frames close enough together over your bed to make everything feel put together and aesthetically pleasing.
23. Color scheme for dark bedroom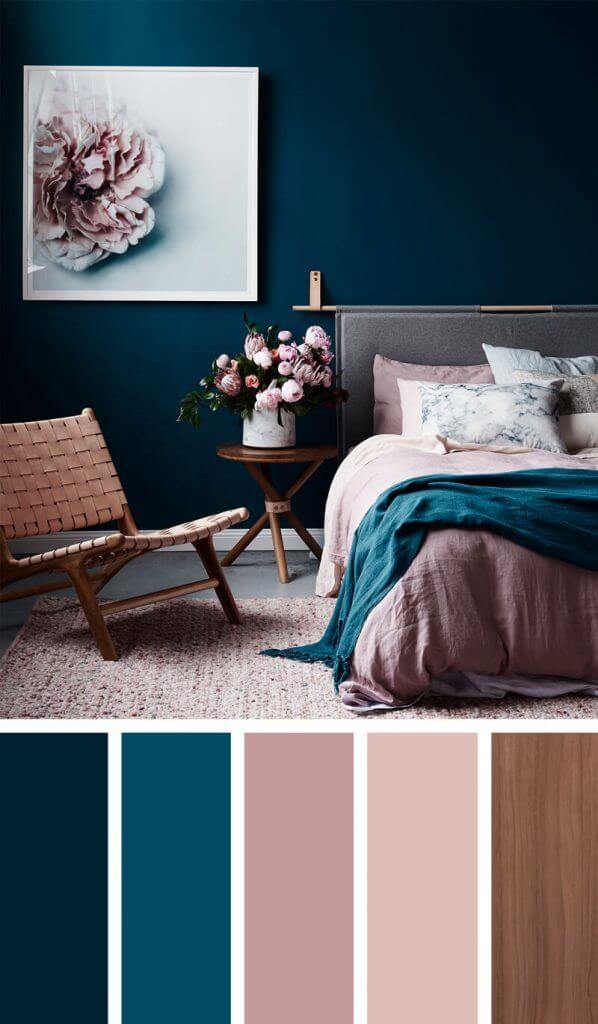 This is such a cool color scheme! Dusty pinks and pastels are versatile and look great with dark bedroom walls.
Add natural elements like wood or rattan for an understated luxurious feel.
There's an easy formula to remember when deciding on your bedroom's color scheme.
The primary colors, blue and dusty pink, appear in the room at 2 or 3 different spots.
This balance is essential to pull the space together optically.
Then you can add some interesting textures, like a knitted rug and a rattan chair.
White will look good in any color scheme!
24. Black and white walls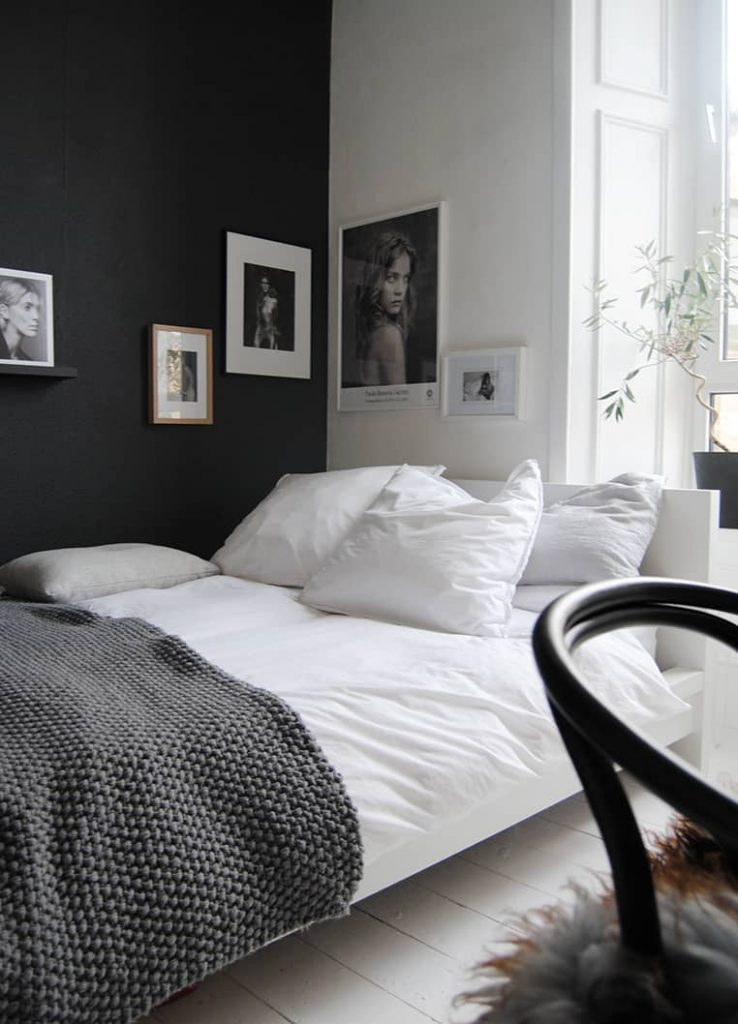 I'm obsessed with this room – so creative!
The dark wall makes this space look incredibly cozy, much more so than if the room were all white.
The transition of arty frames on both walls is also very cool.
My favorite way of making simple rooms look attractive and cozy is to add many luxurious textures.
Think of a knitted blanket, fluffy throw, interesting leafy plants, etc.
25. Aesthetic dark bedroom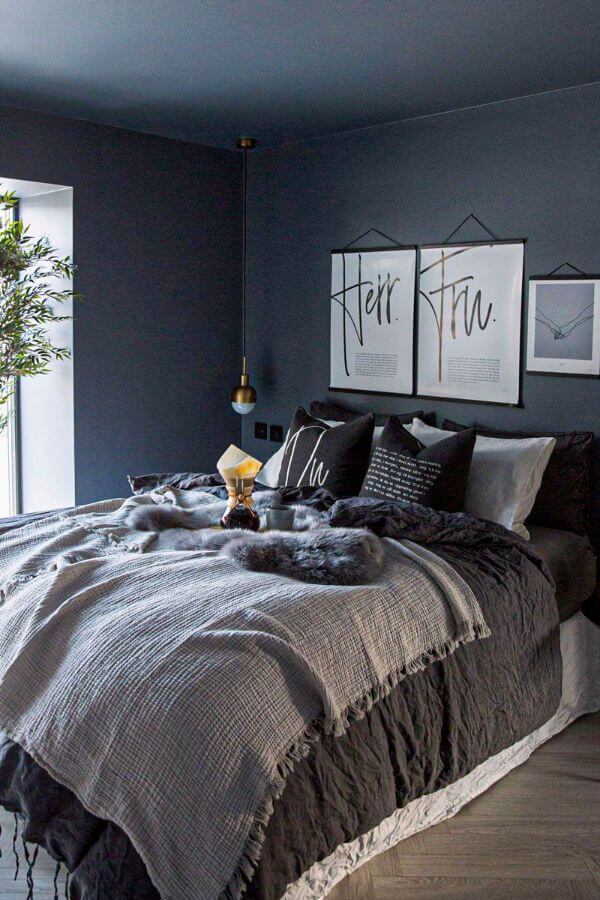 Going for all dark walls, even the ceiling, in your bedroom can be risky, but this room shows it can be done.
The various gray and white accents make this room feel cozy but not cramped or too dark.
26. Modern dark bedroom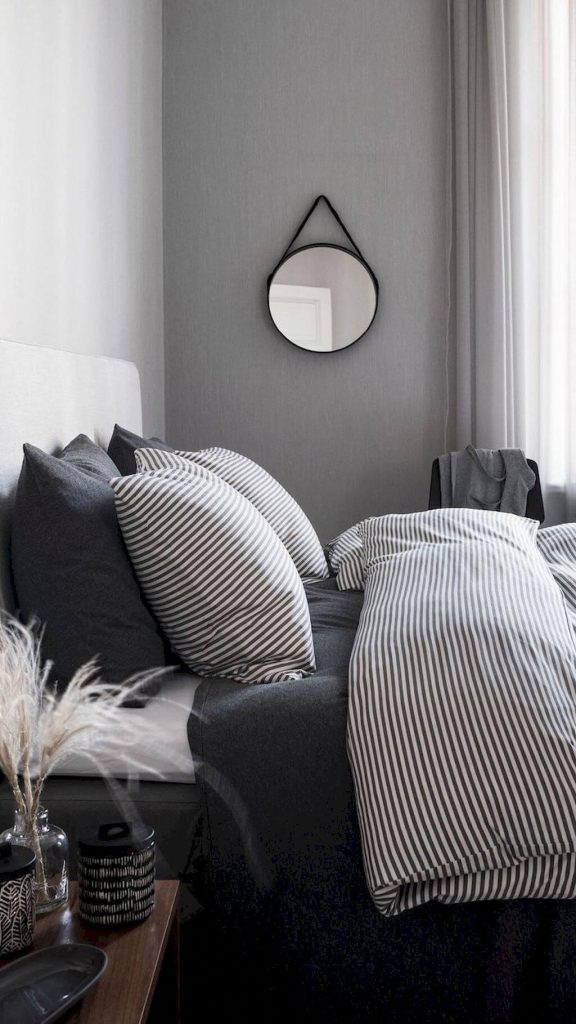 I love how super simple decor like this mirror can become crucial in making a room come together.
Combine stripes, gray walls, black sheets, and a white bed to make a room the ultimate cozy yet stylish sanctuary.
27. Black accent walls bedroom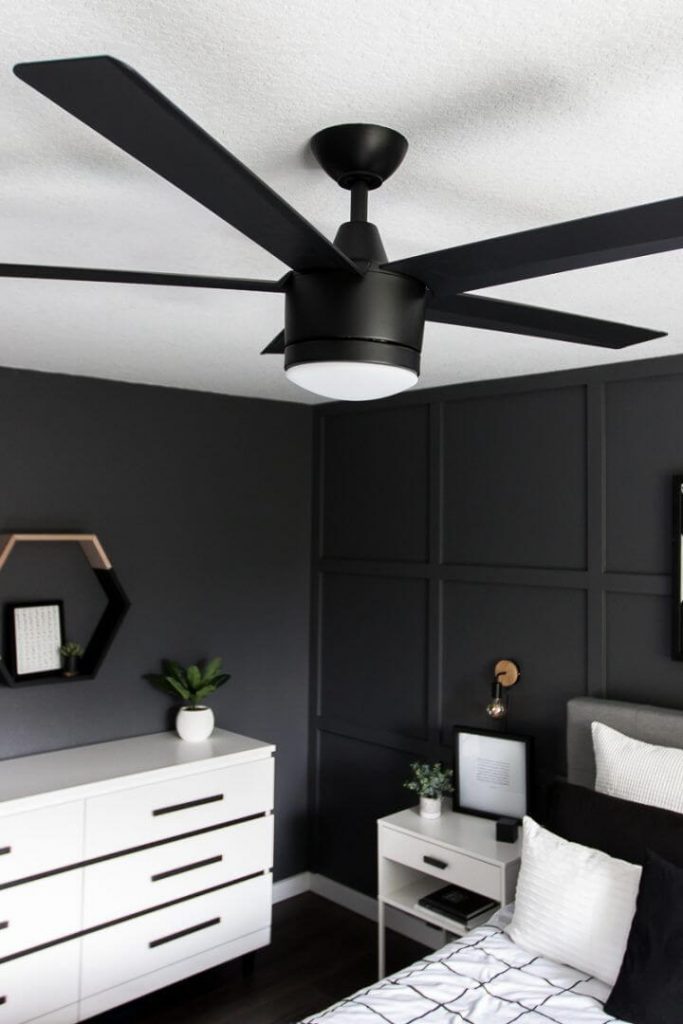 Ceiling fans, like this matte black one, can be a super trendy detail in a room.
Give your room one black accent wall with paneling, and keep the rest of the walls plain black.
To maintain balance and not make the room feel dark, you can add modern white furniture like this room.
This space is a stunning example of how to pull off black walls in your bedroom!
28. Dark blue accent wall bedroom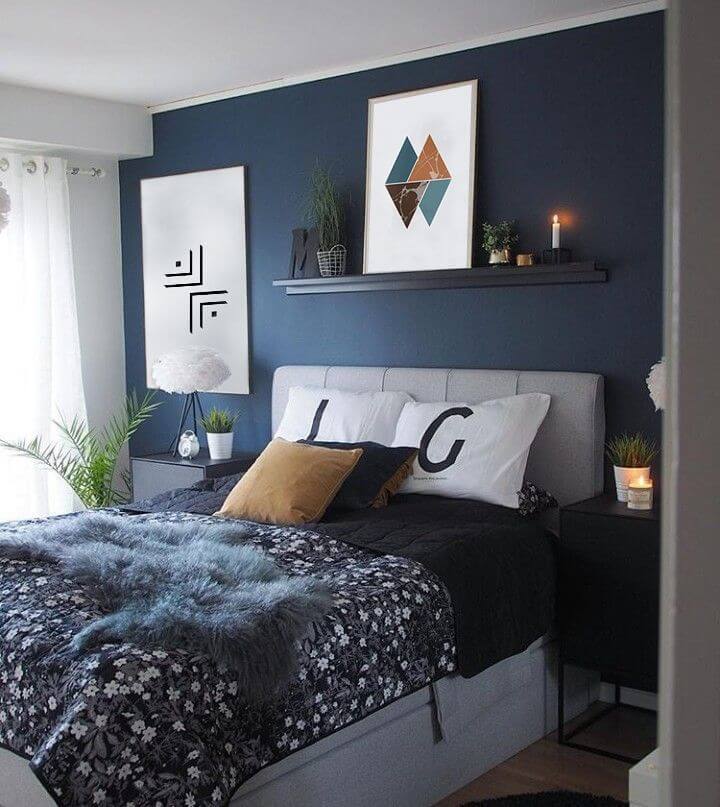 If you want a dark wall in your bedroom but don't want to go black or dark gray, a shade of blue like this is a great alternative.
A picture ledge over your bed is a great way to add an exciting touch to your space, and it's so easy to install.
29. Trendy bedroom with one dark wall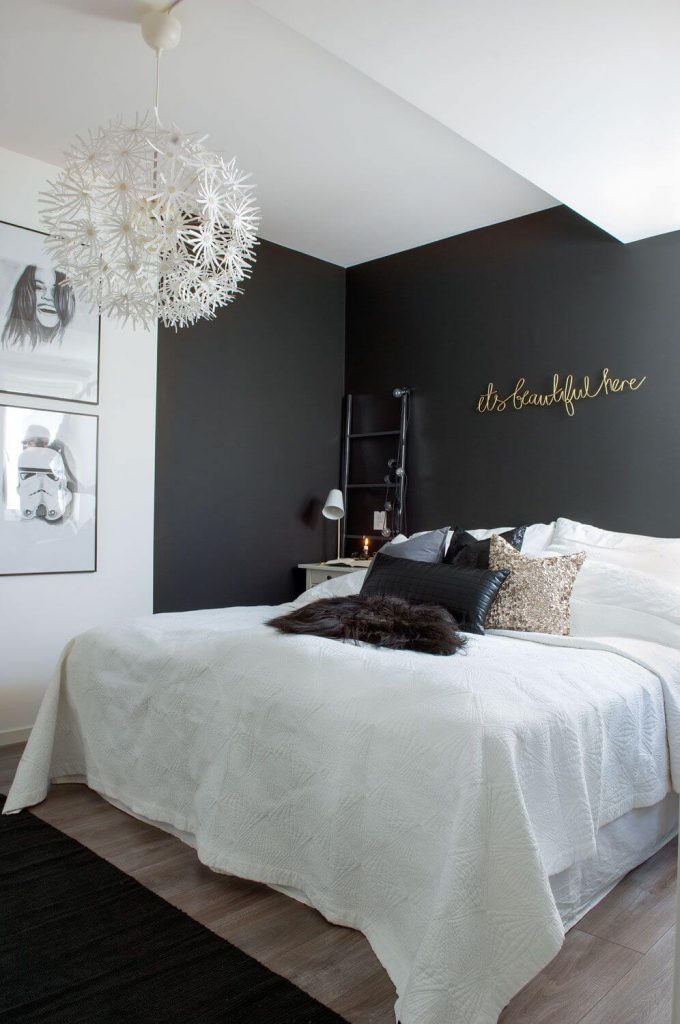 Dark bedroom walls are super trendy! If you have a wooden floor (this one is pretty neutral), keep the rest of your furniture coherent.
Light colors work, but different shades of wood and a dark wall might not look good.
Just make sure there is not TOO much going on in the room! Also, loving the beautiful metal quote over the bed.
30. Cozy bedroom with accent wall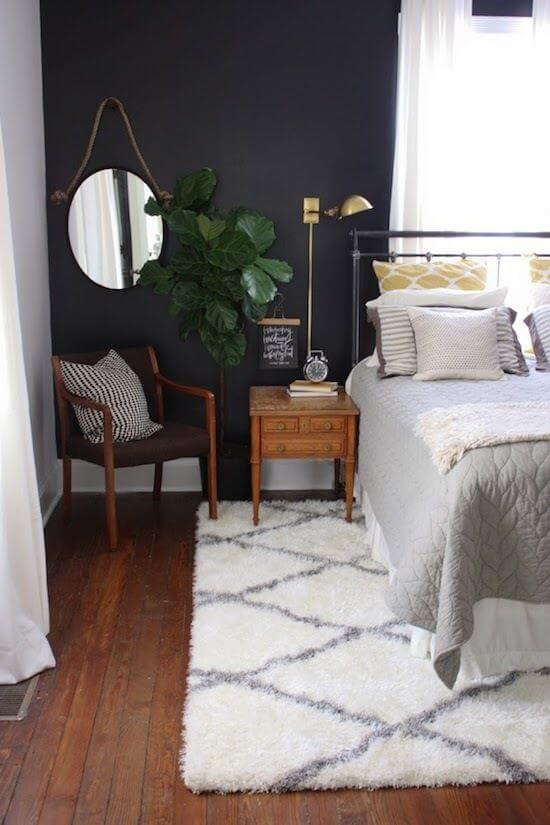 OK, I love how this room pulled off the dark wall. As you can see, this room has a dark wooden floor.
The white rug adds some nice light balance, along with the bedding and curtains.
Remember that pulling off a dark accent wall in your bedroom is all about balance.
Do you have dark floors? Use white bedding, curtains, and a rug if that's right for your space.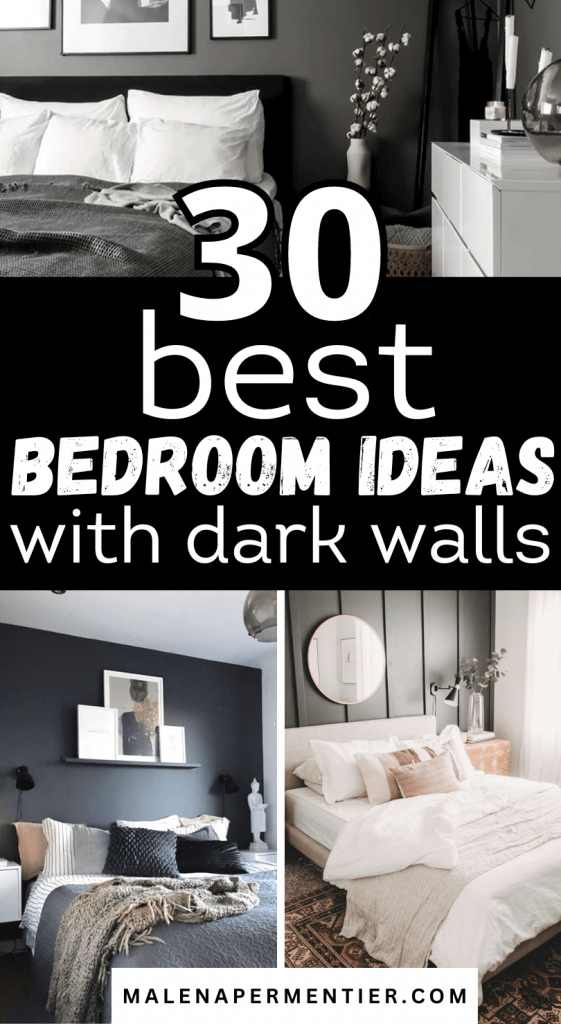 This post was all about dark bedroom ideas.
You may also like: