This post shows you the best graduation party ideas, perfect for indoor and outdoor parties!
Graduation season is coming up and maybe you're already planning your own grad party.
This post goes over all the important aspects of throwing a successful grad party:
The best photo backdrops
Making memories
Yummy graduation party food ideas
The cutest grad decor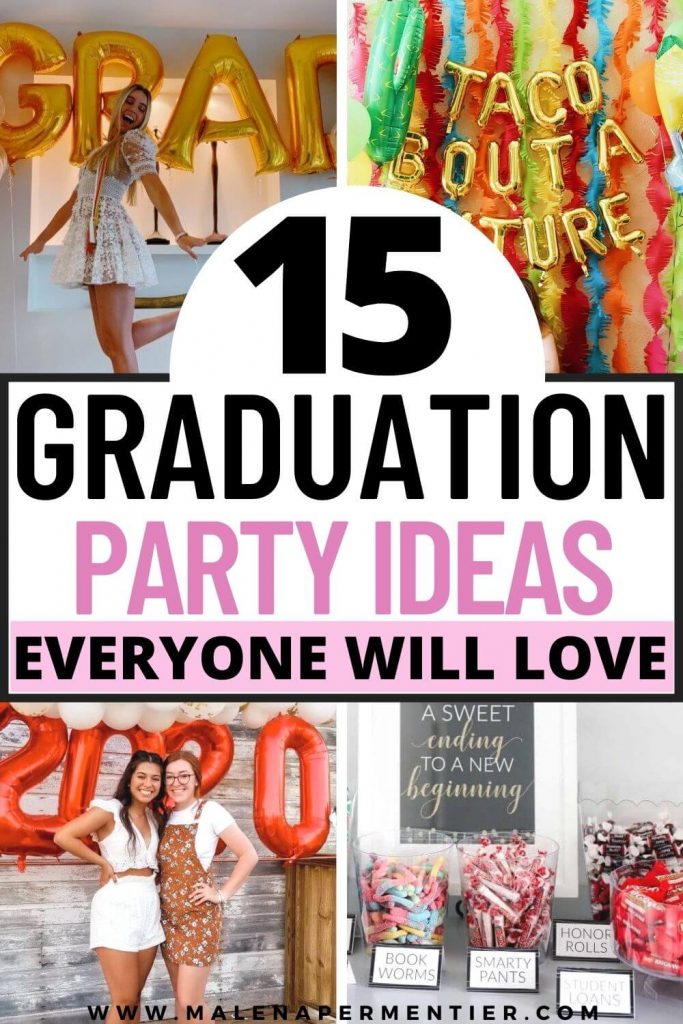 These are all simple graduation party ideas that YOU can recreate in some shape or form that works best for your party!!
Many of these ideas are also perfect for throwing a grad party outdoors, like in your backyard.
Suppose you're wondering how to decorate a graduation party.
In that case, you will love these photo display ideas, color schemes, and photo backdrops that make your grad party look incredibly well put together and cute.
Ready? Let's get into these super cool graduation party ideas!
15 Cutest graduation party ideas
1. Taco bout the future
A taco theme or Mexican theme is a popular choice for grad parties, and I understand why!
A Mexican grad theme lets you have super fun with decorations, colors, and yummy Mexican food.
Even if you don't go with a full-fledged taco theme for your grad party, this taco bout a future garland is still so worth having!!
Recreate this grad party theme:
2. Cute graduation backdrop for pictures
Making memories with your friends is a huge part of a grad party.
Get creative and make the cutest photo backdrop to pose for pictures.
I love this idea with a tinsel wall, 2023 graduation garland, and lots of balloons!!
If you want a cohesive aesthetic, go for a color scheme with no more than three colors.
Recreate this graduation backdrop:
3. Graduation party ideas for daughter
Throwing a grad party for your daughter?
A must-have is a personalized graduation banner.
This one from aesthetic fits a rustic backyard graduation theme with white and sage green.
Another thing you can't go wrong with when throwing a grad party for someone is a cute balloon garland.
I personally love a green and earthy garland like this, but you can also go for a pink or rainbow theme.
If you're hosting a graduation party for your daughter or somebody else, a cute congrats sign is a must!
This rustic grad sign is great for outdoor graduation parties.
Hang it over the dessert and drinks table, or at the photo backdrop wall! (or both!)
4. Grad party food ideas: candy buffet
A cute food idea for a graduation party is a candy buffet!
This feels super festive, people will love it, and it looks super nice.
Go for a color theme, or pick the type of candies that somehow study, high school or college related!
Get candy bar buffet supplies:
5. Put up a welcome sign for guests
A welcome sign is a must when throwing a grad party!
There always will be people who can't find your place, and this saves you time coordinating everything haha.
This sign is also a must if you're throwing your party in the backyard and are asking people to enter from the back.
Recreate this rustic welcome sign effortlessly by buying a chalkboard, writing down your welcome message, and hanging some balloons to make it look cute.
Recreate this welcome sign:
6. Use a tinsel backdrop for pictures
Tinsel is the ultimate festive decor and a super simple way to decorate for your grad party.
Buy a tinsel curtain (or two) on Amazon for decoration or a cute photo backdrop.
You can also DIY a colorful tablecloth fringe backdrop instead of a tinsel wall!
This video is super helpful if you want to make a fringe backdrop.
7. Graduation balloon arch
Whether you're throwing your grad party indoors or in the backyard, balloon garlands are a must!
The ideal combo for a pretty backdrop is a balloon arch, year of graduation balloons, and something else cool.
In this picture, the rustic backdrop does the trick.
But if you don't have a pretty backdrop, consider hanging something like a white sheet or some cloth that will look great with the balloons and other grad party decor.
8. Polaroid graduation guest book
Give your guests a chance to make memories with you by having a polaroid camera at your party!!
This will encourage people to be creative, and it's such a fun touch.
You can let your guests keep the polaroid pictures or ask them to leave the pictures in your graduation guest book.
9. Send out a cute invite
If you're hosting a graduation party, you can't forget to send out the invites!!
My favorite is to use an online template and then print the invites myself. Etsy has many cute and cheap options to choose from.
This is the grad invite template from the picture above.
You can also use free graduation party invitation templates here.
10. Add a word of wisdom jar
Let your family and friends write down some words of wisdom or a memory!
Add a box or jar at the table next to the food and let people get creative with their best advice, quotes, words of wisdom, or a fun memory they might have with you.
11. Pick a food theme
Go with a fun food theme for your grad party!
Stick with a color, like pink, and add graduation-themed food like these sugarcoated pretzels that look like diplomas.
12. DIY grad decor
Whether you're hosting your own grad party or co-hosting with friends, a little DIY decor makes the party feel more personal and festive.
Buy a large circle in your local dollar store, attach the white tape, and hang your favorite pictures with friends and fellow graduates.
13. Add a cute beverage station
Everyone loves a lemonade stand!!
Make your lemonade station look personalized with a beautiful glass dispenser and cute bottles for guests to have their lemonade in.
This is a super nice thing to have at your party, and it doesn't cost much to recreate!
14. Graduation photo display
Photo display ideas like this are a nice touch to a grad party, and make it more personal!
You can recreate this idea by using DIY clip sticks. Amazon also has a ton of other photo holders you could use for centerpieces or grad decor.
A cute photo display like this makes for the best centerpiece if you have a food table at your party or you're seating guests.
15. Grad balloon garland
Graduation isn't complete without at least one insanely cute graduation-themed picture!!
I know this post already covered its fair share of photo backdrop ideas, but truth be told, this grad balloon garland is a must-have at any graduation party.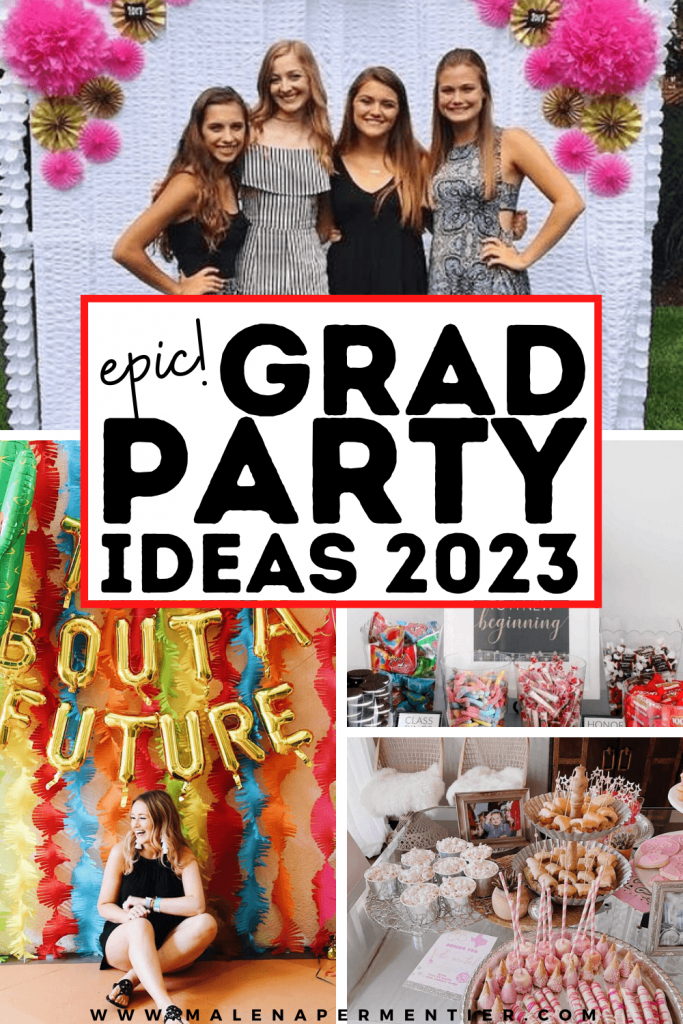 This post showed you the best graduation party ideas!
You may also like: