This post is all about the best graduation party decoration ideas!
Throwing a graduation party is so so exciting, and having cute decor really makes the party come together.
Having unique graduation party decorations will make your party memorable, and your guests will love it.
This post will cover things like the best graduation party balloons, centerpiece ideas, photo backdrop decor, table ideas, graduation banner ideas, and much more!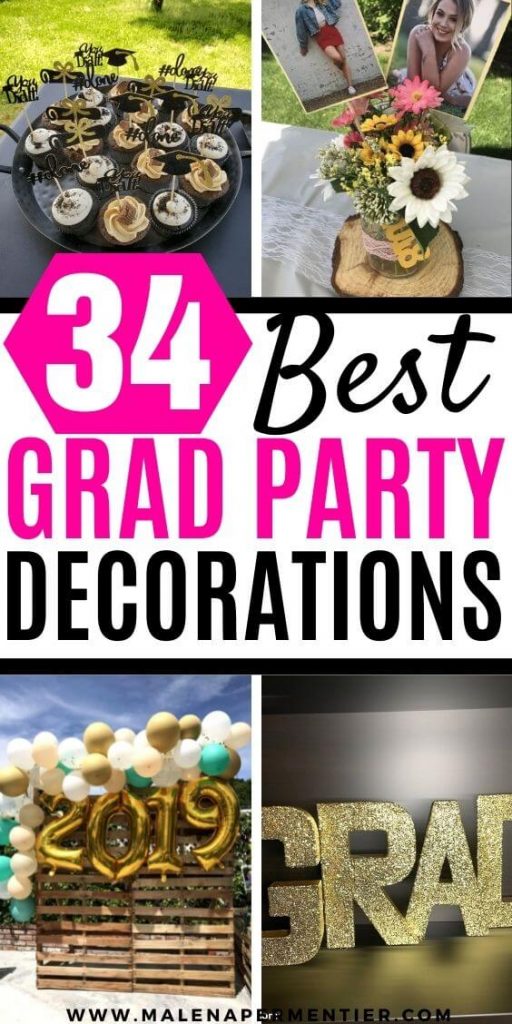 34 Best Graduation Party Decoration Ideas
1. Large Gold 2023 Balloon Set
Pick a color scheme for your balloons, and implement those colors in the rest of your grad party decorations.
Balloons + the year of graduation look amazing at every grad party!
2. Graduation Banner
Cute banners like this make your party feel festive.
You can hang a banner like this over the food table, or for example, at the door to welcome your guests.
3. Centerpiece sticks
Graduation centerpiece sticks are a must at any grad party!
If you're making your own centerpieces, for example, with mason jars, these are great to add the final touch.
3. Balloon arch
OK, if you want to go all out with balloons, a balloon arch is the way to go.
If you're DIYing a photo booth, for example, with pallets, this balloon arch is a great way to dress up your photo backdrop.
4. Cupcake toppers
Depending on your grad party food theme, cupcake toppers are great to have!
You can also use these toppers on graduation food, like club sandwiches or sliders.
5. Tassels
Tassels are the cutest and help you make your food or drink station look festive!!
You can attach these to the table's edge or hang them on the wall.
Also, I love that you'll get more use out of these than just at your grad party.
6. Regular balloons
Whether your graduation party is indoor or outdoor, you almost always need more balloons than you expected!
Don't forget to get extra balloons to dress up places you didn't think of before decorating your party.
7. Graduation Centerpieces
RECREATE THIS:
Graduation centerpieces with mason jars and pictures of the grad are by far the CUTEST and cheapest :).
Mason jars are incredibly versatile, and you can make them rustic or glam, depending on your graduation theme.
8. Centerpiece with mason jars
RECREATE THIS:
These gold-dipped mason jars will level up your homemade graduation party decorations!
Anyone can DIY these. All you need are gold glitter and some mod podge.
9. Photo holders
You need pictures of the grad!! After all, it's their special day.
Work pictures of the grad into centerpieces, or get cute picture holders like this to decorate with.
10. Confetti balloons
Grad parties need a lot of balloons! You will want to make sure everything looks festive.
The entrance, the food table, and the photo backdrop are good spots to hang balloons.
For an extra special touch, these gold confetti balloons hit the spot.
11. Water bottle labels
If you're throwing your grad party outdoor, you're probably counting on hot weather!!
Have these customized water bottles ready for your guests.
12. Wine bottle labels
Throwing a college graduation party? These wine bottle labels are a charming touch.
They cover the wine bottle perfectly and look custom-made.
13. Custom graduation banner
This graduation banner is the cutest, and sure to make the grad feel extra special.
This custom banner is a must-have if you love a gold and neutral or gold and black grad party theme.
14. Custom centerpieces
Looking for the best grad party centerpieces?
These custom glitter centerpieces are the cutest touch to your table.
Get them in gold glitter, silver glitter, black or white.
15. Graduation cutout tags
These cutout tags are the best because they're cheap and perfect for a little grad centerpiece DIY.
These will look amazing in small vases with flowers!
16. Festive balloon garland
a balloon garland like this will look amazing over your dessert or drinks table.
It would also work for your photo backdrop!
This balloon kit comes with white and rose gold balloons.
Pair it with a rustic photo backdrop, or example, a white curtain.
17. Gold grad table sign
This gold glitter grad sign is perfect for making a statement!!
Customize the sign in the colors you want, for example, the colors of your high school or college—super cute touch to any grad party.
18. Rustic graduation decoration
If you're throwing a backyard graduation party, you might look for a rustic theme!
If so, this rustic centerpiece idea is absolutely genius.
19. One degree hotter graduation napkins
Want to give the food table something extra?
Get these super cute one-degree hotter napkins to take your grad party to the next level!
I love this combo of pink and gold, but these are also available in different color schemes.
20. Centerpiece tags with quotes
The cutest centerpiece tags with motivational and funny graduation quotes.
If you want to give your grad party decor a unique touch, these are the ones to go with!
21. Photo backdrop balloons
Ok, more balloons!!
These ginormous confetti balloons are the perfect festive backdrop if you're making a little photo booth to take pictures during your grad party.
These will be the perfect prop and decor simultaneously.
22. Photo booth props
23. Pallet photo backdrop graduation
RECREATE THIS:
The pallet photo backdrop is super popular for graduation parties. It looks insanely cute, and it's also simple and cheap to recreate. All you need to dress up the pallets are a balloon arch and the 2023 balloons.
24. Graduation party favor
Looking for the cutest graduation party favor? These custom Starbucks cups class of 2023 are IT! They're even a unique gift for a college graduate or your best friend!!
25. Grad decor with quotes
Want to make your grad party a little sentimental? These tags have the most beautiful quotes!!
Your guests are guaranteed to love these, and they make for such personalized centerpieces.
26. Minimalist rustic graduation centerpiece
These centerpieces are my favorite!!
All you need is mason jars, brown twine, and your favorite flowers. The 2023 tag is the cherry on top.
They cost $1 per tag, which is pretty decent.
27. Graduation party straws
These paper straws with graduation caps are the cutest thing ever!!
An unforgettable grad party comes together in the small things, and these straws will be a hit.
27. Black centerpiece
There are so many ways to do centerpieces, and if you have a theme with gold and black, these black glitter-dipped mason jars are a great way to elevate your grad party decor.
28. Grad party centerpiece sticks
Whether you're doing centerpieces with flowers, these grad-themed centerpiece sticks help elevate the theme!
You can combine these sticks with flowers and a picture of the grad.
29. Cork bottle lights
These cork lights are the best thing ever for any outdoor party!
Are you throwing your grad party in the backyard, and in the evening? Then these cork lights are a MUST.
They look so cozy and liven up any party. Bottles are not included with these lights, so make sure to gather some 🙂
30. Graduation Yard Sign
If you're throwing your party in the backyard, you'll want to give guests a fun welcome with this graduation yard sign.
31. Graduation Sash
If you're thinking of taking cute pictures at your graduation party, props like a graduate sesh will make it that much more fun.
32. Rustic custom labels for centerpiece
Get a custom-made class of 2023 labels for your centerpieces!! They will fit around bottles, vases, and even mason jars.
33. Glitter cupcake toppers
Cupcake toppers (also suitable for other foods) are great for decorating your food station, and your guests will love them.
These toppers combined with cupcakes also make for a cute photo op.
34. Pink party streamers
Party streamers are a live saver if you have a bit of a drab background anywhere!
They cost less than $10 and effortlessly decorate your grad party.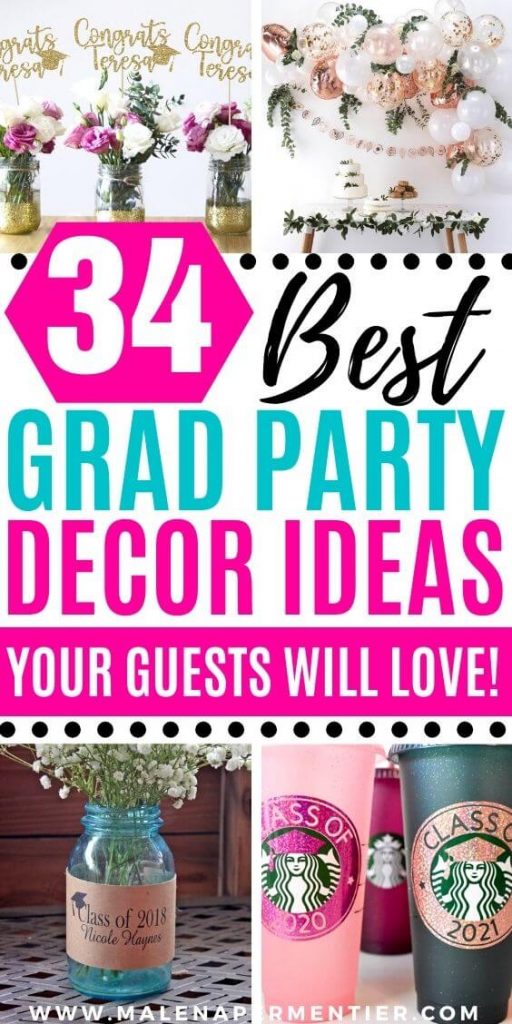 This post showed you the best graduation party decorations.
You may also like: