This post shows you the best mason jar graduation centerpiece ideas.
Graduation is such an important day, and it needs a big party to celebrate your success.
This day is about showing how you have achieved yet another milestone in your life.
Decor is a big part of any successful party.
So let's look at these 19 beautiful mason jar centerpiece ideas to help you throw a unique graduation party.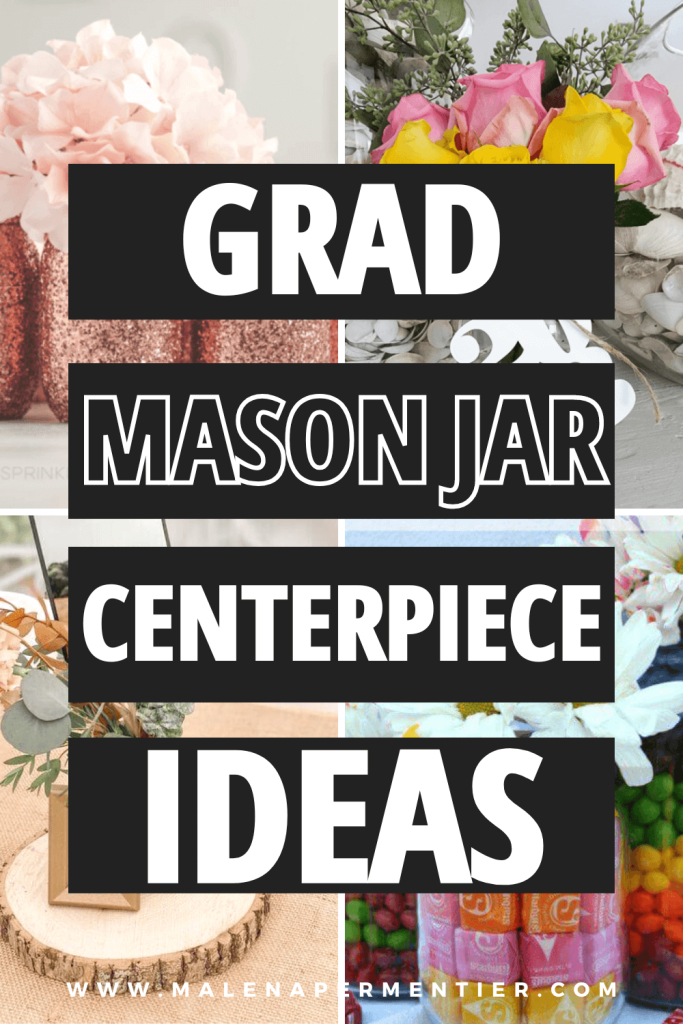 Graduation party color ideas
Graduation is such an important event. It is a symbol of change and new growth.
It shows that you are moving on with your life and taking on new adventures.
You need to make this party unique for you
If you need to take a more formal and traditional approach, you would want to stick to the black, gold, and white decorations.
It might seem tedious, but the possibility of sticking to the basics gives you an endless list of decorations to try out.
With that being said, it doesn't mean you need to use those colors or keep it formal.
You can add your unique touches to the centerpieces, for example, flowers, glitter, bright colors, or even old pictures.
This lets you get creative and show your take on these wonderful centerpiece ideas.
1. White painted mason jars with flowers and graduation pictures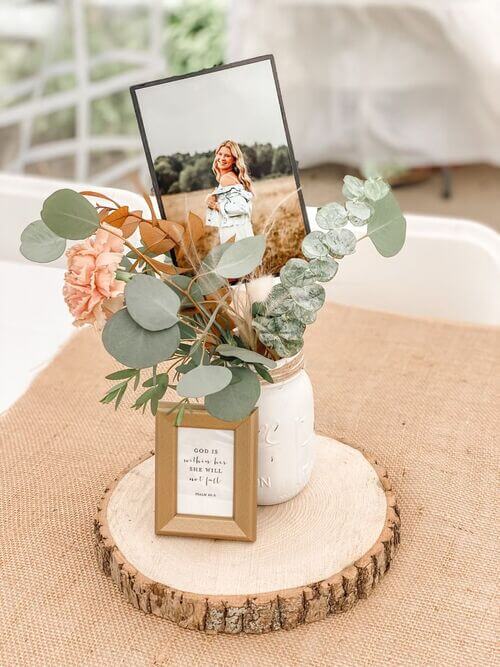 Recreate this:
This centerpiece idea is very personal, making it even more memorable.
You can easily recreate it by painting the mason jars white. You can add a flower bouquet or some greenery with a graduation picture.
If you would like to, you can add a small quote that has carried you through the year.
It keeps the centerpiece elegant and personalized.

2. Glittery mason jars with bright flowers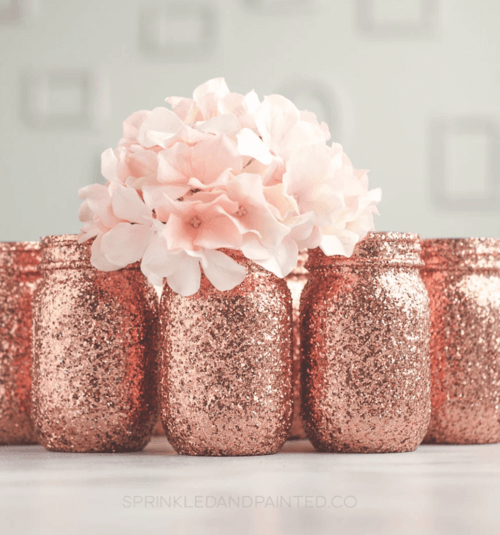 These mason jars covered in glitter are just the right thing to bring a bold touch to any table.
You can recreate this at home by coating the inside of the jars with glue and filling the jars with some glitter.
After that, you close the lid and shake the bottle till the glitter coats the whole jar.
You can add some pink flowers to the pink theme of this centerpiece, or you can add a different approach by using different colors on the jars and keeping the flowers white.
3. Mason jars covered in pictures from the past year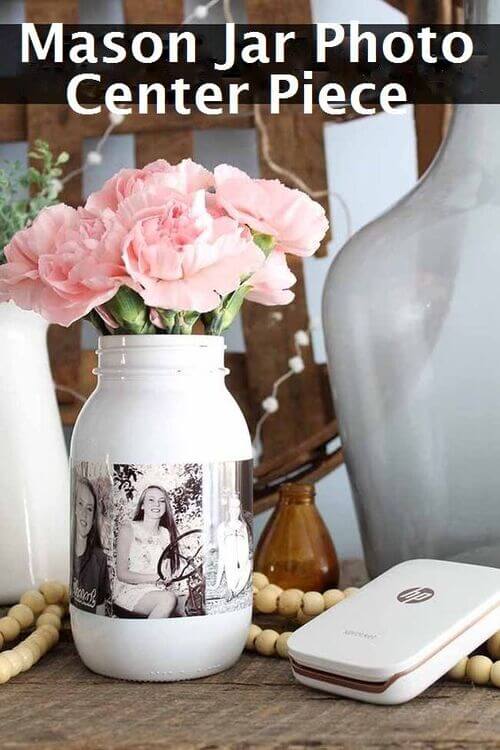 If you want something more personal to show fond family memories with the graduate, this idea is absolutely for you.
You can print pictures and wrap them around the mason jars for centerpieces.
Or, if you want to add a twist, you can tape the pictures to sticks which you can add to bouquets in the mason jars.
How you create this idea is entirely up to your imagination.
4. Mason jars filled with roses with the year tag and jars filled with seashells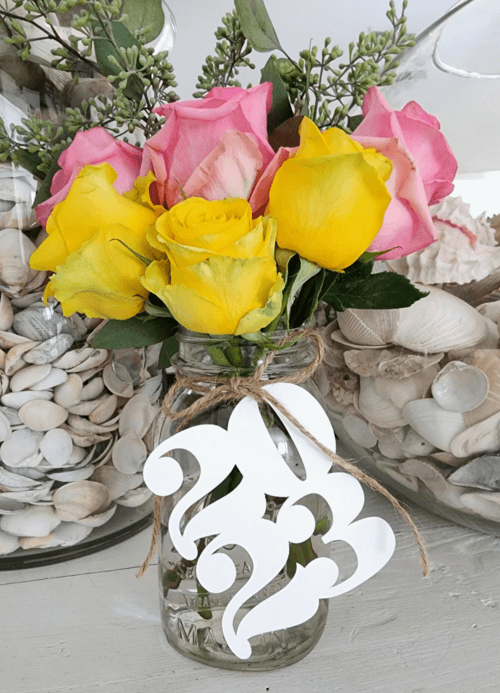 This idea is fantastic because it keeps things simple and elegant.
Recreate this idea by combining the minimalistic flowers with the year tag.
Add bowls or jars filled with seashells for a unique graduation centerpiece.
5. Mason jars filled with starburst and skittles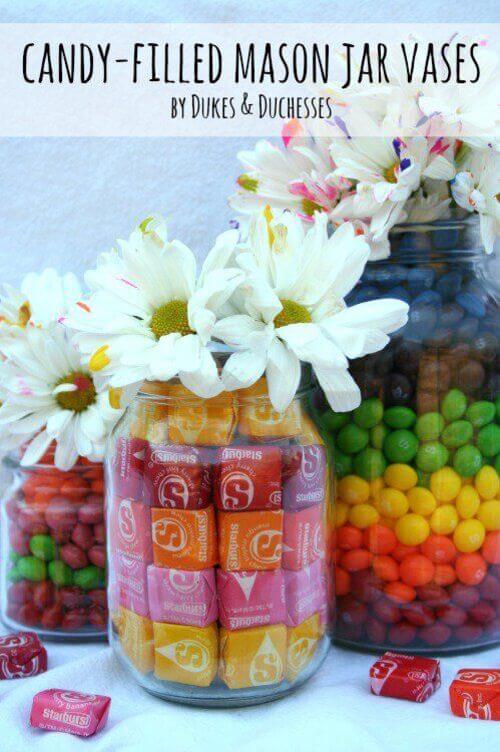 Do you want to make use of interactive centerpieces?
Then try out these fun candy jar centerpieces.
It allows guests to snack and appreciate the decor all at once.
You can make use of any candy for this idea.
This allows people to have options for snacks too.
Plus, it won't be added waste after the party is over.
6. Small flowers and fairy lights in jars wrapped with burlap ribbon
Sometimes a simplistic approach is better at graduation parties.
Use white flowers to symbolize change and add fairy lights to make these centerpieces stand out at night.
Everyone can appreciate a touch of simplicity because it works for any occasion.
If you want a fun little touch, you can wrap some burlap around the jars and make bows.
This is a great combination and is a great way to decorate with inexpensive pieces.
7. Flower arrangements in ombre-colored mason jars
When creating centerpieces, it's important to incorporate all the colors of the day, so by painting the jars with this ombre effect you can incorporate all the detail you want.
Then instead of having multi-colored flowers, you can keep to one colored flower and make the jars stand out.
8. Jars filled with the graduation year and fake tea lights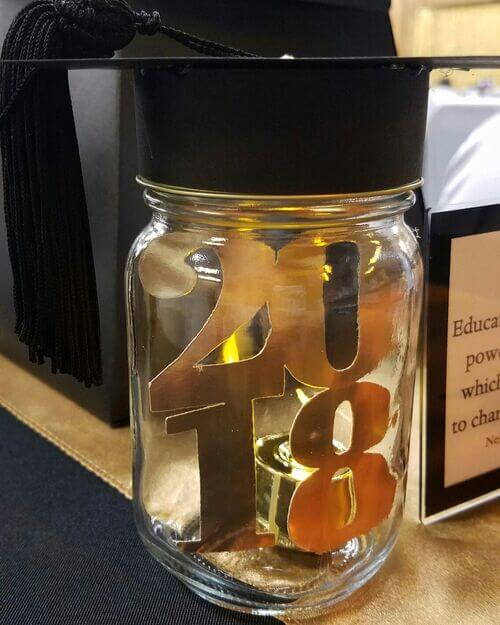 You can always opt for the basics if you want a simple idea.
Just add the graduation year to the jar with some battery-operated tea lights.
This is a great budget-friendly idea to use as centerpieces.
9. Gold jars dipped in glitter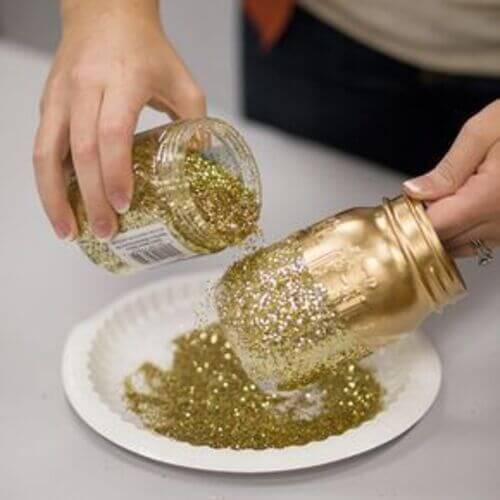 You can easily recreate this gorgeous idea from the comfort of your home.
All you need are mason jars, glitter, glue, and gold spray paint.
This idea keeps to the classic graduation colors.
So you can achieve this fun decor idea by simply spraying the inside of the jar gold, then coating half of the outside in glue and sprinkling glitter on it.
10. White and blue paper in mason jars with pictures of the graduate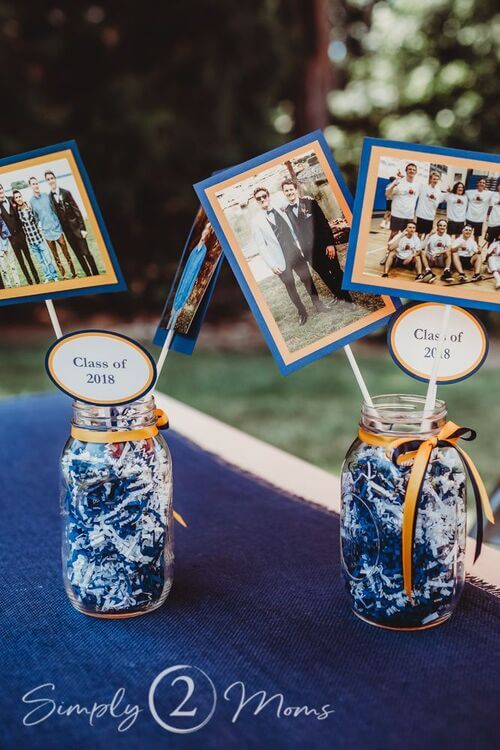 These "class of" jars keep things back to basics.
It uses the blue, white, and gold colors of graduation.
Because this idea keeps to the basic colors, you need to add a personal touch.
For example, graduation pictures, pictures with family and friends, and just memories from the past year.
11. Pink napkins and gold-painted mason jars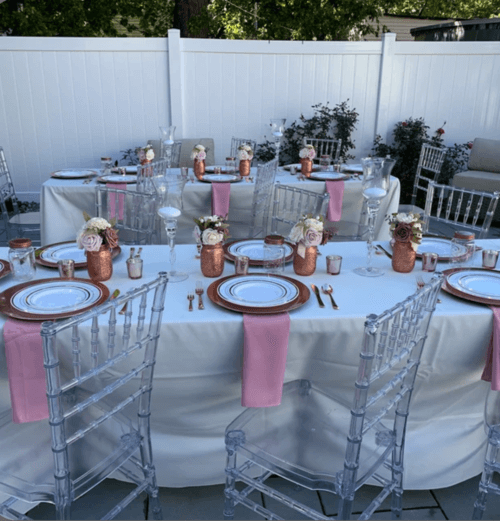 This color combination isn't used often and will stand out.
By using gold to bring a bold addition of color to the table, the pink will feel very subtle.
You can then add some of your favorite flowers to the mix.
This should be more popular and recreated in different colors like silver and blue or copper and orange.
To sum it up, the opportunities are endless.
12. Flower bunches in mason jars wrapped in burlap with a 2023 tag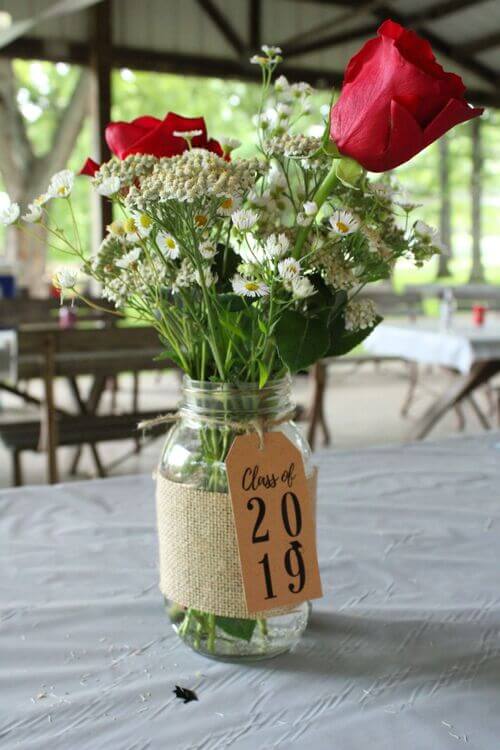 Keep things simple with a "Class of" card and some burlap wrapped around the jars.
You can add simple flowers like red or white roses to brighten the space.
This idea is one of my favorites due to its simplicity.
13. Sunflowers in matte-painted white mason jars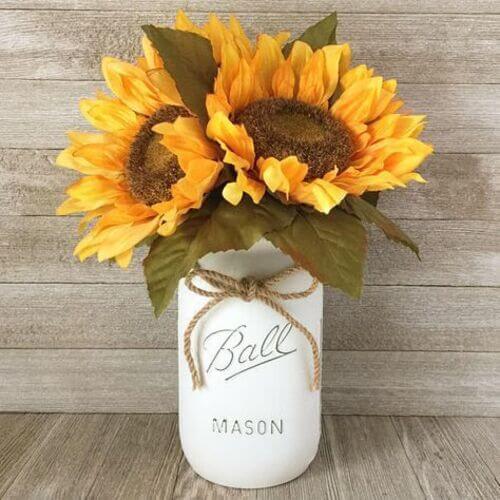 I love this idea due to its summer feel.
The white and yellow compliments each other so well and gives you a feeling of joy when you see them.
You can recreate this idea by painting old mason jars and finding fresh sunflowers.
Using fake sunflowers is another option for the centerpieces to last longer.
It gives a farm-like approach but still stays unique and classy because it doesn't use many decors.
14. Pink and white ombre jars filled with roses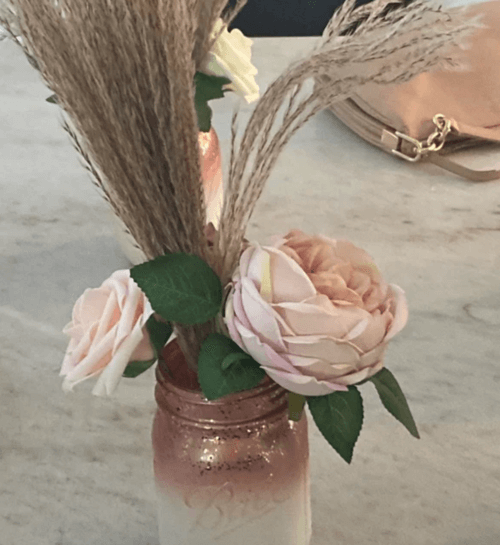 Dusty pink is a personal favorite of mine.
When you combine it with white, it just gives a wonderful faded ombre look to the jars.
These colors are great because they aren't too bold but noticeable, especially when you add glitter to the pink.
You can add some lovely roses or light pink flowers to fill the jars.
15. Gold jars filled with tissue paper and the graduating year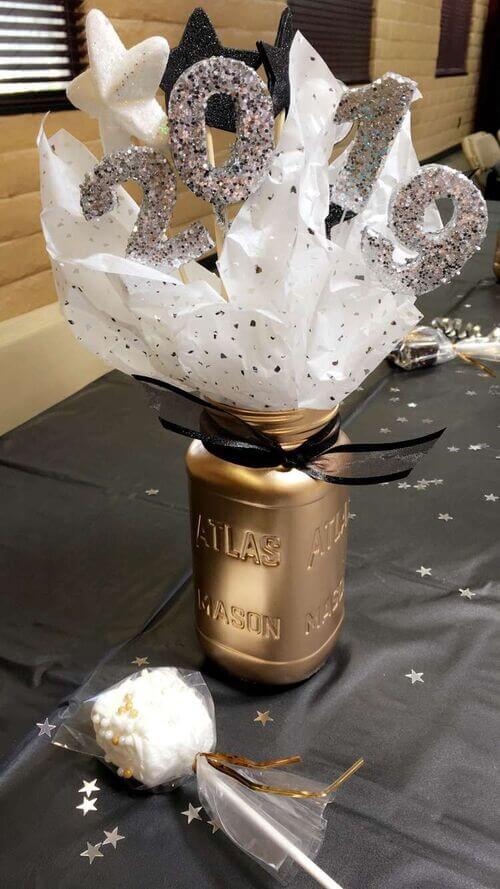 A great idea for centerpieces is something that keeps things simple.
Creating these gold jars and stuffing them with tissue paper instantly makes the centerpiece bolder.
You can then find some styrofoam numbers and coat them in glitter before adding them to the jar to represent the graduation year.
16. Colored jars dipped in gold with a picture of the graduate on the lid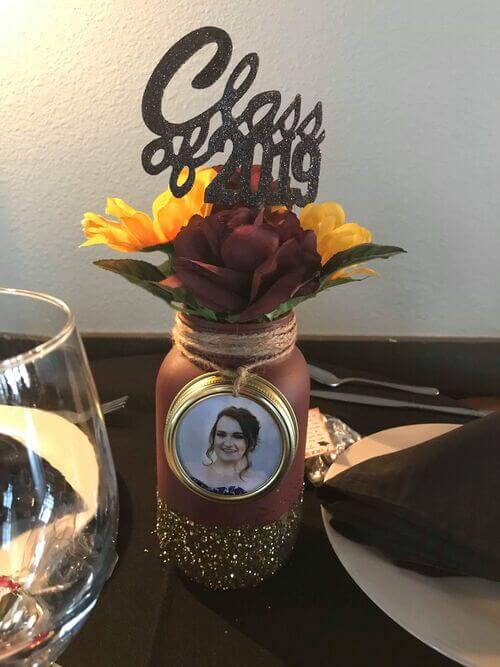 Do you want to add a personal touch to each jar?
Then you need to give this a try. Add a personal photo to the lid that can be tied to the jar.
You can paint the jar the same color as your theme and add some gold glitter.
Something that people don't try too often but needs to be used more is combining red roses and sunflowers.
17. Neutral-painted colored jars with the graduation year tied to the jar
Keep to neutrals for this one so that when you add your "class of" number, it can stand out against the background of the jars.
With this idea, smaller flowers would work best rather than big bunches.
18. Gold and black decor attached to straws and placed in mason jars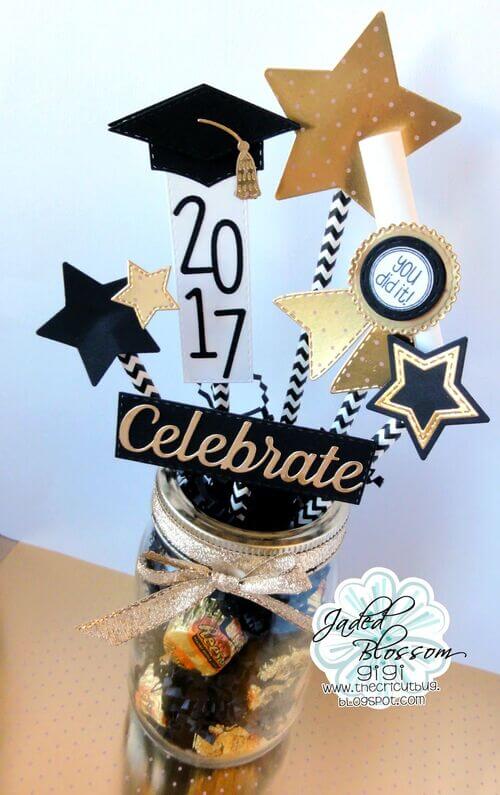 You have basic gold, black and white.
The graduation cap, some stars, and the graduation year are attached to simple straws placed in glass jars with a nice little treat.
19. Silver glitter-coated mason jars filled with flowers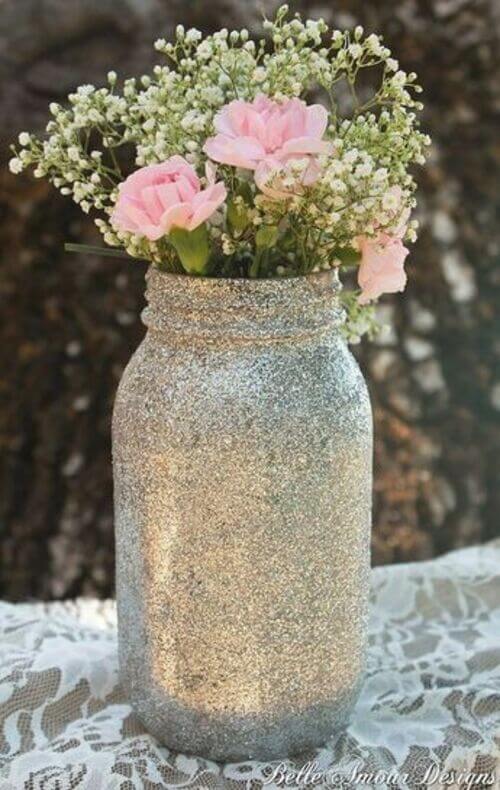 Glittered mason jars are trendy for graduation centerpieces; we have many fun ideas and how to recreate them.
You can add bright or simple white flowers to these mason jars.
Mason jars for centerpiece ideas
Due to their popularity, mason jars are great to use for centerpieces.

This allows you to be creative, make your ideas come to life, and keep things classy.
Graduation is important, and having special decor to fit your needs for table centerpieces is a must.
It sets the mood for the whole day. So with that being said, it's clear that mason jars are the best centerpieces by far!!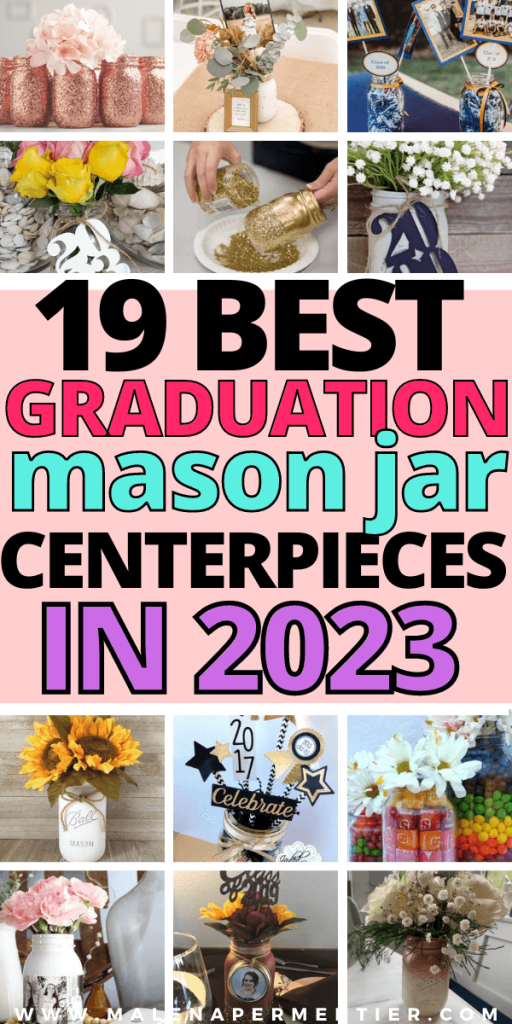 This post showed you the best mason jar graduation centerpiece ideas.
You may also like: