Are you looking for the best DIY graduation centerpieces? This post goes over the best ideas you can easily recreate for your grad party.
You can place graduation centerpieces on the tables, food stations, entrance, or suitable spots.
Centerpieces are a great way to celebrate the grad with pictures, festive centerpiece sticks, the year of graduation, and other fun stuff.
If you're looking for inspo to make your centerpieces, this post will give you all the inspiration you need.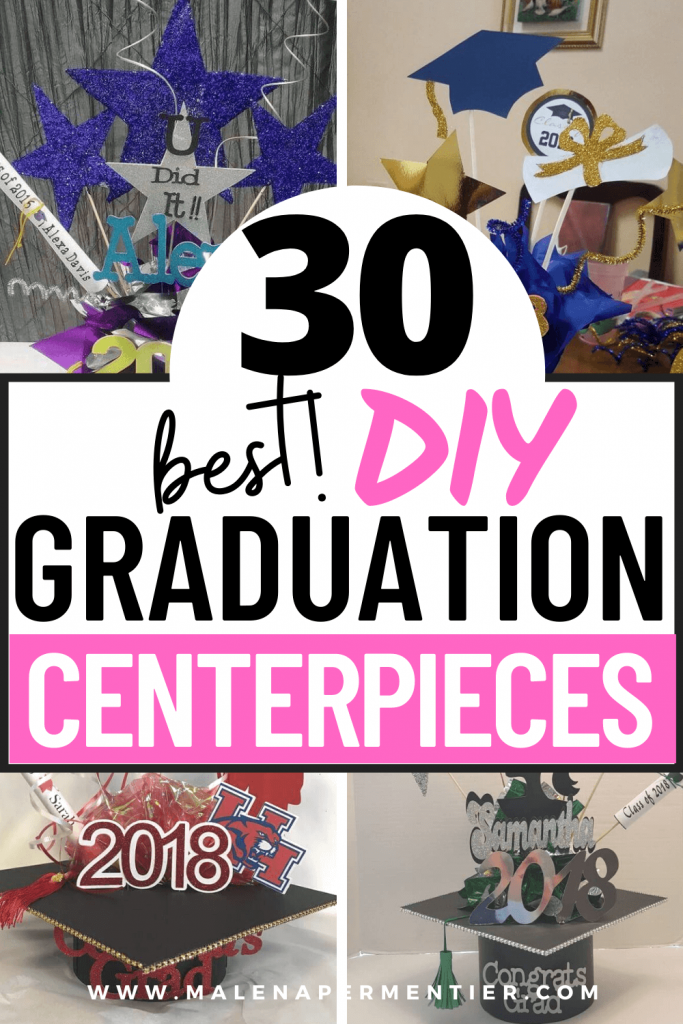 Graduation caps
Many of the graduation centerpieces below are made with graduation caps!
You place cardstock inside the head part and decorate it with gift box paper, centerpiece sticks, and a picture of the grad.
Look below at all the cute examples of making centerpieces with graduation caps!
DIY centerpiece favorites
These are some favorite items to use for decorating your graduation centerpieces.
The graduation cap boxes on the left are meant for party favors, but they're also cute as centerpiece decor.
The diploma centerpiece sticks and graduation-themed centerpiece sticks speak for themselves!
1. Graduation Cap Centerpiece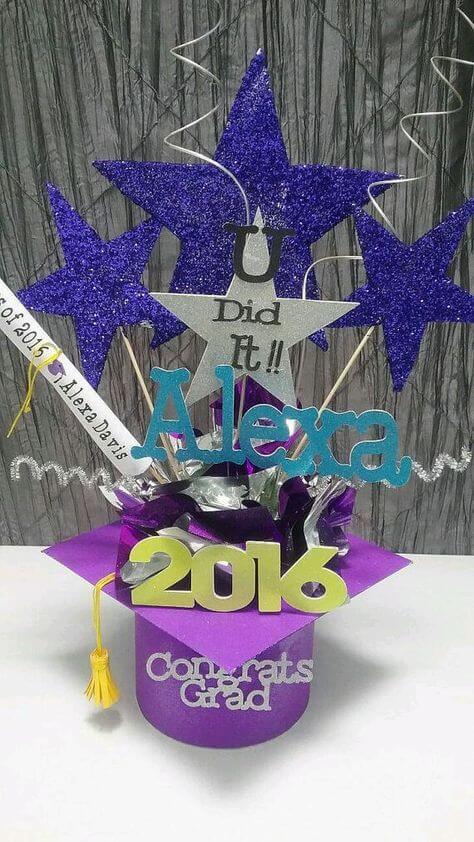 This paper graduation cap DIY is the cutest! Check out this Youtube video if you want to make this yourself.
The bright colors, star centerpiece sticks, and golden letters make for a colorful and fun centerpiece.
You can get custom name cake toppers equally usable for centerpieces like this!
2. Gold jar with centerpiece sticks
For DIY centerpieces, you can use items you already have.
Ask your mom to use colorful vases and decorative plates. Stuff the vase with crinkle-cut paper.
Place your favorite faux or real flowers in the vase and graduation centerpiece sticks.
This combo on Etsy with the diploma, year of graduation, and graduation cap centerpiece stick hits the spot!
3. Gold and black graduation centerpiece
A gold and black centerpiece is great if you choose a chic and classy aesthetic for your graduation party.
It's also a good color scheme for your outfit and other decor.
This kit from Etsy helps you to put together the coolest centerpiece.
Use mason jars, shredded black paper, curly ribbon, and black tulle fabric to put the centerpiece together.
4. Rose gold graduation centerpiece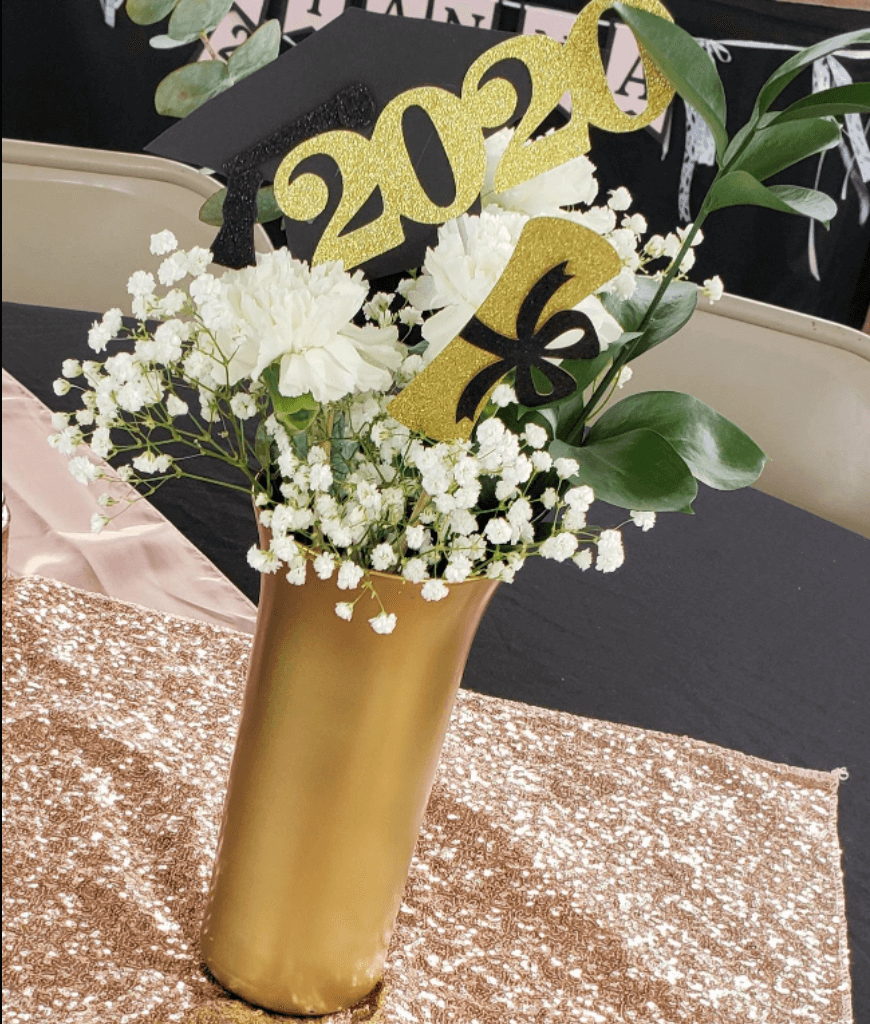 I love this grad centerpiece! This is the way to go if you're into rose gold and neutral aesthetic.
Paint mason jars gold, use baby breath flowers, the prettiest graduation centerpiece sticks, and a rose gold sequin table runner that's surprisingly affordable.
5. Flower graduation cap centerpiece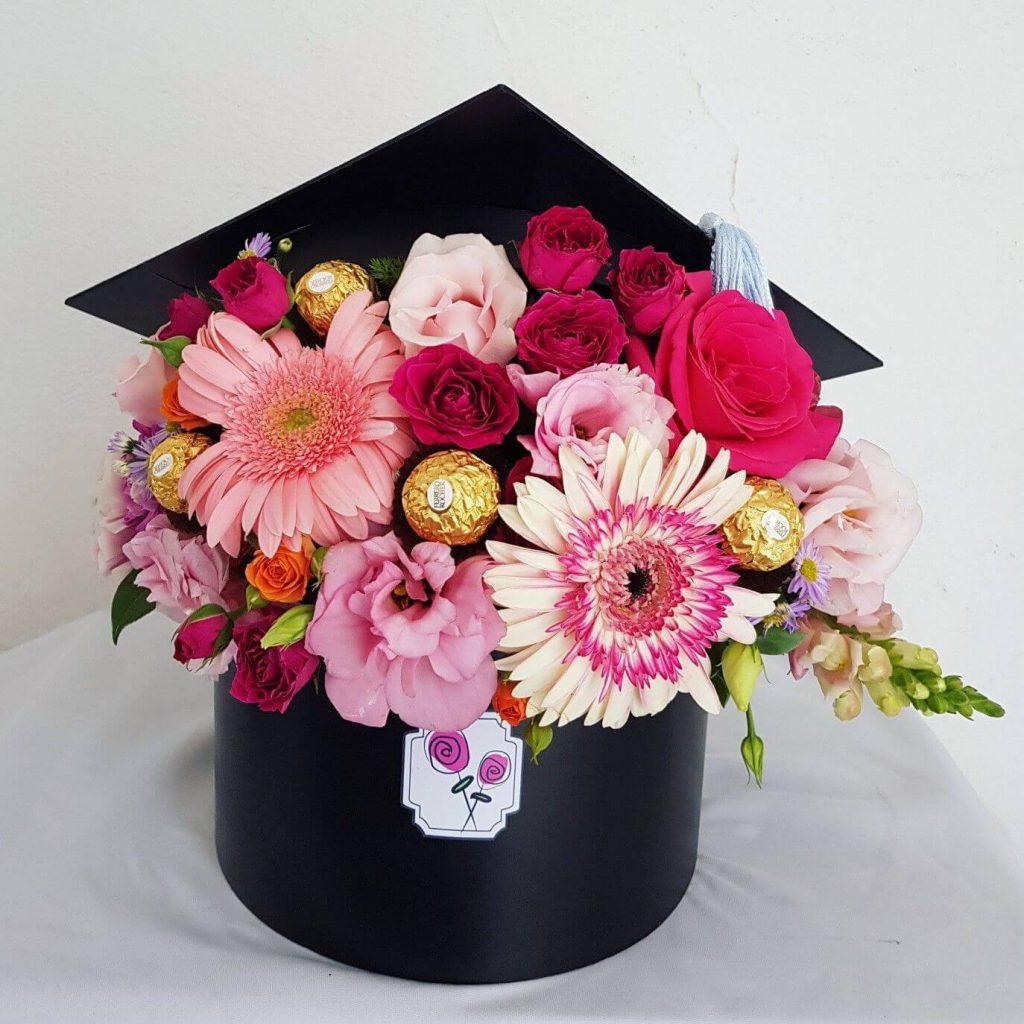 This flower graduation centerpiece is so elegant and pretty! I'm not sure what they've used as a box, but you can get similar styles on Amazon to DIY.
Use a graduation cap topper and a tassel to recreate this flower graduation cap centerpiece.
6. Money cake graduation party centerpiece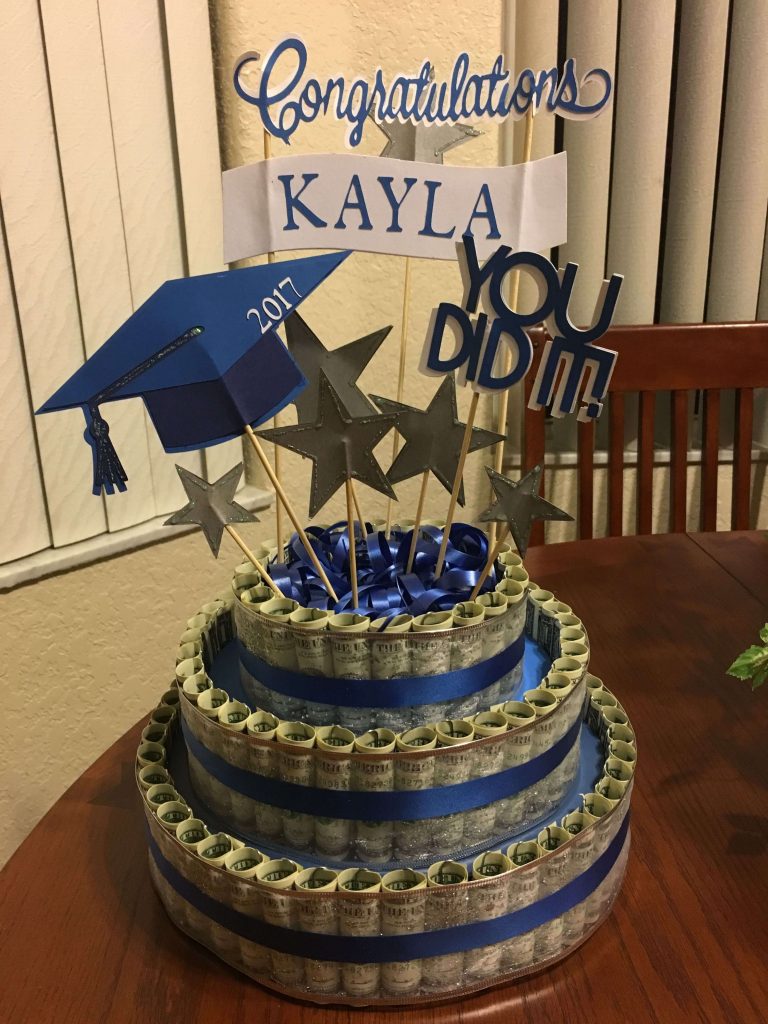 This DIY graduation money cake is such a cool idea!
It's a cute gift for the grad and makes for a fantastic centerpiece. This Youtube video is helpful if you want to recreate something like this.
7. Red graduation cap centerpiece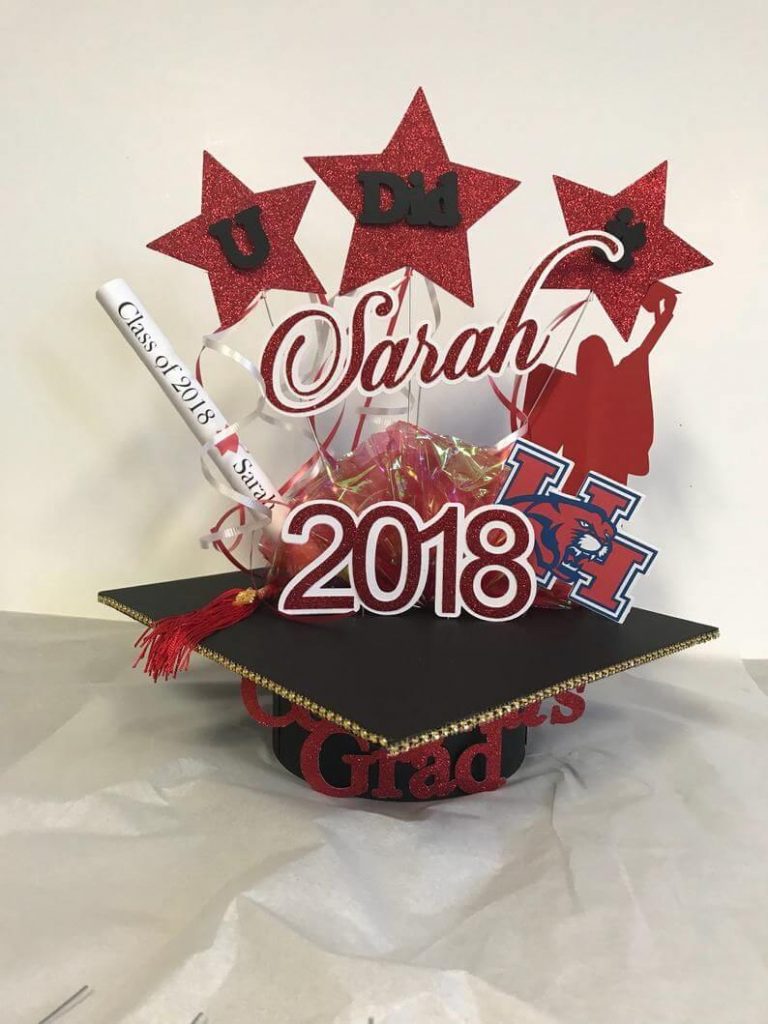 This centerpiece uses a DIY paper graduation cap as a base decorated with an Etsy centerpiece stick kit.
The glitter star stick with "u did it" is popular and insanely cute for a graduation party centerpiece.
8. Mason jar centerpiece for grads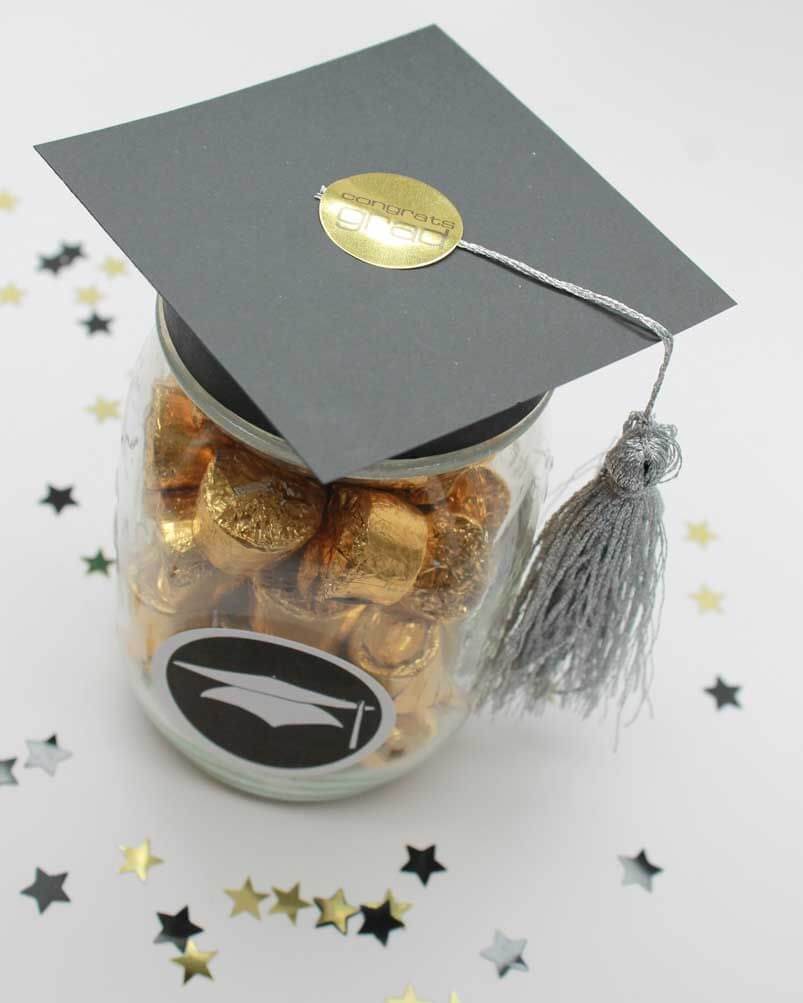 Mason jars are the perfect base for an inexpensive DIY graduation centerpiece.
You probably already have mason jars at home.
Fill them with gold candy or chocolate for a cute look.
Then place a small paper graduation cap on top.
9. Prop sticks for centerpiece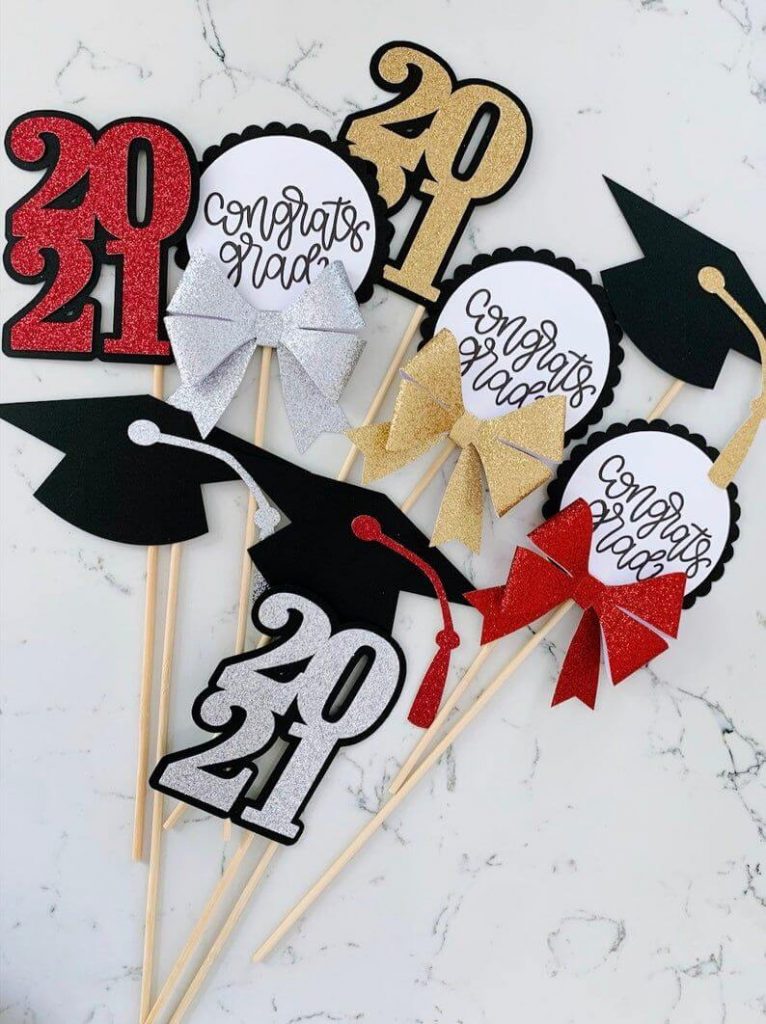 If you're doing a photo booth at your grad party, these are great prop sticks, but they are equally fun to use in your centerpieces.
The gold, red, and black mix make for a classy and elegant look.
10. DIY grad party centerpiece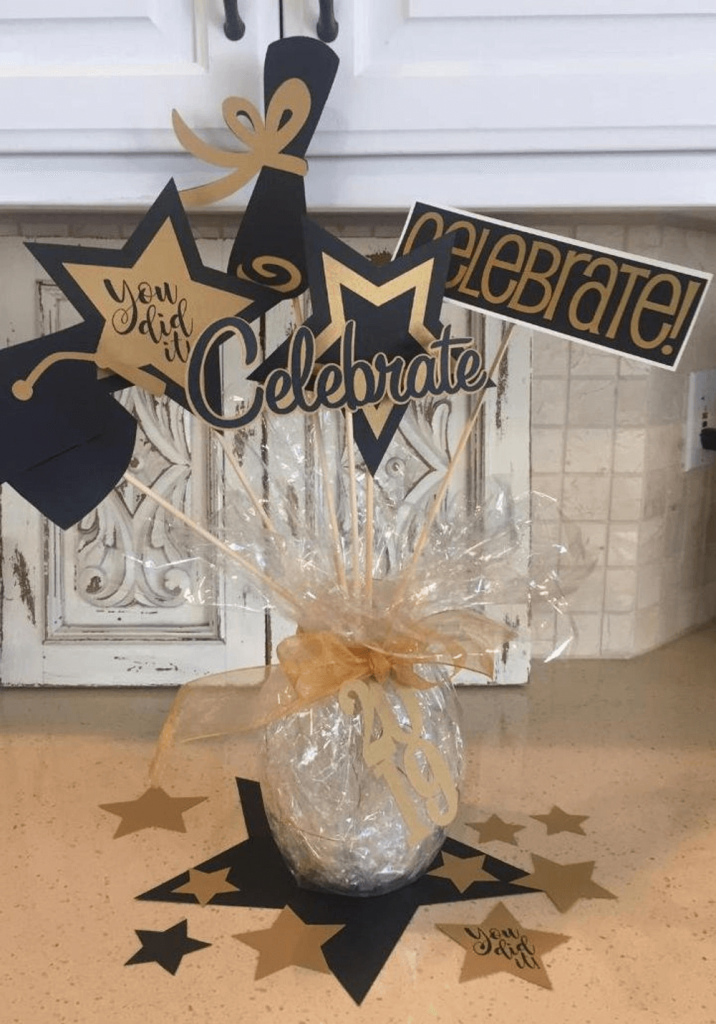 Who knew that cellophane paper could look this cool!
Stuff a clear vase with cellophane paper and wrap a gold ribbon in a bow.
Stick in pictures of the grad, graduation centerpiece sticks, and anything else fun + festive!
11. DIY grad party centerpiece with vase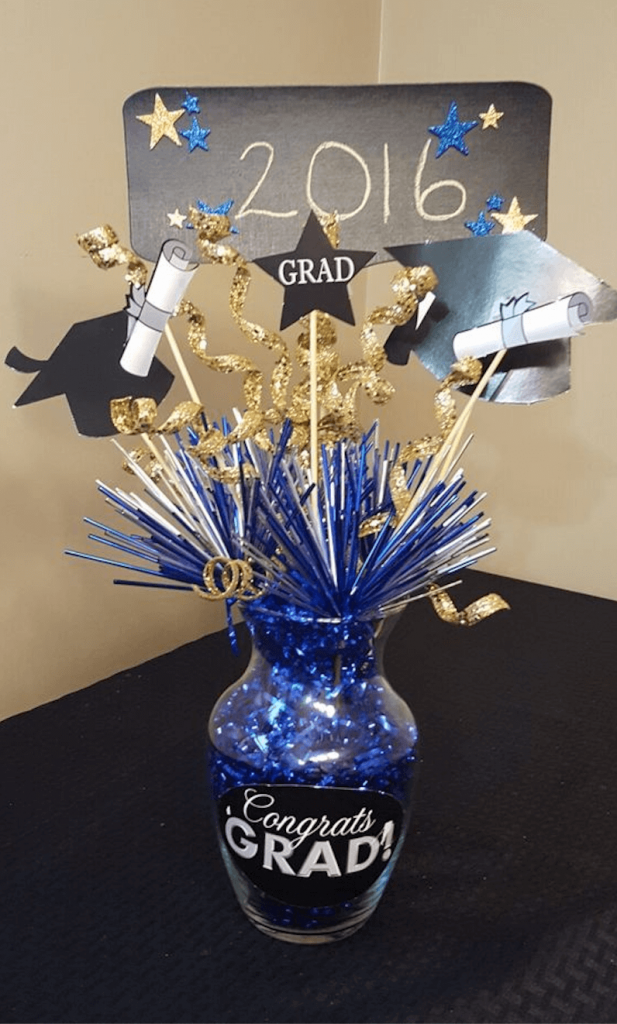 I love this simple vase DIY to make a graduation centerpiece.
Use the vases you already have to create this and save money.
You can get chalkboard centerpiece sticks to write the grad's name, the year of graduation, or a hashtag.
12. Silver grad cap centerpiece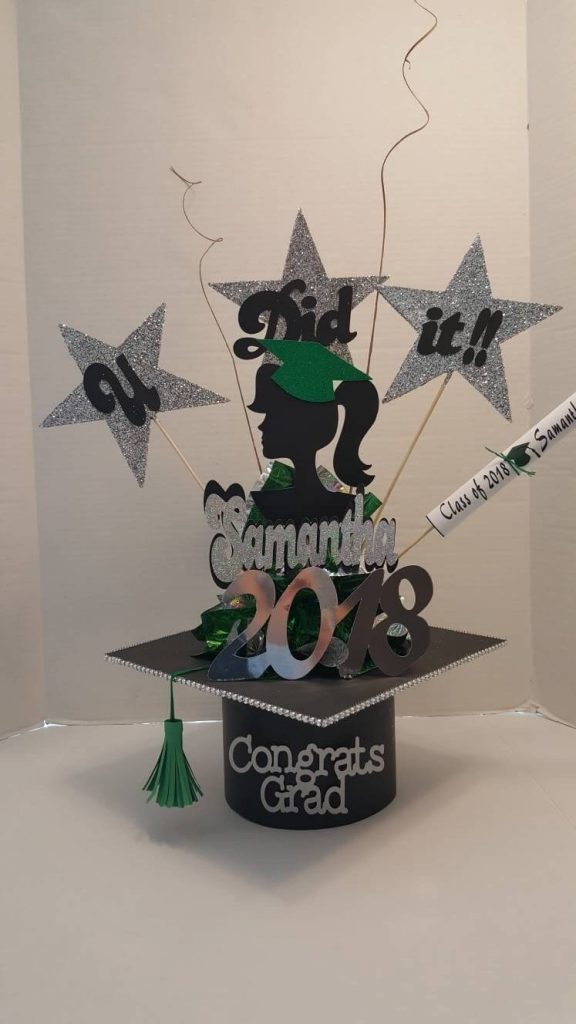 These cupcake toppers are the cutest!
Cake toppers are also perfect for centerpiece decorating.
And it gives you more options to work with.
Decorate your centerpiece with silver stars and a graduation cap tassel.
13. Graduation table centerpiece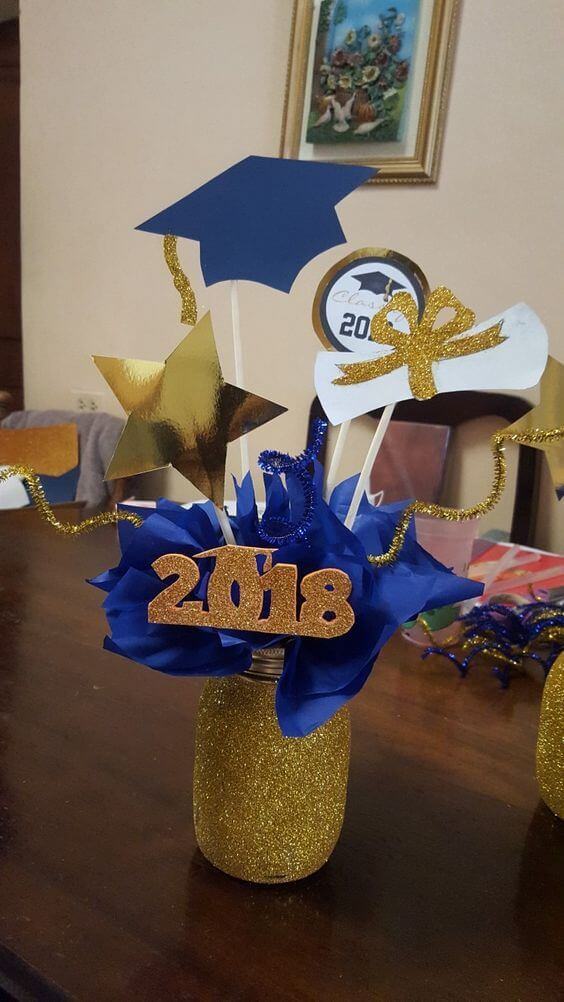 Use the colors of your current high school or college to decorate your centerpieces!
Loving this idea of gold-dipped mason jars.
Recreate this inexpensive DIY with jars, modge podge, and gold glitter.
14. Graduation centerpiece ideas for guys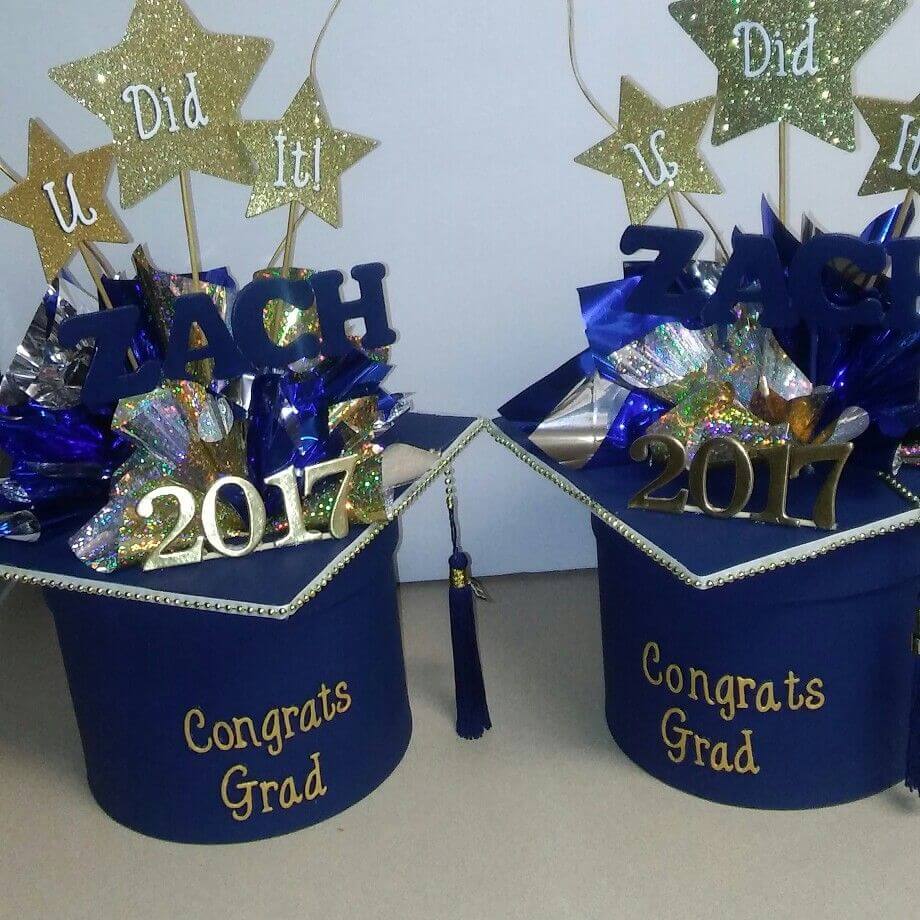 You need letter stickers to personalize your graduation party centerpieces!!
Depending on the color of your base, you can go for white, black, or gold, for example.
15. Mason jar centerpiece for grad party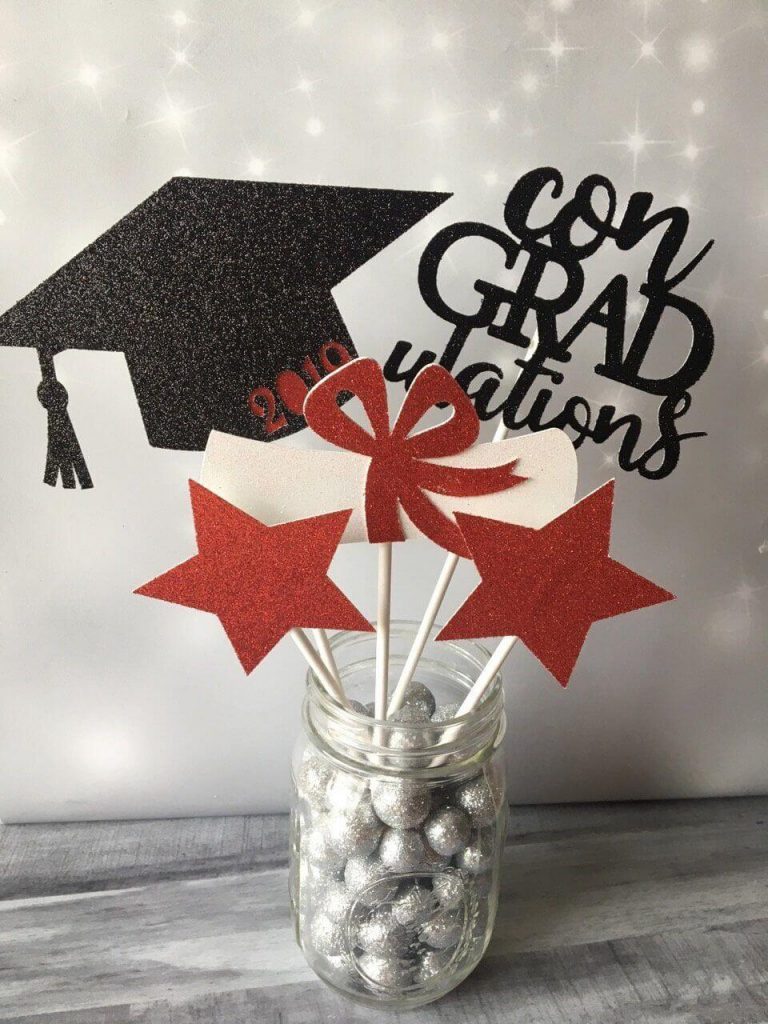 This conGRADulations centerpiece stick is adorable!
The mason jar with silver balls might give too much of a Christmassy vibe, but I love the overall aesthetic.
16. Grad party tassel ornament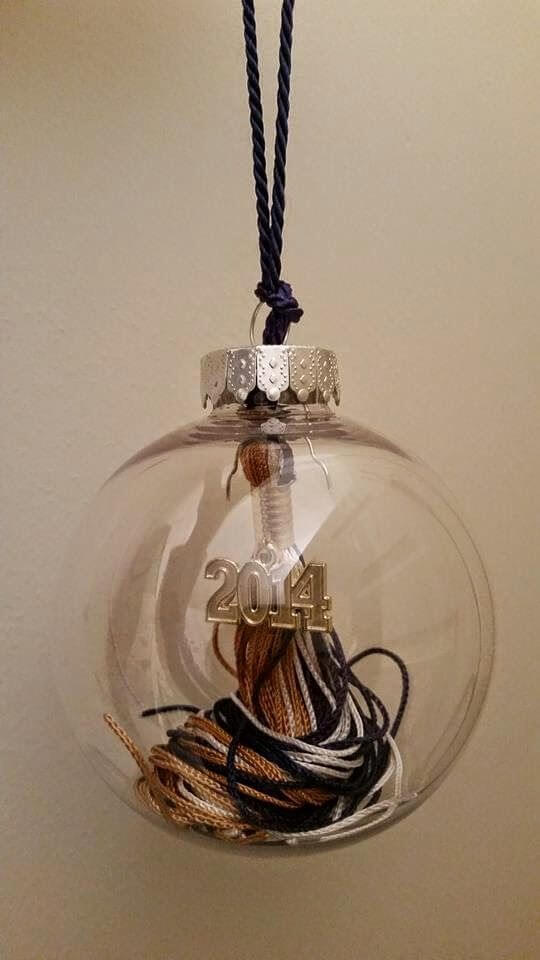 Maybe this tassel ornament doesn't strictly fall into the category of centerpieces, but how cute is this!
If you're looking for cute graduation party decorations, this one is easy and guaranteed to look amazing.
17. Graduation centerpiece with a picture of the grad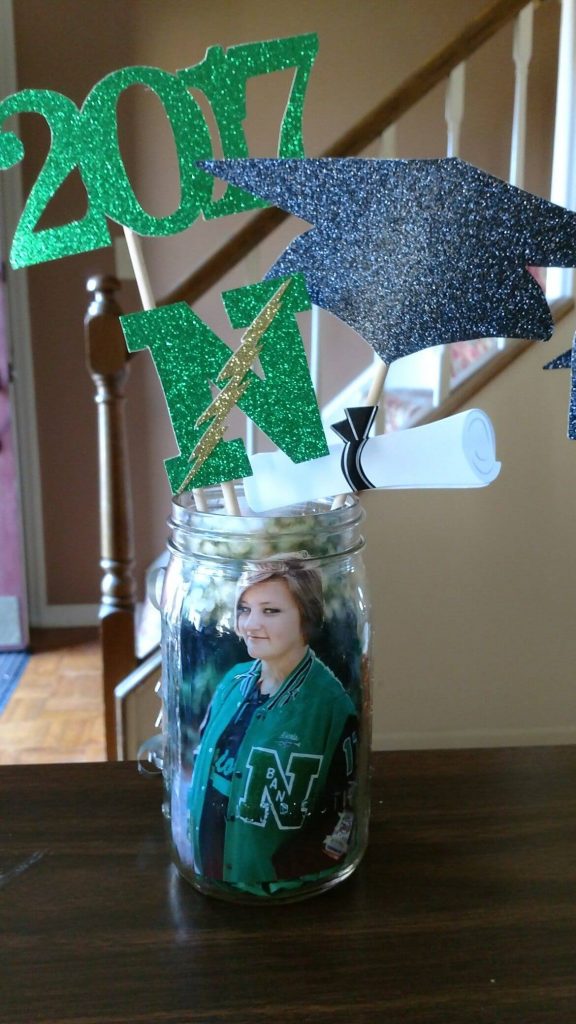 I love this DIY centerpiece because it's so simple yet so cute.
You need mason jars and your favorite photos (or pictures of the grad if you're making centerpieces for someone else!).
Decorate with centerpiece sticks in their favorite color, for example, this green and black set from Amazon.
18. Centerpiece sticks for DIY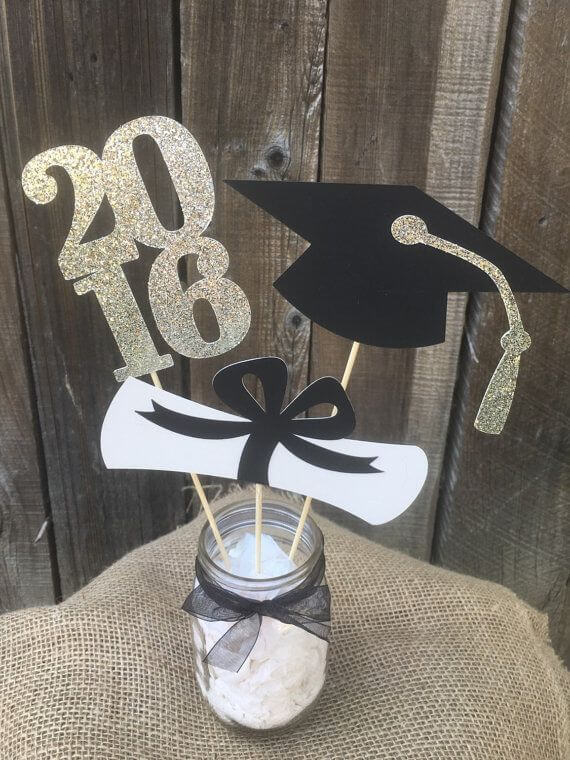 These centerpiece sticks from Etsy are perfect for a simple and elegant graduation centerpiece.
Place them in mason jars and use pebbles to keep the sticks in place.
19. Mason jar graduation centerpiece ideas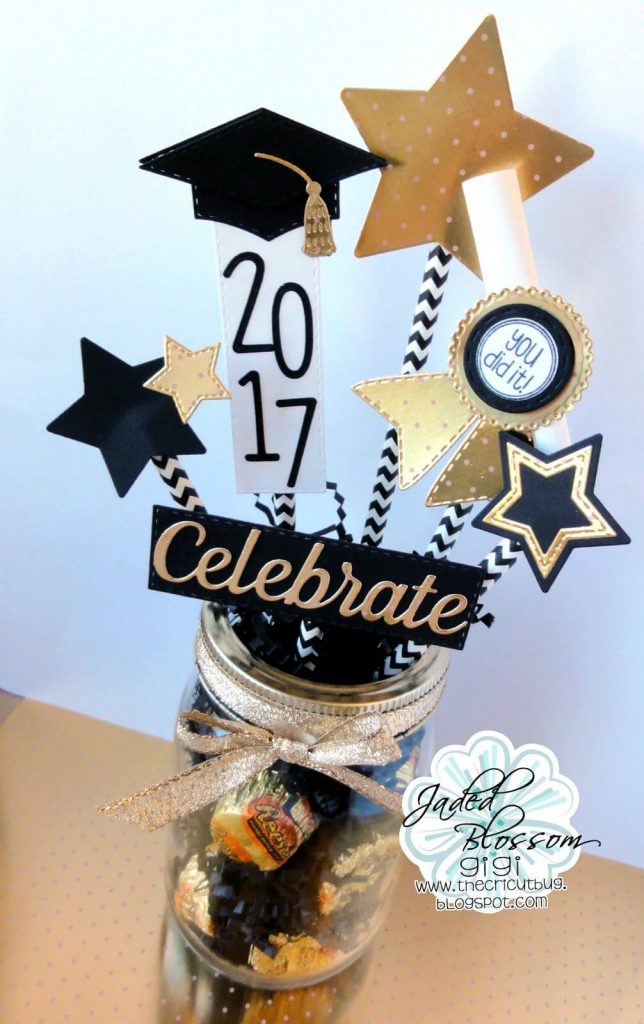 Gold and black is a favorite graduation party theme, and it looks amazing for centerpieces.
When making centerpieces with mason jars, you can be super creative with what you put inside the jars.
This one has gold-wrapped candy, and it looks so cute.
20. Mason jar centerpiece with flowers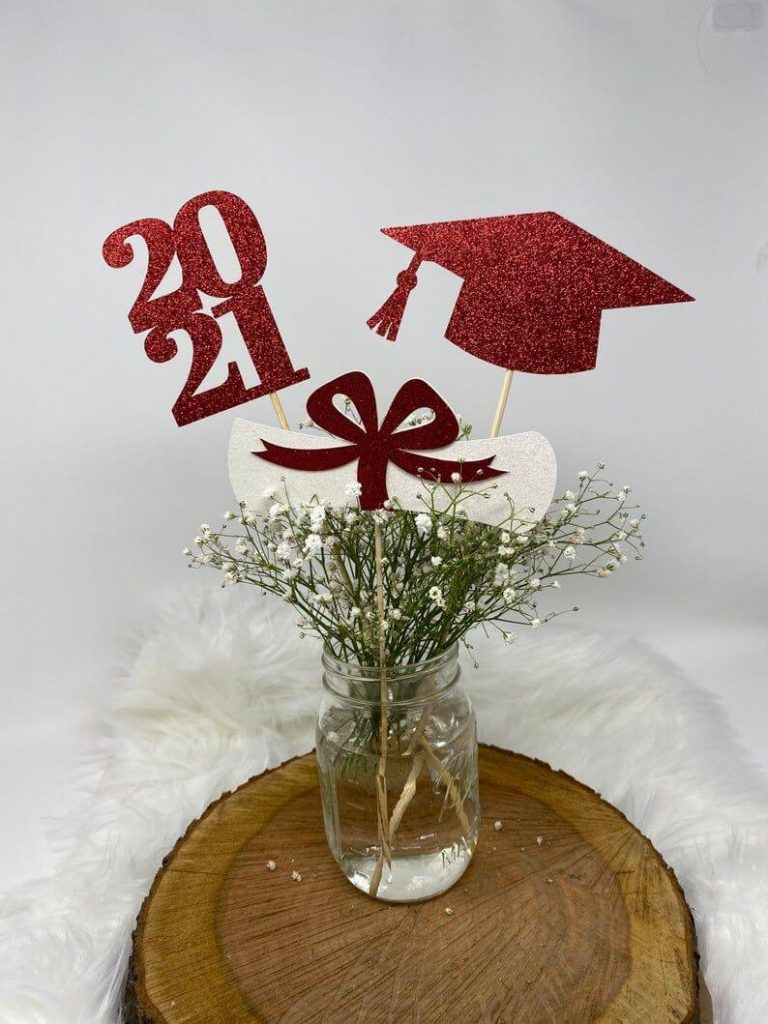 Combine a mason jar centerpiece with your favorite flowers and graduation-themed centerpiece sticks!
This set from Etsy is available in several beautiful colors.
21. Easy DIY graduation centerpieces
This is another great way to make graduation cap centerpieces!!
Use red cellophane paper to stuff the graduation cap, decorate the rim with rhinestone string, and, of course, centerpiece sticks like above with cute words like #done and you did it!
22. DIY flower cap centerpiece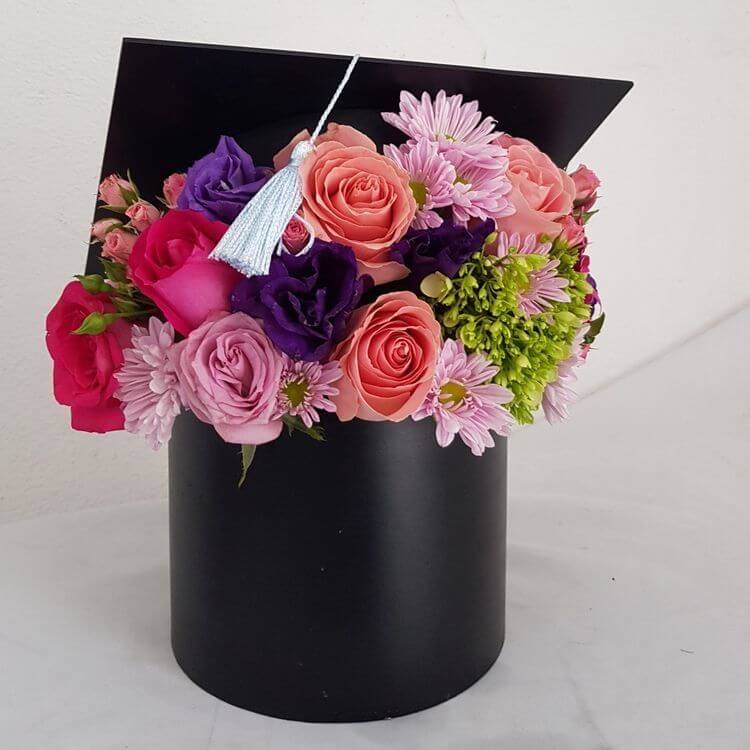 We already saw another cute flower cap centerpiece like this above, but the more inspo, the better!
These will look amazing as centerpieces if you're throwing a graduation party outdoor.
You can use real flowers or get a faux bouquet.
23. Blue glittery DIY grad centerpiece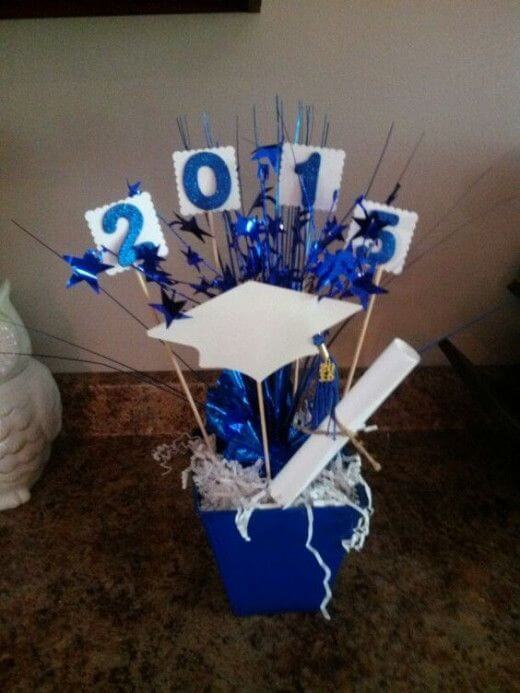 I love this DIY because it uses simple blue popcorn boxes as a base.
For stuffing, use crinkle paper in the color scheme you're going for.
Then decorate it with festive decorations and the year of graduation!
24. Graduation centerpiece for guys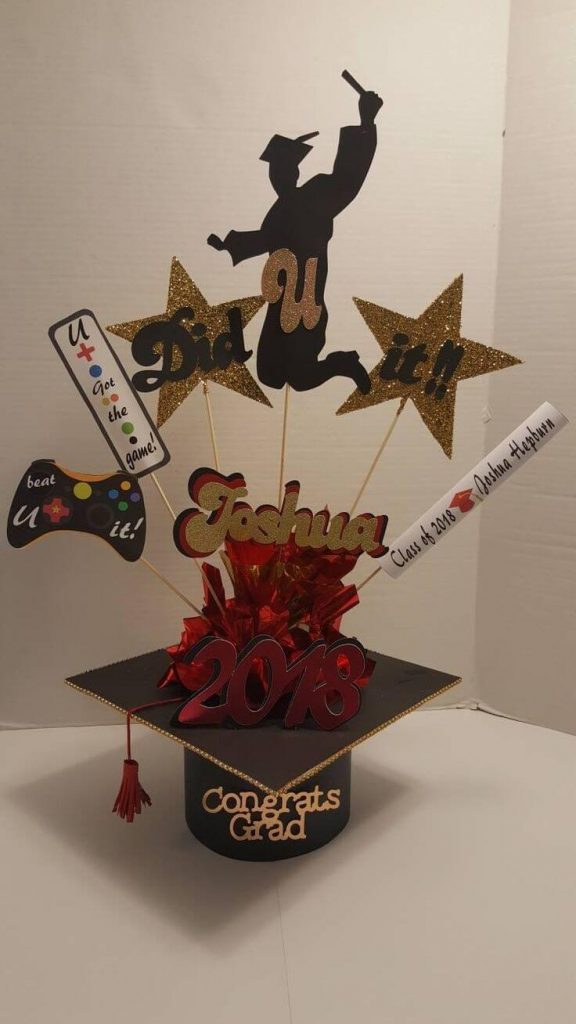 Most of the graduation centerpieces in this post can also be used for guys, just with a different color scheme!
Make a graduation cap in black, stuff the box with paper in the color of your choice, and top off the piece with customized name centerpiece sticks and a boy cake topper with ' you did it!'
25. Creative DIY graduation centerpiece
This centerpiece DIY went all out, and I love it!
They've used books as a base, combined with a blue glittery graduation cap.
Use small artificial flower bouquets to decorate your centerpieces.
Glittery star centerpiece sticks are a great festive addition!!
You can even decorate them with letter stickers and write the year of graduation or the grad's name.
26. Floral chic graduation centerpiece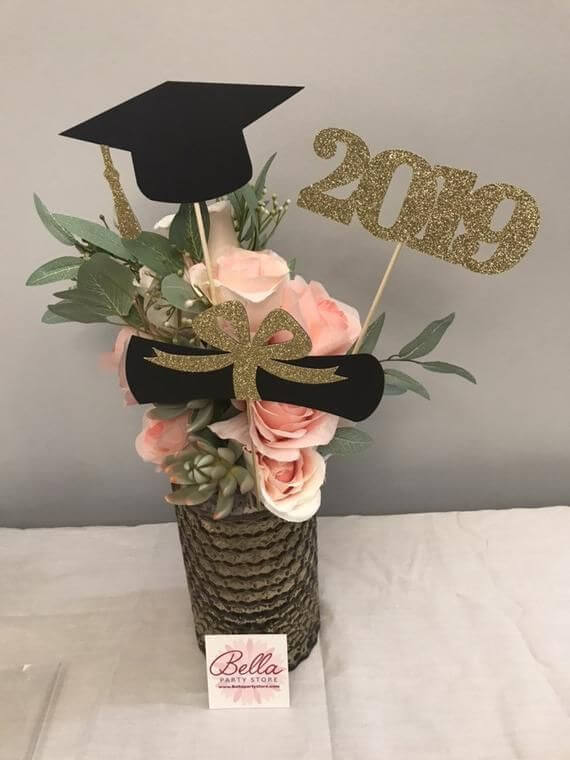 This centerpiece is a must if you're going for a chic floral theme at your grad party!!
The combo of the pink flowers with pretty centerpiece sticks is top-notch.
I'm not sure if the flowers in this centerpiece are real, but whatever you go for will look great.
27. DIY grad centerpiece with flowers