This post shows you the best high school graduation party ideas.
High school graduation… the end of an era and the start of a brand new adventure.
We all want a graduation party to remember forever because it's a night filled with friends that you might not see for a while.
Make it a night to remember and capture every memory to ensure you have keepsakes of the night.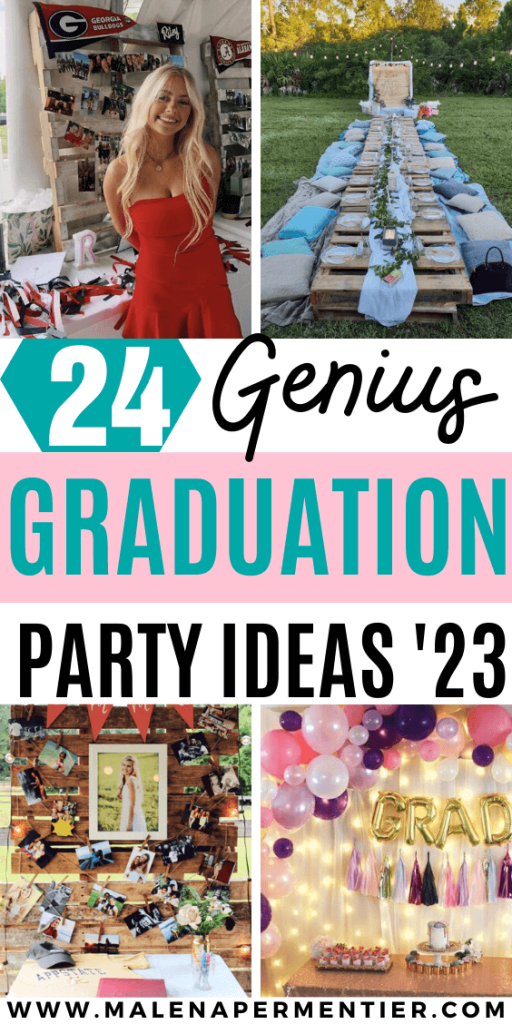 Why do we have graduation parties?
Some people might deem graduation parties as a bit of a waste, but I'm here to tell you why you shouldn't shoot it down that easily.
First of all, it serves as a celebration of your achievements.
Secondly, it lets you have a night filled with the people that have supported your journey and helped you grow, and lastly, it is the last night you'll see most of the people you've seen daily for years.
It's a celebration and a farewell to the person you used to be.
Take the opportunity to get some pictures, make lasting memories, and just have fun after all the stress you've been through for the past few months.
Top tips for a graduation party
If you're looking for a few tips for planning a spectacular graduation party then look no further.
Here are a few simple rules to follow when planning a big party.
Plan ahead
Send invites early
Tell your neighbors about it
Make a statement at the start of the night
Get caterers
Hire extra chairs and tables
Customize your party
Add some fun activities
1. Showcase the graduate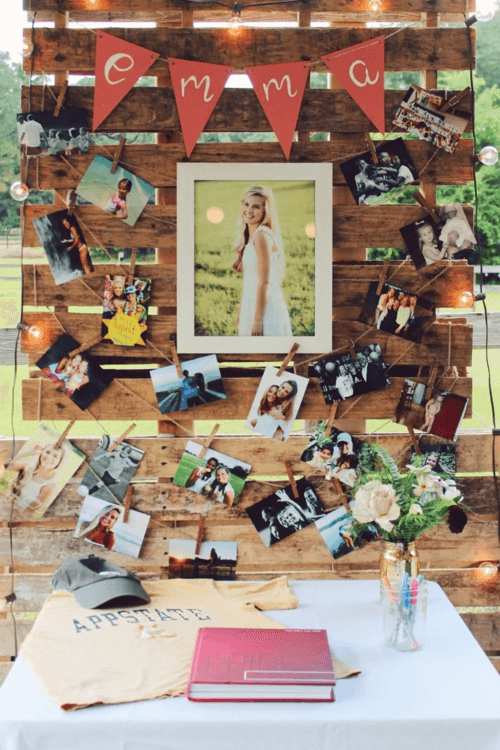 Set up a table just for the graduate.
Add pictures of them from the past few years or even some childhood pictures to bring up memories.
The party is all about the graduate and their success so it's perfectly acceptable to add some funny pictures of them for people to see.
2. Graduation photo wall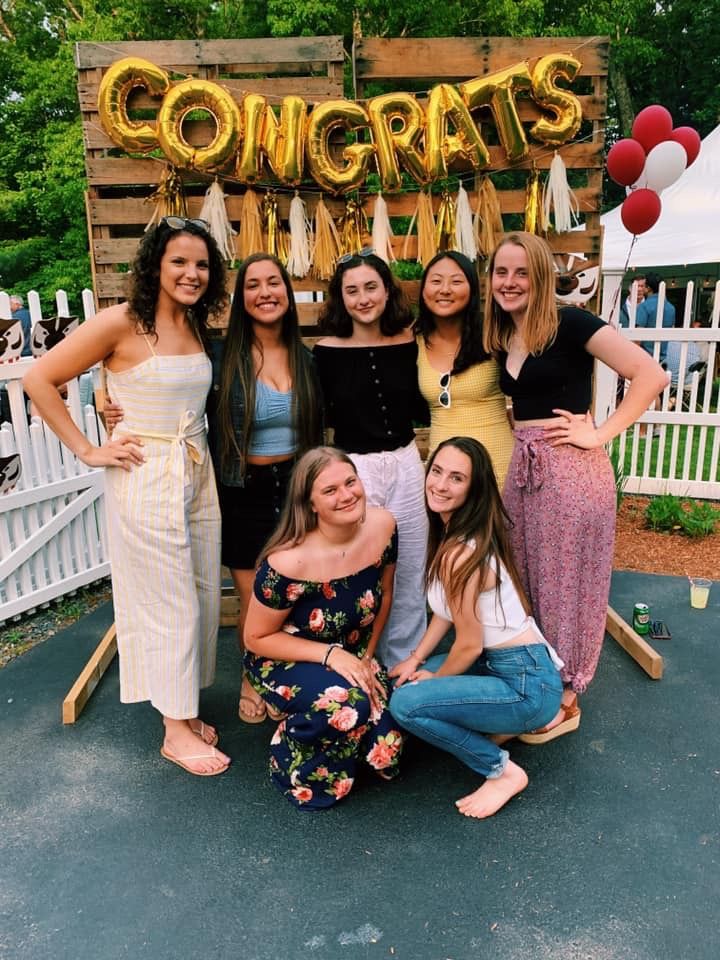 Grab helium balloons and wooden pallets to create this photo wall for the graduate and all their friends to pose in front of.
It's simple and is an easy DIY project to try. So why not try it?
It works great because you can easily decorate it to fit any theme.
3. Decorate with a balloon arch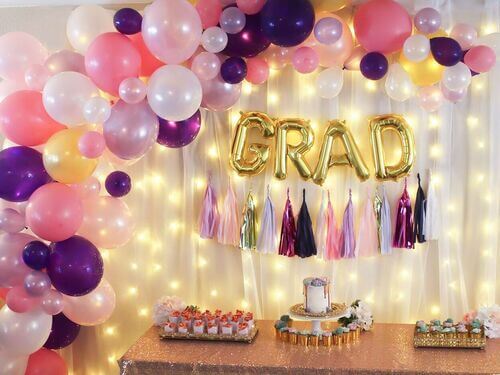 Fairy lights and balloon arches make any setting look more bright and more magical.
Get yourself some balloons in the same color as the theme you are going for, and create a balloon arch to go over the snack table or even around the photo booth to add dimension to any space.
4. Cute color theme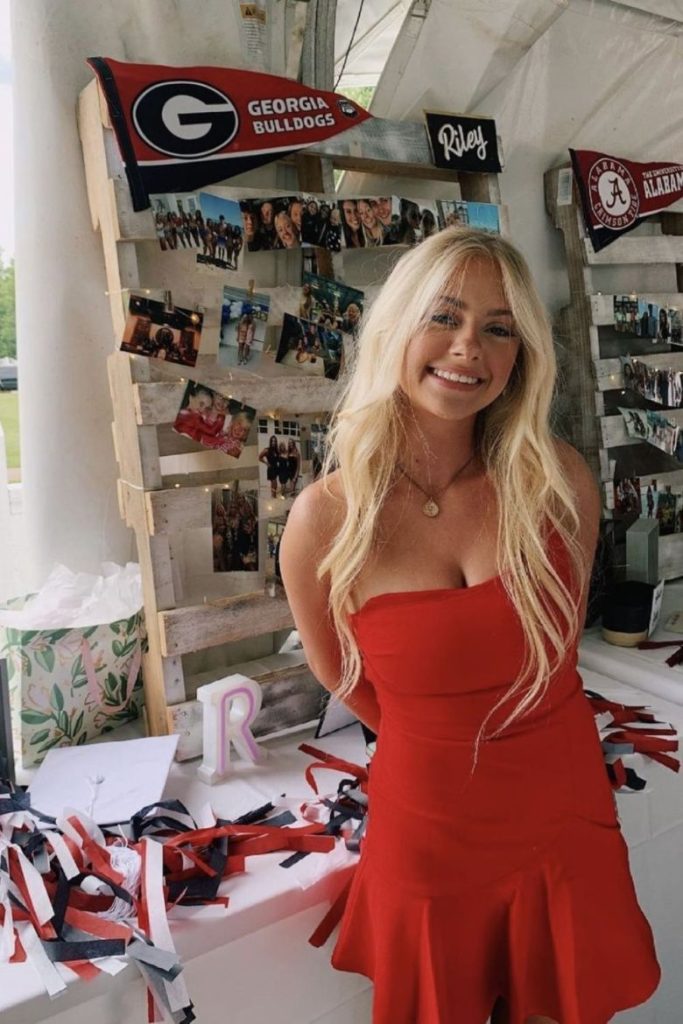 Stick to a certain color theme. Having a cute and simple color theme will help you immensely.
Having a party with no theme or color scheme can make everything feel messy so be sure to plan when creating your perfect graduation party.
5. Have a guest book table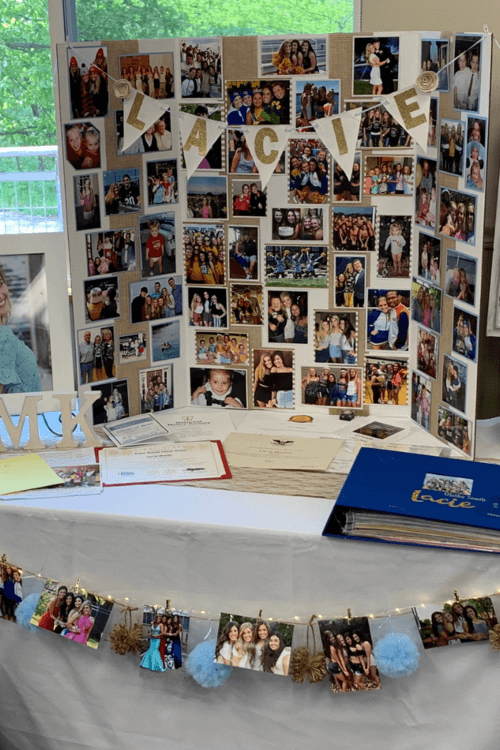 Having a designated guest book station allows friends to go and leave you a sweet message throughout the day.
It's cute and gives you the chance to gather keepsakes to keep with you forever.
It will also bring a nostalgic touch to things and how it used to be.
6. Send cute invites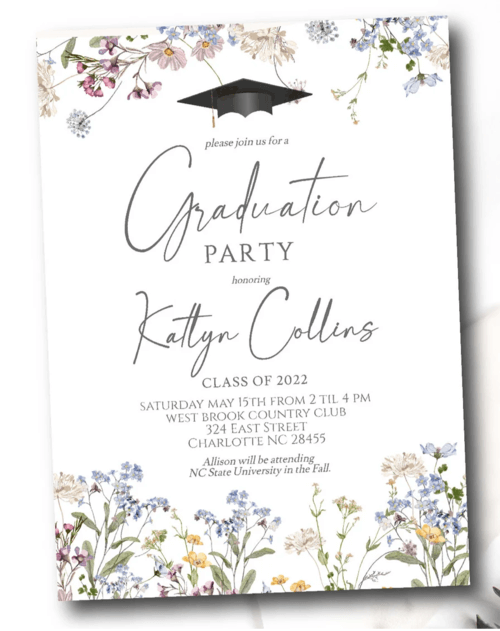 As they say, first impressions are a big deal. Well, that applies to invites as well.
Create your personalized invites and showcase your creativity to the guests.
Send them out well before needed to ensure that people have plenty of time to RSVP.
7. Make a pretty seating area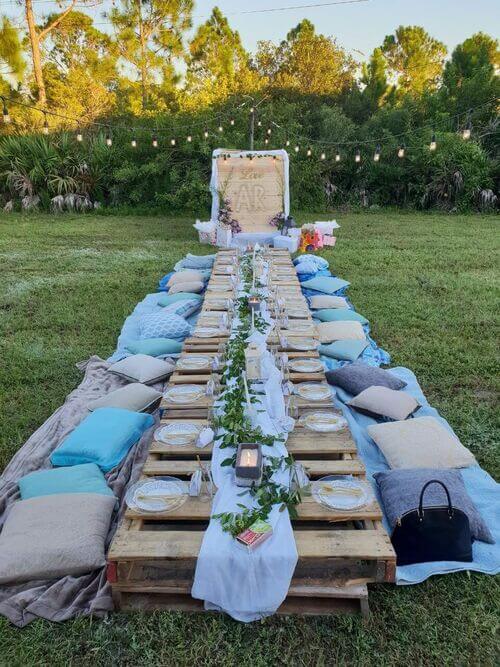 Try out a different approach.
If you don't want to spend a bunch on hiring tables then this picnic idea is sure to be a new and exciting approach.
Grab some cozy blankets, pillows, and a few wooden pallets.
Decorate the table with some fancy tableware and just enjoy the evening in the warmth of a summer night.
8. Guest book with pictures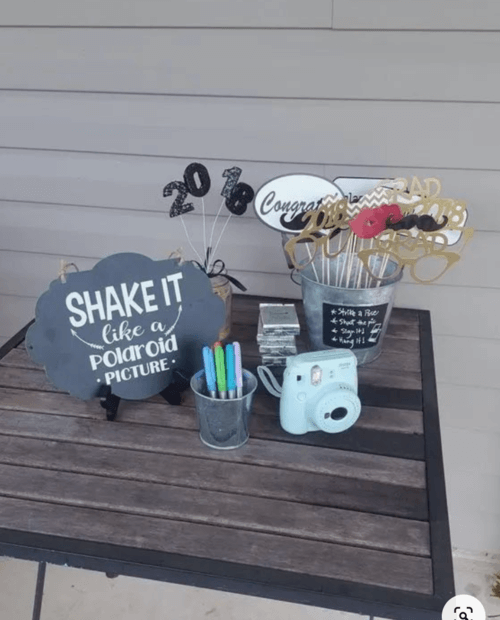 Remove the simple guestbook idea and opt for the fun Polaroid picture idea.
Set up a table with Polaroids and put some colored pens on the table.
This lets your guests snap a picture with you and write a fun message for you to look back on for years to come.
9. Have an advice jar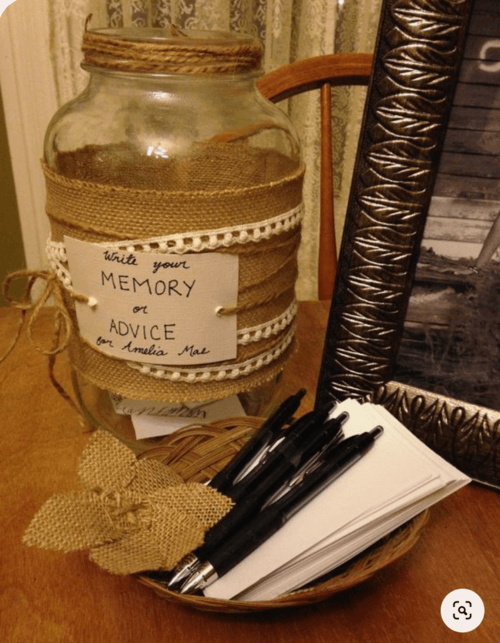 Add a unique touch to the day by giving people an activity to take part in.
A simple idea like this can go a far way. Put a jar on the table with some small pieces of paper and pens.
This allows your guests to leave you with some advice to use in your new adventures.
10. DIY the table centerpieces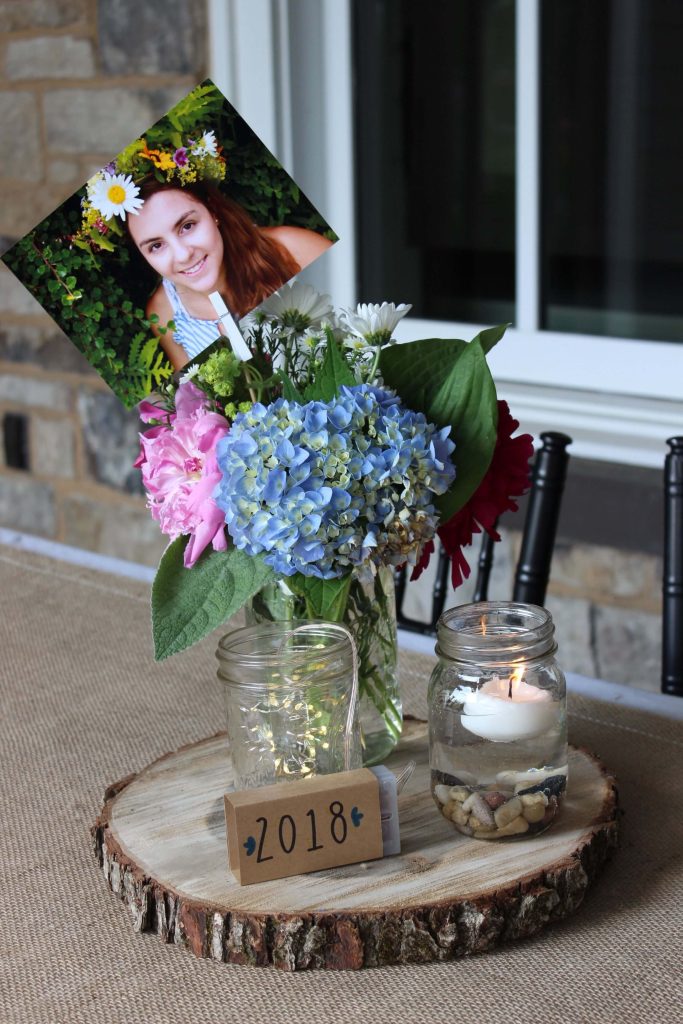 Build a personalized centerpiece. Make use of wooden rounds, floating candles, and fairy light flowers.
You can then personalize it by inserting a picture of the graduate into each centerpiece.
This idea can easily be adjusted to fit your theme.
11. Give cute party favors

A party favor goes a long way. It doesn't need to be extremely expensive.
A simple sweet with a cute sticker can make a big difference.
Just grab something simple to give to your guests and thank them for coming to the party.
12. Grad cap balloons
Grab some balloons and create this cute graduate figure.
It's adorable and is sure to put a smile on your face. It's a simple and budget-friendly idea for party decor.
13. Have a candy buffet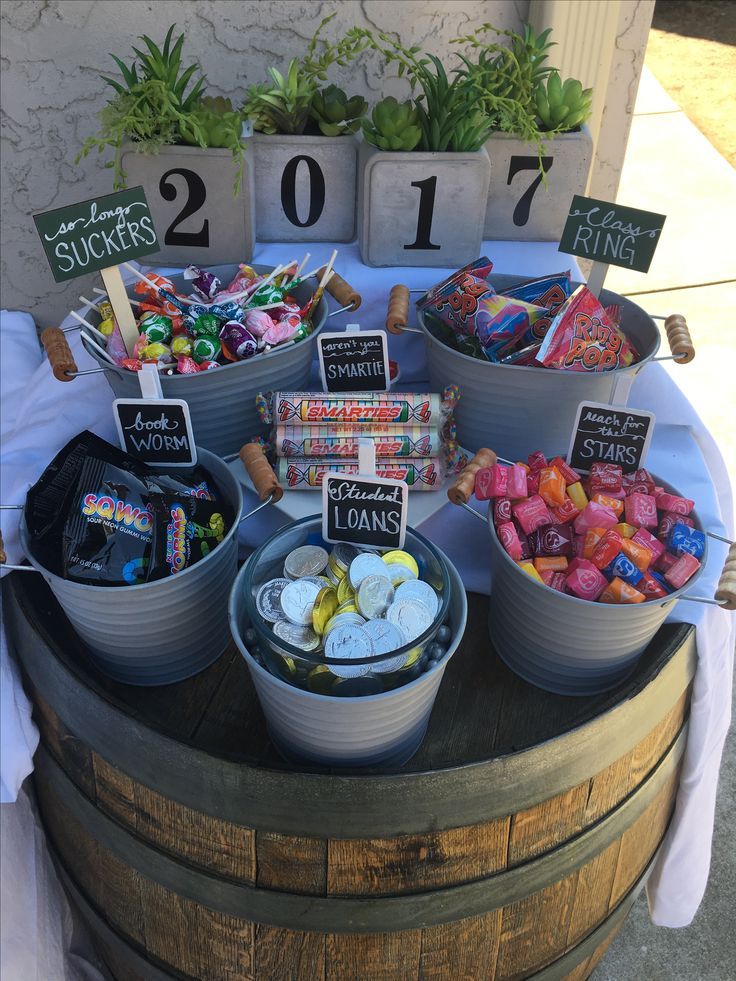 Have a treat or five. You honestly deserve it for your accomplishments.
This snack bar or candy buffet is sure to make sure your guests have enough energy throughout the day.
Get everyone's favorite treat and add them to the table so that everyone has something to choose from.
14. Make a food station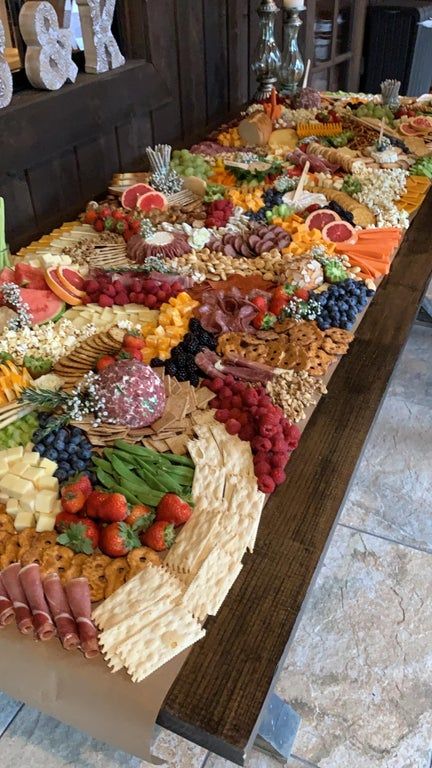 A table-sized charcuterie table? Count me in!
This will not only help you save money but ensure that there is enough for people to snack on during the day.
It's a simple way to save on catering.
15. Decorate with college colors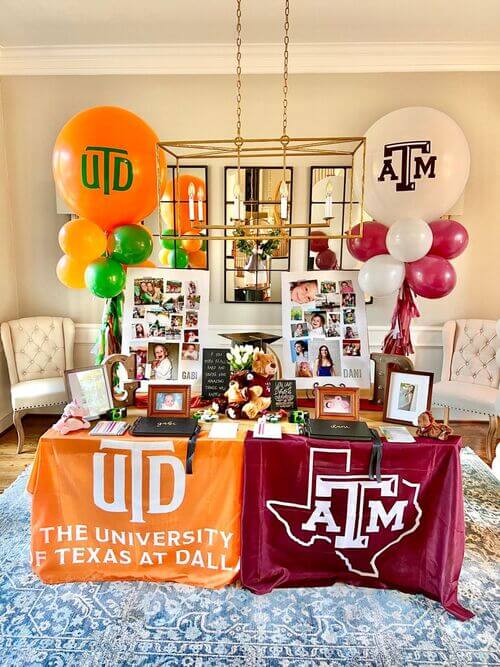 Hype up the graduate by decorating the party with the colors of the college they'll be attending.
This helps to narrow down a color scheme and get them excited for the next part of their journey.
16. Have a yearbook display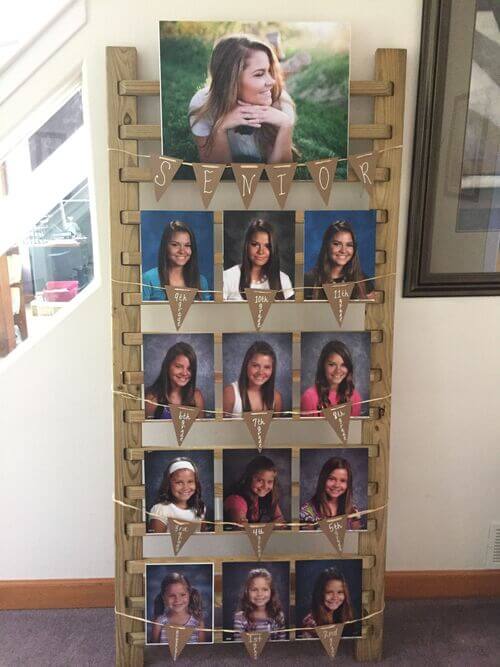 A fun way to see how you have grown through the years is by making use of a yearbook display.
Take the pictures from your yearbooks from the past 12 years of school and place them on one stand for guests to see.
It offers a nostalgic approach to the day and indicates how many memories have been made.
17. Decorate with string lights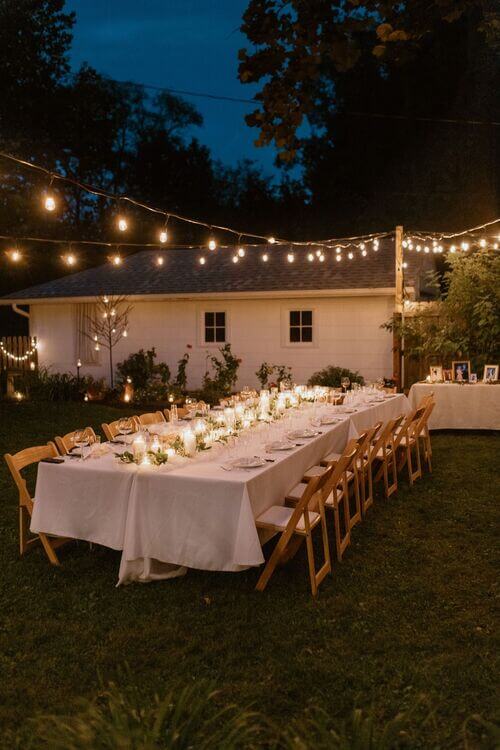 The perfect way to light up the night is by adding some fairy lights or string lights.
It sets a warm tone for the party and works well outdoors if you plan to have a giant table for people to gather around and talk.
18. Pick a cute graduation theme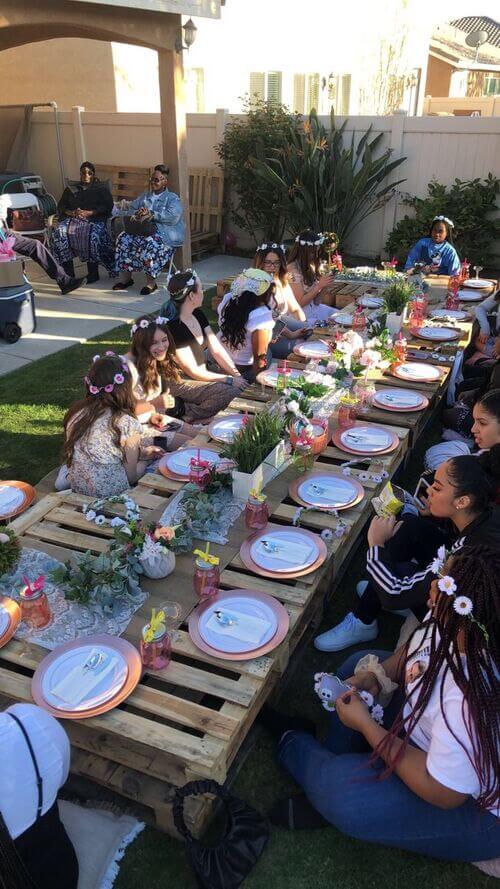 Picking a cute theme is an essential part of the whole party.
Something fun and fresh is a spring blossom theme that showcases pink accents and gorgeous flower crowns.
People will enjoy a fun theme to get things into a certain mood.
19. Line pictures in your driveway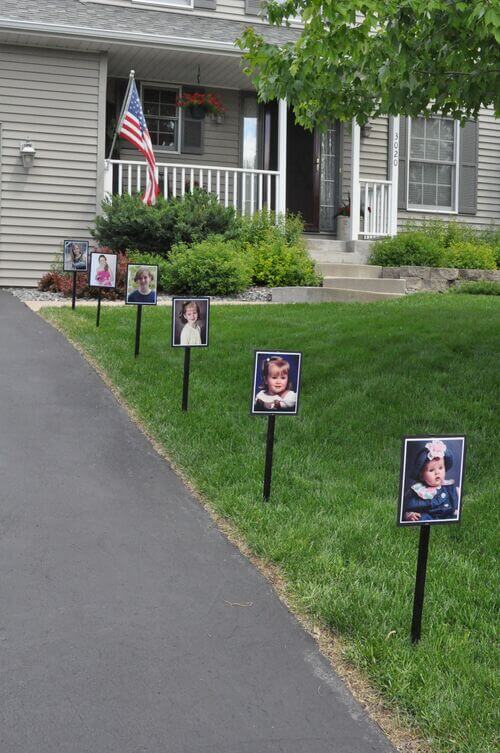 A fun way to get people talking is by adding some baby pictures to the mix.
That always helps as an ice breaker for people to gather and talk.
It also helps people see how much you have changed in the past few years of your life.
It's a simple way to bring something new to the table.
20. Have a dessert table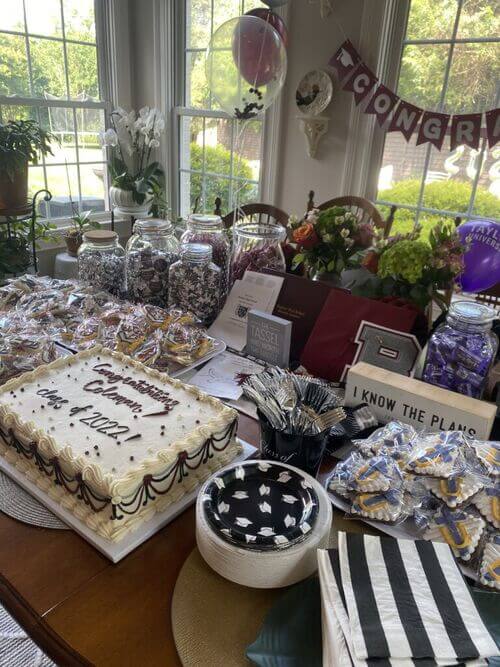 Having a dessert table will give people a place to grab a quick bite to eat.
Add a cake and some cookies for variety.
Even keeping things simple will be a lot of help, but try to stick to the theme.
21. Have games ready in the yard

As I've mentioned above, having some activities will go a long way.
People love having something to keep them busy, and a game is the best way to do so.
You can DIY a project by making use of cans and some paint or buy them as is to use.
22. Go for a pink graduation theme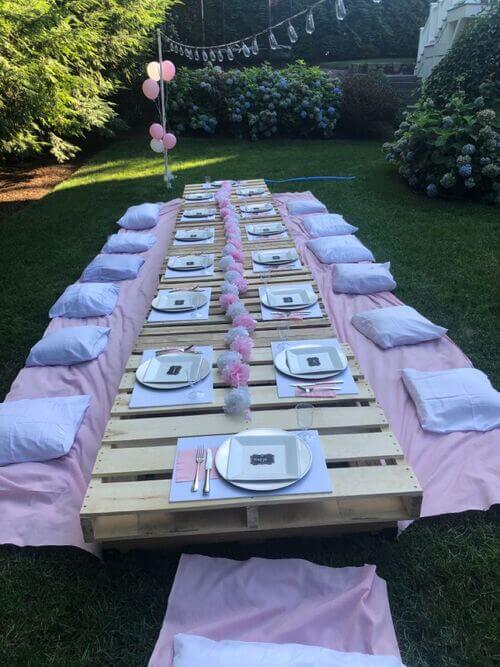 Go for pink if you want to bring out your inner Elle Woods.
Pink is such a subtle and pretty color to make the party seem more vibrant.
People will love to see a different approach to the usual gold, blue and white themes that constantly surround these parties.
23. Make a lemonade station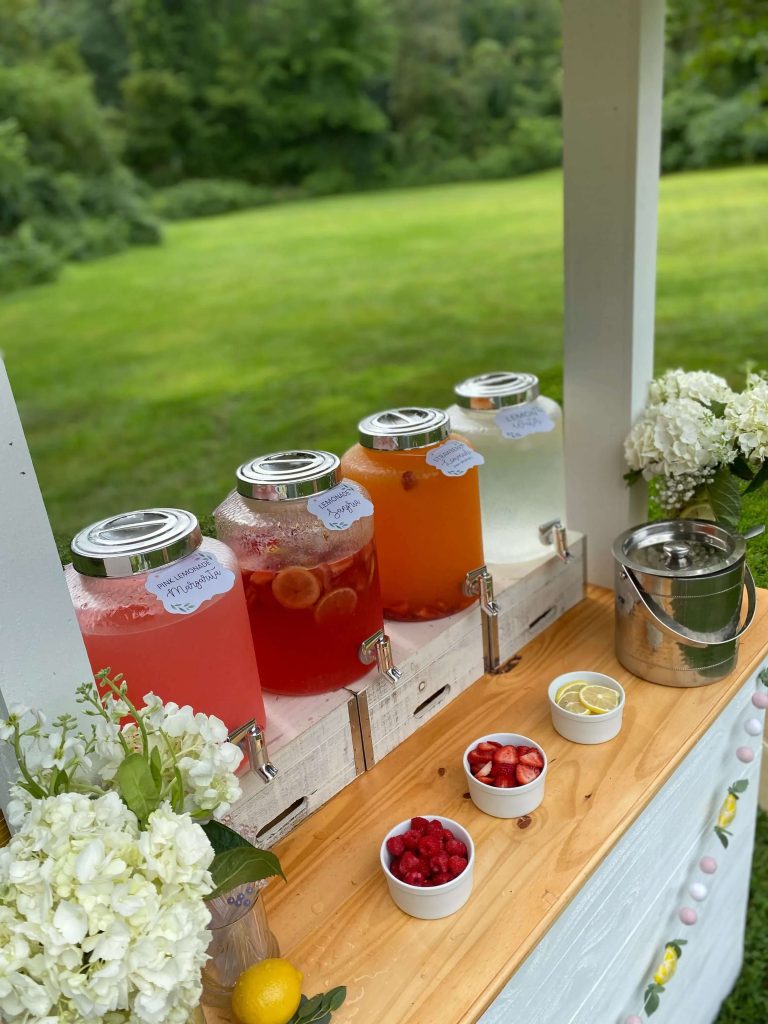 Variety is the spice of life… or so they say.
A lemonade station is perfect for the summer weather and allows your guests to grab a drink they know they'll enjoy.
Add some fresh fruit slices so that they can have a nice added touch to the drink as well.
24. Host your grad party in the backyard

You don't need to hire a special place to host the party.
Simply have a backyard grad party so the costs aren't over the roof.
People will feel more comfortable at home than somewhere they don't normally hang out, making it perfect for a group of friends.
Having the best graduation party
Keep in mind that the party and bringing in a bit of your personality is the least of your worries.
You have everything you need to bring your ideas to life, but you need to remember that, that's just the basis of it.
It's all about having fun and making memories, so just be yourself and showcase your ideas.
Whether you take a few ideas from the list above and create a giant party, or you try out something simple and keep the gathering small it is up to you.
So what are you waiting for? Grab the invites, balloons, and photo booth, and get to planning the best graduation party anyone has ever seen.
Show your flair for decor and personal style by adding a fun wow factor to your party.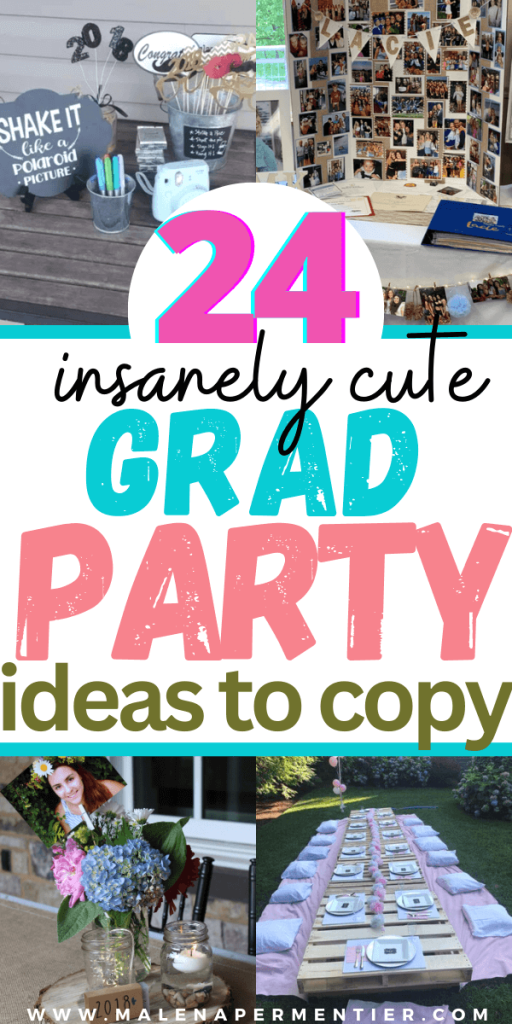 This post showed you the best high school graduation party ideas.
You may also like: