This post shows you the best summer centerpiece ideas!
It's officially summertime! Break out the lemonade and bold color combos.
Here are 21 fun and fresh ideas for you to try out while decorating this summer.
We're taking a look at popular colors, exciting ideas, and fresh perspectives.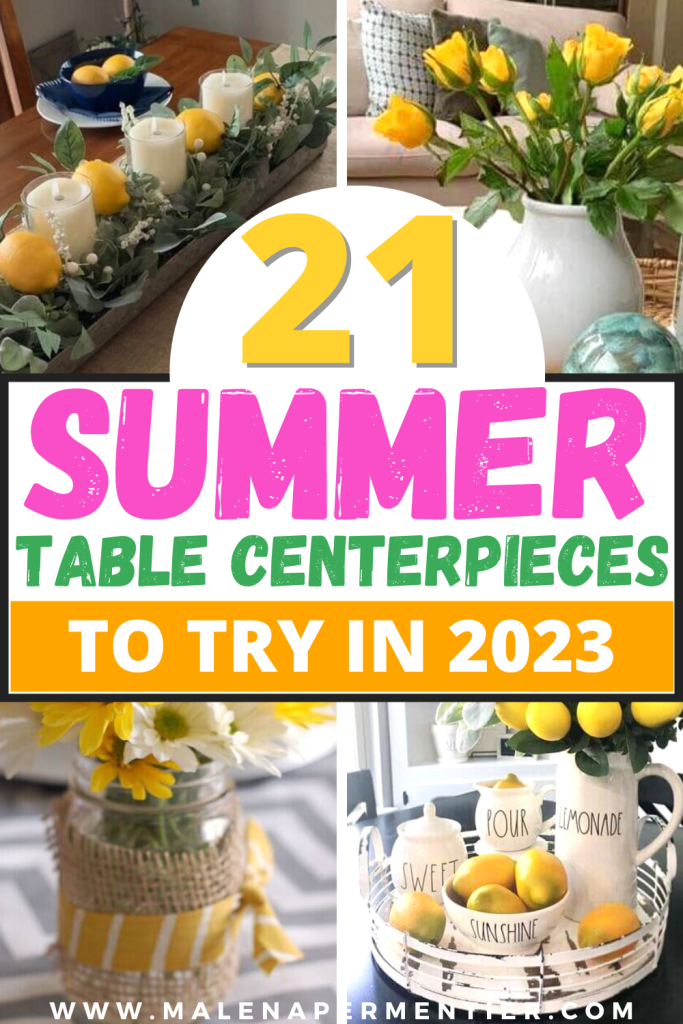 Summertime ideas
Summer is a time for lemonade, ice cream, midnight swimming, and fun centerpiece ideas.
Whether you're looking to brighten up a space, or just simply want to express your creativity there's something for everyone.
Add lemon slices to your water. No, seriously it looks fantastic you should try it.
Add tulips, sunflowers, or any other gorgeous flowers to the mix to create the perfect summer atmosphere inside your house.
Tips for centerpieces
Decorating is fun and allows you to express yourself within your home, but creating centerpieces is something that has a specific formula to follow.
We've taken the formula and divided it into tips for you to test out.
Keep things simple. When adding florals it should only serve to enhance your pieces not overwhelm them.
Create balance. Having pieces that have a balance between long and short it will enhance your centerpieces instantly. For example, pairing long table runners with small vases so that guests can communicate without having something in the way.
Skip the aromas. This is especially applicable to those of you who are sensitive to smell. Try to avoid aromatic flowers with strong fragrances.
Keep things small. Centerpieces should not overpower the table.
Keep things flower free. You don't need to add flowers to your centerpieces. A simple candle, crystals, and colorful vase setting is just as effective as a bouquet.
Add a pop of color.
You don't have to go all out and brighten things up… unless that's your style of course.
1. Lemons to lemonade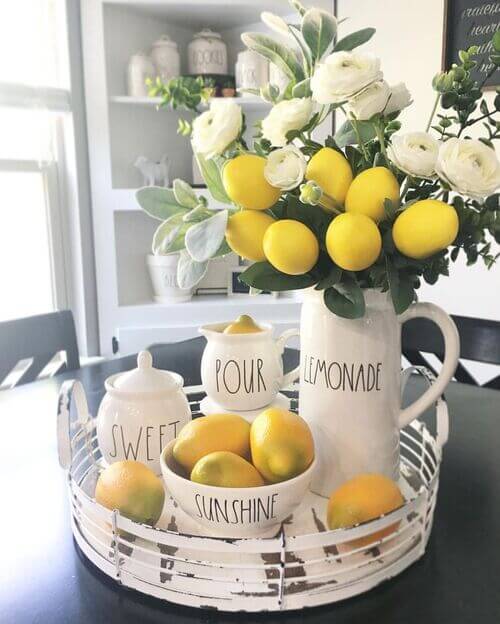 Nothing says summer like a fresh bowl of lemons.
This gorgeous centerpiece incorporates a painted wood tray, with custom ceramics, and a rose and lemon bouquet.
It displayed the perfect balance of bright and clean.
You can easily use this centerpiece in the kitchen to be a display for fruits while bringing some dimension to the table.
2. Baby's breath and eucalyptus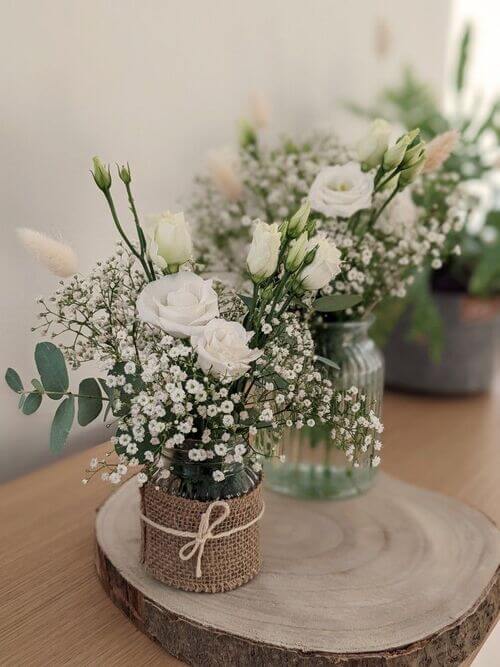 If you just want to add something subtle then you can swap out the lemon yellow for some burlap-wrapped roses.
The white flowers and greenery can just as easily showcase the wonderful brightness of summer without the pop of color.
It's cute and small which makes it easy to place around the house or in a set location.
3. Ceramics and greenery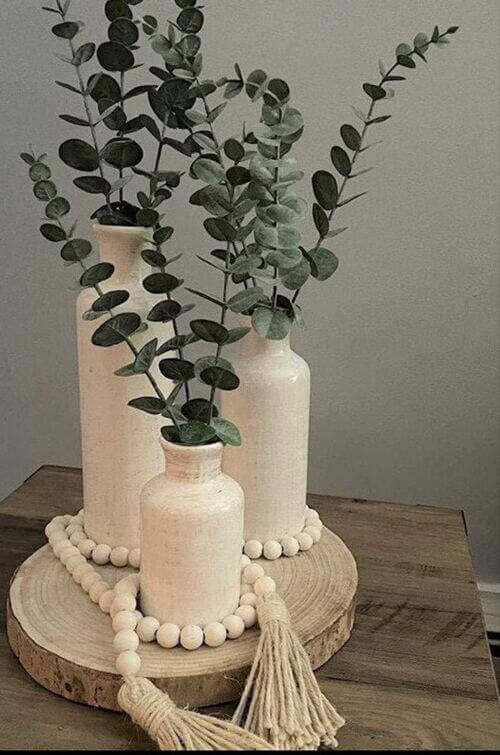 Stick to neutrals.
The neutral color scheme is subtle but can show a big change within a room.
Place the ceramic vases and pearls on a wooden board. It's simple and cute for any home.
Pair it with some greenery just to add a bold touch to the table.
Or if you want something that signifies summer, then you can add some fake blossoms in all sorts of colors.
4. Sunflowers and daisies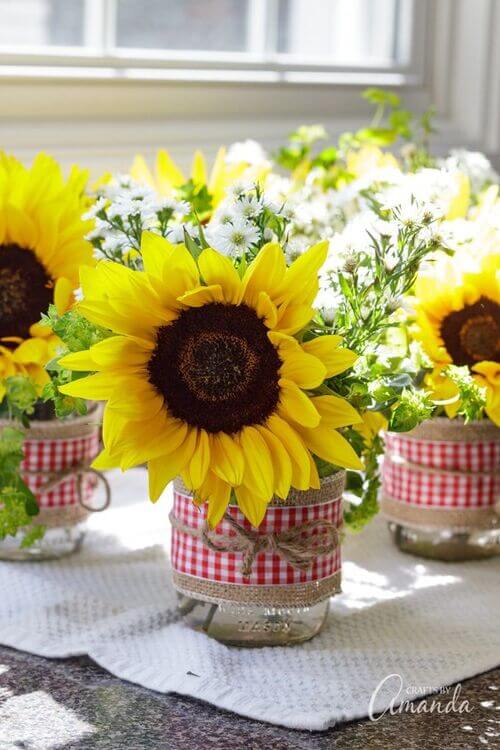 It's summer and everything should be bright, right? Well, take things back to basics with this sunflower and checkerboard idea.
It's cute and adds a little vintage touch to things.
By pairing the sunflowers with the daisies it will create a balanced look to the overall centerpiece.
Tie it off with a twine ribbon and you have yourself a budget-friendly summer centerpiece.
5. Simply tulips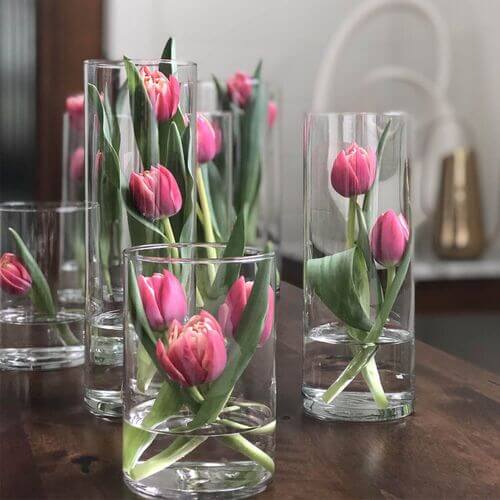 Looking for a touch of color but no add-ons? I get it, you just need something to bring a bold touch to the table.
These vases filled with bright pink tulips are just what you need to showcase the summer spirit.
Whether you're decorating for guests or just want to brighten up your home, this will surely be a fan favorite.
6. Summertime growth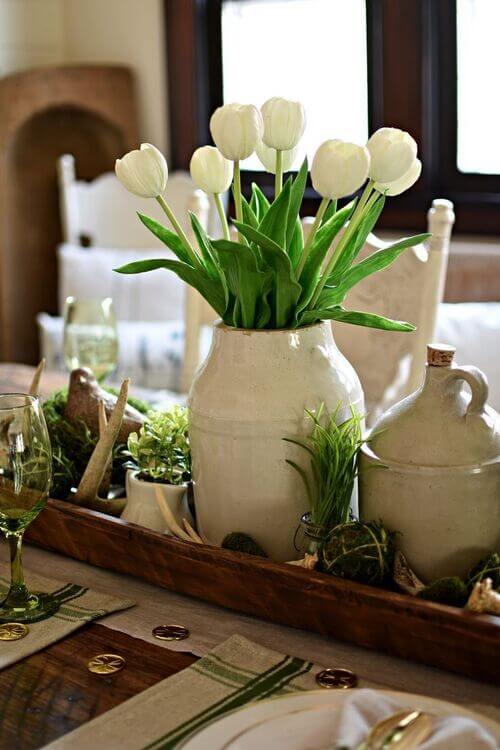 I don't know about you but when I think about summer, I instantly think of growth and possibilities.
If I were going to try any idea off of this list then this would be my top pick.
The wooden board is balanced with white ceramics.
The greenery from plants and herbs just makes me feel as if summer is in full swing.
I highly recommend this to all the plant moms out there.
7. Citrus and blossoms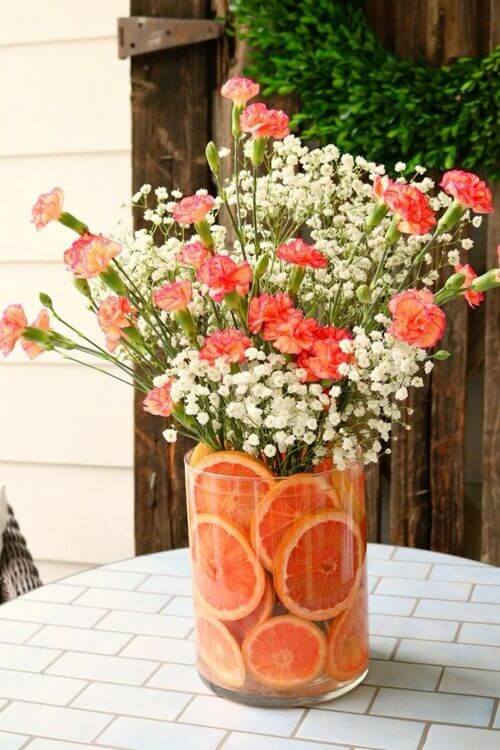 Bring in bold summer colors.
A gorgeous orange and pink centerpiece like this can never go wrong.
Fill a vase with water and slices of orange.
The pink blossoms and baby's breath bouquet give the perfect balance between light and bold.
8. Mason jar holder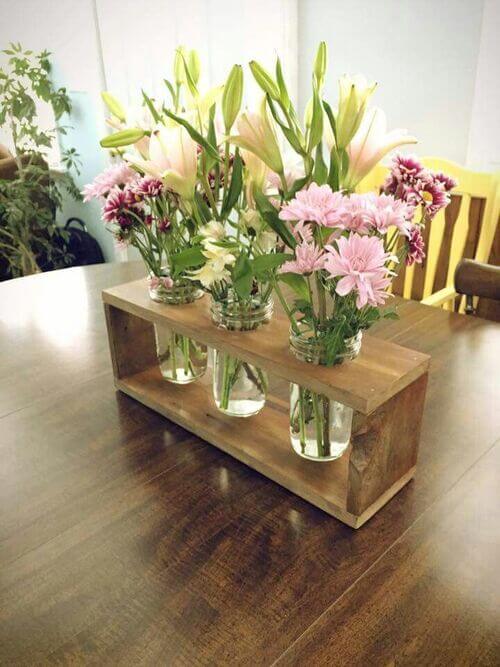 Here's an out-of-the-box idea… mind the pun.
This project is fun and can easily become a DIY project.
Recreate this by grabbing a box and drilling three holes through the top.
The mason jars can sit freely while holding bouquets of bright flowers. It's easy and cute, making it the perfect idea for summer.
9. Floating candles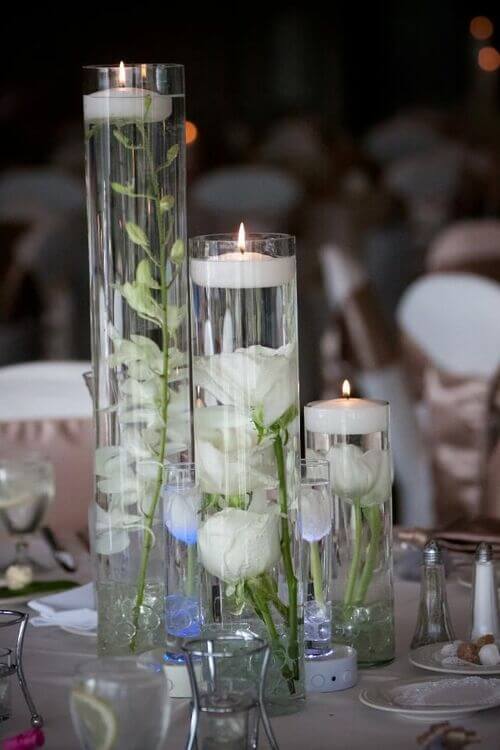 A great way to spice up the floating tea light ideas is by incorporating some roses into the mix.
These fake flowers might be just what you need to fill up the space and provide some more detail to the table.
10. Eucalyptus in vases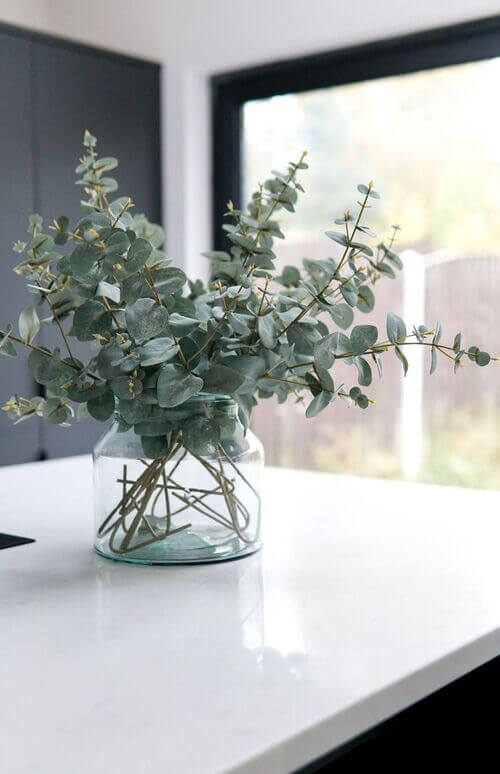 Skip the mess of accidental spillage and create this centerpiece.
Eucalyptus is perfect to use around the house due to its added health benefits.
If you have issues with strong aromas then you can always opt for fake plants so that you can still try out this idea, but without it harming you.
11. Tinted jars and bright flowers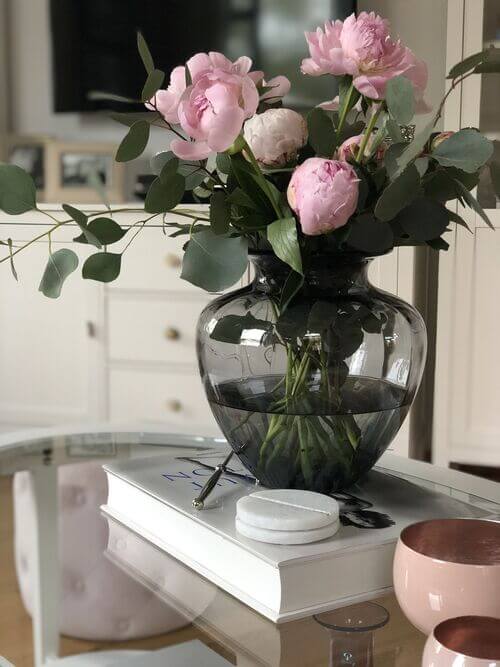 As much as I love the idea of going all bright and cheery for summer, my inner Wednesday Adams still loves the moody and dark colors.
So to create balance you can try out a dark tinted vase paired with bright pink flowers.
It gives the perfect balance and still offers you the summer aesthetic.
12. Citrus and rosemary jars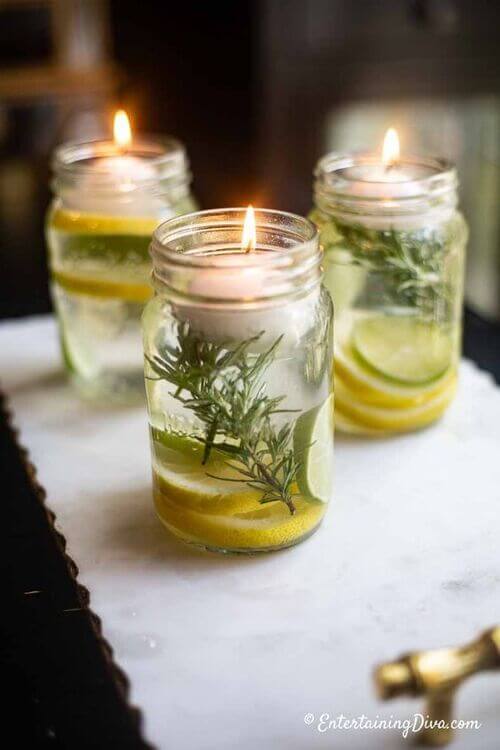 This idea is as unique as they come. Grab yourself a couple of mason jars and fill them with water.
You can add rosemary, lemon, lime, or whatever fits your needs.
After that, just place the tea light on top of the water.
It's a simple DIY project and is a great way to try out something new for summer.
13. White ceramics and greenery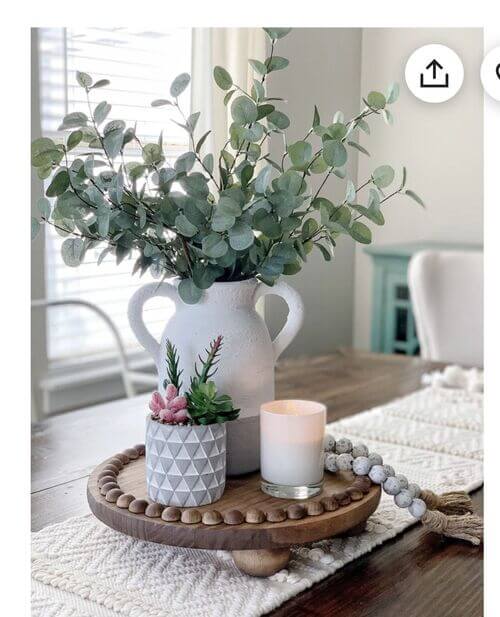 Ditch the dark wood and beige planters.
It's time to bring out your white ceramics, lemon candles, and gorgeous potted plants.
No one can resist a succulent in a cute little planter.
This minimalistic approach to centerpieces is more than you need to get through summer.
14. Lemons and candles table runner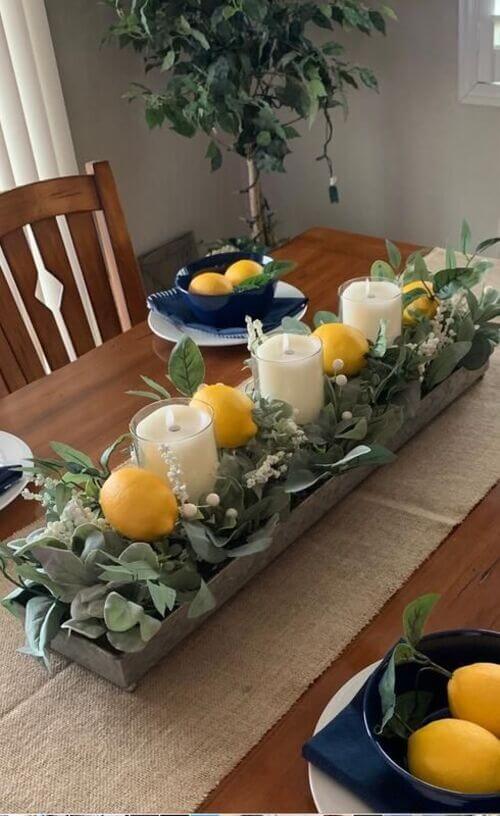 If a normal centerpiece isn't your scene then you'll love this idea!
This basket is filled with greenery and lemons. Life's too short to not add lemons to your tables.
You can match them with some candles (whether that's fake or real is up to you) and decorate your table.
15. Tall vases wrapped in florals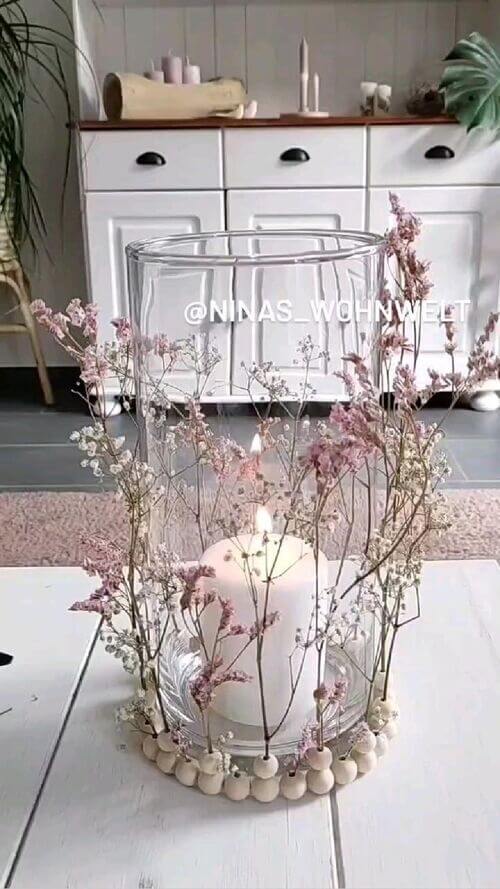 Subtle colors can go a long way. Small flowers in subtle pinks are the perfect color for the beginning of summer.
They can be placed around a vase while a candle sits on the inside.
It's simple and effective for a centerpiece, especially if you don't have a lot of time to pull something together.
16. White and yellow tulips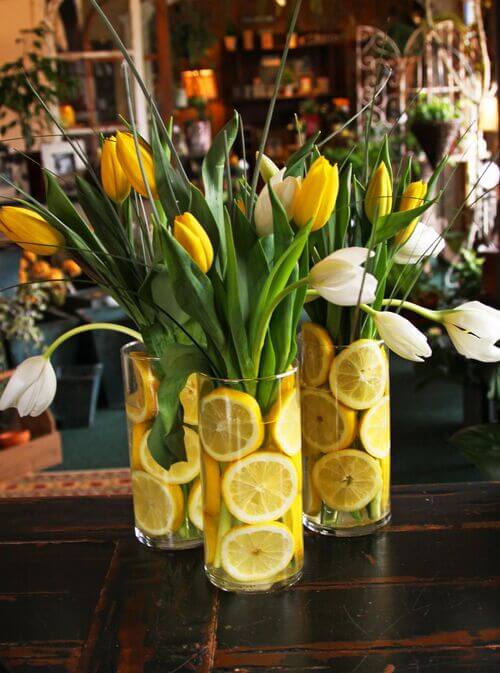 Yellow and white tulips are enchanting for decor in the summer.
Take the lemon slice idea from earlier and add some tulips to the mix.
It's a citrus explosion of color and brings light into any room.
17. Tulips and beads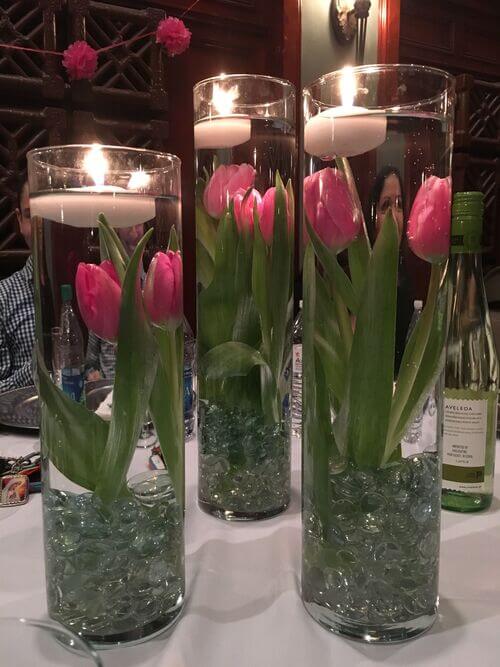 This idea works well for a summer dinner party. Fill a vase with beads.
You can place the tulips into the beads to keep them in place and then fill up the vase with water.
Simply place a tea light on top for lighting and you've got a sweet centerpiece.
18. Dry centerpieces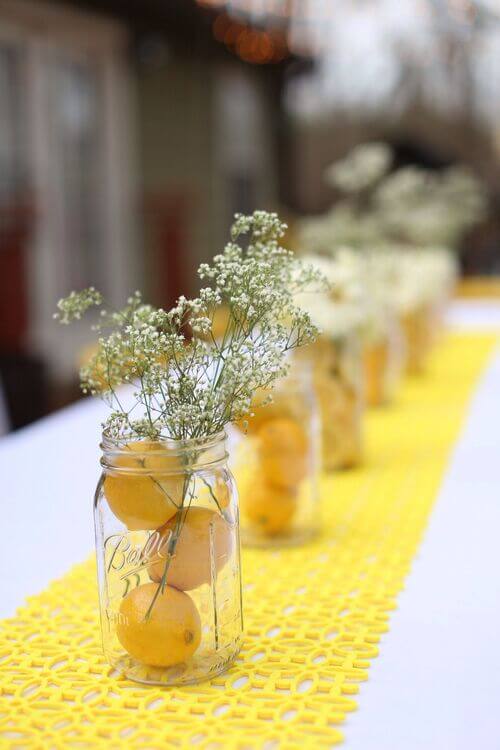 Scared of an accidental spill? We got you covered.
Opt for this mason jar idea that only requires lemons and baby's breath flowers.
It works great for a quick centerpiece idea and gives a fresh aroma to the air.
19. Wooden accents and lemon jars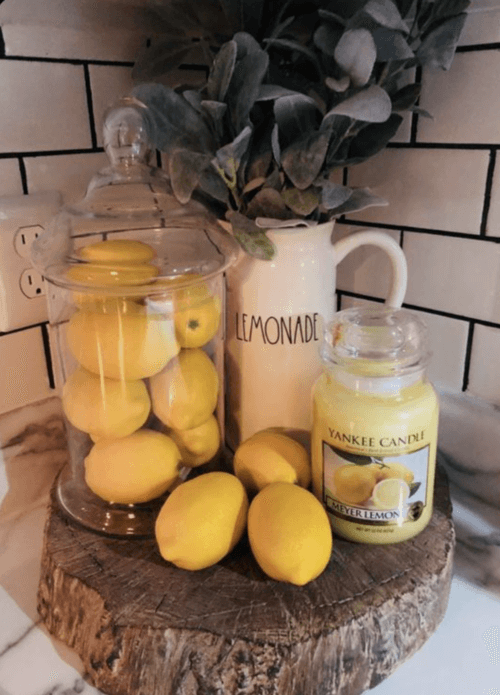 If you need a little kitchen nook piece then try this out.
A wood round is perfect to create a balance between white and yellow.
You can keep all your goodies in one place.
As we know, no centerpiece is complete without a candle to set the mood.
20. Woven baskets and ceramics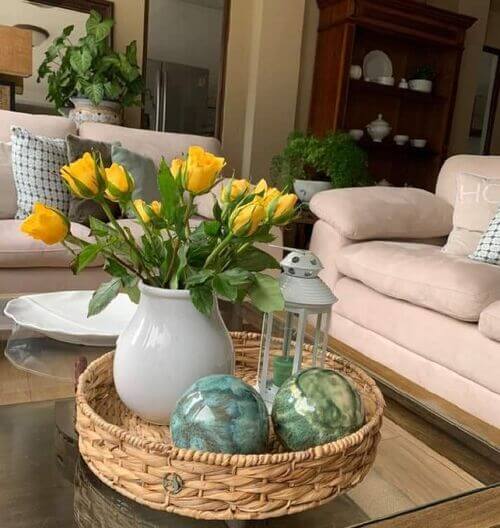 A simple living room idea can add some bold colors to the mix.
Yellow roses and marble-swirled colors can brighten up any room.
The idea is fully customizable and can spark a bunch of different ideas to come to mind.
21. Yellow and white florals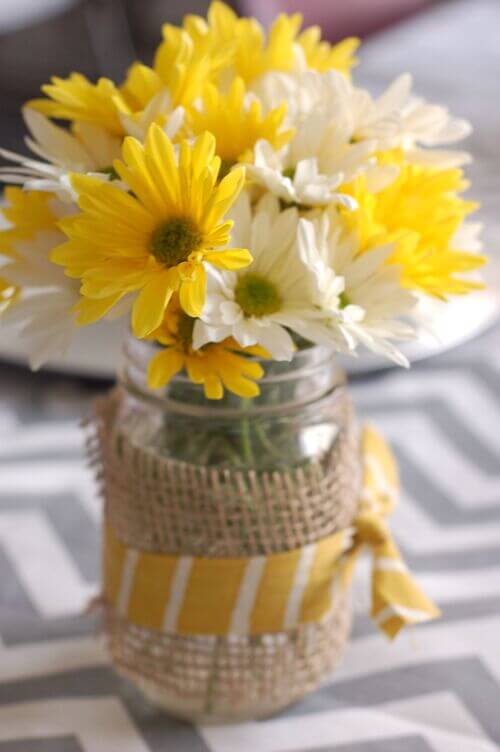 White and yellow stripes need something to balance it out.
Use some burlap or beige-colored fabric to break the brightness of the colors on this jar idea.
It can make it feel less overwhelming and warmer.
Summer fun
Above is a list of the most popular summer centerpieces.
Whether you're looking for that bright lemon yellow centerpiece or opt for the gorgeous growing greenery it is 100% up to you.

But try to switch things up.
Either by putting your own spin on the look or just adding a few personal touches.
Here's to summer and being open to trying fresh ideas with even brighter colors.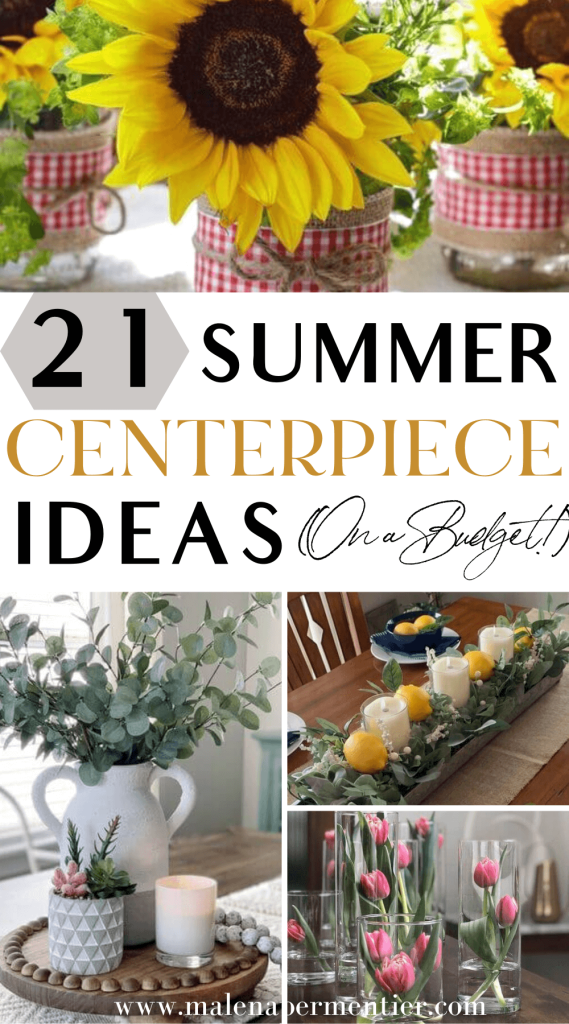 This post showed you the best summer centerpiece ideas.
You may also like: