Hey there! Some links on this page are affiliate links which means that, if you choose to make a purchase, I may earn a small commission at no extra cost to you. I greatly appreciate your support!
The dining table is the heart of your home, where friends and family gather to share meals and create cherished memories.
A well-designed centerpiece can transform your dining experience, adding elegance and charm to your space.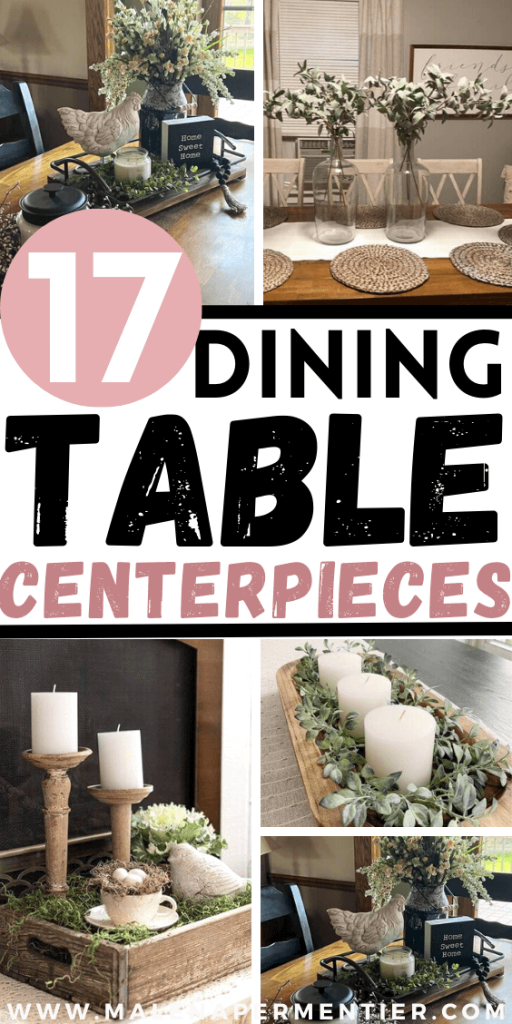 Tips for centerpieces
It can be a little tricky trying to find the perfect idea to use in a centerpiece so I thought I'd make things easier I'd throw together a fun list of tips to keep in mind when decorating.
Consider the Occasion: Tailor your centerpiece to the occasion. Keep it simple for a casual family dinner, while formal events may call for more elaborate arrangements.
Keep It Low: A low-profile centerpiece is ideal for conversation and won't obstruct the view across the table. It allows for easy eye contact among diners.
Balance and Symmetry: Create balance using an odd number of items or elements in your centerpiece. Symmetry can also be visually pleasing, especially in formal settings.
Use Seasonal Decor: Incorporate seasonal elements and colors into your centerpiece to create a harmonious and festive atmosphere.
Mind the Table Size: Ensure your centerpiece is proportionate to your table size. It should enhance, not overwhelm, the dining area.
Choose a Focal Point: Select a standout item or element to serve as the focal point of your centerpiece, like a large vase, a beautiful bowl, or a unique sculpture.
Mix Textures and Heights: Create visual interest by incorporating a variety of textures and heights. Combine elements like candles, flowers, and greenery for depth.
Incorporate Lighting: Candles or fairy lights can add warmth and ambiance to your dining table. Opt for unscented candles to avoid conflicting with the aroma of the food.
Personalize with Tableware: Utilize your tableware as part of the centerpiece. Decorative plates, chargers, or colorful napkins can add flair to the overall look.
Keep it Cohesive: Ensure that your centerpiece complements the overall theme and decor of the dining area. Cohesiveness ties the whole look together.
Fun things to add to the centerpieces
Table centerpieces are a great way to add style and personality to your event or dining table.
Here are some fun and creative things you can add to table centerpieces:
Candles: Candles come in various shapes, sizes, and colors. Consider using scented candles or floating candles in a glass bowl for an elegant touch.
Fresh Flowers: Fresh flowers can add a burst of color and a lovely fragrance to your table. Mix and match different types of flowers for a unique look.
Fruit: Incorporate fruits like lemons, limes, or apples into your centerpiece for a fresh and vibrant display. You can also place them in decorative bowls or baskets.
Miniature Succulents: Small potted succulents are low-maintenance and add a touch of greenery to the table.
Glass Marbles or Gems: Fill clear glass vases or bowls with colorful glass marbles or gems for a sparkling and eye-catching centerpiece.
Seashells: If you're going for a beach or nautical theme, seashells can be a charming addition.
Feathers: Feather arrangements can create a dramatic and elegant centerpiece, especially for special occasions.
Terrariums: Miniature terrariums with tiny plants and decorative elements can be a unique and whimsical choice.
Mirrors: Place mirrors under your centerpiece to create an illusion of more space and add a touch of elegance.
Books: Stack vintage books or books related to your event's theme to create an interesting and literary centerpiece.
Dining table centerpiece ideas
1. Simple white decor paired with greenery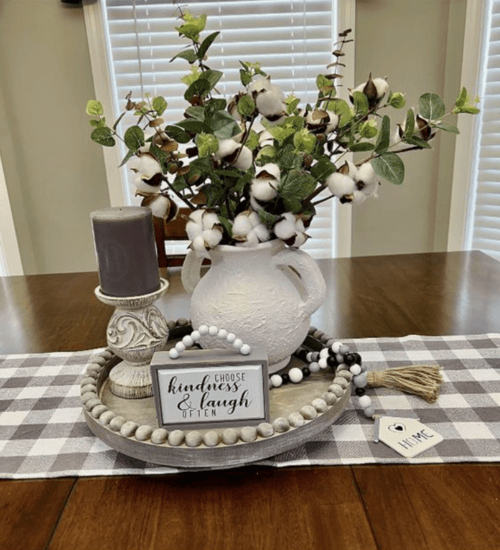 A gorgeous and simple kitchen decor piece that is sure to fill up some space doesn't need to be pricey.
This idea includes a stunning wood tray, ceramics, a candle that can bring a fresh aroma to the home, and some seasonal pieces such as florals, greenery, and more.
2. Fall harvest theme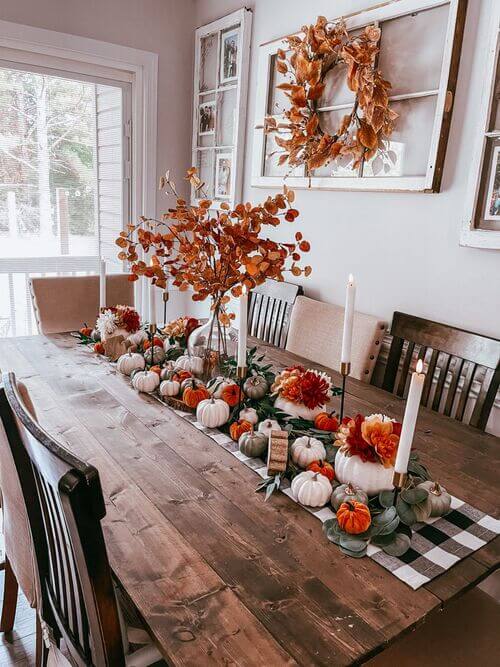 With this fall season fast approaching it is time to get into the spirit of things.
These orange and red florals perfectly balance the white and grey tones of the pumpkins.
It is a stunning decor piece for fall and can be used throughout the whole season or switched up as needed.
3. Candles and greenery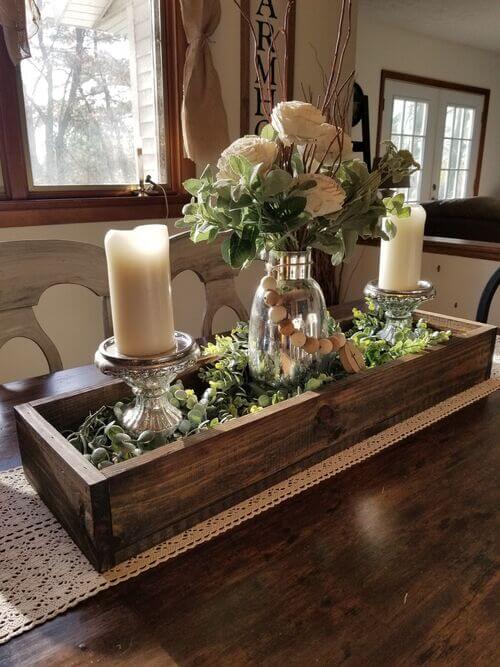 If you need something a little more natural then try this out.
The wooden box is filled with greenery, making it look rustic and natural.
It uses silver accents with candle holders and a glass jar filled with greenery.
It is a simple idea that can be used year-round.
4. Turning the tables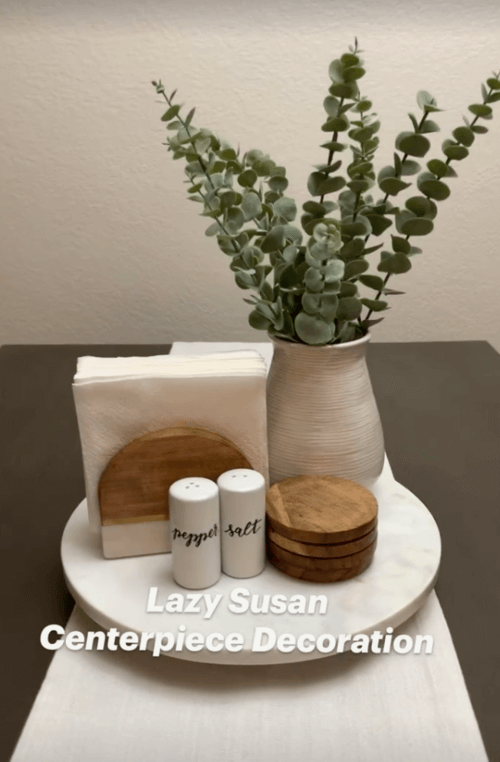 This idea incorporates one of my favorite kitchen essentials.
A lazy susan that keeps all the basics.
Salt, pepper, napkins, coasters, and some eucalyptus with its wonderful health benefits.
It's an amazing idea that works great in the kitchen.
5. Floral galore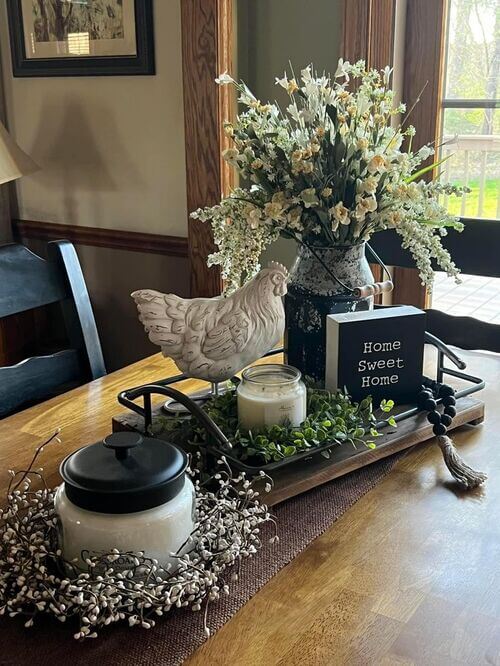 I know this idea isn't for everyone, but using florals to fill up the space is a personal favorite of mine.
You can add some candles, ceramics, and cute quotes to make the space more personalized to your taste.
Place this centerpiece in a rustic-looking tray if you can to bring that farmhouse feeling into your home.
6. Simple kitchen decor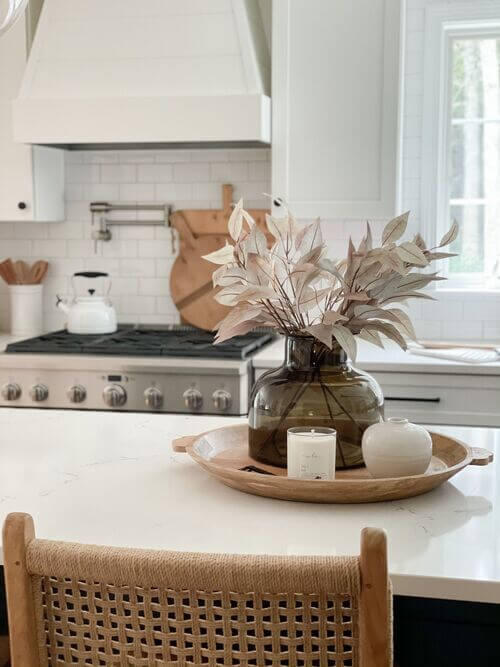 For the minimalists out there I have the simplest and most effective way to decorate.
Grab a giant wooden tray and include a tinted jar for florals.
You can then add a candle and one or two hand-crafted items for personalization.
It is for the modern minimalist who still wants a personal touch.
7. Rustic looks with moss accents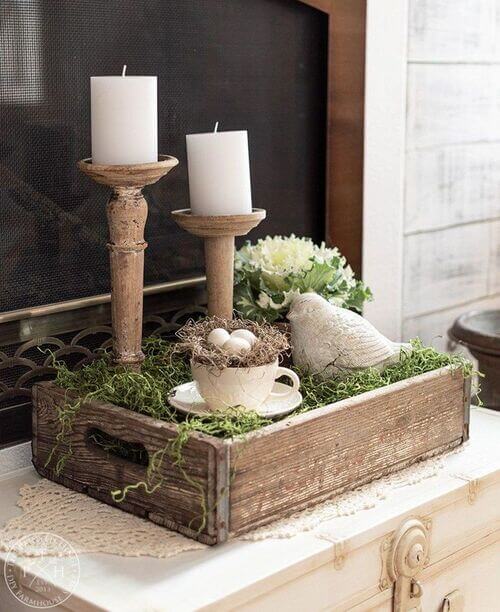 A rustic approach can bring some character to your home.
This old wooden box filled with fake moss is just what you need to bring something fun to the table.
Add some wooden candle holders, a teacup filled with a fake nest, and some ceramics.
It is an adorable idea that works in any season and helps fill up space.
8. Fall-themed centerpiece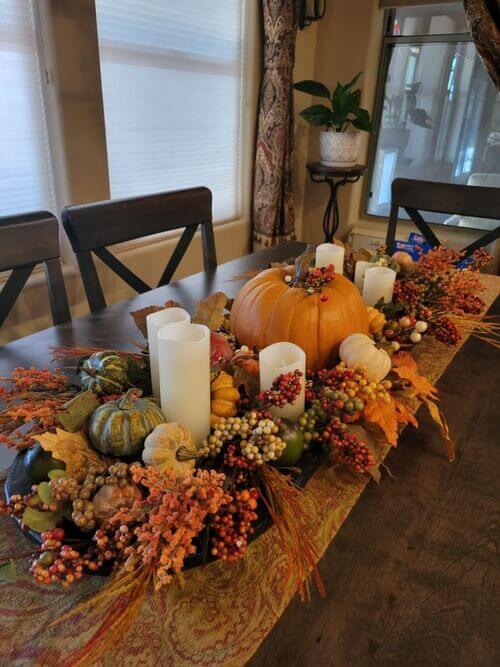 If you need a darker theme this fall, then this is for you.
The earthy tones pair well with the dark oranges, green, and red to create the perfect fall look.
It sets a gorgeous tone for the room, and you can pair it with some candles to add a warm glow to things.
9. Bring in some cute additions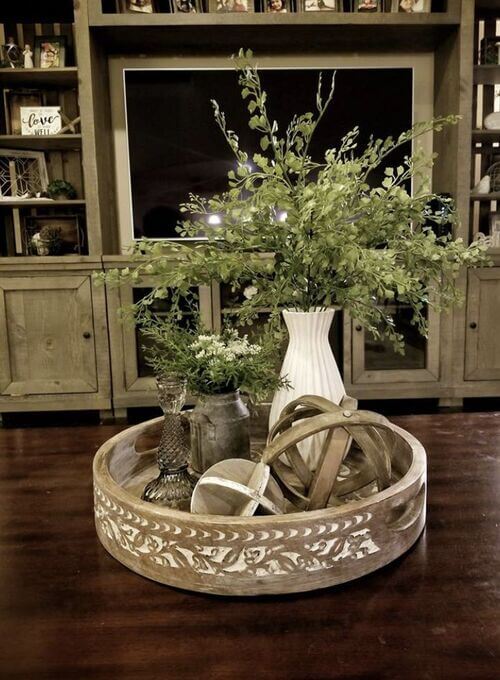 If you require a simple piece to add to the living room then look no further.
It is usually the simplest pieces that bring out the best effect.
This carved tray includes wooden spheres, ceramics, and greenery to balance the grey and brown tones.
It's easy to throw together and is budget-friendly.
10. Simple dining room setup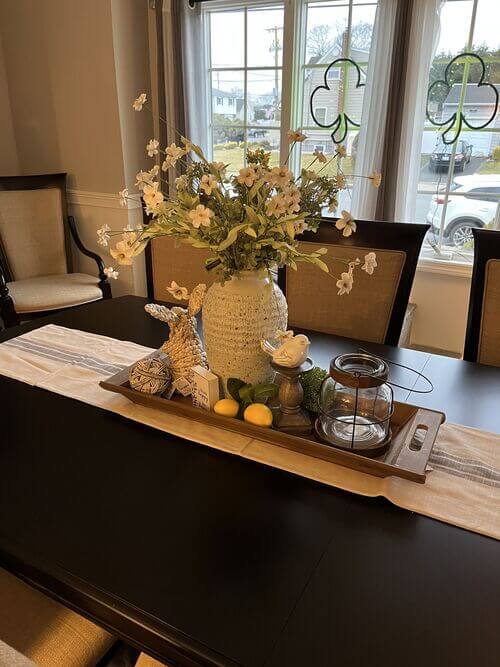 No one can resist a vibrant and fresh centerpiece.
This idea incorporates flowers, some lemons, and jars that can be filled with candles or fairy lights, bringing a brighter tone to the room.
It's easy, and you can add some personalized touches to make it your own.
11. Succulents and wood accents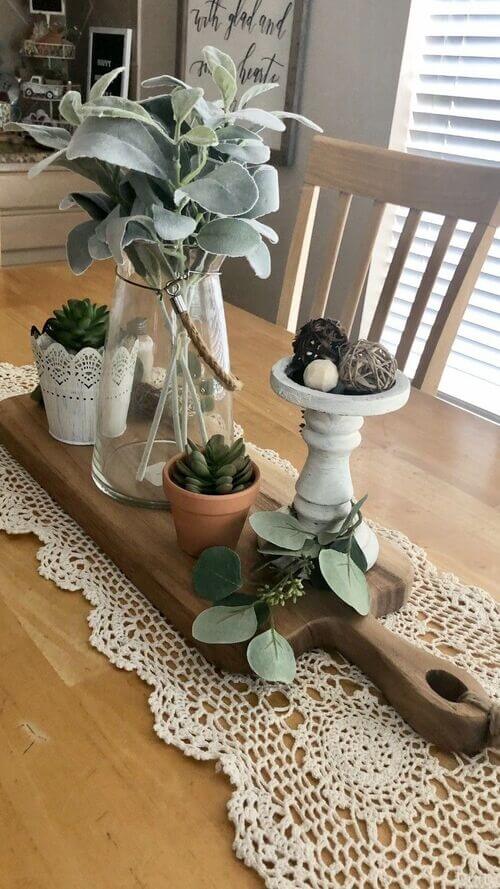 If you have a spare charcuterie board lying around, don't let it go to waste.
Place a simple table runner underneath and fill the board with succulents and white accents.
It brings an air of freshness to the table and is super cute.
12. White and green decor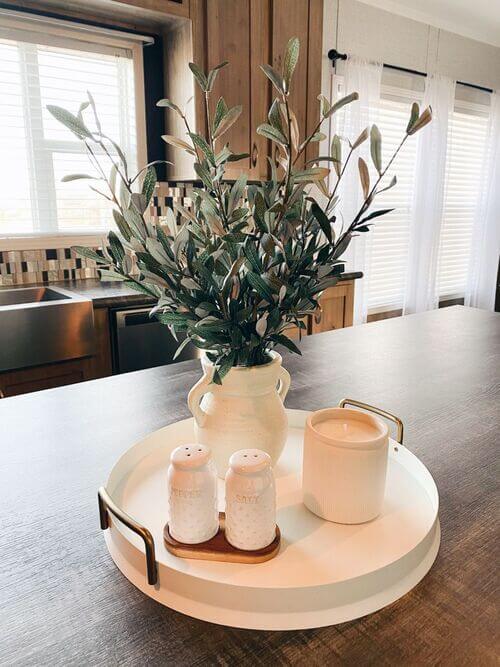 Not a fan of over-the-top centerpieces?
No problem.
Grab a simple white tray and add the basics.
Salt, pepper, and a candle.
You can also add a fresh bouquet to the table to bring something natural to the table.
This idea is perfect for people who strive for simple yet effective decor.
13. Leaves and pumpkins
Bring a moody look to the table by incorporating the fall spirit.
Add some fake leaves in all your favorite fall colors with some pumpkins and candles to set the mood.
It's an elegant approach and still fills the space without being messy.
14. Giant bouquets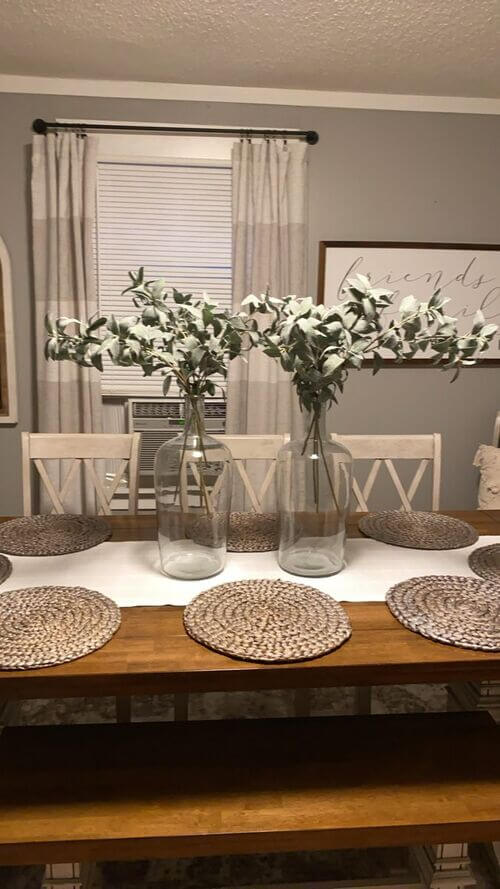 If decor isn't really your scene but you still want something to fill up the table then this is perfect.
Grab two giant jars and fill them with bright white florals that take up a lot of space.
This idea is great because once everyone is seated it won't be in the way either.
15. Dough bowls and candles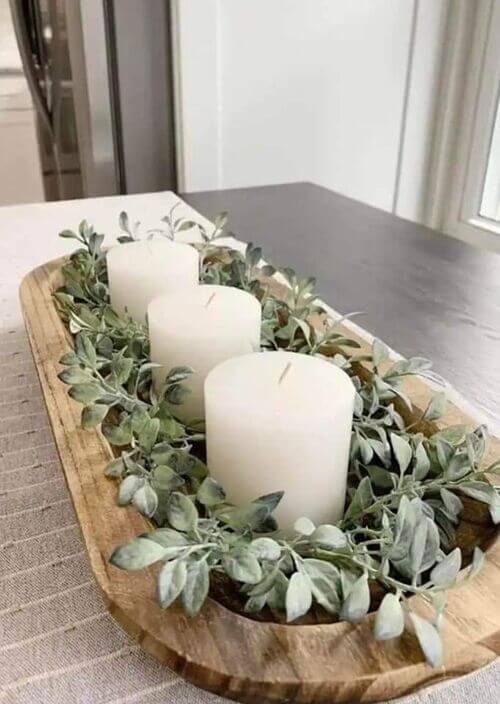 Dough bowls have become my favorite way to include centerpieces.
It's simple, elegant, and so budget-friendly.
Include some greenery and candles to fill up the space, and you have a quick and easy decor piece for any table.
16. Lanterns and cute ceramics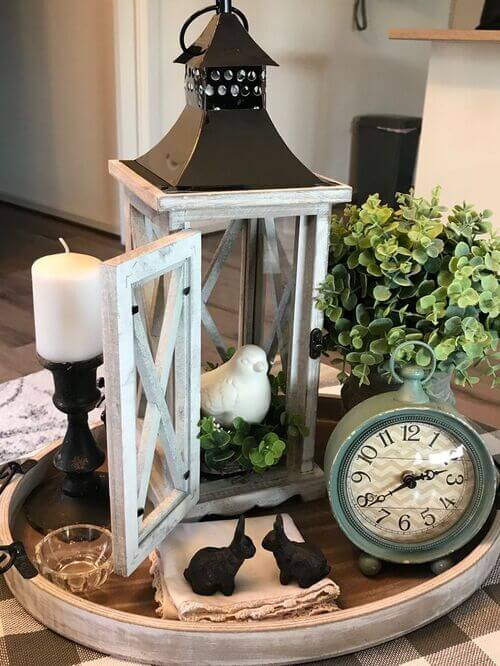 Lanterns are a stunning addition to any centerpiece.
You can add some flowers to them as well as fairy lights to brighten things up.
This idea incorporates candies, a cute clock, and some greenery to ensure the space is efficiently filled up.
17. Dried florals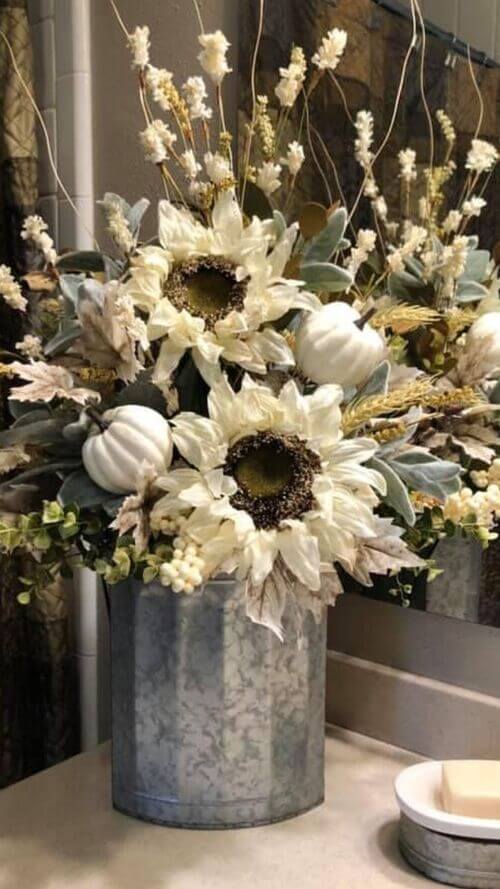 This idea is something you need to try out this fall.
A galvanized steel jug filled with dried flowers, pumpkins, greenery, and simple additions that you can customize as you please.
It is adorable and would be perfect for a small space on your counters.
Picking the dining table centerpiece
Creating a beautiful dining table centerpiece doesn't have to be complicated or expensive.
These easy-to-recreate ideas will help you transform your dining space into a captivating and inviting area for any occasion.
Whether you prefer the classic charm of fresh flowers, candlelight warmth, or succulents' simplicity, there's a centerpiece idea to suit your style.
Experiment with these suggestions and let your creativity shine as you elevate your dining experience.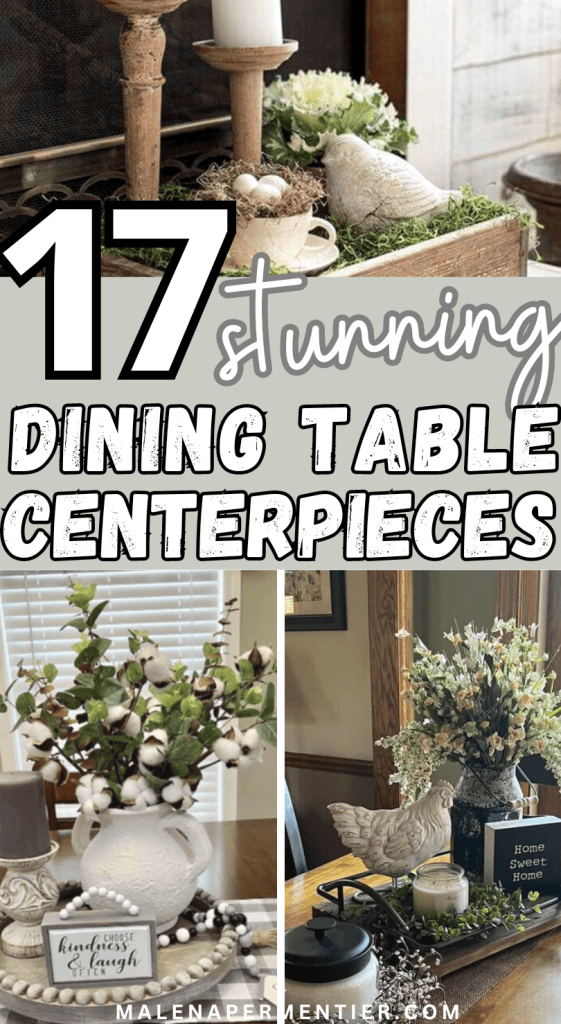 This post showed you the best dining table centerpiece ideas.
You may also like: