This post shows you the best Christmas wreaths & ideas.
The most iconic place to hang a wreath is the front door. It makes you wonder, what is the history of a Christmas wreath?
Wreaths first became associated with Christmas when northern and western Europeans used the leftover branches of Christmas trees to make wreaths.
This makes a lot of sense to me, growing up in a Dutch household. The Christmas tree would always go into the living room corner.
Whichever branches didn't fit, my mum would cut off and use them for something else, like a centerpiece or sometimes a small wreath.
The front door might be the most traditional place for a wreath. But wreaths can also perfectly go indoors. A few good places would be on the windows, doors inside, or the dining table as part of a centerpiece.
In my opinion, wreaths will never go out of style!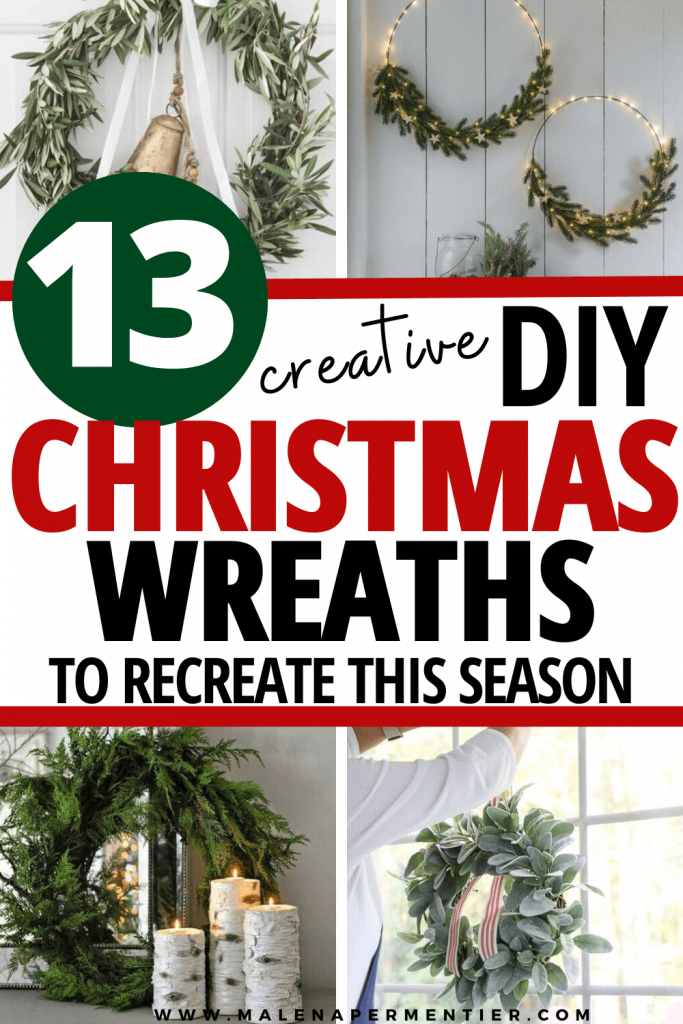 1. Wreath on the front door
Recreate this:
Most people hang a wreath on their front door during the holiday season.
It feels like the ultimate welcome to guests coming over and looks so cozy.
For front doors, a larger wreath is usually preferred.
You could go for something very traditional, with only greenery, or choose an updated style with ribbon, buffalo plaid, or other Christmassy fabrics.
Wreaths are also relatively simple to DIY.
Start with a simple metal wreath frame, and build the wreath with pine branches, pine cones, and other greenery.
You can even recreate a snowy effect with this straightforward DIY.
2. Hanging wreaths on windows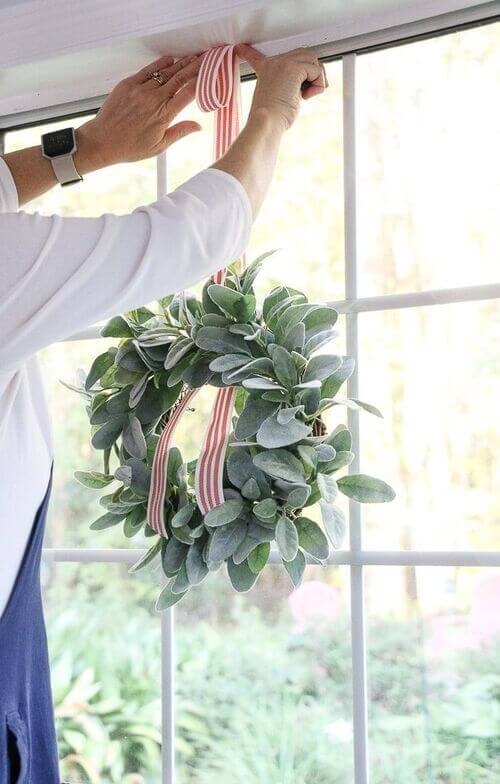 Windows are a great spot to hang one or more wreaths.
This post shows you how to hang wreaths on your window with ribbon.
The beauty of this idea is that it allows you to decorate with wreaths all year round.
Depending on the season, you can update the choice of greenery or style of ribbon.
Red berry picks, and fairy-led lights are a beautiful addition to wreaths during the holiday season.
3. Pine cone wreath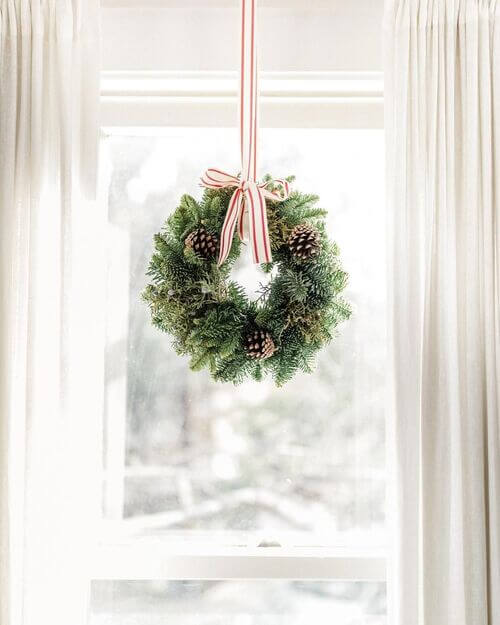 Pine cone wreaths on the window are gorgeous for fall and winter.
The best way to hang wreaths on the window is a ribbon.
For a more rustic feel, other options would be thick jute twine.
4. Decorating with wreaths indoors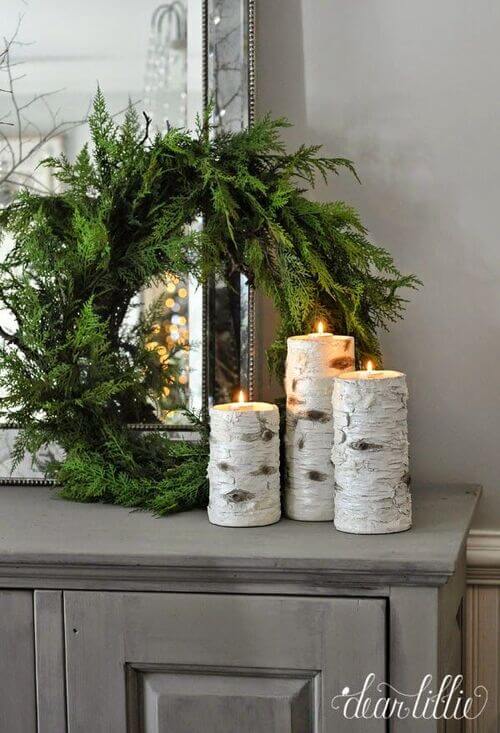 An alternative way to decorate with wreaths is by placing them on top of furniture leaning against the wall.
This idea works great for living room dressers or an entryway table.
5. Wreath on the bedroom door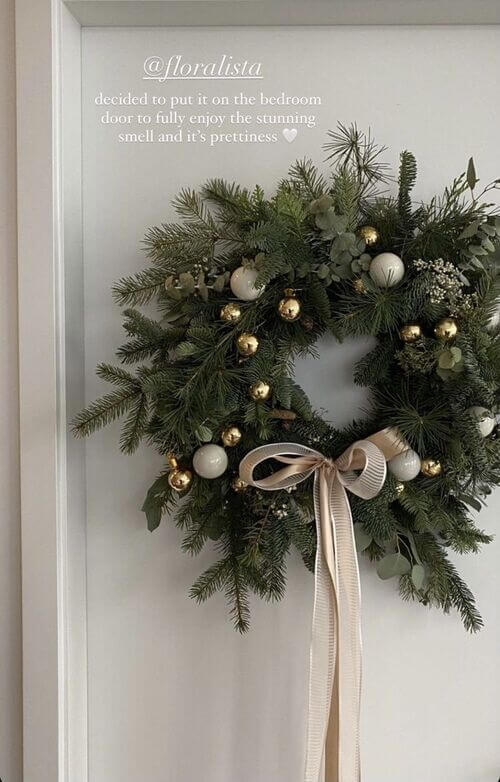 If you're looking for a way to decorate your walls or indoor doors for the holidays, a wreath is always a good idea :).

6. Decorating the wall with wreaths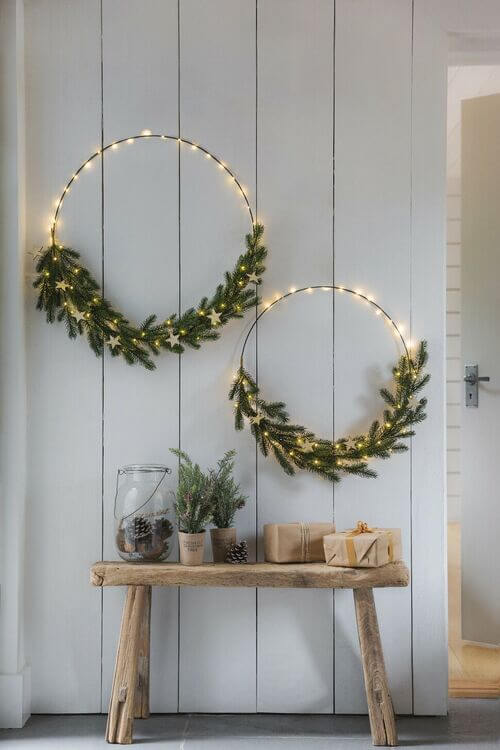 DIY this pine wreath:
This DIY wreath is super unique and creative.
Wreaths are one of the simplest Christmas DIY projects; you should definitely recreate this one!
Use a large metal hoop as a base. Attach the pine branches with floral wire.
Once you have the base, you can add decorations like wooden Christmas stars and led lights.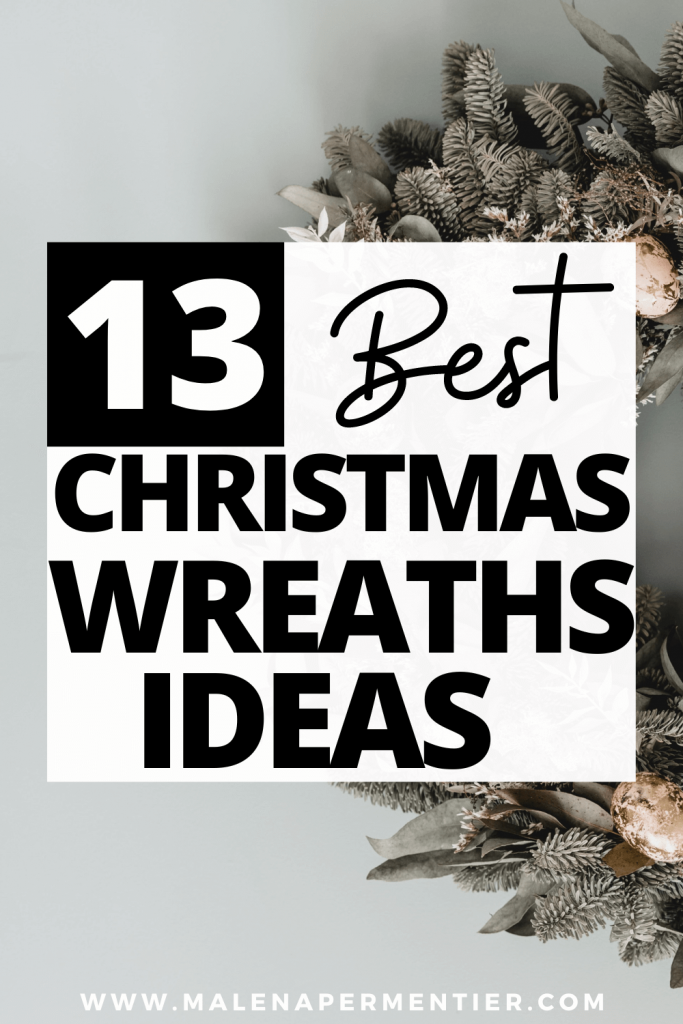 7. Personalized Christmas wreaths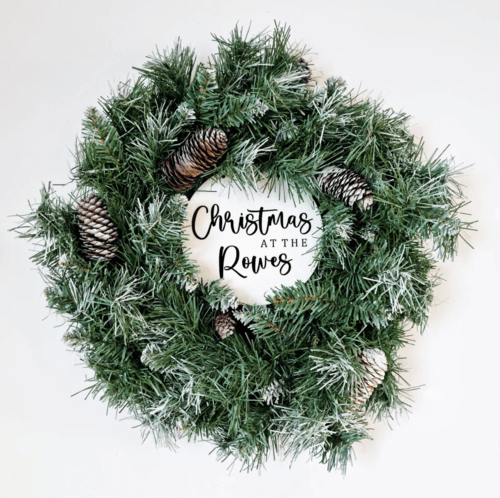 Personalized Christmas wreaths are very popular for decorating your front door.
Etsy has a lot of gorgeous options for custom Christmas wreath signs.
They are inexpensive and you can attach the sign to your wreath.
8. Custom wreath sign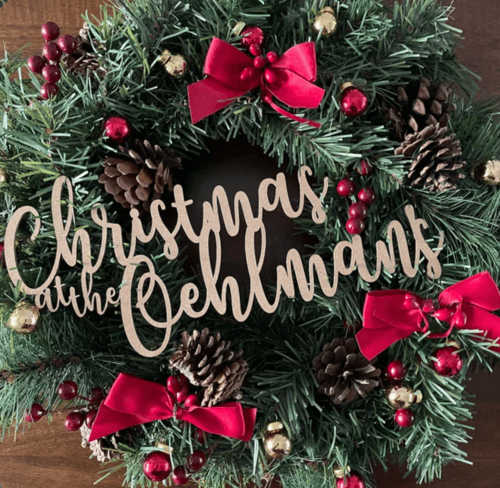 This wood personalized sign is another option to personalize your holiday wreaths!
I'm a big fan of the rustic wood in combination with the pine branches and red ribbons.
9. Winter wreath for front door

After Christmas, people often like to change up their wreaths.
If you have a wreath on your front door that's very Christmassy, you can go for something more neutral.
There is no strict formula, but a wreath with snowy branches and reddy holly berries is a great choice!
10. German advent wreath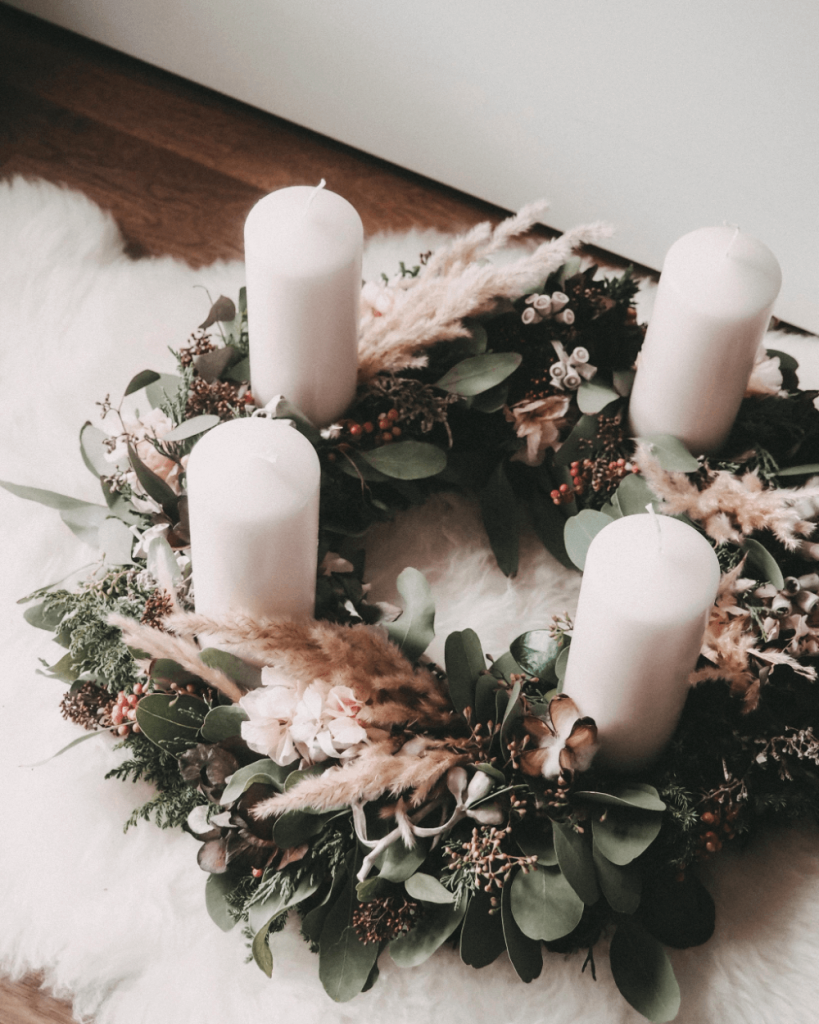 German advent wreaths aren't your traditional wreath in the sense that you hang them on the wall or door.
The german advent wreaths have 4 candle holders in the middle for each sunday of advent.
It's a wonderful tradition to have.
You can keep the advent wreath on the dinner table to make it a weekly ritual.
When it comes to the style of German advent wreaths, you can go for something traditional or modern, depending on your taste.
I really like both options below!
11. Fir wreath

Fir is a beautiful type of greenery for a wreath!
Sometimes I get confused by all the different names of Christmas greenery: cedar, pine, fir, and I have to admit, I get a little lost.
But I'd say the fir looks finer and has a modern feel than your traditional pine wreath.
This looks amazing when it's real greenery, but you can also buy the artificial kind.
12. Wreaths with ribbon

Ribbon makes a wreath look more festive!
While I agree that this wreath gives more fall vibes than Christmas vibes, it's adorable.
This is a great wreath if you go for a more neutral Christmas atmosphere in your home.
You can also attach ribbons to your wreaths. Make sure to choose a wired ribbon to make the perfect bow!
Burlap wired ribbon is my favorite for rustic Christmas wreaths.
13. Lambs ear wreath

Lambs' ears have delicate leaves that look amazing for wreaths.
Needless to say, this type of wreath is incredibly popular during the winter and holiday season.
This wreath is a great choice if your style is more minimalist and modern.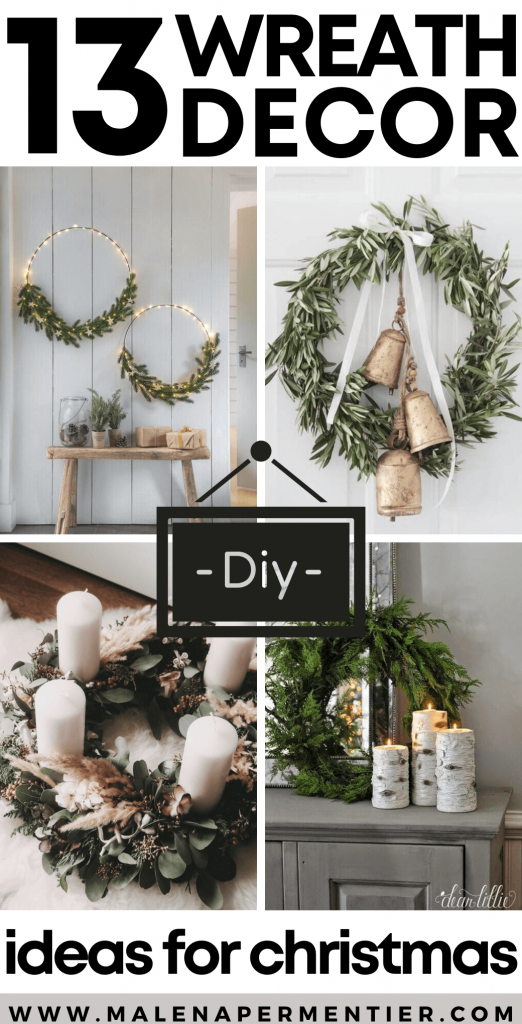 This post showed you the best Christmas Wreaths.
You may also like: