Hey there! Some links on this page are affiliate links which means that, if you choose to make a purchase, I may earn a small commission at no extra cost to you. I greatly appreciate your support!
This post shows you the best Black Friday Home Deals.
It's always been tricky to list Black Friday deals ahead of time until this year! Because Amazon sent me a list of deals two weeks prior.
So I have had the time to filter through products to see what's worth it.
I have listed home decor & accessories, living room furniture, organization products, and things like dinnerware and games that are great for hosting during the holidays.
Black Friday is a great opportunity to buy the things you would normally think twice about spending money on. It could be a big purchase like a TV, but it's organization products for me.
I don't know why cabinet organizers, drawer trays, and spice racks must be so expensive.
Anyway, if there's a type of product that you've been wanting but feel cautious about spending money on, make sure to check out these products below.
Please note that I only know that these products will have a deal on Black Friday; I don't know (yet) how much $$ off they will be.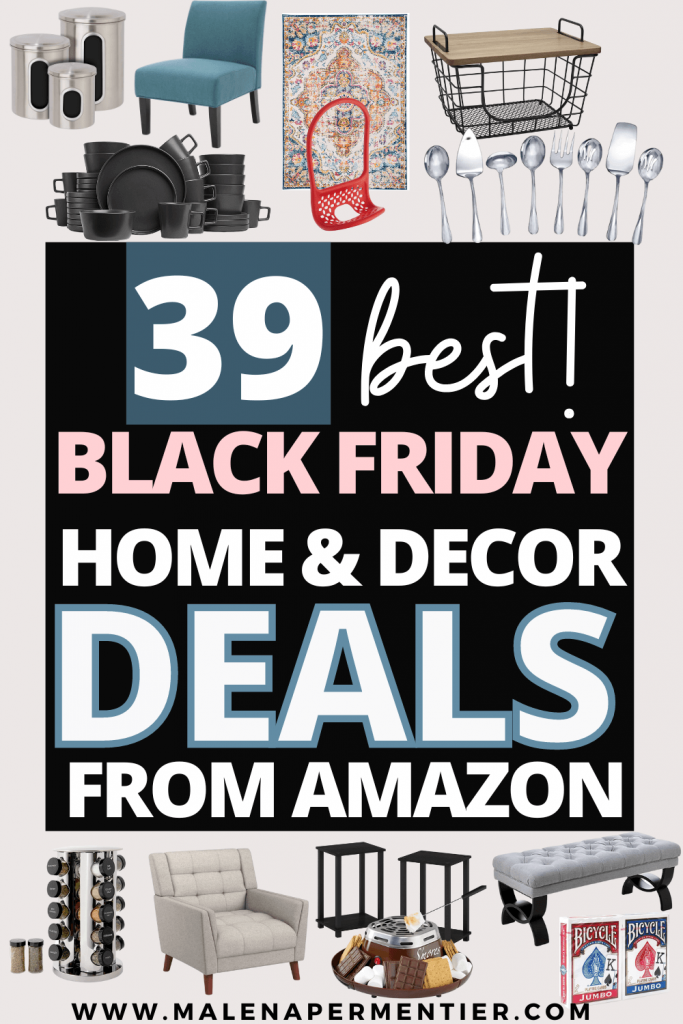 Home decor & accessories
1. Floating shelves for the bathroom

Floating shelves are great for upgrading your bathroom! These are compact to fit above the toilet. Perfect for a little storage and decor.
Related: 18 Bathroom Shelf Decor Ideas For Over The Toilet That Look Amazing
2. Soap dispenser with labels

Amber glass is super trendy right now and adds warmth to your kitchen or bathroom.
I love that this dispenser comes with labels.
3. Gray bohemian rug

This rug comes in different sizes and looks great as an area rug in the living room or a smaller size in your bedroom.
I love the print – elegant but not over the top.
4. Teal accent chair

This is the perfect compact accent chair for smaller living rooms. I love the color! It stands out, but it's not too aggressive.
5. Farmhouse coffee table

This is a cute farmhouse coffee table in stone gray. It has metal hardware and is pretty narrow and sleek in size.
This might be it if you're in the market for a new coffee table!
6. Small snack table

This type of side table is perfect if you live in a small apartment. It slides over the couch, so it doesn't take up too much space.
This table is practical for keeping your tea or snacks.
7. Colorful bohemian rug

If you've been thinking of adding a pop of color to your living room, now might be the time!
This gorgeous colorful rug will be a Black Friday deal, and it's so gorgeous. It will add warmth to a neutral living room.
People are raving about this rug on Amazon – so it's worth checking out. I also find the customer's pictures with the rug in their living room very helpful.
8. Yankee candle

Yankee candles smell amazing, but they're on the more expensive side. So if you love these candles, a Black Friday deal is welcome.
9. Simple end tables

This black pair is great if you're looking for simple and versatile end tables. They would also make a decent nightstand for the guest bedroom.
10. Prisma picture frame

Unique picture frames elevate a room! These frames have a cool shape and will be $$ off this Black Friday.
11. Gray ottoman bench

This ottoman bench would look great in the seating area of your living room or bedroom (in front of the bed).
The metal legs have a unique shape, and I love the luxurious tufting of the top part.
12. Fake palm tree

This palm looks surprisingly realistic! This palm tree is a great start if you want some greenery in your space without real plants.
13. Oak side table

A pretty and practical side table for your living room. It would also work as a nightstand!
14. Rug with vintage look

I love these rugs with kind of a faded print. Super chic and easy to style in your living room.
15. Comfortable chair

If you're looking to create a nook in your living room with a comfy chair for reading, this chair is it!
This type of chair would look great in an empty corner of your living room.
Related: 14 Creative Living Room Corner Decor Ideas To Spice Up Your Space
Kitchen Products and Appliances
Below we'll go into some good kitchen products and appliances on sale this Black Friday!
Check out these deals if you're moving into a new apartment soon and want to invest in some new appliances.
16. Versatile storage basket

This storage basket is perfect to have on your kitchen counter. Use the drawer to store fruit, the top can be used to keep an appliance like a kettle or toaster.
You can also use this one to make your coffee station! Nespresso pods at the bottom, coffee machine at the top.
17. Matte black dinnerware set

If you're in the market for a new dinnerware set, Black Friday is the time to invest in these types of things.
This matte black dinnerware set is super chic and will be an amazing addition to your home.
18. Aesthetic spice rack

I use spices a lot, so having them within reach on the kitchen counter is super convenient.
This spice rack is compact and chic. The organizer comes with 20 spice jars, so your spices look organized in the same color bottles.
19. Dutch oven

A Dutch oven is a must-have in any household. Perfect for making one-pot20. B dinners. It also looks super stylish!
This is the type of pot to keep out on your stove because it looks so chic.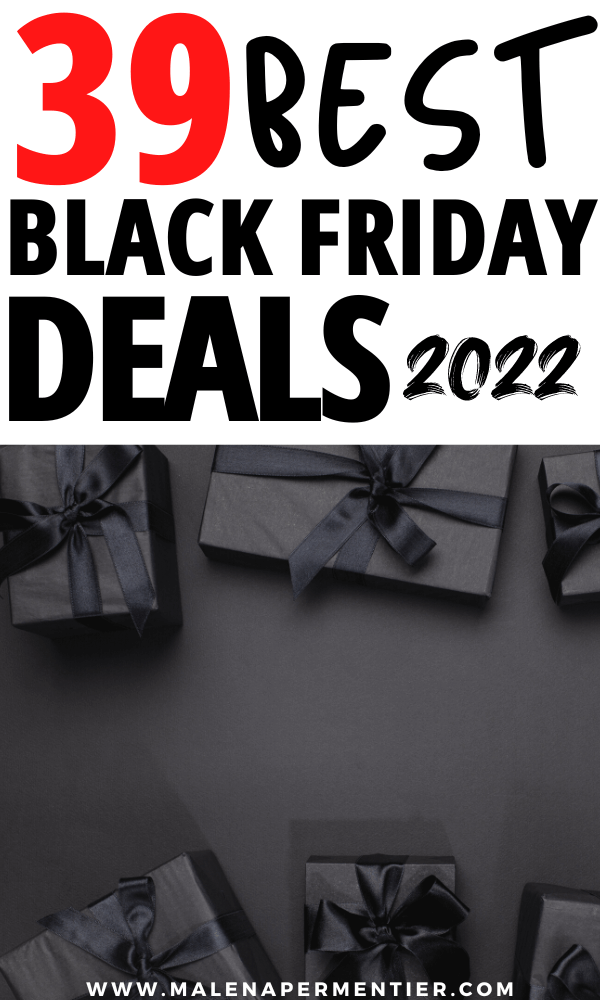 20. Blender

Black Friday is a great time to buy new appliances you might need! A blender is one of the things I use most in my kitchen.
21. Glass meal-prep containers

I got myself a set of glass food storage containers at the beginning of the year; they are a game changer!
If you plan to kick off the new year with good meal planning and prepping habits, now is the time to invest in a good set of containers.
22. Minimalist utensil holder

A simple and clean utensil holder looks great in any kitchen! This one is quite large, so it can hold all your utensils.
23. Tervis glasses

There is something about having a set of high-quality glasses! These extra-large glasses also make it easier to remind yourself to drink lots of water.
24. Stainless steel mug

Stainless steel mugs are a necessity if you're always on the go! This one comes in a sleek and minimalist design.
Organizing products
I find many organization products unnecessarily expensive. That's why Black Friday is a good opportunity to scour deals!
25. Drawer organizer

This a drawer organizer for kitchen utensils. But it also works great to organize a bathroom drawer or your make-up.
Related: 14 Budget-Friendly Drawer Organization Ideas For Every Drawer In Your Apartment
26. Spice drawer organizer

Keeping your space in a drawer? This spice drawer liner keeps your spice jars perfectly organized.
27. Shelf steps

Shelf steps are great in your pantry or cabinet. They help maximize space and make it easier to see everything you have.
They are also great in bathroom cabinets if you keep many products there.
Related: Under Bathroom Sink Organization Ideas (Perfect For Small Cabinets)
28. Roll out organizer

This is the perfect little organizer for cleaning products that you keep under the sink.
29. Condiment fork

Super random but practical: a condiment fork haha. You know the struggle is real if you eat a lot of pickles.
30. Sponge holder

Can you believe I've never seen this before? You hang this over the sink to hold a sponge and dishwashing essentials.
I don't love red, but it's also available in black.
31. Metal canister set

Canisters are a must-have for storing things like rice, beans, or lentils. These have a nice design, making them attractive to keep on your kitchen counter. Fill these with things you use daily!
32. Roll out fridge drawer

You can't go wrong with a little fridge organization! This roll-out caddy would work great on your bottom shelf.
Products for the holiday and entertaining
Now let's look at a few things on sale this Black Friday that would be perfect for entertaining during the holiday season.
33. Electric S'mores maker

I tried this one out at my boyfriend's family's place last year, and it's so good! A really fun experience for the family.
34. Red & Black dinnerware set

This red and black set is amazing if you're looking to get some special dinnerware for Christmas!
35. Cards

Christmas and New Year's aren't complete without fun games. A new deck of cards is therefore always a good purchase 🙂
36. Appetizer plates

This is a set of 3 super simple yet functional appetizer plates! Super handy to have during the holidays.
37. Split decision pie pan

Hosting also means that we have to make different dishes based on people's dietary requirements! This split plan is super practical for that.
38. Gourmet utensils set

Christmas is the time of charcuterie boards and using utensils you wouldn't otherwise use, haha! This is a practical little set for those moments.
39. Percolate coffee maker

Hosting Christmas brunch for a large family? Time to get an extra large coffee maker 🙂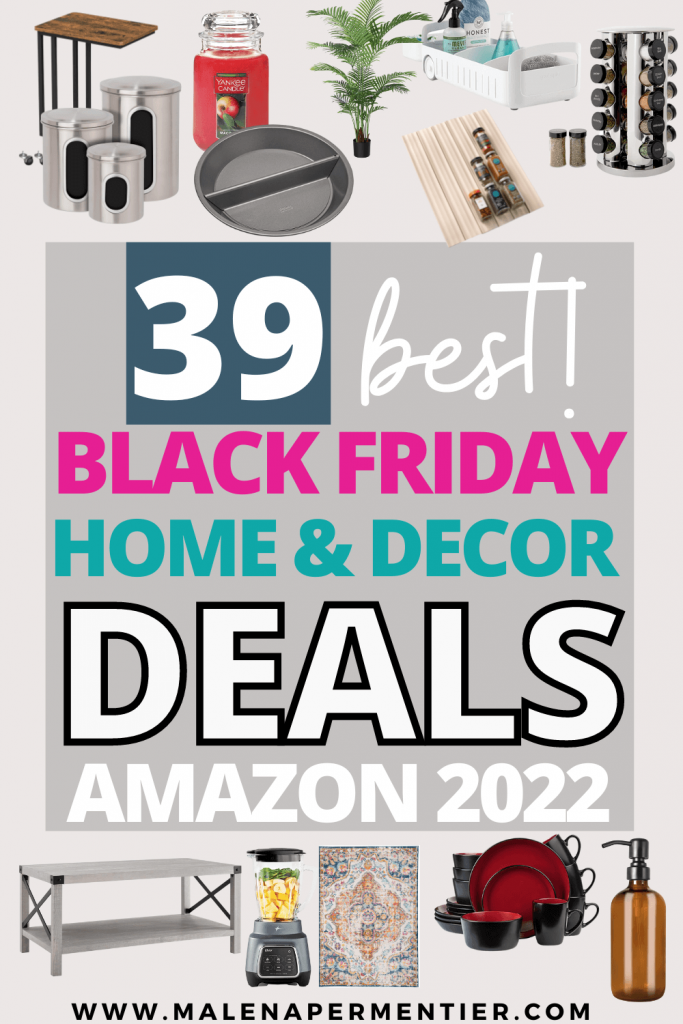 This post showed you the best Black Friday home deals.
You may also like: