In this post, you find all the necessities for your first apartment kitchen.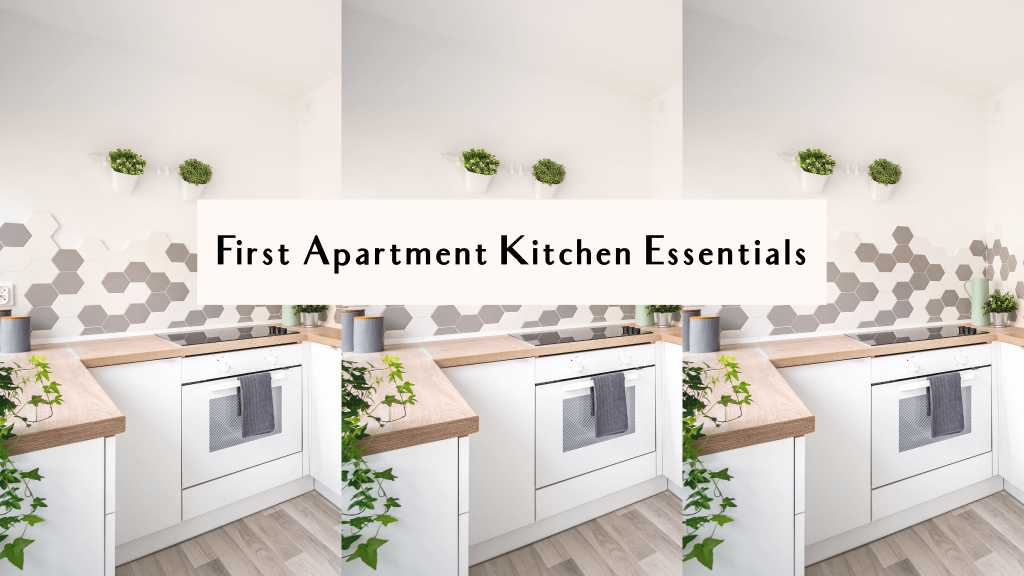 First Apartment Kitchen Essentials
Moving into your first apartment is exciting and hard at the same time!! For your kitchen, there are many little things you need.
When I moved into my apartment, I remember taking a trip to Target twice a week because I forgot so many things.
In this post, I'm showing you all the necessities for your first apartment kitchen. I highly recommend sticking to the essentials only and then buying more kitchen stuff as you go.
The last thing you want to do is buy things you don't need!
We'll go over everything from silverware to cleaning products, rags, organizers, pots, pans, and more.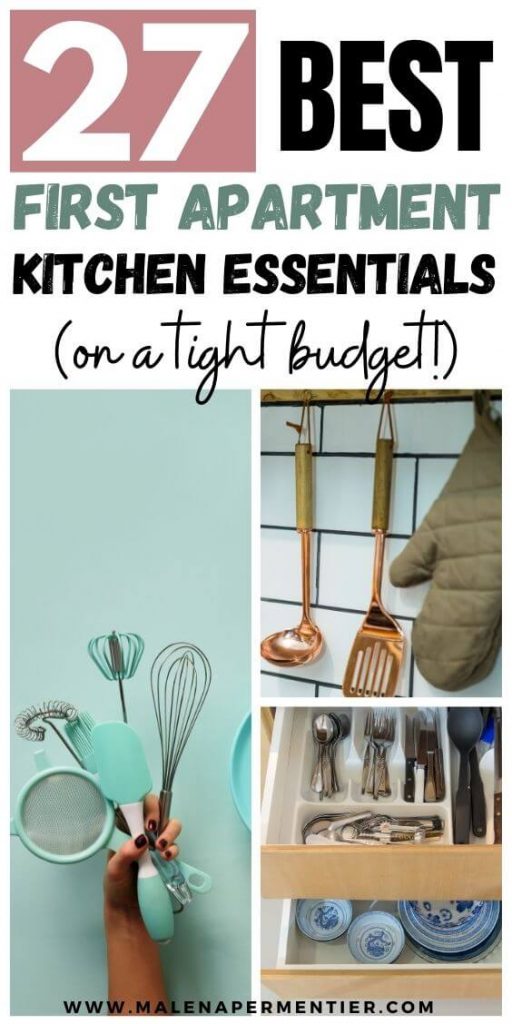 List of kitchen essentials for new home
1. Utensils jar
This one speaks for itself; you need a utensils jar for your utensils. Although you could also keep them in drawers, this is one of the things I like having on my counter. When I'm cooking, I want to grab what I need quickly.
Get utensils jar:

2. Utensils set
There are so many utensils you need in your first apartment kitchen. I recommend getting a set with everything because I find it turns out cheaper that way. Although you might not use everything all the time, it's definitely practical to have.
Get utensils set:

3. Silverware
When it comes to silverware, I like keeping it basic. You can always upgrade to more expensive silverware later. You'll be spending a lot of money on your kitchen essentials, and this silverware set has everything you need.
Get silverware:

4. Plates and bowls set
Plates and bowls are a must-have! This set has small plates, big plates, and bowls—the perfect set to start with when moving into your first apartment.
Get plates and bowls:

5. Mugs & Glasses
You need some mugs and glasses and don't worry, you don't need to go super fancy. These sets of mugs and glasses are very decently priced and of good quality.
Get mugs and glasses:
6. Mixing bowls
I swear by these mixing bowls. I use them all the time. The big ones are great for salads, and the smaller ones are perfect when I'm baking something. You can even use them to serve snacks like popcorn and chips.
Get mixing bowls:

7. Knife set
Lifesaver in a small kitchen: a magnetic knife set. Hang this on the kitchen wall to save precious space on your kitchen counter. Your first apartment kitchen probably isn't big, so you have to be intentional about what you keep on your counter.
Get knife set:

8. Cutting boards
You can't forget cutting boards. This one comes in a set of 3 different sizes. I personally recommend getting plastic cutting boards over wooden ones. Apparently, wooden cutting boards are harder to sanitize than plastic ones.
Get cutting boards:

9. Pan set
You need a decent pan set to start with! I totally splurged with Westinghouse pans. What is best for you depends on how often you cook. If you're on a strict budget, I recommend starting with a basic but decent pan set.
Get pan set:

10. Pot holder
Potholders and/or oven mitts are a must-have in any kitchen. I actually lived without them for a few months, and it's not ideal!! These are super budget-friendly, so they should be on the list of first apartment kitchen essentials.
Get pot holder/oven mitts:

11. Strainer
These strainers are collapsible, which is perfect for kitchens with little storage space.
Get strainer:

12. Tupperware
These food containers are so nice to have. Perfect for meal prepping, storing leftovers, or taking your lunch to work.
Get food containers:

13. Absorbent dish towels
You need absorbent dish towels for wiping down the kitchen counter etc. This set comes with 8 towels, which makes it easy to replace them often.
Get absorbent dish towels:

14. Kitchen towels
You'll also need a bunch of kitchen towels!! For drying hands and to help you out in the kitchen. Of course, always keep separate towels for different purposes.
Get kitchen towels:

15. Silverware organizer
Some apartments have organizers in the drawers, but most don't (at least in my experience). That's why you'll want to get a cutlery organizer!
Get silverware organizer:
16. Paper towel holder
This rose gold paper towel holder is perfect if you like keeping power towels on your kitchen counter. The rose gold color is a fun touch.
Get paper towel holder:

17. Paper towel holder under cabinet
If you have limited space on your kitchen counter, this paper towel holder under the cabinet is a great space-saving trick.
Get paper towel holder under cabinet:

18. Dish rack
Nobody's favorite thing to buy for their first apartment, but hey, a dish rack is essential! This two-tier dish rack is great for maximizing space.
Get dish rack:

19. Sink caddy
This sink caddy keeps everything you need for washing dishes in place. Here you can keep a soap dispenser, dish soap, sponges, etc.
Get sink caddy:

20. Soap dispenser
You need soap dispenser(s). This one comes in a set of 4, which is super budget-friendly. Refilling your handwashing soap/dish soap is cheaper than buying new dispensers each time. It's also more environmentally friendly. 🙂
Get soap dispensers:

21. Meyers multi surface cleaner
Meyers is my preferred spray for countertops, dining tables, and other surfaces that don't require 'deep cleaning'. This one has lots of natural ingredients and smells fresh but not overwhelming.
Get meyers multi surface spray:

22. Magnetic hooks
In small kitchens, extra hooks can be a great help. Use these to hang your kitchen towels, or hang hooks inside your cabinets.
Get magnetic hooks:

23. Under the cabinet sink organizer
Whether you use the under-the-sink space for cleaning products or as a pantry, this cabinet organizer is great to have. In a tiny kitchen, you'll want to utilize the vertical space in cabinets to the fullest.
Get under the cabinet sink organizer:

24. Fruit basket
Fruit baskets are a must if you eat lots of fruit/veggies. I often don't have enough space in my fridge for all the produce!! This fruit basket is super stylish and also incredibly cheap.
Get fruit basket:

25. Single serve coffee maker
This one is perfect if you live alone and don't want to brew an entire pot of coffee. The Keurig coffee pods are delicious and much more budget-friendly than a Nespresso machine.
Get single serve coffee maker:

26. Blender
Go for a cheaper blender if you don't use it often! I didn't mind splurging on my blender, because I literally use it every day, sometimes even twice.
Get blender:

27. Baking set
If you like using your oven, a baking set is essential for your first apartment kitchen. I use the baking sheet and bread loaf pan all the time, and the other things are also nice to have.
Get baking set: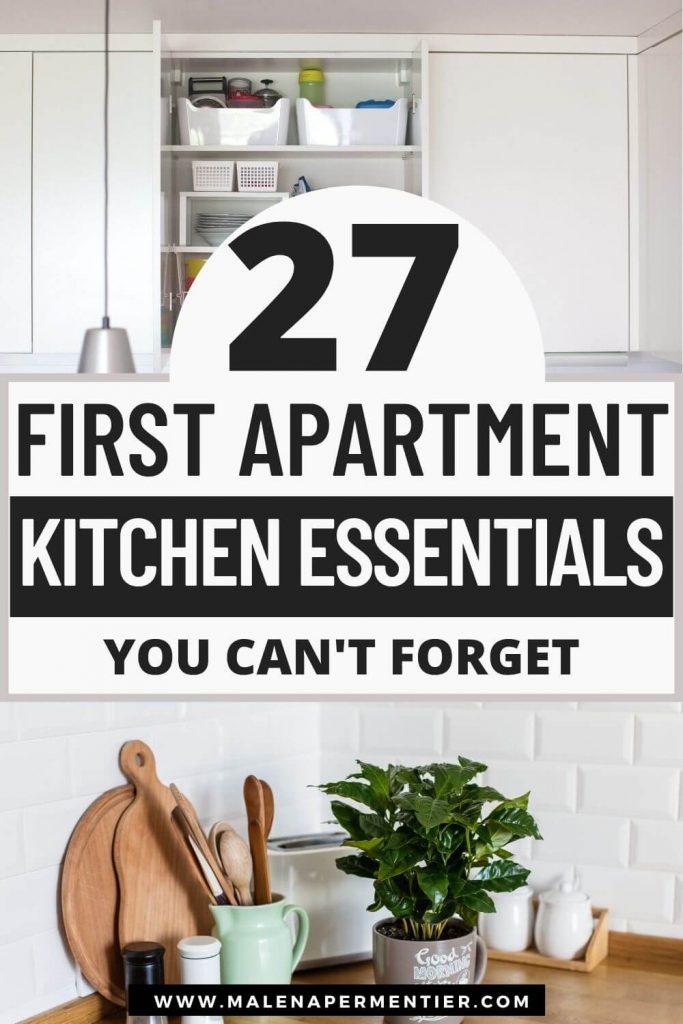 This post showed you the best first apartment kitchen essentials you will actually use!
You may also like: