Hey there! Some links on this page are affiliate links which means that, if you choose to make a purchase, I may earn a small commission at no extra cost to you. I greatly appreciate your support!
This post shows you 37 ways to organize a small apartment kitchen.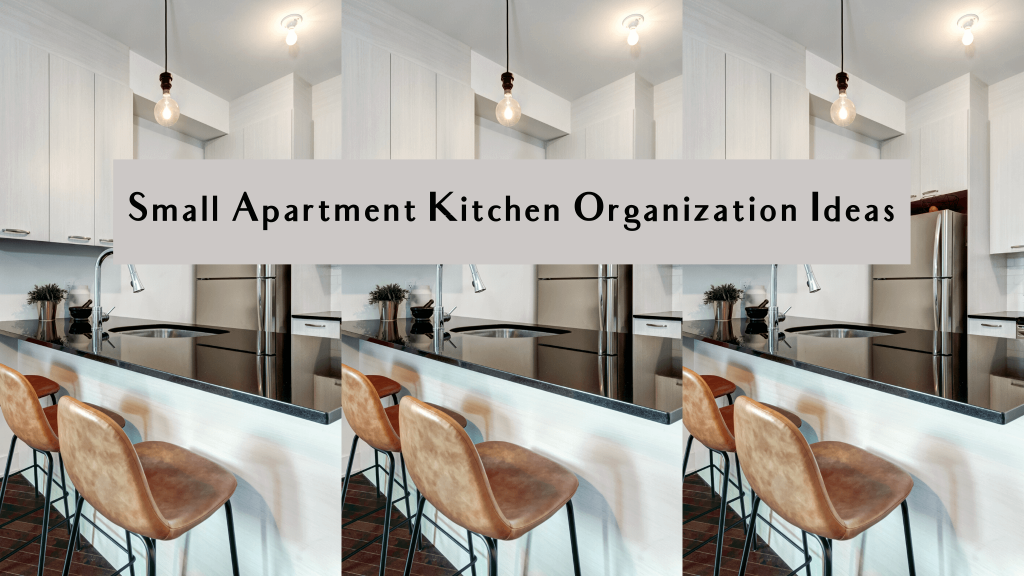 Here's a truth bomb: you'll always be short of space if you don't organize a small kitchen to perfection.
Luckily good organization doesn't have to be expensive or difficult.
It simply takes making the effort of decluttering, putting things in the right place, and using a smart organizer here and there.
In this post, I will show you the 37 best ways to organize a small apartment kitchen.
Best kitchen organizer to save space: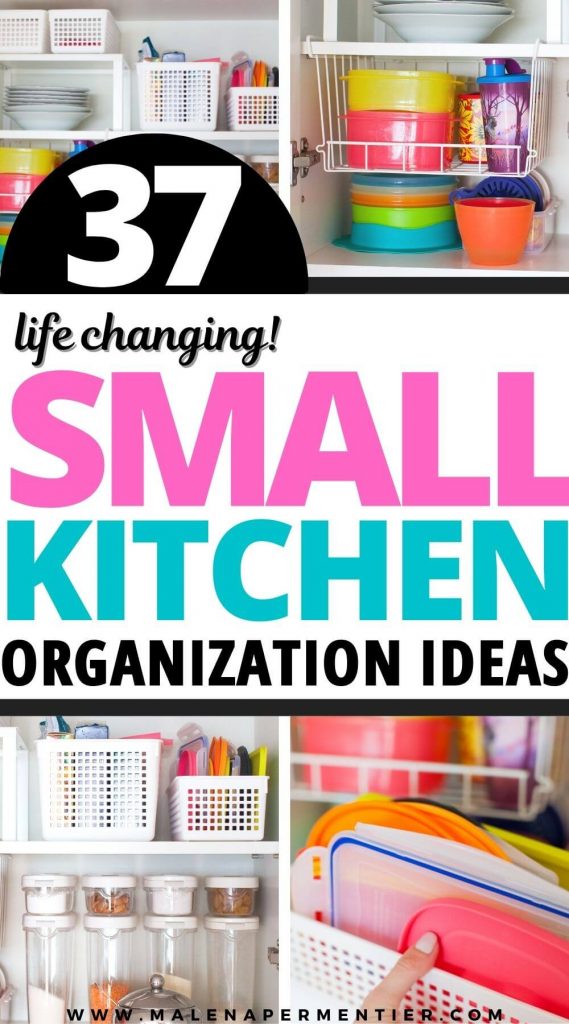 Small Apartment Kitchen Organization
These are the topics we'll cover:
Where to put what in a small kitchen
How to organize pots and pans
The best ways to organize small cabinets
How to organize a small kitchen without a pantry
The importance of decluttering your kitchen
Clever ways to organize your kitchen drawers
How to maximize the space under the sink.
Without further ado, let's look at the solutions that will help you organize a small apartment kitchen in no time.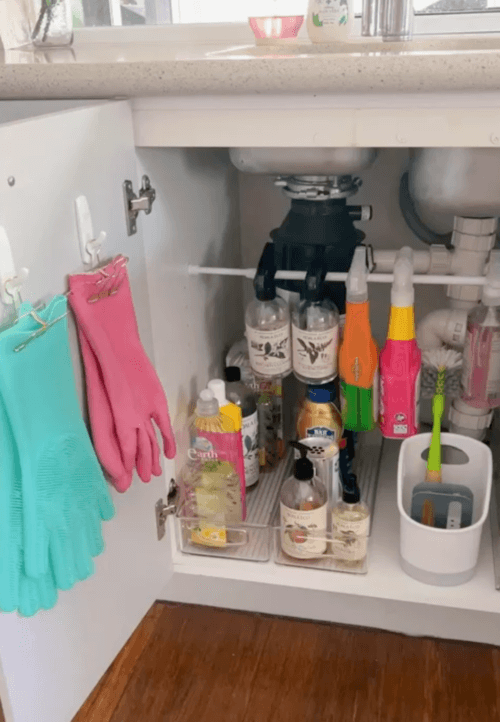 Where to put what in a small kitchen
Consider the stuff that you grab daily, and make sure to give these items the best spot in your cabinets.
A big culprit in making your kitchen messy and unorganized is clutter.
The first thing you'll want to do when organizing your kitchen is eliminate everything that doesn't belong there.
Do you have piles of Tupperware? Too many extra plastic containers?
Carefully review the things you actually need and use.
Place everything you want to get rid of or are not sure of in a separate place.
Make sure to keep as little as possible on your kitchen counter.
In a small kitchen, you need that precious space to be functional.
How to organize pots and pans
1. Shallow cabinet organizer

Pots and pans take up a lot of space, so this is the first thing we'll organize.
You likely keep pans at one of your bottom cabinets.
This adjustable pan and lid organizer is perfect for shallow cabinets.
2. Pan organizer shelf rack

If you prefer to organize your pans and lids vertically, this rack is your pan organizer of choice.
This organizer only fits pans, not pots.
That's something to keep in mind when picking the best organizer for your kitchenware.
3. Hang your pots and pans inside the cabinet

If you don't mind taking a minute to install this organizer, this hanging organizer solution works like a charm.
Other than inside the cabinet, you can also hang pots and pans on the wall or from the ceiling.
However, in small kitchens, I highly recommend keeping as much stuff as possible behind closed doors.
Hanging things can easily look messy, so you really want to be mindful of that.
4. Ideas for hanging pots and pans

If you choose to hang pots and pans, this wall-mounted organizer does the job.
This pot holder has 8 hooks and lets you hang pots, pans, utensils, and more.
If you hang this one, pair it with a magnetic knife holder underneath.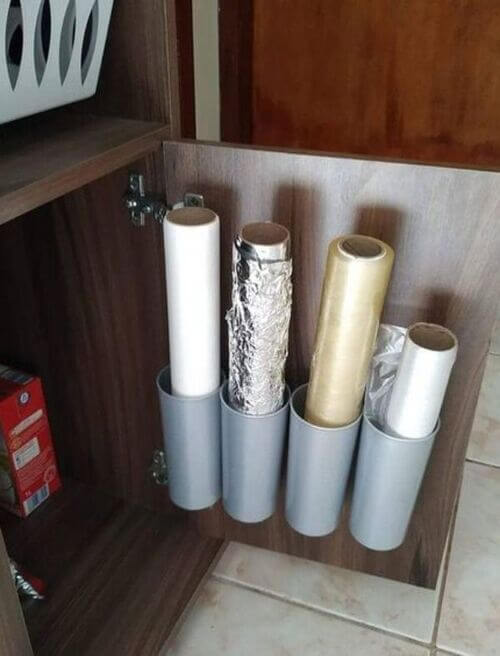 5. Install floating shelves

If you're short of space in your kitchen, floating shelves can majorly help to create more storage space.
Keep in mind to only store things insight that is somewhat visually pleasing.
We don't want this to create more clutter to the eye!
Small Cabinet Organization Ideas
In small kitchens, the cabinets are everything. What I like about cabinets, however small, is that you get to store your stuff out of sight.
These are some of the items you'll probably keep in your cabinets:
Dishes and cups
Tupperware
Water bottles
Spices
Random small items (catch all cabinet)
Now let's look at the best ways to organize these items in small kitchen cabinets.
[Related: How To Organize Kitchen Cabinets in a Small Kitchen]
6. Stack your dishes

An easy and efficient way to organize your dishes and bowls is with a shelf organizer.
Stack these shelf racks to multiply your storage space instantly.
This shelf rack organizer is budget-friendly and comes in a set of 2.
7. Hang your cups

Hanging your cups on the shelf is a great way to use the open space in your cabinet.
This cup rack has space for 8 cups, the perfect number for a small apartment kitchen.

Have more than 8 mugs? I see you! Consider getting rid of some to free up space.
8. Simple riser for mugs and small pantry items
Have a tiny cabinet for mugs and glasses? Optimize that space with simple risers.
These acrylic risers are my favorite. They come in a set of 2 and effortlessly create extra space.
9. Organize spices
Spices are essential in any kitchen, but it's so hard to find what you need without proper organizing.
Display your spices on steps or a turntable for easy overview.
10. Group small items in clear bins

If you're using your cabinets for storing food items, clear bins may make it easier to keep things organized.
I think these bins are most practical for small items like snacks, tea, sauces, small cans, etc.
11. Tupperware

If you use Tupperware or meal planning containers a lot, you know these things can be a nightmare to organize!
This organizer lets you keep all lids in one place and arrange them by size.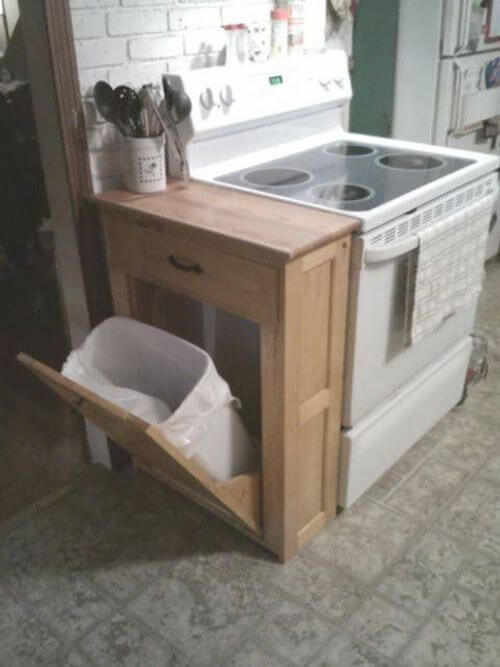 12. Water bottles

Organize your water bottles in this clear stackable organizer.
This solution is simple but also incredibly efficient.
13. Baking sheets and cutting boards

Baking sheets and cutting boards are a category of kitchen items that can be a struggle.
Keep this organizer in the cabinet where you keep your pots and pans.
No Pantry Kitchen Organization Ideas
14. Storage cabinet

Consider a storage cabinet if your apartment doesn't have a built-in pantry.
This is the type of pantry that worked best for me.
I like that it stores things out of sight, plus the tall height maximizes the vertical space in your small apartment kitchen.
15. Shelf rack

These shelf racks can be a lifesaver for storing appliances, large pantry items, or pots that don't fit in your cabinet.

As a no pantry alternative, this is not my #1 recommendation.
It has all your stuff visible, which could make a small kitchen look cluttered.
16. Kitchen cart
Kitchen carts are a good no pantry alternative. Make sure to stay mindful of what you put in the cart.
Keep the most aesthetically pleasing appliances in here.
Store the not so pretty things away in cabinets.
17. Slide out organizer

Small apartment kitchens are notorious for having limited storage space.
This slide-out organizer is a lifesaver if you have some free space between your kitchen and fridge (like me!).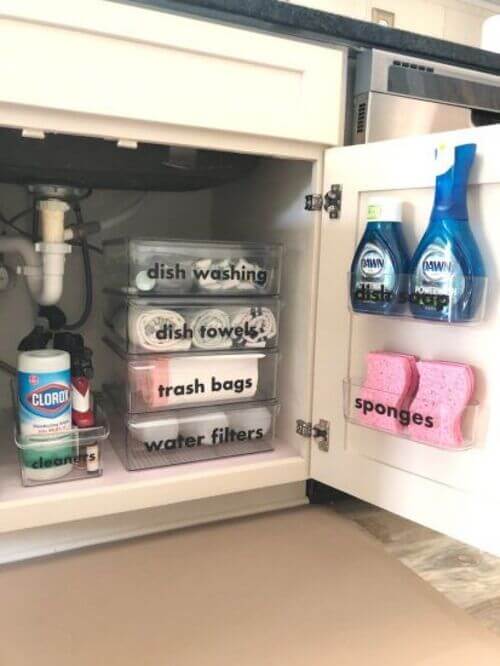 18. Maximize cabinet door space

Another way to squeeze in some secret pantry space is with your cabinet doors.
Attach this no-drilling organizer to the inside of cabinet doors for storing food items, parchment paper, foil, ziplock bags, and so on.
19. Glass organization containers

If you have no pantry, you must be extra mindful of how you store food items.

Use glass containers for things like pasta, cereal, rice, beans, etc.
Keep them on your kitchen counter (if you have the space) or, for example, on a wall-mounted floating shelf.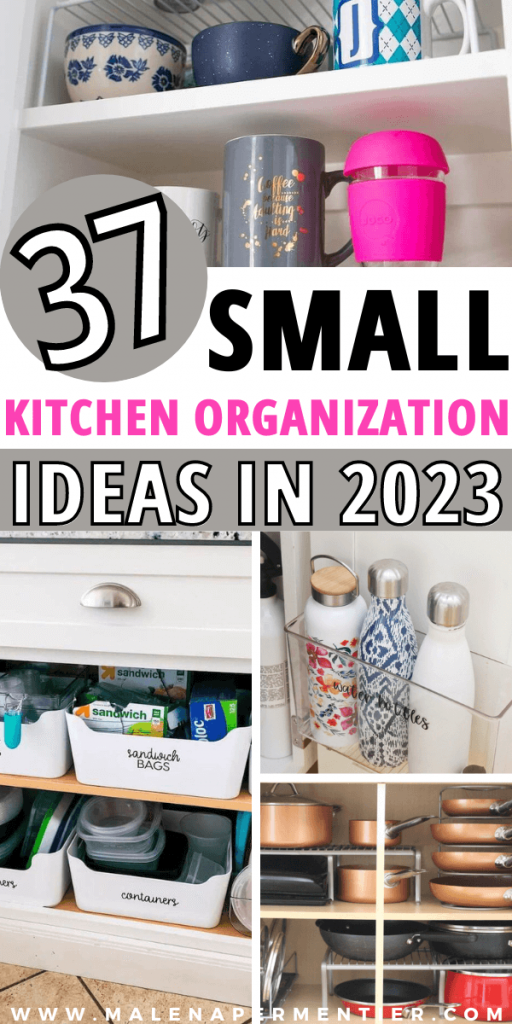 How to Organize Your Kitchen Drawers
20. Utensils drawer organizer

Keep all your utensils and silverware in one place with this drawer organizer.
It's expandable, so it also works for narrow kitchen drawers.

If your kitchen drawers are very tiny, I suggest going for this clear plastic utensils organizer instead.
21. Drawer organizer inserts

These drawer dividers are perfect for organizing bigger utensils. They are adjustable, which is why they work perfectly for small drawers.
22. Deep drawer pegs

If you're lucky enough to have a deep drawer in your small kitchen, you need these pegs.
If you keep dishes in a deep drawer, these pegs are incredibly helpful for keeping everything in place.
23. Catch all drawer

If you have a catch-all drawer in your kitchen, organize it with trays.
These organizer trays come in a set of 10, giving you plenty of flexibility to organize your drawer.
Under the Kitchen Sink Organization Ideas
24. Expandable under the sink organizer

This organizer is expandable from 15 to 24 inches and works with the awkward under-the-sink space.
This organizer is perfect if you use the cabinet under the sink for cleaning products.
However, check the next organizing tip if you're thinking of storing things like dishes, pots, and Tupperware.
25. Two tier under sink organizer

Depending on how much under sink space you have, you can get several of these two-tier organizers.

These types of organizers are perfect for keeping towels, sponges, cleaning products, or even for food items if that's what you use your under kitchen sink space for.
26. Pull out drawers

Equally practical for organizing under sink space are these pull-out drawers.
Use these store smaller kitchen items like sponges, trash bags, or zip locks.
Ways to organize kitchen appliances
One of the trickiest things to organize in small kitchens is appliances.
Most of them are bulky, and they don't always look so visually appealing.
27. Keep only a few appliances on your counter
Only keep the appliances on your counter that you use all the time, like a coffee machine or toaster.
If your counter space is tiny, you really don't want to keep more than 1 or 2 appliances out.
28. Put away less-used appliances
Put away large appliances like blenders or crackpots.
The under-sink space cabinet could be a good spot for storing appliances you frequently use. It really depends on your kitchen layout.
29. Utilize your pantry
If you have a pantry or even a no pantry alternative like a kitchen cart, these are excellent spots for storing large appliances.
Kitchen Counter Organization
[Related: 10 Brilliant Kitchen Countertop Organization Ideas for a Flawless Space]
30. Limit the stuff on your counter
The quickest way to make your kitchen look cluttered is by leaving stuff out on the counter—tidy things up, preferably behind closed doors.
31. Display your mugs on the counter

Make cute mugs part of the decor by using a mug tree for your kitchen counter.
Obviously, this only works if you have enough free kitchen counter space.
32. Keep your decor super simple
Squeezing in a little decor in a small kitchen is fine, but keep it minimal.
The best thing to do is choose functional things that also look cute —E.g., a very pretty utensils holder.

Kitchen Organization Products
Need a couple of extra holy grail kitchen organization products that help you get it together?
Below, I'm sharing 5 organizational products to help you take your kitchen to the next level.
33. Over the cabinet door organizer

34. Lazy Susan turntable with dividers

Lazy susan turntables are genius by themselves, but even better with dividers.

Turntables with such compartments are perfect for organizing small kitchen stuff like Nespresso pods or Keurig.
35. Mop and broom holder

36. Can organizer

This organizer doesn't need much explaining!
It's essential for organizing your pantry if you have a lot of canned food.
37. Tea bag organizer

Do you keep your tea bags in a drawer? Then you need this super simple but genius tea bag organizer.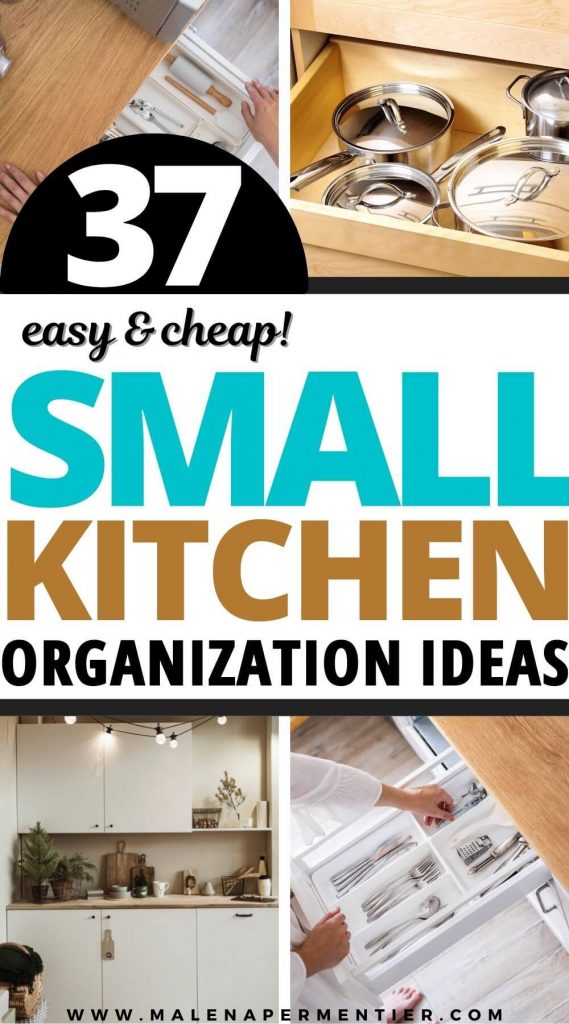 This post showed you the 37 best small apartment kitchen organization ideas.
Want to read more kitchen organization posts?
You may also like: