Pots and pans are the backbones of any kitchen. They're there to help you make dinner for your family, prepare meals for friends, or even serve as a decorative piece.
But when it comes to organizing your pots and pans, you might feel overwhelmed by the sheer volume of clutter you've amassed over the years.
It can be hard to know where to start and even harder to keep your kitchen organized when you have so many items needing storage.
For those of you who only have a little extra storage space in your small kitchen and don't want to hang pots and pans on the wall, I've come up with six simple solutions that will help keep pots and pans organized in your current cabinet.
What Are Some Tips For Organizing Pots And Pans?
When you think of the kitchen, you might picture a clean, organized workspace. But this is not always the case. The truth is that the kitchen can be a chaotic place, especially when you have so many pots and pans taking up space.
Many of us may find it hard to organize pots and pans because they're made of different materials and sizes, which means there's a lot of variation between them, so we can't just put them all on top of each other like they would with books or clothes.
If you have a lot of pots and pans, you will probably want to find ways to organize them so that they can be easily accessed without cluttering up your kitchen. Here are some tips for storing pots and pans:
1. Sort Them Into Categories
If there are many different kinds of pots and pans in your kitchen, it might be helpful to sort them into categories like "stainless steel" or "nonstick." This will make it easier to find what you need when preparing food!
2. When your drawers are too big
If there is a lot of room in your drawer and only a few items are inside, the entire thing will rock back and forth whenever you open or close it.
To prevent this, try placing tension rods in the drawer and putting pots and pans between them.
This way, they'll be more stable and won't move around as much when you open or close the drawer.
3. Store your pots and pans vertically!
This will give you more storage pots in your drawer and cabinet and keep your pots and pans safe from damage. Just make sure you're using the right vertical storage system first so that nothing will fall out of place!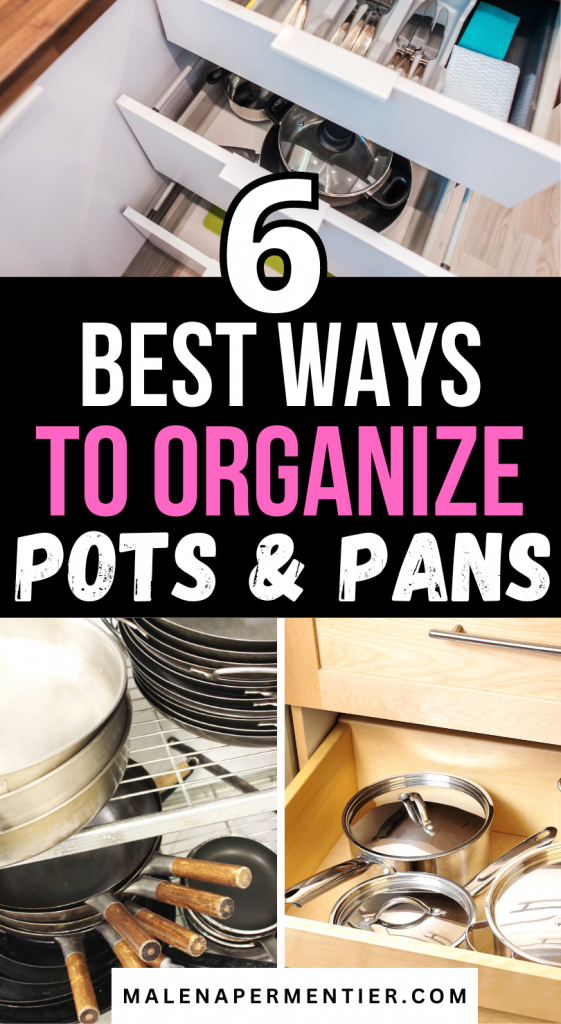 6 Easy Ways How To Organize Pots And Pans In Kitchen Cabinets
You don't have to store pots and pans in a disorderly fashion all over your kitchen countertops. There are many simple ways you can utilize your cabinet's available space to store pots and pans. Here are the easiest six of them:
Store pot and pan lids separately in deep drawers
Store pots and pans inside one another
Install a wire rack on the cabinet floor
Use a custom-built insert that's designed specifically to hold pots and pans
Use towel bars to store lids
Install Lazy Susans in your corner cabinets
1. Store pot and pan lids separately in deep drawers
Sometimes you don't have enough space to store all your pots and pans together in one place. So instead, consider storing lids separately in a deep drawer if this is the case.
I recommend deep drawers because they will allow you to store the lids vertically instead of horizontally, making them easier to access whenever you need them.
A pot lid organizer, such as this one from IKEA, can make the task of organizing pot lids in your kitchen much easier.
2. Store pots and pans inside one another
If you have a lot of pots and pans and don't know where to put them, try storing them inside one another or stacking them in a way that saves space.
For example, you could store two pots of different sizes inside each other if they're both the same type. But remember to use a paper towel or a dish towel as a separator between stacked cookware to prevent scratches and dents.
You can also purchase protectors designed especially for pots and pans, which come in a variety of colors and sizes.
3. Install a wire rack on the cabinet floor
(Image: Amazon)
Wire racks are ideal for organizing pots and pans because they are lightweight and can be easily removed from the cabinet when your kitchen needs a deep cleaning.
They're also inexpensive, so you won't need to spend much on this solution!
Pull-out wire racks allow you to store your pots and pans in a way that's both accessible and organized. When you don't need them, you can easily slide the racks back into the cabinet and keep them out of sight.
You'll also be able to see all your pots and pans at once, so you know exactly what you have.
4. Use a custom-built insert that's designed specifically to hold pots and pans.
(Image: Etsy)
One of the biggest challenges when organizing pots and pans is finding a way to store them that doesn't take up too much space.
If you're short on space in your cabinets, you'll want something custom-made that fits neatly into the available space.
These inserts are made and designed based on your drawer's measurements so that they fit perfectly and do not move around when you open or close the drawer.
Plus, each insert has dividers that help keep your cookware stable. This way, you can keep everything orderly and prevent damage at the same time.
5. Use towel racks to store lids
(Image: Martha Stewart)
We've all been there. You know, the day that you can't find the lid to your favorite frying pan? Or it could be the lid for a large mixing bowl or a soup pot. No matter what it is, we've all had that moment when our kitchen cabinets overflowed with pots and pans.
Don't worry! There are lots of solutions out there. One of them is to use a towel rack to hold the pot lids. Towel racks are great because they're relatively cheap and easy to install.
After you've cleaned your pot lids, let them dry before hanging them on the racks. They'll stay organized this way and be much easier to find when you need them! It's also quite decorative—who doesn't want their kitchen to look cool?
6. Install Lazy Susans in your corner cabinets
Because of their design, corner cabinet space is not very helpful because objects tend to get lost in the "blind spots" and make it hard for people with poor vision to reach them.
A Lazy Susan can make all the difference in this situation thanks to the smart design that allows it to move in a circular fashion, allowing you to easily access items that might otherwise be hard to reach.
If you're thinking about adding a Lazy Susan to your kitchen's decorating scheme, then consider these three tips:
Choose a style that fits with the rest of your decor.
Make sure it's durable enough so that it won't fall apart over time.
Make sure that it's easy for you to install and use. You'll want to be able to get everything out of the cabinet carousel without any hassle.
Final thoughts
So there you have it: 6 simple, straightforward ways to organize your pots and pans so that you can find the one you need easily when it comes time to cook.
The key is to be creative and flexible, and don't be afraid to try something new! You'll be surprised how much better things will look once you take the time to organize pots and pans properly in your kitchen cabinets.
All of these methods have worked for me, and I hope you found these tips useful and will be able to apply them in your own kitchen.
---
Author Bio
Millie Pham is a home and lifestyle blogger at milliepham.com – where she explores all things around cleaning, organizing, decorating, cooking, and more. She's been featured on Yahoo, eHow, Edible Arrangements, and GOBankingRates. You can reach her at millie@milliepham.com.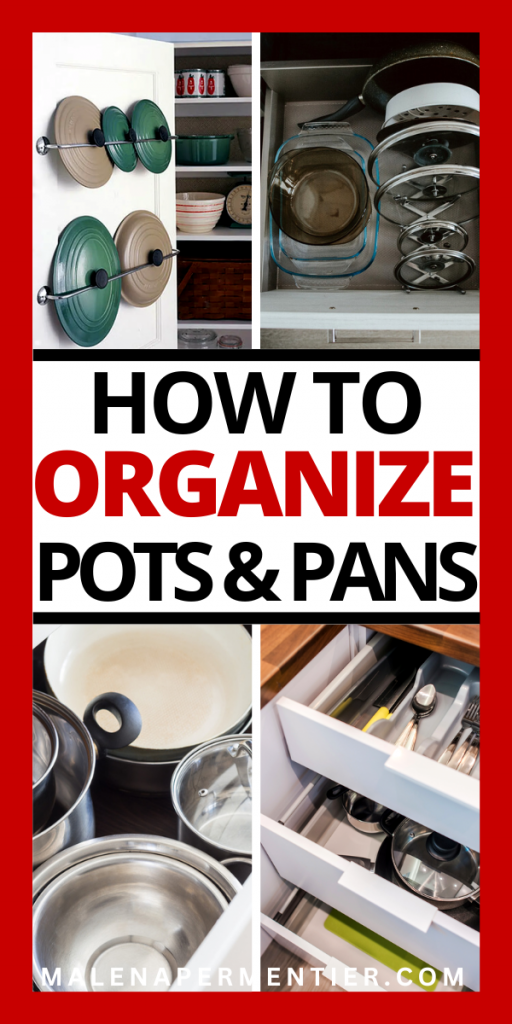 This post showed you the best ways to organize pots and pans in kitchen cabinets.
You may also like: