This post is all about the best small bedroom organization ideas.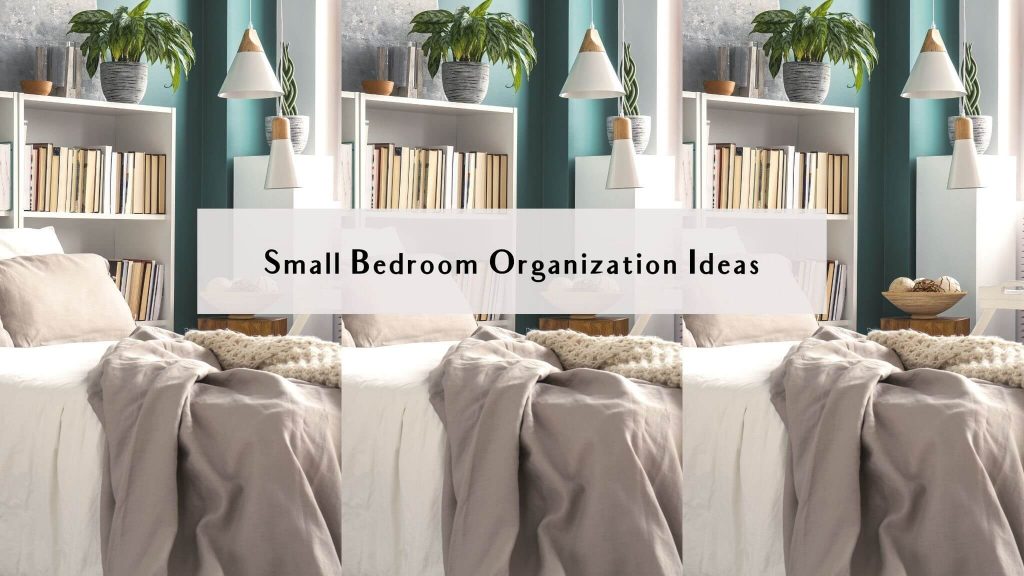 Best Small Bedroom Organization Ideas
In small apartments, your bedroom is everything. It's where you sleep, work, get dressed, relax, and everything else.
Because you have limited space, it's SO important to get your bedroom organized.
I live in a small apartment with an even smaller bedroom WITH my boyfriend, so I know the struggle is real when it comes to bedroom organization.
In this post, I'm going to show you how to organize your small bedroom on a budget.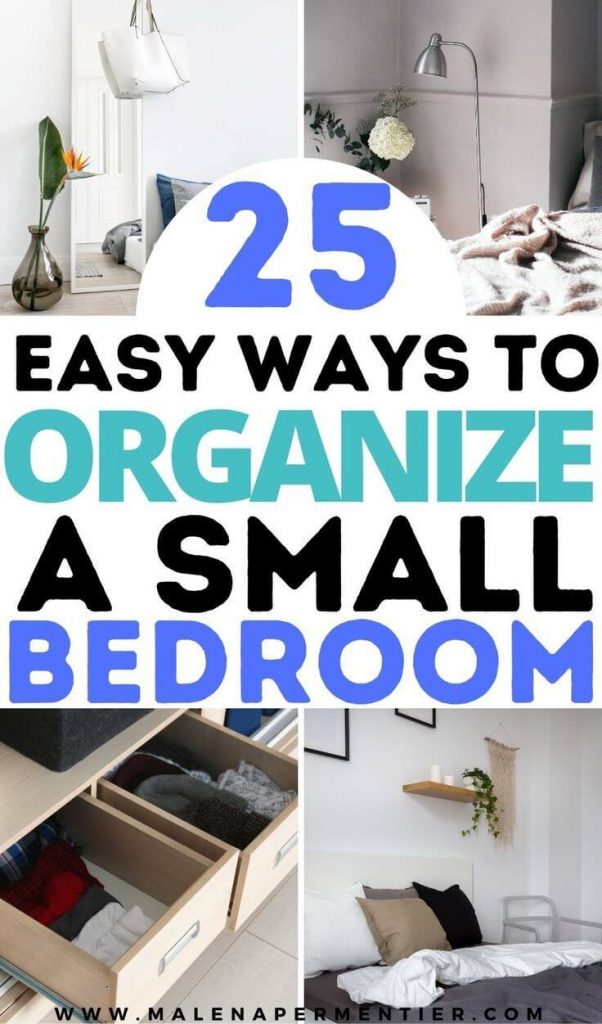 These bedroom organization ideas cover:
The best bedroom organization ideas that look cute.
Under the bed storage ideas.
How shelves are the OG of bedroom organization.
Easy & Efficient ways to keep your drawers and shelves tidy.
1. Use dividers in your drawers
Dividers are a must for drawers where you keep a lot of the small stuff like underwear, small tops and socks.
Not only does it make it a ton easier to find everything, it also doesn't become messy. Because let's admit: the drawers are SO easy to become a mess.
Get drawer dividers:

2. Create storage under your bed
If you have a little storage space under you bed, use it!! Get two practical under bed storage carts with wheels.
Use these organizers for seasonal clothing or extra blankets. But make sure to wrap clothing in some under-bed bags. If not, your stuff will become dusty easily.
Get under bed storage:

3. Use box shelves instead of a nightstand
Some small bedrooms don't even have space for a nightstand. In that case, why not use some form of cute shelving above your bed?
These box shelves are insanely affordable, practical and cute.
Get insanely cheap floating box shelves:

4. Organize the small stuff in your drawers
We all have those drawers that seem to become a mix of everything, whether jewelry, makeup, or other random things.
A great way to keep your stuff organized is by using clear containers for drawers.
Get vanity drawer organizers:

5. Merge decor with storage
In small bedrooms, only keep things out in the open if they look cute. In small spaces, you don't want to overwhelm the walls with stuff.
So if you want to hang things, make sure they look cute!! I love this DIY scarf hanger.
Get scarf hanger:

6. Use floating shelves above your bed
Floating shelves are great to decorate above your bed. But, if you have a tiny bedroom, they're also the perfect substitute for a nightstand.
Yes, I see you everyone living in a big city!!
Get floating shelves:

7. Add a simple dresser next to your bed
In many small bedrooms, dressers are lifesavers. Closet space is usually limited, so you need something else to help you out with storage.
For small spaces, I always recommend getting a very clean, sleek and simple dresser. That way, it doesn't overwhelm the space.
The good thing about a simple dresser is also that you can use the top for decorating.
Get dresser:

8. Utilize your door (but keep it organized!)
Don't use a door organizer that looks messy or where you can see everything that's inside.
Why? because it will make your bedroom look cluttered.
Luckily great organizers let you store stuff without overwhelming your space with clutter.
This organizer is one of them!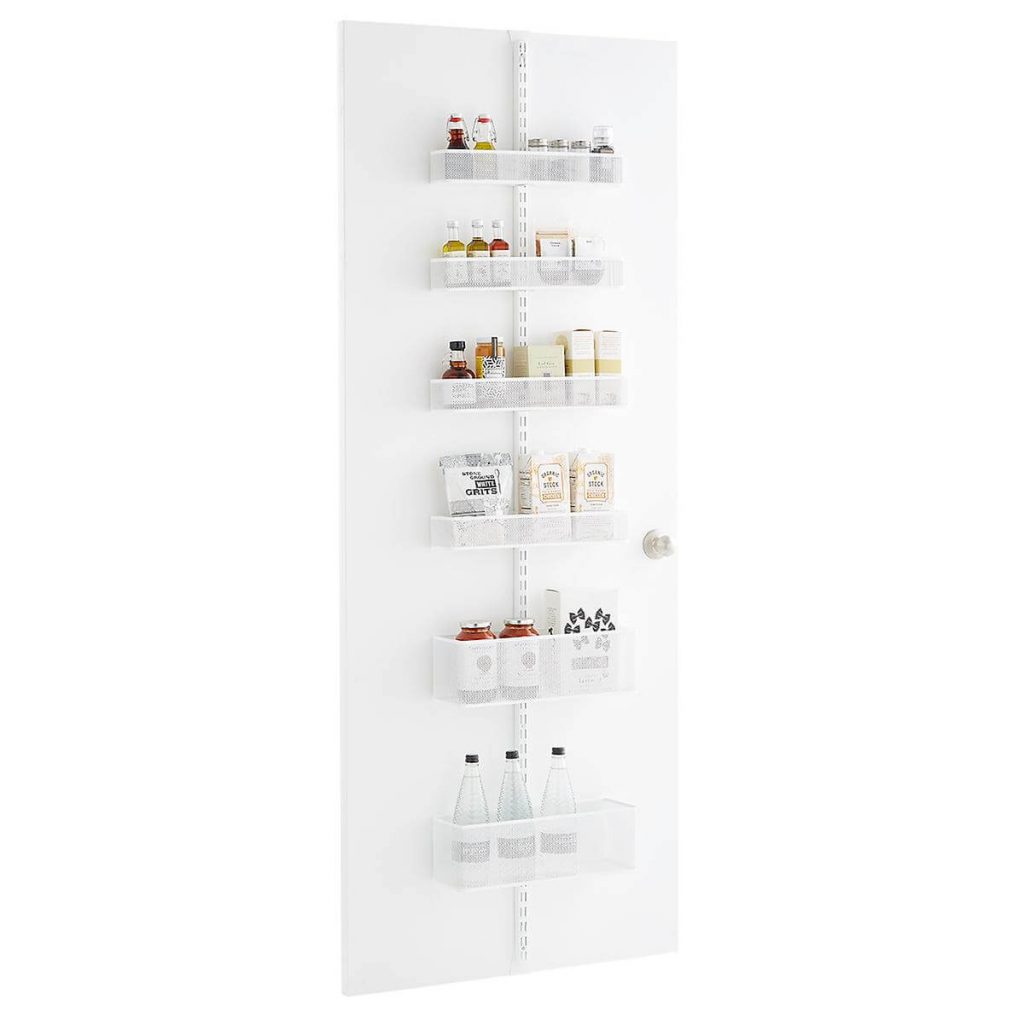 9. Use pretty storage boxes for jewelry (and display them)
Let storage and decor become one. Things like jewelry can be super nice to put on display in your room if you have the right storage!
This gold jewelry storage is perfect for decor and also does a great job at keeping your jewlery organized.
Get jewelry box organizer:

10. Keep paperwork in place
Nothing creates clutter quicker than papers. And we all have them: bills, letters, magazines, etc.
If you have a small desk in your bedroom, make sure to keep your papers organized in folders or store them away in drawers.
Get desk organizer:

11. Organize your makeup
Anyone else guilty of having their makeup lay around the room everywhere? Solution: Get a makeup organizer with a designated space for each product.
If you have a closet with shelves, keep it inside to keep things even more organized.
Get the best makeup organizer:

12. Use a bedside caddy for the small stuff
Do things like glasses, headphones, and magazines always end up on the floor next to your bed?
Consider getting a simple bedside caddy to keep all the tiny stuff in place.
You can attach these to your bed so it's easy to keep your stuff off the floor.
Get bedside organizer:

13. Make some of your clothing part of the decor
I don't recommend this organization idea in every bedroom, but if you're really short on closet space, it can be a life saver.
Basically, this is floating shelf with a clothing rod and it looks so fancy!!
When you have clothing hanging in your room, make it part of your decor and style it like a pro.
I love how this clothing rack is perfectly styled with two symmetric gold frames above.
Recreate this:
14. Create extra "shelves."
If you have some cabinets or shelves your bedroom, make sure to utilize that space to the fullest.
A great way to do that is by creating an extra shelf with these shelf stands. You have these shelves in different sizes so you can use them for make-up and clothing alike.
Get acrylic organizers:
15. Add floating shelves in your bedside corner
Another creative way to maximize space is by using the awkward space in your bedside corner for shelves.
Super cute for decor, and equally practical to keep your coffee in the morning.
Get square floating shelves:

Other great bedroom organization ideas I love:
16. Laptop bed tray
If you work from your bed often as I do, bedroom trays are a must. Sometimes I use it to put my food and coffee, sometimes I keep my laptop on it.
Either how, if you live in a small apartment these trays are truly life savers.

17. Bedside lamp with USB
I'm always struggling with my phone cord. It's not quite close enough to where I want to lay in the bed, so it's annoying.
This dimmable bedside lamp with USB port is a game changer. Plus, it's so affordable and cute.

18. Necklace holder
Save yourself time and headache with this necklace holder. I can't count the number of times I left the house late because I wasted time detangling my layered necklace.
Anyhow, needless to say, this necklace holder is a game-changer. It also looks super cute, so you can even leave it out on your dresser.
Get necklace organizer:

19. Hang extra hooks in your closet for bags
If there's some space between the hanging part of your closet and shelves, use that free space.
Hanging a few hooks in your closet makes great storage for bags or scarves.
Get simple silver hooks:

20. Tidy up your sunglasses
Sunglasses are another thing that are hard to keep organized. Somehow they end up all over my shelves and drawers if I don't have a designated spot to keep them organized.
This sunglasses organizer is cheap and takes up little space.
Get sunglasses organizer:

21. Use storage jars
Storage jars like this are perfect for cotton pads, tampons and other vanity items you might want to keep in your room.
I definitely prefer these jars over clear ones. Because you can't see what's in it, it automatically looks more organized.

22. Small plastic organizers
If you keep things on shelves in your bedroom, the best way to keep you bedroom looking organized is by placing them in organizers.
Get organizer:

23. Small organizer inside closet door
Use a small organizer on the inside of your closet door for things you don't need every day like special lingerie, bathing suits, beachwear, etc.
Those things easily become messy in your drawers. Plus, if you don't need them every day, they're annoying to come by when you're looking for underwear or socks.
Closet door organizer:

24. Basket organizer on the outside of your closet door
This basket organizer is cute, so it's not an eyesore to have visible in your room. A great purpose for this basket organizer is your everyday items.
You know, those things you somehow throw all over your room!! Think keys, your favorite bag, coins, glasses, etc.
Ps. I also DEFINITELY recommend this organizer for messy boyfriends who tend to leave their stuff everyhwere.
A small bedroom gets cluttered and messy SO easily and it shouldn't have to be.

25. Organize with cute labels
Get cute labels to stick on your organizers for that type A organization aesthetic.
You can get labels for different rooms in your apartment, for example bathroom, laundry, and make-up labels.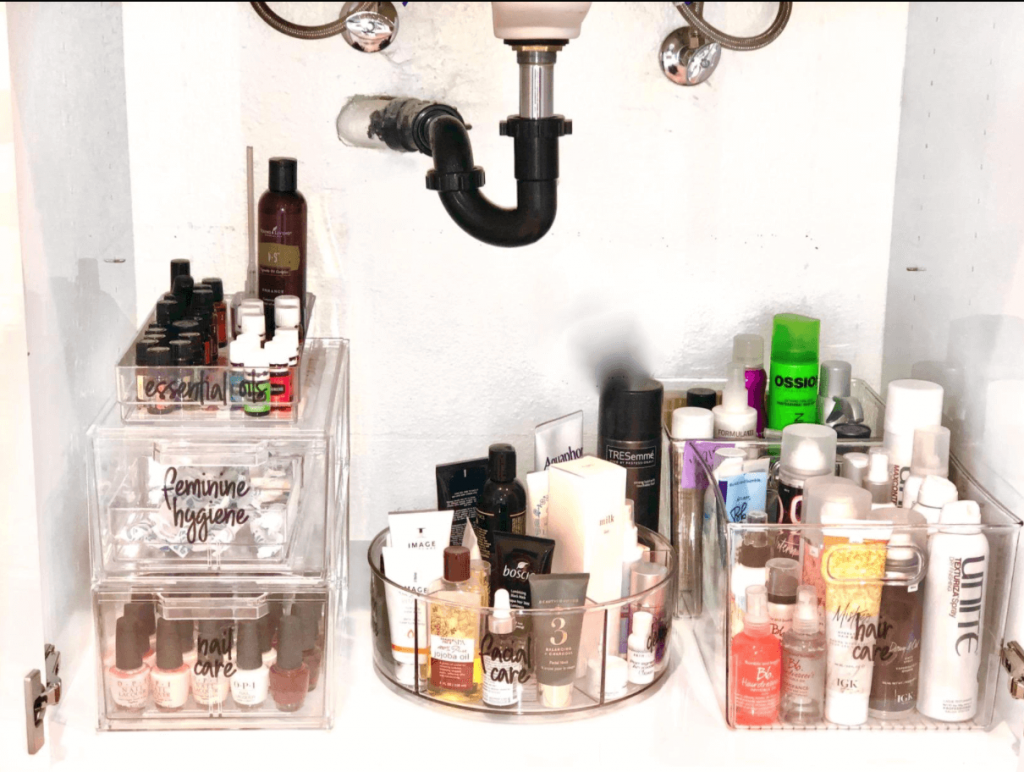 Get makeup labels: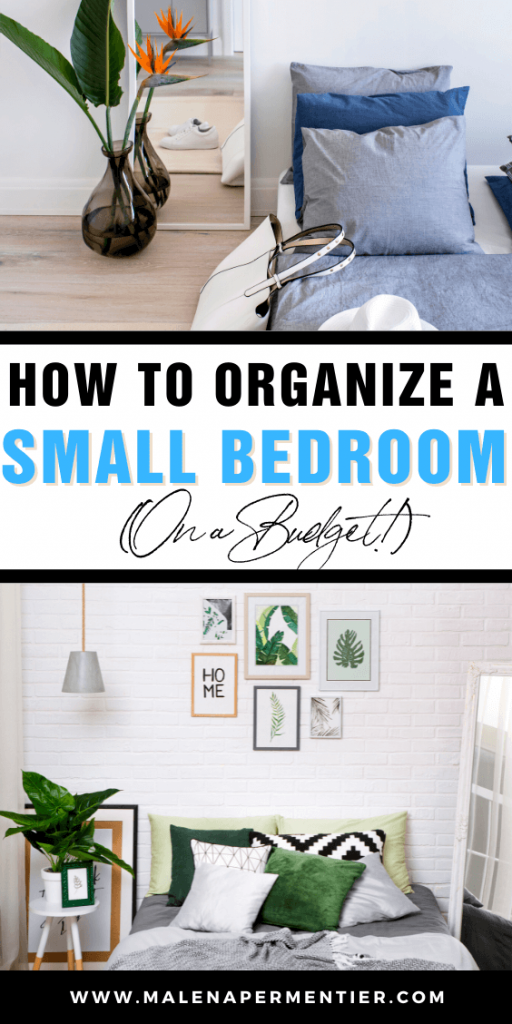 This post showed you how to organize a small bedroom on a budget.
You may also like: