This post shows you the best laundry room ideas.
If you've been looking for a way to update your laundry room or need some inspiration for the new home then look no further.
Do you need a simple fresh coat of paint or a whole laundry room makeover?
Whatever you need we have an idea for. Let's update, decorate and reorganize this laundry room to fit your needs.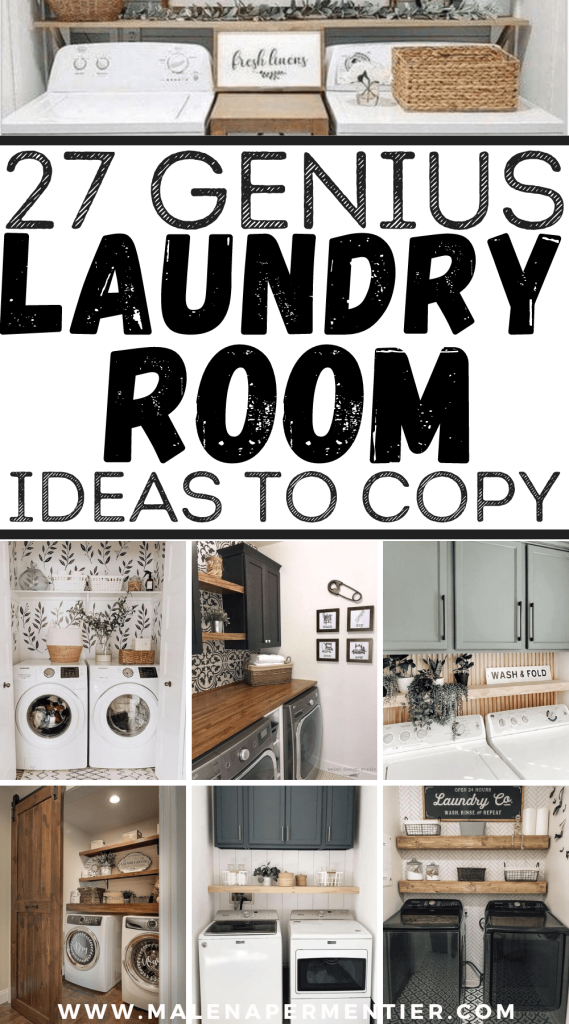 Tips to organize
We all know that the laundry room is where all chaos breaks loose.
You know how it goes washing all the laundry on a sunny Saturday morning and then taking 5 to 9 business days to fold and pack it away.
Don't worry this is a judgment-free zone.
I have also compiled a list of tips in order to keep things organized.
Remove unnecessary clutter
Make sure you are using a functional layout
The more storage the better
Make use of wall space
Label everything
Remove unwanted clutter and use glass jars for storage
Add extra baskets
Simply put there are a lot of ways for you to make sure your laundry room looks semi-organized.
Upgrading your laundry room
If your laundry room has all the fully equipped necessities but it feels like something is missing then try adding one of the following to your laundry room.
You can never have enough storage.
Decorate the walls. There's nothing wrong with adding your own flare to the laundry room so why not try some new wallpaper?
Try hanging a curtain in front of the washer and dryer. This allows you to hide the eyesore from direct view.
Create a designated station for ironing and folding.
Add a built-in drying rack. This allows you to have a spot for those unexpected rainy days.
Don't be scared of adding more lighting.
For a room that is known to be messy, it doesn't hurt to try and keep things organized.
27 Laundry Room Ideas
1. Bright colors and greenery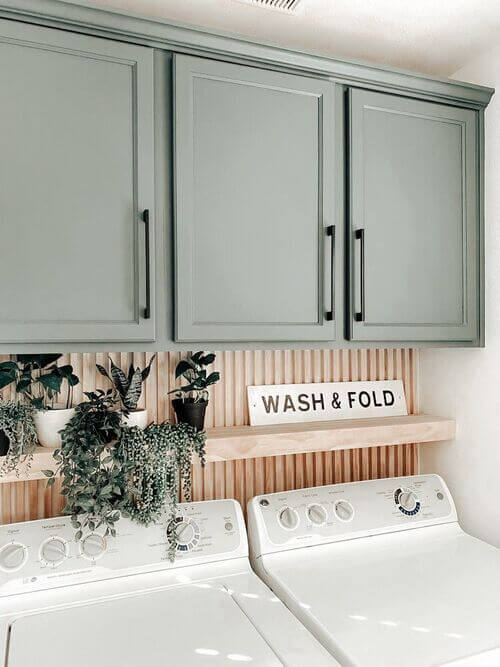 When creating a laundry room the most important thing to keep in mind is to keep the room bright and airy.
Use light colors or wallpaper to make sure the room is nice and open.
You can even incorporate some gorgeous plants to fill up the space.
2. Washing nook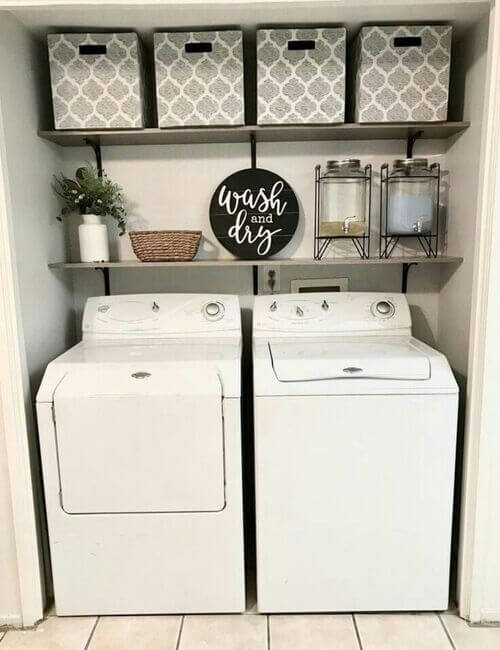 Not sure you have the space to make a whole laundry room?
Create a laundry nook instead.
Make use of floating shelves for optimal storage usage.
You don't need much to recreate this cute idea and bring your laundry room to life.
3. Glass jars and woven baskets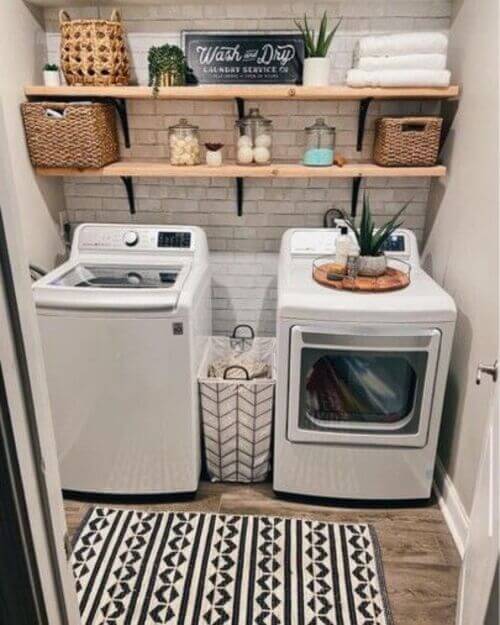 No better way to keep things organized and aesthetically pleasing than by making use of cute jars and baskets.
Let's be honest here… these aren't always used because they work effectively sometimes they are just used to make a room look cuter.
Use them for soap, pegs, or detergent as needed.
4. Greenery and glass jars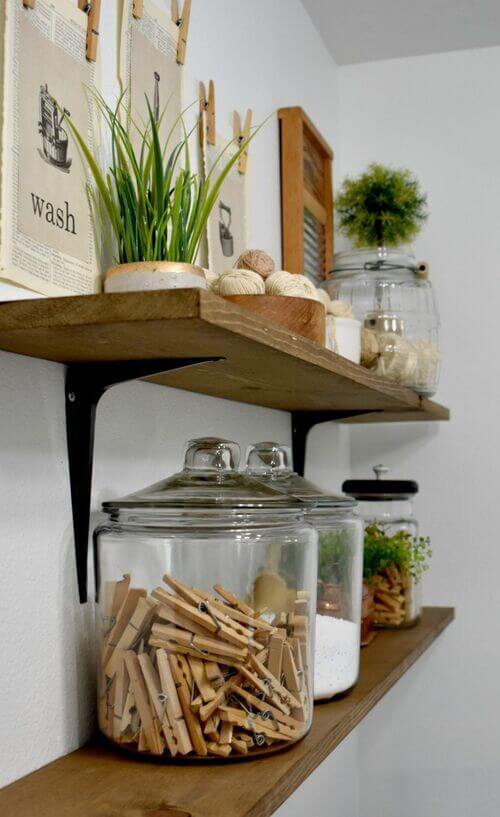 Here's another great organizing hack that you can make use of.
Floating shelves are great for saving space. Fill it with jars, pictures, and cute little plants.
These are optimal to use in small spaces to ensure you aren't wasting any space.
5. White, grey, and green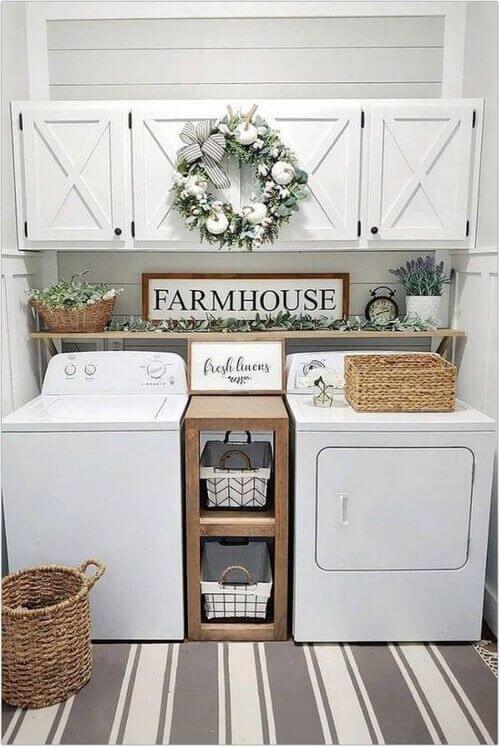 An elegant color theme to use in a laundry room incorporates colors that are light and cheery.
Beige, grey, and green are the perfect combination for any room and create a brighter look.
6. Floating shelves and wire baskets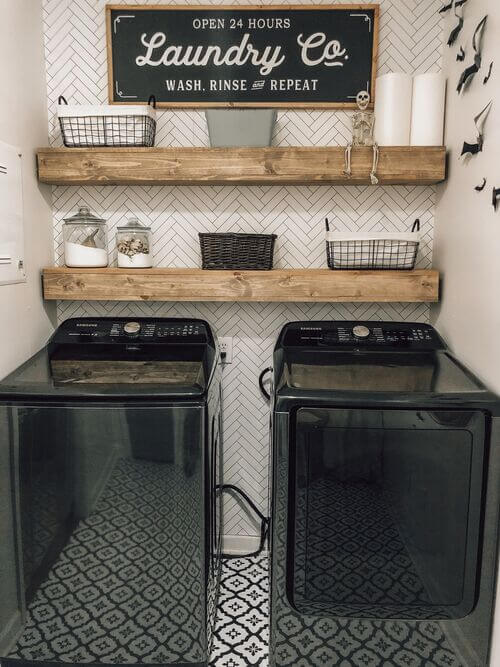 Try a minimalistic approach by using thick wood slices and wire baskets for storage.
It's a simple idea and efficient for providing all the necessities needed for a laundry room.
Add some quotes and wallpaper.
7. Wood box storage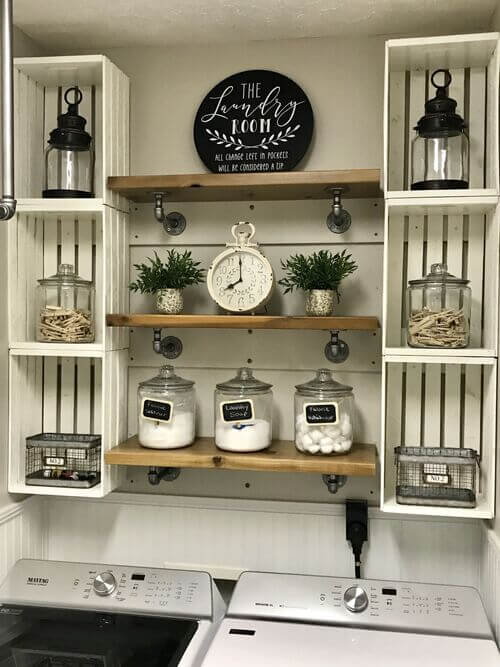 Wood crates are perfect to DIY and use as storage spaces.
You can incorporate floating shelves and a few cute plants.
If you need some extra lighting then you can add some lanterns not only do they provide extra light but they also give a nice aesthetic touch.
8. Simple wallpaper
Bring a fun new wallpaper to the room.
Whether you use paint or a printed stick-on wallpaper is up to you.
People prefer something that isn't really permanent to ensure they have the opportunity to change it as they feel the need to.
9. Cute quote corner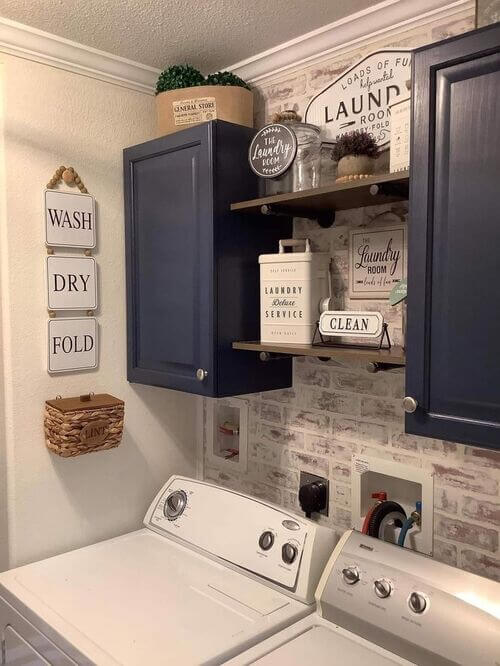 Personalizing things always feels a little crazy. If you're not sure how to go about it, then you can add some cute quotes and photographs to the room.
Your home isn't complete without a few special touches so get creative.
10. Sliding door closing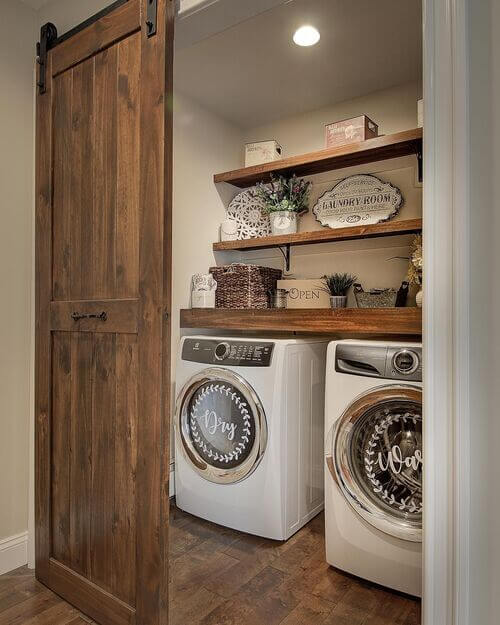 As I've said before, being able to close off the washer and dryer allows you to create a space that doesn't look messy.
This gives you the perfect space to keep all your laundry out of the way when you know you have guests over.
11. A bold touch of color
Every room needs a bold pop of color. Get an attention-grabbing color to bring the room into a new light.
Light wood pairs well with darker colors and brings a balance to the room.
Keep things organized with woven baskets and iron baskets to give everything a designated space.
12. Folding corner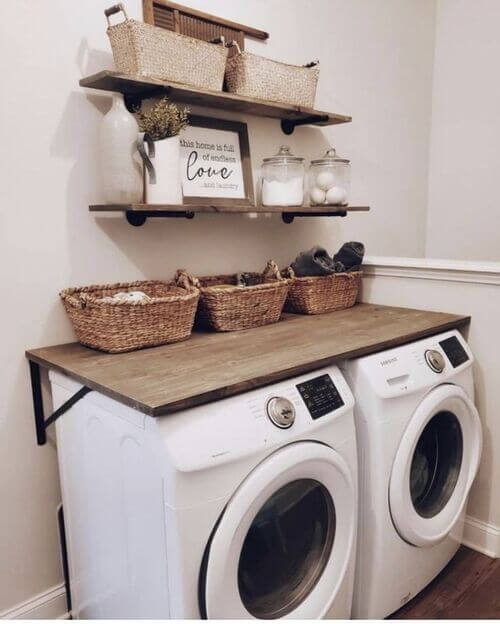 Every laundry room needs a designated space for you to iron and fold your clothes.
Grab some baskets for socks and small items.
Keeping a specific space open for just folding can help in the long run.
13. Simple and bright aesthetic
Beige and blue work great together to create the effect of a bigger room.
Use a table over the washer and dryer to double up as a folding station.
The best way to go about a laundry room is to make it functional and simple.
If you're adding small goodies then just keep them in a place that you know won't be in the way.
14. Dark wood accents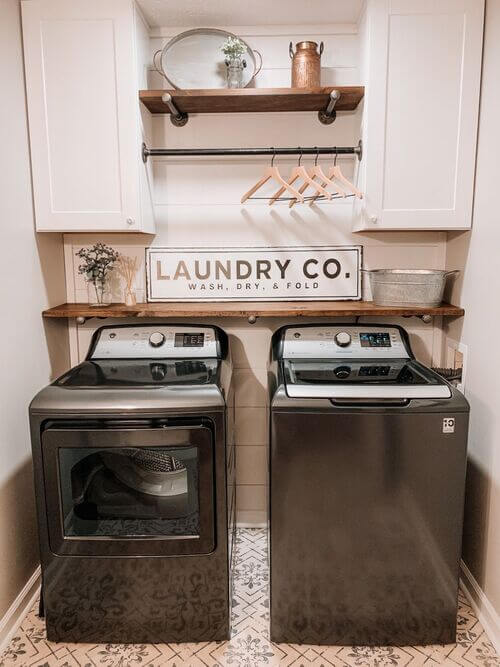 Dark wood and bright white cupboards are a gorgeous complimentary duo that makes any space look stunning.
This folding station incorporates a bar with hangers which allows you to hang shirts and pants after ironing them as well.
15. Ceramics and baskets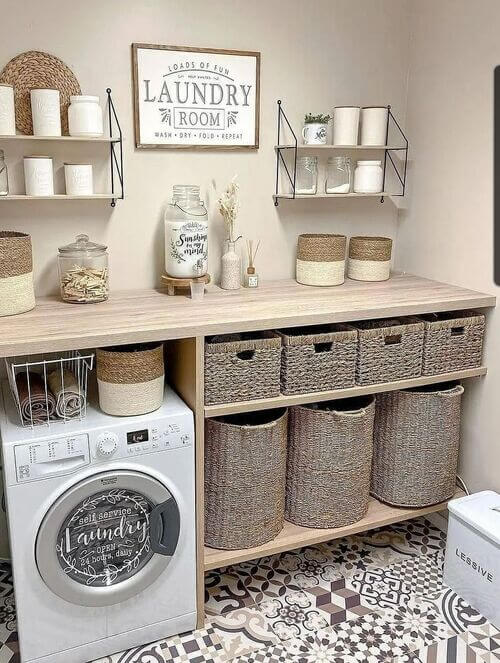 Ceramic jars are a gorgeous way to keep things organized without feeling like it looks cluttered because it is see-through.
Adding some woven baskets allows you to separate your different clothes, and the small baskets allow you to fold them and pack them into the right bin for each person.
16. Bold and bright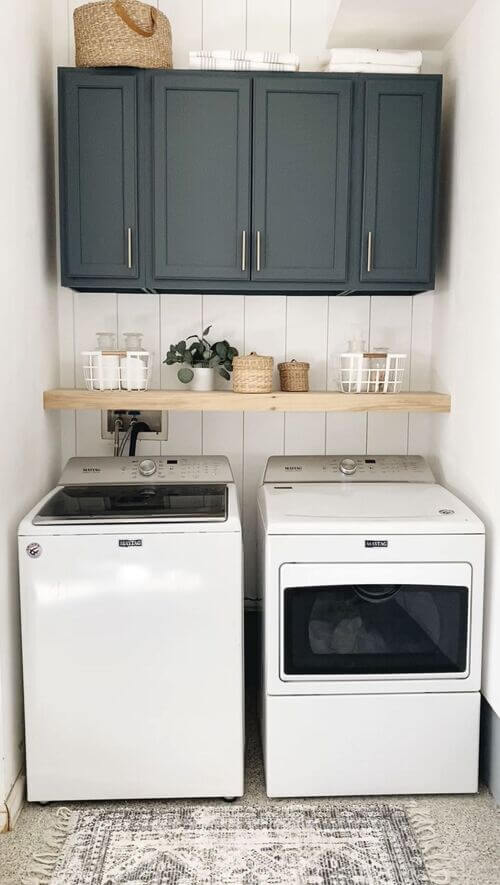 A mini laundry space is more than enough when you have cupboards to make up for lost space.
It's easy to feel like you are wasting space when you have a whole room to fill, so this makes it easier for you to keep the space neat and tidy.
17. Personalize the room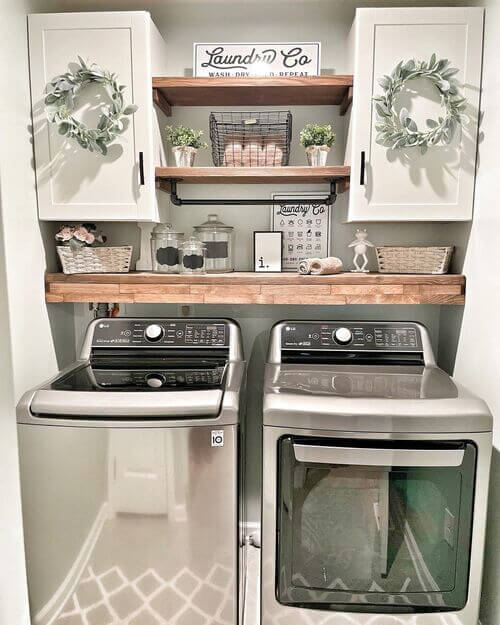 A cute and fun way to bring some atmosphere to the laundry room is by incorporating some greenery.
Add some jars with chalk stickers so that you can label your jars.
As we've said before it's best to keep things labelled and this is the perfect way to do that without making it look slapped on.
18. Cans, baskets, and glass jars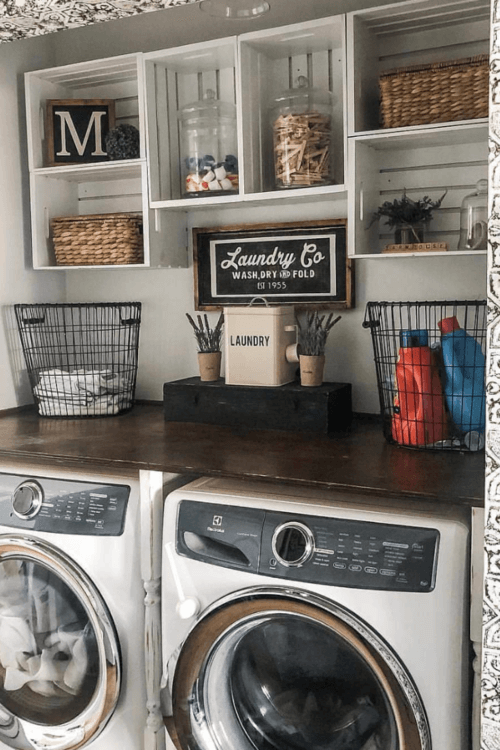 Mixing and matching your organizers are also an option and works great if you're trying to save some money because let's be honest keeping things budget-friendly is always the end goal.
19. Folding station
Keep things simple with this cute idea.
You have your washing basket situated between the two machines with a simple table countertop and cupboards.
You can add a bar to hold hangers for shirts too.
20. Greenery and photo frames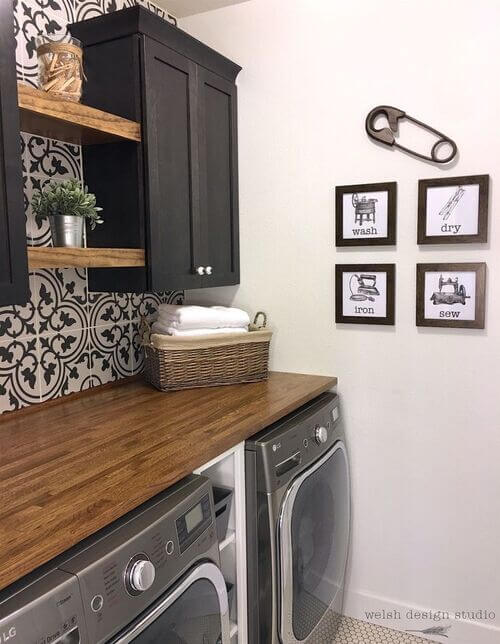 If you are a minimalist but still want to add some minor details to your laundry room, then you can always add photos to the walls.
They take up minimal space but still provide that sense of personality that everyone loves to have in their homes.
21. Basket storage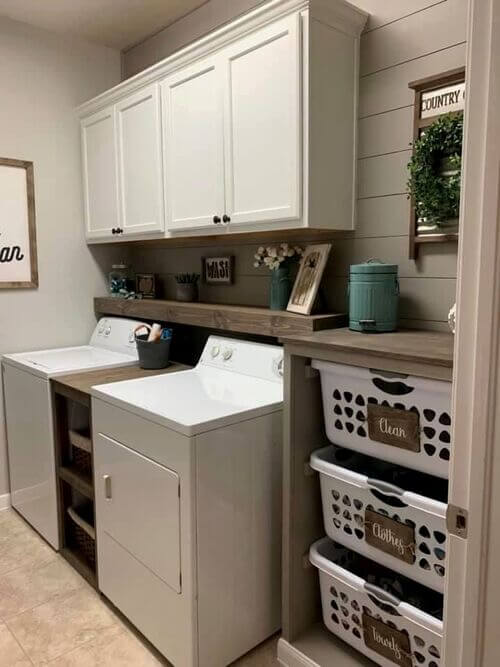 The cutest DIY way to keep your laundry room in order is by making a designated cubby for your laundry baskets.
Create a spot where you can rack your baskets and add a name to each one so that each family member has their own spot for dirty laundry or clean laundry.
It's a great idea to keep things in order.
22. Organize and clear clutter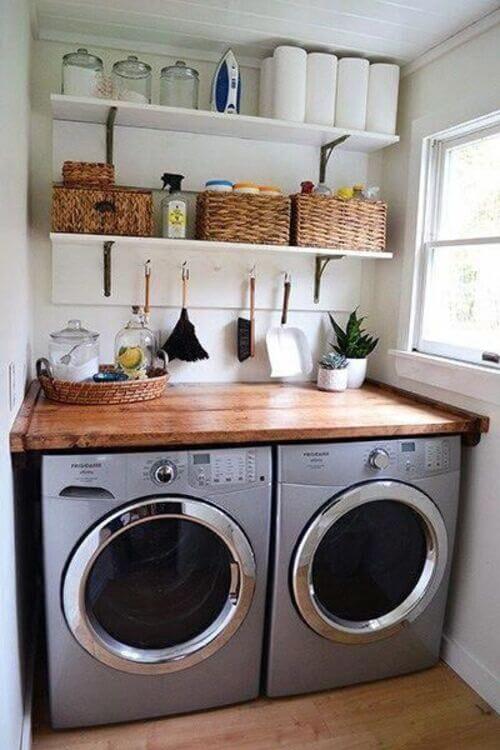 If you have minimal space to work with then make your laundry room the same room you keep cleaning supplies.
You can also add a tray with your go-to goodies so that you have all your supplies in one handy space.
23. Keep things simple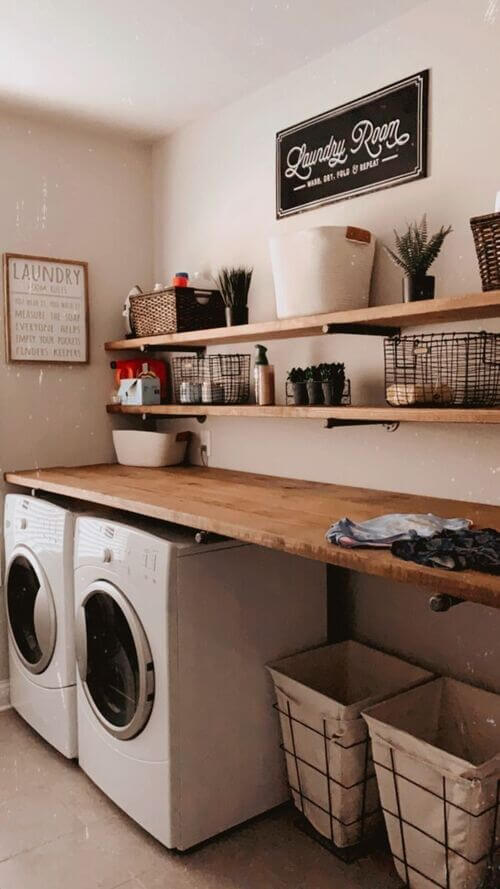 Floating shelves and a countertop allow you to make use of all the space you need to work efficiently in your laundry room.
Add your baskets to the shelves and bring in your laundry baskets under the countertop.
24. Mini laundry station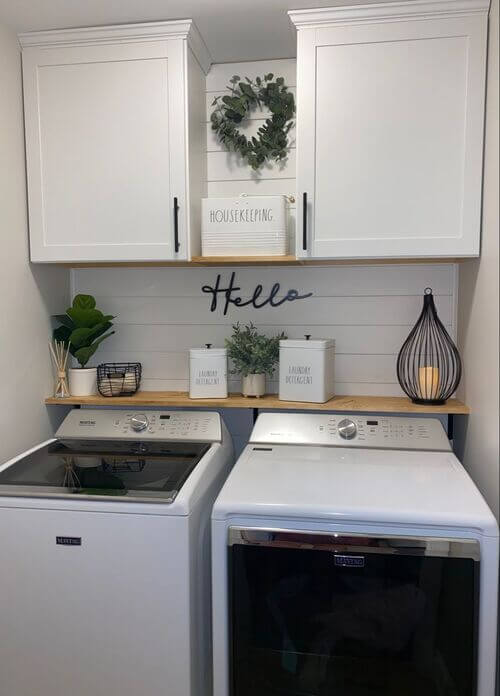 Even if you're living in an apartment it is a great idea.
Limited space only means you have the opportunity to avoid unnecessary clutter laying around.
You can even add some candles and cute tin cans filled with cleaning goodies.
25. Wooden shelves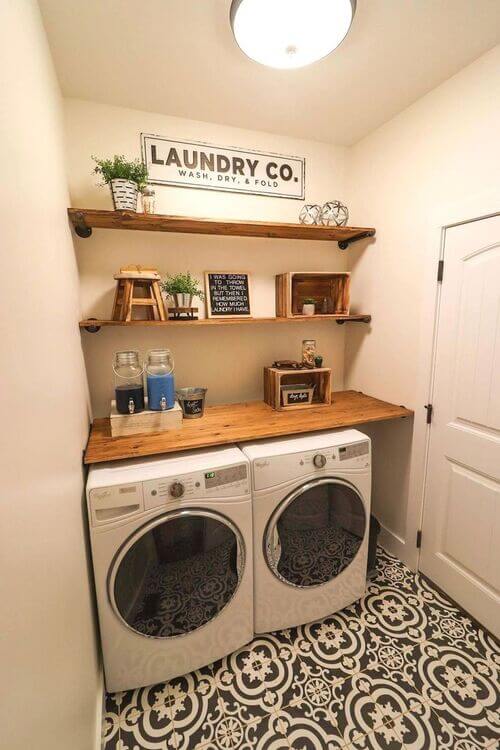 Bring a unique approach to the laundry room by adding a cute laundry quote.
You can also add a small chalkboard to write down what needs to be done throughout the week.
26. Woven basket storage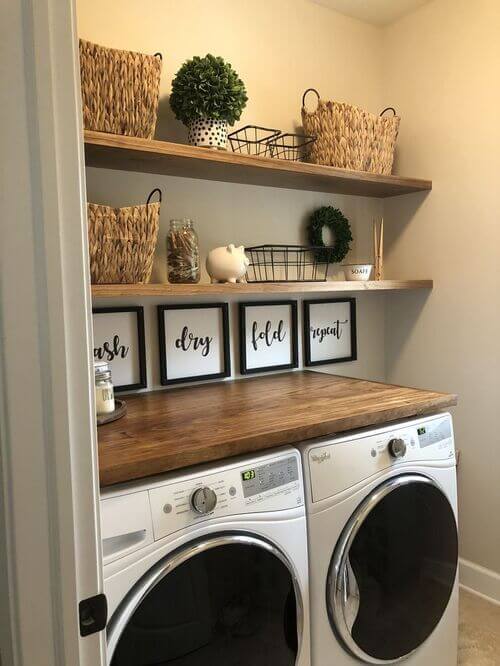 Woven baskets are gorgeous as well as perfect for organizing your laundry goodies.
They conceal the contents making it great for when guests visit so that they don't see it.
You also don't have to feel like everything is cluttered when you only see the gorgeous baskets.
27. Pitch black laundry room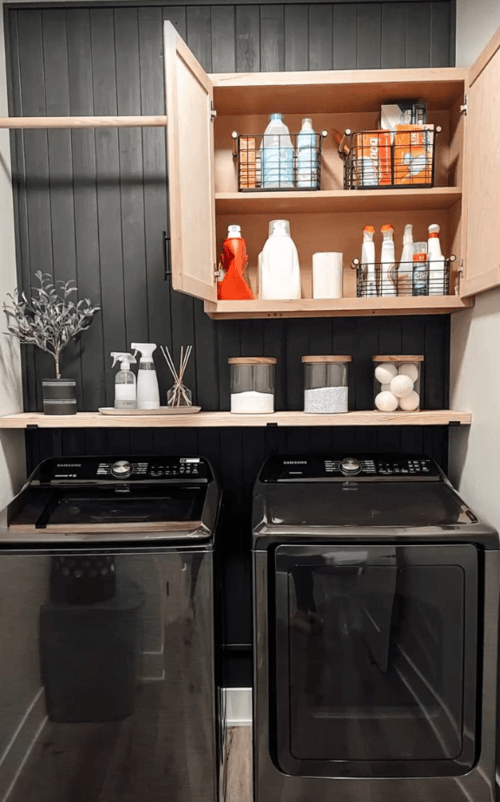 This moody laundry room puts a twist on the usual laundry room idea.
This moves away from the usual light and airy ideas and makes things better by creating a contrasting look with light wood.
Keep things simple
If you have minimal space to work with then you don't need to add simple extras.
All you need is your washer, dryer, a good bench for folding and ironing, and a cupboard for your cleaning essentials.
Which one of these ideas will you be trying out?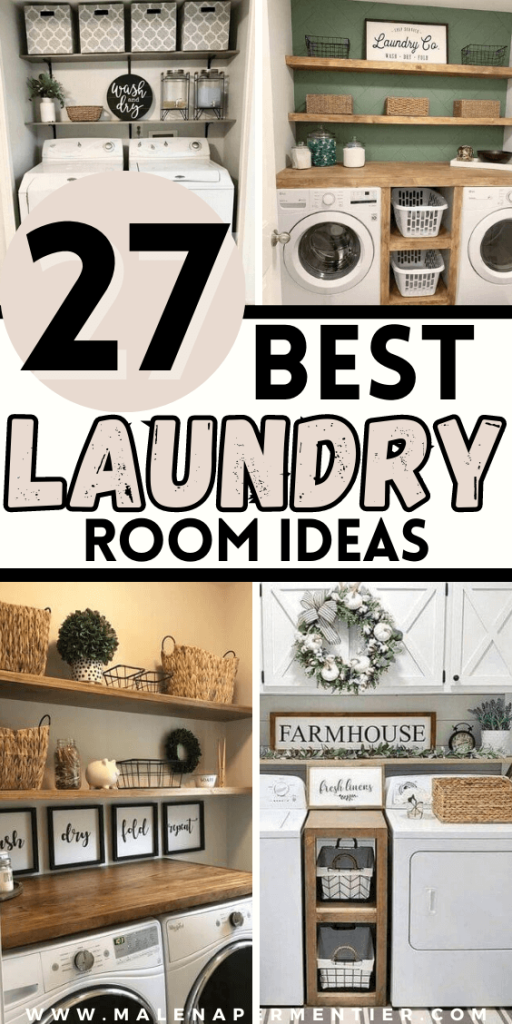 This post showed you the best laundry room ideas.
You may also like: