This post is all about apartment organization hacks.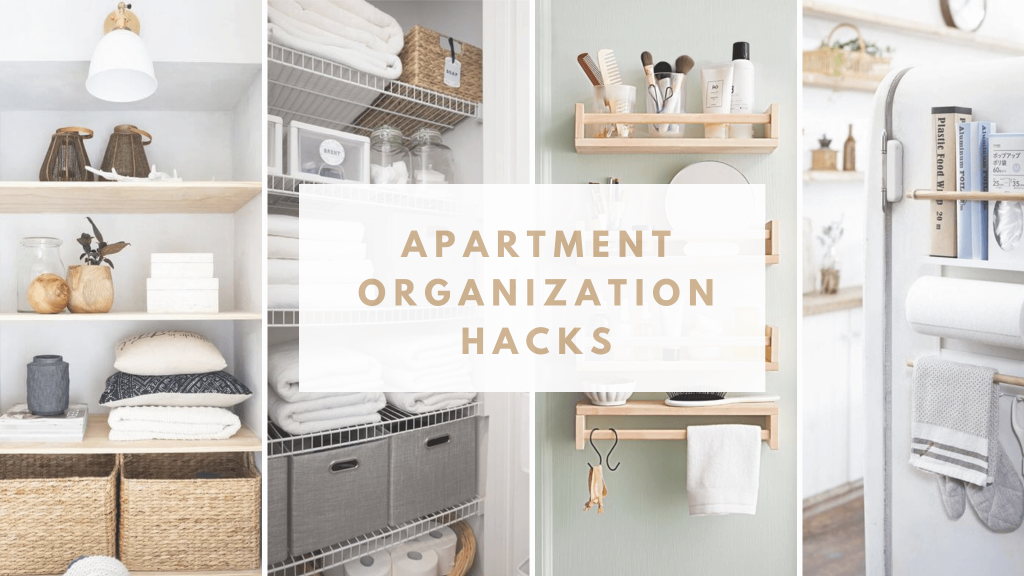 I just moved into a new apartment, and I learned fast that I need to be smart about organizing my space. Hence this post is all about the best apartment organization hacks!
Especially if you live in a small apartment as I do, you want to be using each space to the fullest. From the living room to the kitchen, and bathroom: it all needs to work!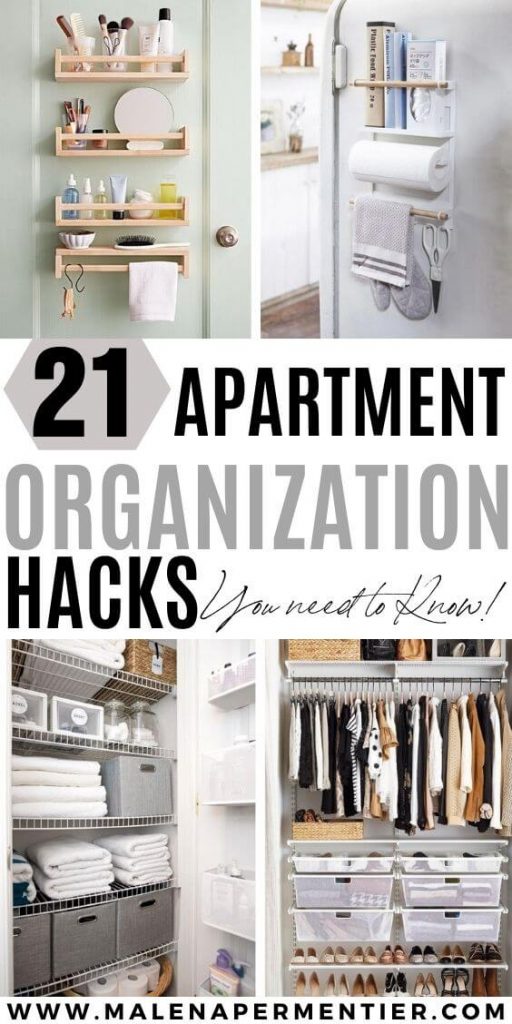 Apartment Organization Hacks
1. Use storage bins in your closet
For an organized look, use storage bins in your closets. Store towels, cloths, toilet paper, and cleaning products. Also, Marie Kondo approved!
2. Use baskets
Baskets are great for organizing and also look nice. Use them on your linen closet shelves, store socks or underwear, or use baskets on shelves in your living room.
3. Hanging Organizers
These hanging organizers make your closet look so much more organized and neat. Especially if you don't have as many shelves as you'd like to, these are ideal.
4. Hanging Shoe Organizers
Some hate 'em; others swear by them. If you have limited storage space in your apartment, these are ideal. Sure, they might not look the prettiest, but they keep your shoes organized.
5. Hair products inside the cabinet door
Is it just me, or do hair products take up so. much. space? Hang these little racks on the inside of your cabinet for all your hair products. When I first moved into my place, my hairdryer and other tools were on a shelf, but I prefer them to be tidied away.
6. Shelves above the toilet
A bit of a cliche but it's just so convenient! You can use any color or size of shelf you want, or get one ready-made like listed below.
7. Maximize under sink space
That extra space under the bathroom sink is super useful, but at the same time, it's so hard to keep organized. Plastic containers like this make it that much better. Place the stuff you don't frequently use at the bottom and containers with your daily favorites at the top.
8. Storage Ladder
If the space above the toilet is too small for shelves, a ladder like this is great to hang some towels. Plus, it makes for a great decorative touch!
9. Organize your make-up
It makes such a big difference to store all your make-up neatly in one place. Tidy your make-up storage away in cabinets, or leave it out. Big fan of this rotating make-up organizer I saw on Amazon.
10. Bathroom storage cart
Yes! These carts are genius. Use your bathroom storage cart to create extra space to store hair products, soaps, cleaning products, etc.
11. Maximize corner spaces
What to do with all those little corner spaces? Use them! There are many great corner shelves and ladders. Use this little extra space for books, photo frames, candles and other cute things.
12. Corner shelves
Ah! These floating shelves are just a dream for anyone who has ever lived in a small apartment. They give you that little extra space to decorate your apartment and store stuff.
13. Label everything + Mason Jars
This makes me feel so grown up, but labeling truly has been a game-changer! Without proper labeling and storing stuff in see-through containers it's almost impossible to keep track of everything. I recommend this for everyone who keeps a lot of stuff in their pantries.
14. Kitchen Storage Rack
Use the space on the side of the fridge with this handy kitchen storage rack. The perfect little spot to store paper towel, kitchen utensils, and spices for cooking
15. Organize your fridge
Anyone else always fighting with the stuff in the fridge and half forgetting things you bought? Organizing your fridge makes it much easier to know what you have.
16. Stack plates
Save just that little extra space in your cabinets by stacking your plates. Sort the plates by style or size. I know we've all been there trying to get a plate at the bottom of the stack - it's the worst!
17. Smart shoe storage
Get double the use out of your shoe storage with this handy shoe stacker. Keep your favorite shoes at the top of the stack, and the ones you don't wear as often underneath.
18. Use a bar cart to store alcohol
Let's be honest; the bar cart is one of the best inventions ever. Not only does it store your liquors and wines, a bar cart is a great piece of home decor too.
19. Cute wall shelves in the living room
A great idea to spice up your small living room space is by adding some honeycomb shelves for plants or other decorations. You can also paint these in any color to match your living room.
20. Make a neat desk space
To study or work from home, a neat desk is so important. Create a productive atmosphere with inspirational pictures or quotes on a wire grid. You can also use it to hang a pencil holder or write reminders for yourself :)
21. Use a storage cart for books
Is it just me or can you use these storage carts for practically everything? Store your books in a storage cart, tidy up your DIY supplies, use it as a portable pantry, and so on.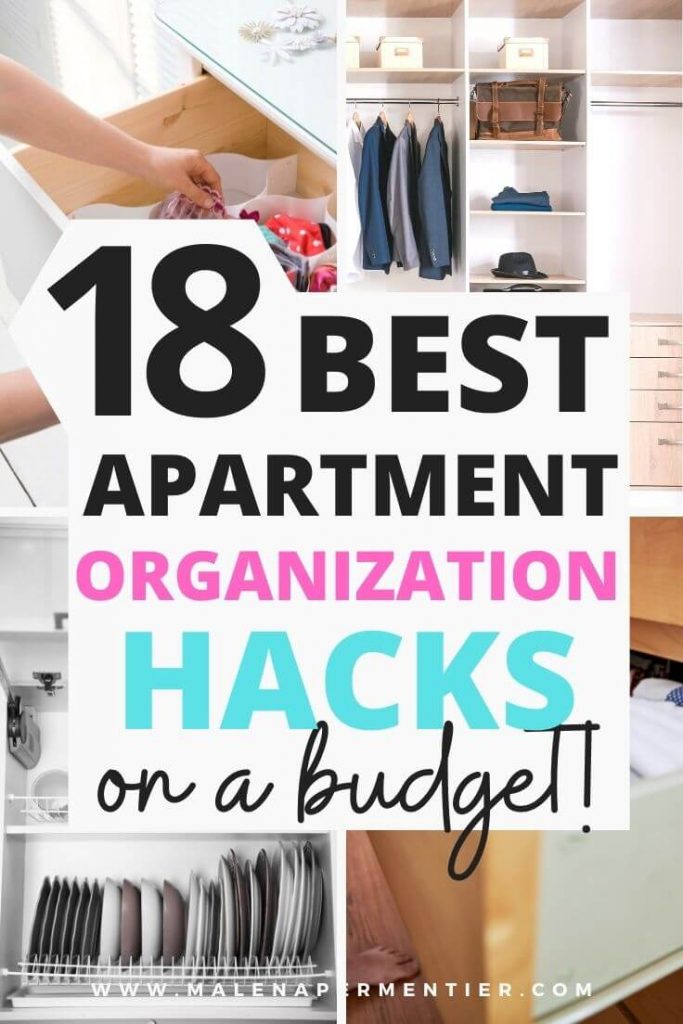 This post was all about the best apartment organization hacks.
You may also like: