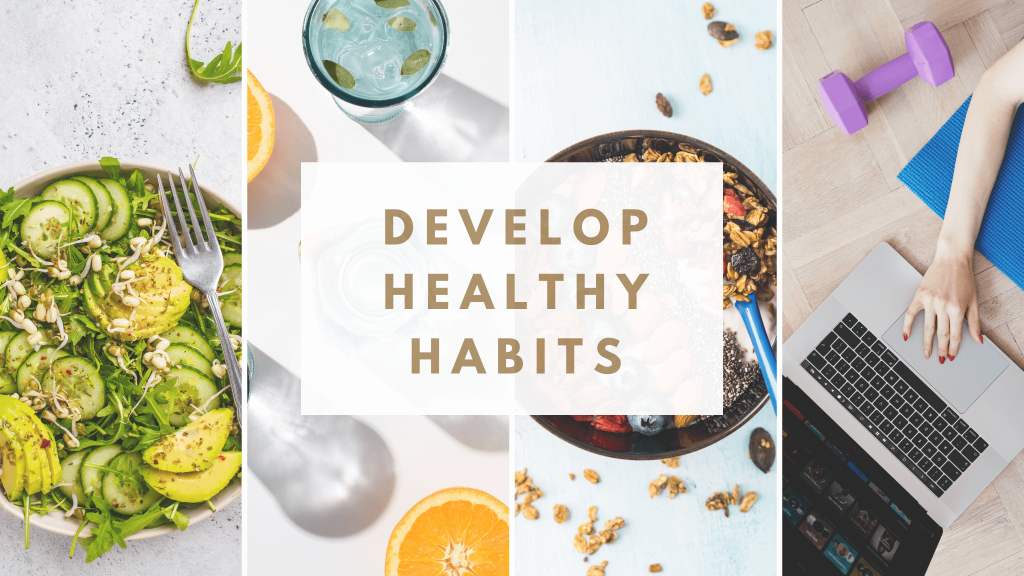 This post is all about how to develop healthy habits with food, fitness, and yourself. So if you want to create healthy habits for your life that last, then read this.
This post may contain affiliate links, which means I'll receive a commission if you purchase through my link, at no extra cost to you.
Things you need to do to develop healthy habits
Living a healthy life isn't something you do in one day. It's a long process and it starts with many little steps. I myself have made the mistake to think I could 'turn my life around' just like that. Now I understand that getting fit and eating healthy is something that takes time. Ironically, I could have reached this point of health and fitness much earlier if I had just taken it one step at a time!
Add one healthy meal to your day
This could be as simple as looking up a great recipe for a green smoothie that is also delicious. Commit to making it for yourself on Monday, Wednesday, and Friday, for example. I highly recommend Nutribullet Blender Combo, which you can use to make green juices and different smoothies and fresh hummus or soups.
Commit to one workout
I'd recommend only doing workouts you enjoy doing. That's how you build good habits that last. Choose workouts that are gentle on the mind and body, and don't overdo it. A year ago, I absolutely hated everything to do with cardio, squats, and weights. So I didn't do it. Instead, I've been doing Melissa Wood Health workouts, a mix of pilates and yoga. The workouts are all between 15-40 minutes long. They're great for people who are beginning to develop healthy habits or have the desire to. There is something about these workouts that combine mental and physical transformation, a must if you want results that last. Commit to doing a workout 2 or 3 times a week for 20 minutes, and add more as you get comfortable with the routine.
Learn to make a plant-based dinner that you love
The path to fitness is eating whole food plant-based meals. Instead of getting overwhelmed about what your weekly meal plan should be, take it one step at a time—research plant-based meals with ingredients that you love. A favorite of mine is this plant-based chili full of fresh veggies, beans, and herbs. Make a big batch in the slow cooker to last you for the week. A recipe for vegan chili I really like is this one by Minimalist Baker.
Up your water intake
To keep a clear mind and a healthy mind, drink lots of water. I highly recommend getting one of those huge 1-gallon re-fillable water bottles. Fill it up first thing in the morning and aim to finish it by 9 pm like the bottle indicates. When you're first starting to change your lifestyle, habits like this can really help you. With a bottle like this, you automatically track your progress, which is super satisfying.
Buy healthy snacks that you enjoy
Do your research about healthy snacks you'd enjoy. There is so much out there that is both delicious and nourishing for your body. I'm a big fan of doing a Costco run to get those big packs of walnuts, cashews (not roasted), and dates. These are great by themselves, but there are also so many cool snack recipes with nuts and dates.
Mental health journal
The barriers we experience living a healthy life are often mental. Start a mental health journaling practice like explained in 7 journaling tips to change your life. First thing in the morning, write a few pages longhand without stopping. The goal is to let your subconscious thoughts out. This way, you get familiar with your own mental barriers and get them out of the way. I like using a classic lined notebook for my journaling practice like this one:
This post was all about how to develop healthy habits, one step at a time.
Other posts you may like: