Everyone should have the opportunity to make their place feel like home.
Whether you live in a mansion or an apartment, this shouldn't even be a question.
You need to make your place unique to you and feel like your perfect piece of heaven.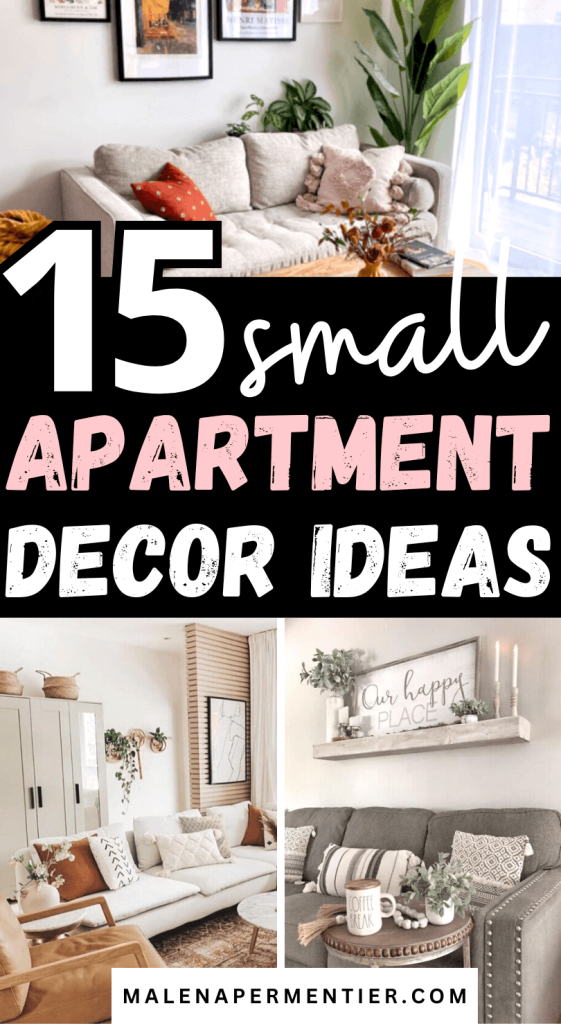 How to make your apartment feel more like you
Sometimes finding the right way to decorate your apartment can be a struggle.
It's especially hard to stay within the budget and still love what you have added because, let's be honest, decorating isn't always budget-friendly.
Luckily things have become a lot easier to decorate.
You don't need to paint to change the wallpaper.
You can now buy stick-on wallpaper to avoid having to repaint the house.
Create your own art pieces to decorate the walls instead of paying thousands for other people's art pieces.
What can you decorate?
Finding the right way to make your apartment look cozy can be hard especially when you don't know where to start decorating or how you can create a home on a budget.
Keep in mind that it differs from place to place as to how creative you can get in these spaces.
But the best way to bring in a fun vibe is by using wallpaper that can easily be removed without painting over it.
Make it unique by creating your own art pieces, making pottery, adding plants, or adding some macrame.
A few nice lights, pillows, and blankets also make a place feel warmer.
It's great to DIY your own pieces to add to your home.
This makes it personal and helps you save money.
Buying items from small businesses is another way to have something unique that doesn't break the bank.
Etsy is really good for that.
What are some DIY projects you can try?
DIY projects are the best way to spice up your home decor.
You can create your own pottery, art, chairs, or even knit your own blankets.
It's the gift that keeps on giving.
Since you are making something you love you know it's something you'll cherish forever.
1. Plant mom paradise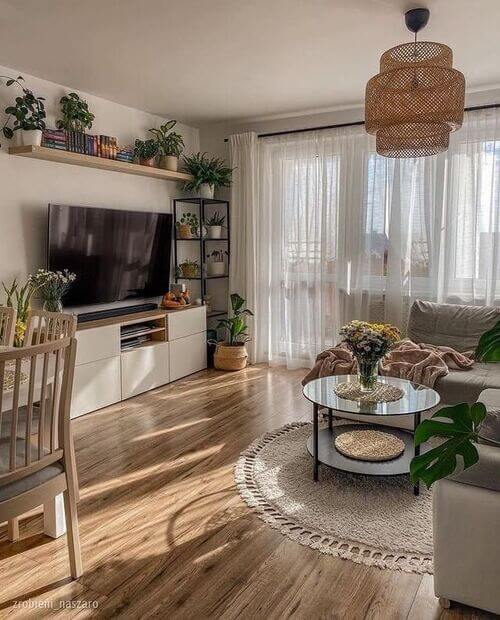 If you're anything like me, then this is a decorating dream come true.
It can get a little stuffy when you have to stay in an apartment located in the city so the best way to fill up your apartment is by adding some plants wherever you can.
They add a calm atmosphere while filling up open spaces and leave your home feeling fresh.
The best part about these is that they are inexpensive and can easily be maintained.
2. Art for every occasion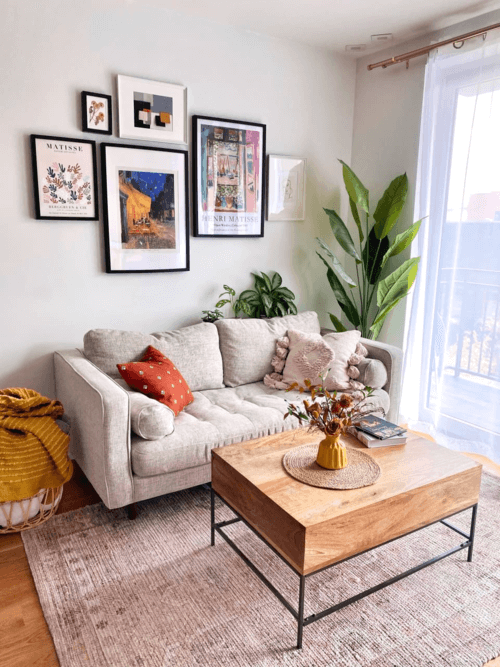 Art is a great way to showcase your interests.
By adding a few artworks to every room in your apartment you can easily lighten up a place.
This also works by incorporating some colorful rugs, table decor, or even couch cushions to make those artworks pop out.
If you don't find anything you like by searching local stores you can always grab some supplies and make your own art pieces for your home.
Creating your own decor is the best way to save money and bring beautiful pieces into your home.
3. Pictures, plants, and comfy desk spaces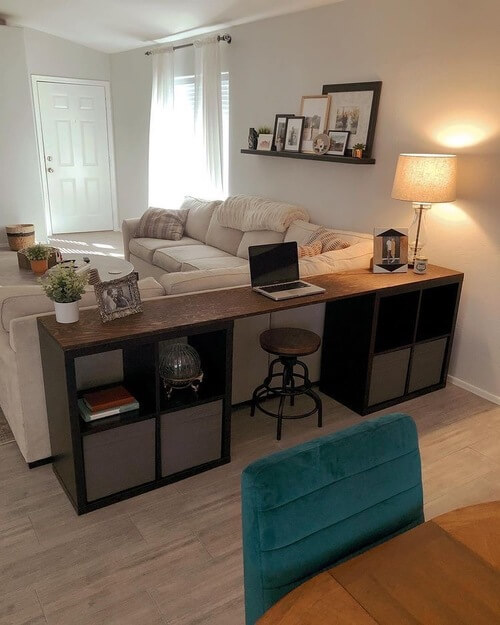 Add some floating shelves to showcase all your favorite memories within your home.
These are great for shelving, especially since they don't take up added floor space.
You will fall in love with floating shelves because they can take up a lot of decor pieces.
For example, plants, picture frames, and books.
If you want something to fill up your desk space, add some small potted plants or succulents to liven up the space.
4. Mirrors and bookcases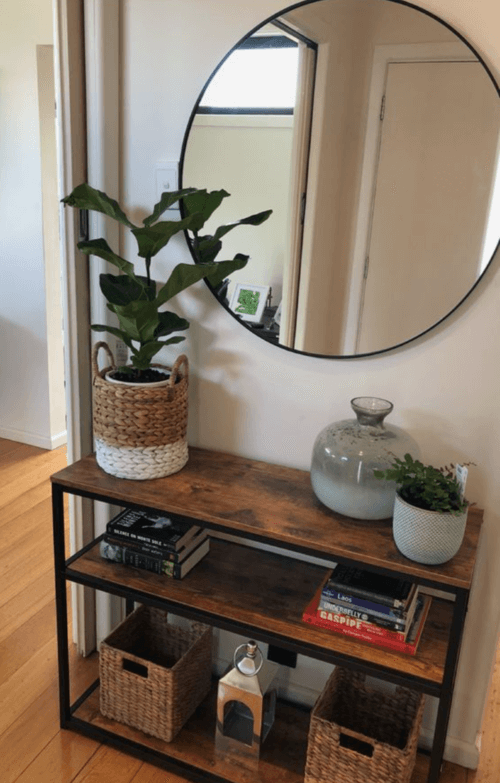 If you're looking for a way to open up some space or even make a room feel bigger then you need to add some mirrors.
You can also bring in a small bookcase to add vases, books, or a dish for keys and jewelry to fill the extra space.
If you are trying to achieve a minimalist look, you can also use it as extra storage space.
You can also add a diffuser to clear out the air and freshen up a room.
5. Hanging plants and Edison bulbs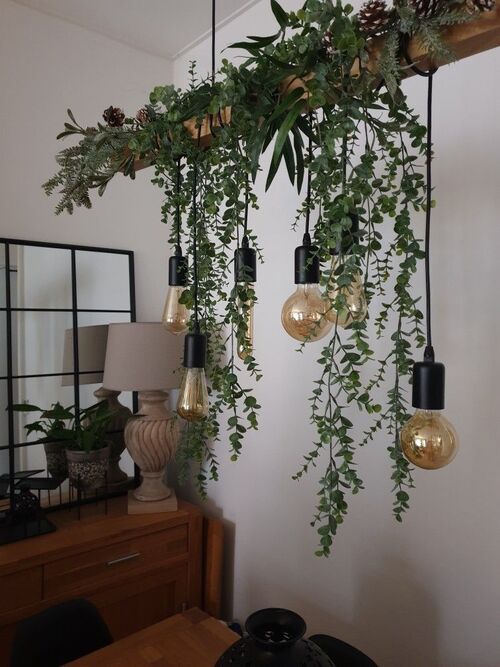 Make use of some hanging plants to fill up empty spaces.
You can use succulents like a string of pearls or hearts since they are low maintenance and extremely gorgeous.
Add fairy lights or Edison bulbs to ensure the atmosphere reflects a warm and comforting space.
You can do this project at home by using floating shelves or hanging a piece of wood filled with plants from the ceiling.
6. Candles, rugs, and colorful cushions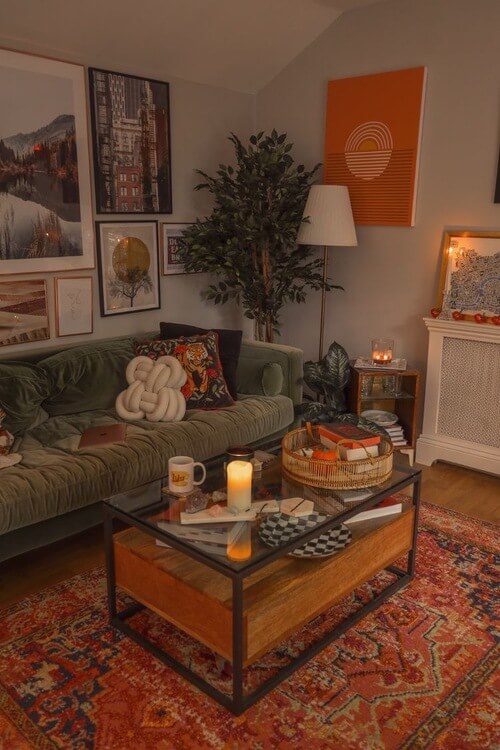 If you want to keep a place cozy then make use of warm colors, big vintage rugs, unique pillows, as well as candles.
Warm colors like orange and yellow make any house feel cozier, and adding some dark green accents will also balance out the room.
Vintage rugs are great add-ons to living rooms to rid yourself of a cold atmosphere.
When you make use of some scented candles they tie in the whole room without being overbearing.
This is great for maximalist decorators and people who love warm colors.
7. Dinner tables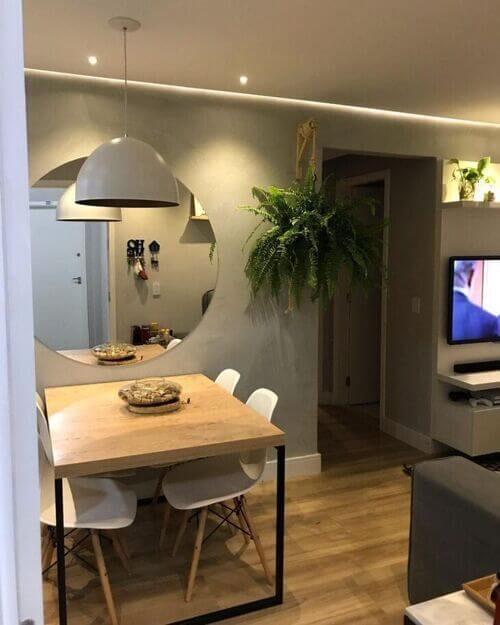 Everyone needs a dining table.
They are a great way to gather friends and the perfect excuse to get some table decor to spice things up.
Pair it with a circular mirror to make your dining room look bigger.
8. Neutral pots and pampas grass
Pampas grass is one thing that has become extremely popular for decorating.
Not only has this been used a lot in the wedding industry, but it has made waves by becoming a famous part of house decor.
The light and fluffy plant gives an almost featherlike look and is elegant and gorgeous for any part of your home.
They pair well with neutral-colored clay vases.
9. White and green decor pieces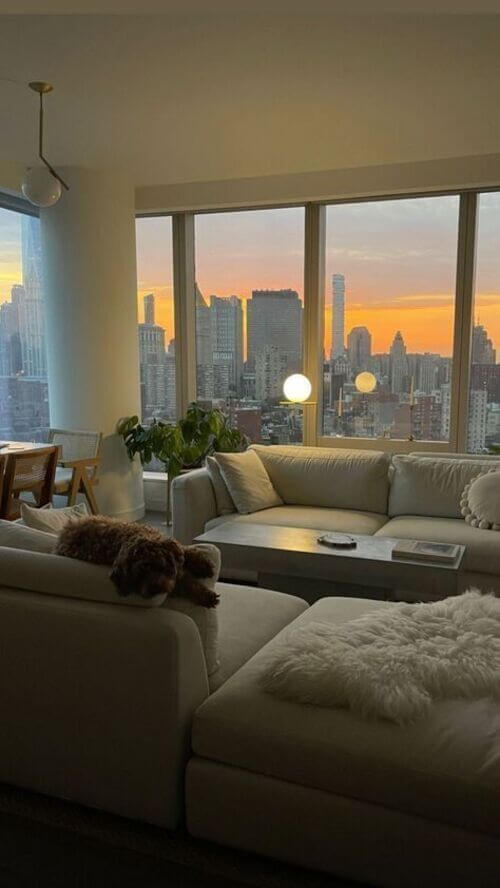 Nothing makes a room look brighter than pairing white with the bright leafy green colors of plants and furniture.
Make use of fluffy white blankets and giant monstera plants to bring a bold touch to any room.
This is a minimalistic approach to budget-friendly decor.
10. Personalized coffee nook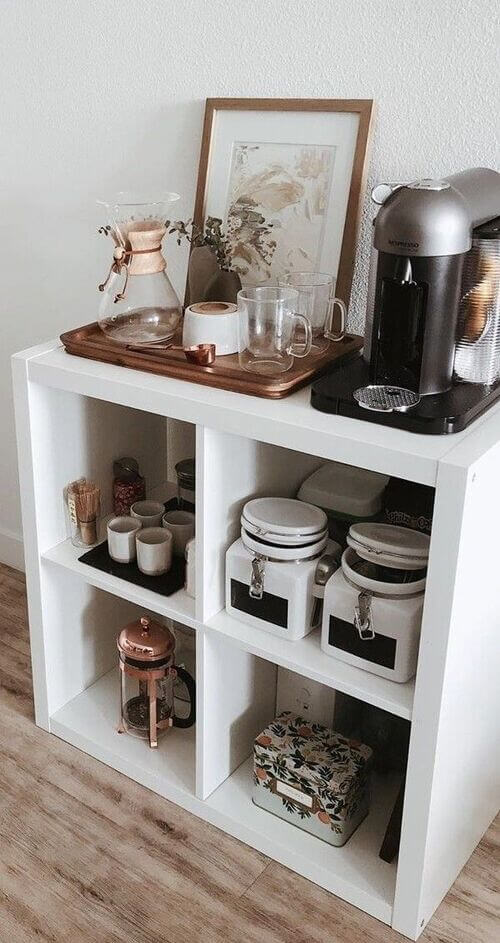 What better thing to add to your apartment than a fun coffee nook?
Create this personalized space with your fun mugs, coffee machine, and cookies.
This isn't the traditional approach to decorating an apartment, but that doesn't mean you shouldn't use this great idea.
It lets you make a space dedicated to your morning coffee or tea rituals.
11. Pop of color cushions and wall art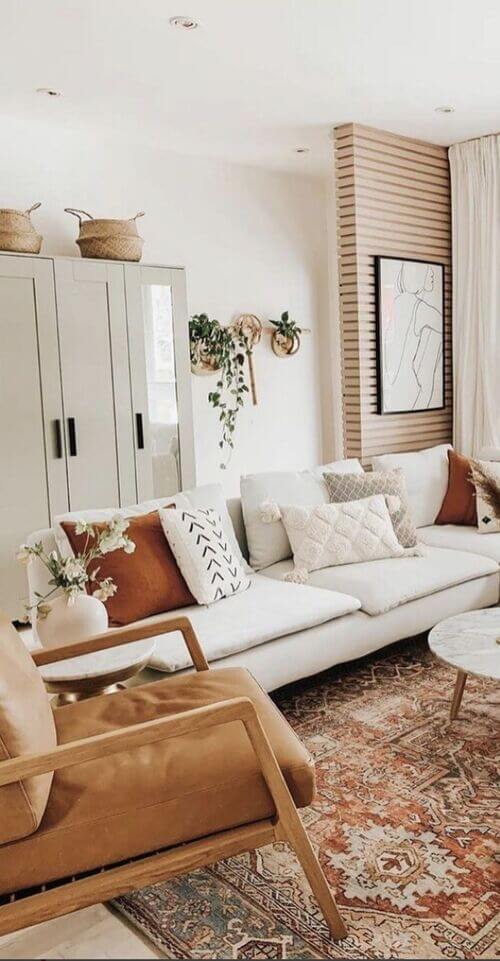 A color that has recently been making the rounds as a popular color is terracotta.
Make use of this rich color to make your rooms stand out.
Terracotta works well with bright whites as well as some neutrals.
You can add some pillows, art, or pots for plants to liven things up.
If you want to balance it out, I highly suggest using some dark green accents.
12. Flowers and art portraits on floating shelves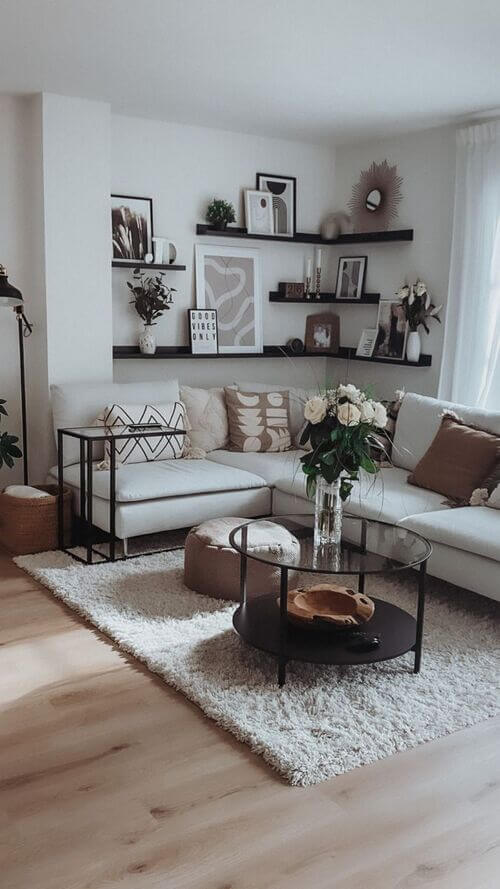 Grab some floating shelves to add to your living room space.
This comes in handy when you have a lot of goodies and nowhere to showcase them.
While getting some new bookcases always seem like a good idea, there's not a lot of space in apartments for them.
This is why these shelves are the best way to go.
Use floating shelves to showcase your art, photos, goodies, and personal projects to all your guests.
13. Fairy lights and potted plants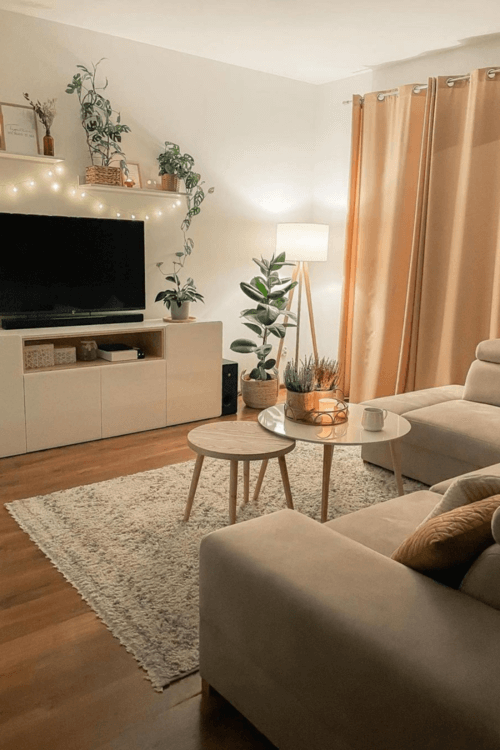 If you are looking for a budget-friendly way to brighten up your living room, you can opt for fairy lights and cream-colored decor.
Add some big plants to fill the space, and you'll instantly see a big difference.
14. Floating shelves with personal goodies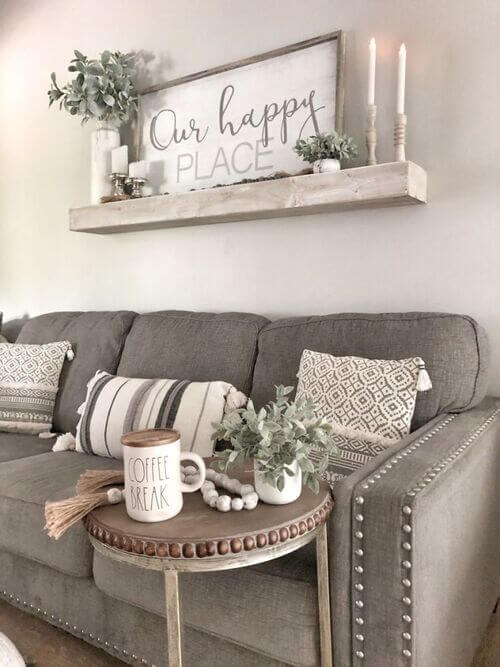 Nothing says personal touch like a coffee table and shelves filled with family pictures, quotes, and candles.
This idea shows that you don't always need to go all out as long as what you have is important to you.
15. Memories and floral touches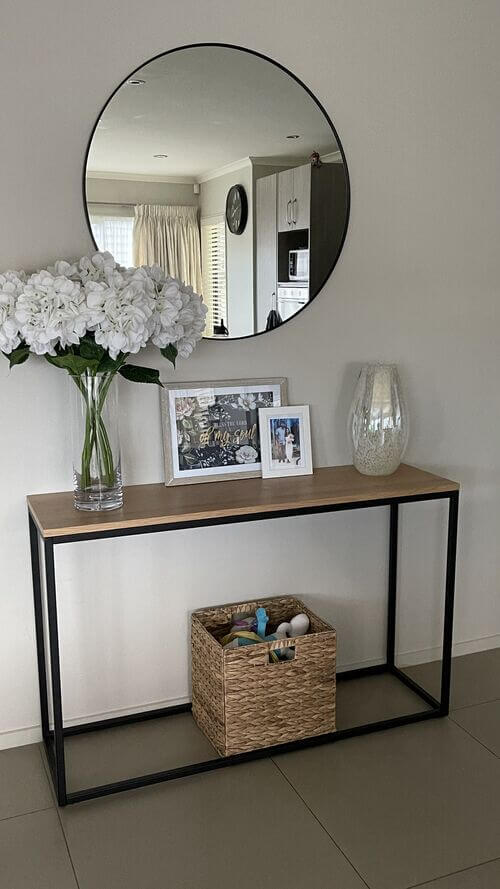 This is a minimalistic approach to filling up apartment space.
Add a small table with flowers, picture frames, and a mirror to make your apartment seem more open.
Decorating your apartment on a budget
Did these help you find a unique touch to add to your apartment?
These are just some ideas to show you how to add decor to your apartment.
You can easily switch things up to fit your needs.
Considering what has been listed above, you don't need to go overboard to decorate your space.
The most can be achieved through DIY projects or smart shopping.
Whether you're a minimalist, bold, or all-out type, you can find whatever you need without breaking the bank.
I hope these ideas sparked those creative juices to flow so that you can create gorgeous decor suited to your personal taste.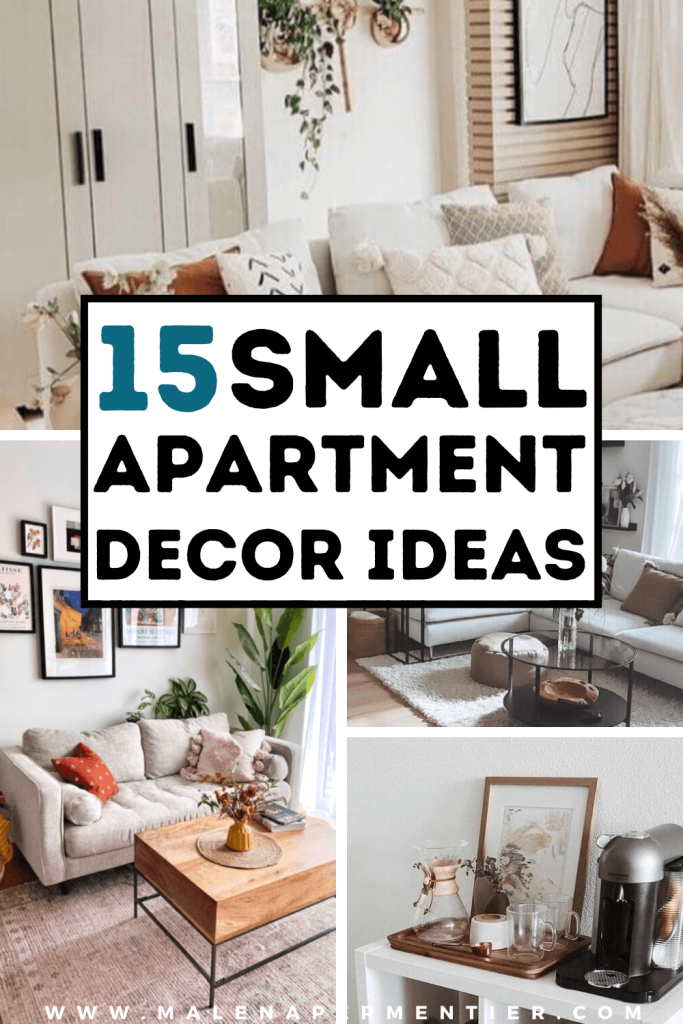 This post showed you the best small apartment decorating ideas on a budget.
You may also like: