This post shows you the best empty corner living room ideas.
Getting your house to look more like home can be fun, especially when you have a lot of open spaces to fill.
People tend to leave these spaces in hopes of making a room look bigger, but at the end of the day, it just seems like the room isn't filled up correctly.
Empty corner living room ideas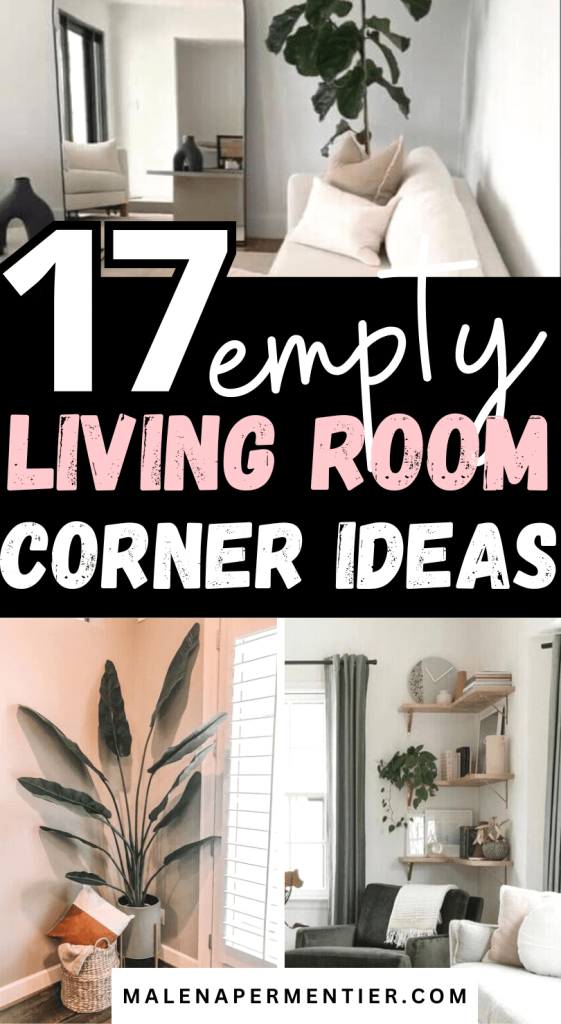 How to fill up empty spaces?
Filling up empty spaces is all about finding the perfect spot for your home decor and spacing out your items.
The biggest mistake I see people make is trying to place their living room pieces in the normal rectangular way instead of turning things to fit the space. 
No one likes having these random open spots in their home.
It makes the home look cold or out of touch with the people that live there.
Ultimately you want to create a space that feels warm.
Brighten up the place with wood accents, and warm color combos, as well as some items you can include to bring life to these spaces, include:
Add a plant
Accent chairs
Bookcases
Mirrors (either floor length or circular)
Art
Add shelves
Bring in a desk with small shelves
Add floating shelves
Floor lamps
Room dividers
The trick is to make use of more verticle decor to trick your eyes into thinking the room is fuller than it is.
This allows you to bring in useful decor without it being too much.
Interior rules to follow and help you decorate your home
We all need a little help with decorating. So why not try out these tips?
Don't overcrowd your living room. Give your couch some extra space.
Center your decor around a specific statement piece
Add an accent wall to elongate the room.
Create layers (this can be pillows, blankets, or anything that can flow together)
Make use of large artwork
Make use of extra lights
Add some mirrors
Play around with shapes
Cover your windows
Look at the room as a whole before adding anything more to it.
Empty corner living room decor
With that being said let's not get too carried away.
Take a look at this list and see what you can try in your own home.
Or even what you can save for a future home.
1. Floor-length mirrors and tall plants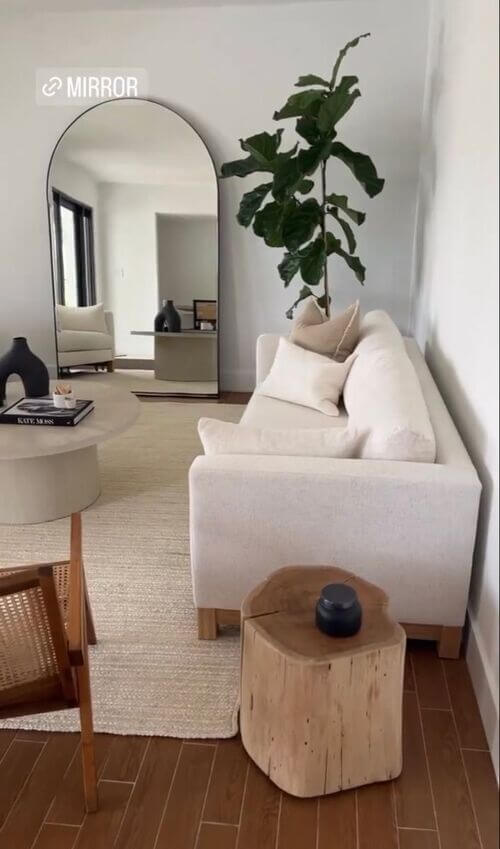 A large mirror takes up a lot of space without making use of a lot of objects.
You can incorporate some greenery and side tables to fill up your living room space without it having to look messy.
With this idea, everything is incorporated with the natural aesthetic in mind.
2. Floating shelves with small trinkets

Sometimes it can be hard to fill living room spaces, especially when you have large couches and bare walls.
Add some floating shelves to ensure your space is being used efficiently.
Add a clock, notebooks, plants, pottery, and some art.
This will trick the eye into thinking that a lot of space is being used without it being cluttered.
3. Small office desk filled with plants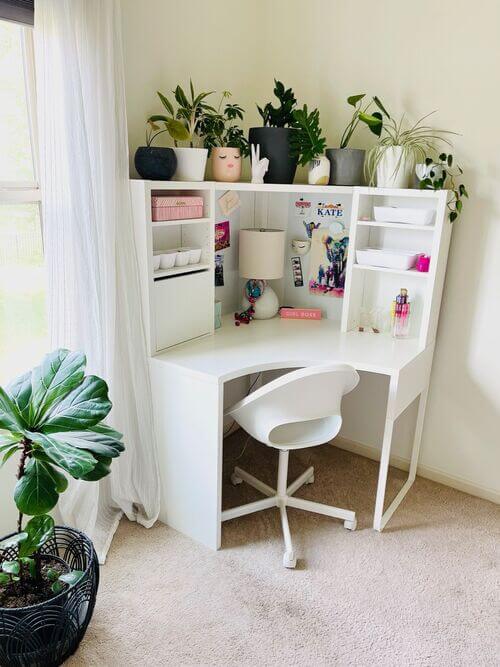 Create a designated space for work or studies.
This little study desk is perfect for a bedroom.
You can focus on a space that is just used for work or studies and add some succulents too.
It's compact yet fills the space and works well in any home.
4. Accents chairs and bookcases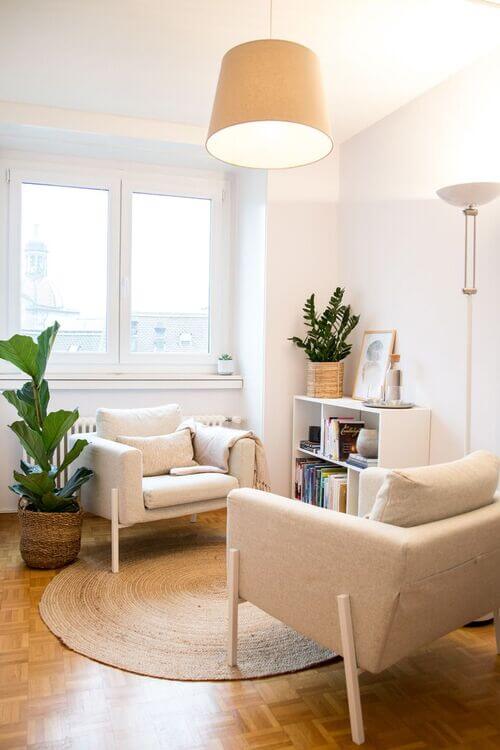 Let's say you want a nice living room space but don't have enough space for a full couch set.
Then I highly suggest trying out this idea.
You still get to have a designated area for coffee, a bookcase, and just a nice area to chat, but without the inconvenience of a big space.
5. Empty corner living room with decor bookcase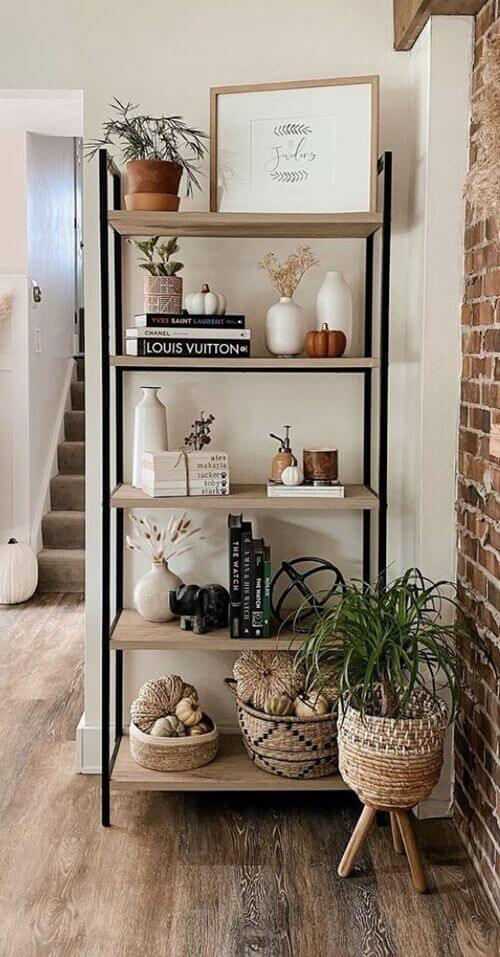 A neutral bookcase filled with coffee table essentials is great to fill up space.
You can easily swap them out weekly or just keep to the basics but either way, this is a great addition to your home.
You can also add some plants to break the natural color scheme.
6. Coffee table and circular mirror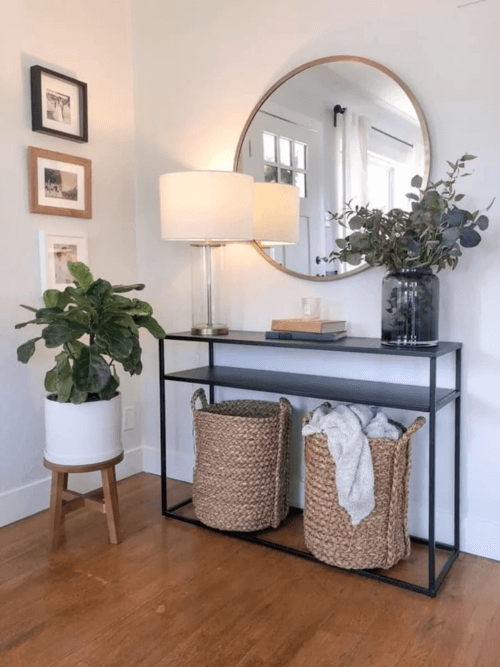 Recreate this space in your living room.
These woven baskets are perfect for placing your blankets in and don't take up too much space when it's situated under this table.
When you add a mirror and some art pieces, it can create a gorgeous space that can hold a lot of trinkets.
7. Mirror and puffy chair spaces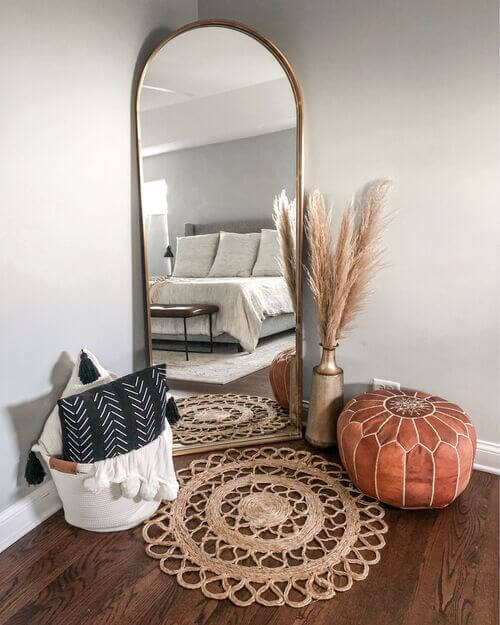 Creating a flowing space that doesn't feel too empty can be hard when you have a big bedroom.
This is why we make use of floor-length mirrors like this.
You can set them in the corners, so the room still feels large without filling the corner.
Or can pair it with a rug, giant pillows, or puffy chairs where you can sit in the morning and do your makeup.
As well as pair it with a jar that matches the mirror's frame and fill it with pampas grass.
8. Art and pampas grass
If you have a small corner like this then it's easy to fill it up without looking too busy.
Add some picture frames and art to the walls and a big jar of pampas grass to give the space a neutral look.
People tend to fill these spaces with all sorts of nicknacks, but that only makes them look cluttered.
Keep it simple with this idea.
Or add floating shelves if you really want to add some more trinkets to the space.
9. Reading nook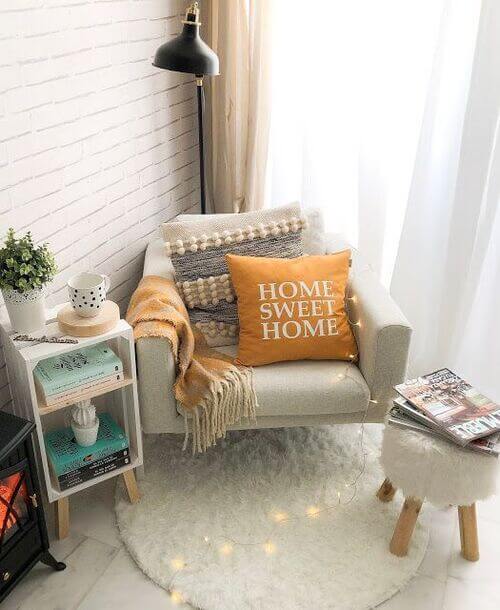 Add a reading corner to your very own living room.
Add a comfortable chair with some bright pillows, a small side table with your current TBR (to be read) pile, and a cute mug.
You can even add a floor lamp to ensure you have optimal light at any time of day.
Warm the atmosphere with some fairy lights and yellow accents.
10. Living room with nature accent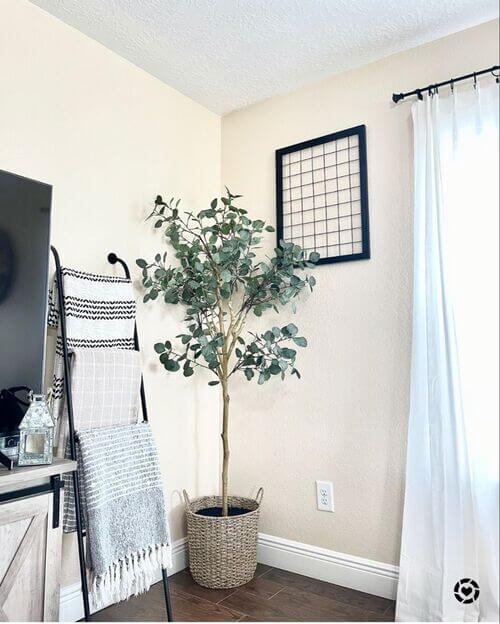 Keep things simple by using a blanket rack, a eucalyptus tree, and wall decor.
Don't overdo it but ensure you can add one thing to each wall.
This idea is perfect for minimalists.
Eucalyptus also helps with opening up your senses so it can be a perfect addition to your home throughout the seasons.
11. Accent chair with floating shelves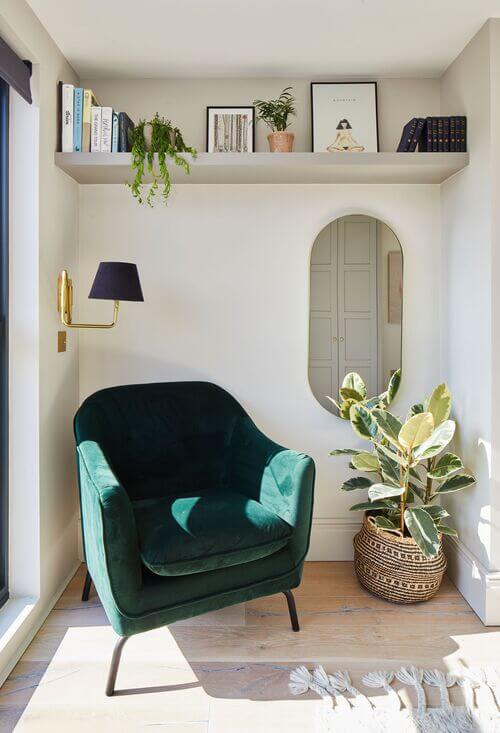 This space is the perfect reading corner.
You add a floating shelve for your books.
Place a gorgeous accent chair next to the window (which works perfectly for the winter season) and add a small mirror to make the space seem bigger and less packed.
You can also use art, plants, and some gorgeous candles to add a warm atmosphere to this space.
12. Plant and pillow corner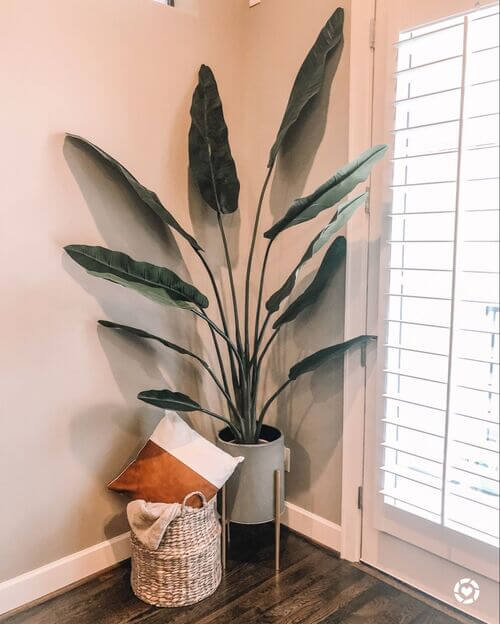 Keep things natural by making use of a plant corner.
Add a giant plant-like monstera, snake plants, or even cacti to your home and pair it with a basket for all your living room pillows.
This helps you to avoid messy rooms as well as fill up space.
It's perfect for any household, and plants create a natural atmosphere.
Add it to a giant window where lots of natural light is available.
13. Blanket ladder and floor lamp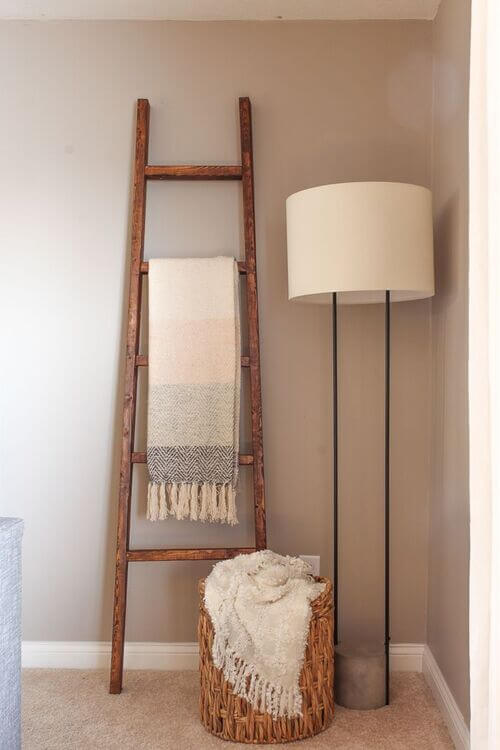 Get rid of the oversized chest of drawers and add a blanket ladder.
These are so cute and simple to make use of in small spaces.
They take away the bulky decor and create a sleek look that fills up the space without taking too much of it.
You can add a small woven basket to put dirty blankets into after use.
This is the perfect addition to any living room area.
14. Ladder bookcase and accent chair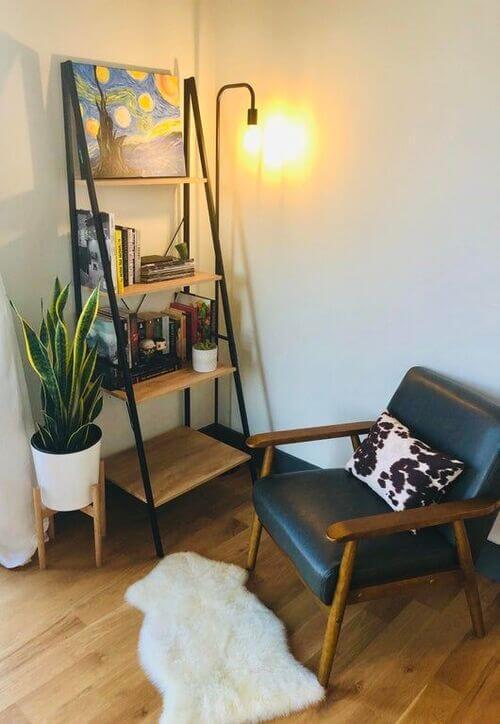 What better way to fill a space other than with a bold accent chair, fluffy rug, and a ladder bookcase to hold all of your favorite titles?
You can also add some succulents or plain plants to fill up the space.
Using plants will freshen up the space and create a lovely atmosphere just to sit down and enjoy your little book nook space.
15. Art wall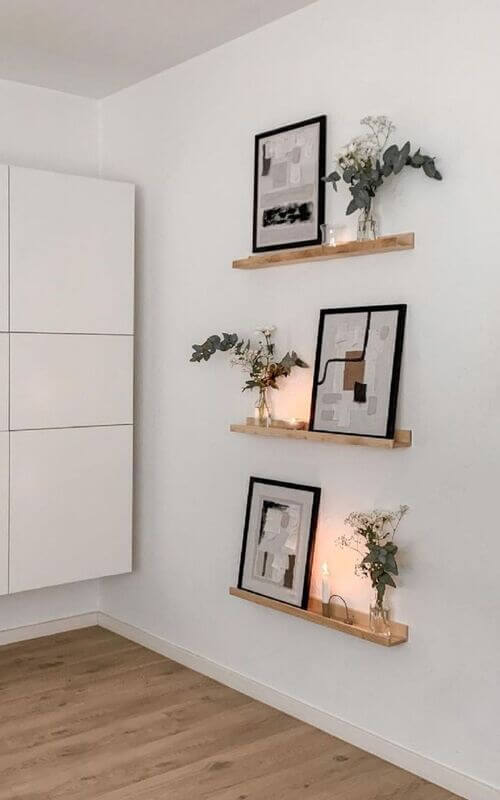 This piece works well in an open living room area.
To create an open atmosphere, take some floating shelves and decorate them with fake leaves and fairy lights.
Then you can use special art pieces to fill up the wall space without making it look messy.
Whether your style is bold colors or fine line work, it can be a fun and creative idea for any homeowner to try out.
16. Mini bookcase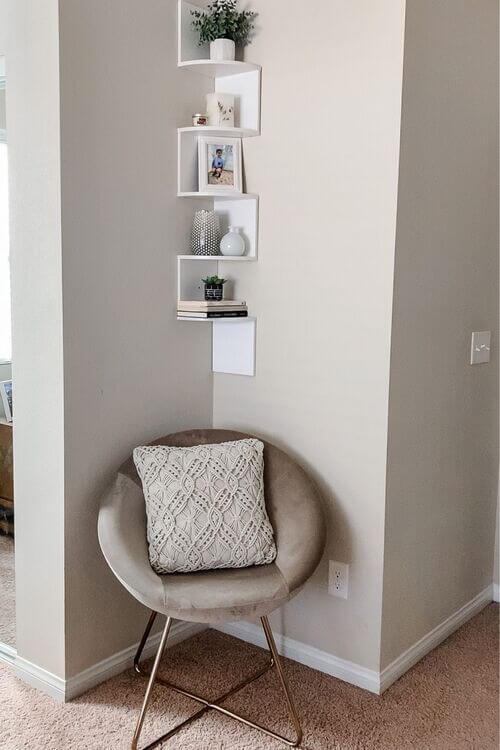 Even minimalists need to get rid of empty corners.
This cute idea creates a small book nook paired with an accent chair.
It works well in the front of the house.
You can use this space after a long day at work to just take a five-minute breather or relax for a minute with a book.
If reading isn't your thing, then you can add succulents to create a lively environment in the small space too.
17. Floor-length mirror and carpet piece

The hardest spaces to fill up are those awkward corners in the bedroom.
This idea offers a simple idea that you can switch up with your style.
Make use of a floor-length mirror and decorate it with some fairy lights.
Then add a nice and cozy carpet to fill up the empty floor space too.
It's perfect for a small space and adds such openness since you're using a mirror.
Decorating your living room.
Creating a gorgeous space doesn't mean you need to fill every small corner with a random piece of decor.
You just need to know how to effectively use the space and decor you already have.
So take the list above and see how to make these ideas your own!
It's such a great experience to make your space unique to your vision and dreams.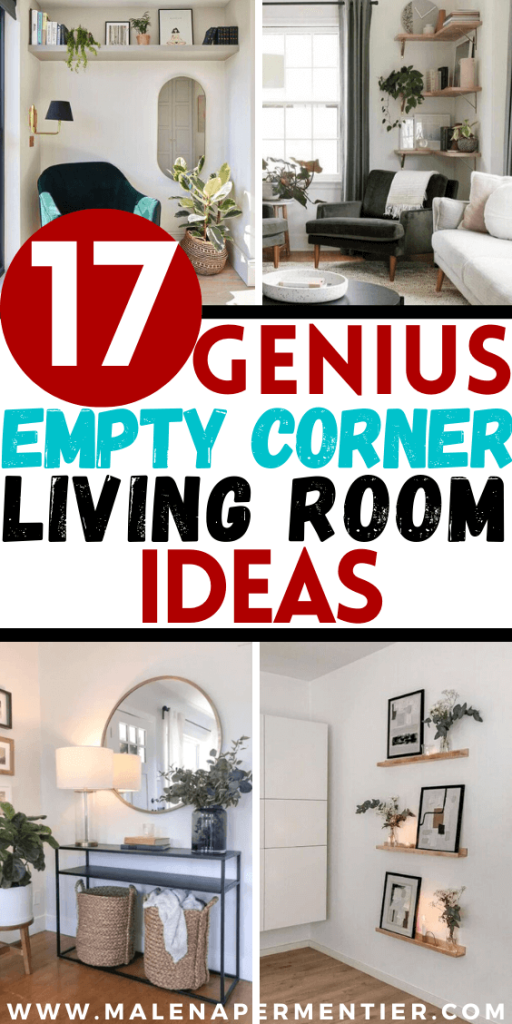 This post showed you the best empty corner living room ideas.
You may also like: