Hey there! Some links on this page are affiliate links which means that, if you choose to make a purchase, I may earn a small commission at no extra cost to you. I greatly appreciate your support!
The space above your couch is like a blank canvas waiting to be adorned with creativity and style.
Whether you're aiming for a cozy, minimalist look or an eclectic, art-filled display, there are numerous ways to transform this area into a focal point of your living room.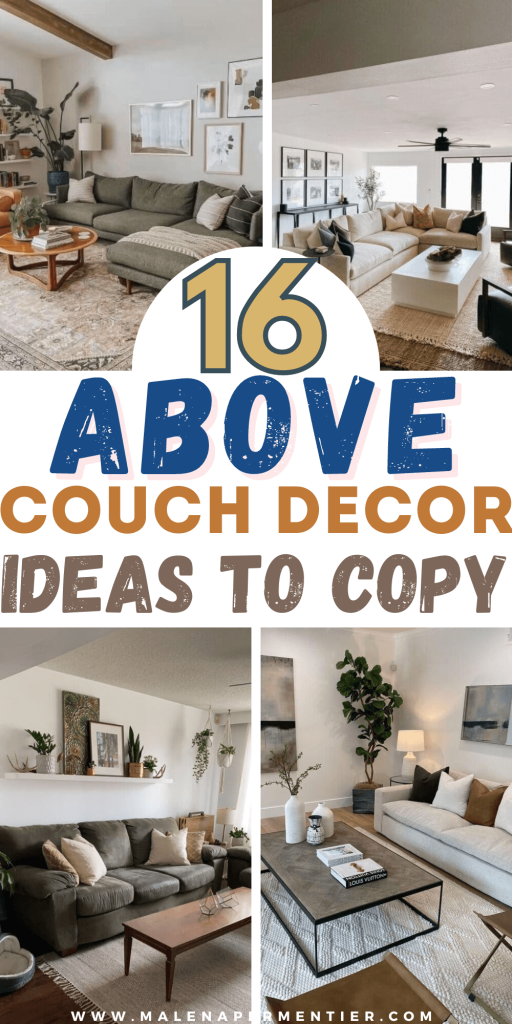 Ideas to keep in mind
Gallery Wall: Create an eye-catching gallery wall above your couch by arranging a mix of artwork, photographs, and other decorative items. To maintain visual harmony, consider using frames in similar colors or styles. You can opt for a symmetrical arrangement for a classic look or go for an asymmetrical display for a more eclectic vibe.
Large Statement Art: If you prefer a bold and dramatic focal point, choose a single oversized piece of art that complements your interior decor. A large canvas painting, a tapestry, or an abstract sculpture can add a touch of sophistication to your living room.
Floating Shelves: Install floating shelves above your couch to display a combination of books, and plants. This practical and versatile option not only adds storage space but also allows you to showcase your style.
Mirrors: Mirrors can make a small living room feel larger and brighter. Choose a stylish mirror or a set of mirrored panels to hang above your couch. Additionally, mirrors can create a beautiful play of light and reflections in your space.
Options to decorate above the couch
Textile Art: Consider hanging textile art pieces, such as macramé, woven tapestries, or fabric panels, to add texture and warmth to your living room. These pieces can introduce a cozy and bohemian atmosphere.
Floating TV Console: If your living room has a TV, consider mounting it on the wall above your couch. This sleek and modern approach not only saves floor space but also integrates the TV seamlessly into your decor.
Customized Wall Decals: Wall decals are an excellent way to add a personal touch to your living room. You can create custom decals with meaningful quotes, family names, or favorite motifs to make the space uniquely yours.
Sculptural Decor: Explore the world of sculptural decor with three-dimensional art pieces, such as metal wall sculptures or carved wooden panels. These items can bring depth and dimension to your living room's aesthetic.
Plants and Greenery: Embrace the beauty of nature by placing a row of potted plants or a living wall above your couch. Greenery not only adds freshness but also enhances the overall aesthetics of the room.
Minimalist Elegance: For those who prefer a clean and minimalist look, consider a single, simple piece of art or a large, neutral-toned clock to adorn the wall above your couch. This approach creates a serene and uncluttered atmosphere.
Remember that the key to successful decorating is to reflect your style and create a space that feels comfortable and inviting to you and your guests.
Experiment with different ideas and arrangements until you find the one that works best for your space and aesthetic preferences.
1. Statement art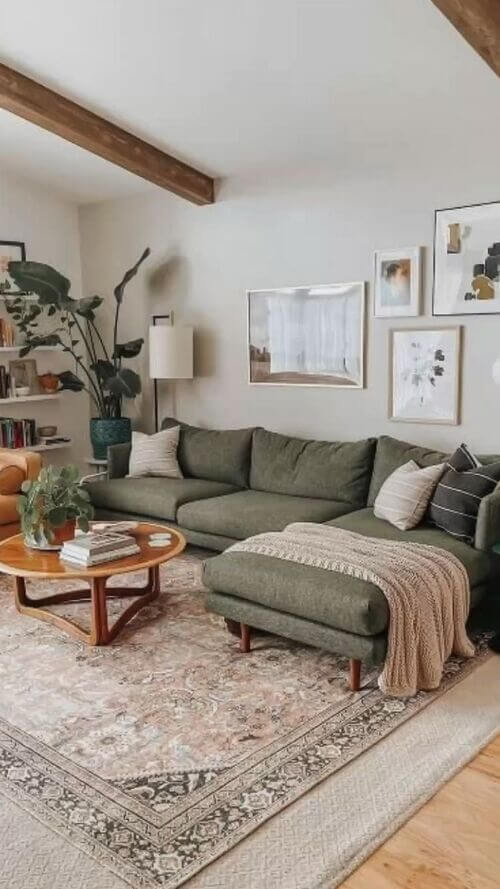 If you have a huge space to work with, it can be easy just to fill up the space randomly.
Instead of trying to fill up space, try to be strategic.
Pick one thing as your focus.
Like the art pieces in this idea and fill up the space without making it look cluttered.
It's better to stick to minimalism when you have a large wall to work with.
2. Mirrors and floating shelves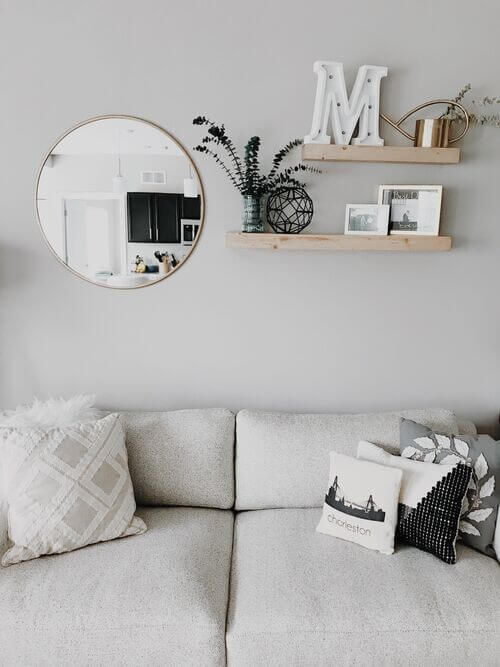 Mirrors are a great way to open up a space.
If you have limited space then a mirror is perfect for making it look bigger.
The use of floating shelves to showcase all your goodies is great because it gives you space without being in the way or taking up too much space.
3. Family portraits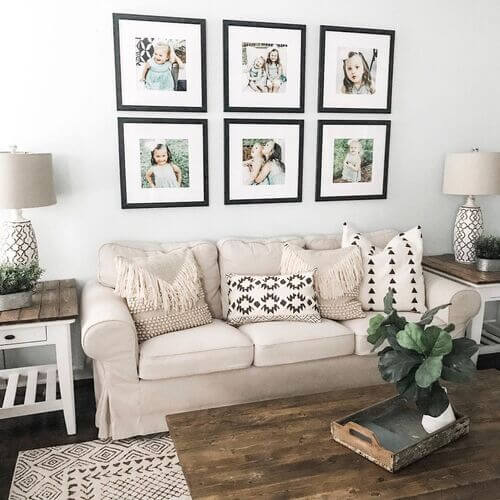 Nothing makes a house cozier and more homey than family portraits.
They are a great way to keep the family included and make the wall less open.
It brings a certain type of comfort to a home that you can't explain.
It's simple and has the most impact on your home.
Keeping things clean and making your family stand out.
4. Floating shelf with personal goodies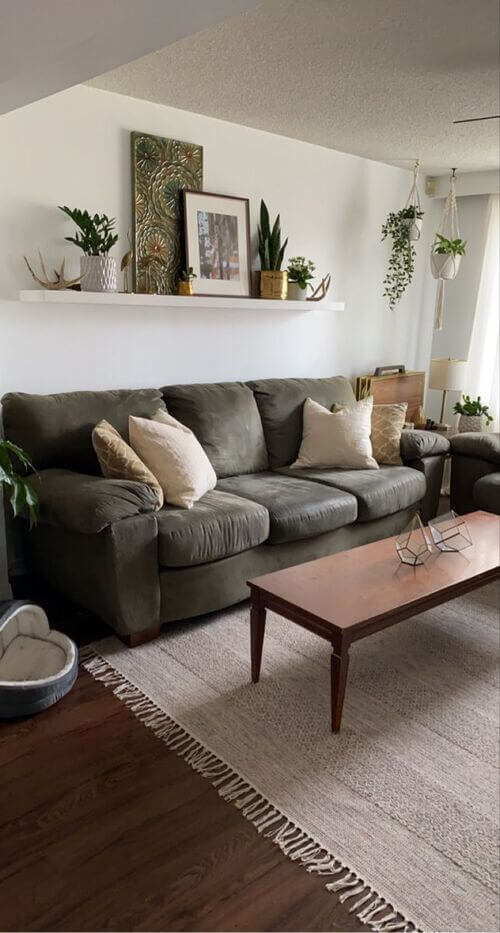 This idea allows you to bring more earthy tones into your home.
You can make your ultimate plant-mom dreams come true.
It incorporates the natural elements of plants that are fairly simple to take care of paired with neutral and earthy colored paintings.
This gorgeous combo fills up the wall without being too much.
5. Table and art wall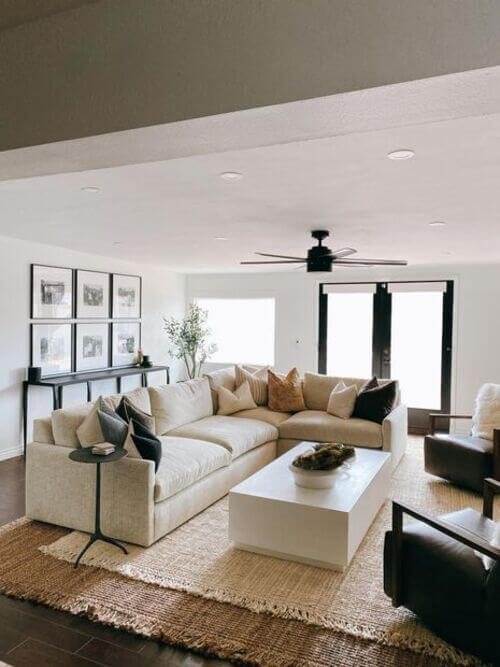 If you have the opportunity to bring something bigger into play then do so.
This idea adds a table that you can fill with some books or just a plant or two.
You can then fill up the rest of the wall space with art pieces to ensure the space is properly covered.
Add some statement pieces to the mix and then you have a fuller-looking room without all the clutter.
6. Rustic minimalism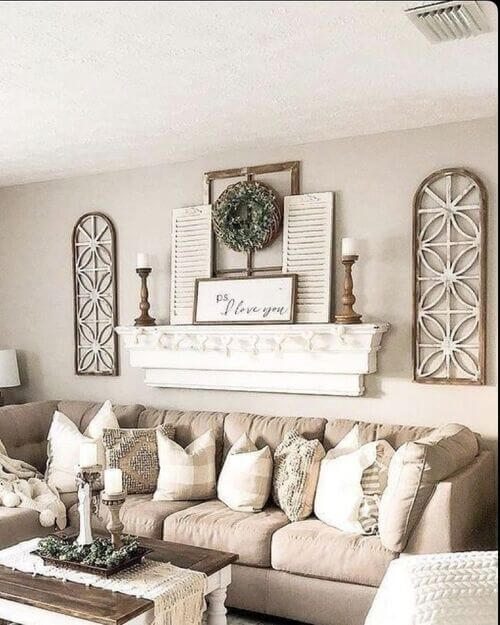 This idea is perfect for a rustic or neutral theme.
The floating shelf that holds candles, a quote, and the hanging wreath pull this look together.
Incorporating those two wood pieces on either side creates a window effect making the space look larger while filling up blank space as well.
7. Floating shelf covered in art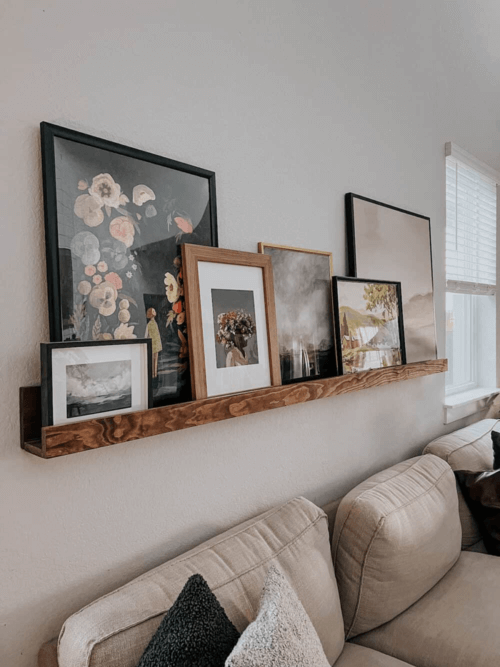 Another cute idea you can test out is this art showcase.
You need a simple floating shelf to add all your favorite prints and pictures to. It's simple but so adorable.
Plus it's fewer things to hang and you can move it around as needed.
Add some additions for holidays or as the seasons change to spice things up too.
8. Pictures, quotes, and more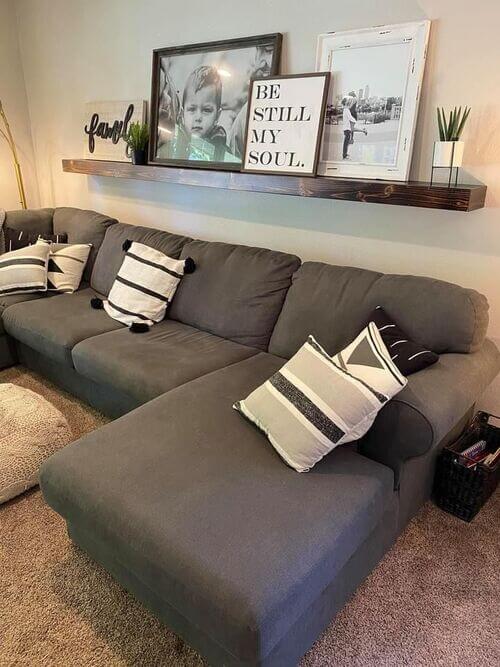 If you love having a bit of everything going on then this is perfect for you.
It incorporates family portraits, quotes, and some extra goodies that you can personalize.
Try out some plants, mood lighting, or even candles to add to the shelf.
You can also add some fairy lights or a lamp to bring in some mood lighting to this look.
9. Art and candles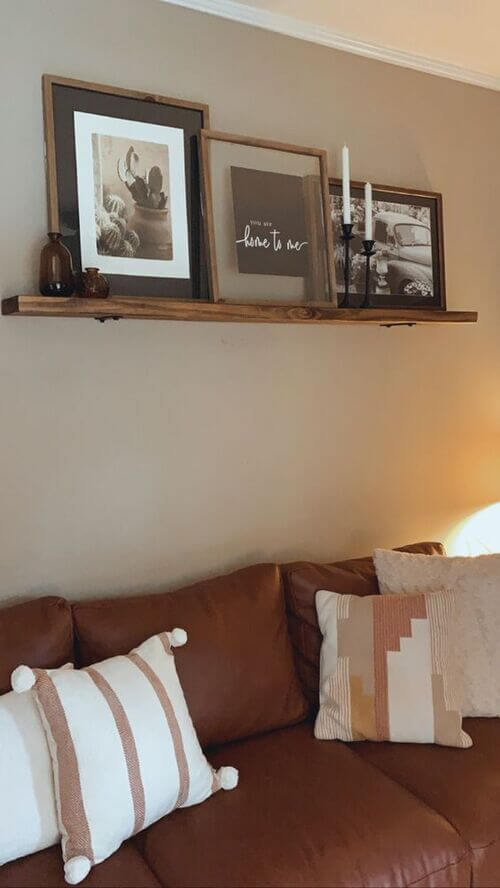 This moody idea is perfect for dark academia enthusiasts.
The amber glasses, candles, and art pieces just scream earthy, moody, and perfect for fall.
It's a minimalistic look that leaves a lasting impression.
As you change the color scheme of your home you can swap things out making this an easily adaptable idea.
10. Portrait wall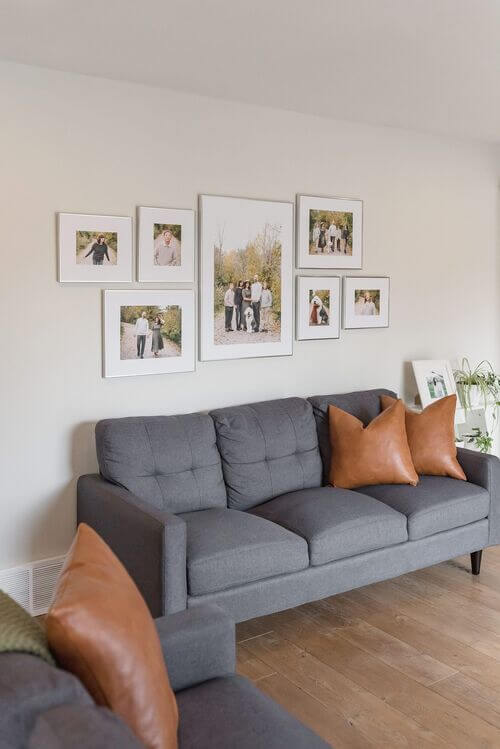 When looking for ideas to fill up a wall you might be looking into using family portraits.
This idea works great to use one picture as the main focus and then surround it with smaller frames to create a full look.
It's simple, shows a loving family setting, and is easy to do. Did I mention it is budget-friendly…
11. Gorgeous art prints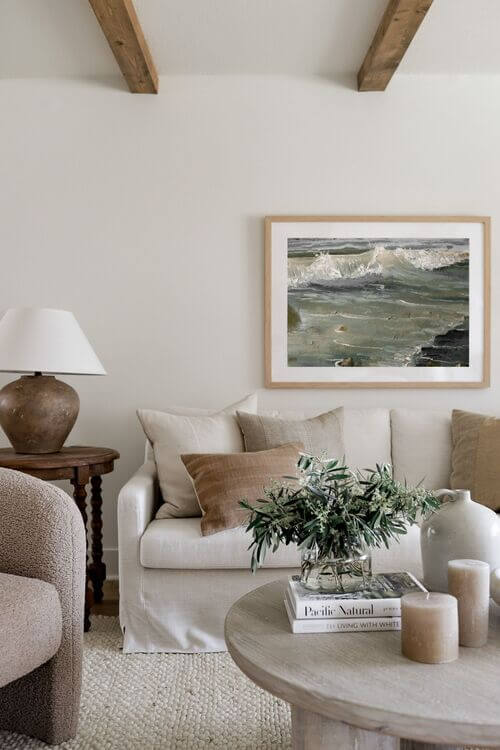 You don't need twenty picture frames lining the wall to make a difference.
Having one statement art piece can make all the difference.
It takes one stunning artwork or print to bring a new sense of emotions to a room.
Keep it simple with this one without being basic.
12. Photography everywhere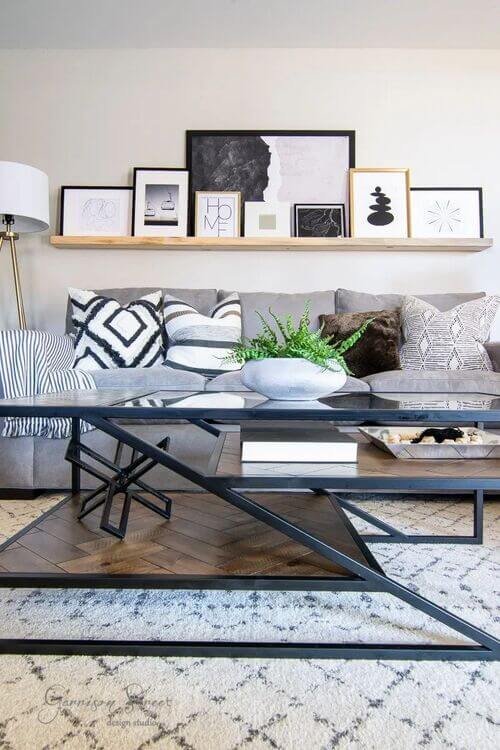 To all my fellow photography enthusiasts out there this is for you.
Being able to showcase your own photography feels like such an achievement so why not do that in your home with this wall decor idea for behind the couch? It's a stunning idea to bring in all your favorites.
13. Different art pieces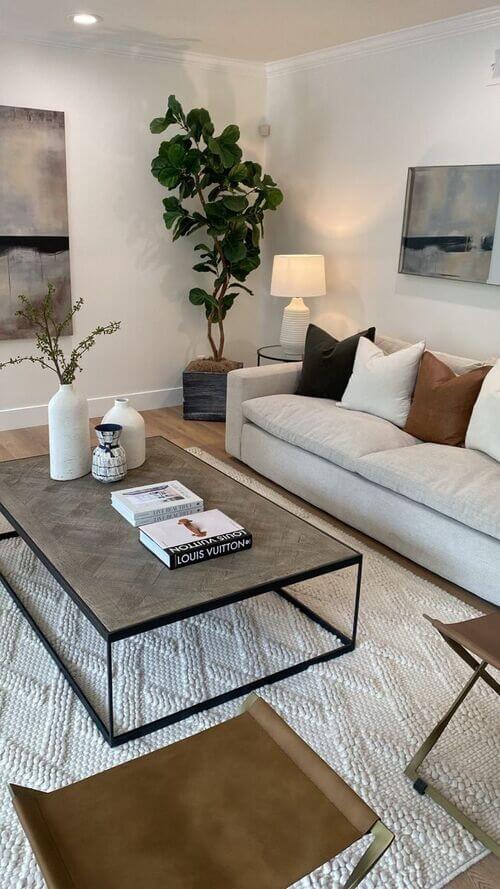 Art is something you need to match your furniture with.
Either it is the bold statement or it has to fit the same color scheme.
This idea features two works that are clearly from the same collection.
They both tie into the colors of the furniture making it look cohesive and effortless.
14. Window art and greenery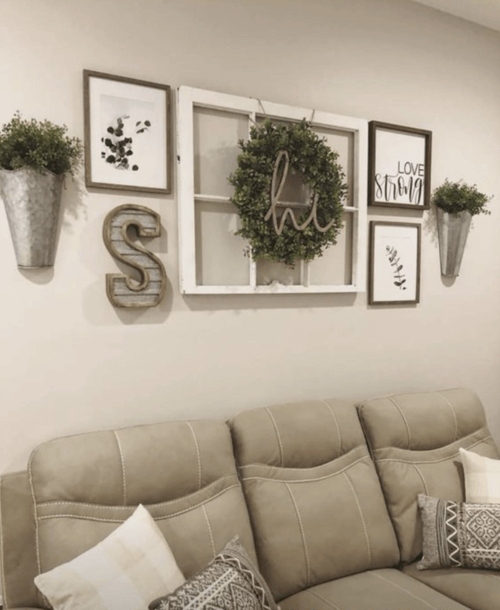 This stunning idea brings some new ideas to play with.
It includes wreaths, lettering, art pieces, and even greenery.
It's such a fun idea with a naturally vibrant inclusion of greenery, making it stunning for a living room.
15. Simple art wall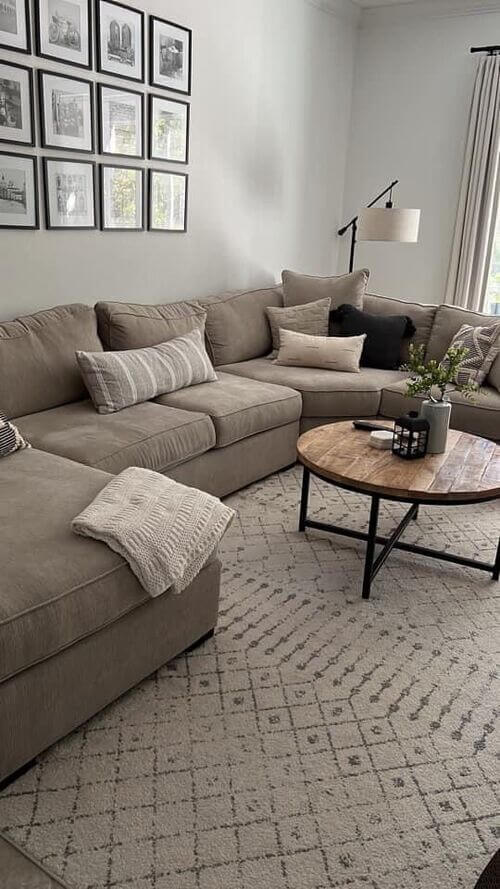 If you feel like your OCD might just get the best of you then this 4 x 4 picture frame idea might just help.
You can add art, family pictures, simple photography and even quotes to these frames to make them stand out in the room.
16. Rustic approach to couch wall decor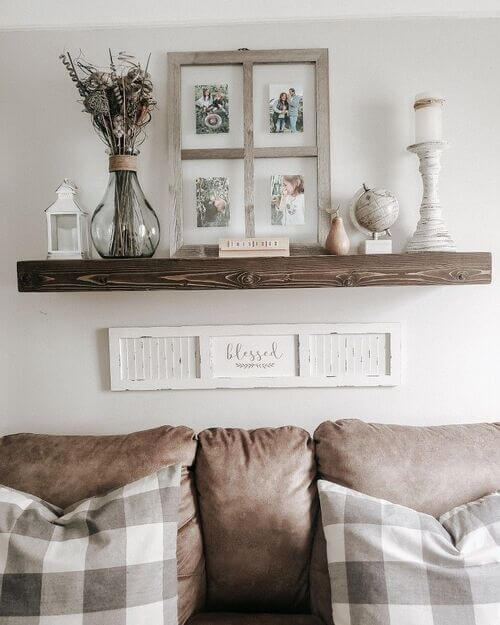 This idea is the perfect balance of elegance and rustic.
It has a beautiful balance between the wood texture and glass pieces.
Add some dried flowers, candles, and some cute family pictures to this one to get the full effect.
The perfect idea for you
The area above your couch presents endless opportunities to infuse your living room with personality and style.
Whether you opt for a gallery wall filled with cherished memories, an oversized statement piece, or a combination of decorative elements, the key is to create a space that reflects your unique taste and enhances the overall ambiance of your home.
With these above-the-couch decorating ideas, you can transform your living room into a welcoming and visually appealing haven.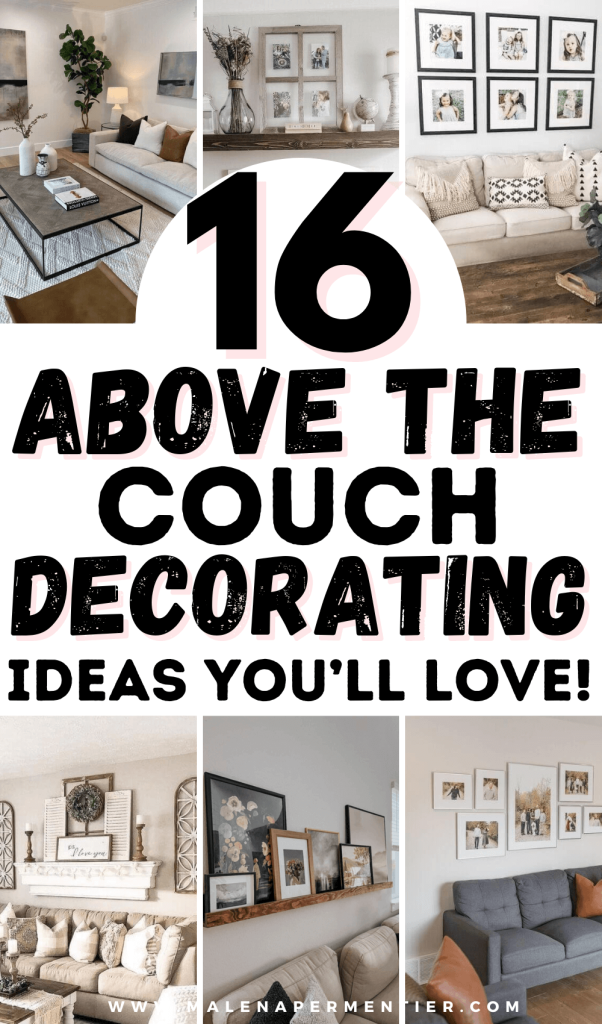 This post showed you the best above the couch decorating ideas.
You may also like: