Hey there! Some links on this page are affiliate links which means that, if you choose to make a purchase, I may earn a small commission at no extra cost to you. I greatly appreciate your support!
This post shows you the best easy party appetizers.
Throwing a party can be a blast, but preparing appetizers that are both quick to make and delicious can sometimes be a challenge.
Whether you're hosting a casual get-together or a more formal event, having a repertoire of easy party appetizers at your disposal can save you time and impress your guests.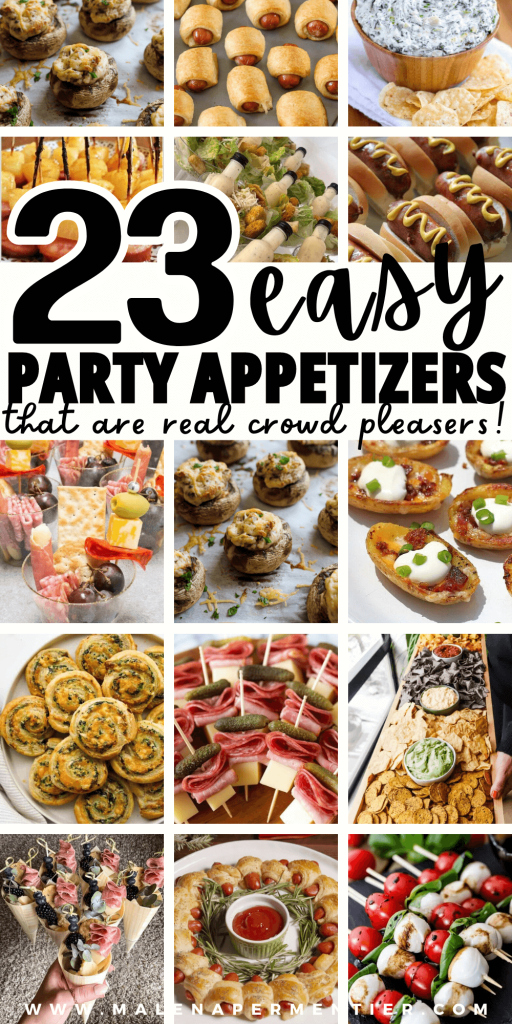 Fun ideas for appetizers
If you're not sure of what to do for your event, then here are a few appetizer ideas that you can test out for your next party.
Miniaturize: One of the easiest ways to make appetizers fun is to downsize your favorite dishes. Mini burgers, tiny tacos, or baby quiches are all crowd-pleasers.
Skewer it: Skewers make for easy-to-eat and visually appealing appetizers. You can make fruit skewers, caprese skewers with tomatoes, mozzarella, and basil, or even chicken satay skewers.
Dips and spreads: Set up a dip bar with various dips like guacamole, hummus, salsa, and cheese dips. Provide an assortment of dippable items like chips, crackers, breadsticks, and veggies.
Stuffed snacks: Stuffing ingredients into small bites can be both delicious and fun. Think about stuffed mushrooms, jalapeño poppers, or mini pastry pockets filled with different fillings.
Finger foods: Opt for bite-sized finger foods that are easy to pick up and eat. Consider options like sliders, meatballs, or bruschetta.
Mini dessert appetizers: Don't forget about sweet appetizers! Mini desserts like cheesecake bites, chocolate-covered strawberries, or mini fruit tarts can be a delightful way to start a meal.
Themed appetizers: Tailor your appetizers to match the theme of your event or the cuisine you're serving. For example, if you're hosting a Mexican-themed party, serve mini tacos, nachos, and margarita shooters.
1. Charcuterie cones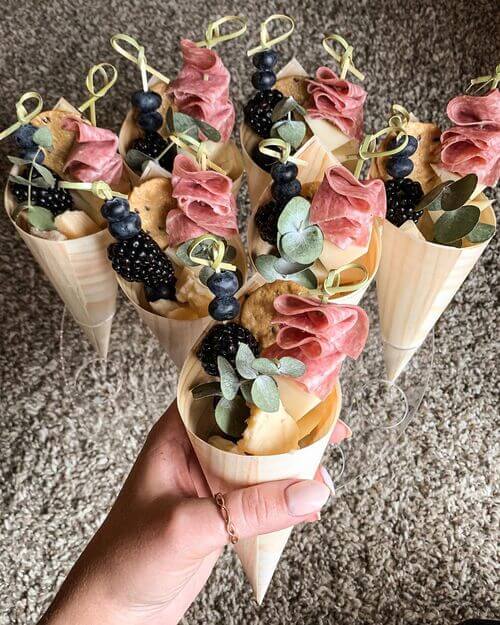 Finding the perfect appetizer can be tricky but these are sure to wow the guests.
They include everything you'll find on a charcuterie board but packed in a small cone for you to carry around.
This helps everyone to have enough to snack on without being messy.
2. Creamy Spinach & Artichoke dip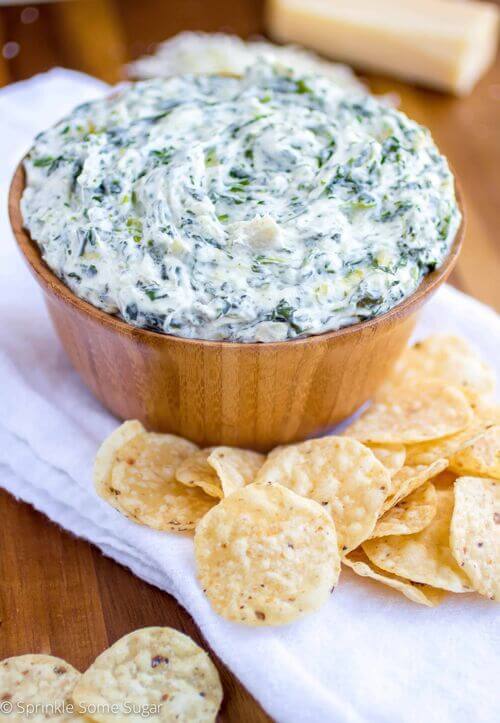 A creamy spinach and artichoke dip is the perfect thing to snack on with some chips.
It offers the perfect balance between crunchy and smooth.
This is a light snack for your guests to enjoy while they mingle and have fun.
You can also add different types of chips or even veggies for guests to choose from.
3. Toothpick appetizers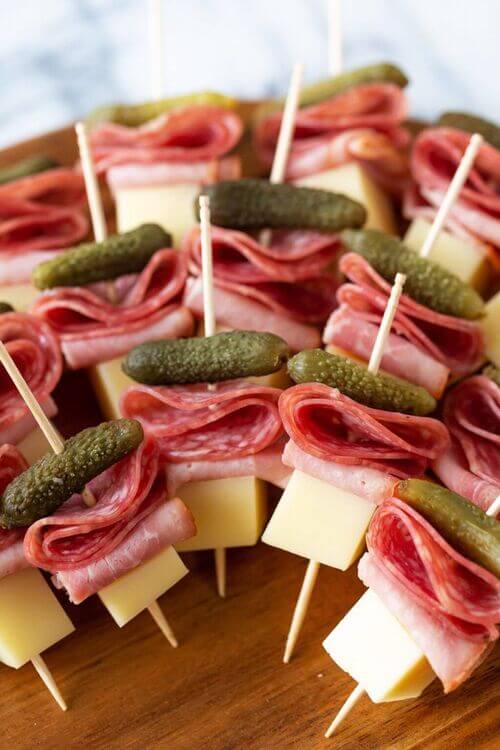 Nothing is better than simple finger food.
All you need are some toothpicks, cheese, pickles, and meat to create this simple appetizer.
You can have a bunch of these and just let people pick and choose as they please.
Diversify and use this if you are in need of a quick fix for a party.
4. Spinach Pinwheels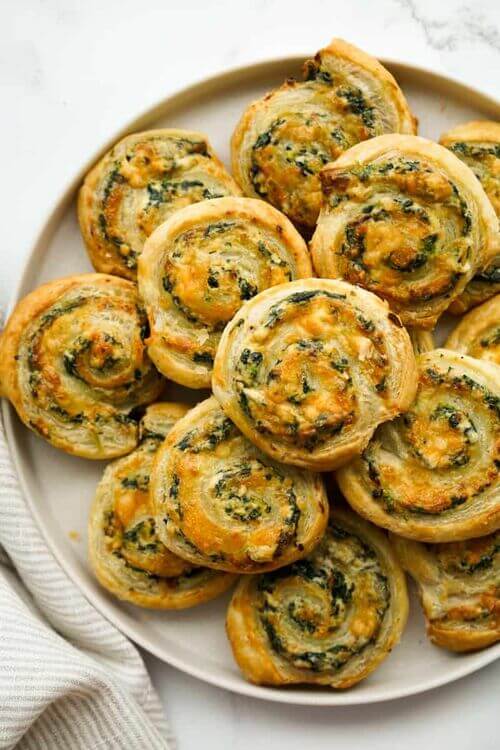 These yummy pastries are perfect no matter how you choose to recreate them.
Salty pastries with spinach and cheese are great.
Or you can opt for the sugary goodness of cinnamon and sugar pinwheels.
They are perfect for appetizers since they are light and flavorful.
5. No-bake cranberry brie bites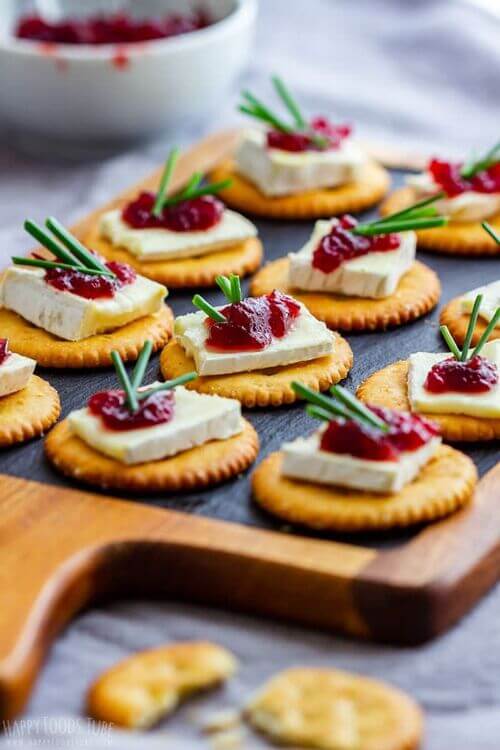 If you are looking for a great snack that incorporates the salty and sweet aspect.
The crackers paired with brie and cranberry jam create a complimentary flavor that everyone will love.
It is simple to throw together and is budget-friendly making it perfect for any event.
6. Cheese, crackers, and fruit board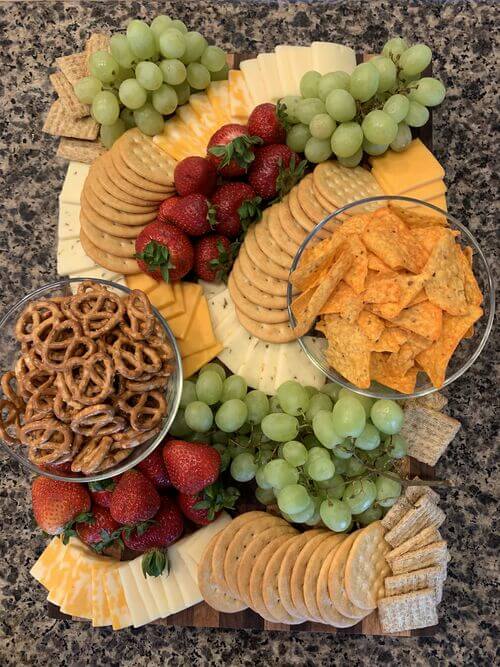 A great idea is to make use of simple elements and put them together to create this epic snack board.
It incorporates elements that everyone can enjoy.
You can have a few of these placed around the event or even different ones with a focus on sweet, savory, or sour.
7. Mini Ceasar Salad cups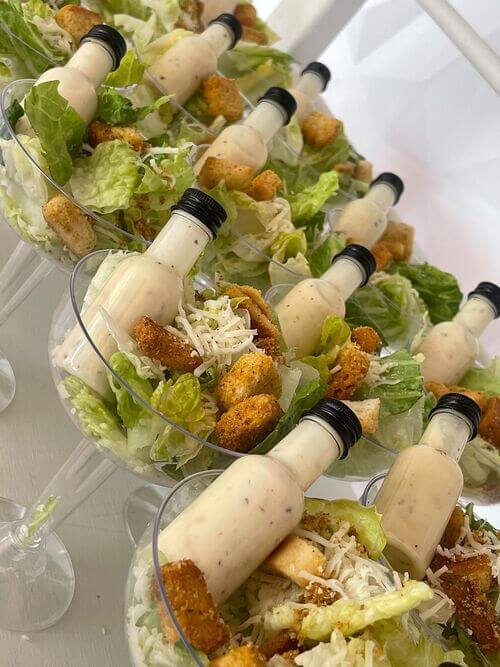 No one can say no to a refreshing salad.
This idea makes use of glasses filled with mini salads and sauces for your guests to enjoy.
It is the perfect appetizer on a hot day and brings a unique touch to the usual ideas.
8. Pigs in a blanket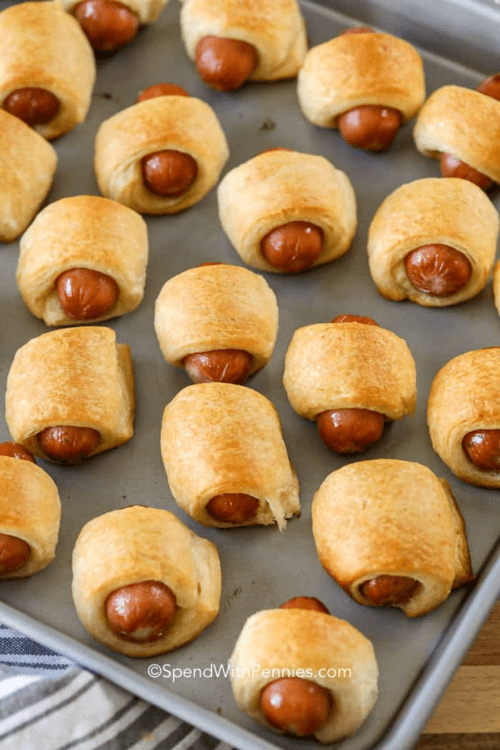 Pigs in a blanket are a staple appetizer and no party is complete without it.
It makes the perfect finger food and is mess-free.
We can all appreciate a classic like that, and it works great if you have some sauces available to pair it with.
9. Taco bites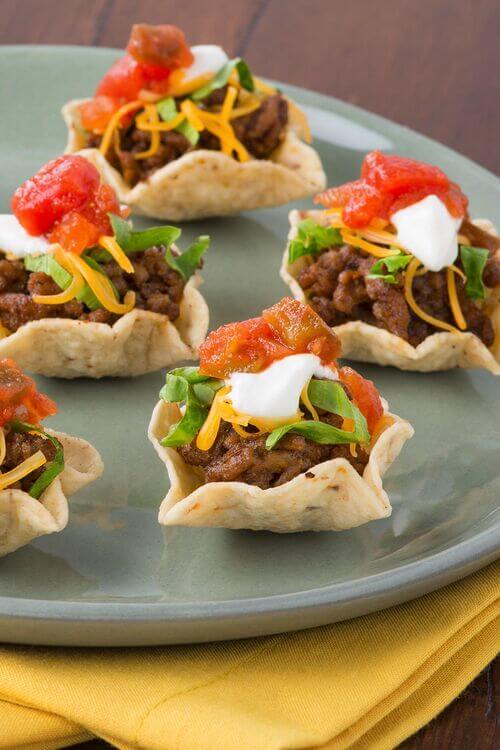 Tacos are a great idea but can lead to some messy situations.
Here's a great twist on the classic.
These mini taco bites pack all the flavor of the original tacos but are half the size and no mess.
People will love the twist on something simple.
10. Potato skins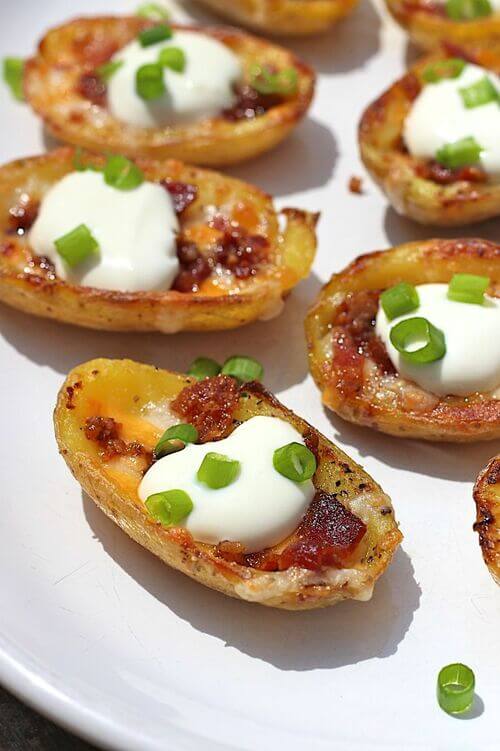 This idea is super fun and packed with flavor.
Simply hollow out potatoes and fill them with some meat, cheese, cream, or whatever you feel would work for you personally.
It's an amazing idea and brings a unique idea into play.
11. Kielbasa and pineapple bites
These flavorful treats are sure to get guests talking.
They make the perfect finger food and bring a juicy touch of flavor to the treat.
It is an easy appetizer idea and is great for a quick added touch to an eventful day.
12. Mini sandwiches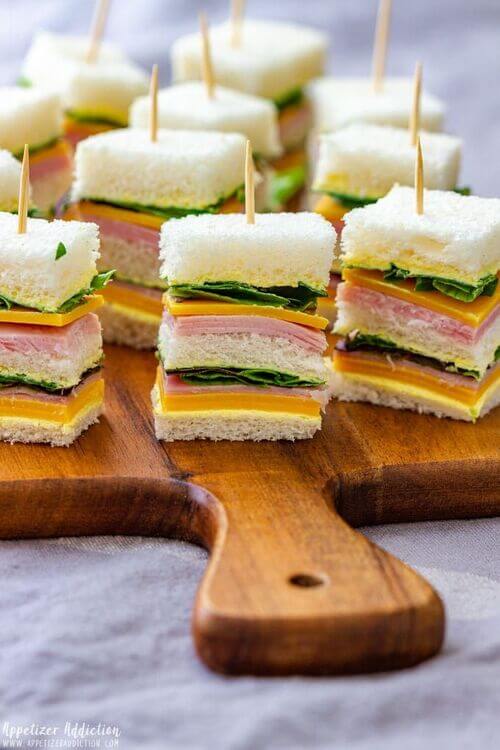 These adorable little sandwiches are held together with a toothpick.
It includes cheese, ham, as well as some lettuce.
These sandwiches are filling and bring a new look to the traditional appetizers that we know and love.
They are just right for an appetizer because they aren't too big and aren't messy either.
13. Veggie cups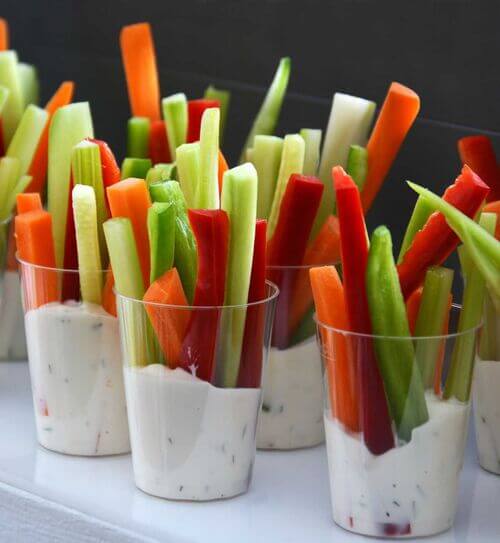 To all the vegetarians and vegans out there, this is just for you.
These veggie cups are the perfect size for a nice and refreshing snack.
They are simple and won't fill you up.
If you've been looking for a simple appetizer that keeps you refreshed then this is just what you need.
14. Charcuterie board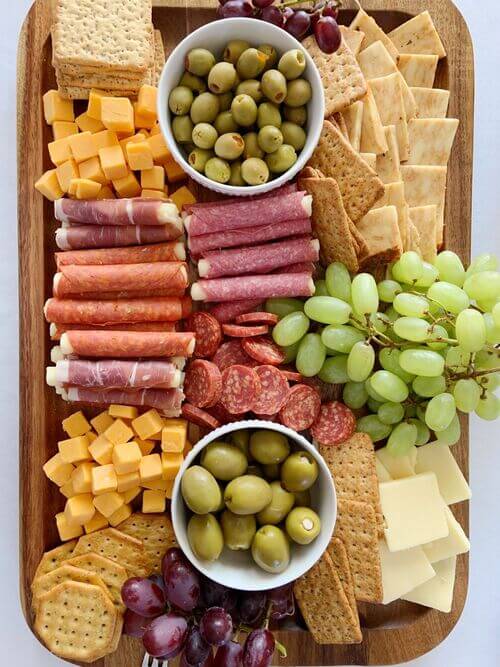 Say whatever you want to but charcuterie boards filled with assorted meats and cheeses stay the best.
While you don't need to include this many options on the boards themselves it does help.
Variety is the spice of life as they say.
So, what is stopping you from creating this quick and easy idea that can easily be budget-friendly?
15. Charcuterie cups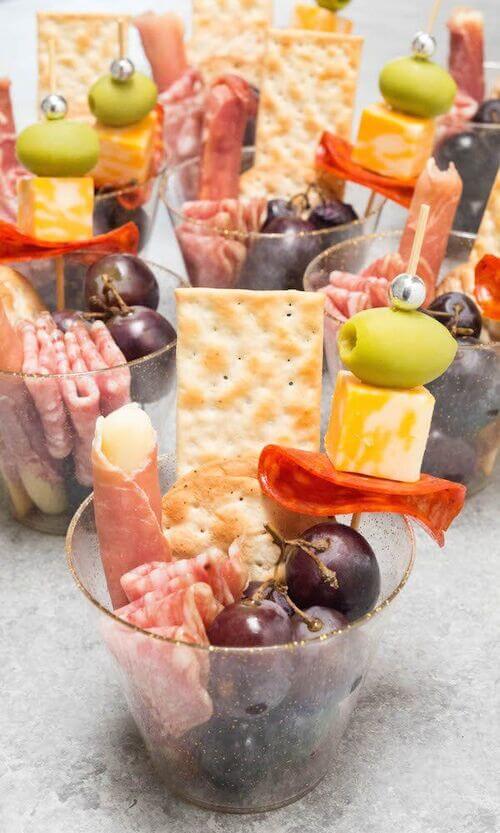 These mini charcuterie cups include everything you need for a filling appetizer.
People will appreciate the fact that they have their own cups and this also allows everyone to have a bit of everything.
You can add more cups for those who might be interested in more than one, but this is the perfect appetizer for an event.
16. Mini hotdogs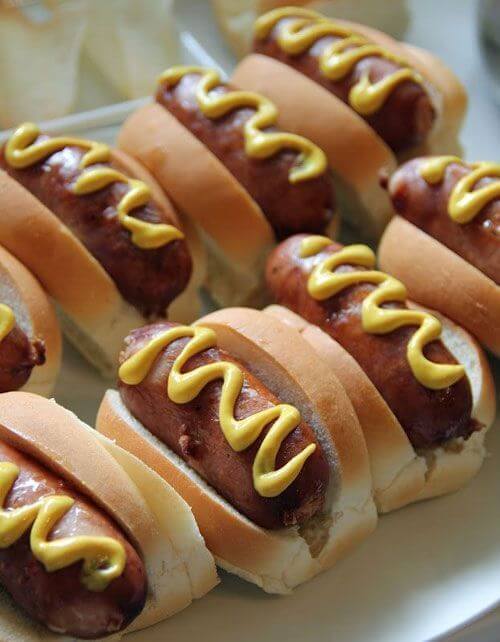 No one can say no to mini hotdogs.
These cute little appetizers are sure to make a statement and are easy to customize as needed due to dietary restrictions.
People will appreciate the fact that you've included something simple to the mix too.
17. Stuffed mushrooms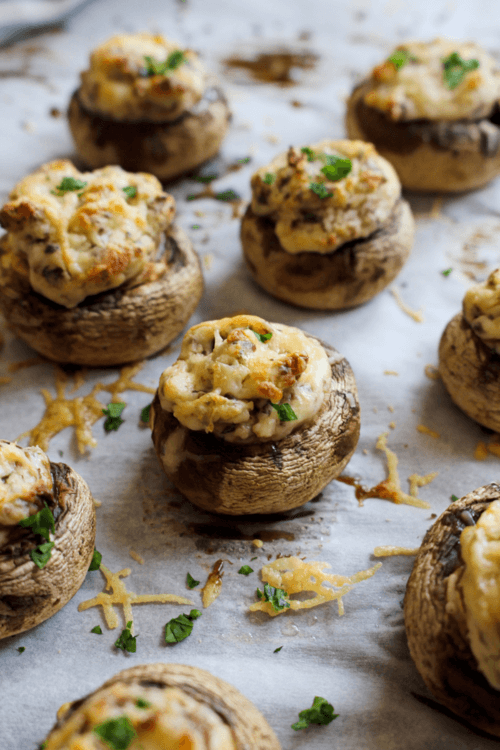 A personal favorite of mine is these super simple stuffed mushrooms.
They are adorable and bring a new exotic flavor to the mix when paired correctly.
You can include cheese, spring onion, or anything you like in these super cute miniature snacks.
18. Caprese skewers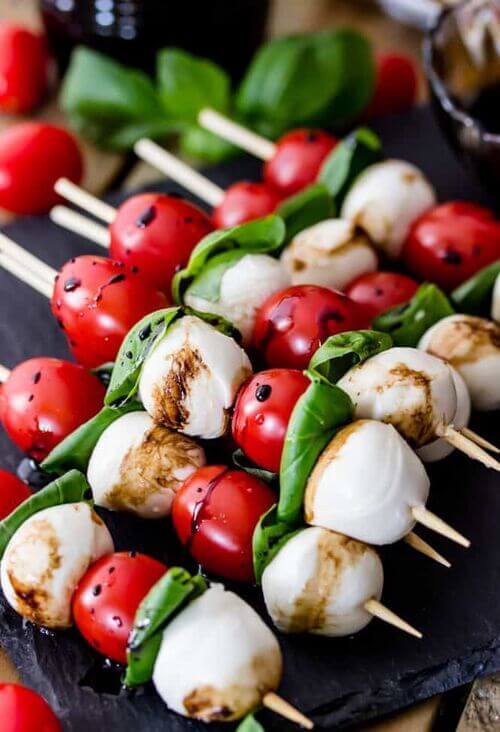 Caprese skewers are a fan favorite as we all know.
Simply pack a skewer with fresh tomato, mozzarella, and basil leaves and throw them on the barbecue for a few minutes.
You can serve them with some olive oil and salt.
19. Three Cheese Bruschetta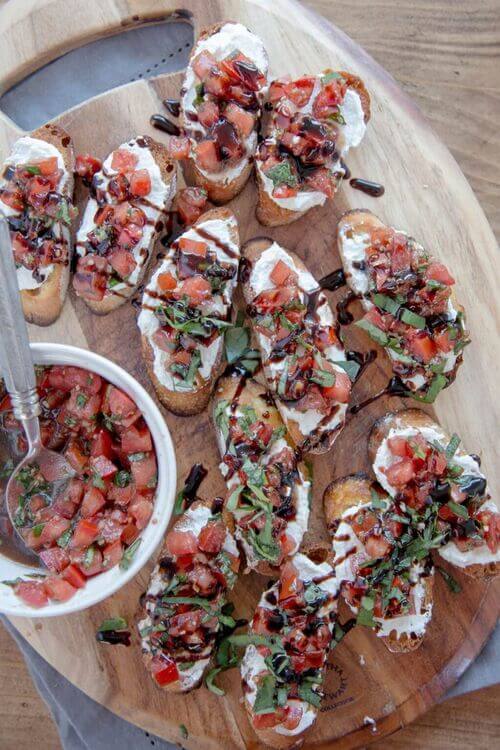 This is the ultimate appetizer idea and everyone can enjoy it.
It's simple taking things back to basic flavors while staying elegant and fun.
Top things off with balsamic vinegar just for a fun addition to the flavor, and you have this recipe done and dusted for the party.
20. Pigs in a blanket snack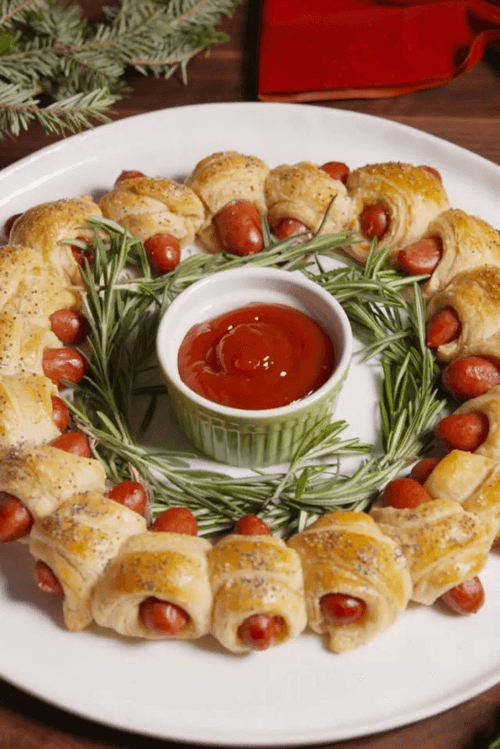 Here's a different approach to the pigs in a blanket approach that stays true to the basics.
Place everything on a plate and add some rosemary for a nice touch.
You can also include some sauces in the middle for people to try.
21. Antipasto skewers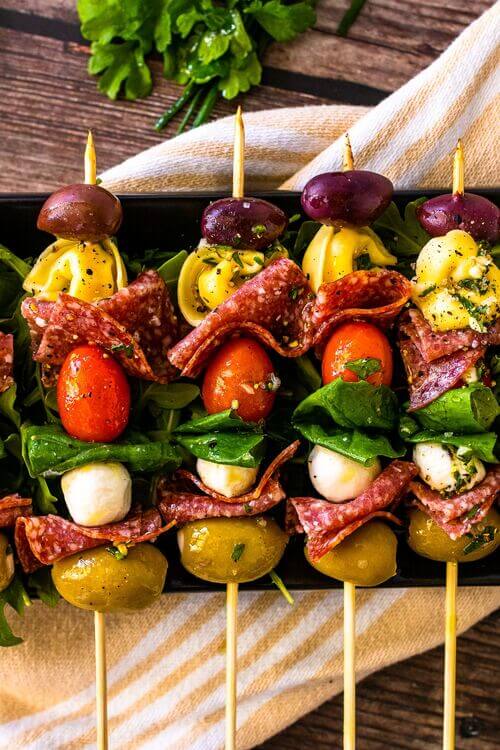 These skewers incorporate all you need to create a fun new appetizer.
It's always the simplest ideas that go the farthest, so why not give these a go if you haven't before?
22. Chip and dip station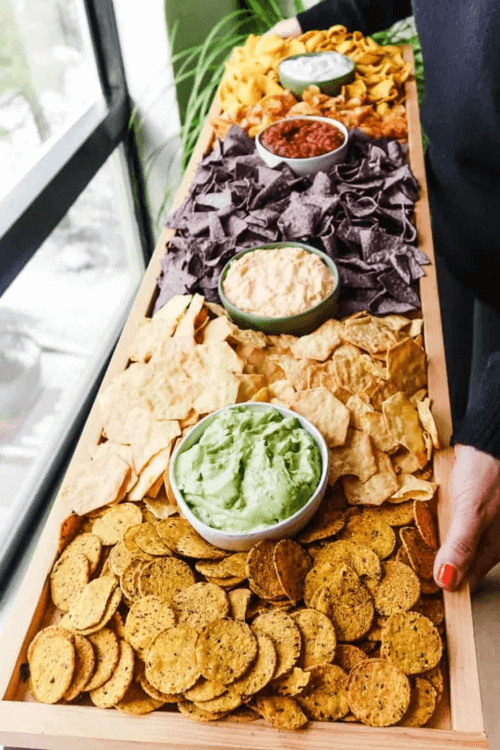 If you're looking for something a little more casual then this is just the thing for you.
A simple chip and dip station is great for any event.
You can incorporate different flavors and let people mix and match as they want.
23. Simple snack station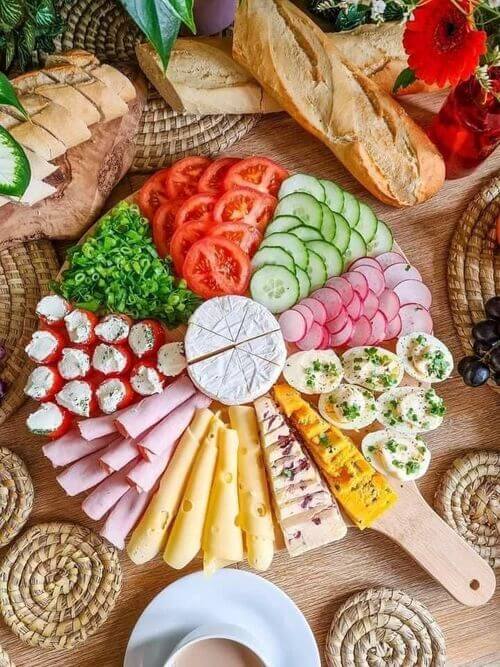 This OCD-pleasing appetizer is absolutely stunning and incorporates a range of fun finger foods for your guests to choose from.
It's great and allows everyone to enjoy these treats.
Be sure to include some vegan and vegetarian options as well.
Appetizers for days
These easy party appetizers are not only quick to make but also packed with flavor.
Whether you're hosting a casual gathering or a special occasion, these recipes will save you time in the kitchen and ensure your guests leave with satisfied taste buds.
So, don't stress about party prep – whip up these delicious bites and get ready to enjoy the festivities!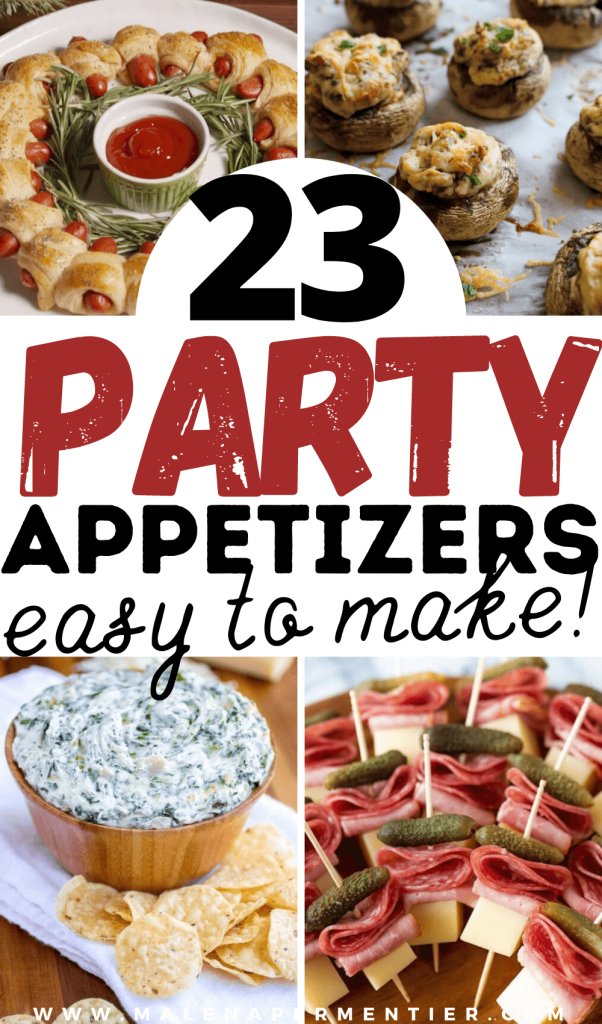 This post showed you the best easy party appetizers.
You may also like: