Hey there! Some links on this page are affiliate links which means that, if you choose to make a purchase, I may earn a small commission at no extra cost to you. I greatly appreciate your support!
This post shows you the best easy charcuterie board ideas to make!
Creating a charcuterie board is a delightful and versatile way to entertain guests for any occasion.
Whether you're planning a casual gathering with friends, a romantic date night, or a holiday celebration, a well-put-together charcuterie board can elevate the experience.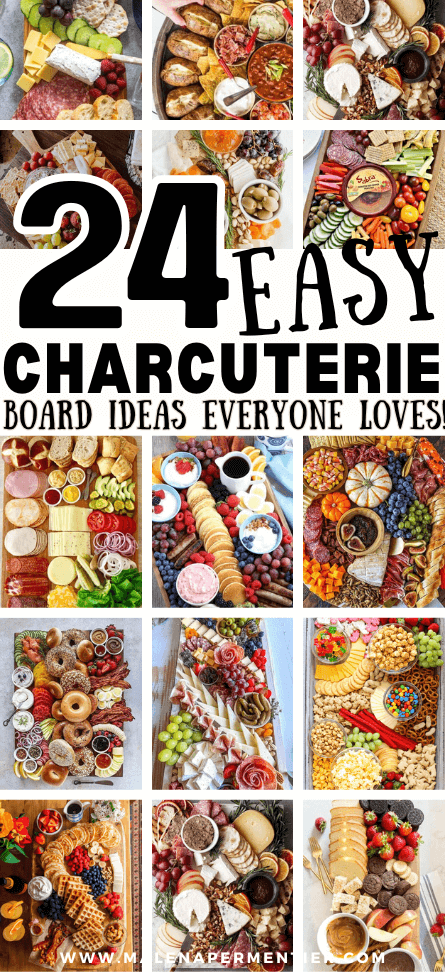 What is a charcuterie board?
The elaborate preparation and creation of cured meats and other meat products is known as charcuterie.
Recently, the term has come to refer to a variety of meats served with a range of sides, including fruit, cheese, crackers, bread, sauces, nuts, and so forth.
What is included usually
Meats and cheeses are the major components of a classic charcuterie board.
But these boards frequently include bread, fruits, nuts, condiments like honey or mustard, pickles, and olives at many restaurants or house parties.
Capicola, salami, and prosciutto are a few of the popular meats that are categorised as charcuterie.
Regarding charcuterie, dry-cured chorizo and mortadella are also often utilized meats.
Cheese is purely a matter of taste. It all depends on what goes with the meat on your platter better.
New ideas to include
If you want to include a fun charcuterie board to your event, party, or just a fun date night but you're not up for the basics, here are some cool ideas to try.
Sweet and sour snacks
Fondue setup
S'mores board
Fruity and fresh
Breakfast board
Cookies and decorating station
24 Charcuterie Board Ideas
1. Sticking to the favorite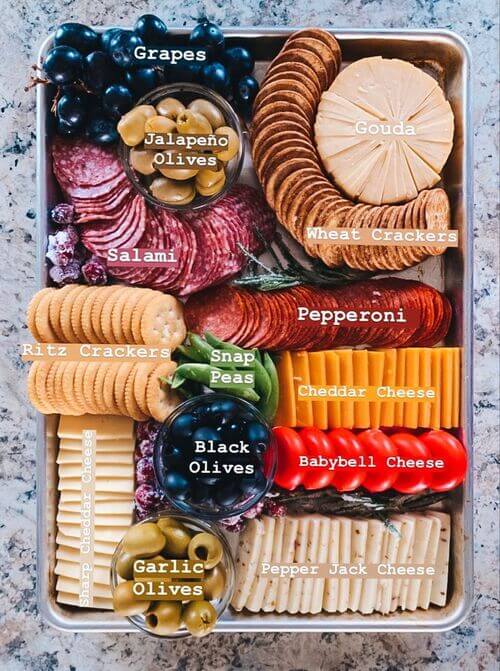 Before we dive into the crazy ideas we need to kick this off with the basics.
Create a board filled with cheese, olives, crackers, and veggies to create a simple and classic charcuterie board.
Add some meat and all of your favorite salty snacks to make this personalized to your needs and likes.
2. Breakfast charcuterie board
Breakfast is the most important meal of the day so it is only fair that we bring this idea into play.
Waffles, pancakes, bacon, fruits, and mimosas. All your favorites are in one place and ready for you to dive right in.
This works great for a breakfast with friends and just having something unique to try out.
3. Charcuterie board for two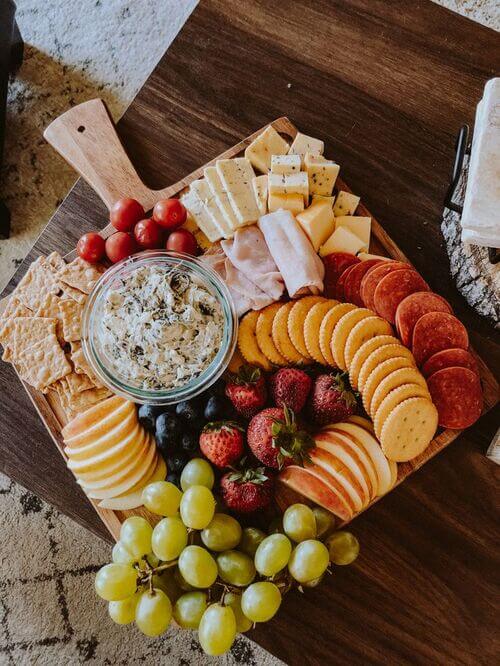 In need of a new idea for date night?
Include some fruits, cheeses, and crackers to create an epic sweet and salty treat for you and your partner.
We all need a new idea to bring something fresh to the table.
Why not try this out and bring your own personalized touch to the idea?
4. Game day sandwich board
Are you having a party at your place? Why not include this amazing build-your-own snack board?
Include all your favorites and create the perfect sandwich board for you and your guests.
It's simple and can easily be pulled together for a quick snack.
5. Fall-themed charcuterie board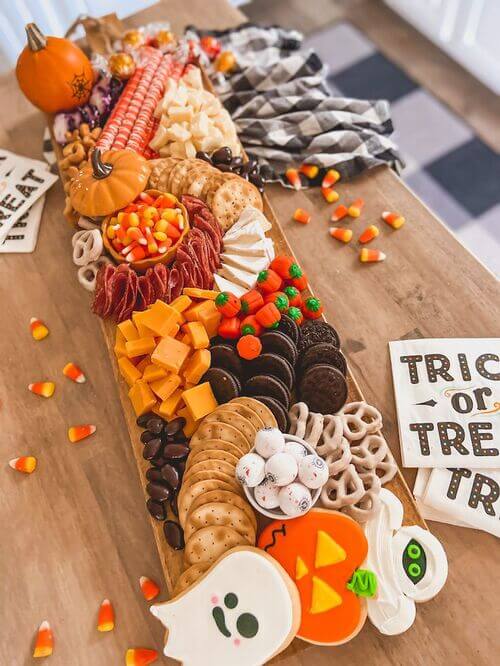 With the spooky season around the corner who can say no to a Halloween idea?
S'mores, cookies, gummy eyeballs, and more are the perfect holiday snacks to include.
Whether you are in the mood for a trick or a treat you can not say no to this adorable idea.
6. Bagel breakfast charcuterie board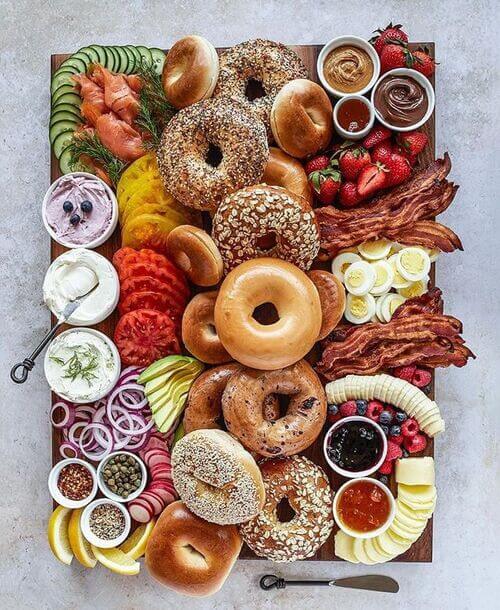 For those of you who want something a little more interesting, why not bring bagels into the occasion?
A bagel with all your favorites included is the best way to get the day started.
This works well with a fun brunch with a friend or just at a cute little breakfast date.
7. Cheese focused board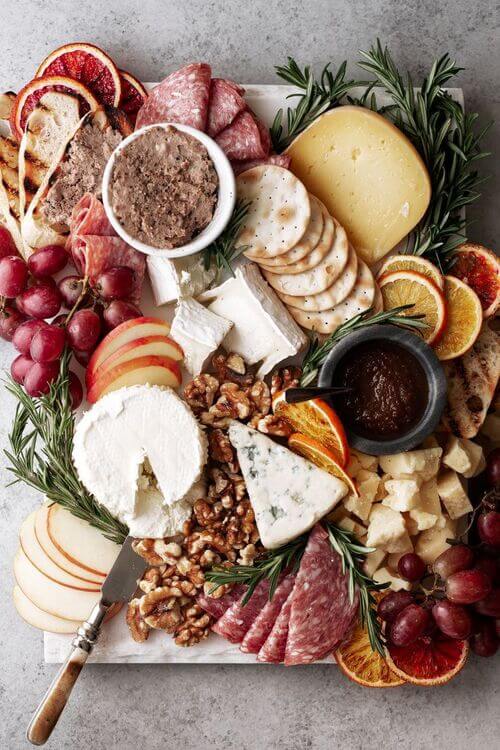 This charcuterie board gives the perfect balance for a fall-inspired plate and includes all your favorites.
This idea is unique as it includes some different aspects than the usual boards.
Apples, oranges, and some sweet additions can go a long way when paired with some special cheeses and nuts.
8. Back to basics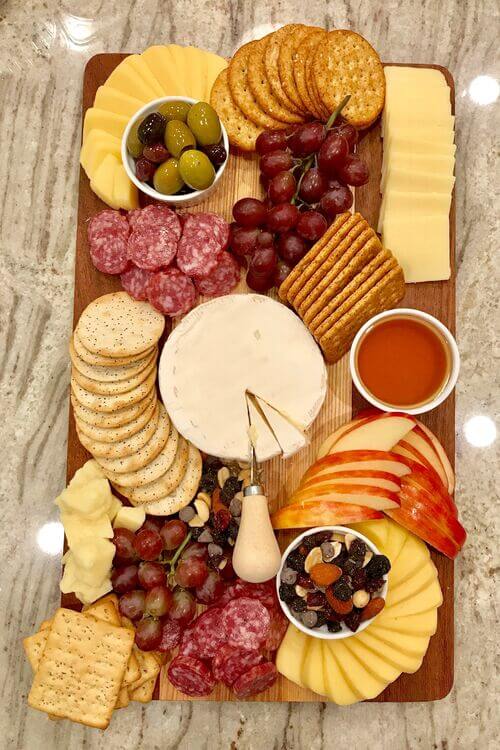 Just because you're working on a budget doesn't mean you can't make a full board to the table.
Simple snacks go a long way, and it doesn't matter as long as you're surrounded with good company.
Keep it plain, but include all your favorites while staying on a budget.
9. Patriotic 4th of July Charcuterie board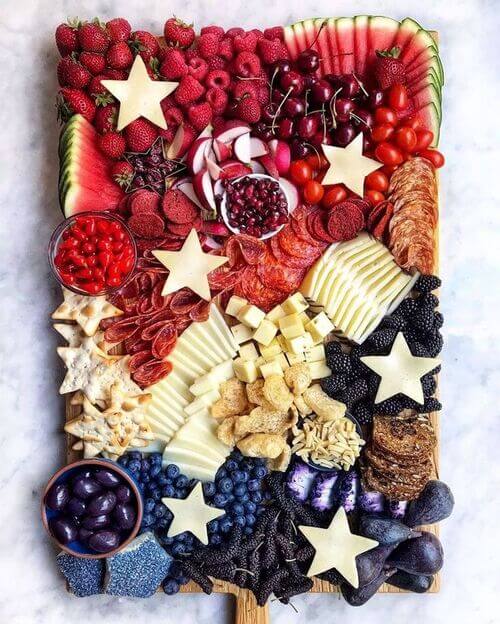 It's never too early to prepare for the future.
Include a 4th of July-inspired board in your next get-together.
Keep to the red, white, and blue theme and include some cheeses and bread shaped as stars.
It's simple and cute.
10. Be veggie inclusive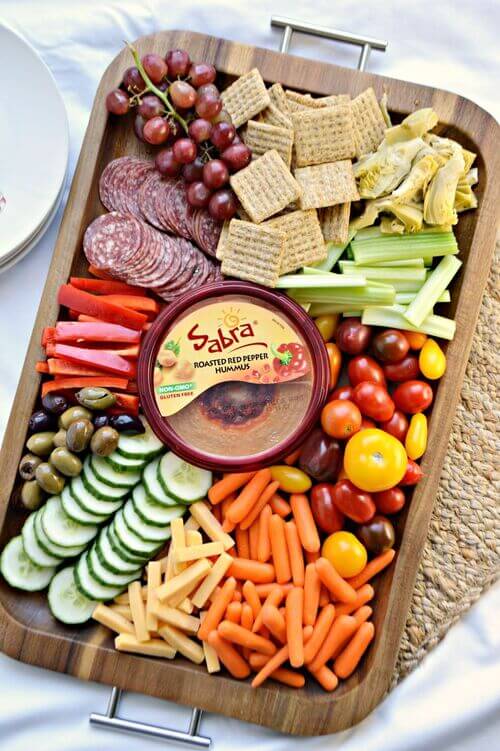 Skip the traditional and include your idea.
If you're vegetarian you're sure to love this.
Add some vegetables, hummus, and some fruits to your plate to customize it as needed.
It is budget-friendly, simple,e and super easy to throw together last minute.
11. DIY Vegan charcuterie board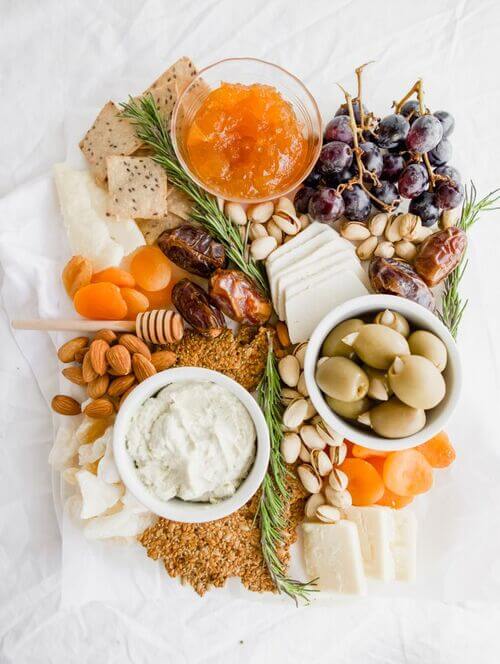 Having Vegan options is a must.
Stuffed olives, nuts, and some fruits are perfect to add to this charcuterie board.
Everyone will appreciate having some options.
So while others are snacking on the traditional charcuterie boards you will have extras for friends with dietary restrictions or who just want vegan options.
12. Fondue desert board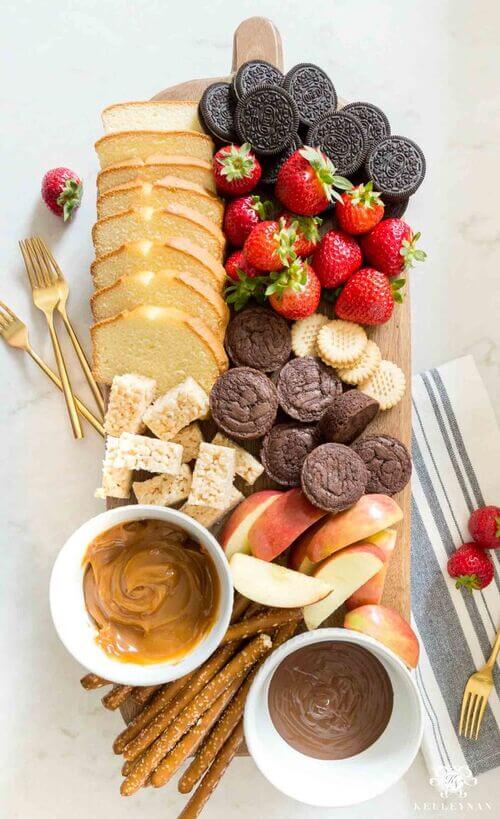 Sometimes the sweeter it is, the better.
Peanut butter, Nutella, apples, and different fruits to dip.
This is perfect for those of you with a sweet tooth.
Or, if you want to, you can create a balance of salty and sweet by adding some pretzels.
13. Fruity breakfast board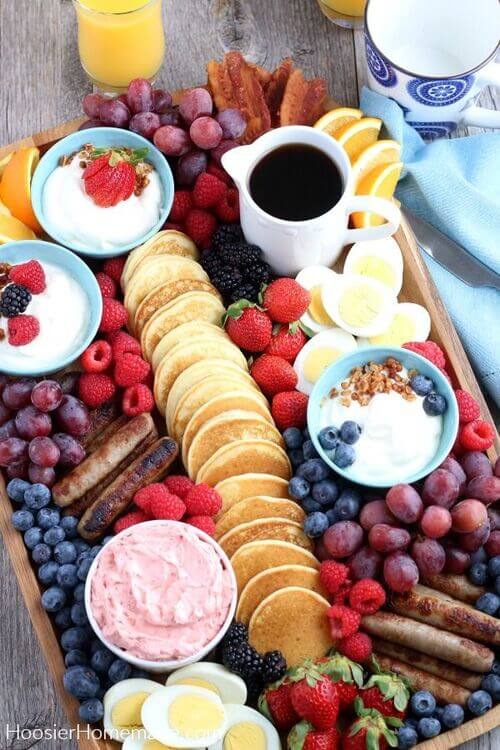 No one can turn down a full breakfast board.
With pancakes, yogurt, fruit and coffee. It's an amazing idea that goes a long way.
It is nutritious and will keep you full and energized. While it is filling, it is also budget-friendly making it ideal for any situation.
14. Taco board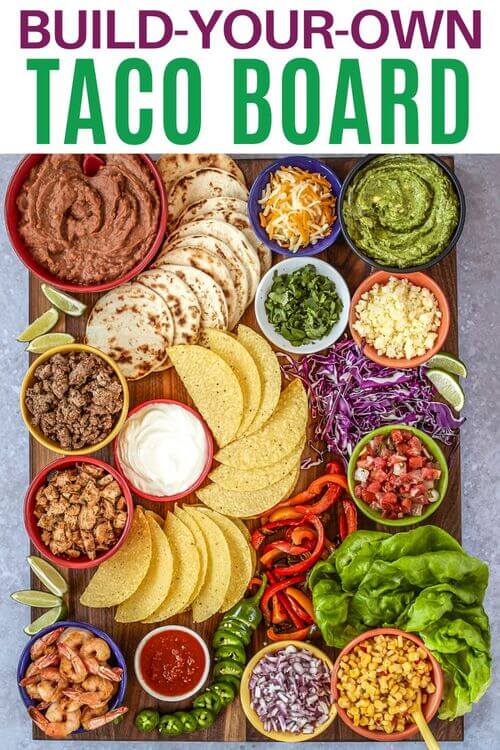 Step away from the traditional approach and bring in some tacos.
Incorporate different salsas, chicken, and beef, as well as some nice sauces to top it off.
You can't forget the guacamole as the staple of the perfect taco.
It's a great idea that goes great with any occasion.
15. Snacking boards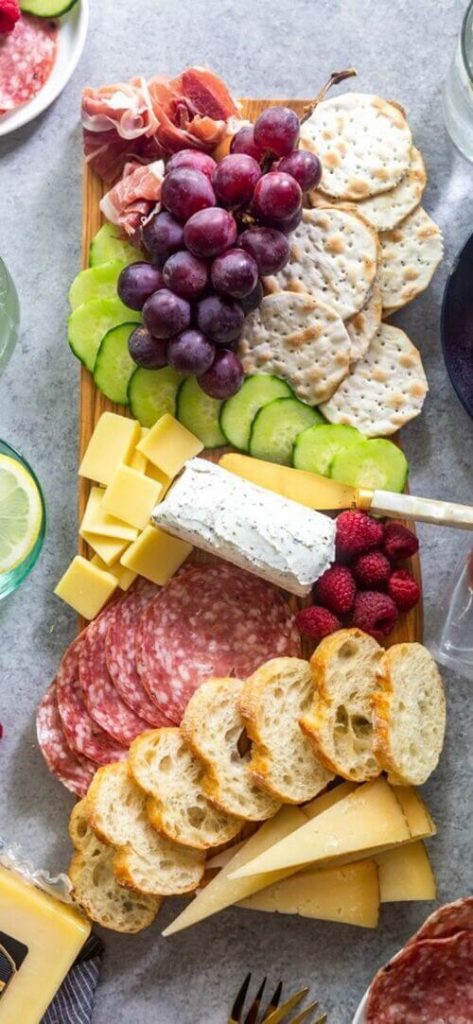 If you're having a fun gathering and you need a great idea to add to the table then this is for you.
These mini snack boards can be placed on each table or at a bar for people to enjoy as they have fun and mingle with others.
16. Keep things simple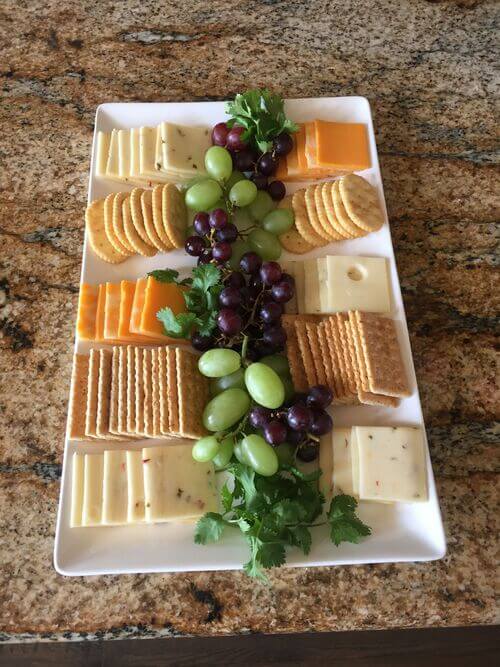 Cheese and crackers… the staple of every charcuterie board.
Go back to basics and stick to this simple idea that sticks to the budget.
Add some grapes to bring a fresh taste to the board.
17. DIY S'mores board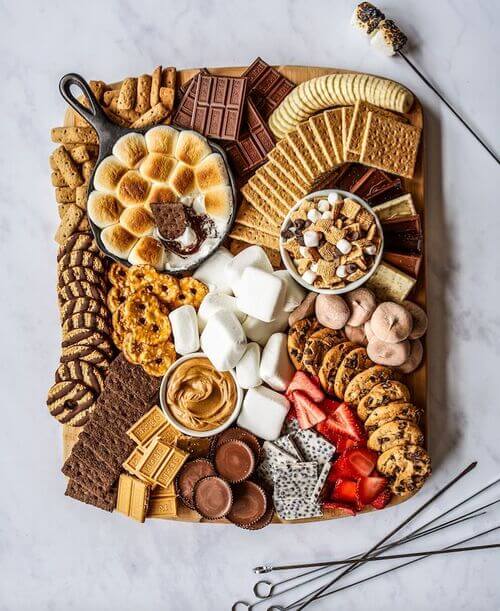 Nothing is better than an epic s'more board.
Marshmallows, chocolate, strawberries, and cookies are all you need to make this work.
You can include some personal touches with different types of crackers for something more filling.
Add some peanut butter or chocolate dip for people to test out different combinations.
18. Seafood extravaganza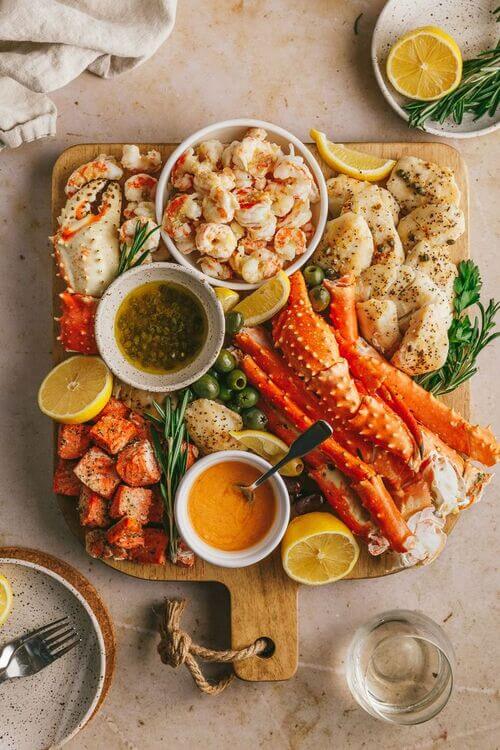 Something I haven't seen before but can be an epic addition to any event is this seafood platter-inspired charcuterie board.
Add some lobster, crab, salmon, and some lemon and butter sauces.
It's perfect to bring a unique touch to the event.
19. Seasonal charcuterie board for fall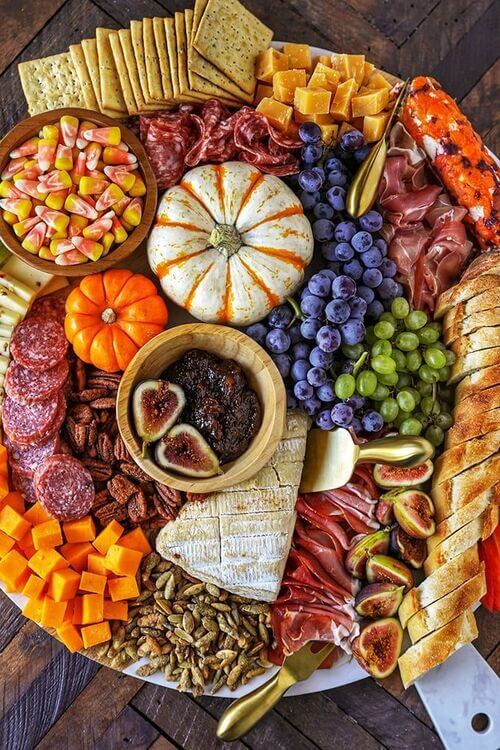 With the fall season in full swing, adding some unique flavors is the perfect excuse.
Figs, grapes, salami, roasted nuts, cheeses, and bread are some great items you can include.
It's great for a fun and unique idea.
20. Pinterest-worthy charcuterie board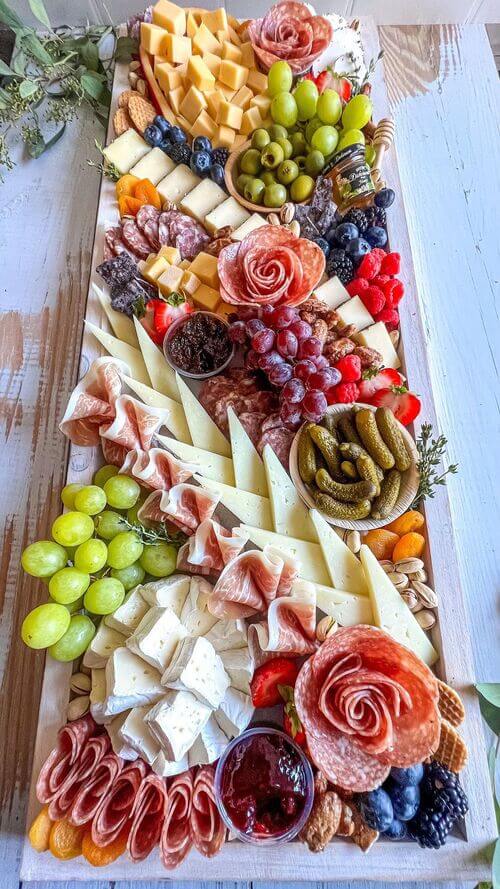 This Pinterest-worthy charcuterie board has everything you need to create a full and flavorful board filled with sweet and salty treats.
With salami roses, pickles, crackers, and cheeses, there is something for everyone to enjoy with this idea.
21. Movie night snack board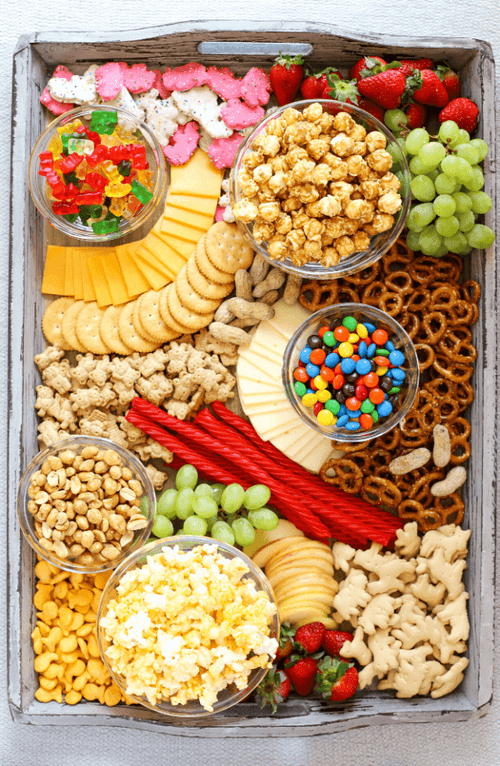 This board is perfect for those of you looking for a fun movie night idea.
Popcorn, cookies, strawberries, and Twizzlers.
Add some chocolates, pretzels, and even fruits to make this perfect for everyone to enjoy.
22. Summer-themed charcuterie board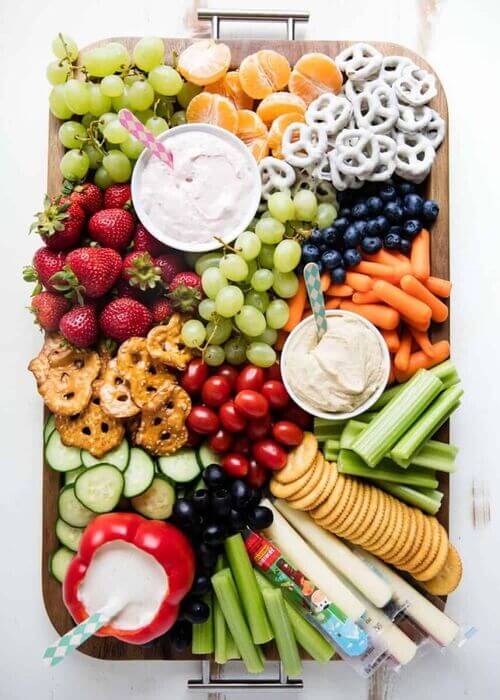 If you're feeling a little nostalgic and in need of a treat that will remind you of all the summer fun then try this out.
Fruits, veggies, yogurt-covered pretzels, and string cheese are just a few of the fun things you can include to bring this idea to life.
23. Chip, dip, and dinner station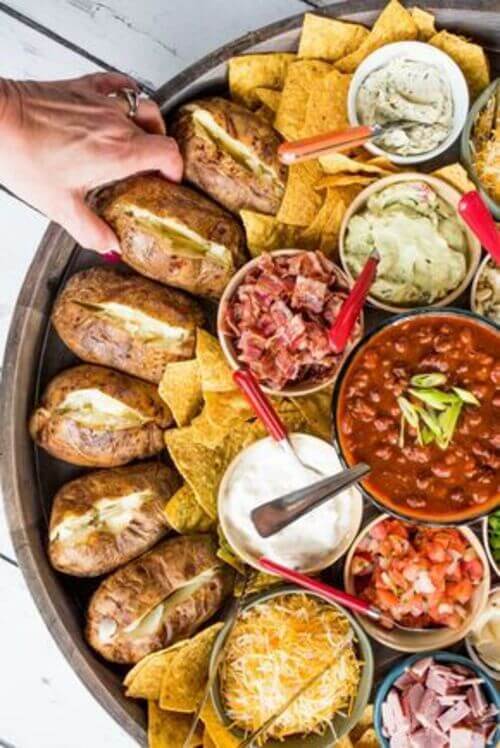 This buffet-style idea is great for a nice night with family and friends.
It incorporates all your favorites while keeping to the charcuterie theme.
Baked potatoes, cheese, ham, and chip and dip.
It's a great idea that includes fun touches that work great for you and your friends.
24. Pink-themed charcuterie board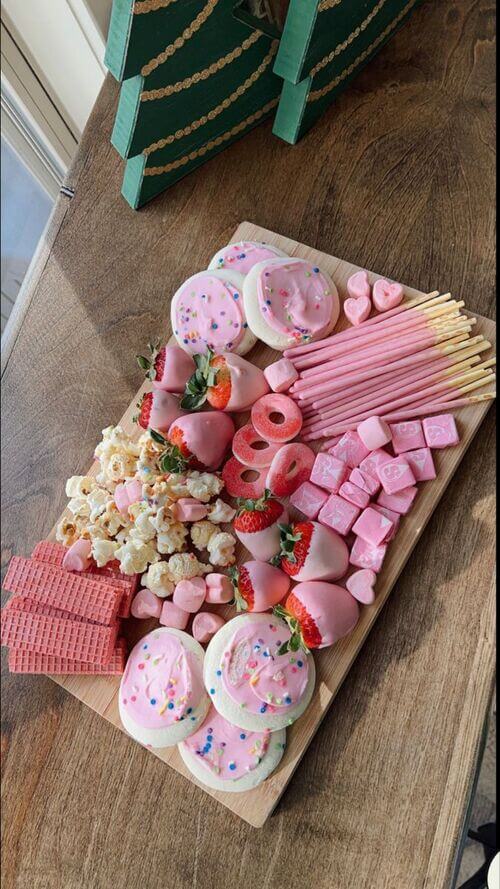 This pink-inspired charcuterie board is your best bet if the Barbie theme is still stuck in your head.
Strawberries dipped in pink-tempered chocolate, wafer snacks, cookies, marshmallows, and other pink treats are what make this board amazing.
Making it Pinterest-worthy
Remember to consider your guests' dietary restrictions and preferences when assembling your charcuterie board.
With these easy charcuterie board ideas, you can create a memorable and delicious spread for any occasion. Enjoy the art of charcuterie, and happy hosting!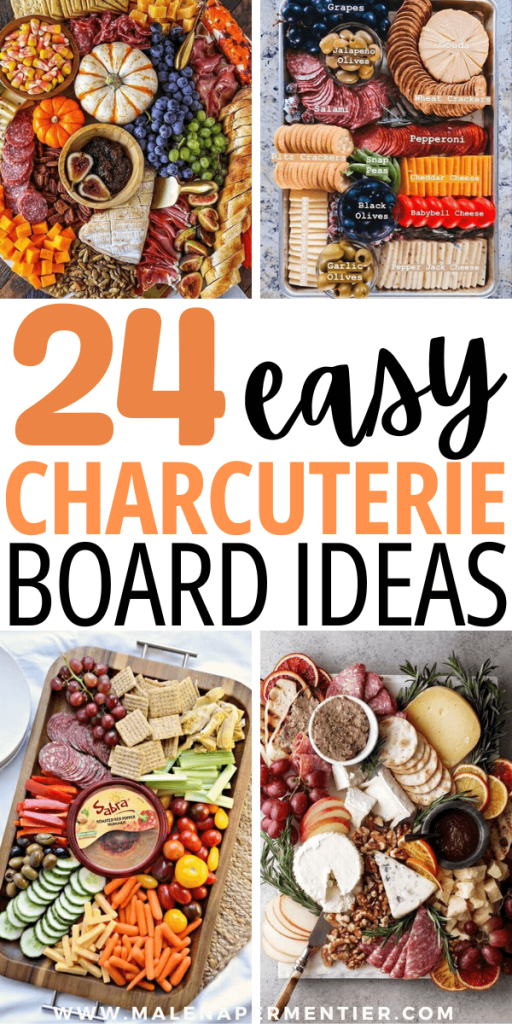 This post showed you the best easy charcuterie board ideas.
You may also like: