This post shows you the best winter tray decor ideas.
It's snowy, and the summer days are long gone.
Hot chocolate and Christmas decorations are taking over, so it's time for some winter decor ideas.
One creative way to infuse warmth and charm into your home is by curating a winter tray display.
These delightful arrangements not only add a touch of seasonal flair but also serve as practical focal points for your coffee table, dining area, or even your bedside.
In this blog post, we'll explore a collection of enchanting winter tray decor ideas that you can easily recreate to make your home feel like a winter wonderland.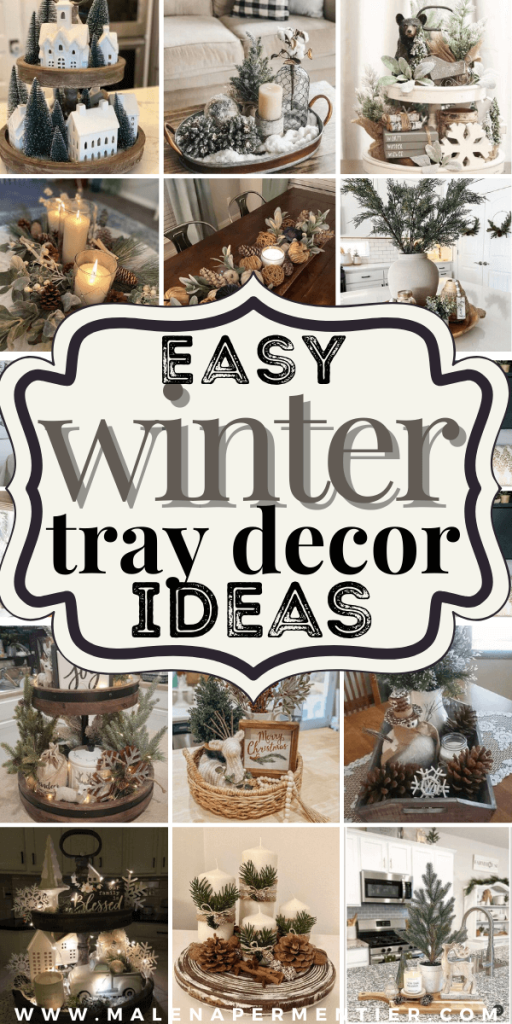 Things to add to winter decor
You can take a few different approaches to finding the perfect winter decor.
Some people live for the simple silver and white pieces, while others like to base their winter trays around the holidays.
It's all up to what you prefer and how all-out you want to go.
Winter tray decor themes:
Rustic: Start with a wooden tray as the base and arrange pinecones, cinnamon sticks, and dried orange slices for a rustic touch. Incorporate a mini faux fur blanket, a lantern, and a small stack of vintage books to complete the charming cabin aesthetic.
Frosty winter air: Elevate your winter decor with an elegant and wintry tray arrangement. Begin with a mirrored or metallic tray for a touch of glam. Add mercury glass votive holders, silver or white candlesticks, and delicate glass ornaments.
Enchanted Forest: Bring the enchantment of a winter forest indoors with a whimsical tray arrangement. Place a dark wooden tray as the base and adorn it with faux moss or a green garland. Arrange miniature deer figurines, woodland creatures, and small faux trees for a magical woodland vibe. Integrate fairy lights to cast a warm, enchanting glow.
Christmas delight: Bring in red and green accents. Mini Christmas trees, wooden deer, and some fairy lights are sure to bring this idea to life.
These ideas are just what you need to bring your unique ideas to life and bring in the winter spirit.
Winter tray decor ideas
1. Candles and silver accents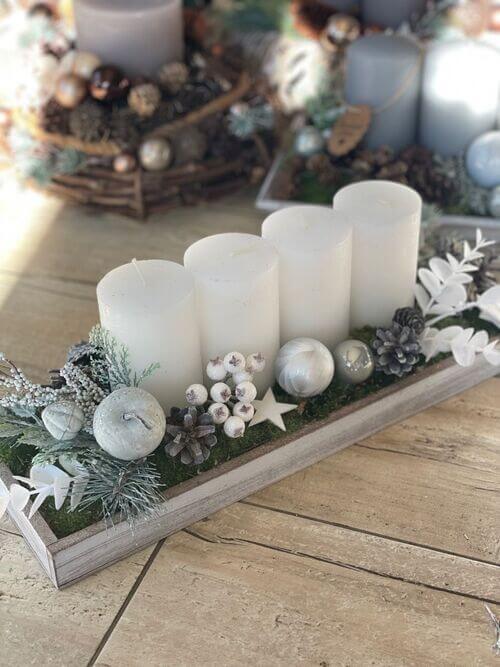 If you want a simple silvery look to compliment the winter aesthetic as well as bring in a little spirit from Christmas then this is for you.
This tray uses greenery, candles, as well as some silver baubles, and stars.
It's a classic look that can be kept up all winter.
2. Wooden accents and simple greenery
In need of something a little minimalistic?
This is perfect for an outlay in the living room.
Grab a big wooden tray and add a white ceramic jug with greenery.
You can also incorporate some wooden candle holders and a cute quote that fits the winter theme.
3. Frosty winter days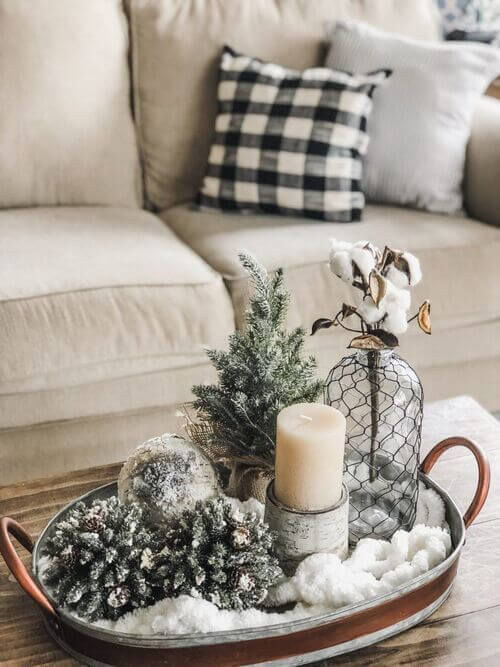 Everyone wants the snowy look to last forever, and with this tray, you can make it happen.
Grab some cotton to line the tray, and then incorporate some glassware, candles, and pinecones.
It's a cute way to bring your winter wonderland inside.
4. Pinecones and candlelight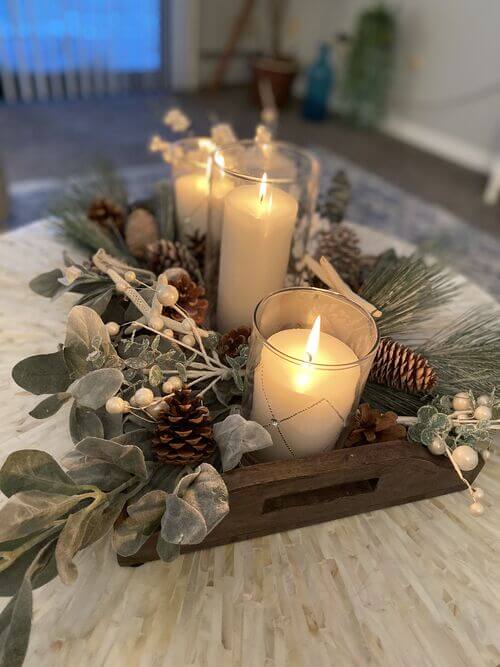 Neutral colors are the best way to go. Keeping to the green and brown of nature.
A big tray can be perfect for a dining table or in the kitchen.
You can add some jars filled with candles to bring a warm glow to the room.
5. Tiered trays filled with greenery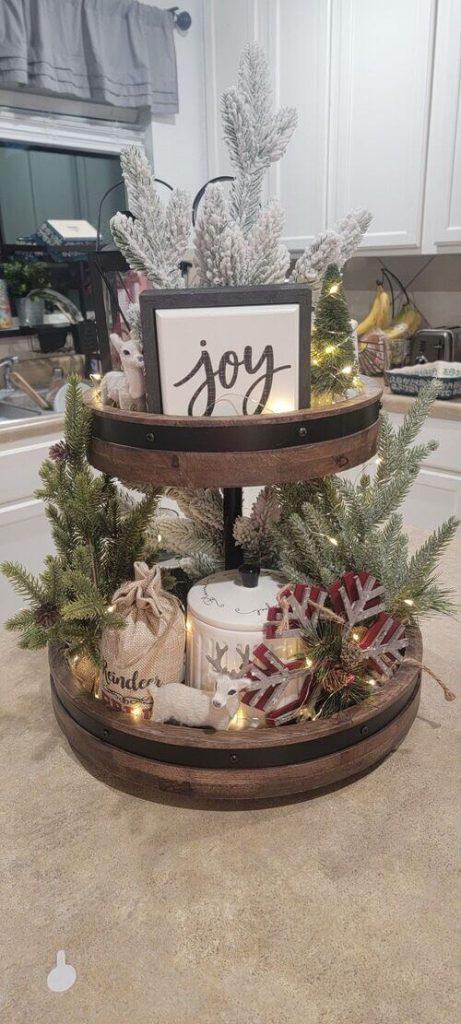 If you're unsure if a simple tray will be enough for all that you have to display then you can always try out this tiered idea.
The first tray can work for greenery, ceramic jars with goodies, and some wooden snowflakes.
The second tray can add quote boards and cover the whole look with fairy lights.
6. Early winter aesthetic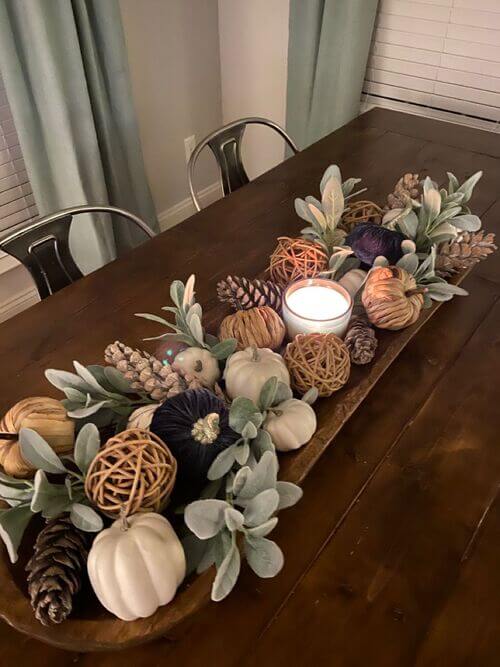 To create this idea, you only need a few items: a long dough bowl, fake pumpkins, wooden spheres, pinecones, and some candles.
The combination of light green, brown, and oranges are the perfect combination for a winter decor idea.
7. Easy kitchen decor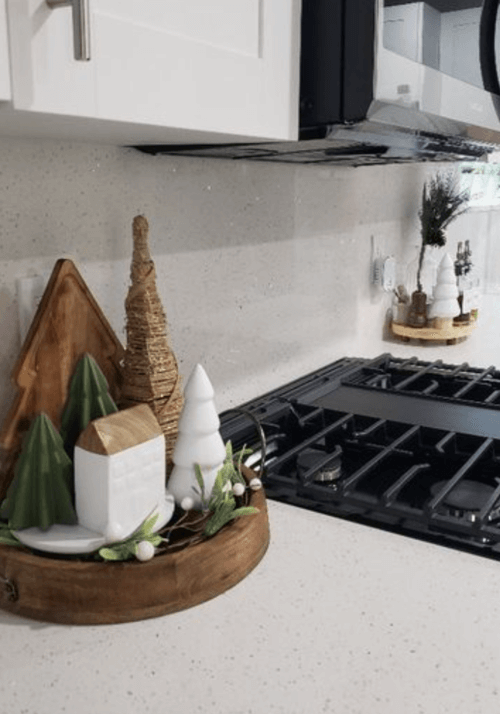 If you need something to fill some space in your kitchen, then try this one out.
Whether you are using solid wood decor pieces, ceramic or twine-wrapped trees is up to you, but the combination works perfectly to create a neutral little idea for decorating in winter.
8. Pinecones and candles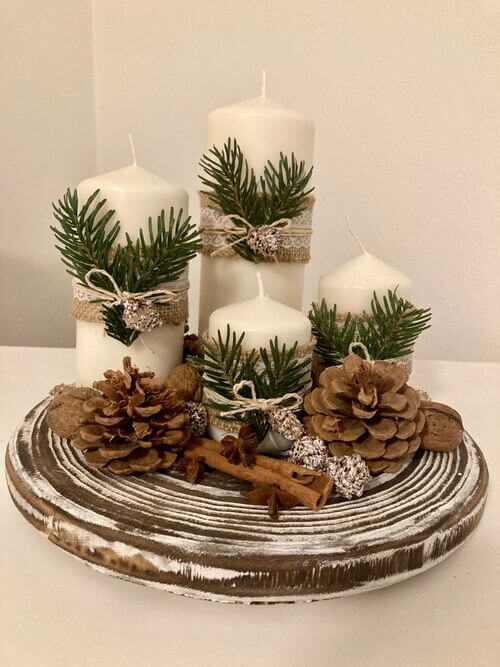 If you need a classy winter decor idea and have the time for a quick DIY creation then this is just for you.
Get some pillar candles and wrap pine leaves around them with some twine or burlap.
It's a super simple idea that won't take long to recreate.
9. Three-tiered greenery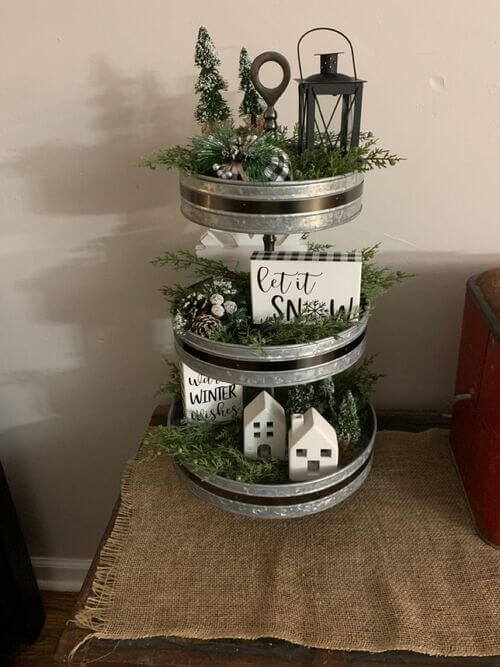 These cute tiered trays are the perfect balance between natural and rustic.
By using this three-tiered steel tray you can make this cute winter-inspired table decor.
Line it with greenery, ceramic goodies, and pinecones.
You can also incorporate some lanterns and fill them with fake tealights to bring in a warm glow.
10. Mini forests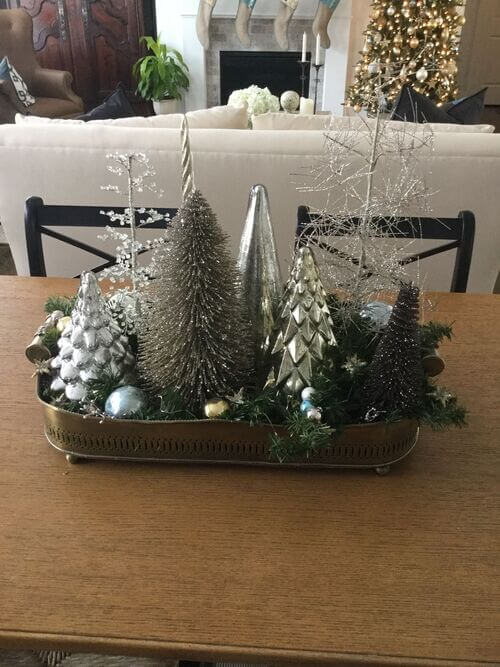 A Christmas-inspired idea that brings a sparkle to any home is pretty much ideal for any winter idea.
Whether you use Christmas baubles or some fake trees painted with spray paint.
You can also incorporate some green trees to even it out.
11. White ceramic simplicity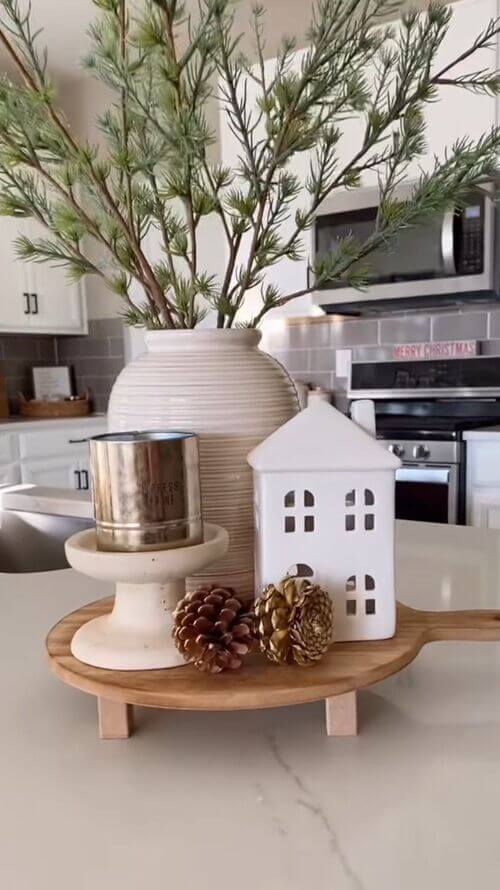 Here's a fun kitchen tray idea that uses the bare minimum.
A few ceramic decor pieces paired with copper-sprayed pinecones and tins.
You can fill the jar with some greenery for some warmth.
This idea is perfect for minimalists or someone that wants to fill up some kitchen space.
12. Snowy days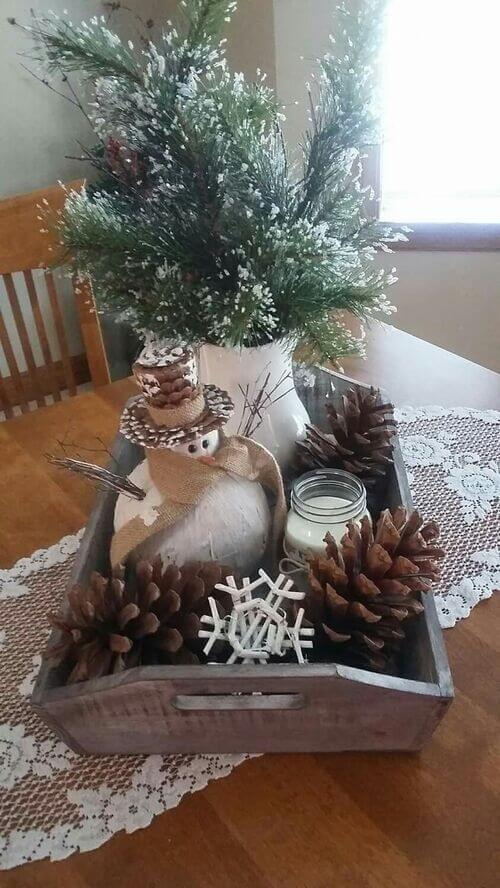 Here's a subtle look for the holidays that bring a fun sense of creativity to the mix.
While you have your simple pinecones, greenery, wooden snowflakes, and candles, you also have this cute snowman that can brighten anyone's day.
13. Log tray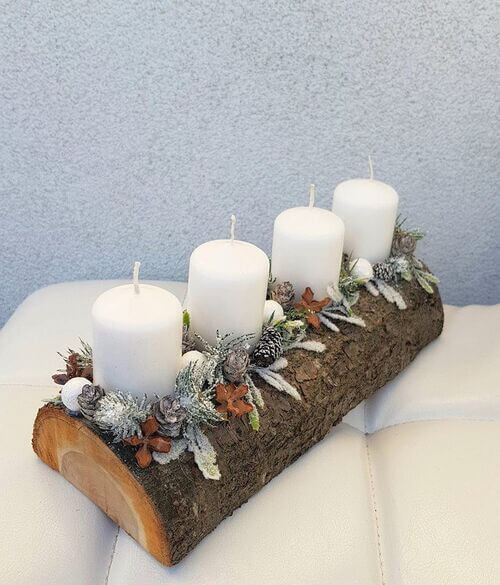 Skip the basic look and opt for something a little more fantasy inspired.
You can recreate this idea by grabbing a log and inserting the candles inside.
Add some purple, white, and brown florals to bring in the winter colors.
14. Snowflakes and eucalyptus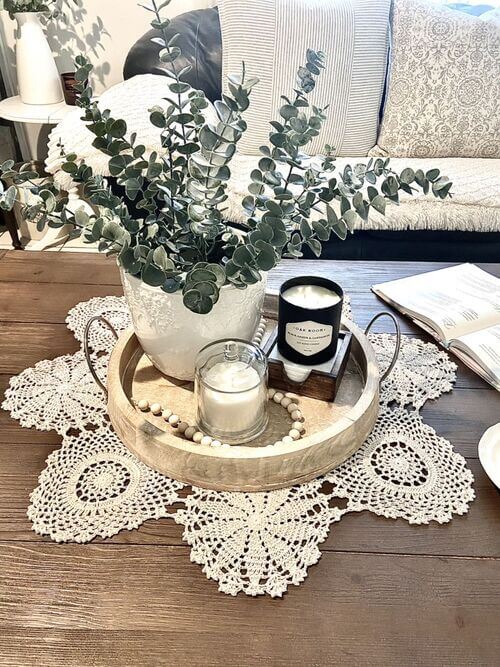 Here's another simplistic idea that you can make use of.
It uses a light wood tray filled with scented candles, eucalyptus, and coasters.
It's the perfect winter decor idea that works perfectly for the whole winter season.
15. Snowflakes and pinecones
This idea is a little more creative and incorporates some natural ideas as well.
Wooden decor pieces like the snowflakes and 2D trees work perfectly for this idea.
The pinecones and greenery are simple additions that make a big difference.
16. Grey and white aesthetic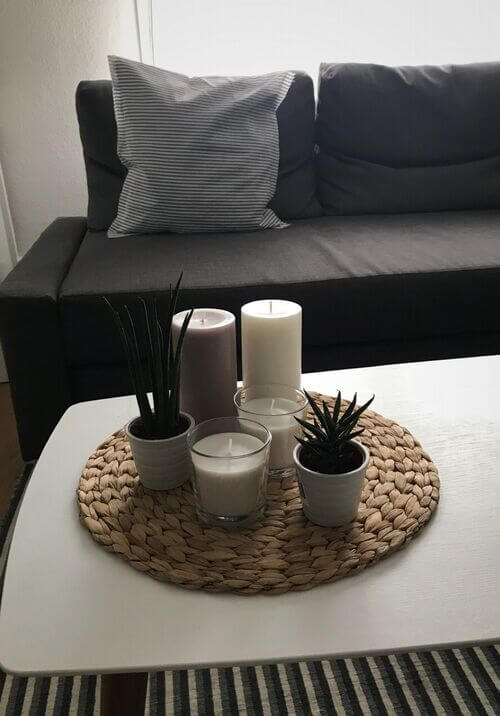 If you want something simple and elegant then this is just for you.
This woven tray is easily moveable.
Grey and white candles are a simple touch and stick to the winter theme. You can also add some planters.
17. Wooden figures and greenery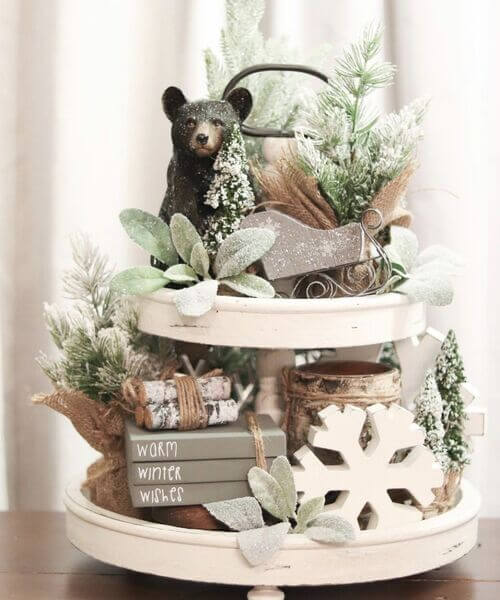 Light green, wooden figures, snowflakes, and some burlap additions are the perfect way to bring the spring and winter seasons into perfect harmony.
This tiered look allows you to use more decor pieces.
18. Keep things simple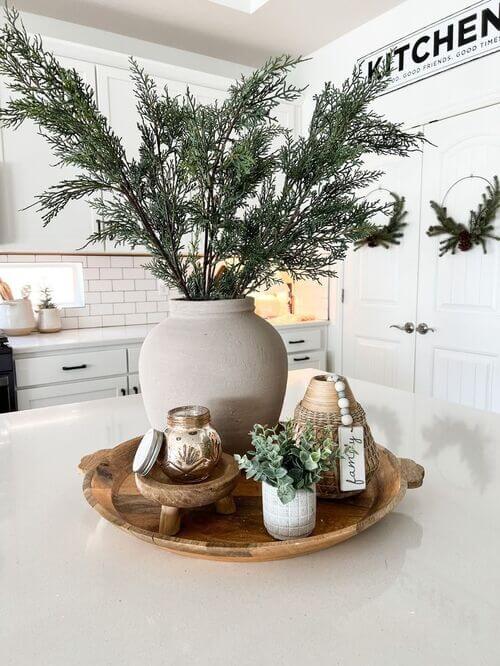 Beige and wooden decor pieces create a cohesive look that balances any room.
You can also add some gold accents to bring a warm glow to the table.
This works perfectly for the kitchen, and you can even add some herbs to the decor idea to make it functional.
19. Snowy nights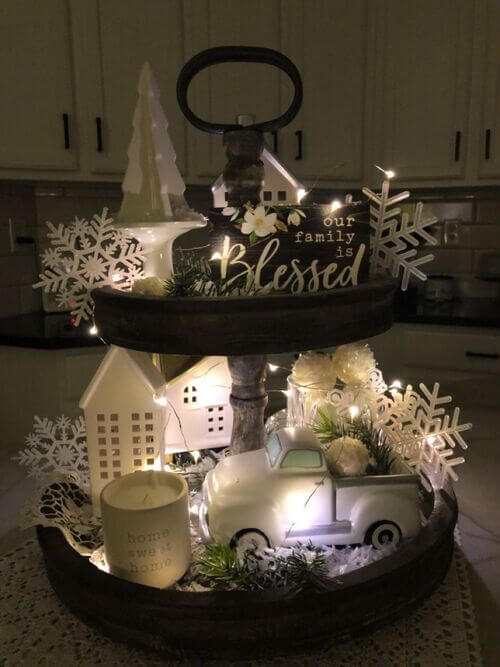 A cute idea that is sure to light up the home is this perfectly lit-up decor idea that brings a fun scene to life.
Using ceramics, snowflakes, a cute truck, and throwing some fairy lights you can easily recreate this idea.
20. Covered in snow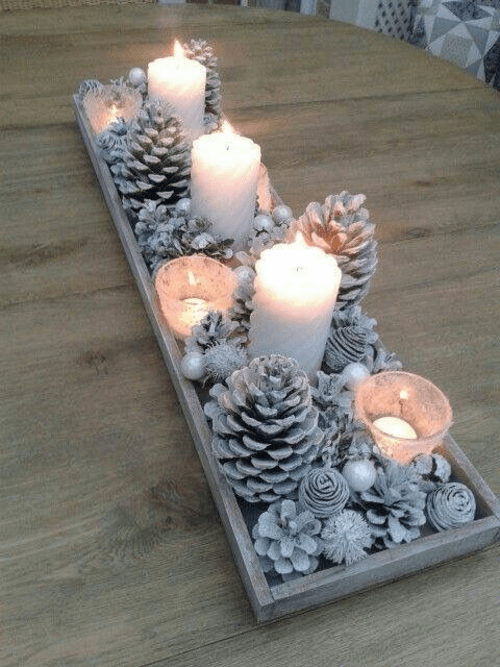 If you want an idea that brings a snowy atmosphere to life, you can always use everyday items and some pinecones and leaves from outside and spray paint them white.
You can also add some candles to bring a warm tone to the room.
21. Ceramics and greenery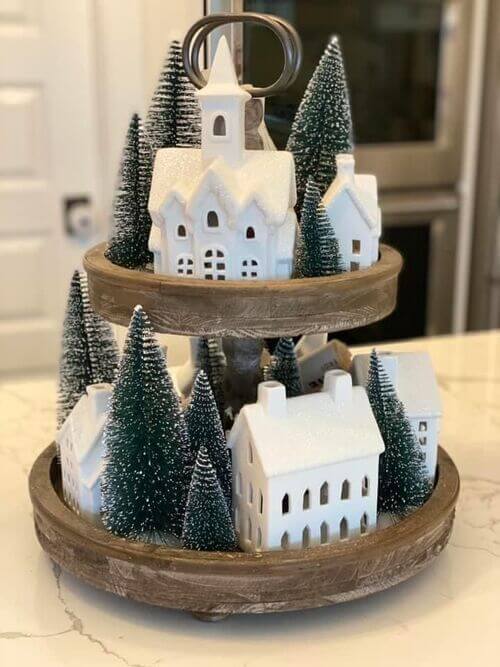 If you want that cute Christmas vibe going without committing to bold colors then you can stick to green and white and include wooden accents.
This is perfect for any home this winter.
22. Easy kitchen tray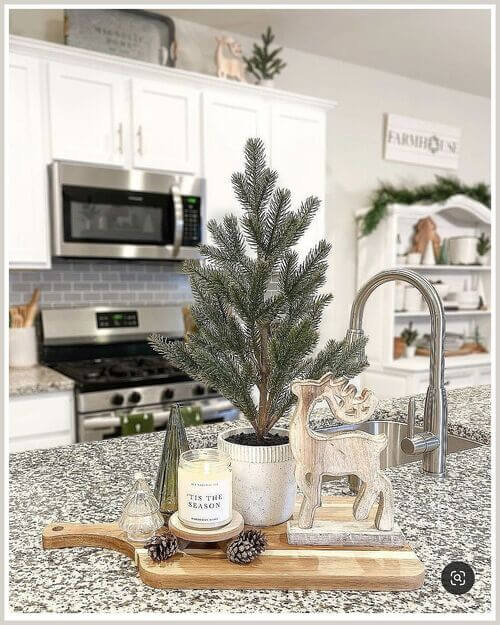 If you don't want to go out and buy another tray that you'll possibly use only once a year, then you can always use a chopping board or charcuterie board.
Decorate with green glassware, candles, deer decor, and a plant or two.
23. Red and green aesthetic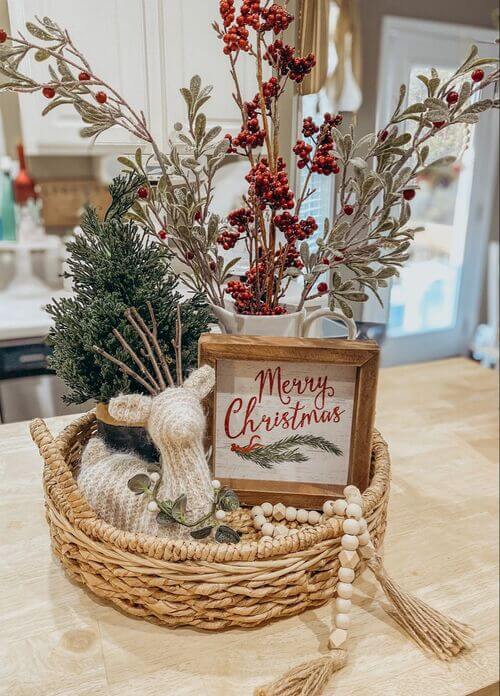 Bring out your Christmas spirit by incorporating green and red flowers.
Use a woven basket as a tray and bring in some cute decor pieces like the woven deer or even a cute quote to bring cheer to the whole family.
24. Green and gold winter tray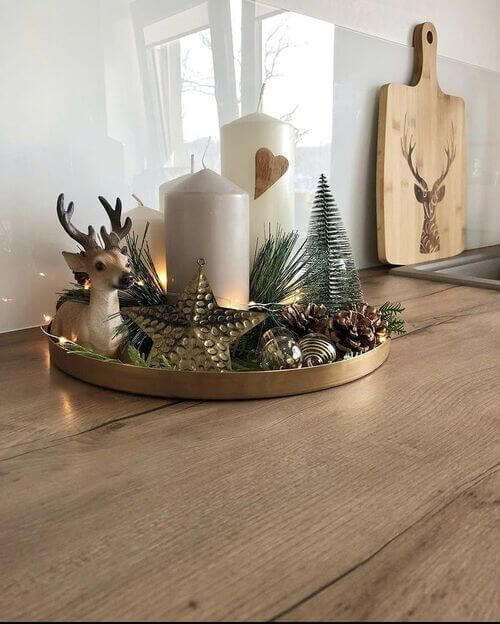 Be bold and bright this winter by using gold and green.
Gold allows your piece to stand out, especially with some fairy lights attached to it.
You can then pair it with green accents to balance the colors out.
Winter tray decor ideas on point
This winter, indulge in the joy of decorating by crafting charming and cozy tray displays that capture the spirit of the season.
Whether you're drawn to rustic cabin vibes, frosty elegance, or minimalist Scandinavian aesthetic, there's a winter tray decor to suit your style.
This is a particular time that allows you to be creative and even test out a few DIY projects as well.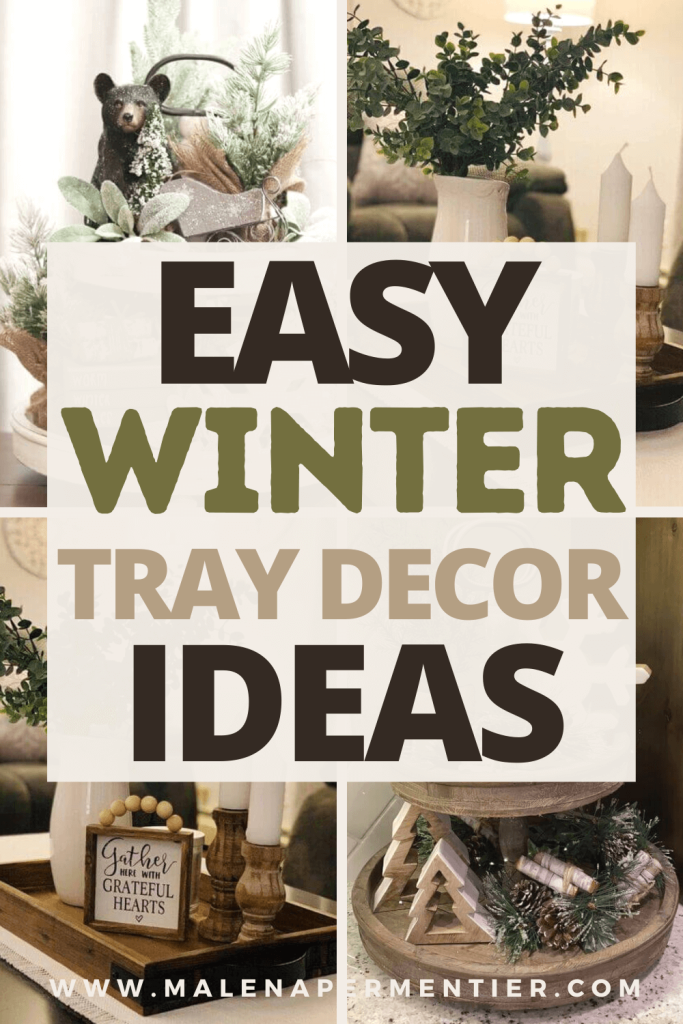 This post showed you the best winter tray decor ideas.
You may also like: