Can you imagine it yet? Pumpkin-spiced everything, apple pie, crunchy orange leaves, orange and brown aesthetics, and cozy sweaters.
Fall is rapidly approaching, and with that, we need some gorgeous centerpieces.
Grab your candles, pumpkins, leaves, and moody fall colors and create the centerpiece of your dreams.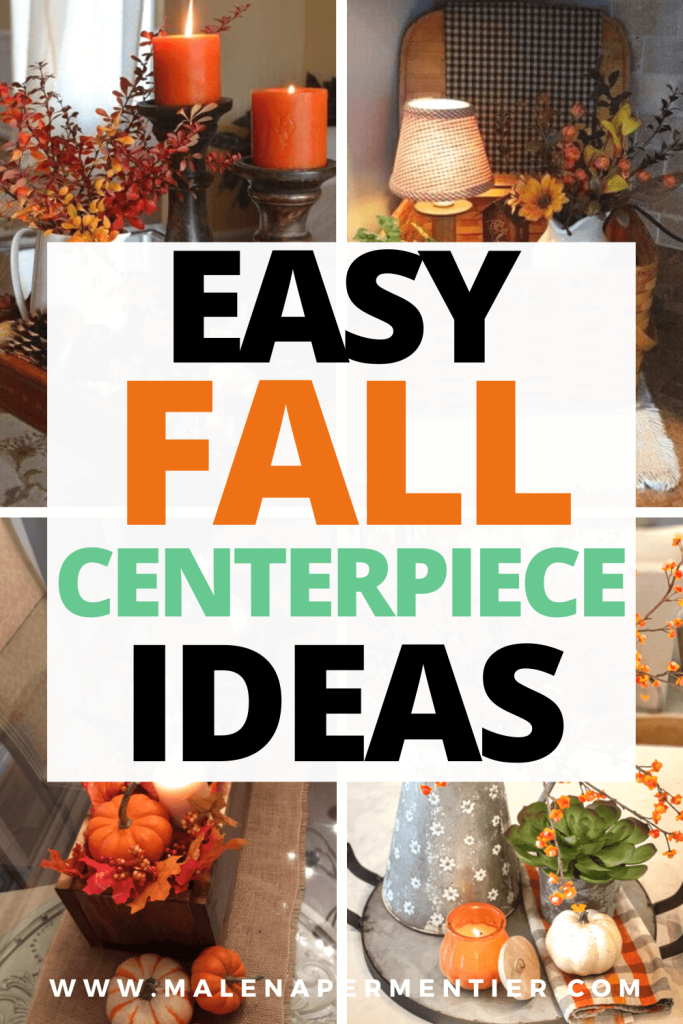 Tips for fall centerpieces
Whether you're hosting a seasonal gathering or want to bring the spirit of fall indoors, these fall centerpieces will undoubtedly leave a lasting impression on your guests and family.
Here are a few tips for creating the perfect centerpiece for your table.
Make use of the natural beauty around you. Grab leaves, twigs, and anything you can find right outside your home. This allows you to use the gorgeous and natural hues that fall has to offer and bring the new season into the house.
Candles… just candles. A warm atmosphere isn't complete without making use of candles that spell like maples, cinnamon, oranges, and pumpkin spice. It's the easiest way to bring the fall aesthetic to your home.
Don't spend hundreds on crazy bouquets. Keep to in-season flowers and personal favorites to bring a personal touch to your home.
Sometimes, less is more when it comes to fall centerpieces. A simple yet elegant arrangement can make a strong statement. Consider placing a single large pumpkin or a few small ones in the center of the table.
You don't need much to bring an air of fall to your home.
Keep it simple, elegant, and cozy to achieve the best results.
1. Fake leaves and plush pumpkins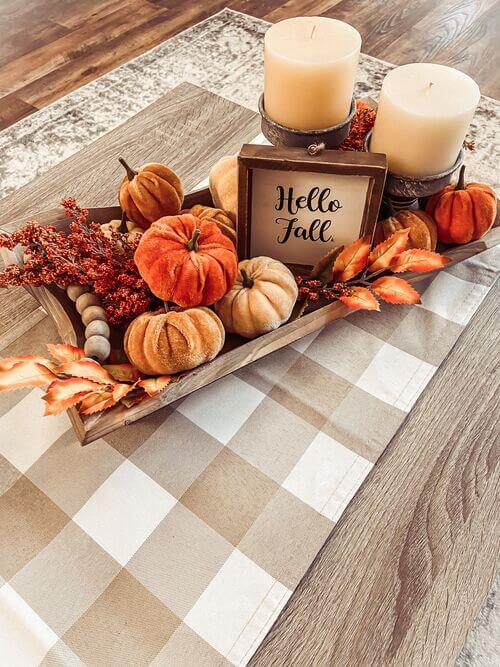 The perfect fall centerpiece incorporates all the key components of a warm color palette and scents that give you the same nostalgic smell of a fall morning snuggled up by the fire with a good cup of coffee.
Add fake leaves, cute pumpkin plushies, and a "Hello Fall" quote board.
2. White, green, and candles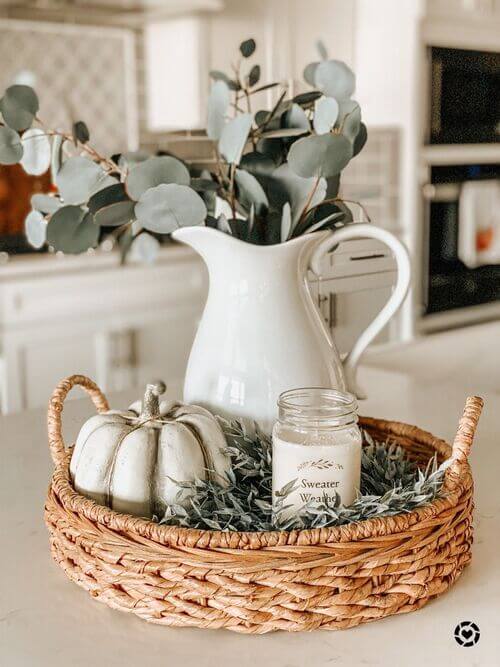 A cute fall piece that works perfectly in the kitchen keeps the pumpkins but switches the bold oranges for simple white and green additions.
You can add a ceramic jug with some greenery as well as some cute candles.
3. Pumpkin pots and bold flowers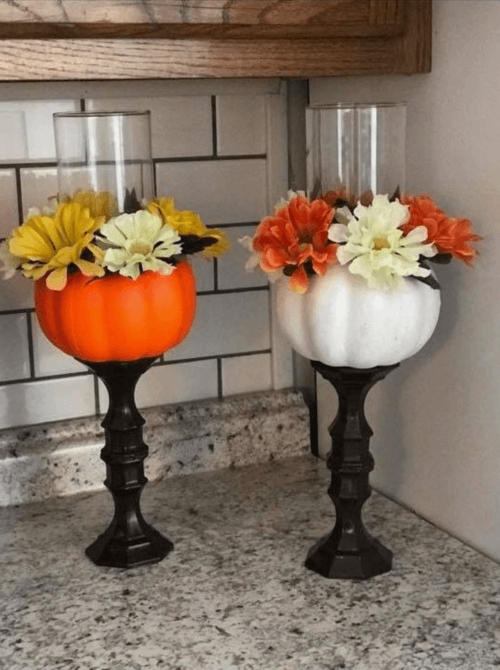 In need of something a little more unique? I have got you covered.
These pumpkins and bright blossoms incorporate the fun colors of fall and add a twist to the usual candle holders.
It's unique and a little out of the ordinary making it great for those of you seeking something more creative.
4. Berries, leaves, candles, and pumpkin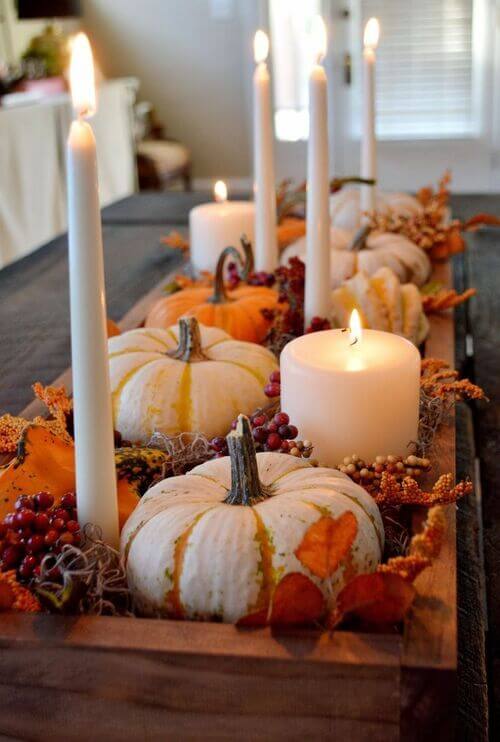 Something that brings in a more moody atmosphere is the use of cranberries.
The blood red and bright orange create the perfect complimentary fall centerpiece.
Add in some taper candles for lighting, and place it all on a long wooden tray to keep everything together.
5. Simplicity is key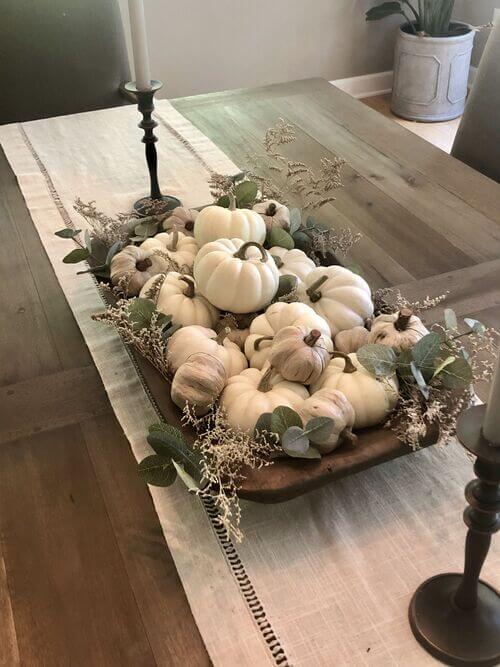 Not everyone wants the bold pop of orange covering every inch of their homes, and that is completely understandable.
So here is another option for you to try out. These cute white pumpkins are the perfect substitute and still give the same feeling as a simple fall aesthetic.
Place them in a bread bowl with some greenery.
6. Orange candles and pinecones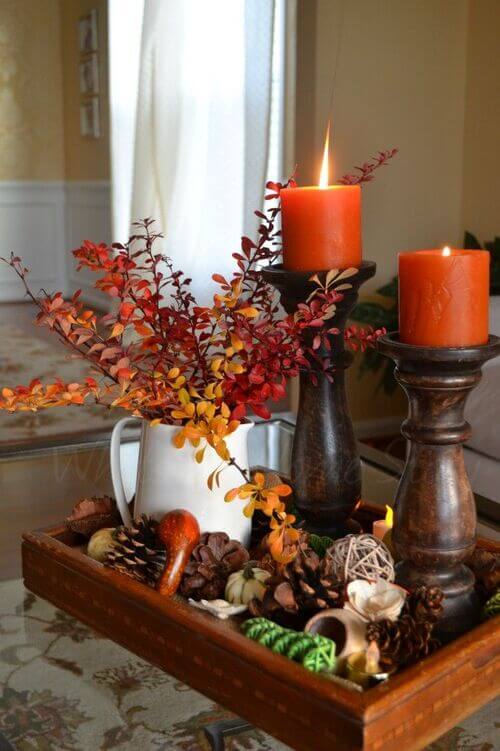 If you want something a little more true to the rustic fall aesthetic with all the dark accents and warm colors.
This tray uses pinecones, wood candle holders, orange candles, and orange and red leaves to bring the full fall look into your home.
7. Orange and white centerpieces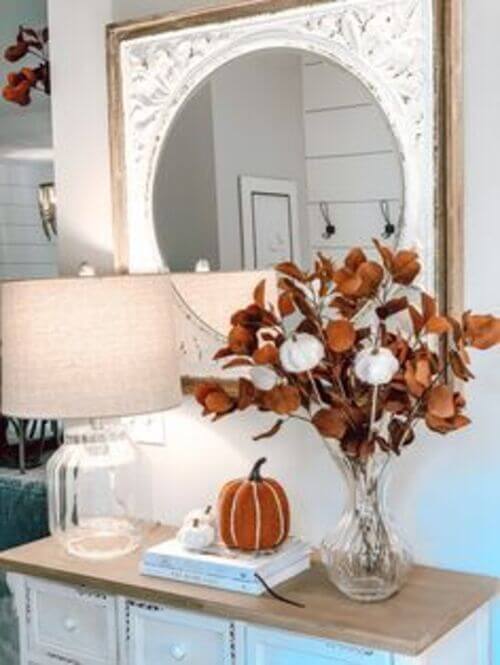 As we have seen the simplest ideas are the most effective.
This idea brings a simple burnt orange color to the table without making it overbearing and intense.
It creates the ultimate balance between the bright white and light wood table.
8. Grey, green, and white tiered tray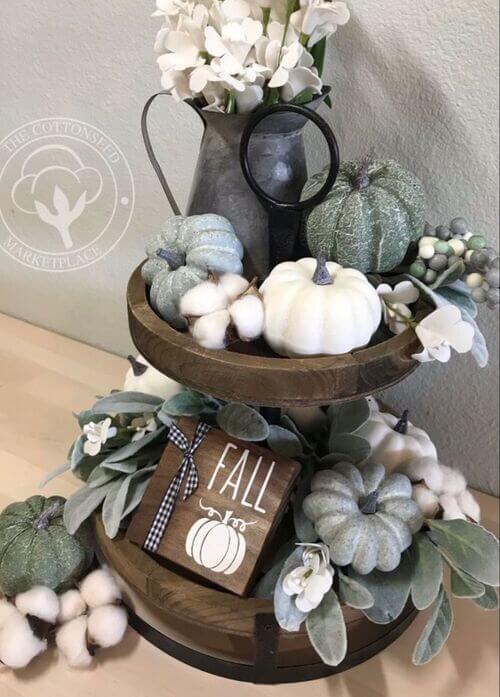 Cotton and cute green pumpkins are a unique combo that isn't seen too often.
It's fun and brings a fresh approach to the fall centerpiece game.
Grab a double tray and add greenery, cotton, pumpkins, and cute quotes to the mix to bring this idea to life.
9. Picnic baskets and mood lighting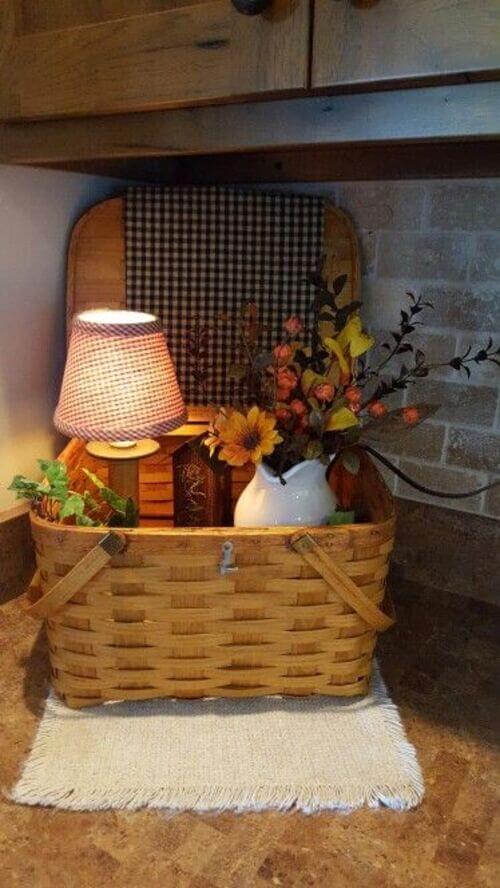 Want something a little more unique? Why not try out this picnic basket piece?
It can be the perfect addition to the kitchen.
Fill it with lights, orange flowers, and sunflowers, and place it all in a cute little basket for a fun and new approach.
10. Multi-colored leaves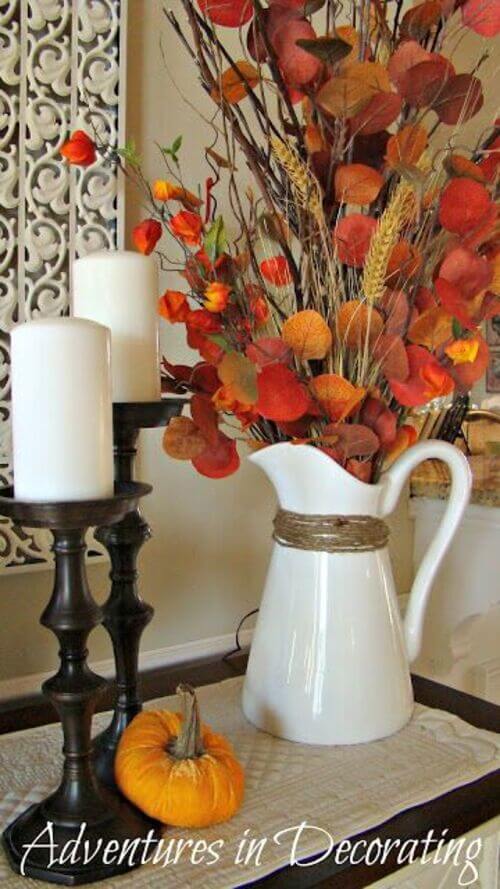 Want something bold without being too much then look no further.
Grab some colorful leaves and make the fall arrangement of your dreams.
Pair it with a simple white ceramic jug and candles for an easy fall centerpiece that takes minimal effort.
11. Woven pumpkins and candles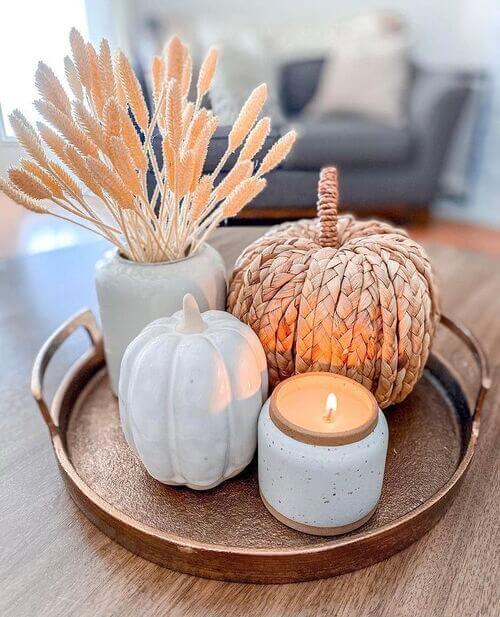 A neutral approach might be just what you need.
Grab a gold tray and add some cute pumpkin ceramics and woven pumpkins.
You'll need to bring in a warm light so a scented candle can make all the difference.
This is the perfect example of the "less is more" approach.
12. Tin cans and orange blossoms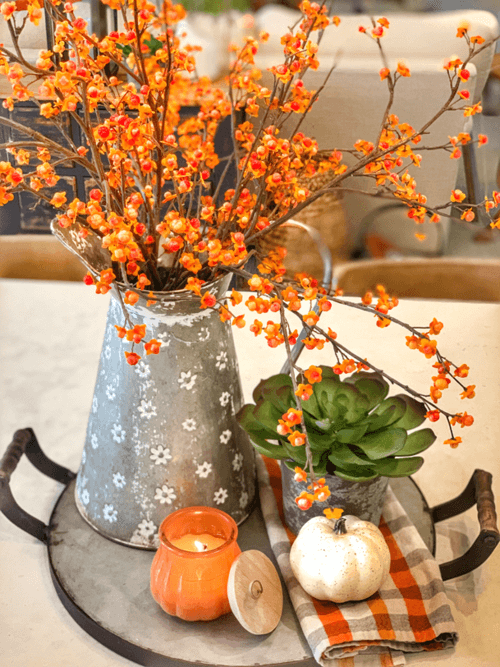 I don't know about you guys, but I love having a brighter and warmer centerpiece idea in my home.
This is why I am obsessed with this idea.
The cute tin jug with daisies painted, orange blossoms, a candle, and bright green succulents are all placed on a simple tray.
This is perfect for the dining room or the kitchen.
13. Red and orange delight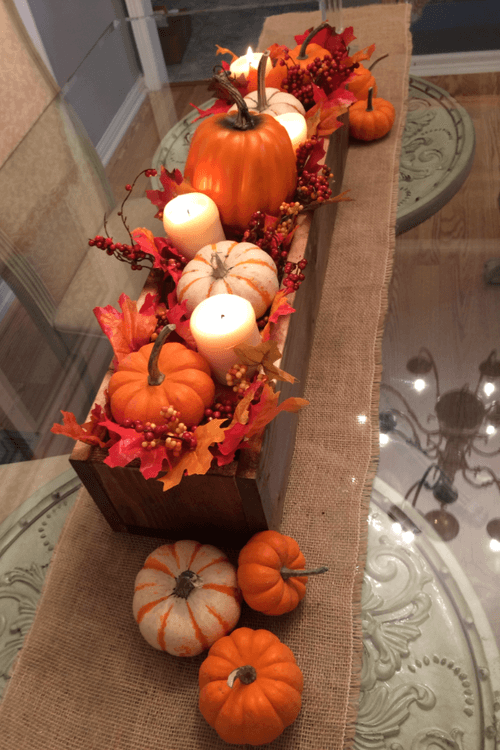 Moody centerpieces always get me in the mood for Halloween.
So this is a simple idea that can either work as a fall piece or be specific to Halloween.
A burlap table runner with a dark wood box for all your candles, leaves, and pumpkins is cute and simple.
14. Candles and gorgeous leaves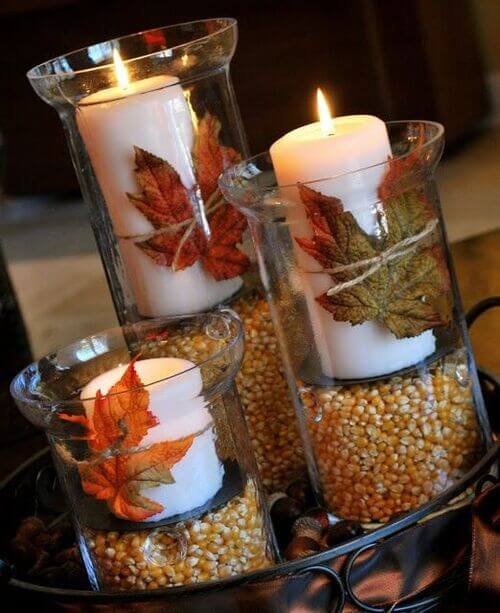 If you are in dire need of an unconventional approach then look no further.
These candles have leaves tied to them with string, and they are placed in glass jars filled with popcorn kernels.
It's something different, to say the least, but don't knock it till you try it.
15. Pumpkins and fairy lights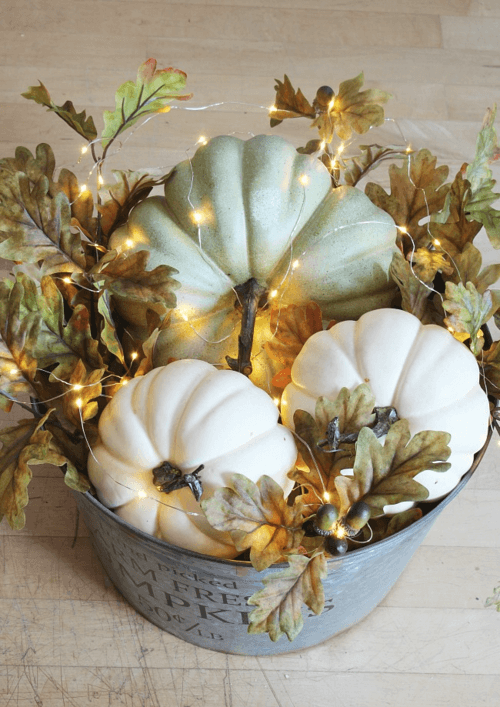 Fairy lights the foundation of almost every centerpiece.
This idea I pretty easy to put together and looks adorable.
Grab a tin can and fill it with greenery and fake pumpkins and then string in some fairy lights.
It's the perfect idea if you are working with a limited amount of time.
16. Last bit of spring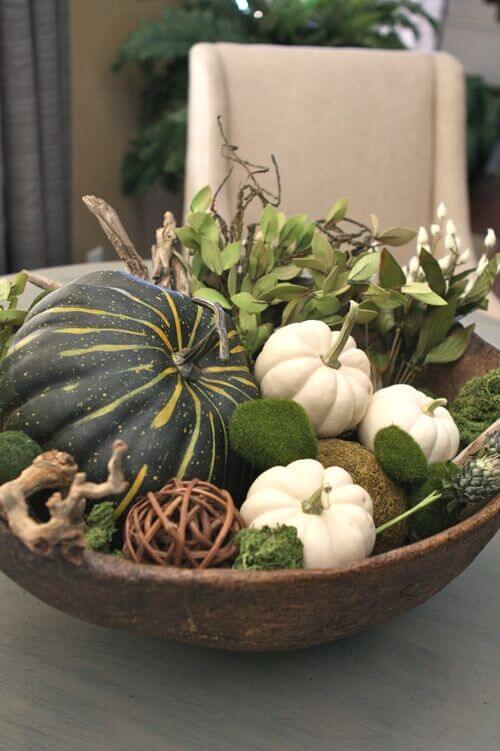 Keep the green. If you don't want to have orange everywhere in your home then you can always opt for a greener idea.
Add white pumpkins, fake moss, greenery, and some wooden pieces to bring the whole look together.
17. Blossoms and pinecones

Mini pinecones make the perfect filler for glass jars.
They make the space look fuller and help to keep fake flowers together.
The dark brown works perfectly with the orange, red and white flowers.
18. Mix and match fall pieces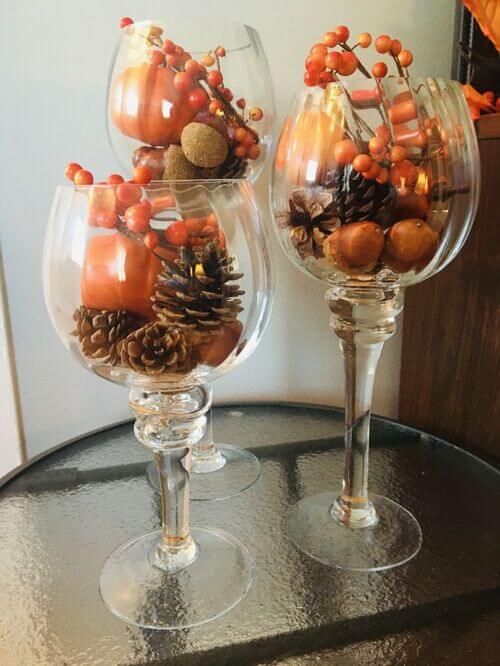 If a table filler is all you need then here is something new to try.
These giant glass jars can be filled with anything you want.
For this fall theme, you can use pinecones, blossoms, and any other orange pieces that will bring you into the new season.
19. DIY pumpkin centerpiece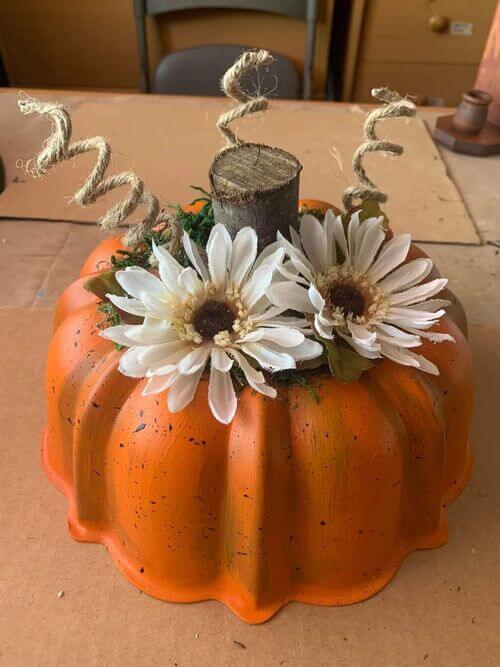 We all want something unique to fill our home that doesn't seem too messy so this idea can be just what you need.
This is something you can buy or try at home with a little paint, a cake pan, and a little determination.
20. Pink and white centerpieces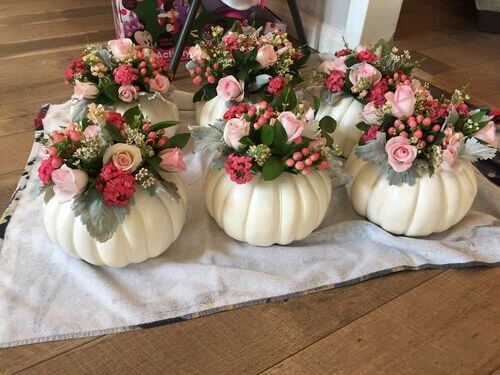 I know no one talks about this, but let's be honest white and pink can work great for fall centerpieces.
It brings a unique and vibrant idea to the table that doesn't include orange or red.
These bouquets can also be a fun addition around the home in summer.
21. Mason jars and orange blossoms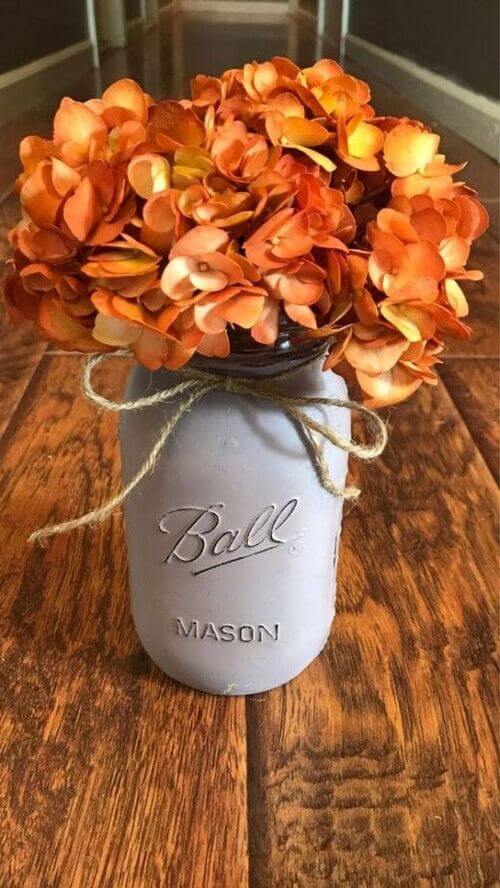 Mason jars are great because they are budget-friendly and you can DIY them as needed.
Paint them white and add some peach and orange blossoms to bring in the spirit of fall to your home.
22. Bring some fun outside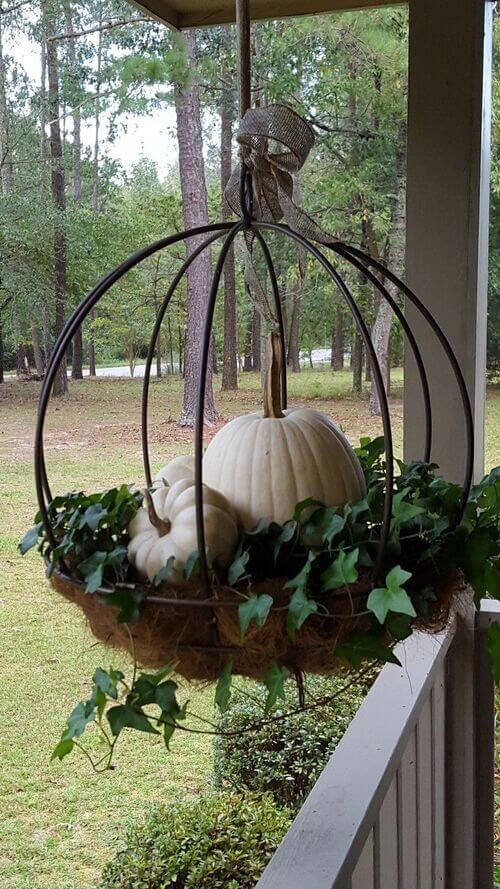 If you have some space outside that feels a little empty, you can always add some hanging décor to bring it to life.
These pumpkins pair well with some greenery.
It's a simple idea that is cheap and cute.
23. Warm tones and candlelight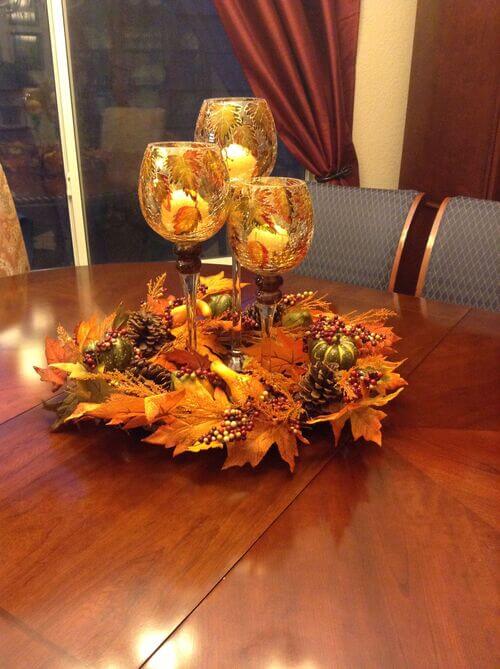 Create a wreath with some orange leaves, pinecones, and golden accents.
You can include some glasses filled with candles or fake tea lights.
It's a cute idea, and it's perfect because it doesn't take up too much space.
24. Orange and white simplicity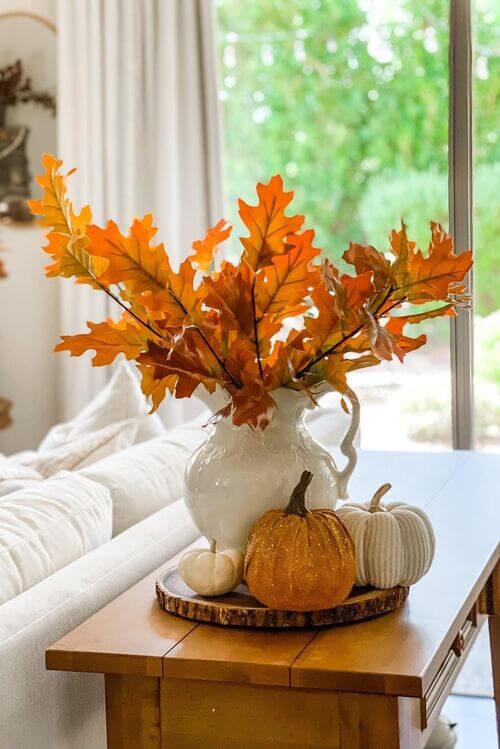 If you need to bring some color into your living room this fall, then this is defiantly the way to go.
Giant ceramic jars filled with gorgeous orange leaves and cute pumpkins fill up the space.
25. Copper and candlelight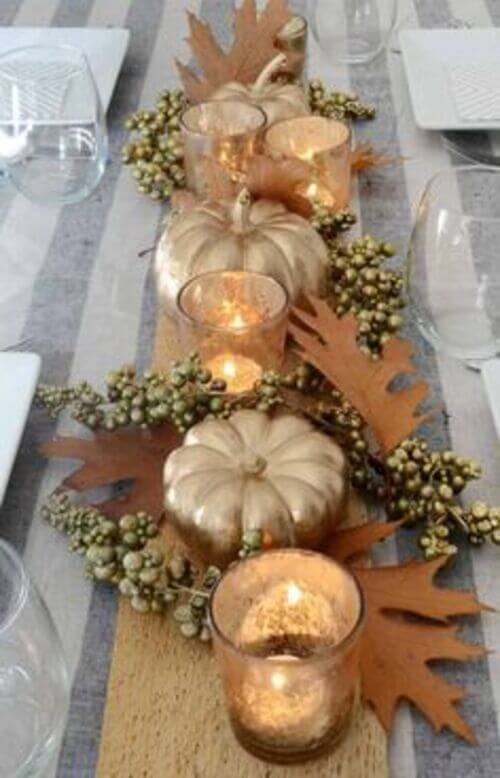 If you need a fall look but want something more classy than flashy then this is for you.
Spray-paint some pumpkins in gold or copper and pair them with simple brown leaves and tea lights for a warm glow.
26. Vegetation and pinecones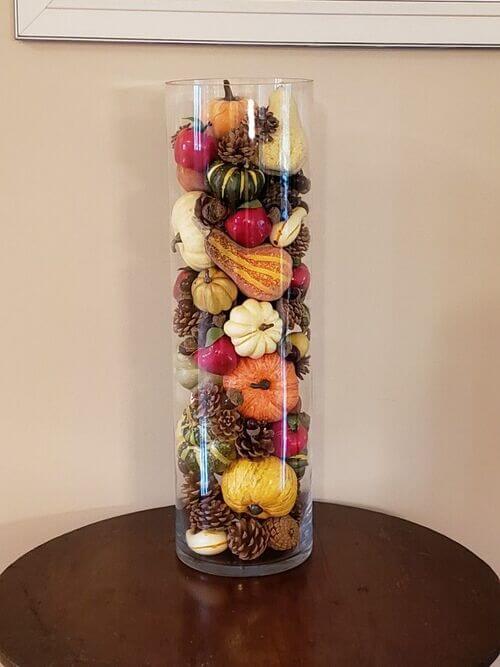 This idea isn't exactly for everyone but it does allow a little freedom when it comes to using color.
It's usually the fun ideas that get the most compliments so why not give this idea a shot and see how it works for you?
27. Fake pumpkins in woven baskets
Do you have an empty corner that needs a little boost?
Look no further because I have the perfect idea for you.
Grab a woven basket and fill it up with light orange and white pumpkins.
You can also bring some flowers into the mix to show a bold color.
28. Pinecones and fairy lights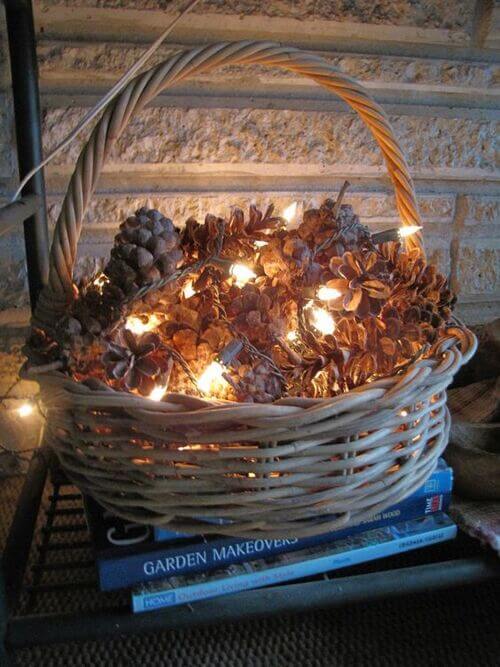 A centrepiece for a coffee table can seem a little intense but I can assure you that this is just what you need.
Grab a woven basket and fill it with fairy lights and pinecones.
It brings the perfect warm tone to any room.
29. Pumpkins and gorgeous leaves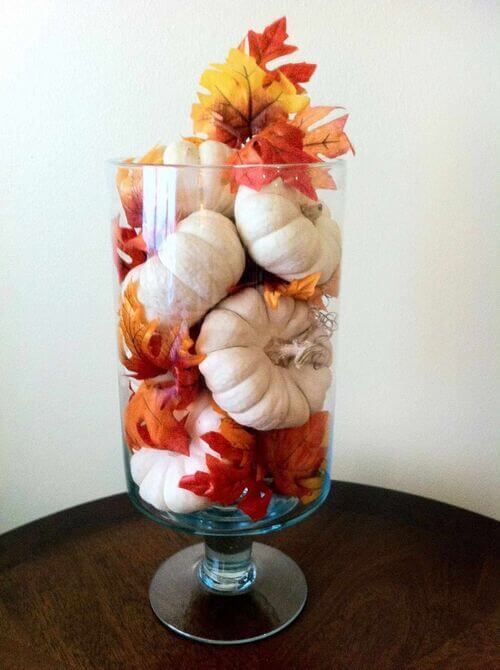 The perfect balance between color and simplicity is showcased within this gorgeous idea.
A large glass vase with mini-painted pumpkins and stunning orange and yellow leaves is just what you need to show your seasonal flare.
30. Candles and kernels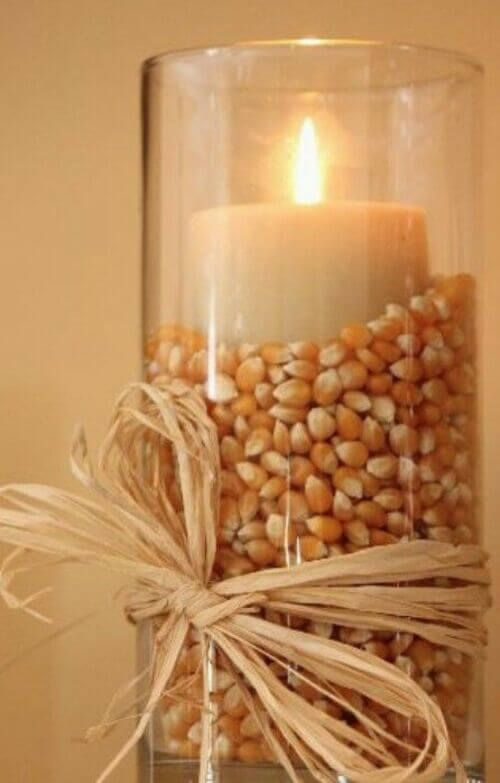 We've seen it before but this idea is a little more subtle.
Grab a glass jar and fill it with kernels.
Place the candle within the kernels (or if you're worried about safety you can use fake candles) and then tie it off with a straw ribbon.
Fall decor is essential
Fall centerpieces provide a wonderful opportunity to showcase the beauty of the season while adding a warm and inviting touch to your home décor.
Whether you opt for nature-inspired arrangements, candlelit glow, or harvest-themed ensembles, these centerpieces will undoubtedly bring the spirit of autumn indoors.
Let your creativity run wild, and don't be afraid to experiment with various elements and colors to create a centerpiece that reflects your style and celebrates the charm of fall.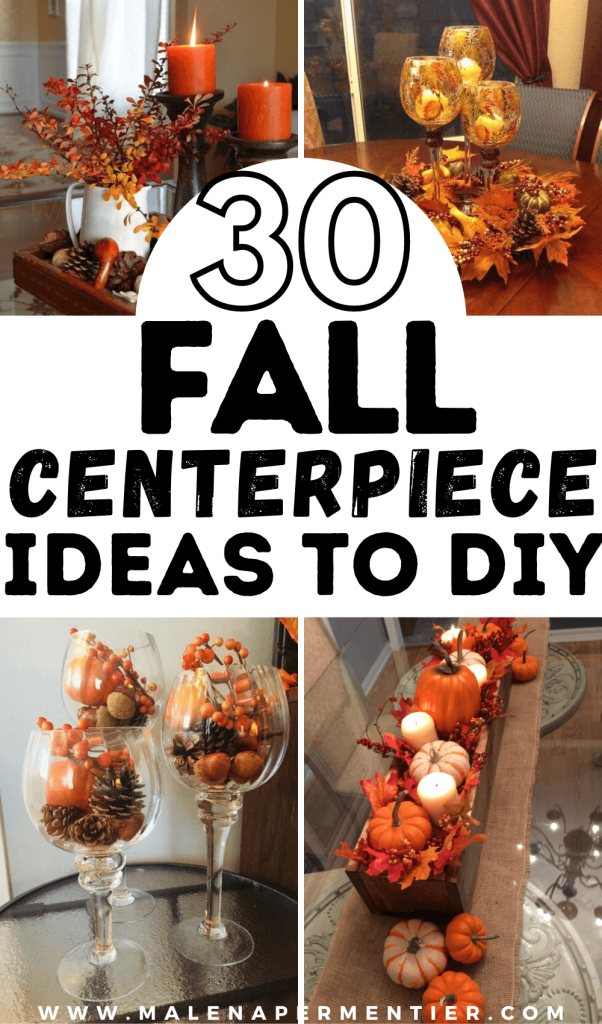 This post showed you the best fall centerpieces.
You may also like: