This post shows you the best group Halloween costume ideas!
It's that time of the year again… time to grab your besties ad get your group costumes ready for Halloween.
So whether you're looking for a go-to look for you and your partner to try out or want a cute idea that you and your besties can rock, there's something for everyone.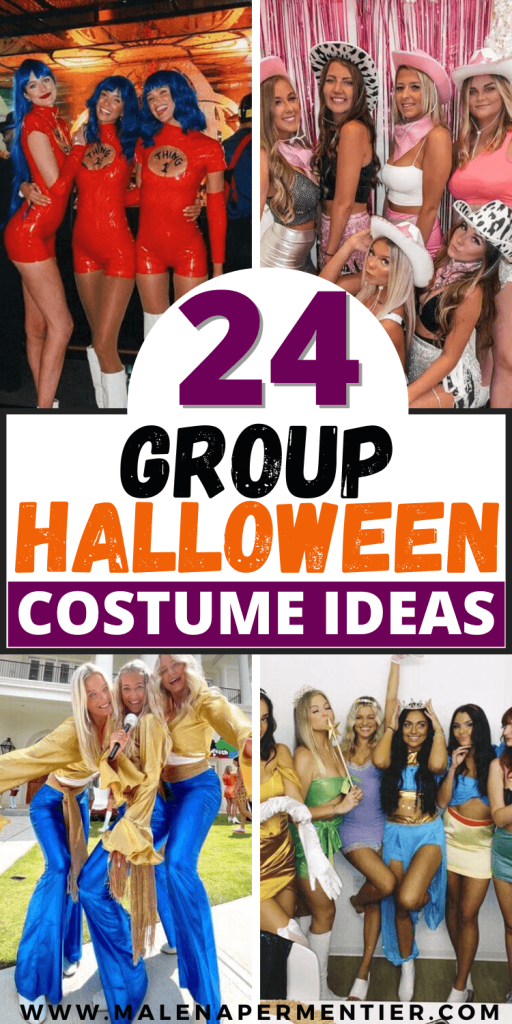 Picking an idea
We all just want one thing on Halloween… to look great and have a great time.
You don't want to spend too much time figuring out the best costume.
So grab your friends and use the following as a guide to picking the most epic group Halloween costume.
Sticking to the classics isn't a bad idea.
Consider a fun approach to animation characters.
Bring back your favorite cartoons.
Do you and your friends want to do something more unique or stick to the normal approach?
Don't be scared to go full out with your costume or makeup.
Add props if it helps the costume.
Get everyone to pick their top 3 favorite ideas and share them to see that everyone is on the same page.
DIY or buying a costume?
The best costumes aren't always the cheapest.
But if you don't want to spend way too much on something you're practically going to wear only once, then you can always opt for a DIY project straight from your wardrobe.

Create a look with wardrobe items to avoid spending too much on a costume.
If you want something new, make sure it is something that you can create a cute outfit with after too.
So that your Halloween costume purchase isn't a waste!
Something fun to look into is grabbing supplies and customizing simple clothing items.
This allows you to be a little creative too.
1. Disney princesses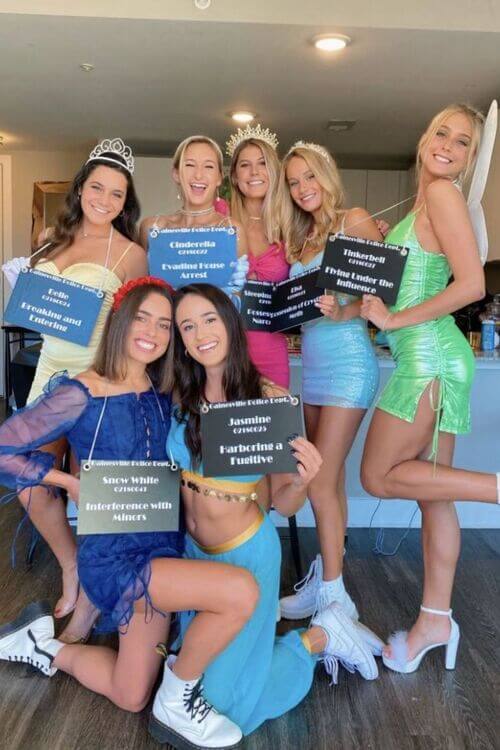 You didn't think we'd start this off any other way, did you?
No group costume idea list is complete without having a princess-inspired costume thrown in.
So bring out your inner Disney princess and grab your girlfriends to rock this idea.
2. Scooby Doo Group Costume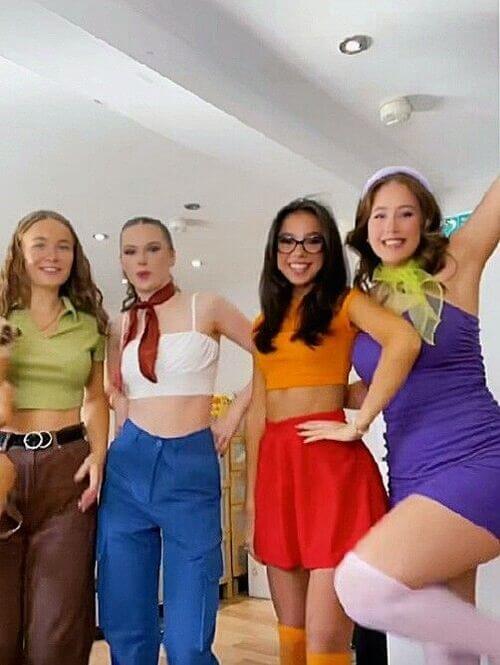 Grab the gang and bring the mystery van.
It's time to investigate this spooky season.
This idea is super cute, and you don't need to buy anything to make this work.
You can throw some items from your closet together and pull off the Scooby Doo gang.
3. Barbies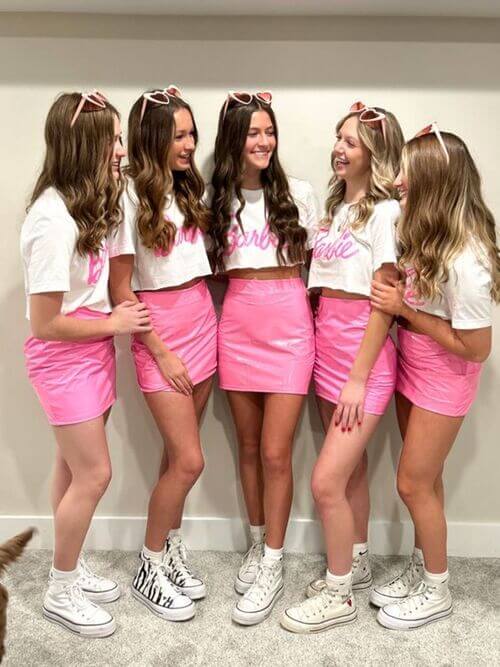 Inspired by the recent release of the Barbie movie, it only seems logical to throw in a pink Barbie idea this Halloween.
I already know there will be tons of Barbies running around this year and having the time of their lives.
Grab matching skirts and glasses and pull the group together for this idea.
4. Alice in Wonderland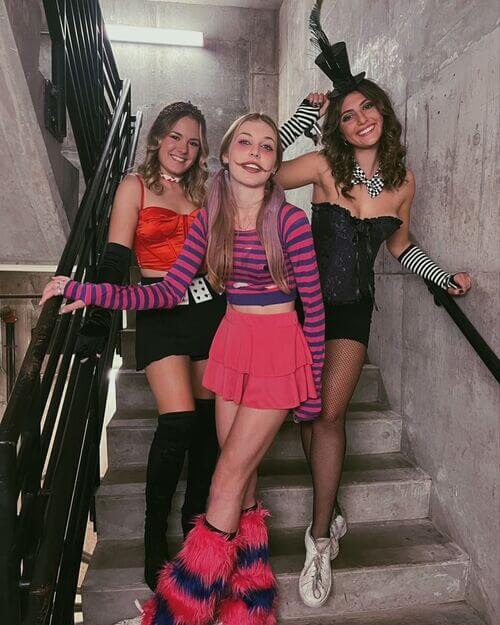 Whether you want to be the Queen of hearts, mad hatter, or the Chesire cat, this idea never gets old.
Alice in Wonderland is such a fun concept to play with around Halloween.
Because you can go full out with the costume or keep things simple and hot.
Use this as a fun new idea for the group so that everyone can try their take without going off of the theme.
5. Spice girls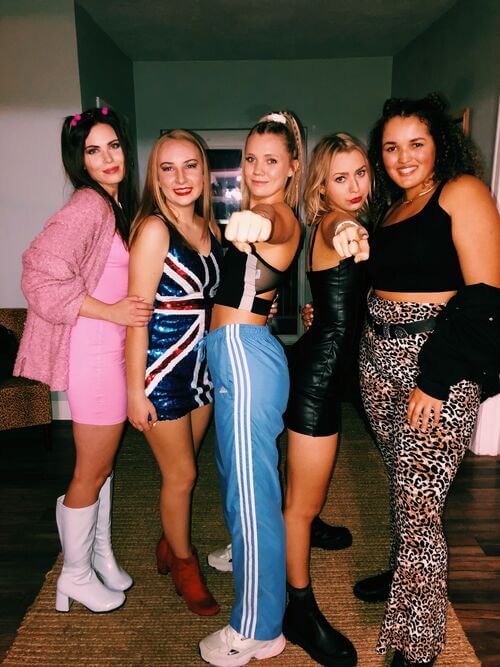 Grab the group and answer the most important question of your life… which spice girl are you?
Sporty, Baby, Scary, Posh, or Ginger Spice.
There's one of each in every group, as we all know.
This idea is fun and allows everyone to express themselves freely.
6. Thing 1, Thing 2 & Thing 3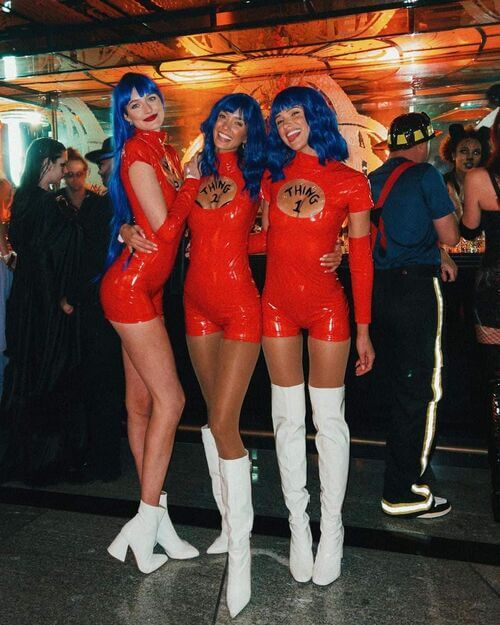 Bring a little Dr. Seuss magic to the mix with this Thing 1 and 2 inspo.
You and your friends can be causing havoc while living up to the expectation of these crazy creatures.
All you need are some bodysuits, cute white boots, and blue wigs to bring this idea to life.
7. Starbucks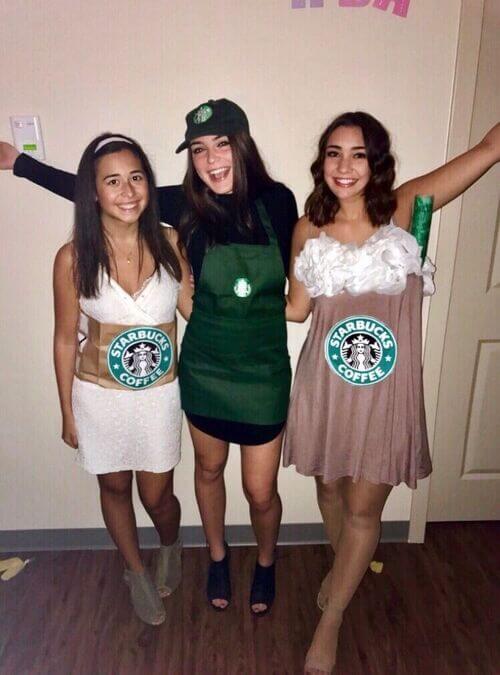 If you and your friends love keeping things a little funnier for Halloween then try out this fun Starbucks idea.
It's easy to recreate and will be a fun concept to bring into play.
You can print out the logo and stick it to a white dress or a brown dress.
It's a super simple idea that can be pulled together as a last-minute costume.
8. Powerpuff girls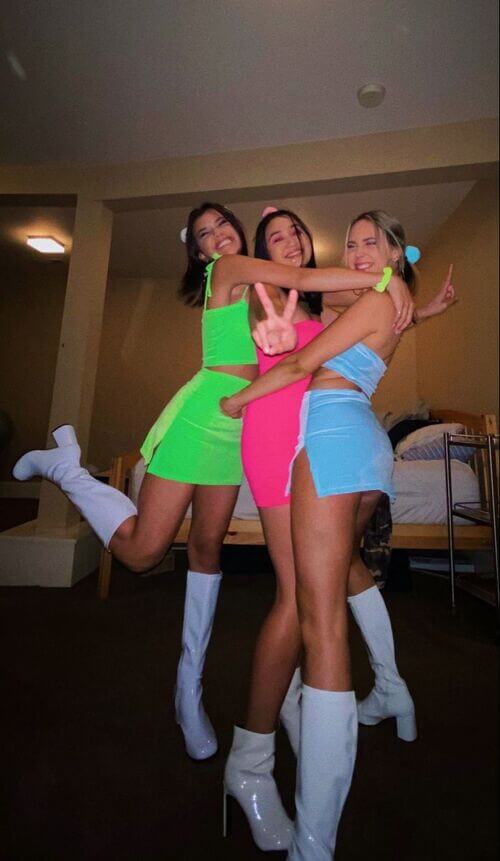 Are you ready to bring out your inner Bubbles, Blossom, or Buttercup?
This cute powerpuff girl idea is sure to keep things cute and fun this Halloween.
This idea can be recreated with a simple skirt, tube top, and some white boots making it budget-friendly and useable afterward.
9. Disney princesses group of 6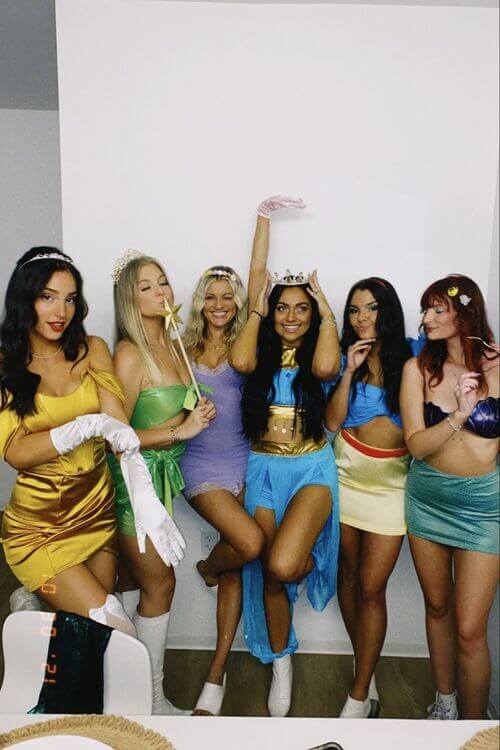 The bigger the group, the more princess options to choose from.
This idea allows you to incorporate some fun props like crowns, wands, a fork (perfect hairbrush, obviously), and flower crowns.
If you want to bring this idea to its full potential, I highly recommend getting some costumes or finding clothing that clearly shows which princess you're going as.
10. Kiss, Marry, Or Kill costume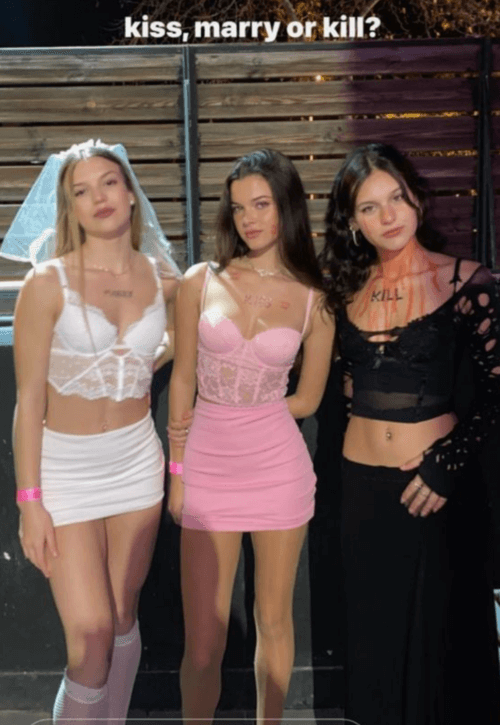 Bring your fun twist to the popular kiss, marry, kill game.
This is the perfect opportunity to dress hot and have fun.
You can recreate one of these looks with items that you already have in your closet.
Related: 26 Easy Costumes With Normal Clothes To Wear For Halloween This Year
11. Super Mario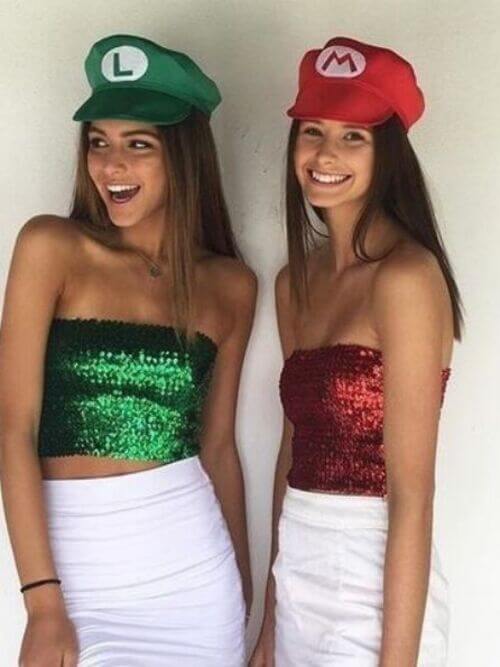 Need a quick fix for a Halloween costume? Don't worry. We have got you covered.
As long as you have white pants or a skirt with a green or red top, you can pull this off.
It's super easy and needs minimal effort to pull together.
12. Hot firemen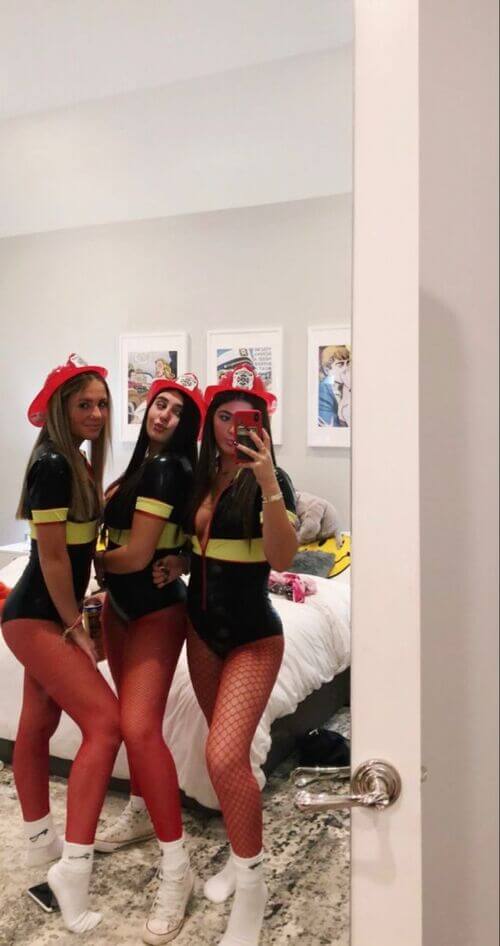 This super hot firemen idea is sure to make heads turn.
Grab some red fishnet stockings, a bodysuit, and a plastic fire hat to pull off this idea.
This idea is perfect if you're looking to have a sexy look this Halloween.
13. Strawberry shortcake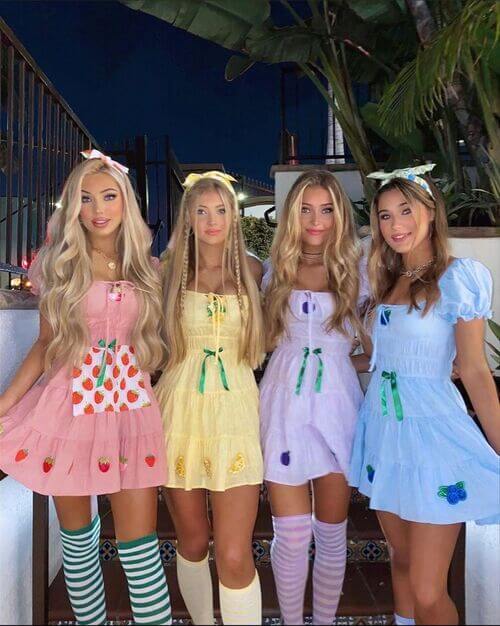 Need something cute that works well for any sized group?
These strawberry shortcake costumes are fun and bring a nice twist to normal ideas.
Either buy a dress that fits the color theme and add some small touches to show which character you're going for, or opt for buying a full costume.
14. Mamma Mia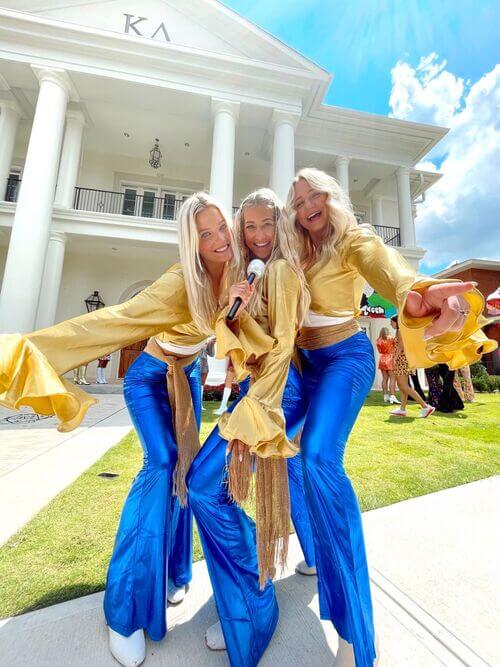 To my Mamma Mia lovers out there… it's your time to shine.
Get some glitter disco pants and a flowy crop top.
Bring the look together with some gorgeous boots, and you are all set for the night.
We can all appreciate a dedicated Mamma Mia look so be sure to bring your A-game for this one.
15. Wizard of Oz group of 4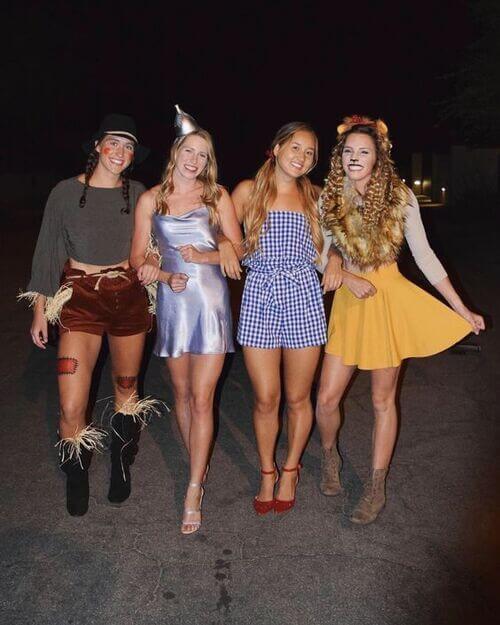 The scarecrow, tin man, Dorothy, and the lion… what more do you need to pull off the Wizard of Oz look.
This is the perfect opportunity to bring your makeup game to a new level and be more open to the dedication of a Halloween costume. 
16. Toy story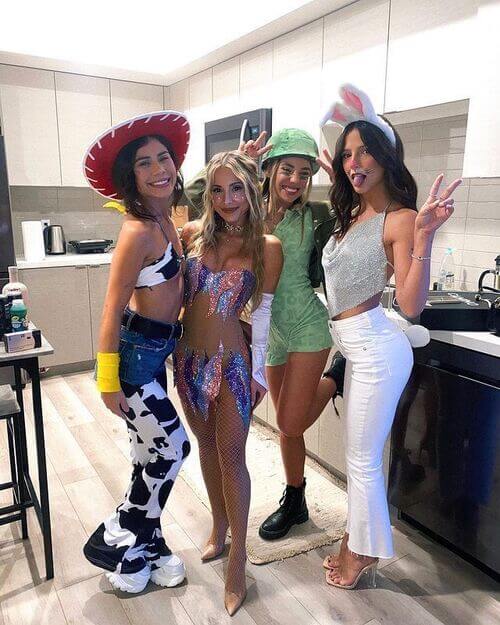 No one can resist trying out the toy story outfits.
Whether you try this out with friends or opt for the couples idea, it's super fun and allows you to get a bit more creative.
This is a great costume idea because you can try out a DIY approach or go for a glam look this Halloween.
17. Gold diggers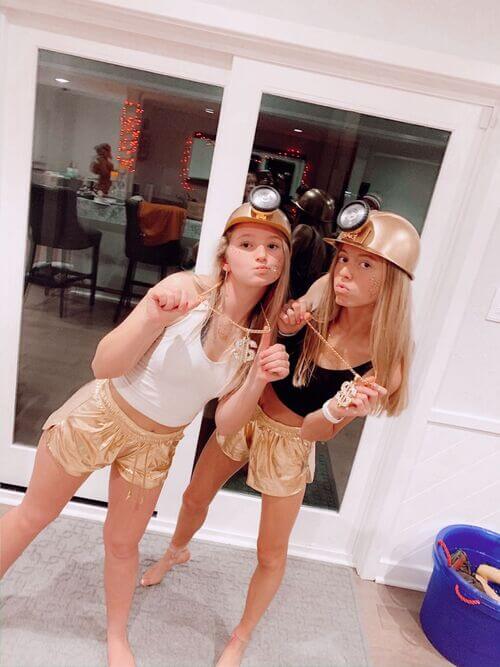 Try out a fun look by making use of a pun or something out of the ordinary.
While it is a simple costume idea, it still gets the point across.
Grab a hat and spray paint it gold and get some matching gold shirts or shorts to sell this gold digger costume.
18. Wizard of Oz group of 5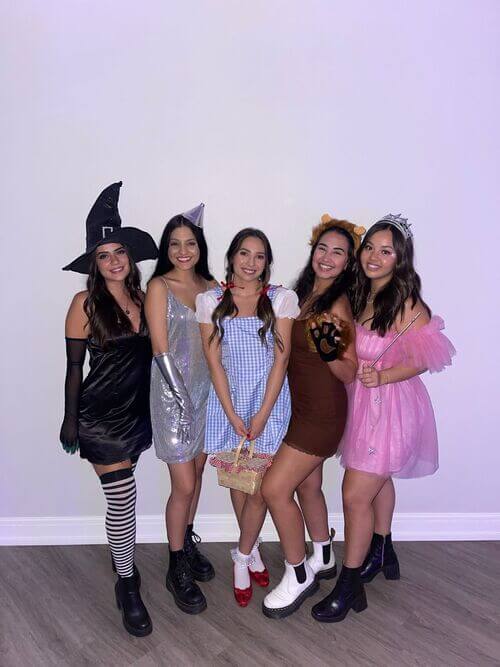 Here's another brilliant idea for a Wizard of Oz-inspired group costume.
While this leaves out the scarecrow, it brings in the white witch and the wicked witch costumes, allowing you more creativity.
Bonus points if you have a cute pup to pull the whole look together.
19. Ghostbusters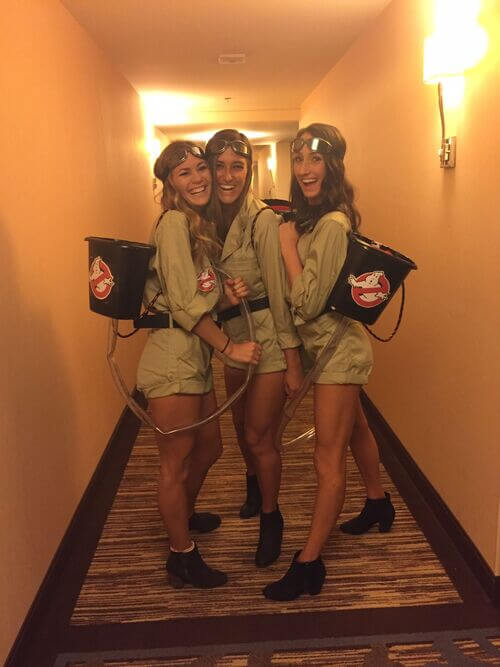 Is there something strange lurking nearby?
Well, don't fear these Ghostbuster costumes.
Simple jumpsuits, goggles, and some black boots are all you need to bring this idea to life.
You can make the machines by using some buckets and plastering some Ghostbuster stickers onto them.
20. Cupid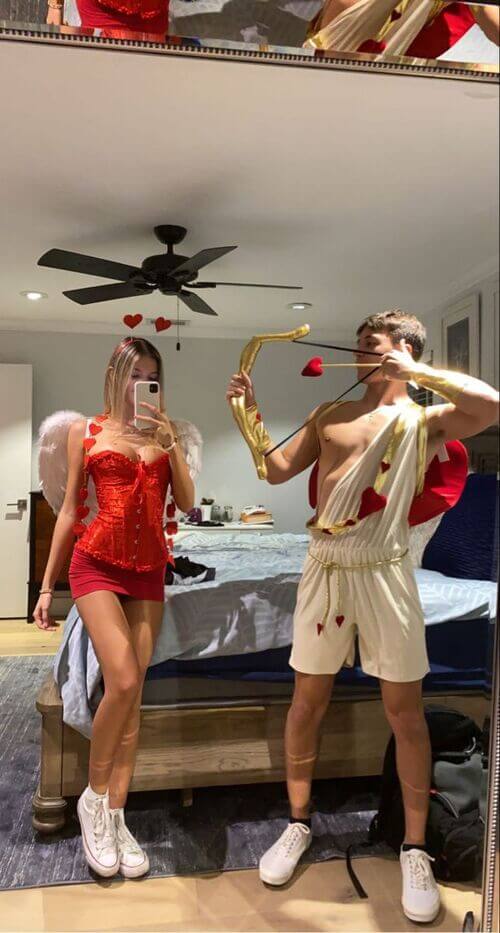 In need of a cute couple's costume? Here is the perfect idea to use this Halloween.
A cute Cupid costume is just what you need.
It's easy to recreate either by making use of everyday items or with a few extra props to make it stand out.
21. Space cowgirl group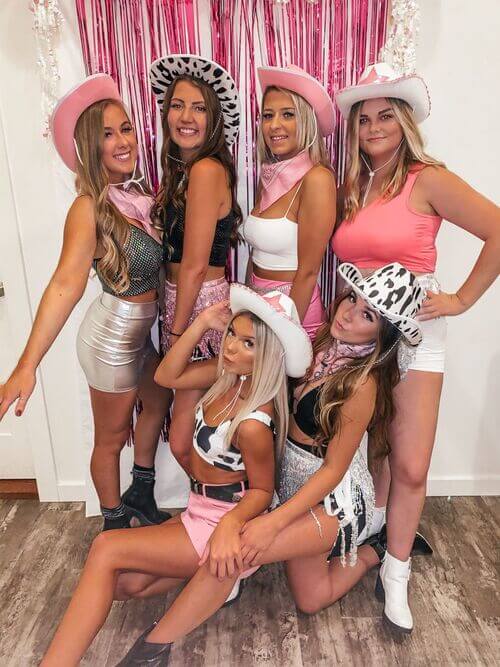 What's better than cowgirl costumes? Space cowgirl costumes.
Adding a little galaxy sparkle to your look never hurt anyone.
Just get yourself some cute hats, skirts, and crop tops to pull off this look.
22. Winx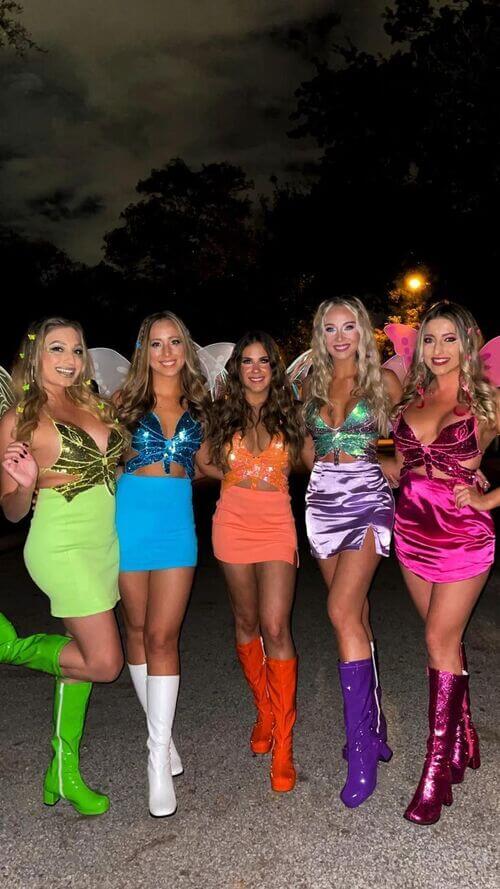 You didn't think we'd make a group costume list without incorporating the iconic Winx club, did you?
We can all appreciate the cute butterfly tops paired with a matching skirt and boots.
So grab your best friends and some wings to bring this idea to life.
23. Bratz dolls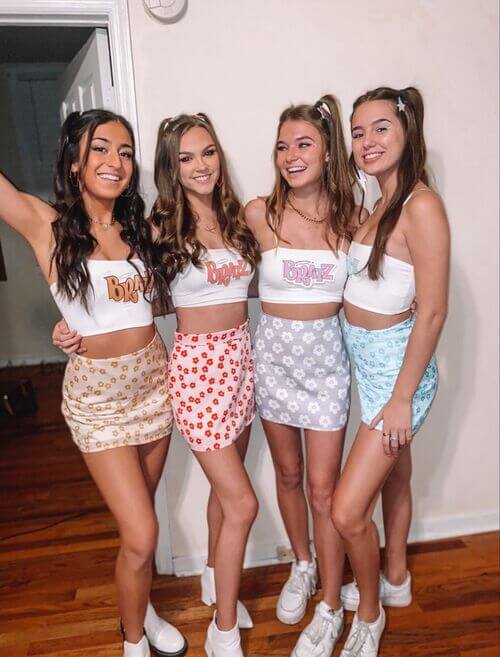 So we've done Barbie and Winx club so we couldn't leave out the famous Bratz girls.
Get matching tops for yourself and your best friends, and wear a cute skirt. It's an easy idea to pull together.
24. Gogo girls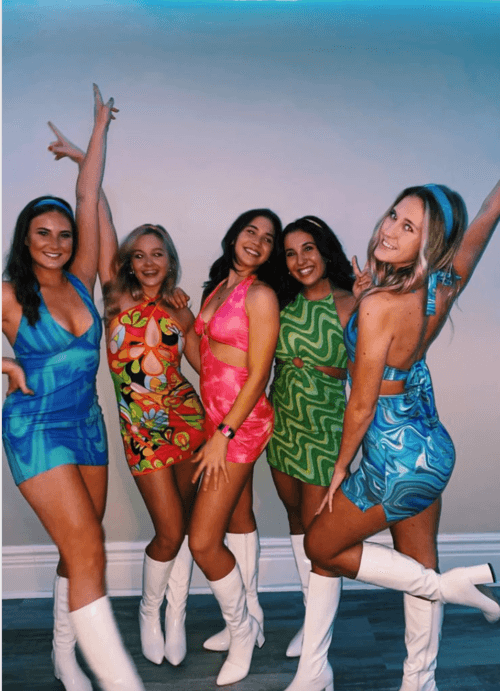 Flashy prints and gogo boots are the perfect combo.
This is a great group costume idea because it lets you bring your style to the mix.
Get ready to party
As you can see from the multitude of options listed above, there's always something new to test and try out with your closest friends.
Whether you go for the mystery gang look or want to live out the Bratz fantasy you can find the perfect balance to what you need.
So are you ready for Halloween yet?
These ideas are sure to get you all excited about the holiday and what fun and spooky surprises it has to offer.
Which one will you be trying out this year?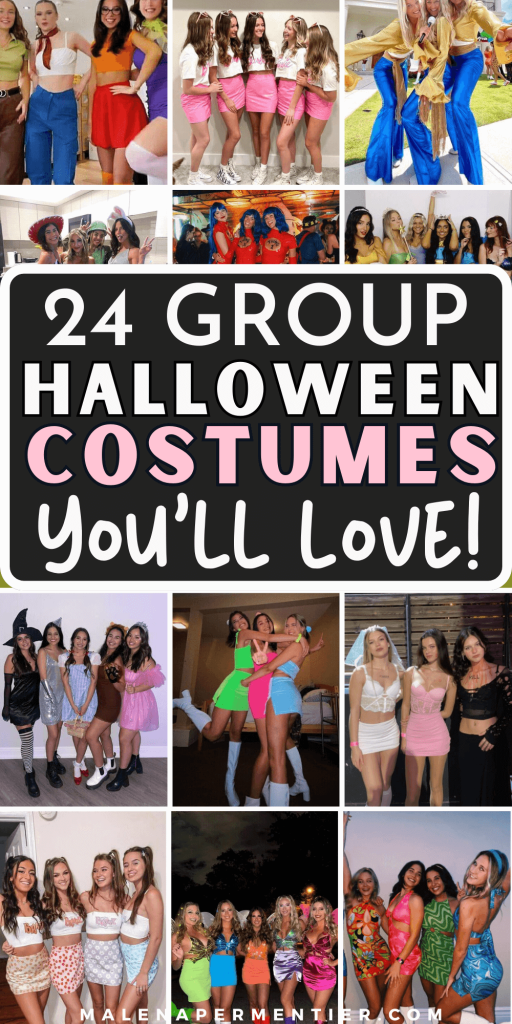 This post showed you the best group Halloween costume ideas.
You may also like: