This post shows you the best diy Halloween costume ideas for women.
It's that time of the year when the creative juices start flowing, and the search for the perfect costume begins.
For women, Halloween is a fantastic opportunity to express their personalities, interests, and sense of style through unique and imaginative outfits.
From classic to quirky, spooky to sensational, the world of women's Halloween costumes offers an endless array of possibilities.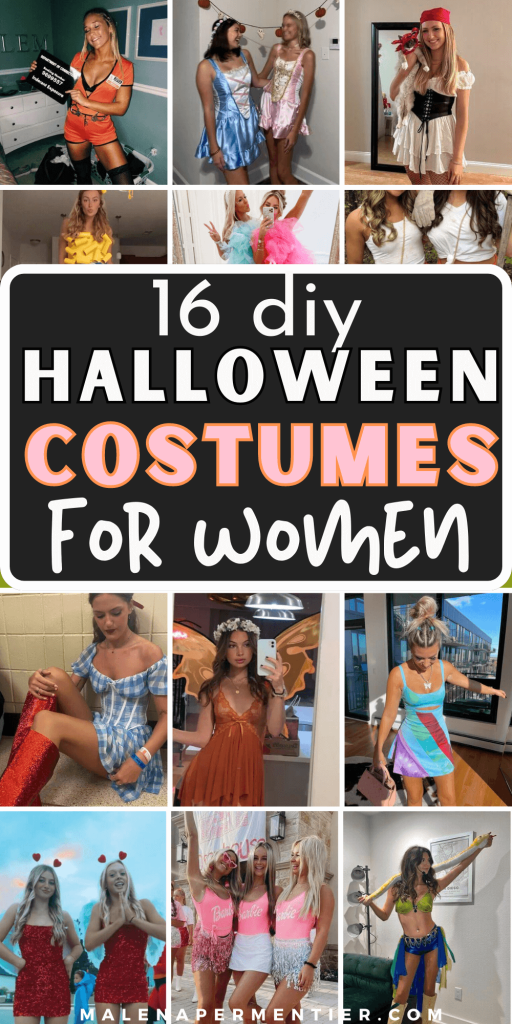 Types of costumes to try
If you're stuck on finding a costume or everything feels a little off then here is a list of ideas that you can try out one of these.
Witching Hour Elegance: Add your twist with a unique hat, dramatic makeup, and accessories that make your ensemble stand out from the coven.
Vampire Vixen: Channel your inner vampire with a Gothic gown, sultry makeup, and vampire fangs.
Superhero Chic: Bring your favorite superhero to life! Donning a powerful superhero costume lets you embody strength and confidence.
Iconic Movie Characters: Transform into beloved movie characters
TV Show Inspirations: Embrace the quirks of your favorite TV characters, whether it's Eleven from Stranger Things, Daenerys Targaryen from Game of Thrones, or even a handmaid from The Handmaid's Tale.
Alice in Wonderland: This theme offers endless possibilities for creativity and imagination.
'80s Glam: Embrace the era of neon, leg warmers, and big hair with an '80s-themed costume.
Vintage Flair: Travel back in time with vintage-inspired costumes from the '50s, '60s, or '70s. Retro fashion allows you to showcase your appreciation for fashion history.
Punny and Playful: Create a costume that plays on words or puns.
Foodie Frenzy: Transform into your favorite food or beverage. From tacos to sushi rolls, turning into a delectable dish will surely get some laughs and smiles.
While there are a bunch more options to test and try these are sure to give you some inspiration and ensure you have a great idea ready to go this Halloween.
1. Inmate

Let's be honest… the best part about Halloween is being able to let your creativity fly while looking hot.
While being a bit more open and showing off a little more skin than usual isn't everyone's cup of tea, it is the most fun part about the experience.
Be a little more confident and be more open to trying new things.
2. Mac and Cheese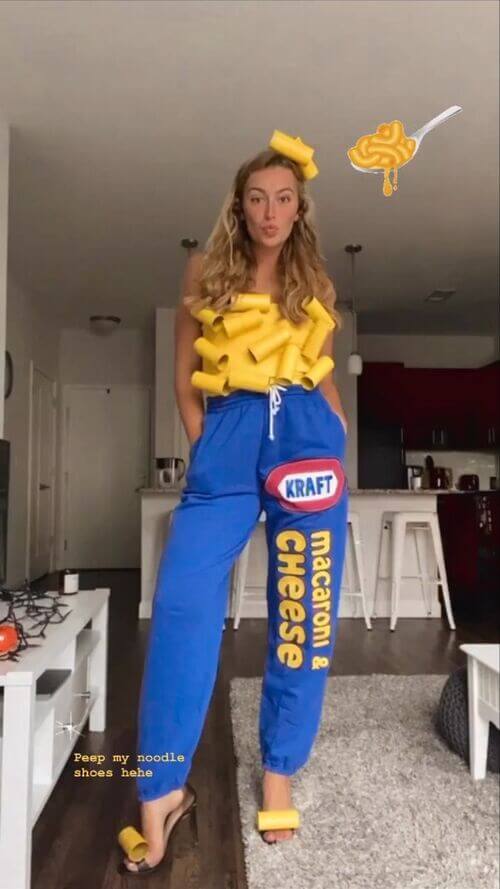 To the girlies that love to bring a DIY project to life… this fun idea is just for you.
Get a simple yellow crop top and glue some yellow-painted toilet rolls to it to show the macaroni.
You can then get a pair of blue sweatpants and paint on them or stick a logo to the pants.
For the finishing touch, also add a roll to your shoes. It's a fun idea to try out this year.
3. Queen of hearts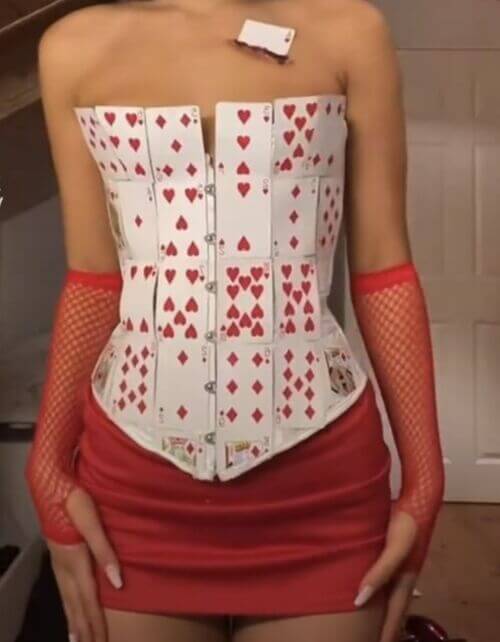 A cute queen of hearts idea that you can try at home this year only needs 3 key components.
A corset, playing cards, and a red skirt.
You can clue the cards to a white corset, and you can also add some extra additions like gloves and special effect makeup.
4. Princess and the Pauper

To those of you that are original Barbie fans, here is a great look that you can pull off with your best friend.
Get some costumes that can accurately portray the look and include a flower crown and tiara.
Everyone can appreciate a blast from the past that brings back good memories.
5. 13 Going On 30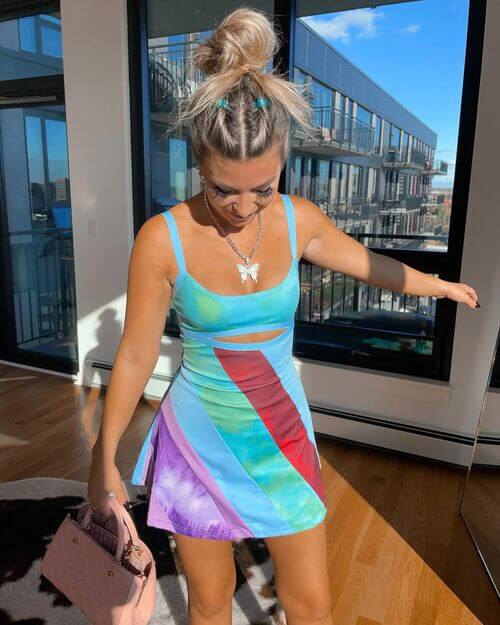 The iconic dress from an iconic movie. Not only does this create a perfect Halloween costume, but it doubles as a dress that can be worn at any time.
It's fun and fresh making it great for a spring day outing too. Add a cute butterfly necklace, a purse, and a fun hairstyle to recreate this look.
6. Sexy fireman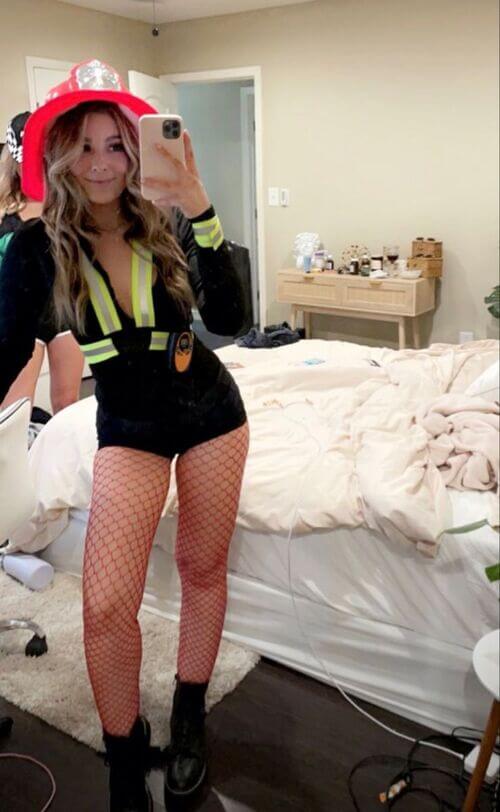 The best part about Halloween is being able to show off your confidence and show off your great style.
Pair a black jumpsuit with red fishnet stockings and some doc martins.
You can add a plastic fireman hat to complete the look.
The best part about this look is the fact that you don't need a lot of time to pull it together which makes it great for a backup plan too.
7. Barbie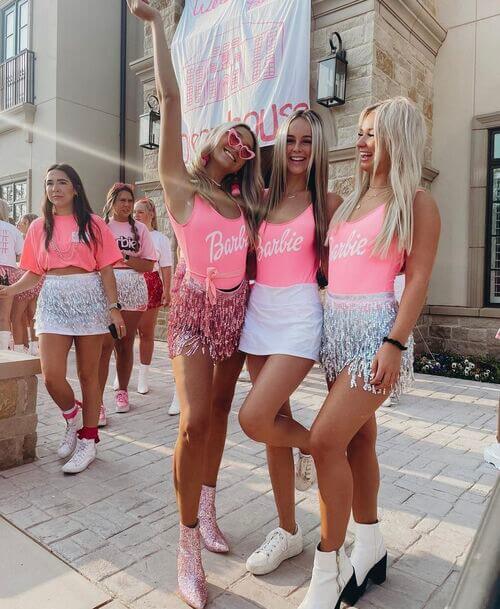 Okay ladies we all need a little pink pop of color in our lives.
Grab your girlfriends, get matching pink Barbie shirts, and pair them with some glittering skirts and white shoes.
With the rise of the Barbie movie, we can expect to see a lot of amazing ladies wearing some Barbie-inspired outfits.
Or, if you want to go the extra mile you can always try an iconic Barbie career and dress according to one of the Barbie dolls that you used to see in the store.
8. Britney Spears in I'm a slave 4 u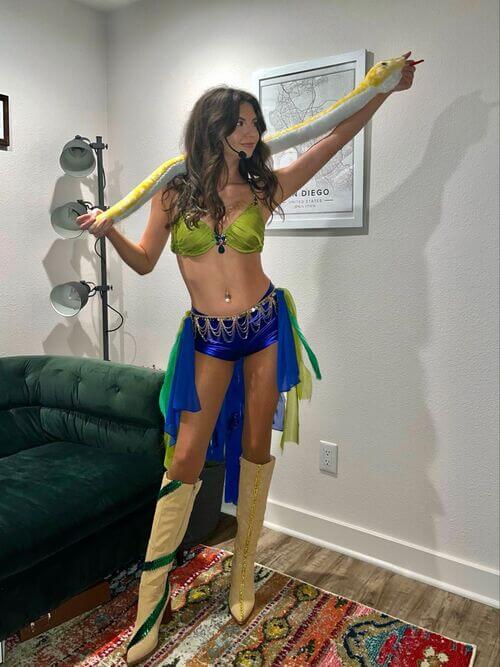 Bring some props and a full-on costume.
Get a pretty costume that sticks to the budget, and get a stuffed animal snake.
It's a super fun idea to test especially with such a popular song that everyone will recognice.
You can even add some DIY touches to the boots or create the skirt yourself.
If you don't want to go for a costume look, you can also get a bra and bling it up or add some touches to make it fit the look.
9. Fairy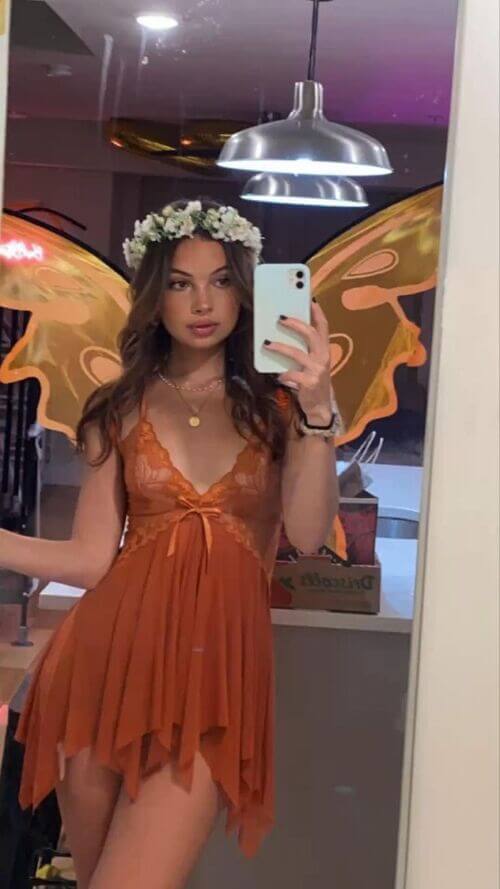 How do you say no to the opportunity to dress up as a fairy?
It's cute, your options are limitless and the wings are a big bonus.
Grab your flower crown, a fun and sexy costume, and party the night away.
We call all agree that the versatility of the fairy costume allows you to be confident without feeling out of place.
It's the perfect costume for someone that wants to try getting out of their comfort zone this Halloween.
10. Pirate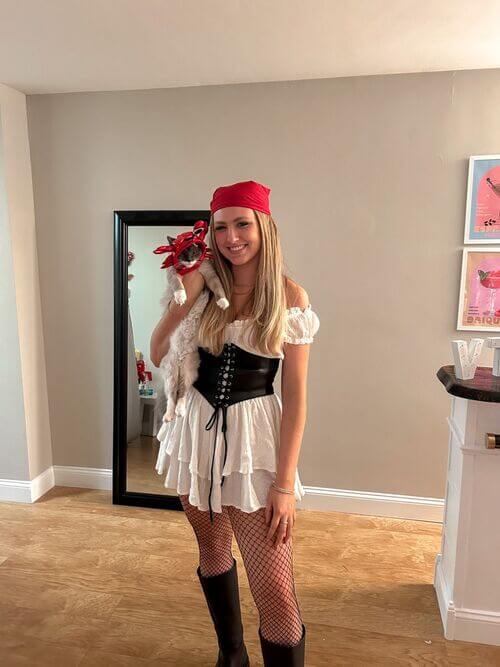 An elaborate costume that stays within the budget is the ultimate goal.
Get a flowy white dress and a simple corset to create this pirate look.
Pair it with some black fishnet stockings, boots, a red cap, and some jewelry.
The best idea would be to go all out with some eyeliner and golden rings to make this look complete.
11. Prisoners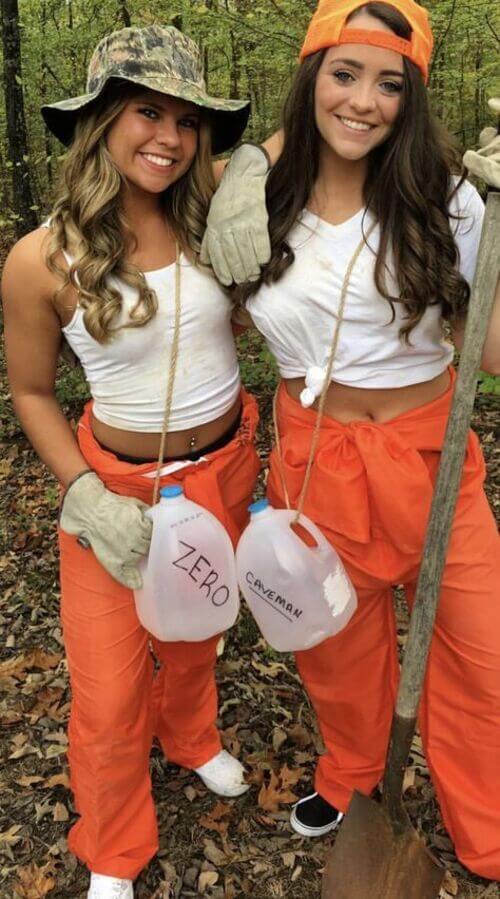 In need of something that isn't too revealing?
Here's a different approach to the prisoner costume.
It's super easy to pull this look together because all you need is an orange jumpsuit and a simple white t-shirt, and sneakers.
You can also include some props like water bottles, hats, and gloves to really sell this look.
It's easy, and you can quickly transform it into a look that the whole group can get on board with.
12. Cupid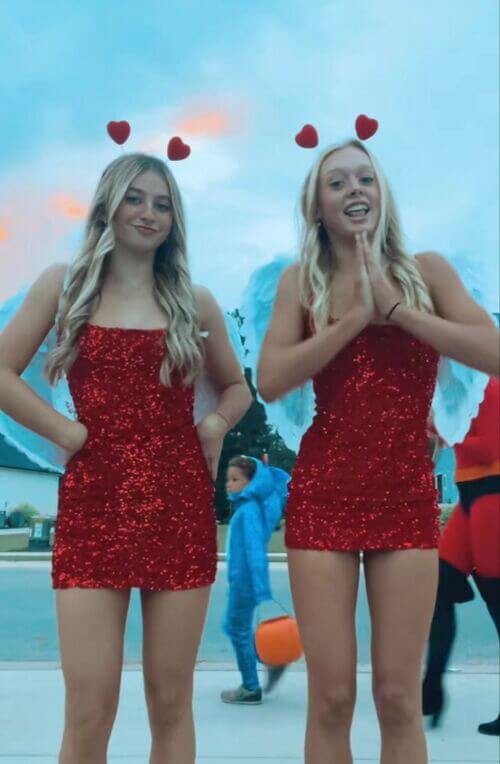 If you are looking for a simple costume that is simple and cute then look no further than this Cupid look which needs only 3 main components.
A shiny red dress, some angel wings, and sparkly heart headbands… that's it.
All you need to bring a cute idea to life, and you can even make it a look for you and your friend to try out this Halloween.
13. Loofah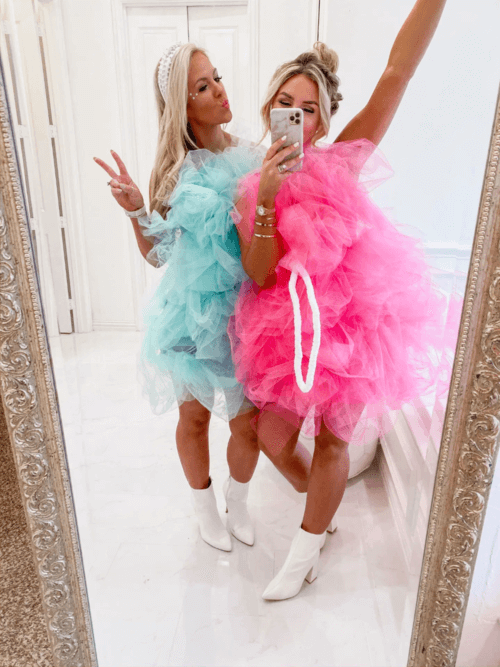 Another cute and fun outfit to try out is this super simple loofah idea. That's right, you heard me.
A puffy dress or just using some brightly colored tulle and adding it to a simple dress will allow you to recreate this idea.
Pair it with some white boots, and you have this costume done and dusted.
14. Dorothy from Wizards of Oz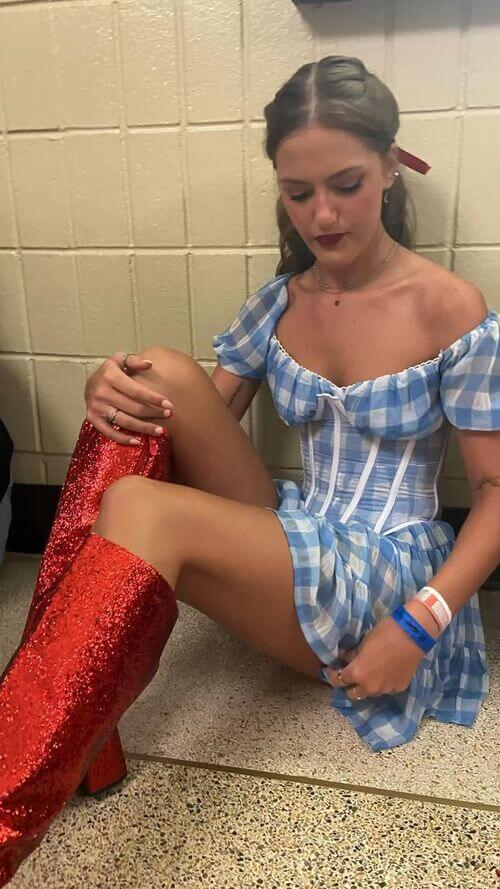 Trade in those red ruby slippers for some glitter-coated boots.
This Dorothy-inspired look is super simple and easily recognizable.
You can pair it with a checkered dress and add the iconic pigtails with red ribbons to tie it all together.
This costume is great if you're unsure of what to go with or if you want something simple that you might find in your closet making it easier than having to buy a new outfit.
15. Princess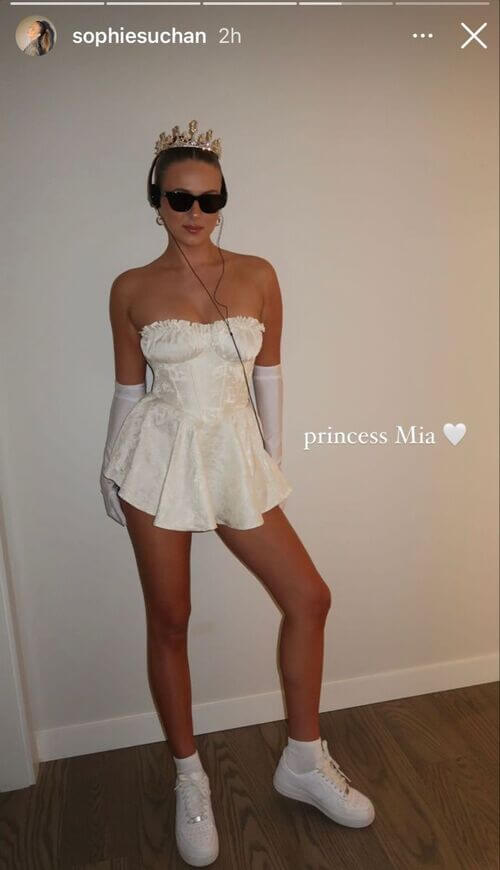 If you want to be a princess there is only one correct answer of which one you should be… and that is Amelia Mignonette Thermopolis Grimaldi Renaldo.
So grab a cute dress, your shades, and a headset, and bring your A-game.
It's a super cute idea to go with and can easily be put together.
16. Easy A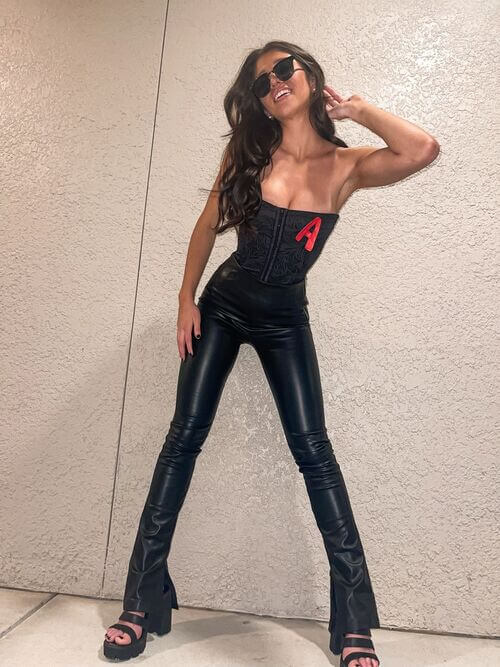 The iconic Easy A is still a fan favorite to this day so it's only fair that it should be added to the list of costume ideas to try out this year.
Get a corset, some leather pants, some comfy shoes, and your sunglasses.
You can either make the 'A' with a piece of paper or pin a piece of fabric to the corset to bring this hot look together.
Getting your look together
Women's Halloween costumes provide a canvas for self-expression, creativity, and playfulness.
Whether you're going for a classic look, drawing inspiration from pop culture, diving into fantasy realms, revisiting nostalgia, or concocting your DIY masterpiece, the possibilities are boundless.
This Halloween, let your imagination run wild and embrace the opportunity to be someone else, if only for a night.
So, go ahead and unleash your inner fashionista, superhero, or mythical creature – the Halloween stage is yours to command!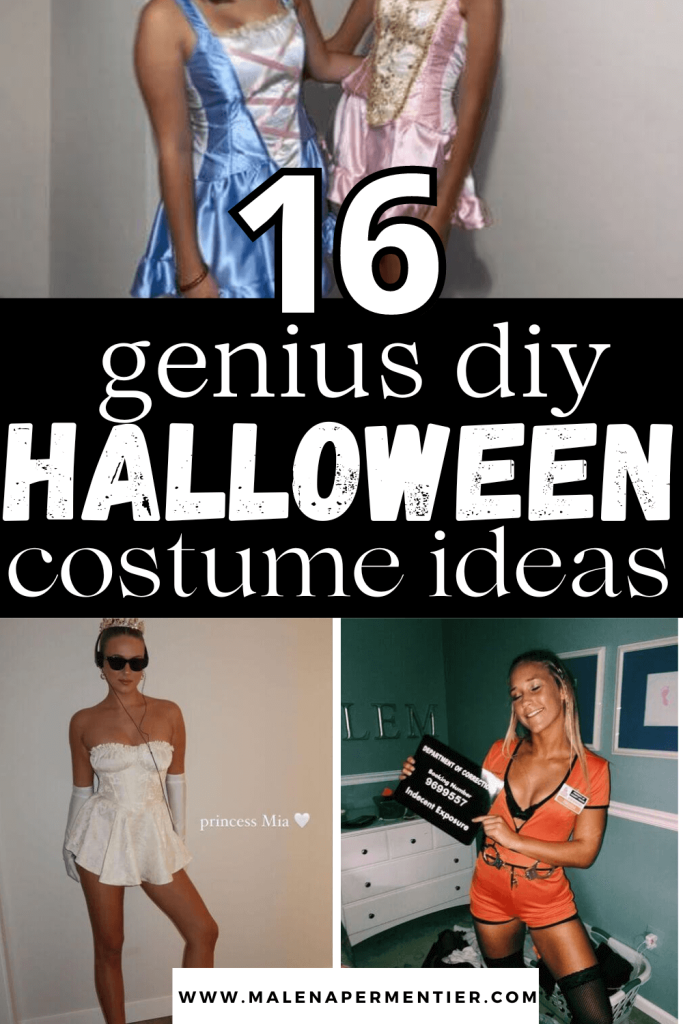 This post showed you the best DIY Halloween costume ideas for women.
You may also like: