This post shows you the best outdoor Halloween decorating ideas to try this year!
Wait, what?! It's almost Halloween again. 2022 has flown by if you ask me!
If you're looking for creative ways to decorate outdoor for Halloween, this post shows you some great inspiration and ideas.
I'm not into the super creepy Halloween decor, so expect only mildly scary Halloween decor ideas in this post! These ideas include decor for the porch, front yard, door, and even the windows 🙂
Let's look at some excellent inspo for this season's Halloween decorating.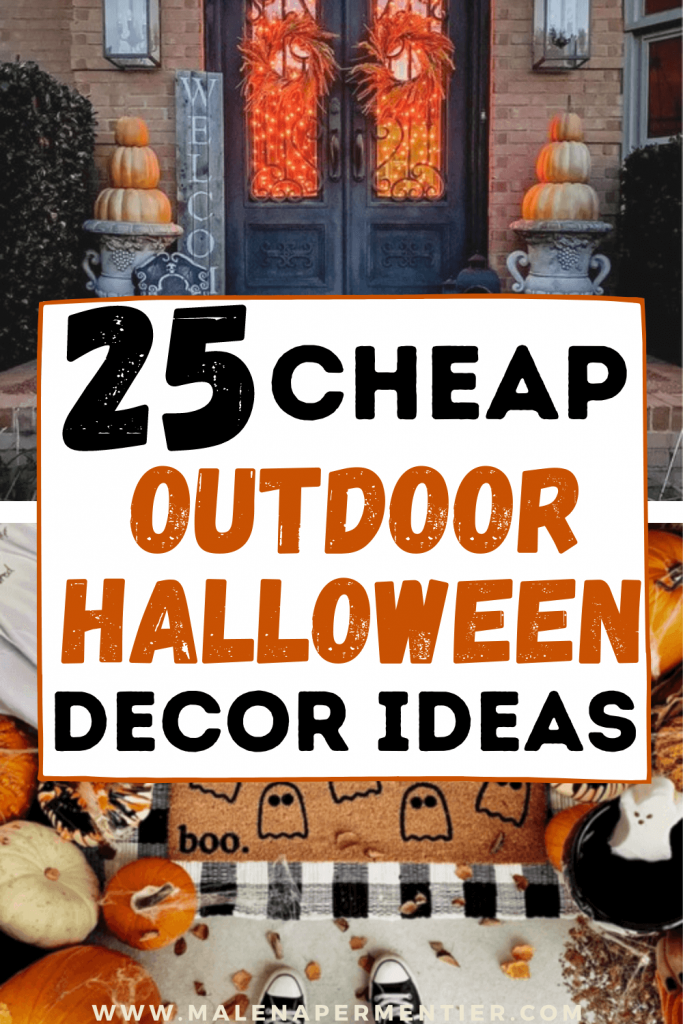 25 Outdoor Halloween Decorating Ideas
1. Create a spooky welcome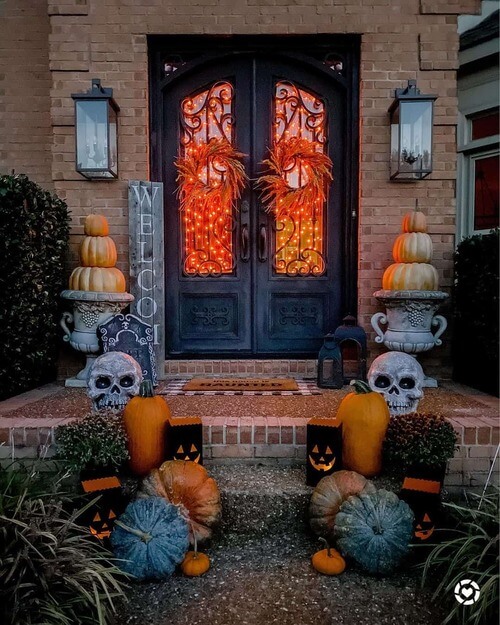 This front yard and entrance have such a beautiful Halloween spirit! One thing I love about fall and Halloween is the warm color of orange, and this decor hits the spot.
Things that catch my eye are the beautiful orange string lights and paper lanterns on the steps. The simple but lush wreaths are also lovely details!
2. Decorate a tree with scary black bats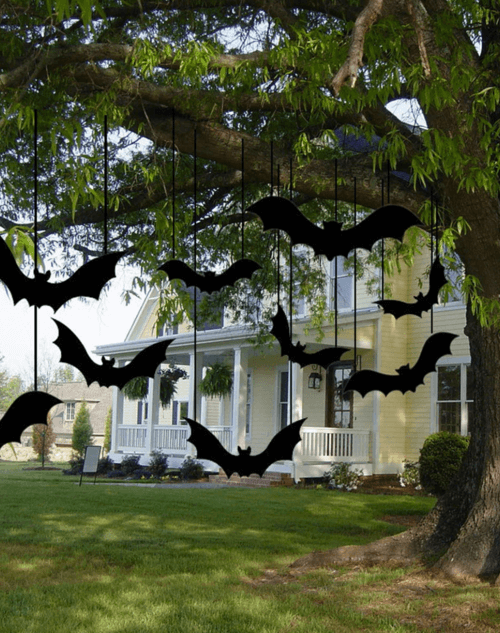 If you have trees in your front yard, decorating with gigantic bats is a fantastic idea. It's minimalist yet makes a statement!! These giant bats come in a pack of 12 and are surprisingly inexpensive for what they are.
No tree in your yard? You can also use these bats to decorate your porch or hang them on the wall outside your home.
3. Use unique Halloween L.E.D. lights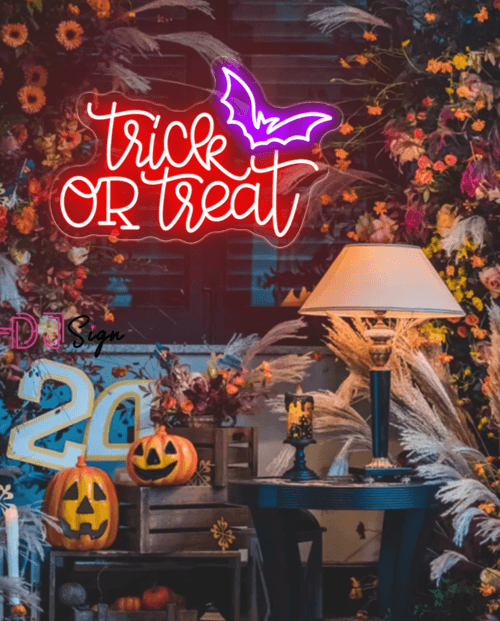 Part of what makes Halloween decor so pretty is lights!! These led lights come in the most beautiful color combos, and you can use them outside. This Etsy store has great reviews for all the lights they make, so I feel confident to list them in this post.
4. Decorate your porch with minimalist Halloween decor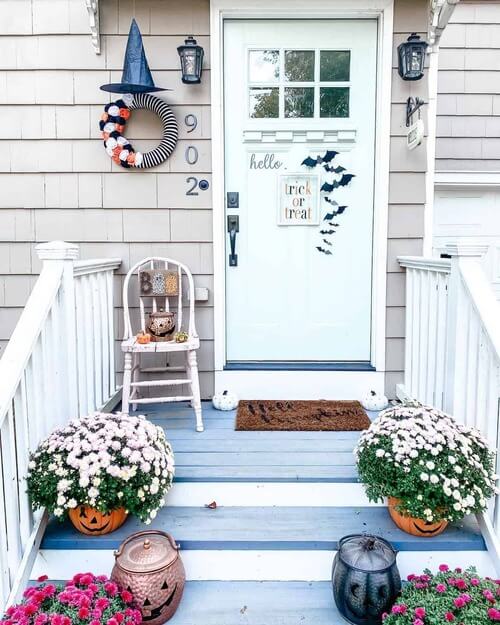 Is your style more minimalist? These porch steps lined with Halloween flower pots and metal lanterns really hit the spot.
If you want to keep your outdoor Halloween decor simple, stick to lighter colors and only decorate with a few eye-catching items. I assume the witch hat with the wreath is D.I.Y. – and it's such a creative idea!
5. Hang glass window art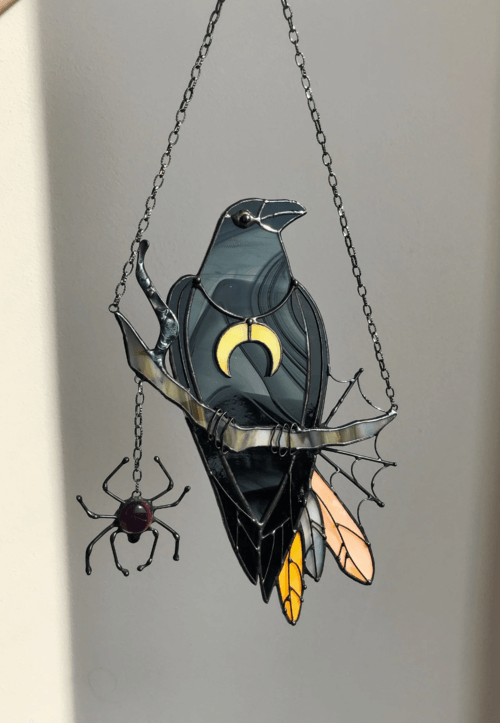 I know window decor isn't technically outdoor, but we'll include it since you can see it from outside!
I came across this Etsy shop where they make the most beautiful glass art. This crow would make for some great Halloween window decor 🙂
6. Use a creative door sign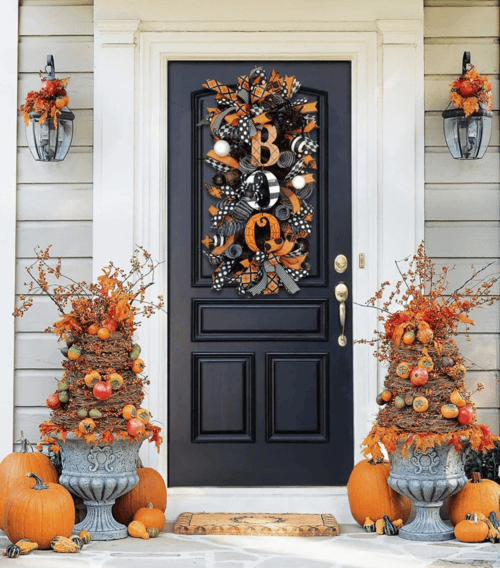 Get a beautiful and lush Halloween sign for your door!! This front door decor is the perfect fall/Halloween combo, which is excellent. The boo door sign is the ideal classy outdoor decor.
7. Don't forget to decorate your windows for Halloween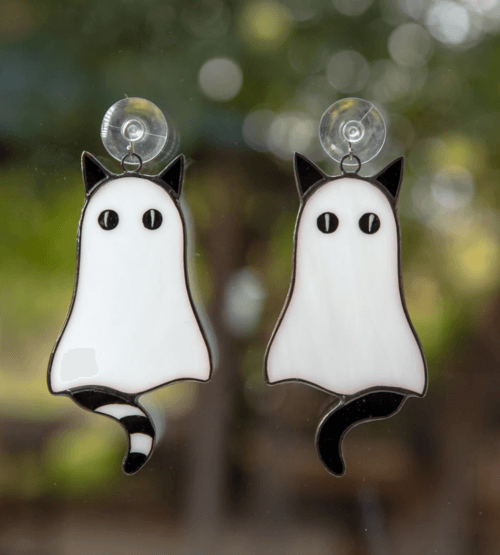 I included these adorable glass ghost cats in this round-up post about Halloween decor! They would work outside or inside – but they're so cute that I'd be afraid to put them up out.
8. Make a statement with a large front yard sign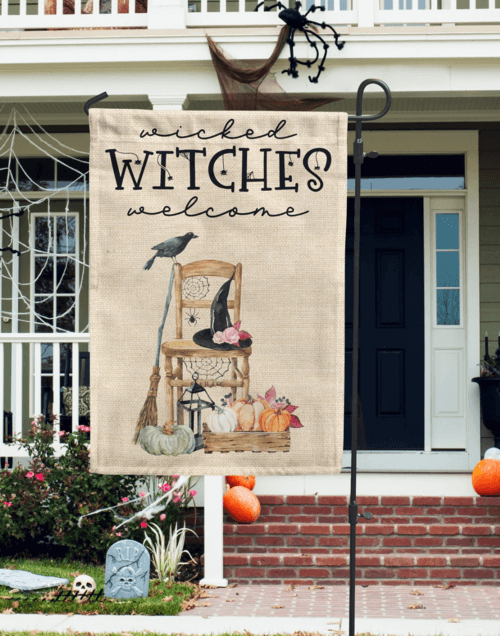 Wicked Witches Welcome!! I love that line. This is a flag sign which I haven't seen a lot when it comes to outdoor Halloween decor, but it's so good.
If you're expecting trick or treaters, place the flag at the entrance of your yard to welcome them 🙂
9. Place spooky Halloween lanterns in your yard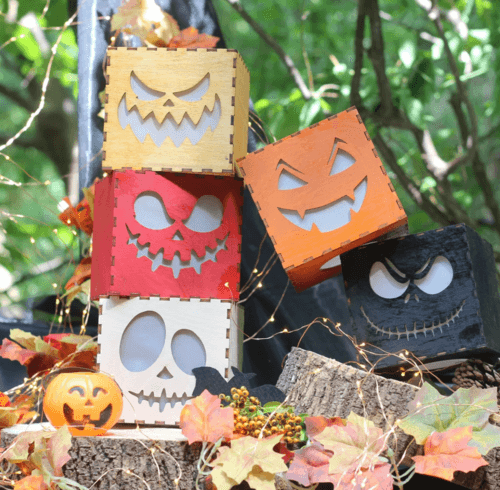 These Halloween lanterns are the cutest! Perfect if you have a porch or a pathway where you can line them up beside one another. These lanterns would also look good next to your front door.
10. Welcome guests with a cute Halloween door mat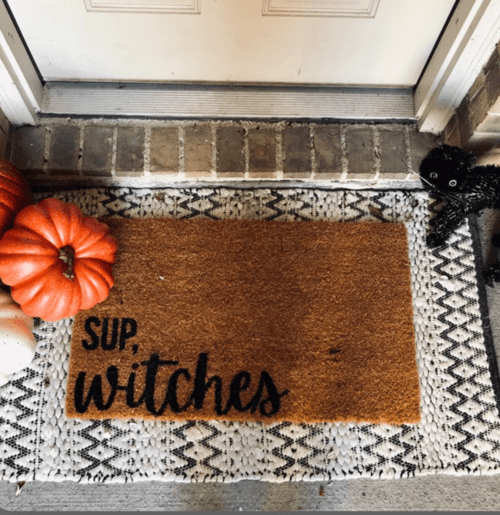 Halloween door mats are my FAVORITE! The more creative the text, the better! You can layer the Halloween mat with a regular mat for an elevated look. Some pumpkins next to your door mat complete the door.
11. Decorate your windows with creepy spider stickers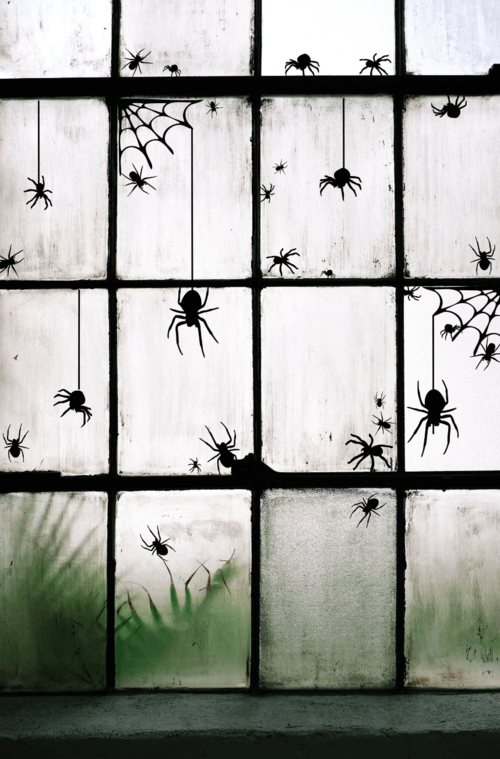 These spider stickers are some of the creepiest I've ever seen! If you want to make your home look scary from the outside, you need to decorate your windows.
These stickers have insanely good reviews on Etsy, and the customer pictures with these stickers looked terrific.
12. Hang a minimalist Halloween wreath on your door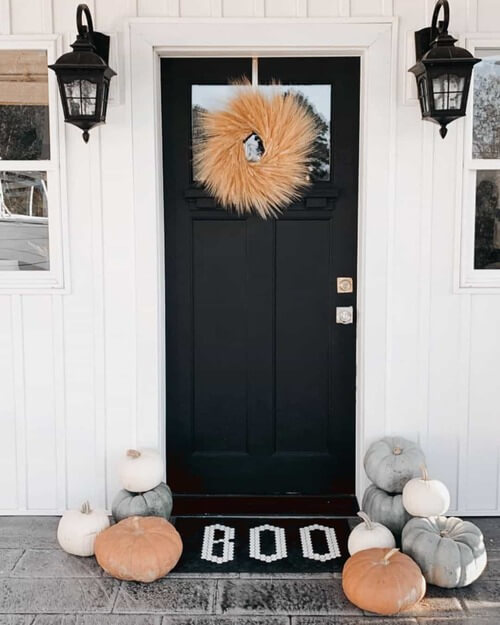 I love minimalist Halloween decor – so stunning. If you want to decorate for Halloween outdoor but you want to keep things simple, this is the winning formula! 🙂 Combine a boo doormat with pastel color pumpkins and a beautiful minimalist wreath. This creates an elevated Halloween decor that everyone loves!
13. Use a Halloween porch sign to welcome trick or treaters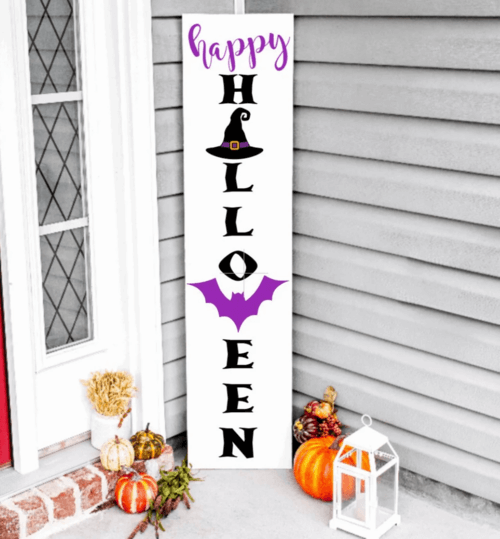 This tall sign is the perfect welcome next to your door! Pair the Happy Halloween signs with pumpkins, greenery, and some lanterns.
14. Boo ghost Halloween doormat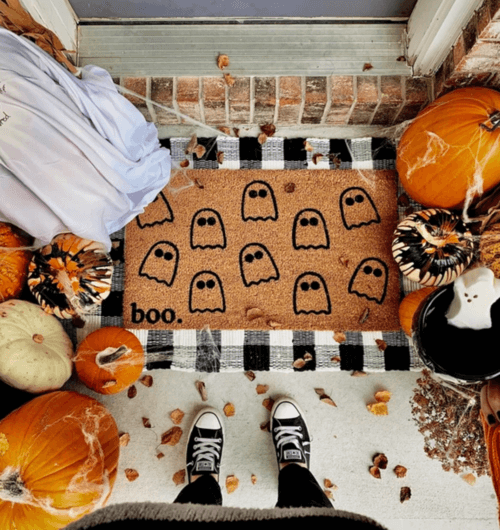 This boo ghost door mat is the cutest thing ever – and I love how it's decorated with the pumpkins and scary cloth next to it. If you want to make a big impression at your entrance for Halloween – this is the way to do it.
15. Tall trick or treat sign for the garden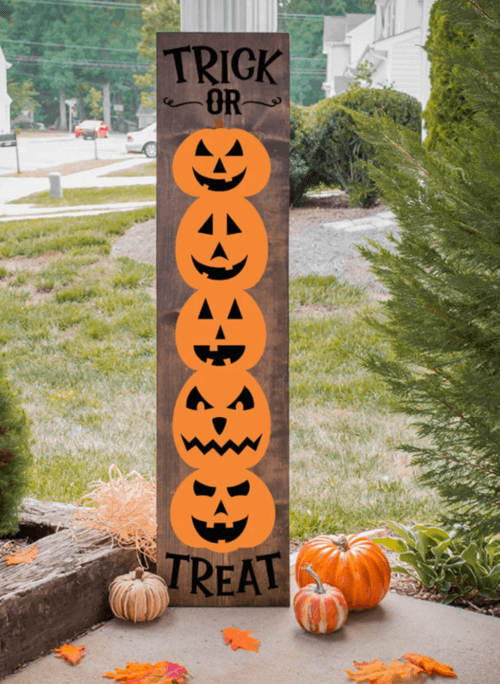 This creative trick-or-treat sign looks great in your yard or the front door, where you'll welcome your trick-or-treaters!
16. Cute white ghost stickers for the window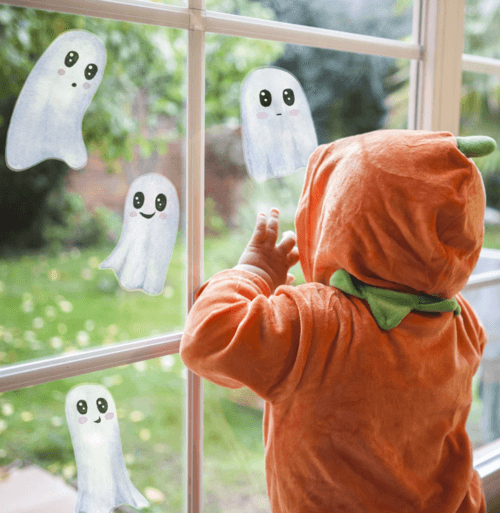 If you have young kids and don't want Halloween decor that's too scary, these cute ghosts are the perfect window decor to go with!!
17. Halloween R.I.P. tombstone for front yard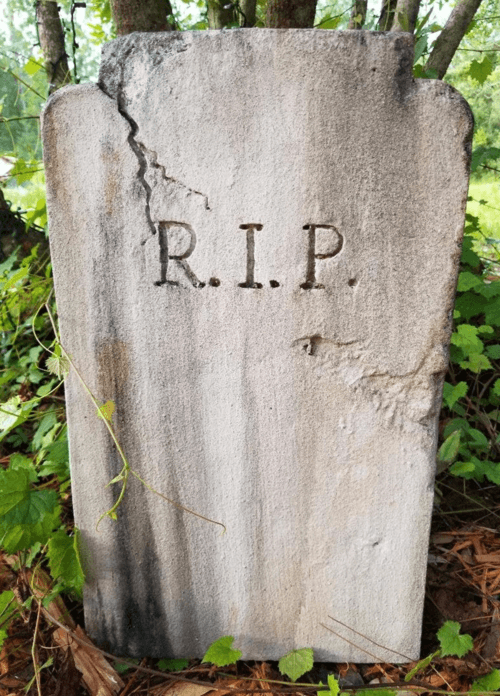 This R.I.P. Halloween sign looks too real!! This statement piece is Halloween yard decor that will make an impression.
18. Farmhouse-style Halloween porch decorations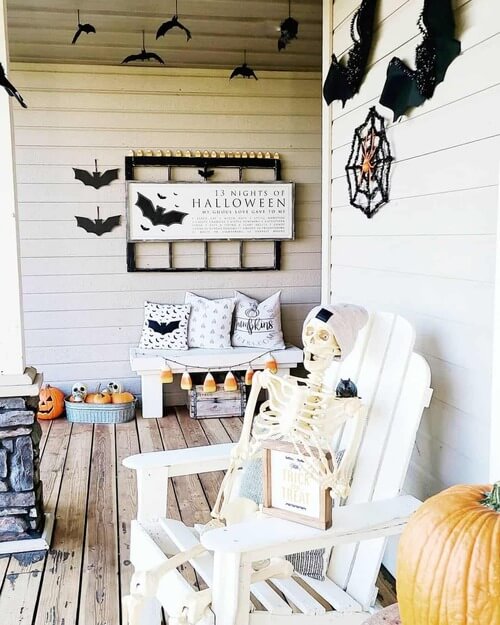 This Halloween porch decor is top-notch! Skeletons dressed up will forever be the funniest (and scariest?) Halloween decor. I also like how this porch has Halloween pillows and a cute garland for decor.
19. Unique Halloween directional sign for the porch or garden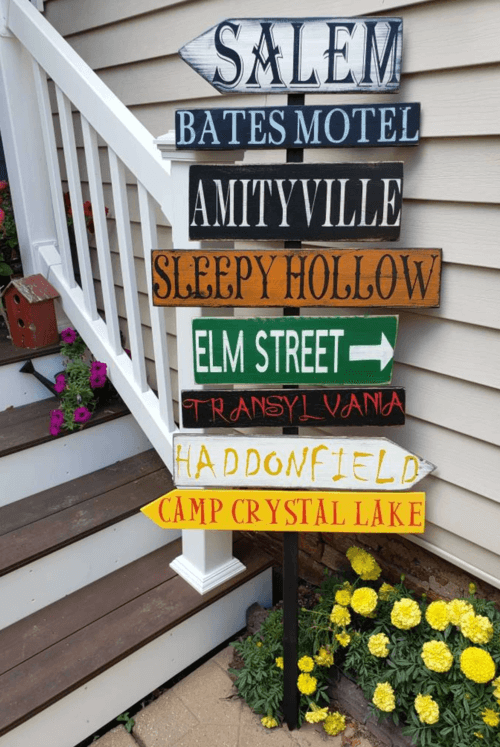 These Halloween directional signs have been so popular recently, and I'm obsessed too! It has a very cool farmhouse-ish look but is definitely in the Halloween spirit. You could D.I.Y. something like this or support a small business on Etsy. 🙂
20. Cute Halloween yard ghosts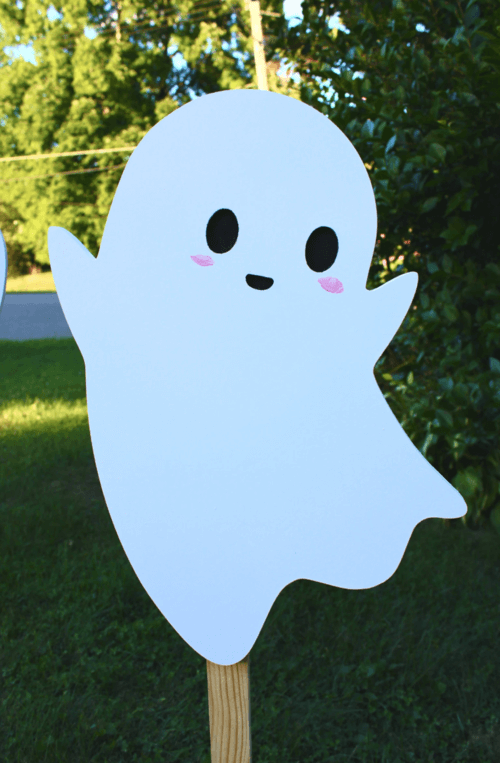 So again, if scary Halloween decor is not your thing, or you have kids and don't want to scare them: cute outdoor Halloween signs like this are the way to go! How adorable are these yard ghosts?
21. Line your porch with Halloween lanterns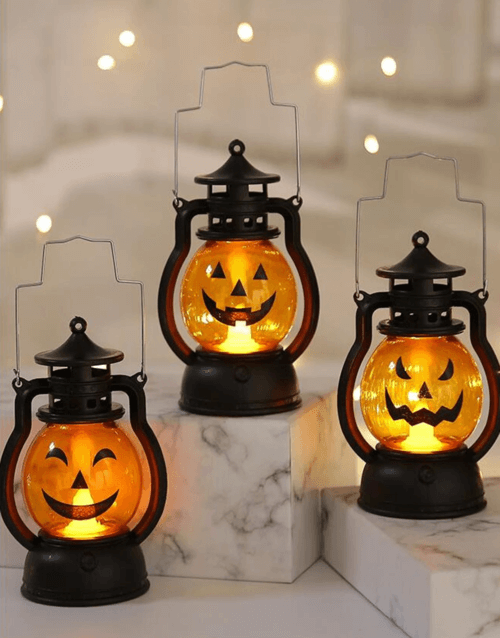 A classic and beautiful way to decorate your garden for Halloween is with lanterns! These pumpkin L.E.D. lights are adorable and will keep your home looking welcoming for Halloween.
22. Decorate your front yard windows with Halloween art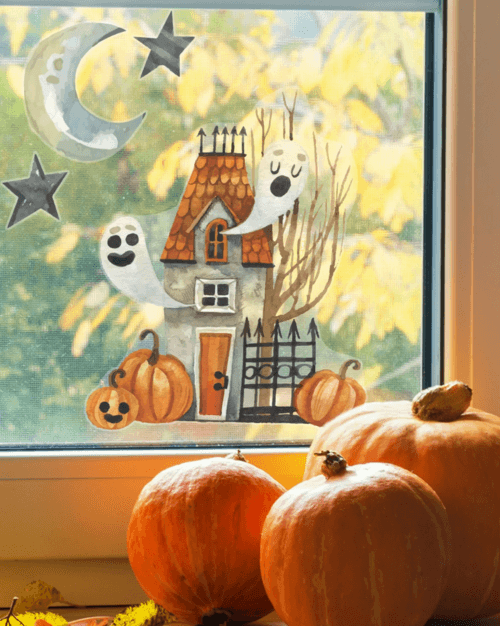 More Halloween window art! This sticker is a piece of art and so cute to have on your windows in the fall.
23. Hang a funky Halloween L.E.D. sign on your door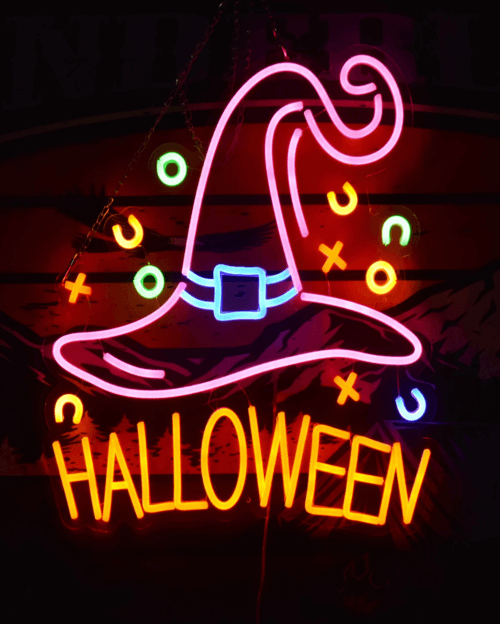 L.E.D. signs like this are great for brightening your porch during the spooky season. It's also nice to have on your door for the trick-or-treaters.
24. Decorate outdoor walls with scary pumpkin glass art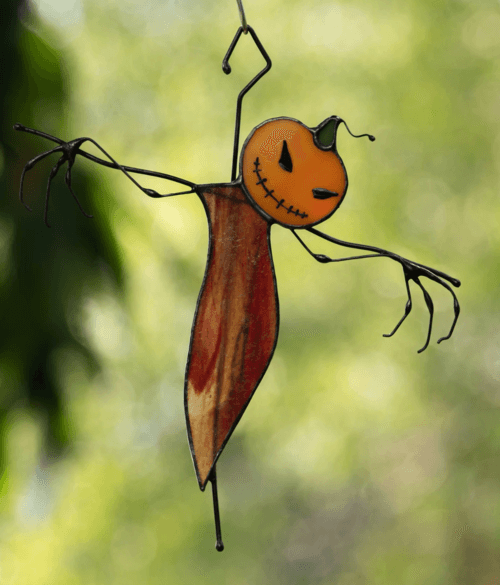 This glass pumpkin ornament is small but mighty. Hang this on the wall next to your front door or the ceiling of your porch!
25. Decorate the front door with black ghost stickers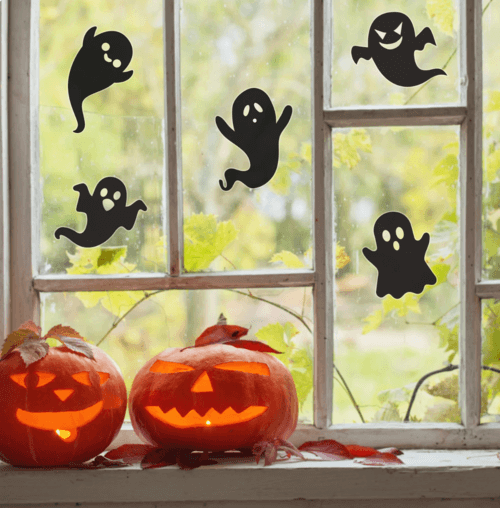 Last but not least, these spooky ghost stickers! You can hang them on your window, but I'm pretty sure that would work on the wall or door, too.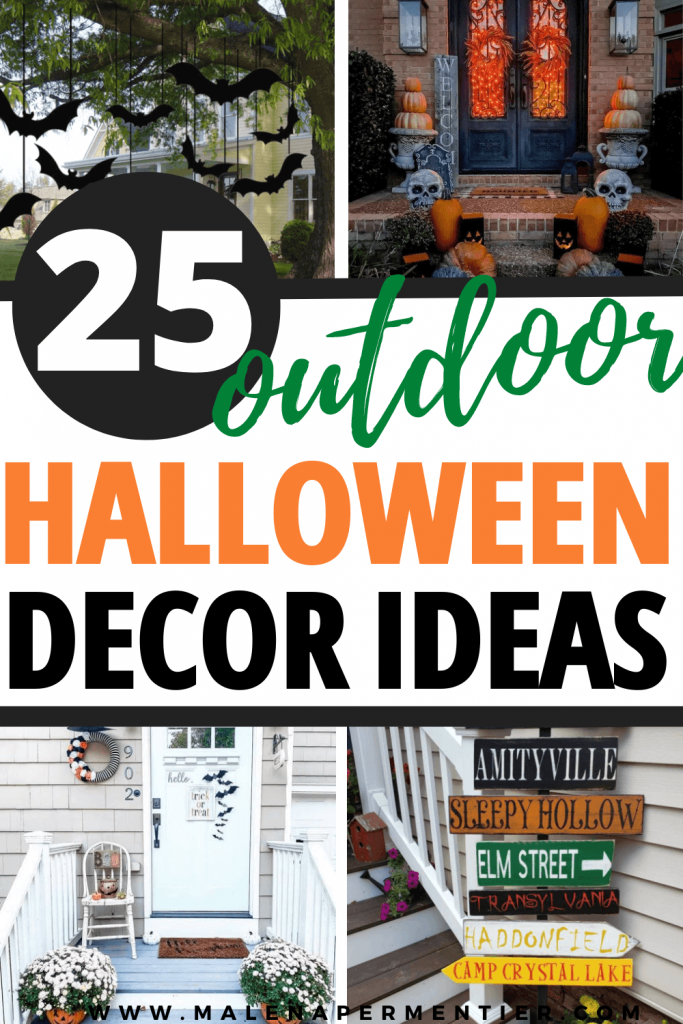 This post showed you cheap outdoor Halloween decorating ideas!
You may also like: