Looking for the best indoor Halloween decoration ideas? This post shows you 34 unique decorations for your home.
Halloween decor isn't only about the scary stuff. It's also about the cozy things!
Things like black stems, orange LED candles, and velvet pumpkins create an elevated atmosphere.
Let's look at some great Halloween decorations that will make your place cozy this Fall and Halloween.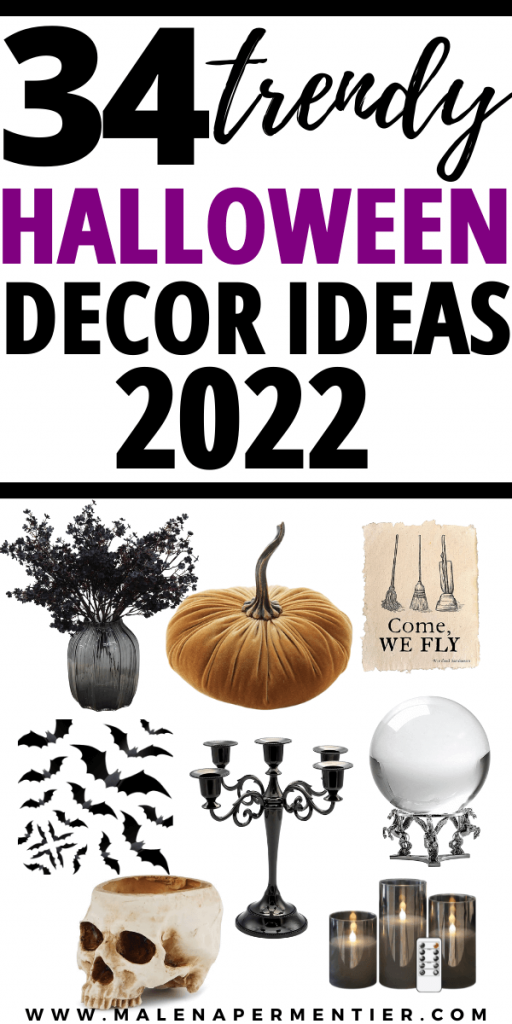 Indoor Halloween Decoration Ideas
1. Black baby's breath

Black stems are a beautiful decor choice for those with a modern interior.
Place these black baby breath flowers in a clear black or green vase.
These flowers would also make a great centerpiece for the Thanksgiving table.
2. Orange LED candles

LED candles are the safest option in any home!
These orange candles come in a set of 3 and would look incredible on your coffee table.
They also have a remote for easy control if you place them in a difficult-to-reach spot.
They flicker like real candles, so you won't see the difference :).
3. Spider web garland

The wall over the TV or mantle (if you have one) is a great spot to decorate with a Halloween garland.
This spider web garland is chic and scary, which is a lovely combo if you ask me.
You can also hang the garland over the couch or on a floating shelf in the living room.
4. Witch hats

These witch hats come with hanging rope, which makes them the ultimate Halloween decor.
Hang them on your ceiling or at your entryway.
The porch (if you have one) would be another excellent spot for hanging these witch hats.
Related: 25 Cheap Outdoor Halloween Decorating Ideas To Get You Into The Spooky Spirit
5. Velvet pumpkin

I LOVE these velvet pumpkins in neutral colors. They have the most stunning colors, like burgundy, blush, and bronze.
A great idea to decorate with pumpkins is to place them in a wood bowl or a round tray with a bead garland.
6. Skull candle

This gothic candle set is a bit spooky! A set like this would look excellent in a modern, monochrome living room.
You can also use the skull candle in a coffee table centerpiece.
7. Orange string lights

For cozy Halloween vibes, these orange string lights are a must-have.
Place them in a mason jar with other Halloween decorations, like small pumpkins.
You can also line them on your TV console or brighten up another spot in your home.
8. Bat stickers

Bat stickers are great for door decor. But truthfully, you could use them in many different spots.
For example, over your couch or the mantle.
9. Boo pillow

Switching up your throw pillows is a cute way to prepare your home for Halloween.
This boo pillow cover is budget-friendly and looks great in any living room.
10. Pillar candle holders

Implementing some dark decorative items for sure gets your place into the Halloween spirit.
These pillar candle holders would look great on a coffee table tray.
Surround the candle holders with decorative items like skulls or angry pumpkins.
11. Orange sherpa blanket

A quick and easy way to transform your couch for fall is with an orange Sherpa blanket.
This looks super cozy! It's the perfect shade of orange-brown.
12. Crystal ball

This crystal ball is so chic! This ball is available in different colors, but the clear one is my favorite.
This would look excellent on a coffee table.
This will surely be the room's conversation piece if you're entertaining during Halloween.
This crystal ball would fit excellently in a modern space.
13. Apothecary vase

These clear brown apothecary vases are perfect for small dried flower arrangements. Pampas grass and bunny tails create a beautiful fall atmosphere.
14. Black candlesticks

Halloween is a good time to switch your regular candles with black candlesticks.
You can place a candlestick holder on a sidetable or console.
15. Skull bakeware

Want to make some spooky treats for entertaining?
This skull bakeware is perfect for making spooky red velvet skull cupcakes.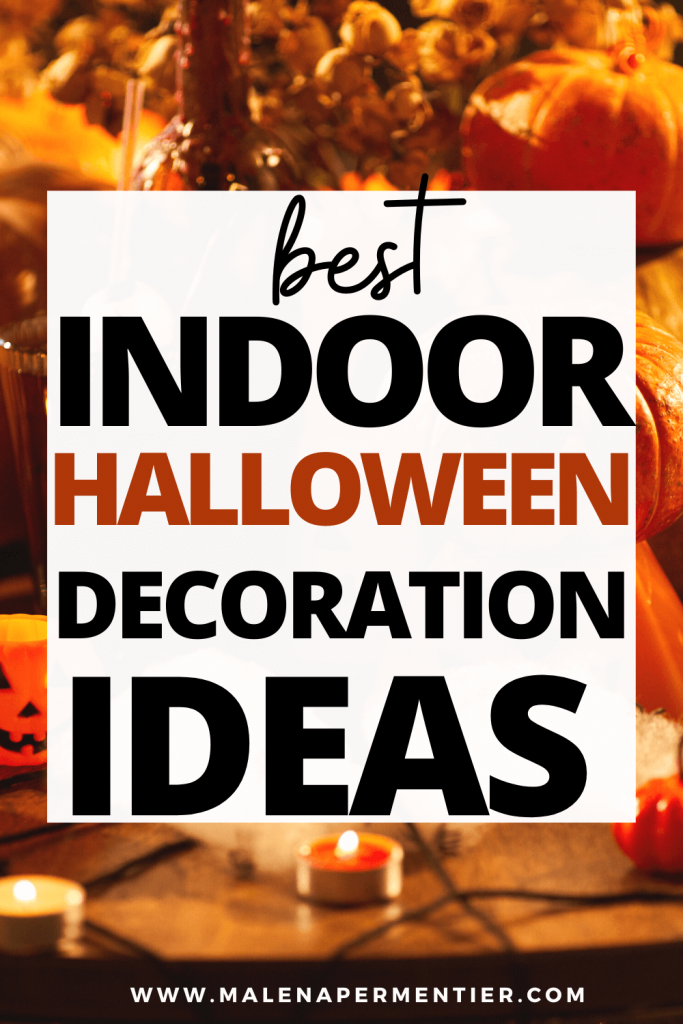 16. Halloween banner

Do you have a bar cart in your apartment? Hang a garland over it for spooky vibes.
I like garlands that have unique phrases and words. This one is funny and spooky, which I love.
17. Salem and Witches Brew pillows

If you love neutral colors, these Halloween-themed pillows are perfect! They get your living room into the Halloween spirit without being overwhelming.
18. Freestanding black stems

Black twigs are great for fall and Halloween decor.
These freestanding stems would look amazing in the corner of your living room.
Chic and Halloween-themed.
19. Spine candle

Creepy candles aren't everyone's thing, but this spine candle looks great!
This looks great if you have a minimalist aesthetic in your living room.
20. Witch's Brew mug

You can use Halloween mugs like this for warm beverages, but it's also cute for decorating or keeping candy. For example, keep it on your coffee table with candy or chocolate to serve guests.
21. Halloween art

Why not switch up the art for the Halloween season if you have frames in your living room?
This print is very chic and subtle. Hang it on the wall or simply place it in a frame that leans against a wall.
22. Pumpkin spice candle

Everyone needs a pumpkin spice candle in their home! Haha, only if you like that scent, of course :).
I think it's one of the coziest scents ever.
It's also one of the most effortless ways to decorate for fall and Halloween.
23. Skull planter

If you don't mind decor that's a little spooky, this skull planter would look incredible on a coffee table.
You can also use it for faux succulents or to keep Halloween candy.
24. Black feather wreath

This wreath is so chic! This would look amazing on a door.
It would also look cute above the sofa or in another spot in your living room.
25. Orange pumpkin pillow

These pumpkin pillows are adorable.
Place it amongst your regular throw pillows to spice up your couch a little.
You can also get these pillows in other colors like brown, black, or white.
26. Black LED candles

I featured the orange LED candles in #2, but they are also available in black. These candles are timeless and amazing to have for Halloween and thanksgiving.
27. Happy Halloween doormat

A cute Halloween door mat is a great way to set the vibe for your home.
I love this black mat because it looks chic and elevated. You can layer it over your regular mat or let it shine on its own.
28. Black vase

If you decorate with fall leaf stems or black twigs, a good black vase is great.
This vase is timeless, and you'll get a lot of use out of it if you love a monochrome aesthetic.
29. Black twigs

Black twigs like this look great on their own.
Place them in a vase for a simple centerpiece.
You can combine the twigs with dried greenery for a pretty fall arrangement.
30. LED lanterns

I love a good lantern! These are LED lanterns that look super cozy and real.
Place them on the floor in a corner of your living room or on the table.
They also have a ring to hang them. The product description says they are also suitable to use outdoor.
31. Black candelabra

Candelabras are chic, and this black one gives you the Halloween vibes!
Use black candlesticks for the ultimate spooky chic look.
This one looks great on your dining table as a centerpiece. This would be nice if you're hosting people for Halloween.
32. Black fuzzy throw

Another way to spice up your couch: decorate with a fuzzy black throw.
This faux fur looks luxurious and is super soft.
Decorating for Halloween can be as simple as using some darker and cozier colors in your space.
33. Pumpkin string lights

Line these pumpkin string lights on your ceiling!
These are must-haves if you're hosting a Halloween party at your place this year.
Super cute and brings all the cozy vibes.
These pumpkin lights are suitable for indoor and outdoor.
They would be lovely to hang next to your front door to welcome trick-or-treaters.
34. Here for the boos garland

I love this funny and clever phrase! Hang this garland in your living room or use it as mantel decor.
This would also be lovely decor if you have a Halloween snack table.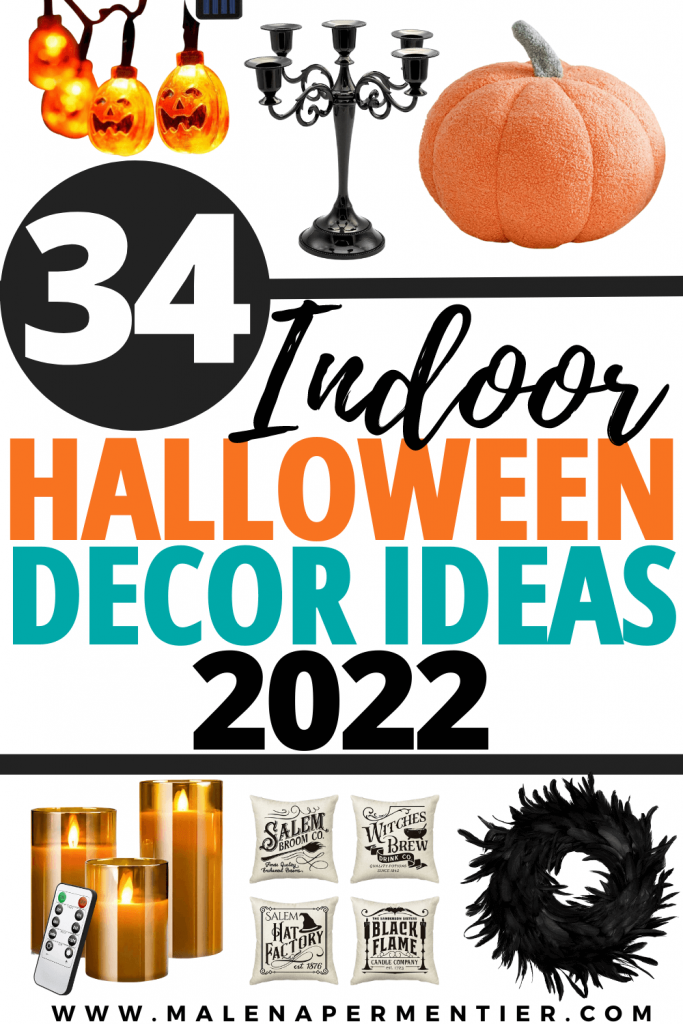 This post showed you the best indoor Halloween Decoration Ideas.
You may also like: