This post is all about the best Halloween home decor ideas
Below, I'm showing you 16 insanely cute Halloween home decor ideas that you can easily recreate on a budget.
Whether you like to go all-in with Halloween decor or keep it minimal, the home decor ideas for Halloween are seriously the best.
Here you'll find inspiration for:
DIY Halloween home decor
How to use household items to decorate for Halloween
Cheap & Easy Halloween DIYs
How to make your home fall festive without overdoing it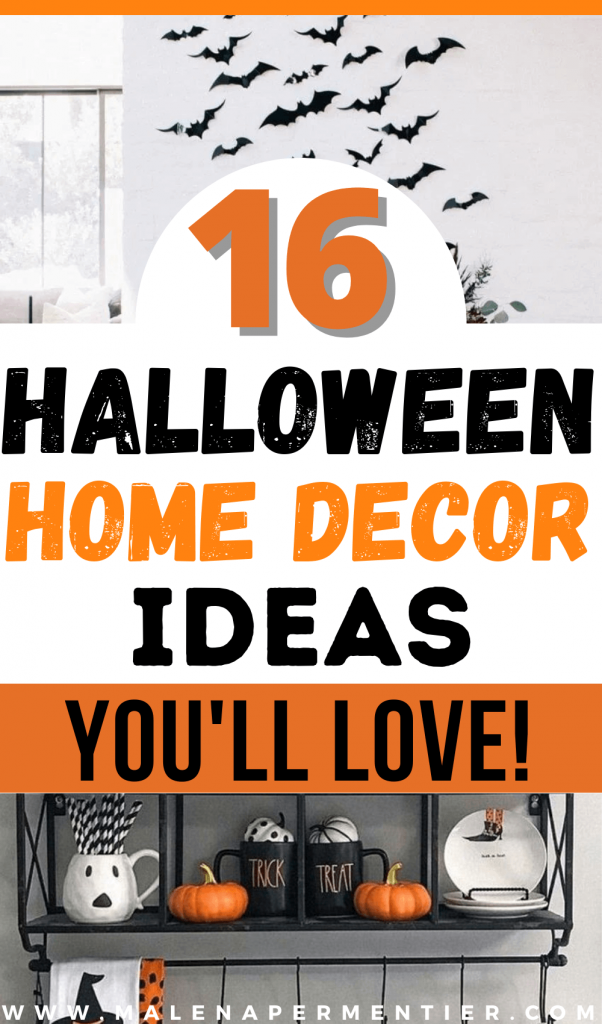 1. Decorate your mirror
Make your mirrors Halloween-proof with this insanely simple but cute Halloween bat decor.
You can attach these bats with wall-friendly stickers that are super easy to remove.
These bats come in a pack of 120 in different sizes for under $10. Pretty budget-friendly.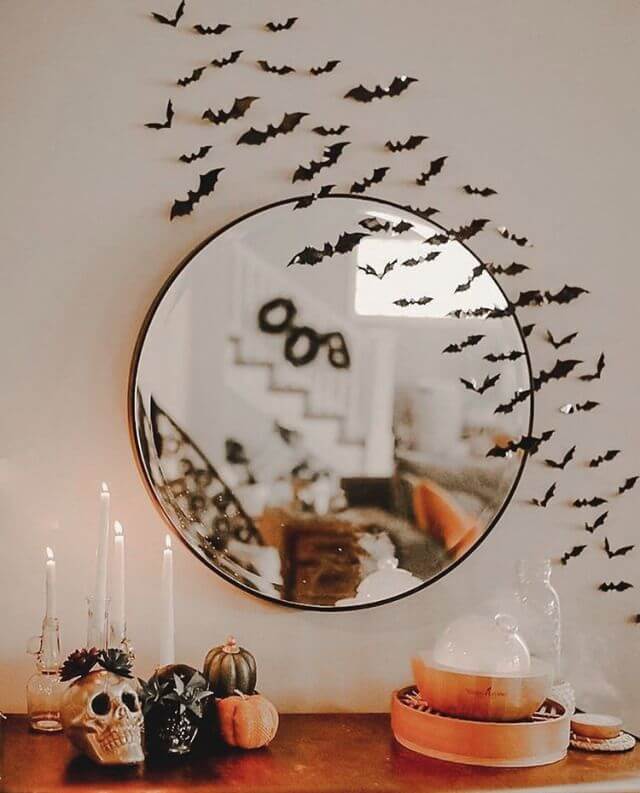 Recreate Halloween mirror with bats:
2. Use a Halloween sign
This Halloween decor with a touch of farmhouse works so well!
Recreate this on your entry table or a dresser in your living room.
Recreate this:
3. Make the most of your mantel
Mantels are such great spots for seasonal decor. So if you have one, make the most of it.
Keep it classy and simple with a fall garland and a cute Halloween sign.
Recreate Halloween mantel decor:
4. Decorate a tiered tray for Halloween
Halloween-tiered tray decor must be one of my favorite decorating ideas. That's for two reasons; #1, it's super budget-friendly. #2 You can easily personalize your tray according to your taste.
Go for a classic Halloween color scheme or a more minimal style. The options are endless!
I love the decoration of the tray below because it's very fall-like, fresh, and fun.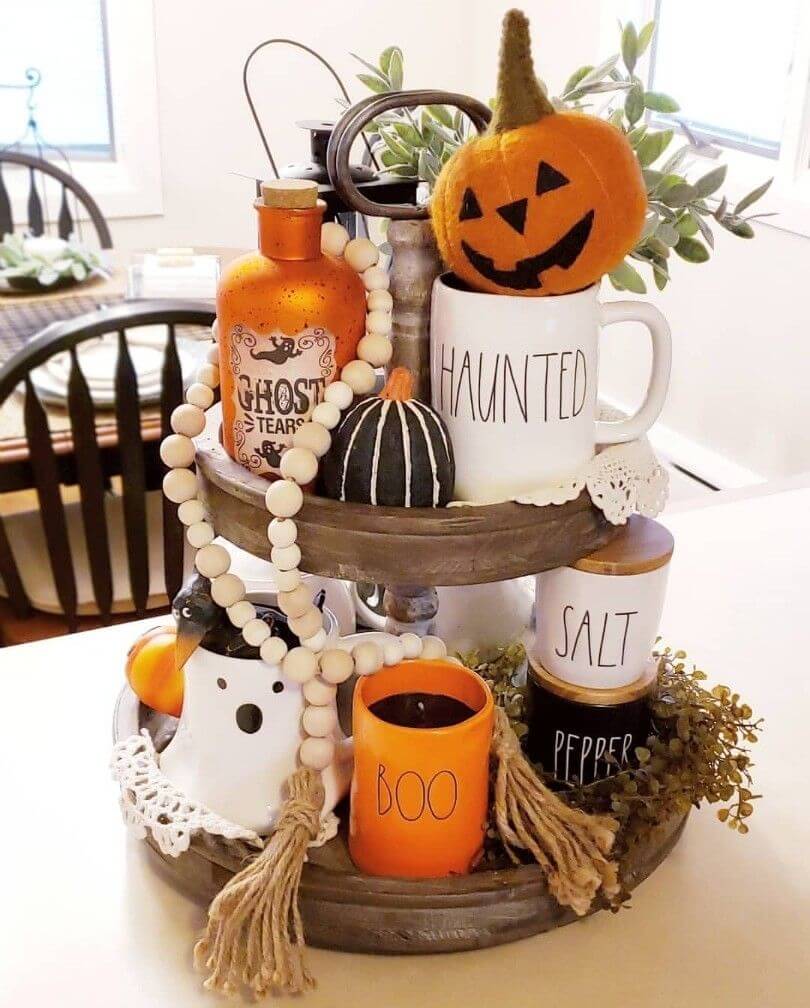 Recreate this:
5. Line your front porch with pumpkins
Lining your front porch/stairs with pumpkins is a cute way to welcome people in a complete Halloween ambiance.
Even if you don't have stairs leading to your door, you can perfectly recreate this idea next to your door if you have a little porch.
I also love the idea of tin buckets with orange flowers. You can easily recreate this idea with fake Marigold flowers if you'd like.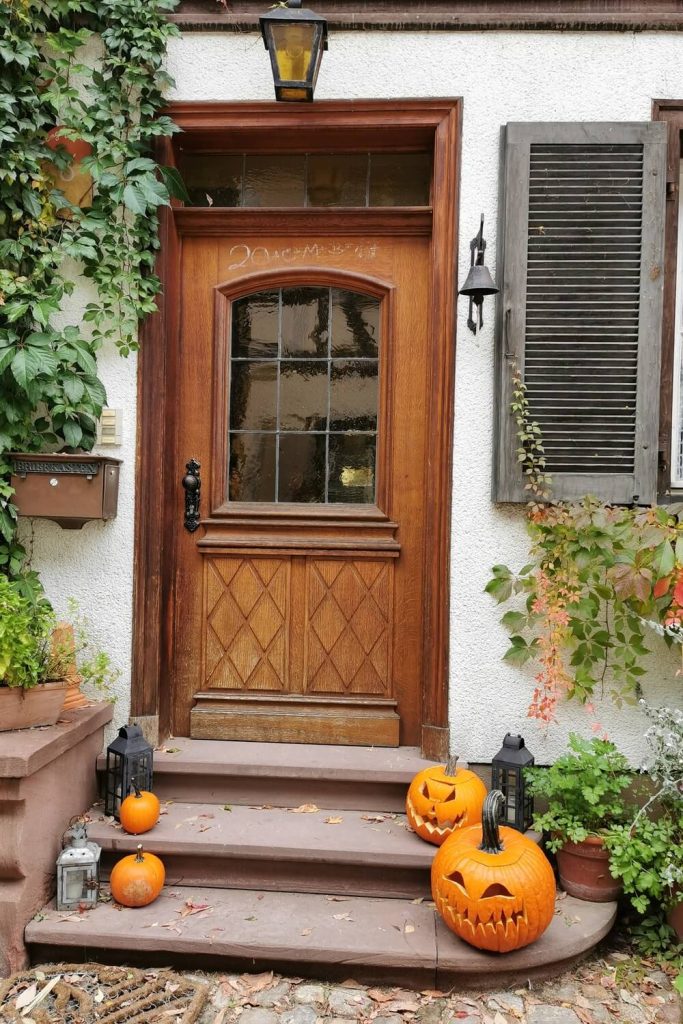 Recreate this:
6. Do a bat branch DIY
I love this simple Halloween home decor!! All you need for this DIY is bats and branches.
On Amazon, they sell bat decor in packs of 120 under $10, so you'll have plenty to work with. Either fake or real branches will do.
Recreate this:
7. Make your entry extra scary
Your entry is one of the first things people see, so making it extra scary for Halloween is a lot of fun.
The sitting skeleton on the bench cracks me up and is such a budget-friendly way to decorate your entryway.
Recreate this:
8. Let Halloween take over your kitchen
There is so much cute Halloween decor for the kitchen. I particularly love the little towel with Halloween quote and adorable cups.
Suppose you have floating shelves in your kitchen that make a great spot to spice it up with Halloween decor. If you have limited space, just a Halloween-themed tiered tray or a ceramic pumpkin will do.
Recreate this:
9. Make your coffee table spooky
Decorating your coffee table for Halloween can be done in a very understated and classy way.
Is it scary? Absolutely. I'm not sure if I could look at these spiders every day, but it makes for spooky Halloween decor.
Especially if you plan on having guests over for Halloween, decorating the coffee table is a must!
Recreate this:
10. Bats on the wall
There are endless ways to decorate with bats for Halloween.
Sticking them on the wall above your bar cart or dresser is one of them!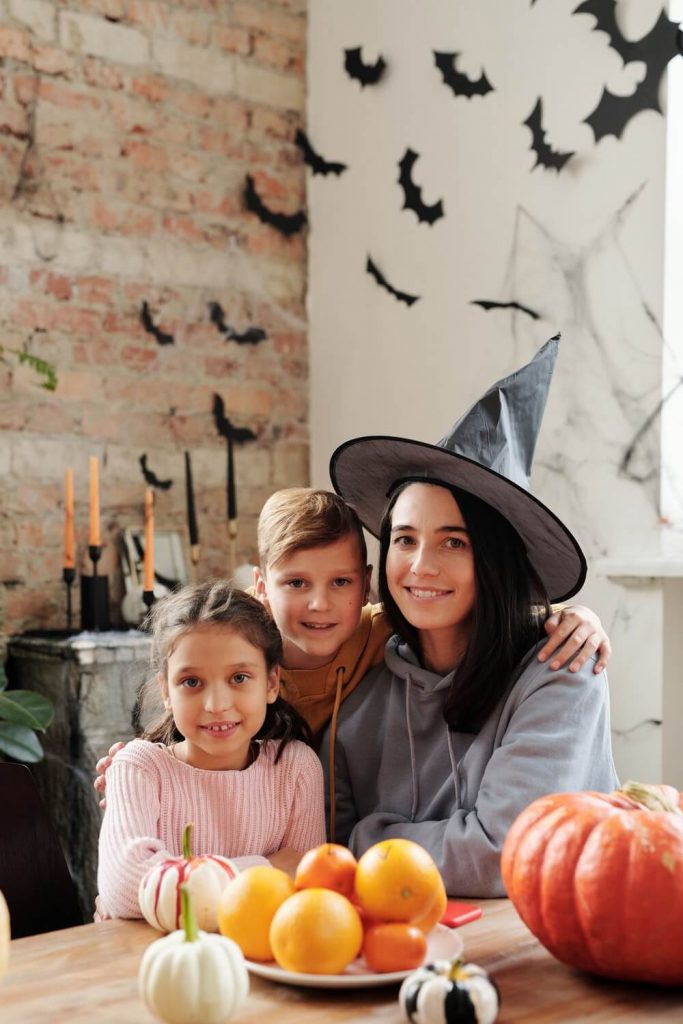 Recreate this:
11. Use spooky Halloween art
Art is always a great way to decorate your home for the holidays. The great part about it is that you can adapt to your home's style.
This minimal artwork is super cute, but you could also choose something with a cozy farmhouse aesthetic.
Recreate spooky art for Halloween:
12. Don't forget to decorate with candles
Not all Halloween decor has to be overwhelming and spooky.
Make sure to have candles around to create that Halloween ambiance.
Recreate this:
13. DIY Halloween decor with scary cloth
I love everything about this Halloween mantel decor!!
First, it's so easy to create cute Halloween decor with scary cloth.
Use the cloth to decorate with spiders or bats, then surround your scary decor with cute pumpkins and candle lanterns.
Copy this:
14. Create Halloween decor with bell jars
Bell jars are super versatile, especially when it comes to seasonal decor!!
You only have to invest in a bell jar once; then, you can adapt its decor depending on the holiday.
I love this super simple Halloween bell jar decor with bats, but I've also seen ones with different colored pumpkins.
Recreate bell jar decor:
15. Spooky vibe with black candles
Black candles are a must for Halloween! Use a black candelabra for the complete Halloween atmosphere.
This candelabra is super affordable, and it looks so chic! This decor works for your coffee table, living room dresser, dining table, or even your entryway.
Recreate this:
16. DIY bottle for Halloween
Bottles are always great for DIYs. I always loved creating "art" with candles in empty wine bottles and letting the wax slowly melt down on the bottles.
Something you need to keep your eyes on for safety, but so beautiful!
You can easily use empty wine bottles to create your unique DIY.
Get some orange (fake) flowers and some tiny skulls, and get those bottles Halloween-ready.
Recreate this: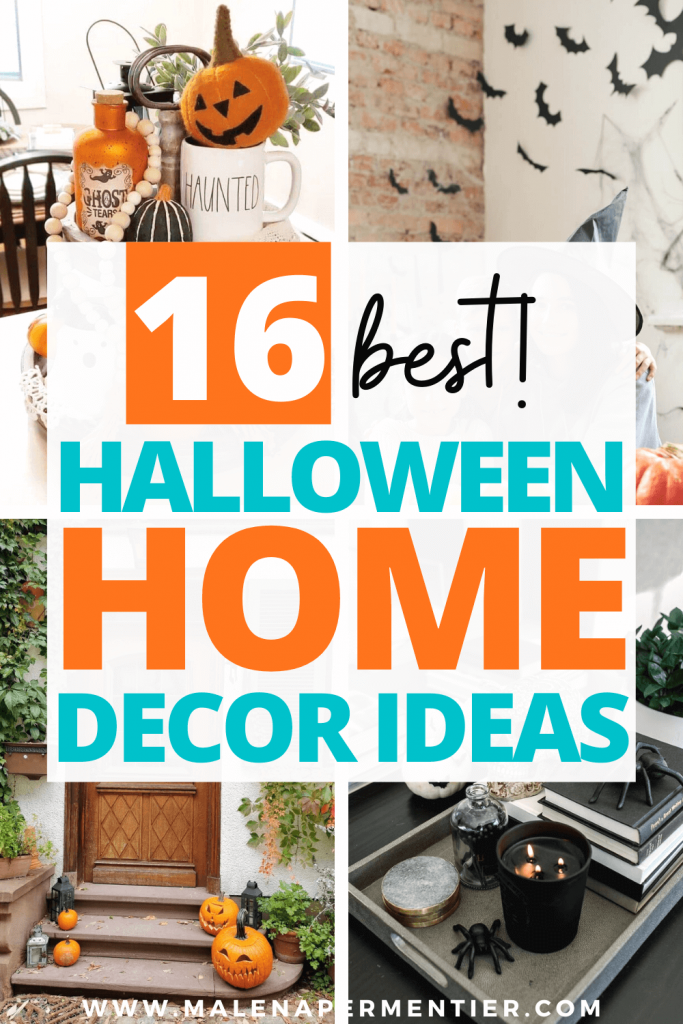 This post was all about the Best Halloween Home Decor Ideas.
You may also like: