Hey there! Some links on this page are affiliate links which means that, if you choose to make a purchase, I may earn a small commission at no extra cost to you. I greatly appreciate your support!
This post shows you cheap and easy graduation party food ideas.
Are you throwing a grad party this year? Then you probably wonder about the best foods to serve your guests!
This post goes over 25 cheap graduation party food ideas that are easy to recreate.
Things like 'build your burger,' a hot dog station, or a taco bar are delicious and easy to serve your guests.
If you're expecting at least 50 guests, putting together a menu with foods that you can make ahead of time is helpful.
That makes hosting easier, and your guests can help themselves to the food buffet style.
Images always do a much better job of getting ideas for your party, so let's look at the best grad party food ideas to recreate in 2023.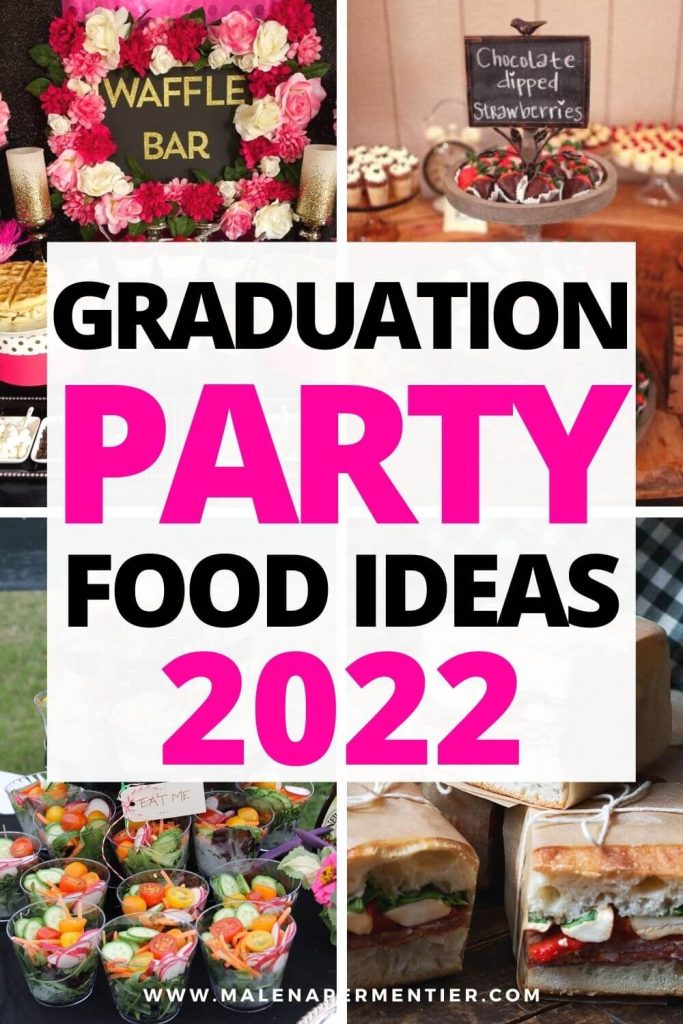 27 Graduation Party Food Ideas
1. Charcuterie jars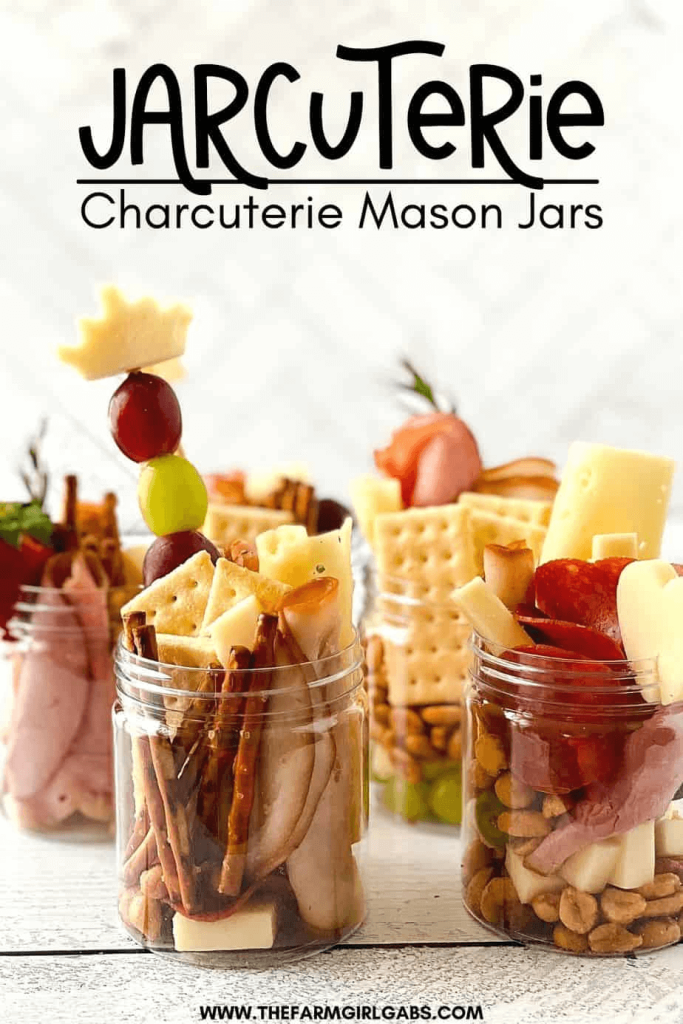 Using jars for snacks and easy party foods is a genius idea.
Especially with covid, people will feel more comfortable having their charcuterie jar versus snacking from a charcuterie board.
Fill the jarcuterie with crackers, cheese, nuts, dried salami, and baby pretzels.
You can top the jar off with olive or grape sticks.

2. Hot dog board
Hot dogs are great to have at your grad party.
Serve them on a large board with different toppings so people can customize their hot dogs to taste with sauces, onions, guac, and other toppings.
3. Luxurious sweet snack board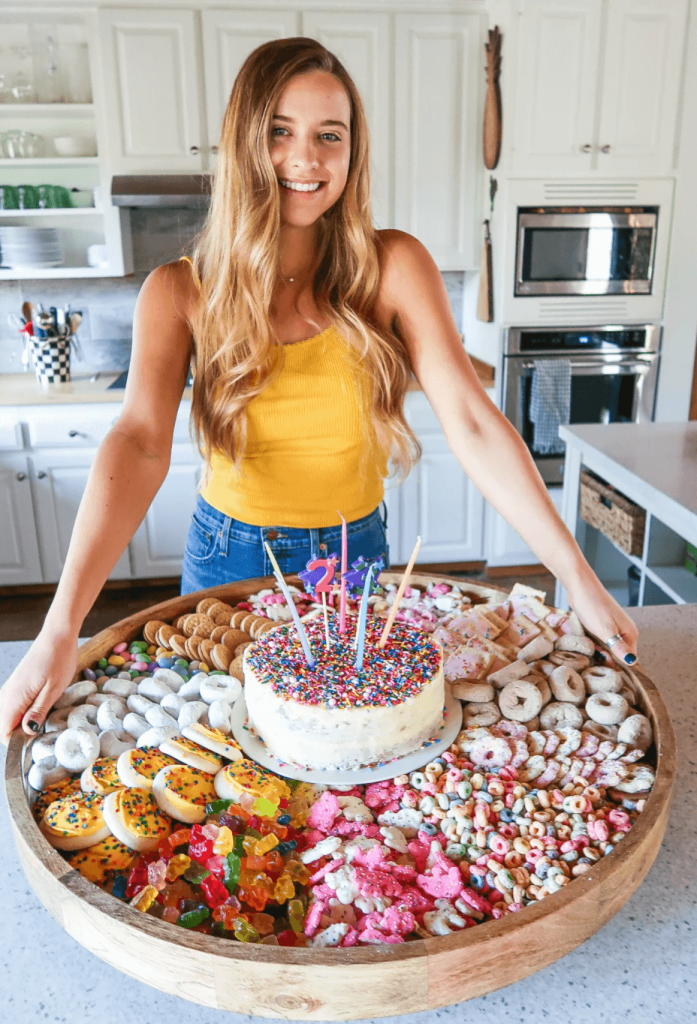 Besides a savory snacking board, you can also make a sweet board!
This is a great way to add color and fun for a festive occasion like a graduation party.
Put a sweet snack board with a cake in the middle, donuts, favorite cookies, and sweets.
The more colorful, the better!

Extra-large wooden trays are not easy to find, but this 24″ tray looks amazing!!
You can find a cheaper option here.
4. Waffle bar
A waffle station is such a fun idea to have at your grad party.
Waffles are a crowd-pleaser, and everyone will obsess over them with the right toppings!
Whether you throw a morning party or an evening grad party, waffles are an inexpensive and delicious idea.
5. Charcuterie board
Charcuterie boards look amazing and can be relatively inexpensive!
The best charcuterie boards mix both savory and sweet flavors, so get creative and bring your best board.
This youtube video on making a charcuterie board is super helpful if you are a beginner at this!

6. Pizza station
Buy pizza bases at your local supermarket, and then dress up those pizzas real fancy with cheeses, tomato paste, salami, veggies like mushrooms, olives, and bell peppers.
Making pizzas yourself is much cheaper than ordering in and also super fun if you let your guests make their pizzas.
7. Mini Caprese Skewers
Snacks like Caprese skewers are great because everyone loves them, you can make them ahead of time, and it's cheap.
You will need perfectly red cherry tomatoes, small mozzarella balls, prosciutto (or another ham), basil leaves, and maybe some sundried tomatoes if you want to make it fancy.

8. Yogurt parfaits
Yogurt parfaits are great if you're serving breakfast for your party!
Most people throw their graduation parties in the evening, but sometimes you might have to do so earlier in the afternoon or morning.
Swapping yogurt for vanilla ice cream is also a cute dessert idea.
9. Taco bar
A taco bar wins time after time as one of the best graduation party foods!
Put together a taco station with hard taco shells, soft tortillas, and filling like ground beef, veggies, guac, salsas, and other taco toppings.

10. Pasta cups
Cold pasta salads are a crowd-pleaser in summer and easy to make.
Google 'cold pesto pasta salads,' and you will get a ton of inspo on preparing your pasta cups.

11. Breakfast bar
Make a breakfast bar with scrambled eggs, pancakes, fresh fruits, and other favorite breakfast foods that are easy to serve buffet style.
12. Italian sandwiches
Sandwiches are versatile and look incredibly cute when you make an effort with the wrapping.
Make Italian sandwiches with focaccia bread and your favorite fillings.

13. Build your own burger bar
Building your burger is great if you plan to throw your grad party in the backyard with a BBQ.
This is also a vegetarian-friendly idea, as you can have both veggie patties and beef patties for people to make their burgers with.
14. Black bean corn salsa
Make a large black bean corn salsa and serve with nacho chips!
This cheap party food is easy to make and super delicious.

15. Milk and cookies
If you combine your grad party with activities like a movie night, a cute snack like milk and cookies is super nice to serve your guests.
Use shot glasses to recreate this idea!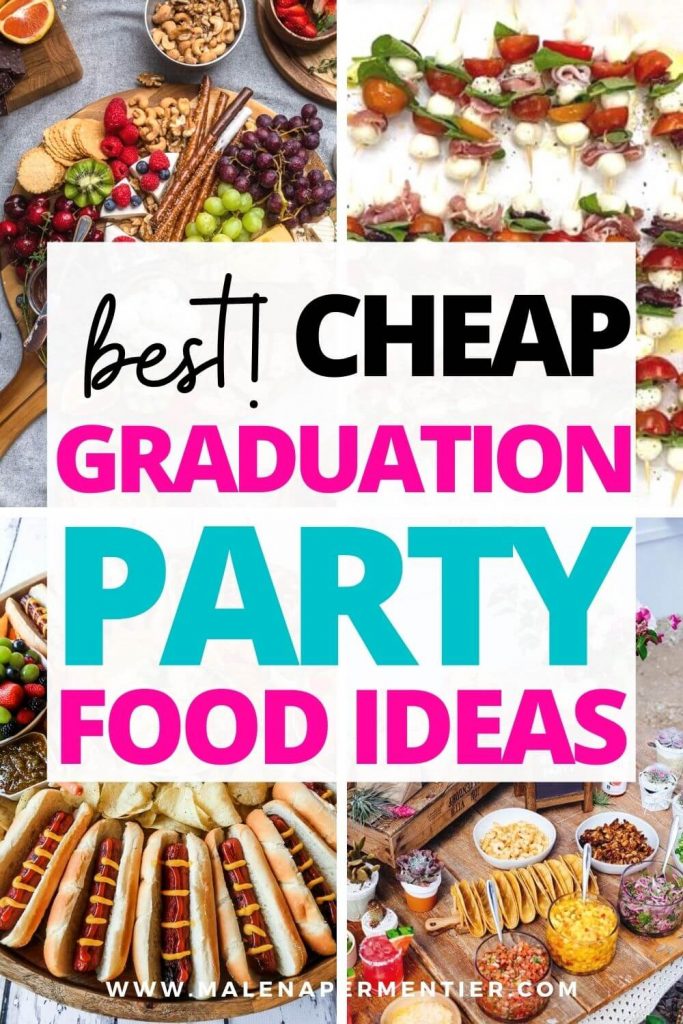 16. Fries and sliders
This is a classic, but it works! Serve fries and sliders at your party; your guests will love it.
Use paper cones or these super practical paper fries holders (50 pcs).

17. Pigs in a blanket
Pigs in a blanket are a favorite appetizer at any party.
Give yours a unique touch with the everything bagel seasoning that everyone is obsessed with!

18. Easy barbecue skewers
Are you doing a barbecue at your grad party?
That's ideal because you can make almost everything before the party. Put together easy bbq skewers with seasoned chicken and veggie skewers.
19. Churros
I thought these churros were the cutest idea!!
Make these little churro cups with dulce de leche or condensed milk to dip into.
20. Coffee bar
Coffee bars are a success if you throw your party in the afternoon when people can use a little pick me up!
Especially if you serve sweet treats like cupcakes or cookies, a coffee bar is a super cute thing to have alongside the treats.
21. Salad cups
Salad cups are another easy grad food idea that people will love!
Remember, you can make these salad cups as exciting as you want.
Don't forget to make a good dressing with which people can pair their salad cup.
Most grad parties are in summer when it's hot, and people generally love refreshing foods!
22. Chocolate-dipped strawberries
A classic that everyone loves!
You can prepare these chocolate-dipped strawberries ahead of time or have a chocolate fountain so your guests can make their own.
23. Cupcakes
Cupcakes are a fun, festive treat at your graduation party!
Make the frosting in the colors of your future college or high school.

24. Easy buffet foods
Foods like small bruschettas and sandwich roll-ups are fun, tasty, and inexpensive.
Check out this helpful post for the best pinwheel sandwiches to make.
25. Soft pretzels
I've never seen this idea before, and I'm obsessed! Serve pretzels at your graduation party and let people add the toppings they like.
Unique food ideas like this are always great for impressing guests and have fun.
26. Build your own s'mores tray
If you're throwing an outdoor grad party, s'mores are a must.
You can use chafing fuel even if you don't have a fire pit.
27. Small caprese baguettes
Last but not least, make small Caprese baguettes for your grad party!
Looks super luxurious, yet you can make these on a budget.
You'll need baguettes (duh), cheese (sliced or mozzarella), tomatoes, lettuce, and green pesto.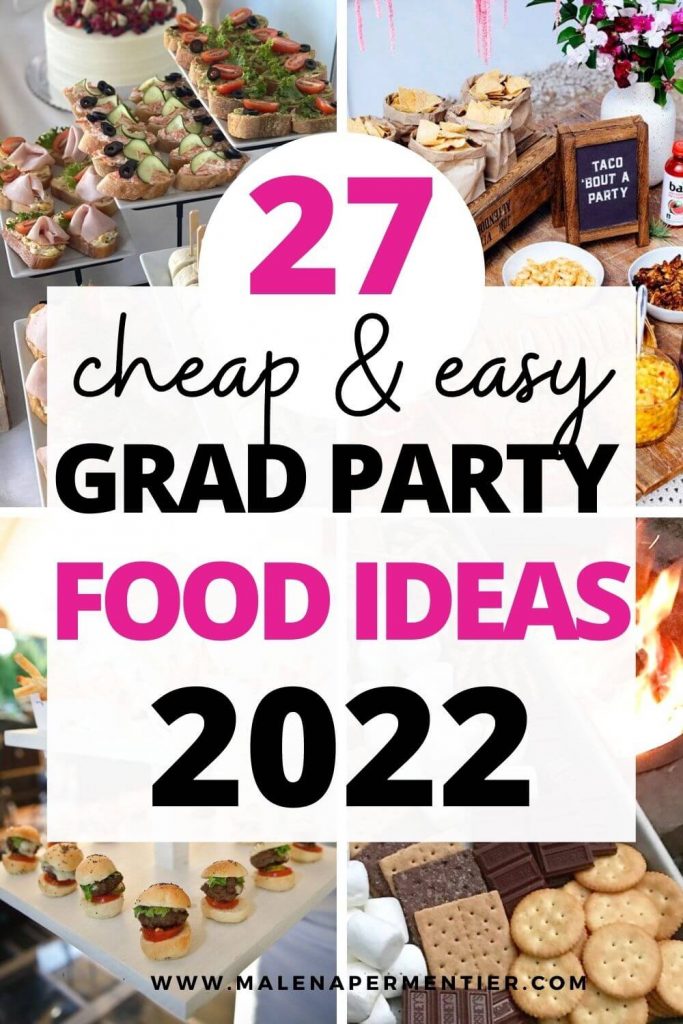 This post showed you the best cheap & easy graduation party food ideas!
You may also like: