This post shows you the best graduation party food ideas on a budget.
Is catering too much for the budget? I get it. That's why I'm here.
These food ideas are perfect for you to try out without breaking the bank to provide it to a lot of people.
Whether it's salty or sweet there's something for everyone within these ideas.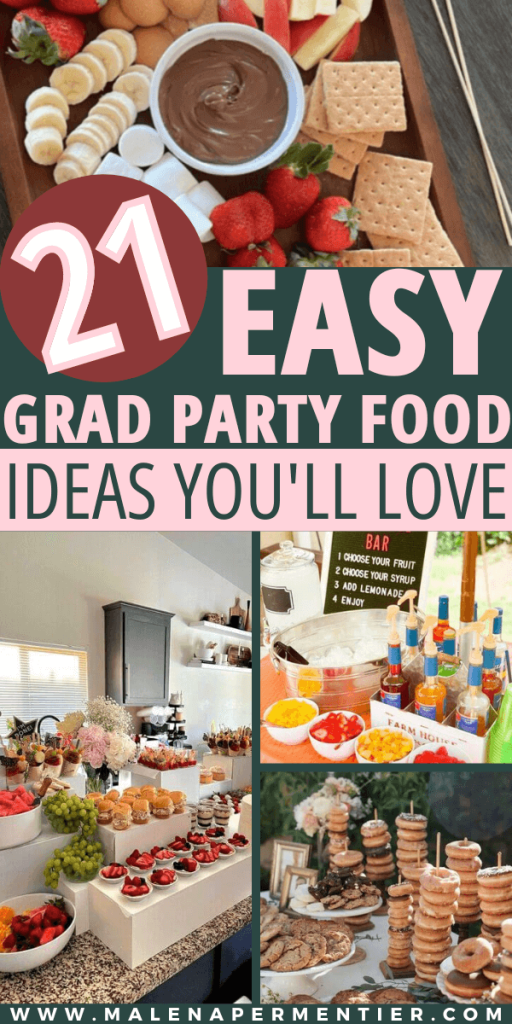 Tips for planning snacks
With a whole guest list to prepare, taking out so much money just for food can seem a little daunting.
Order just the basics
Opt for a buffet-style meal
Keep things simple
Build on the charcuterie board idea
Stick to snack tables
There are simple ways to stay on budget and create a menu.
Some fan favorites especially for graduation parties include fruits, desserts, or charcuterie boards. Since it's summer and the heat is pretty much not our best friend on most days it's important to stay hydrated and fueled. It's also important to keep cool since the heat can be extreme.
Popular food choices
It can be hard to find a good choice especially when you know that you will cater to more than a few people.
Before we dive into the great choices I've found to be budget-friendly, I just wanted to share with you some of the most popular choices people usually opt for when it comes to graduation parties.
Finger food
Sandwiches
Salads
Fruit bowls
Make your dish
Buffet
Barbecue style eating
These don't need to be taken into consideration, but if you need a quick idea to work off of these will be your best option due to them being budget-friendly and easy to pull together quickly.
1. Perfect snack combo
The perfect combo for a graduation party is making use of salty and sweet factors.
These snack bowls contain everything you need to keep you refreshed and give you energy.
From the salty pretzels, ham, and cheese right down to the sweet strawberries and blueberries.
It's the perfect snacking food for a summer party.
2. Initial snack board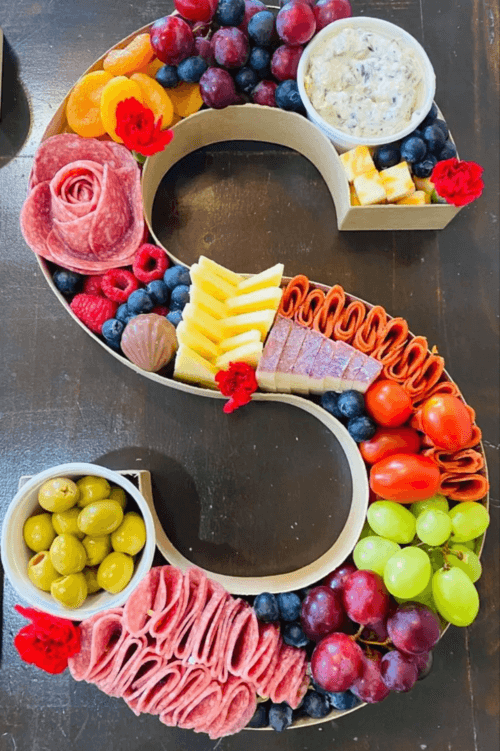 Incorporate the initial of the graduate into the food.
Yes, you heard me correctly.
You can create this as a DIY project or you can find a giant letter to use as a dish for snacks.
Fill it with favorites from the guests so that everyone has something to enjoy.
It's a simple way to personalize things without it getting expensive.
3. Sandwich station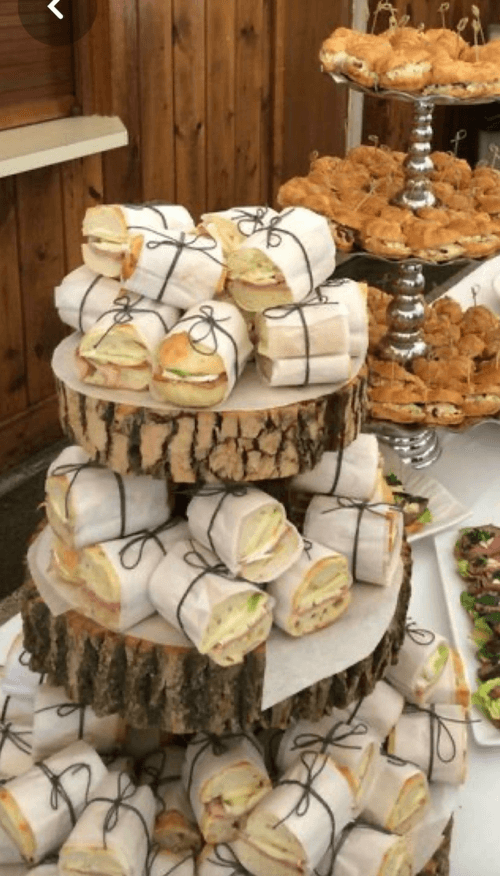 Who doesn't love a good sandwich?
Creating a sandwich bar might save you from having a lot of expenses.
It takes things back to basics and will keep you full longer than some of the other snack ideas.
Grab a table and create a full-on sandwich bar with a variety of options to choose from.
4. Cookie and donut bar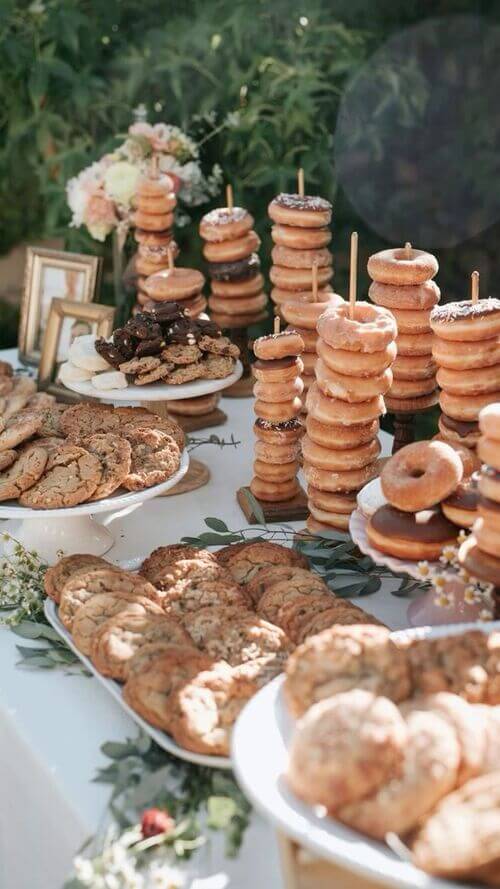 If you're more of a sweet tooth then try out a cookie and donut bar.
No one can deny a donut or even a homemade cookie.
It's an easy idea to pull together.
With so many options to choose from it can be the perfect choice for a graduation party.
To see what people like you can add it as a question to the invitation.
This gives you an estimate of how much to get without wasting.
5. Pasta cups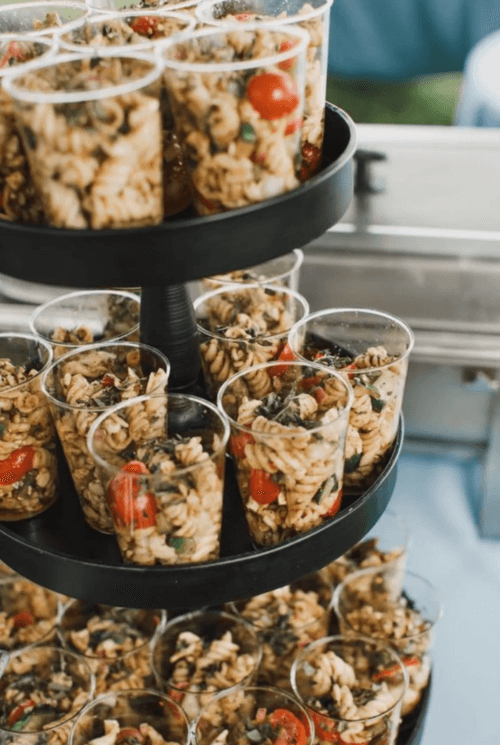 Want a refreshing and filling snack for your guests?
These pasta cups are the perfect snack for a day filled with activities and fun with friends.
Pasta can be a homemade recipe that can be scaled up for the number of guests, which makes it great for a big party.
It's cost-effective and won't fill you up too much to not want a snack or two throughout the day.
6. Build a pizza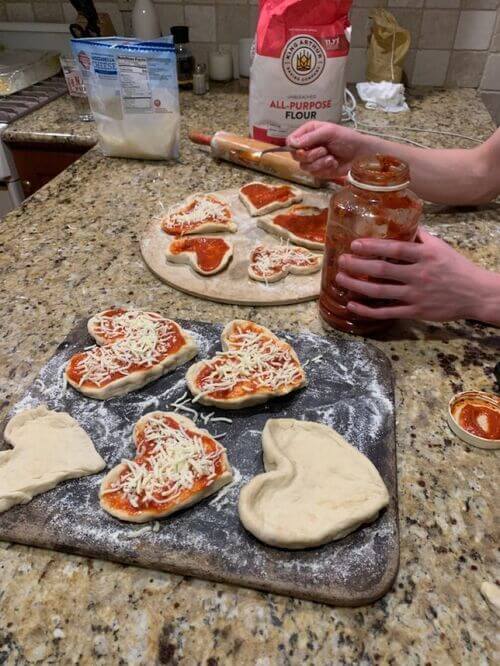 If you're looking for a little DIY or interactive element to the party then this is perfect.
Building your pizza is just pure joy for everyone.
So grab some dough, sauce, and all the toppings of your dreams and bake away.
Interactive elements and activities go a long way when it comes to parties.
It makes sure people are busy and just enjoying things as is.
7. Fresh fruit bowls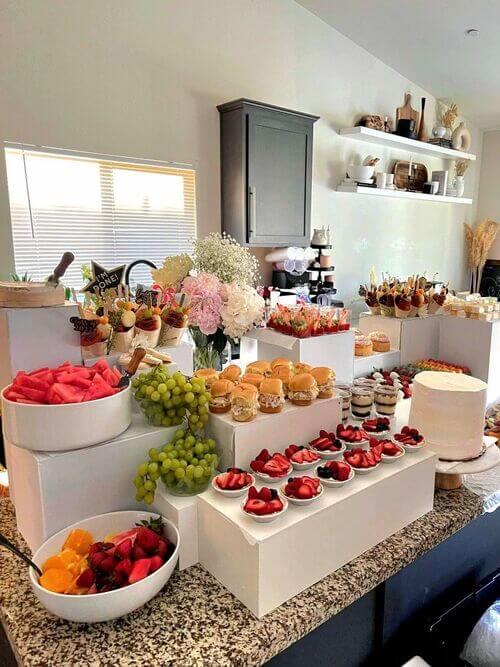 A summer necessity… fruit cups.
Create a designated fruit station for people to grab their favorites and enjoy.
This will surely keep people refreshed throughout a hot day.
It offers a wide variety while still being budget-friendly.
Simply put everything on a table and set out some bowls or cups so that people can pick and choose as they, please.
8. Chip and dips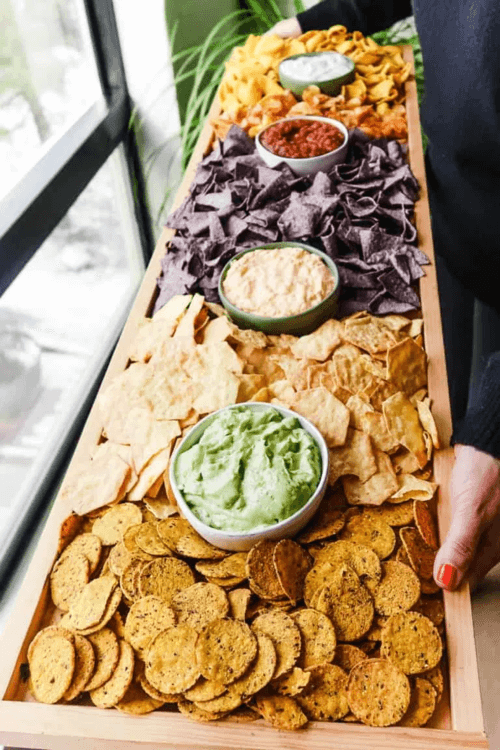 Chips and dips are the perfect snack for a party.
They don't fill people up, but it gives them something to enjoy while the barbecue is going on or if they aren't ready to grab something more filling yet.
You can set out a few options for people to pick from but still keep things to a minimum so that you aren't wasting anything.
9. Chocolate strawberries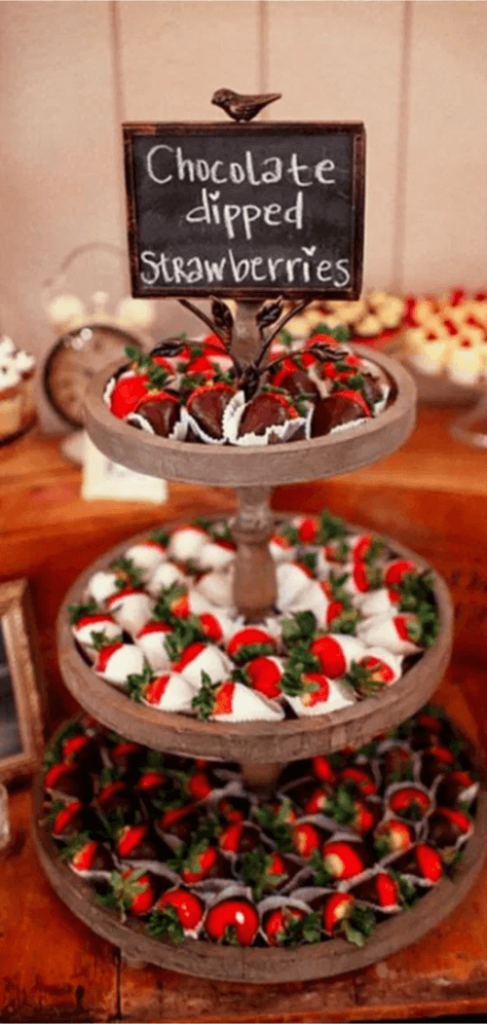 Sweet and refreshing snacks? Absolutely a necessity.
Set out a tray filled with some dipped strawberries.
Or, if you want variety, you can add white chocolate, dark chocolate, and milk chocolate, as well as yogurt-dipped strawberries or other fruits.
It's simply up to what you like as an individual.
It also allows you to personalize the type of fruits you want to add to the table.
10. Make your lemonade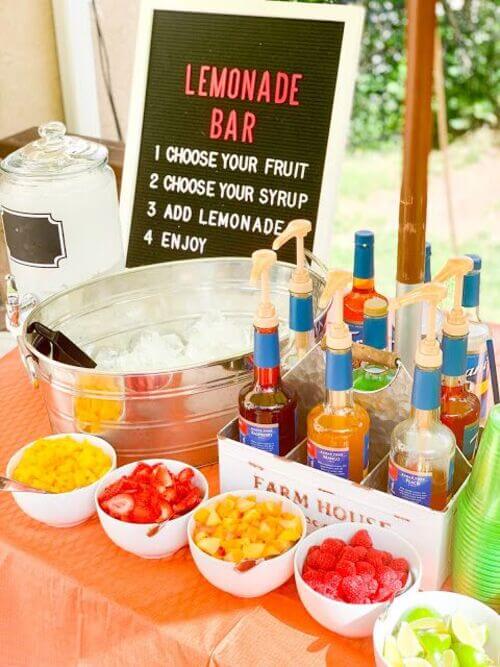 On a hot summer day, you don't need much more than some refreshing lemonade.
Set up a lemonade bar with all the essentials for people to customize and enjoy their drinks.
People will love this idea due to the multitude of options it allows them to choose from.
11. Donut wall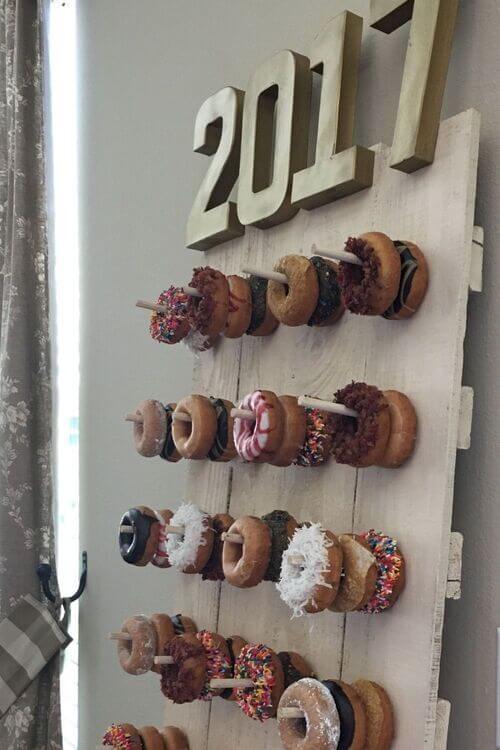 May I present the best thing since donuts were made… the famous donut wall.
It takes up less space and allows you to have a variety of options right at your fingertips.
You can easily make this with a few wooden pegs and a pallet or buy a board to use as is.
12. Veggie and fruit station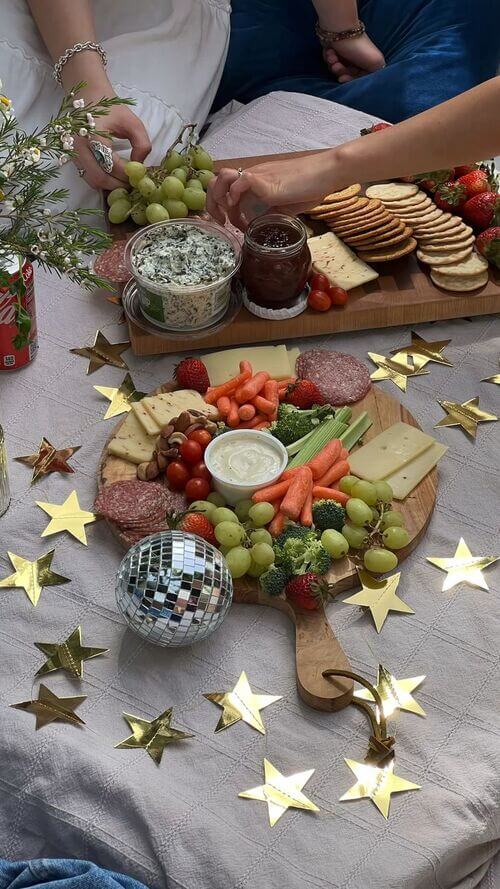 Give people a healthy option—a plate with fruits and veggies for people to enjoy.
It's a simple idea and a cheap way to ensure you have a lot of goodies on hand for people to enjoy before diving into a meal or light lunch.
13. Chocolate fondue station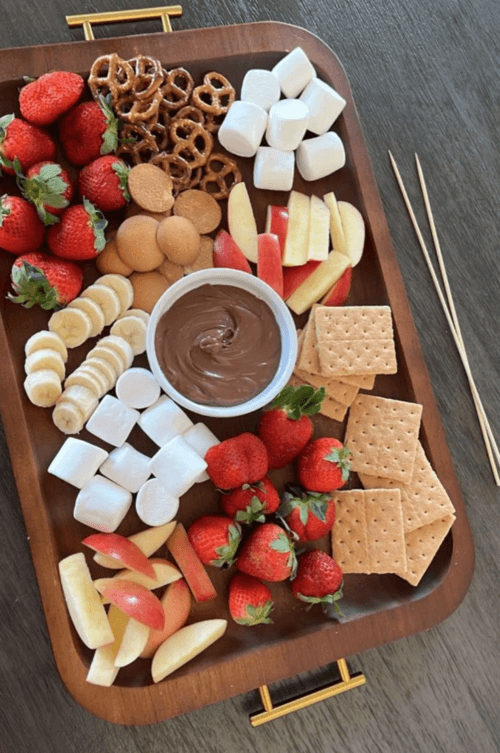 A graduation party needs something sweet to add to the mix.
Make a chocolate fondue plate with some marshmallows, fruit slices, and crackers for people to create their snacks.
Just leave a few skewers next to the plate and let people grab their favorites.
14. Big barbecue station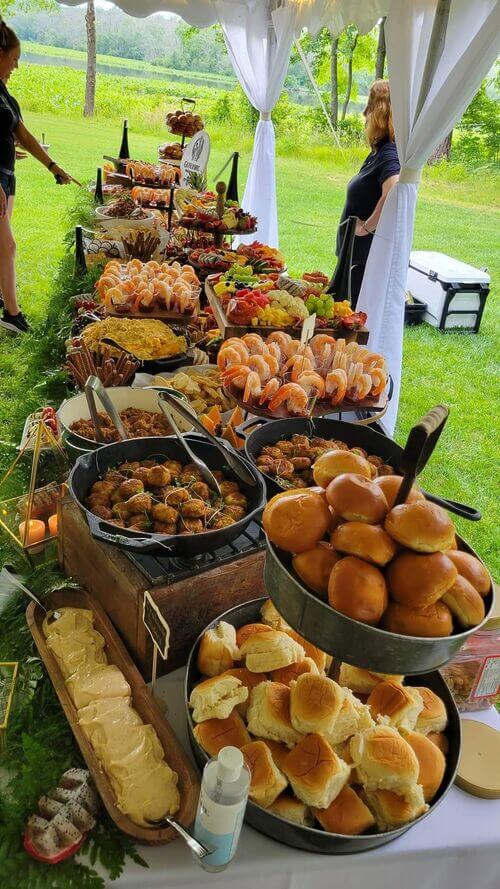 Bring on the big barbecue table. Another way to be more cost-effective is by having a barbecue.
Ask your guests to bring a dish so that there is a variety of things to choose from.
It's simple and will ensure everyone has enough throughout the day.
15. Graduation year snack set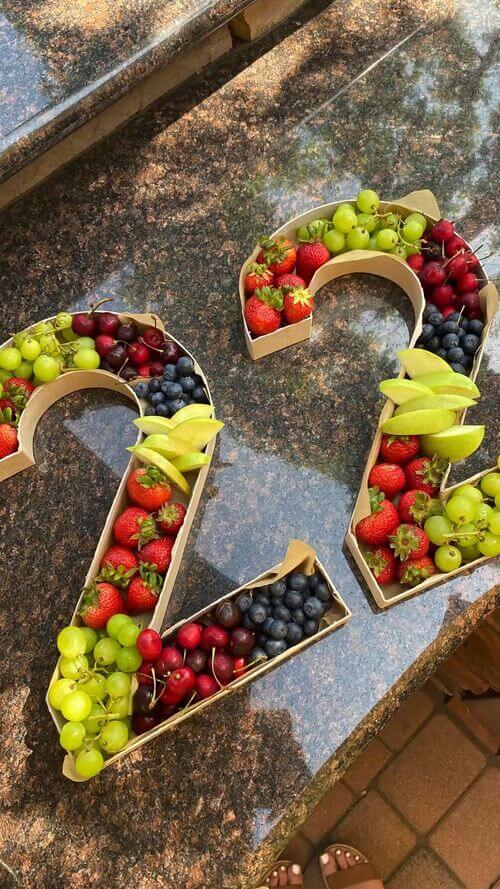 Just like the letter idea, you can try it out with the graduation year.
It's a simple way to personalize things while having the decor serve a purpose, so if you need a quick way to get things into order, then this might be just what you need.
16. Sandwich station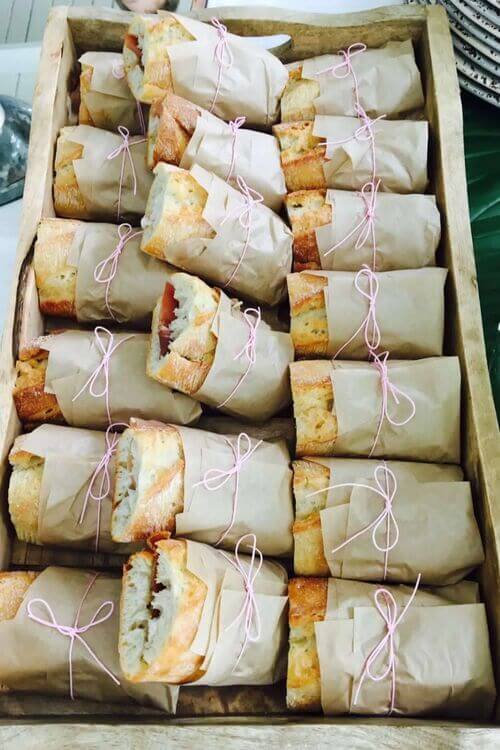 Sandwiches are a lifesaver.
When thinking on a bigger scale you need something to give the guests energy as well as make them full.
Sandwiches are your best bet because they are quick-fix and budget-friendly.
17. Fruit salad table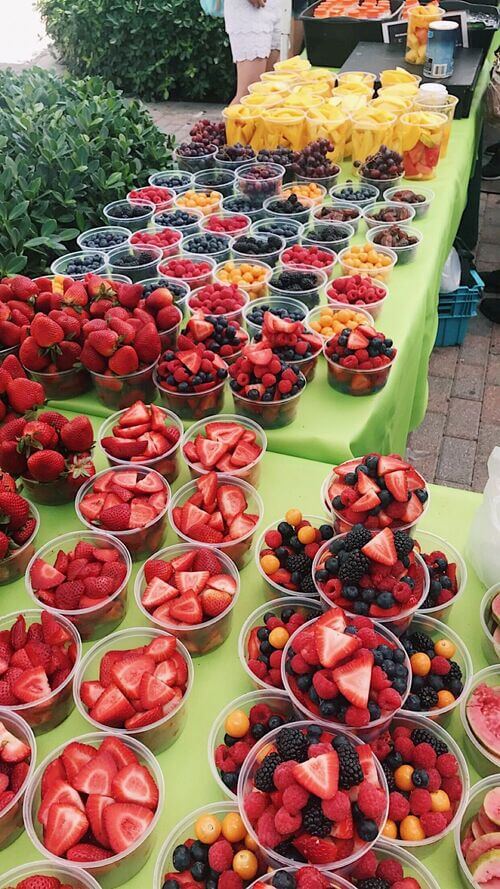 Fruit stations are just what you need to keep guests refreshed.
They can make salads, grab a few to snack on, or add them to their drinks.
This allows you to save money due to their multiple uses.
18. Finger food and salad bar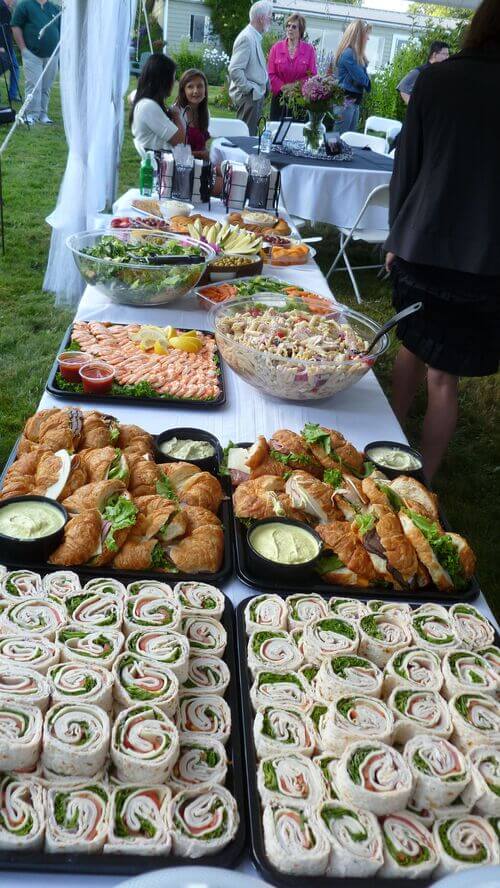 Finger food is your safest bet when it comes to a party.
Pair it with some salads to ensure there is a bit of variety to choose from as well.
With wraps, subs, and salads, what more do you need?
19. Fresh salad bowls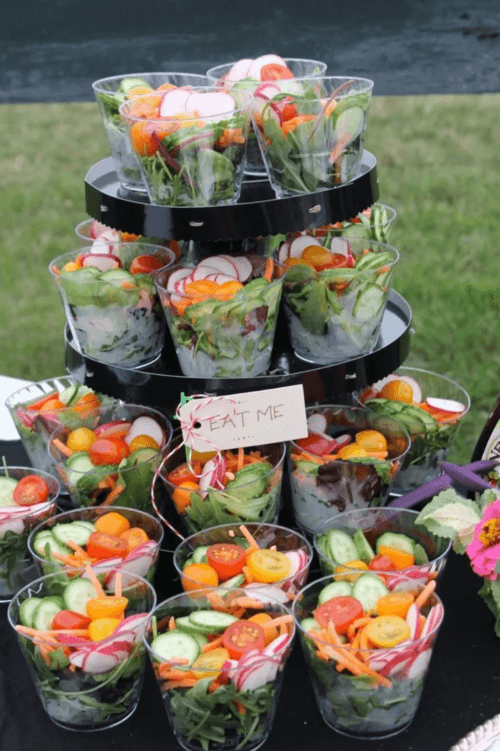 This cute salad bowl idea is just what people need on a warm day.
You can serve it as a starter or a snack.
It's budget-friendly and you'll never have too much salad on hand.
People will love this idea, especially when they are just getting to the party, and it has been a long day.
20. Chip station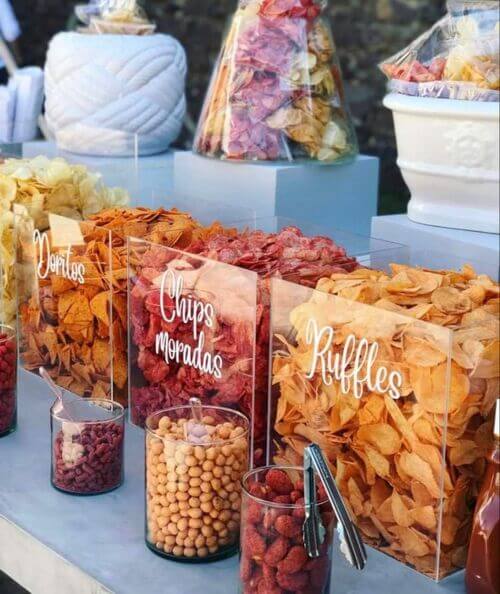 Grab some glass or acrylic containers and place stickers on the containers.
The variety of chips will give everyone something to choose from and enjoy.
21. Sweet treat bar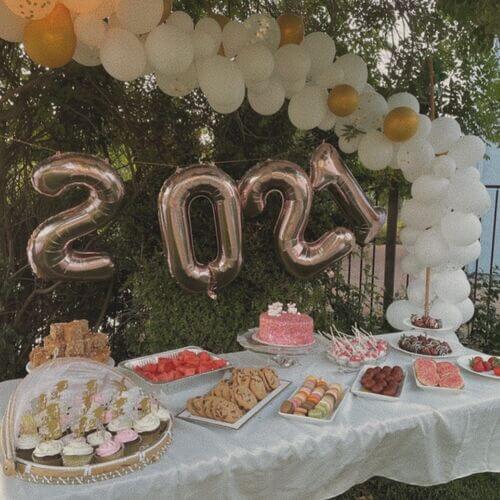 Grab a table and set up all your favorite snacks.
Having a station with cupcakes, cakes, and cookies is perfect for a graduation party.
You don't need things to be all savory; having a sweet treat station is the perfect addition to the day.
Food ideas can be budget friendly
Throwing a fun-filled party doesn't mean you need extravagant food that breaks the bank.
Keep things simple and stick to the basics. If you know what everyone likes, then it's easier to cater to their needs without having it be excessive.
People are there for their friends and family members.
They won't critique your food displays. Don't stress about the little things.
Just have fun and let people know they have options or can make their mash-up.
Salad bars or making your pizza is a fun way to ensure people have all they need throughout the day.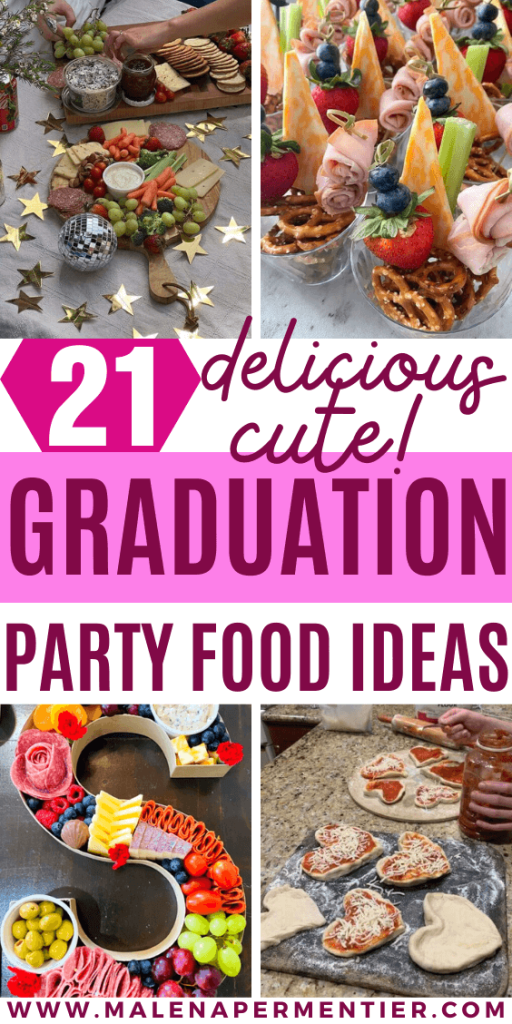 This post showed you the best graduation party food ideas on a budget.
You may also like: