This post shows you the best easy & affordable graduation party food ideas.
Graduation parties are all about gathering your friends and family and celebrating the fact that the cap is in the air!
Whether you plan on having a party with a small or big group to celebrate, good foods are a must at every party.
However, if you are worried about spending too much on food or lack time to prepare, worry not!
In this article, we have rounded up our favorite appetizers, main meals, and desserts that are easy and on the budget to help you pull off the best graduation party ever.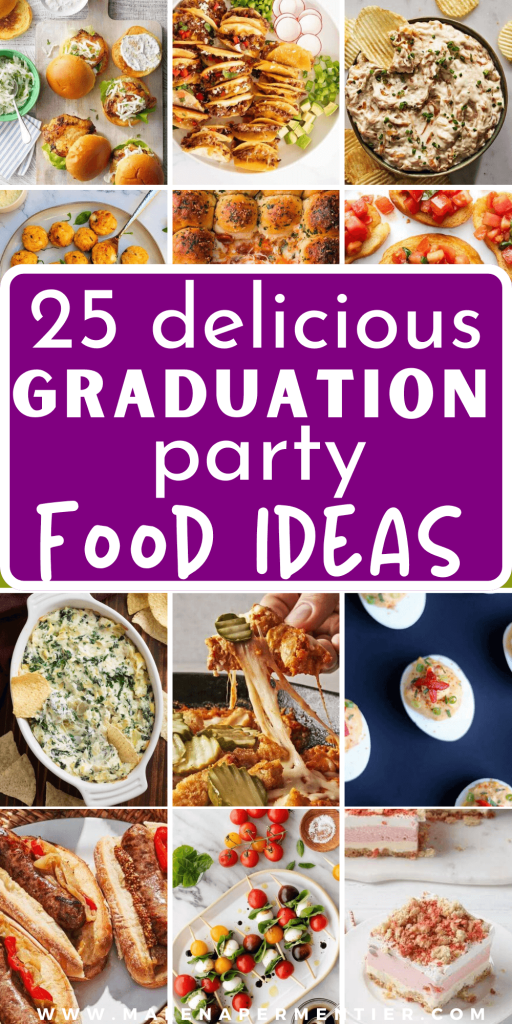 Tips For Food Planning
There are several things to consider when planning a graduation party. Here are some tips to help you with food planning for your graduation party:
Determine the guest count: Before anything else, start by finalizing the number of guests. That way you can estimate the quantity of food you have to prepare.
Choose a theme or menu style: Pick the type of cuisine or theme you want for the party. Choose between a BBQ, buffet, potluck, or just finger foods. Selecting a theme will help narrow down your food options and simplify the planning process.
Plan a variety of dishes: When it comes to a party, you don't want to serve only one dish. Aim for a diverse selection of dishes to cater to different tastes. Also, include appetizers, main courses, sides, and desserts. If you don't really have anyone to help to prepare, or you only cater to a small group, go for easy and simple foods!
Calculate portion sizes: If your party is for a big group, then you want to ensure that you have enough food to feed everyone, but try not to overdo it to avoid excessive leftovers.
Budget wisely: Lastly, plan your budget so you don't spend your money on unnecessaries. Shop around for the best deals on ingredients and supplies.
25 Graduation Party Food Ideas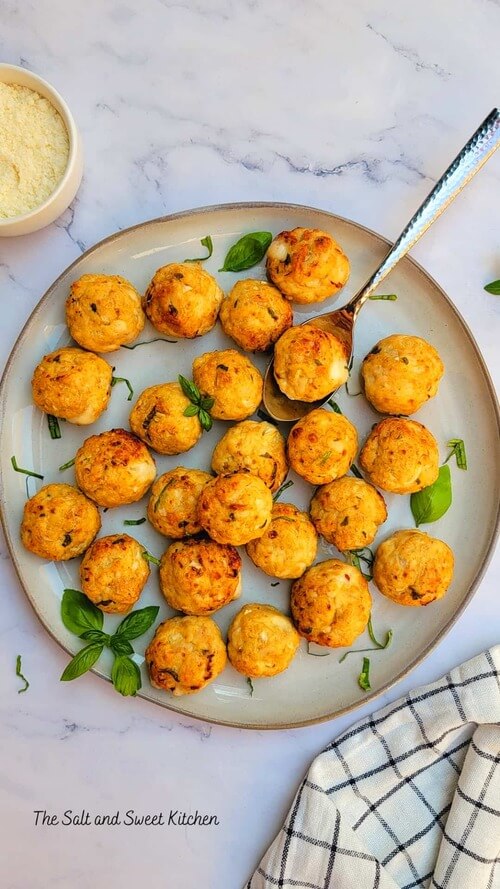 This cheesy meatball recipe is great for an appetizer or as the main dish.
The meatball can be replaced with beef or any other meat you'd like.
You can have them with pasta or with a side of vegetables.
The meatballs can be prepared beforehand, in bulk, and frozen!
When you want to cook them, take them out of the fridge and deep-fried, air fried, or bake them.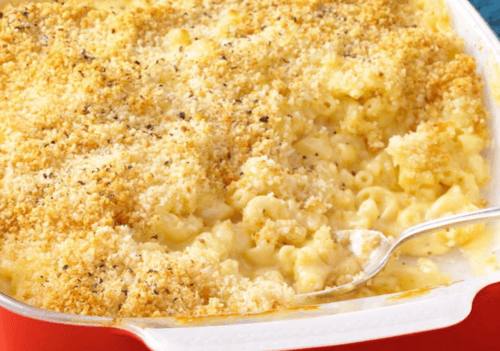 Mac and cheese are legendary for big parties.
They are easy to make and can be served as a main dish.
It features a luscious blend of three cheeses, creating a rich and flavorful dish that will please everyone's taste buds.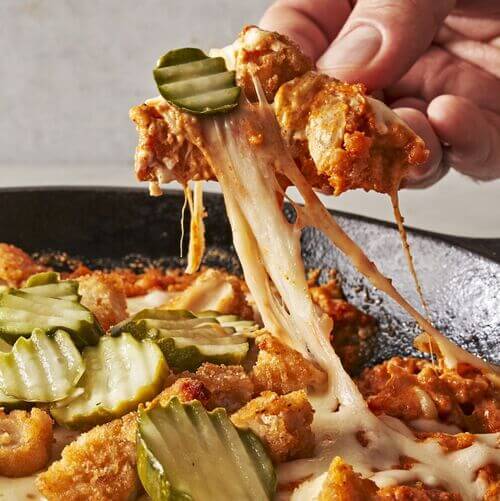 Looking for a recipe that can spice up your graduation party?
This Nashville hot chicken dip brings the heat and MORE.
It combines shredded chicken, cream cheese, hot sauce, and spices, resulting in a creamy, spicy dip that pairs perfectly with tortilla chips or crackers.
This recipe has always been the classic appetizer recipe. Crispy baguette slices are topped with a vibrant mixture of diced tomatoes, fresh basil, garlic, and olive oil, creating a burst of flavors that will tantalize your palate.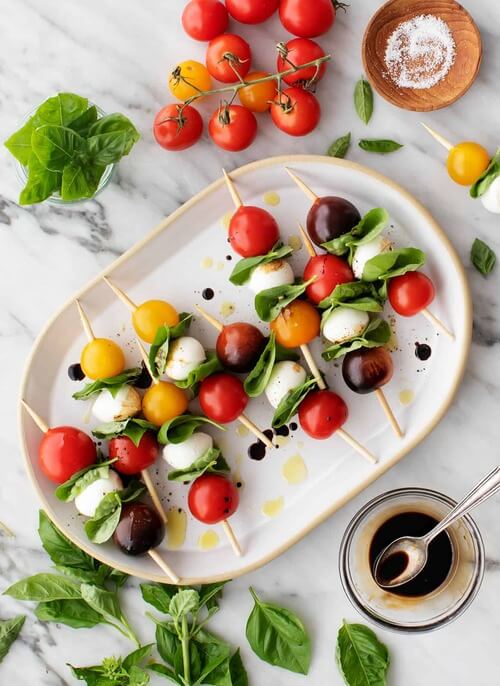 These skewers are fun and vibrant looking! They will be a great summer party appetizer.
Alternating between cherry tomatoes, mozzarella balls, and fresh basil leaves, they are drizzled with balsamic glaze, creating a delightful and refreshing appetizer.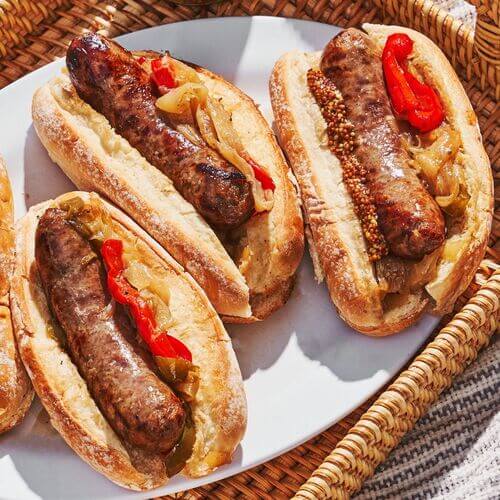 Brats or bratwurst is a must for a BBQ!
Bring the taste of summer to your party with these grilled beer brats.
Simmer your brats in beer and then grilled to perfection.
Grilling brats, however, is somewhat tricky so you need to grill them the correct way.
That way, you can make a smoky and flavorful dish that can be served on buns or hotdogs with your favorite toppings.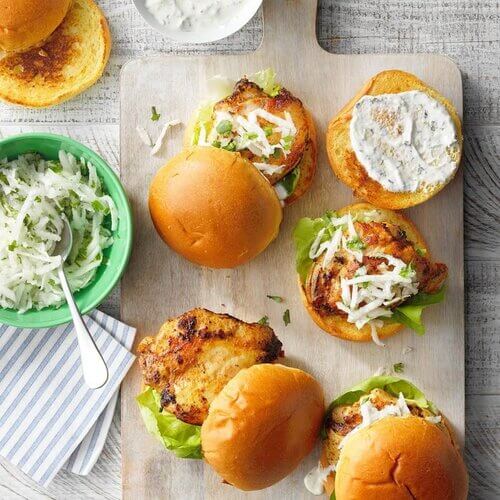 Bored with your usual chicken sandwiches?
Try this fusion of Indian food with a modern twist.
Tender chicken marinated in a tandoori masala blend is grilled to juicy perfection, then tucked into buns with fresh veggies.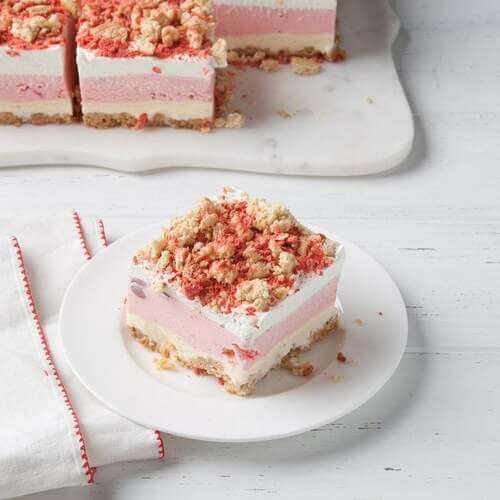 Elevate your cake by serving an ice cream cake!
This is a refreshing and indulgent dessert recipe.
It features layers of strawberry ice cream, a crunchy cookie crust, and a whipped topping.
Such a heavenly treat!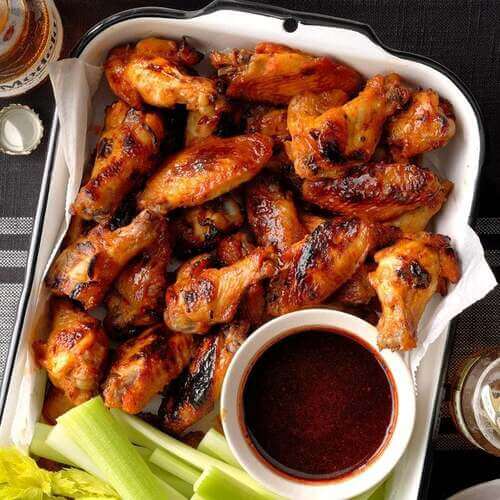 Nothing's better than snacking on these chicken wings during your graduation party.
Coated in a glaze made with honey, soy sauce, and spices, they are baked until caramelized and irresistibly flavorful.
You can create more flavor for the chicken wings, such as BBQ, Korean spicy sauce, and garlic honey chicken wings.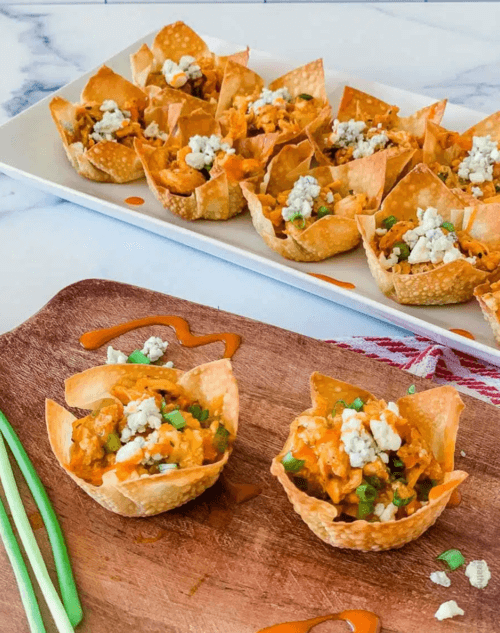 Looking for a bite-sized recipe that is perfect for a snack or appetizer?
Try these Buffalo chicken wonton cups!
Crispy wonton wrappers are filled with a creamy buffalo chicken mixture and baked until golden, resulting in bite-sized delights that are perfect for snacking.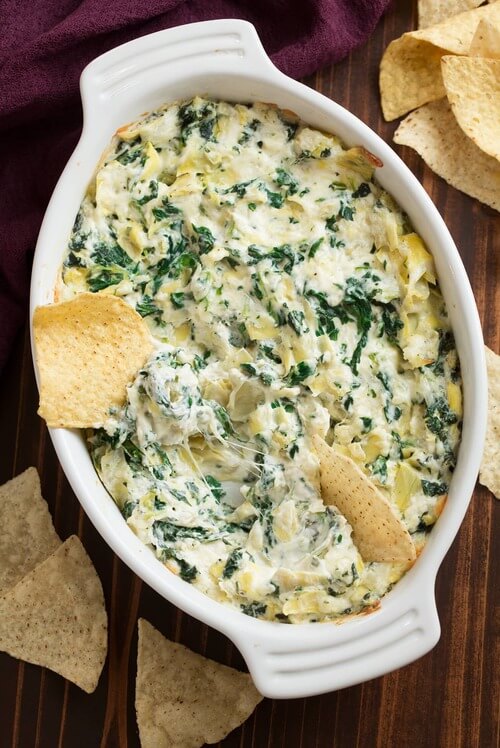 This recipe is always a crowd favorite.
Creamy and cheesy, it combines spinach, artichoke hearts, and melted cheese for a flavorful and comforting appetizer.
This recipe is oven baked and can be served with bread, chips, or vegetables for dipping.
Level up your iced tea by adding honey and citrus juices to it.
This recipe will surely quench your guests' thirst with this refreshing and flavourful drink.
Made with a combination of honey, citrus juices, and brewed tea, it offers a perfect balance of sweetness and tanginess.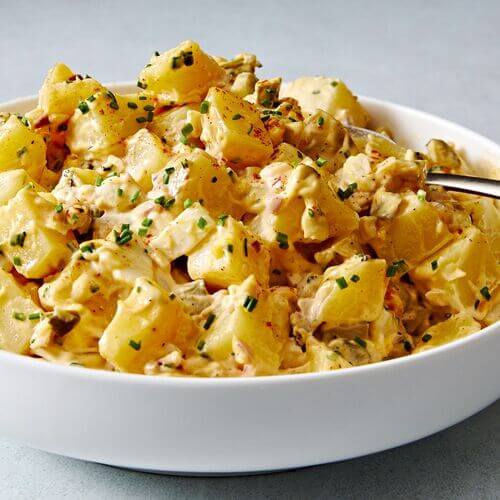 It's an easy dish recipe for a party, picnic, and a simple dinner.
This timeless recipe combines boiled potatoes with a creamy dressing made from mayonnaise, mustard, and a blend of herbs and spices.
The potato salad can be served with other dishes, such as pasta or BBQ steak.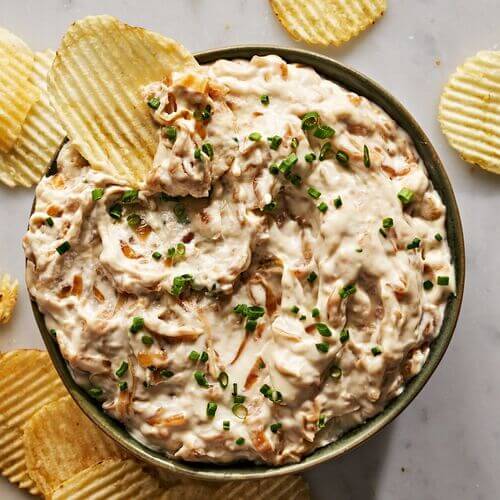 This dip recipe take the classic onion dip one step further by incorporating deeply caramelized onions into the mix.
Sweet and caramelized onions are combined with sour cream, mayonnaise, and seasonings, resulting in a luscious and addictive dip that pairs perfectly with chips and vegetables.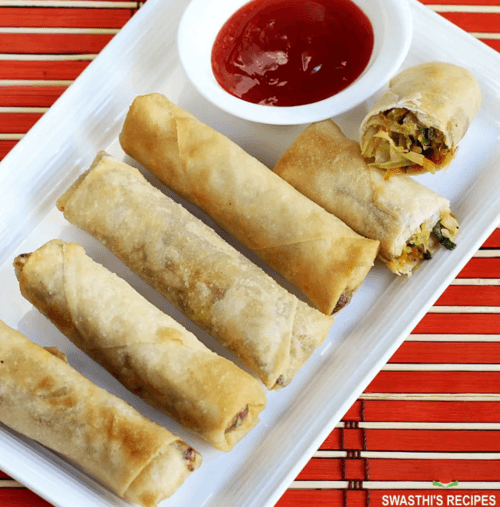 Spring rolls (or Lumpia, as some of the Asian countries called them) are a popular appetizer from the Chinese cuisine.
These fresh spring rolls are packed with colorful vegetables like cabbage, carrots, and capsicum.
The fillings are then wrapped in a lumpia wrapping and served with a dipping sauce.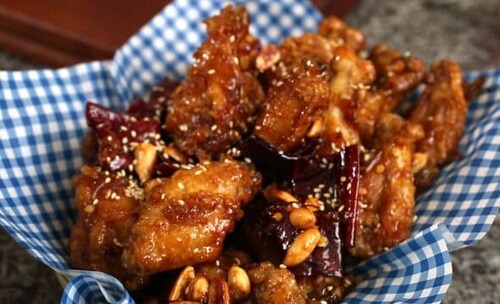 If you haven't try the Korean fried chicken, then you can try and serve them at your party.
The sweet and savory one is called dakgangjeong and they are very crunchy.
The chicken is double-fried to achieve a crispy exterior, then coated in a sticky and tangy sauce.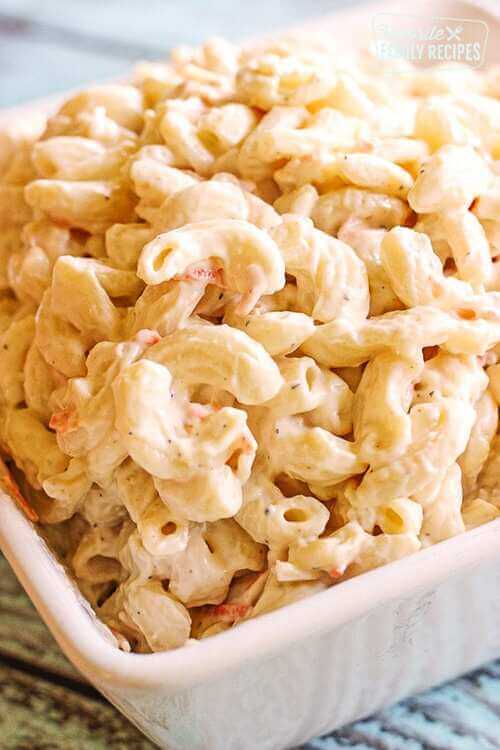 Create a tropical and summery vibe with this macaroni salad straight from Hawaii.
It features al dente macaroni tossed with a dressing made from mayonnaise, vinegar, and spices, along with diced vegetables, creating a refreshing and unique side dish.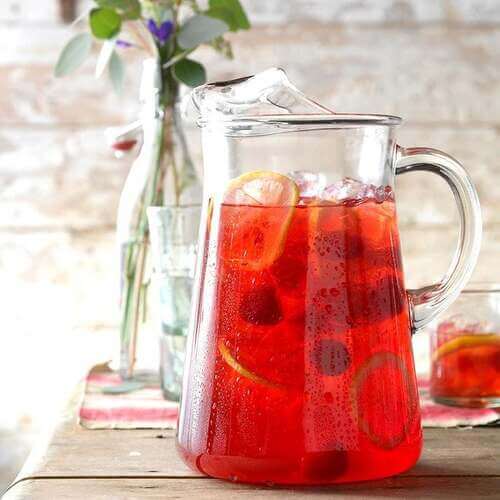 Another drink recipe to cool down during your graduation party.
Made with a blend of brewed tea and raspberry syrup, it offers a delightful balance of sweetness and tartness, making it a perfect summer beverage.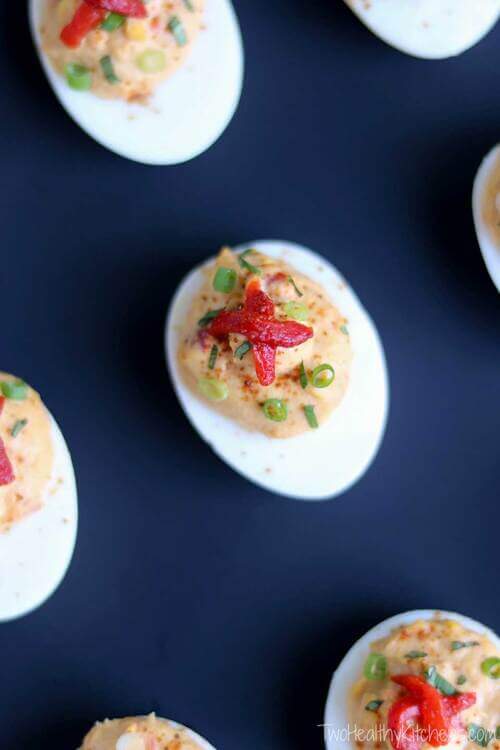 Elevate the classic deviled eggs with a Mediterranean twist.
This recipe features creamy roasted red pepper hummus, and other veggies such as pepper strips, basil, green onions, and paprika—a perfect and fun bite-sized appetizer.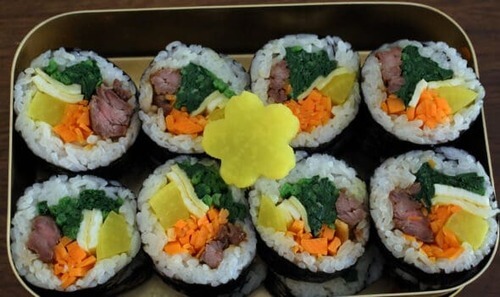 Kimbab is Korean-style sushi rolls filled with a variety of ingredients, like seasoned rice, vegetables, and your choice of protein, all wrapped in seaweed.
The fillings can be customized, from cheese, bulgogi, to tuna.
They are sliced into bite-sized pieces, making them a convenient and delicious party snack.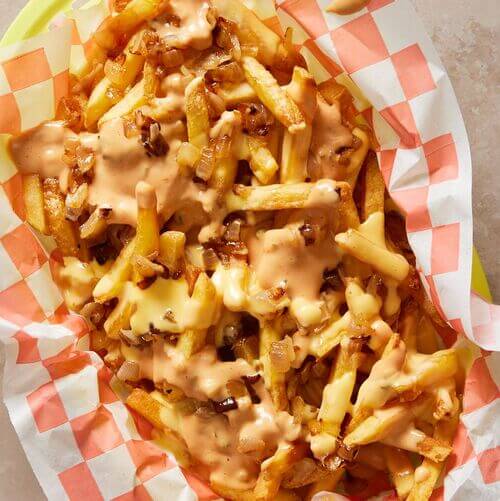 Inspired by a famous fast-food chain, these crispy golden shoestring fries get covered with American cheese slices, grilled onions, and creamy Thousand Island-esque dressing.
They offer a savory and indulgent treat that will satisfy any fry lover.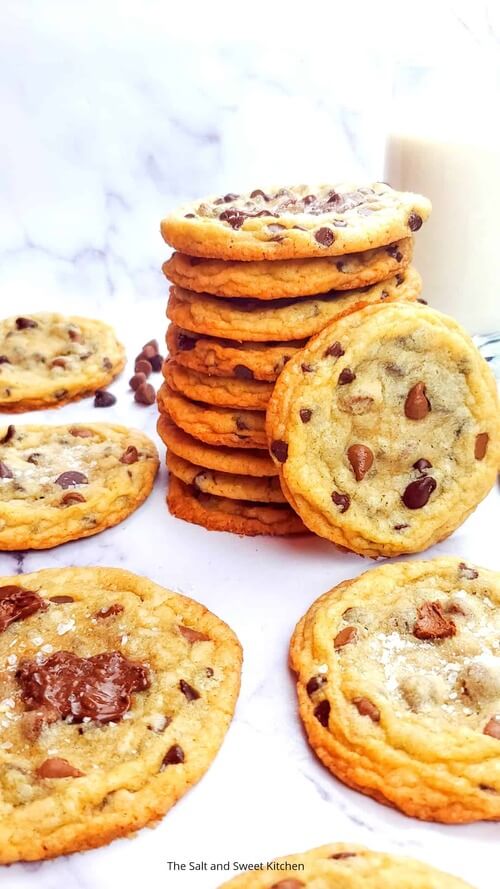 Not usual chocolate chip cookies because this recipe uses brown butter.
These cookies are thin, crispy on the edges, and chewy in the middle, with a perfect balance of sweetness and decadence.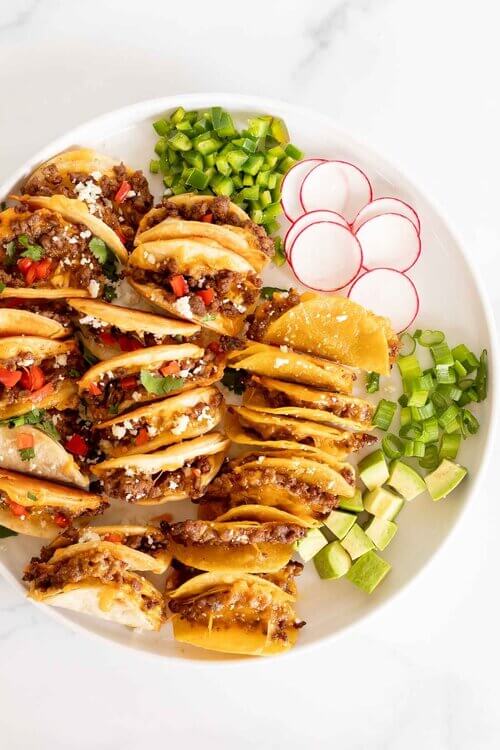 ​​Mini tacos are such a fun and festive party food.
These tacos are filled with your choice of seasoned meat, beans, cheese, and toppings.
They are perfect for guests to grab and enjoy!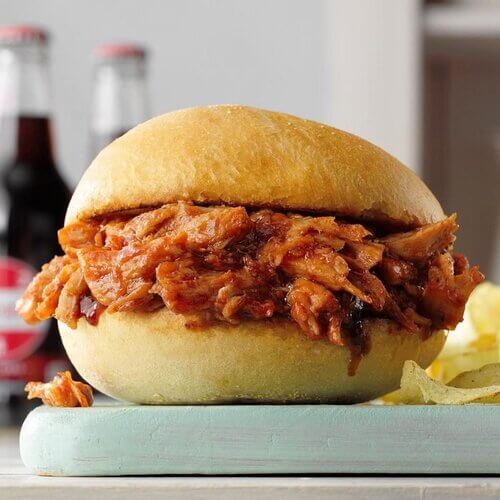 This recipe does takes time but we assure they worth every bite!
Tender and succulent pulled pork is cooked low and slow in a flavorful barbecue sauce until it's melt-in-your-mouth delicious.
Serve them on buns with coleslaw for a satisfying sandwiches.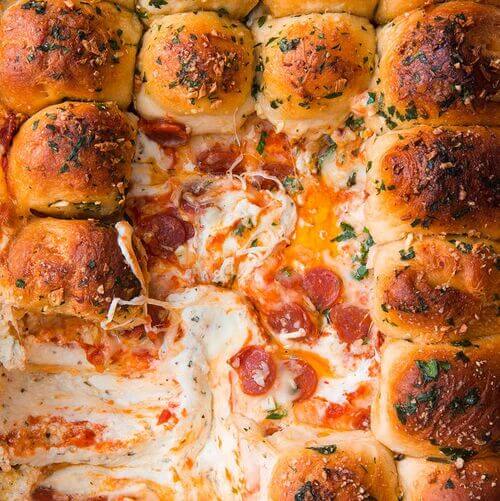 Make your garlic bread more fun by combining cheese garlic bread with all the flavors of classic pizza.
It features a gooey and cheesy center surrounded by a pull-apart garlic bread, making it perfect for sharing and dipping.
To wrap it up
All of the dishes above are just some ideas that you can consider and explore. You can serve more dishes that are personal to you, your family, and your culture to serve your guests better.
Don't forget to also consider the season when you have the party as well as the place, whether you will have the party indoors or outdoors.
So, gather your loved ones, celebrate your accomplishments, and enjoy a memorable graduation party without breaking the bank.
Cheers to the graduate and the delicious moments shared with family and friends.
This post showed you the best graduation party food ideas!
You may also like: