This post shows you the best 4th of July decor ideas.
The 4th of July celebration is fast approaching and that means the hustle of pulling everything together.
It can get a little busy, and finding something unique to add to the scene can feel like a mission.
This is why this list was created. It contains 19 ideas that you can try out this 4th of July weekend to spice up the party.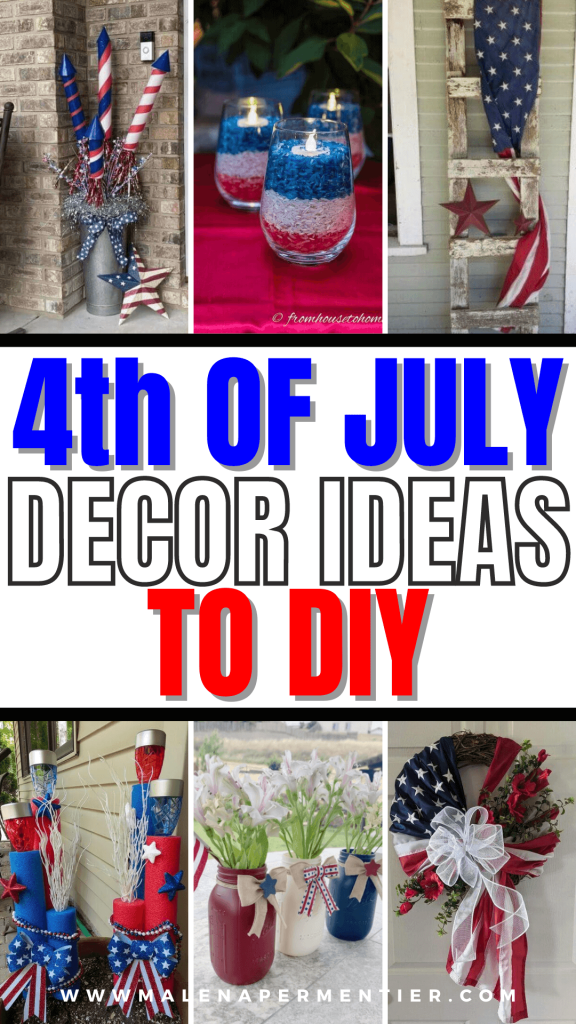 Things to keep in mind
With all the fun and celebration going around there might be a few things that you'll forget to keep track of.
So, just for safety here are a few things to keep in mind to ensure everyone has a great time and keeps to the safe side of things.
Keep track of sparklers and fireworks.
Ensure your pets are safe in your home.
Stay hydrated.
Keep sunscreen close by.
These are just a few simple things to be cautious about this 4th of July to ensure everything will go exactly as planned.
Different approach to the usual scene
If you want to enjoy the weekend without having to worry about a fire hazard or things going wrong then here are a few different options for you to try.
Not only are they a little safer, but they also add a unique touch to your party.
Skip the sparklers and opt for glow sticks. We all know kids go crazy for sparklers but create the option of glow sticks. This not only allows a safer approach but also lets parents decide what works best for them.
Remove the physical fireworks (this is mainly for people with pets or who know that they are around people with sensitive hearing). Try out confetti canons, digital fireworks, or even streamers. This keeps things interesting even when you aren't using the usual main event.
Now that we have that out of the way we can move on to the most important part of this whole post… the decor ideas.
Whether you want something for the table or a cute piece by the front door we have got you covered.
1. Red, white, and blue table settings
This cute table setting is easy to recreate.
Using a checkered tablecloth, a beige table runner, and some blue bandanas for placemats.
You can add some mini stars and mason jars filled with baby's breath.
Go for the traditional approach and add the flag into the mix to ensure you have a beautiful table with an on-point centerpiece.
2. Draping the flag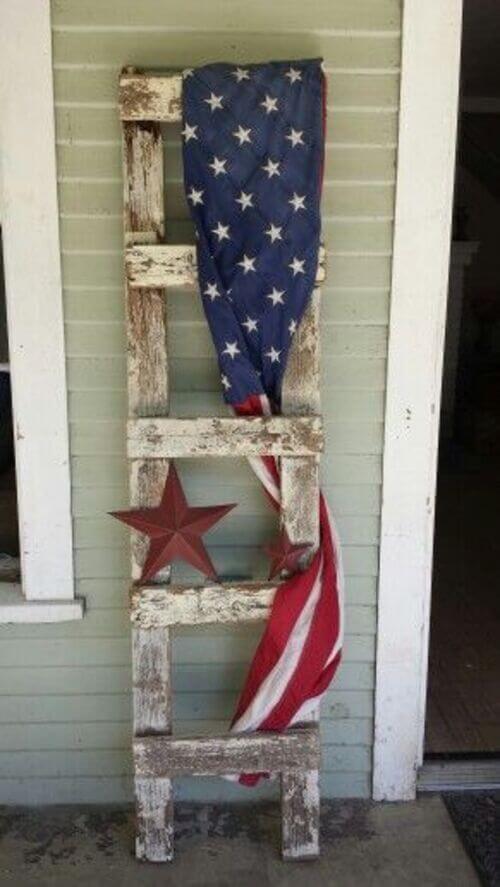 Is it the 4th of July if you don't show your spirit for the day in every way possible?
This idea is simple, quick, and effective. Drape the flag on the front porch and add a decorative star or two.
It's a great way to keep the red, white, and blue colors on point around the house.
3. Red and blue star centerpieces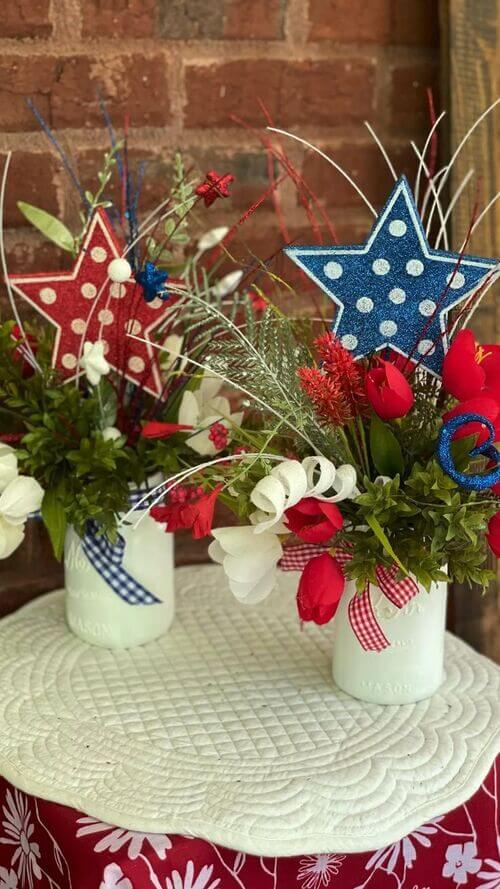 If you need a fun centerpiece idea then look no further.
Grab some fake flowers and greenery and create the perfect red and white bouquet.
You can then add some blue ribbons and red and blue stars. It's bold, unique, and adds a bold touch of color to the table.
4. Firework decor piece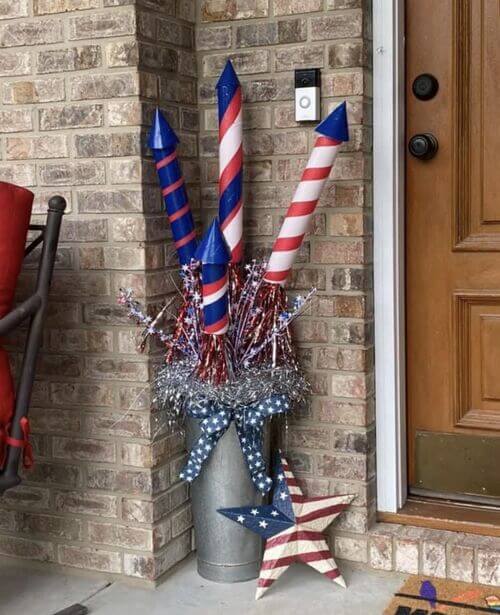 This idea is pretty bold.
Create a firework bouquet with some fake fireworks and place them all into a large tin.
You can also add some stars and ribbons to make this piece stand out.
You will love this idea if you are a fan of creating bold pieces around your home for celebrations.
This is perfect to place at the front door.
5. Red, white, and blue star wreath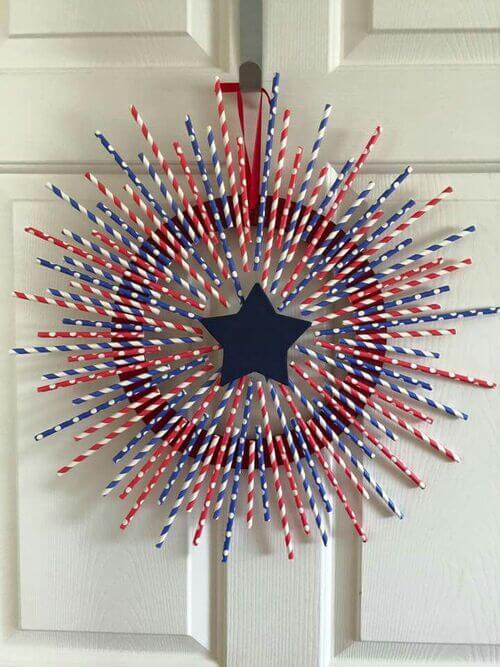 An easy DIY project? Count me in!
This red and blue wreath is made of a hoop with red and blue swirled straws and a cut-out star shape.
If you want to create something by yourself then try this out.
Or, better yet get your kids to try out this DIY project so that they can bring out their creative flare.
6. Red and blue wooden centerpiece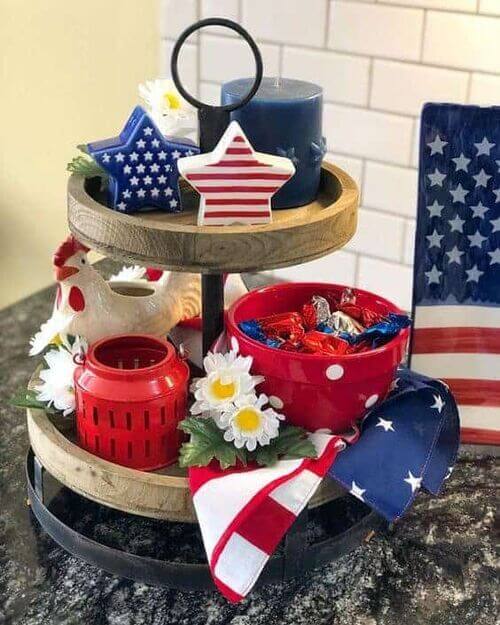 Looking for a fun centerpiece to showcase in your kitchen?
Here we go. This centerpiece makes use of wooden trays stacked with multiple ceramic bowls, stars, and a few candles.
The red and blue theme is evident with the help of a few fake white flowers.
7. Dyed rice centerpiece decor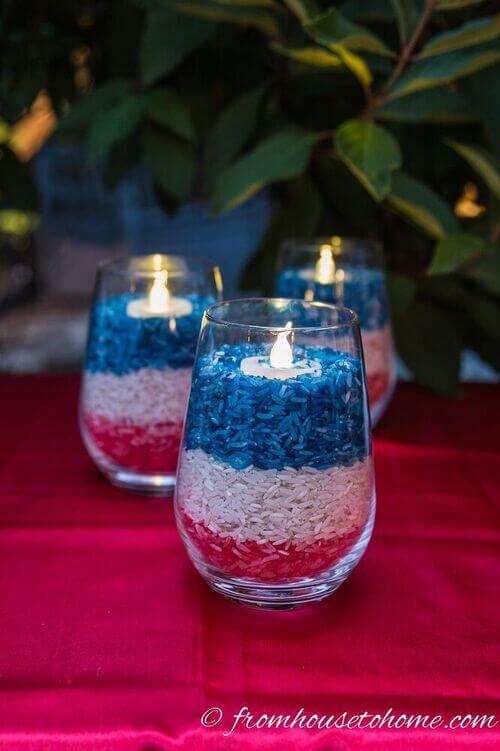 Yes, I know what you're thinking.
This isn't your average candle setting, but let's be real here… it looks cute.
Grab some rice and food coloring to create bold red and blue.
It's simple and budget-friendly.
You can then add the fake tealights on top of it to bring some better lighting to the table.
8. Wood centerpieces for days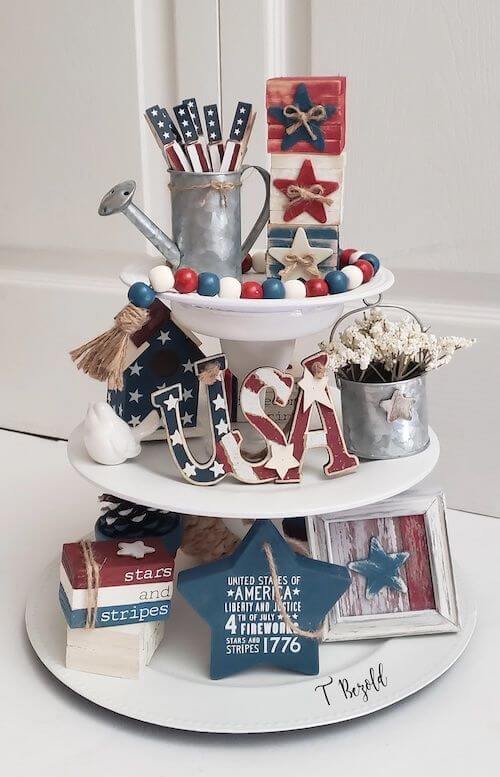 Wooden decor pieces are your best friend.
They are durable, cute, and can have a loving quote on them.
These pieces are wonderful because you can use them over and over again each year to create this adorable centerpiece.
9. Red and blue flowers in a white jar

The perfect centerpieces are the ones with the simplest approach.
Grab some white ceramic jars and add fake flowers and greenery.
It doesn't have to be red and blue flowers, but it ties in well when you add the flag.
It's a budget-friendly idea and looks adorable.
10. Simple Coke bottles with mini flags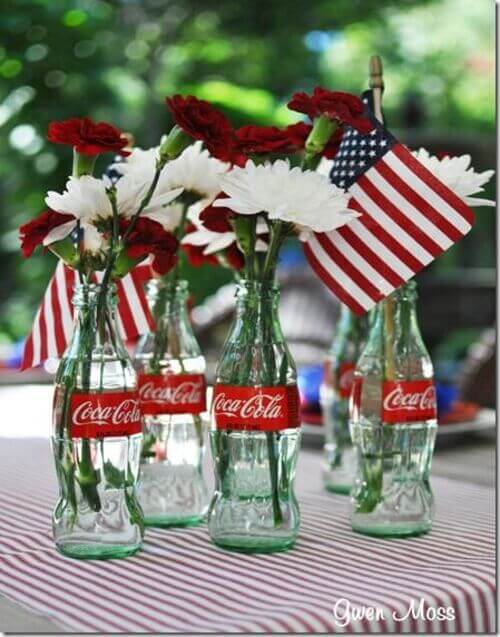 Go for a vintage approach.
Place a few white or red flowers into the classic Coke jars and add the American flag for that simple 4th of July theme.
This is a prime example of less is more with regard to centerpieces.
Place them within your home or use them as centerpieces on the tables.
Either way, they will make the perfect addition to your home for the celebratory weekend.
11. Flag-wrapped wreath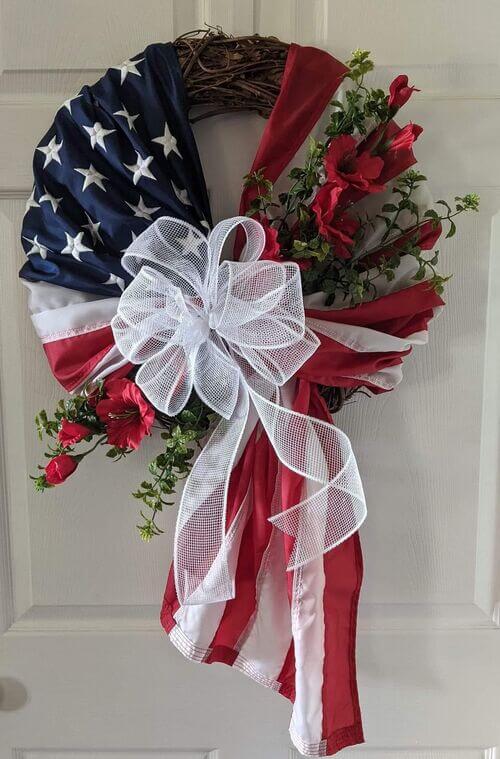 This gorgeous idea will help you to incorporate the 4th of July spirit from your doorstep.
Add the flag to the simple wreath and add a bow and some flowers.
It's a unique way to add some decor and can be easily redone with a small budget.
You only need the American flag, some fake flowers, a wreath, and some ribbon.
12. Pool noodles and porch lights
Light up your porch with these pool noodle porch lights.
Simply get some red and blue pool noodles, stars, and a few ribbons to bring a fun touch to your normal porch lights.
It's extremely cost-effective and is a nice idea to DIY.
13. Florals and star decor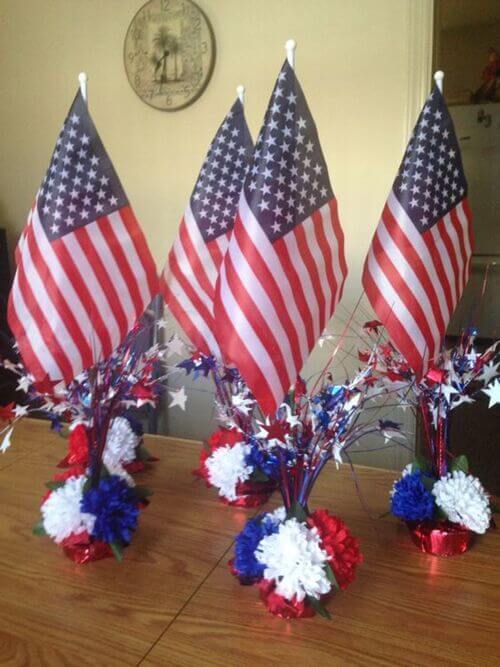 If you need a fun way to show the flag then this should definitely be at the top of your list.
These centerpieces consist of the flag, stars, and some fake flowers held together with a cute little stand.
It works great for table decor, and people will love them.
14. Red bandana centerpieces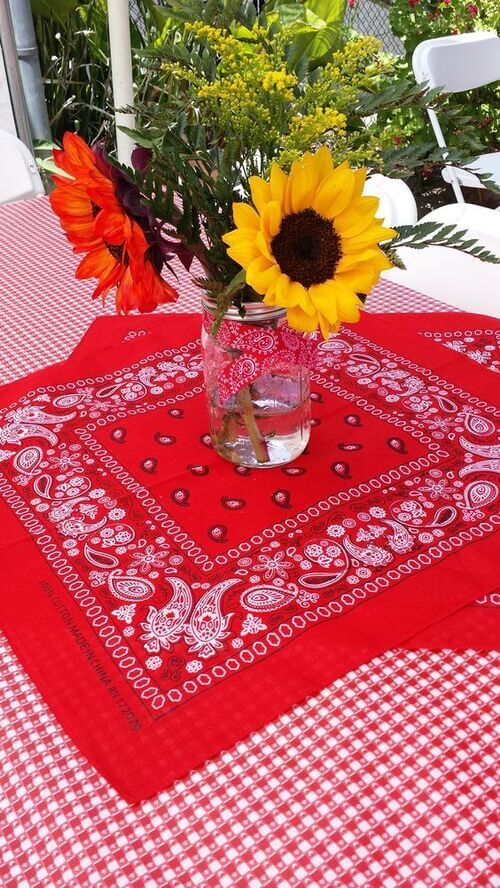 Go bright with this decor idea. It uses a simple red checkerboard tablecloth and some bandanas.
On top of that, you have your mason jars filled with vibrant sunflowers and greenery to add a touch of summer to the 4th of July celebration.
This idea is perfect to show that you don't need the full red, white, and blue to get independence day going.
15. Hydrangeas and stars
This bouquet is just filled with vibrant colors to show your 4th of July spirit.
It includes the signature red, white, and blue with hydrangeas and red flowers.
Make it stand out by adding some mini stars around the table so that this centerpiece is vibrant and catches everyone's eye.
It doesn't hurt that it is perfect for a budget-friendly 4th of July party.
16. Painted mason jars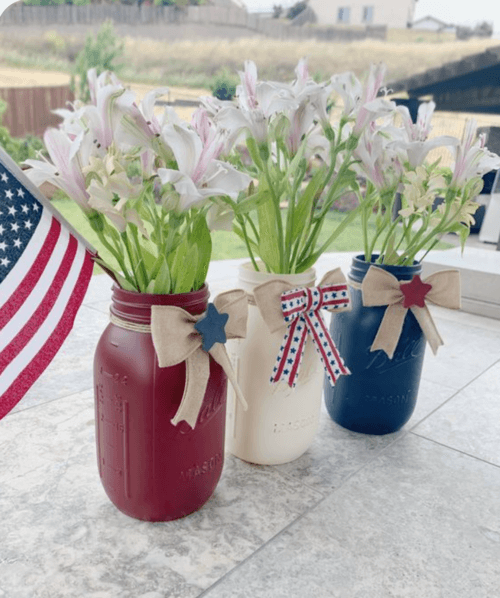 To achieve this cute idea you only need mason jars, paint, and some ribbon.
This is an idea that goes a long way if executed correctly.
Paint your mason jars in the signature red, white, and blue, and tie a ribbon around the top.
Add some Lillies so that it still has that fresh summer feeling, and place these all over your home and on the tables.
Red, white, and blue mason jars
17. Red and white centerpieces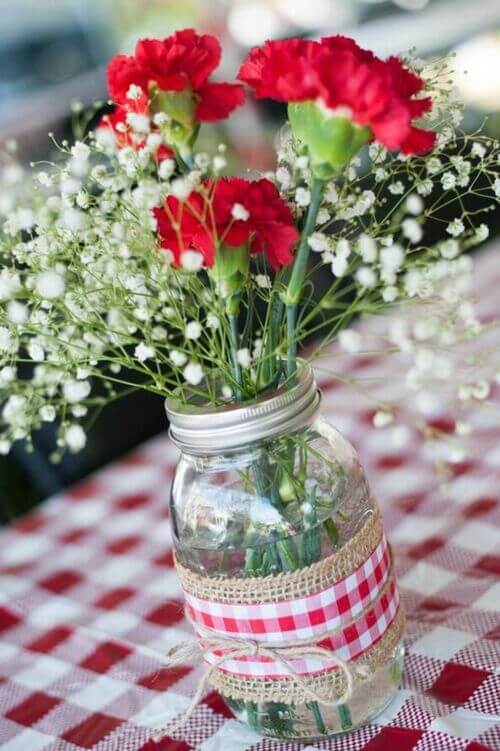 Mason jars are your best friend.
Create a simple baby's breath and red flower centerpiece to bring out the vibrant colors this 4th of July.
To ensure the mason jar fits the theme you can wrap it in burlap and red cloth.
18. Blue vase with red and white flowers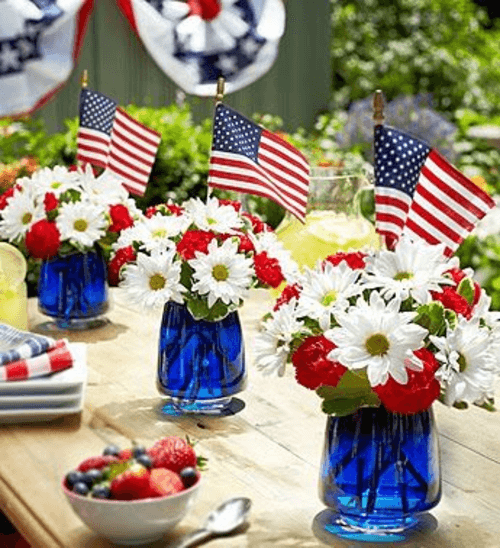 Vintage glasses are back in people.
Get some blue vases to cover the basics of the three colors, and then incorporate a red and white bouquet.
This idea is quick and easy, so it works well if you didn't have enough time to prep for a full-on giant bouquet of colors.
19. Red, white, and blue table decor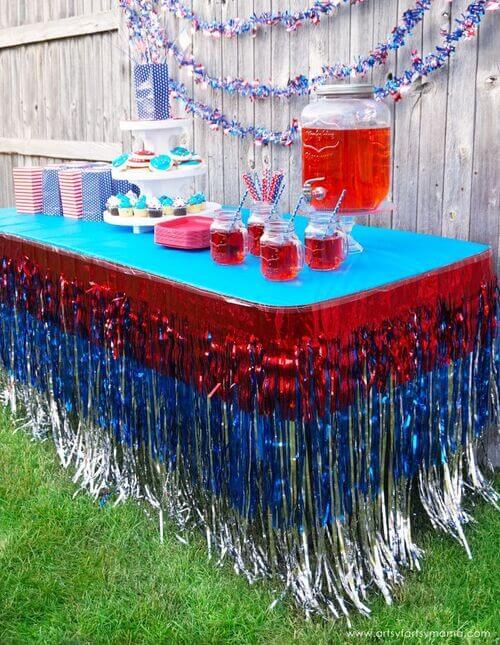 Don't be shy add a pop of color to the table.
It is a simple idea that goes a long way.
Grab some red and blue paper cups to serve your punch in, and line the table with red, white, and silver tinsel (yes this can be the type you usually use for photo backdrops).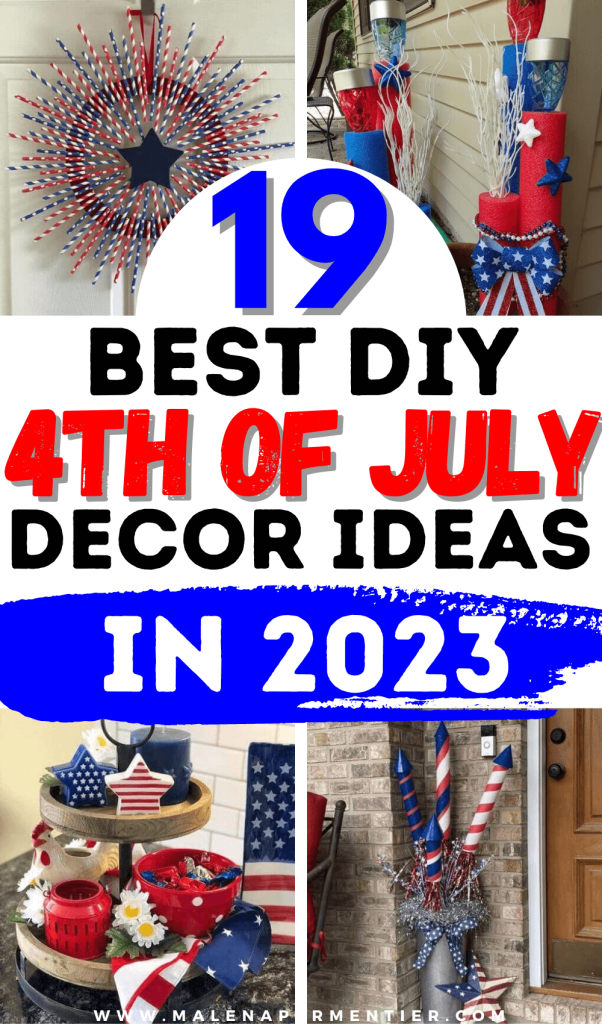 Getting the perfect decor piece
You don't need to buy the most expensive decor piece on the shelf, because these ideas are all budget-friendly.
They are fun, bring a new idea to the table, and can be easily done as a quick DIY project.
It's time to prep for the 4th of July celebration.
You can never go wrong with adding something new to the party to use this as your go-to idea board when you aren't sure what to add.
Whether you use these ideas as is or bring your custom flare to the table is up to you.
This post showed you the best 4th of July decor ideas.
You may also like: