This post shows you the best 4th of July party food ideas.
The 4th of July is fast approaching, and we have all the greatest food ideas to prepare you for the independence day celebration!
Whether you are going for the traditional red, white, and blue, or trying a different approach while keeping the decorations traditional is up to you.
We have everything you need to kick start the perfect 4th of July party.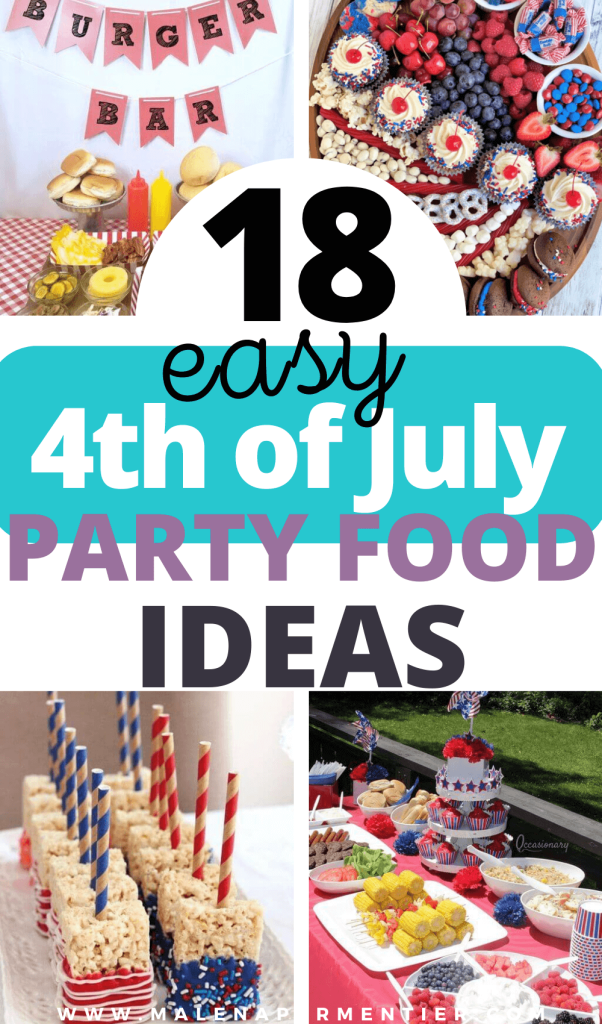 Tips for the 4th of July
We all love a good celebration, and the 4th of July is the perfect day to celebrate, but sometimes things can get out of hand.
Here are a few tips to ensure you have a great day and keep safe at all times.
1. Stay hydrated
Seriously, don't forget to drink a lot of water. It is hot. You're busy and after a few alcoholic drinks, the water will do you some good. Dehydration can get extreme and you don't want to ruin the weekend by not keeping track of your water intake.
2. Eat well but know your limits
There's nothing worse than a stomach ache due to eating too many burgers or barbeque wings… trust me. For those of you doing a whole weekend of amazing food and sweet treats, it can be tempting to just try everything. Know your limits and enjoy the day.
3. Put on sunscreen!
This has nothing to do with food, but everything to do with the 4th of July weekend.
Let's be honest here… we're all guilty of this. Put on sunscreen!
Do not take it for granted.
You don't want the weekend to end early because you forgot your sunscreen, so keep it on hand at all times.
Top 10 food ideas for the 4th of July
Before we jump into the actual list of fantastic food ideas, I thought it would be a good idea to share the most popular food people usually opt for when they are preparing for the big party.
Hotdogs
Burgers
BBQ wings
Potato salad
Cupcakes
Ribs
Corn on the cob
Baked beans (this one honestly surprised me)
Coleslaw
Apple pie
No matter how you celebrate the day make sure you have good food and good company, and watch how perfectly things will work out.
So without further ado, let's dive into the fun party food ideas listed below.
1. Red, white, and blue treat board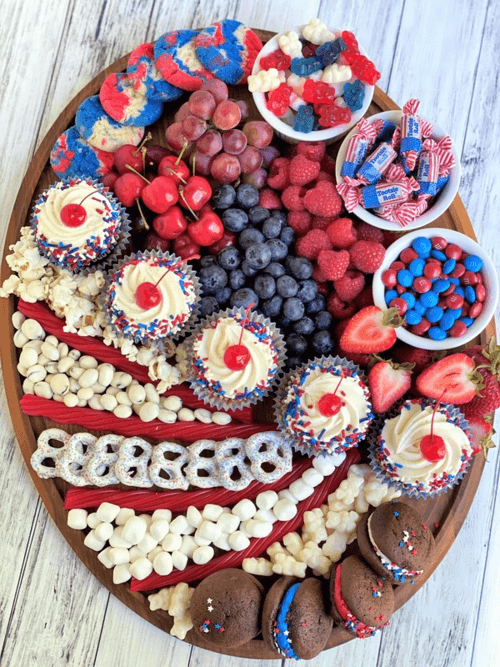 Stick to the theme with this treat board.
Cherries, berries, and sweet treats galore.
It has everything you need as far as snacks could go.
The red, white, and blue cupcakes are the perfect addition to the tray and bring in a fun addition to the already intense sugar rush you'll be getting from this treat board.
2. Fruit salad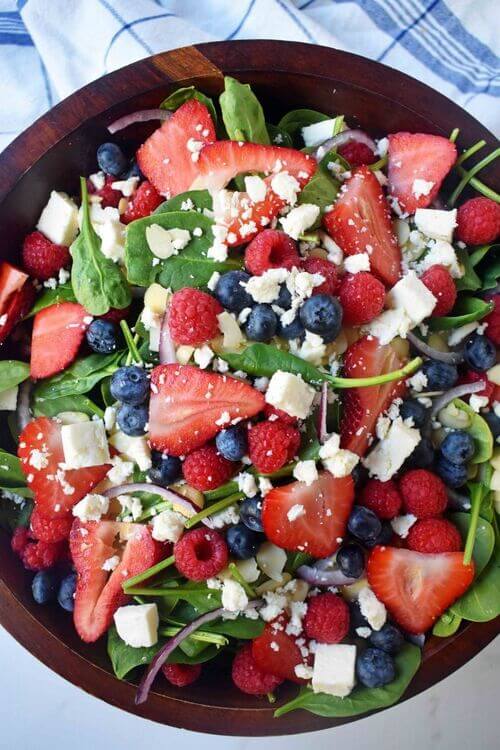 If you want something refreshing to add to the table, then this is sure to get you buzzing.
This salad consists mostly of blueberries, strawberries, and raspberries.
So not only does it stay on theme but it is delicious.
This is perfect for a warm summer day when you're not sure if a hamburger is what you'll need at the moment.
3. 4th of July cupcakes and snack table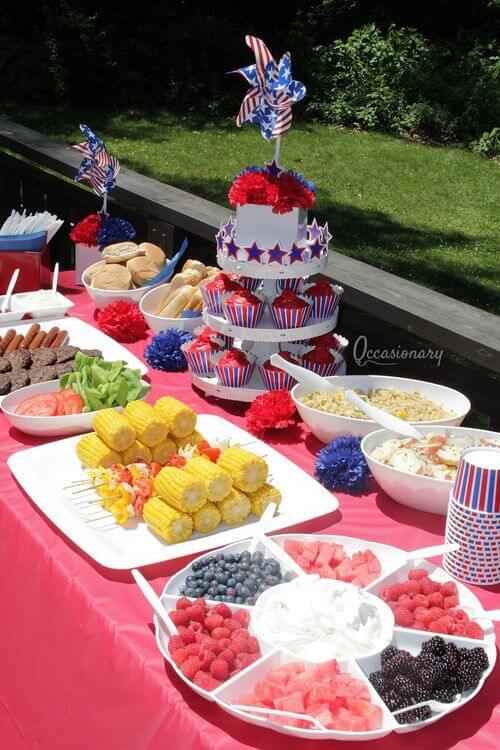 A cute way to get into the spirit of things is to decorate with pinwheels with the image of the flag and some red and blue flowers for the table.
Set out a giant snack table with fruits, corn on the cob, salads, and sweet treats such as cupcakes.
This ensures that there's a bit of everything to pick and choose from.
4. Sandwiches
Something that is simple and everyone loves is sandwiches.
If you're not sure what to add to the table then these mini sandwiches are more than enough.
Or if you want to leave it to everyone to pick and choose, you can set everything on the table and let people create their sandwiches.
5. Watermelon and blueberry sticks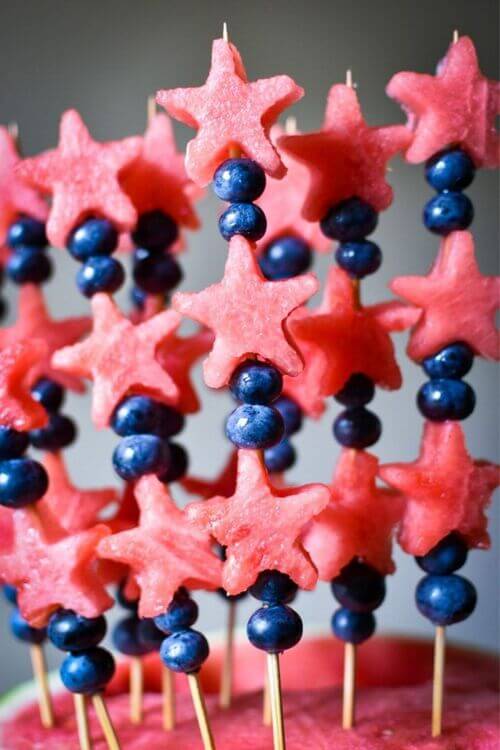 This snack idea is refreshing, cute, and stays on theme.
All you need is some skewers, watermelon, blueberries, or any fruit you would like to add.
You can get a star cookie cutter to cut out shapes from the watermelon or cute them like that yourself.
It's an easy and quick snack idea that everyone will love.
6. Hotdog bar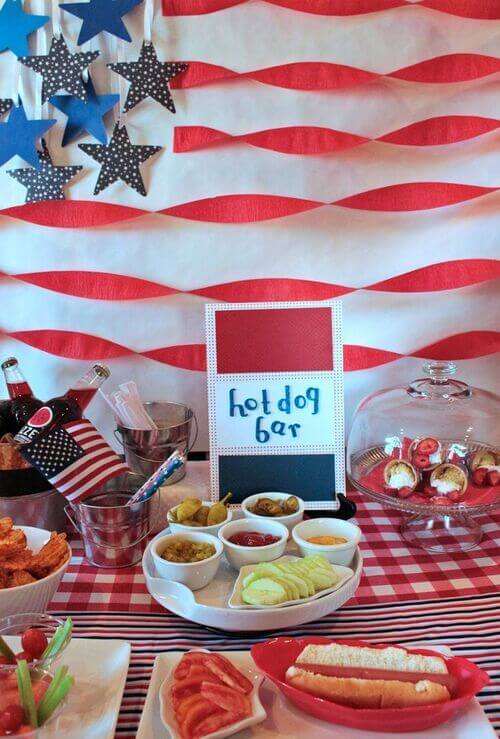 Create the backdrop with stars and streamers.
This hotdog stand is perfect for the 4th of July because it allows everyone to create exactly what they want.
It takes away the stress of catering for everyone.
Grab some condiments, and all the basics to make the perfect hotdog for yourself.
7. Red and blue Gatorade drinks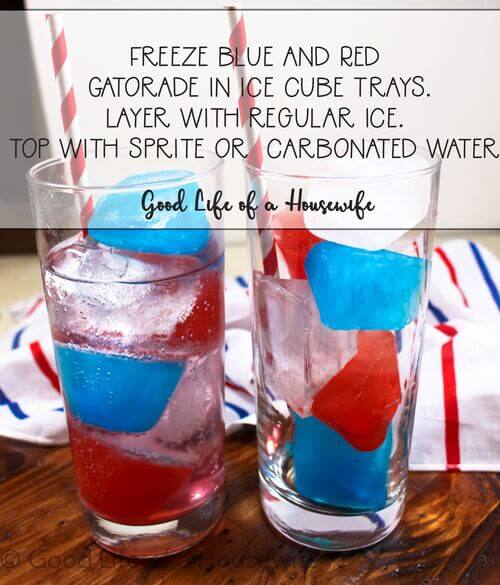 This Gatorade drink will put you in the independence day mood.
Freeze Gatorade in an ice cube tray and then pair it with some Sprite or carbonated water.
It's refreshing and will keep you hydrated throughout the day.
It's more original than the usual lemonade or normal soda, so if you're looking for something new to try, this is definitely for you.
8. Cheese and fruit boards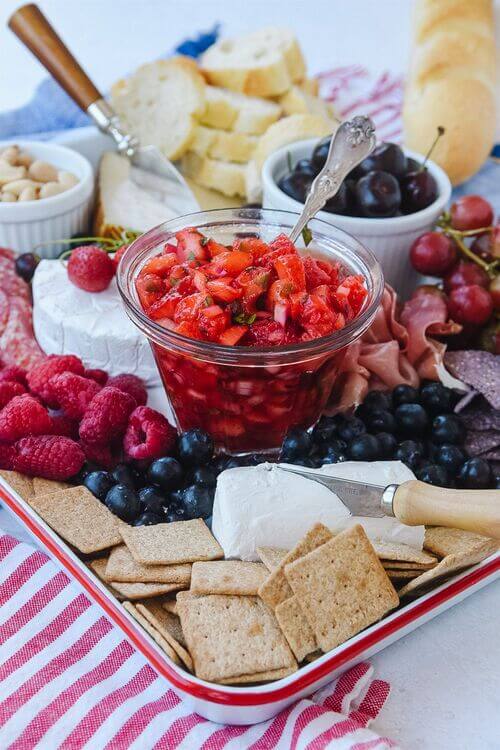 The perfect addition to the snack table is a fruit and cheese tray.
People will love something new to test and try to create a sweet and savory combo with this idea.
You can even ask guests to create boards based on different themes to make things more fun.
9. Fruits forming the flag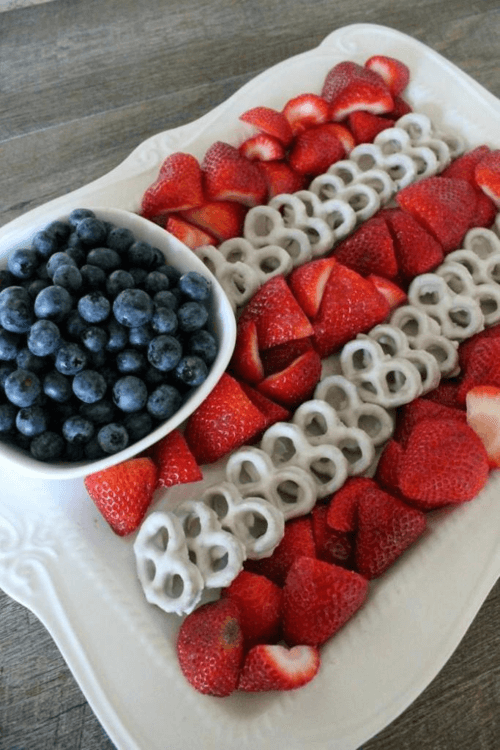 This fruit and pretzel idea is super cute (yes, we love something that fits the aesthetic), so you need to try it yourself.
Cut up some strawberries and add some white chocolate-dipped pretzels.
You can then add a bowl of blueberries too.
Who can deny a fruit and chocolate combo?
10. Cardboard 4 for sweet treats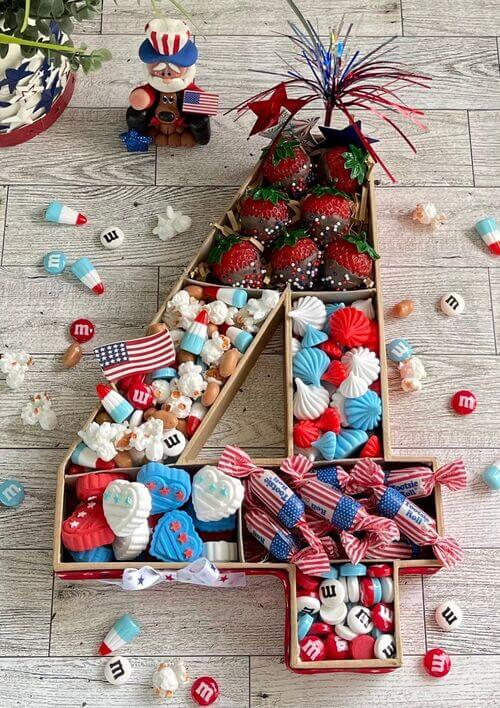 A fun thing to add to the celebration is some cardboard snack dividers.
The 4 is perfect to showcase on the 4th of July. Add all your favorites, like dipped strawberries, small candies, and M&Ms.
It's adorable and fits perfectly into the theme.
11. Stacked snack trays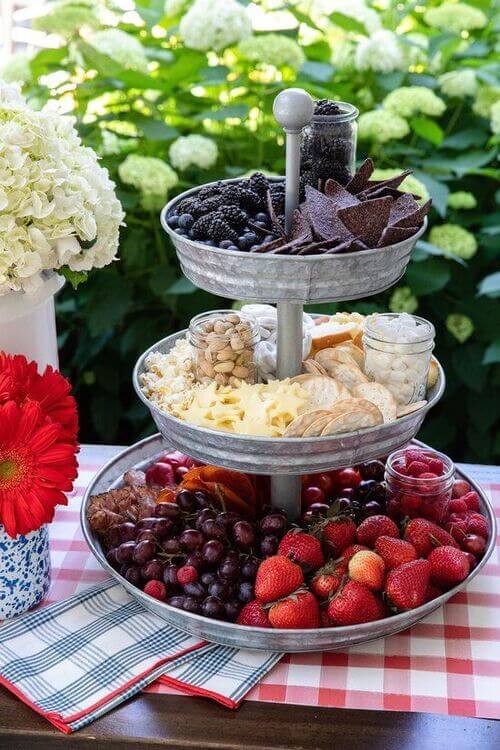 This triple-stacked snack board has something for everyone.
A perfect idea for snacks can combine sweet, savory, and bitter to create something suited to your needs.
Keep things separated by making use of these trays. Keep the sweet treats to fruits, savory to crackers and cheeses, and then bitter to dark chocolate.
This allows you to try new things and see what works together.
12. Puff pastry goodness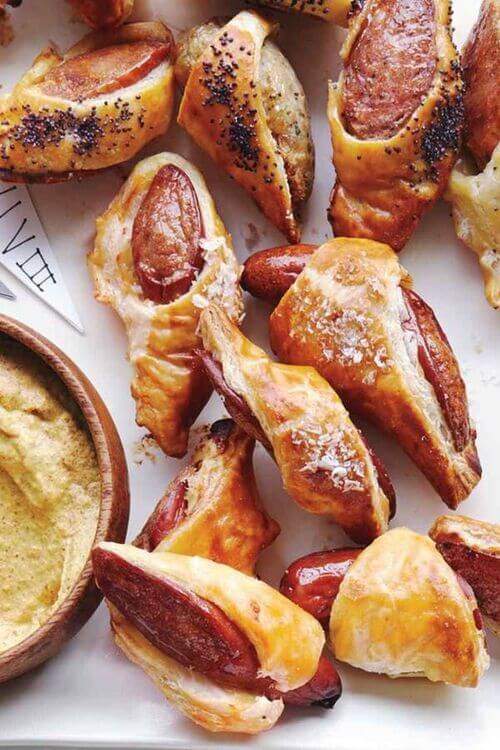 Who can say no to finger food?
These 'pigs in a blanket' pastries are just the salty treat to hit the spot.
Finger food works perfectly for the 4th of July celebration because people can just grab a few and be on their way.
You can add some dips so that people can change things up a little too.
13. Burger bar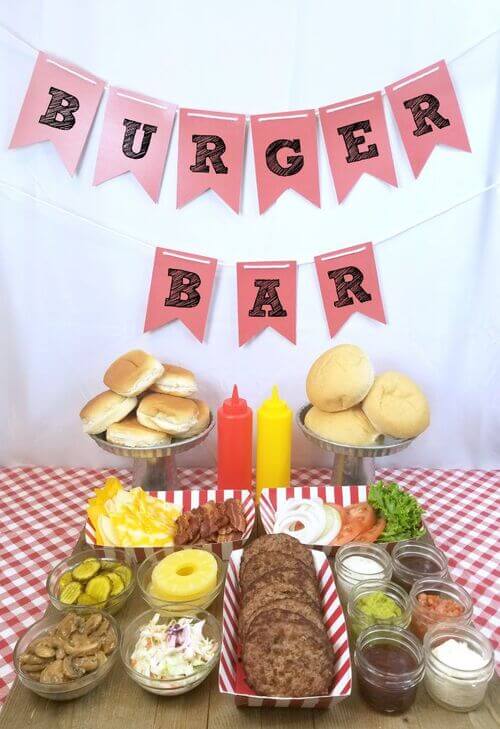 DIY burger bars are perfect for big weekend celebrations.
So why not try it out this independence day?
Make a designated spot for people to create the burger of their dreams and enjoy the day with friends.
It's a simple idea, but it goes a long way to ensure people can enjoy their food.
14. American flag cupcake table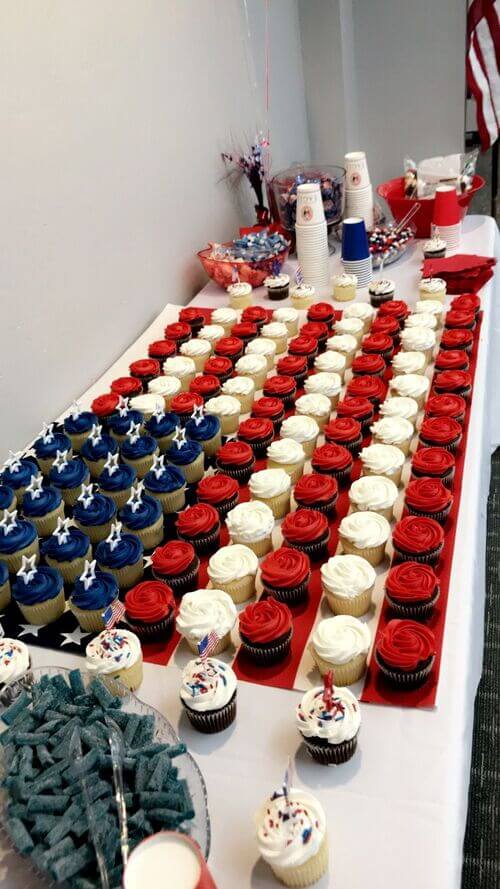 This idea allows you to add some variety to the table.
You can combine vanilla and chocolate cupcakes and use red, white, and blue icing to recreate the American flag.
This is a super cute way to show your independence day spirit, and if you want to go the extra mile, you can add a star to the blue cupcakes.
15. Red and blue Rice Krispy treats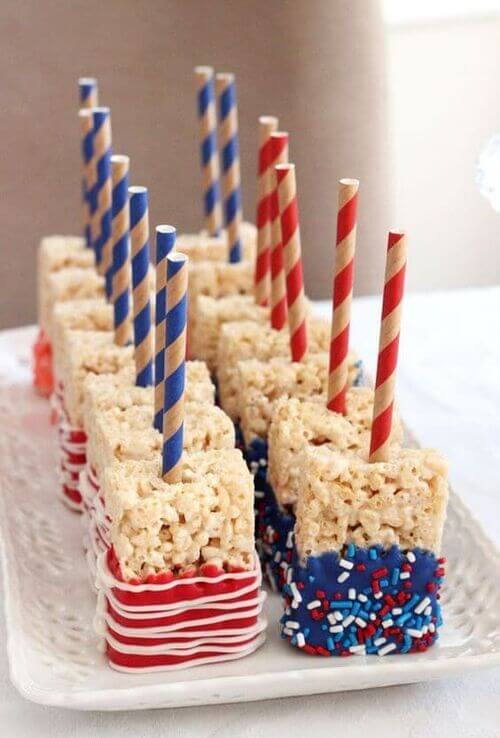 This idea is simple and easy to recreate.
Heat marshmallows and add Rice Krispy cereal to make the squares.
Dip them in red and blue icing and cover them in sprinkles.
It's simple and cost-effective.
People will love this unique treat idea which is far from the usual treats.
16. Salsa with corn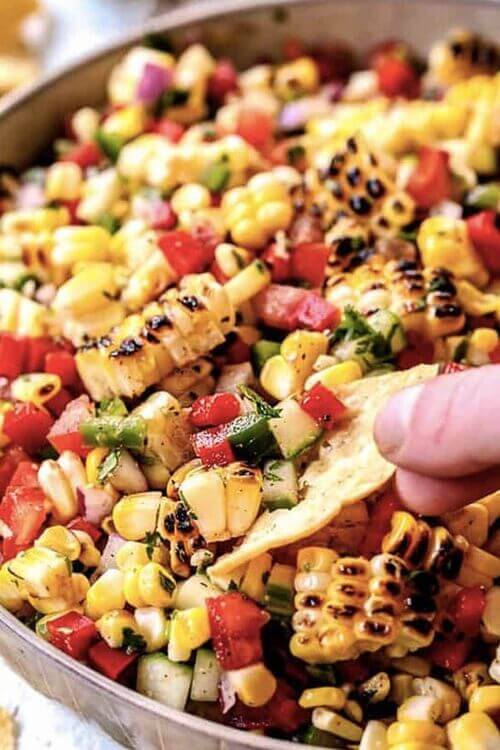 If you're looking for something new to try this 4th of July then try out this sweet salsa.
Mixing the traditional salsa with some corn to bring in some sweetness.
This can be used as a dip with some chips.
It's a refreshing and different approach to something traditional.
17. Sweet and savory snack board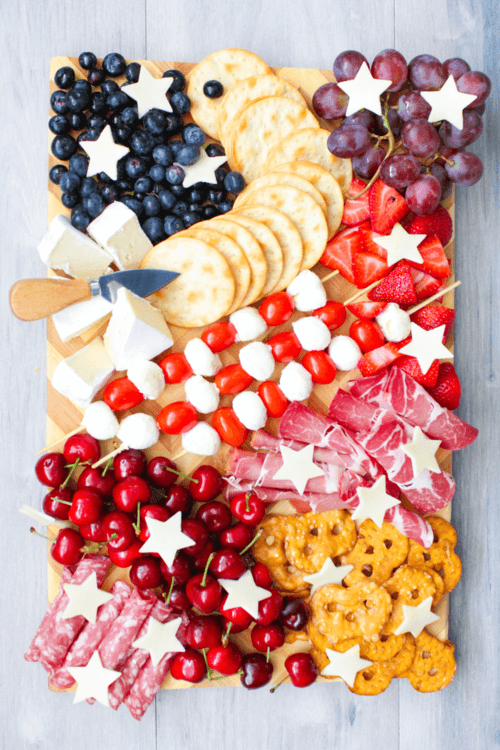 Make sweet and savory snack boards.
Get friends to create snack boards and bring them to the party.
These can have fruits, cold meats, crackers, and cheese.
It's super simple and budget-friendly.
You can even use a cookie cutter to cut stars out of cheese.
The options are endless when it comes to these snack boards.
18. American flag casserole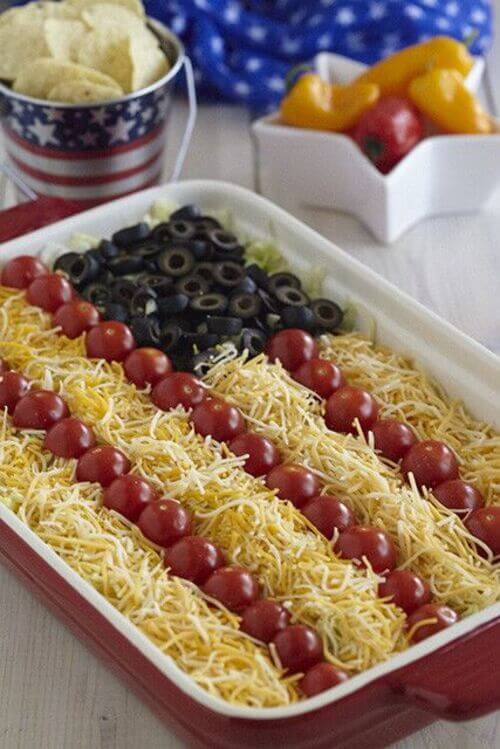 A casserole is key… and an American flag casserole is just as great!
Make your casserole as you usually wood, and top it off with cheese, tomatoes, and olives.
It's a fun twist on a normal dish that people will love.
Finding the perfect snack
Whether you want to go all out or keep things simple there are a bunch of fun options to choose from.
The list above is curated to fit any vibe you might be going for this 4th of July. So which one (or 5) will you be trying out this year?
It's almost here, so start prepping yourself for the memories to be made, and good food to enjoy.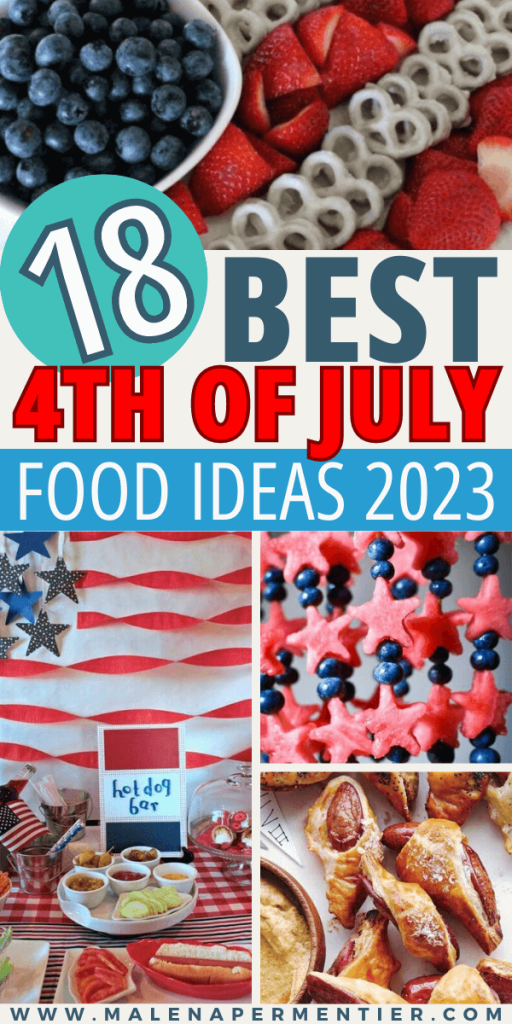 This post showed you the best 4th of July party food ideas.
You may also like: