This post shows you the best graduation party games to play!!
Graduation is a major accomplishment that should be honored and celebrated.
Even though graduation gifts are also meaningful.
However, they'll also appreciate a memorable party to bask in entertaining activities, delicious food, and cheery decorations while surrounded by friends and families.
When it comes to graduation parties, you want to make sure that everyone has a good time.
Hence, fun games and activities are a must!
Whether there will be a lot of children and families at your party or just your friends, these recommended games below are all-age friendly and guaranteed to keep your guests entertained.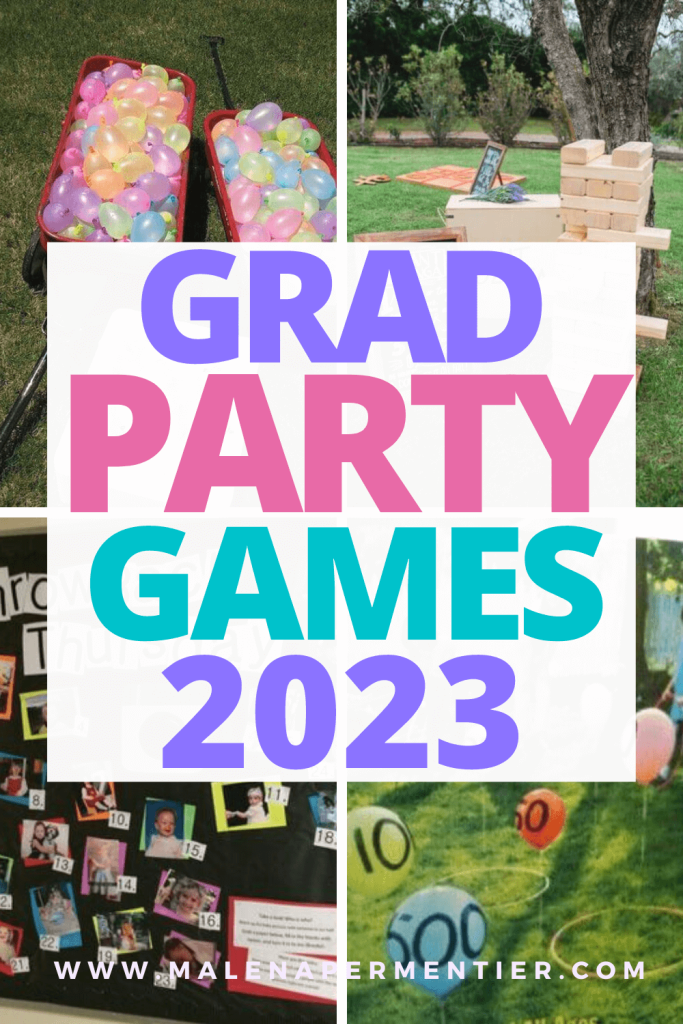 What to prepare for a graduation party?
If you are new to hosting a graduation party, there are several things you need to prepare, besides games and fun activities, such as guest list, location (indoor or outdoor), food/menu/catering, drinks, decorations, themes/colors, music, cake and desserts, and helpers (if your party is quite huge).
If you have the space, we also recommend having your graduation party in your backyard or home.
For one, you don't have to pay for rent or pay per head for guests.
This can cut off your budget, and you can use it to buy more delicious foods or drinks.
Second, you can be more comfortable welcoming guests, like your friends and family, at your own home.
Outdoor Party Games
1. Giant Twister
Swap the traditional mat for a supersized version, so that everyone can join in.
This game is perfect for an outdoor party, as you can mark out circles on the grass with spray paint and take the fun to the yard.
You can use the regular Twister mat if you have an indoor party.

2. Balloon Down
This game is for an outdoor party. You'll need several different balloons, with different colors, and use a permanent marker to write point values on the balloons.
You can write 5, 10, 25, 50, and 100. Put the lowest scoring balloon closest, the next highest scoring balloon next, and so on.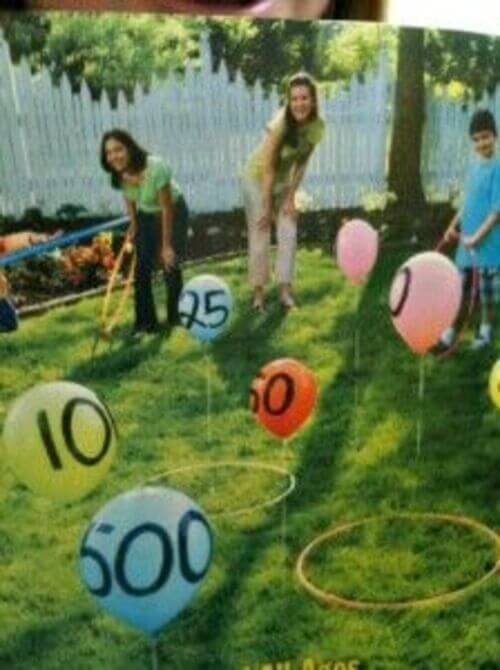 3. Water Games
If it is a hot day and you are having an outdoor party, then it must be a perfect time to do water games!
You can set up water games like a slip and slide, a water balloon toss, or a water gun fight.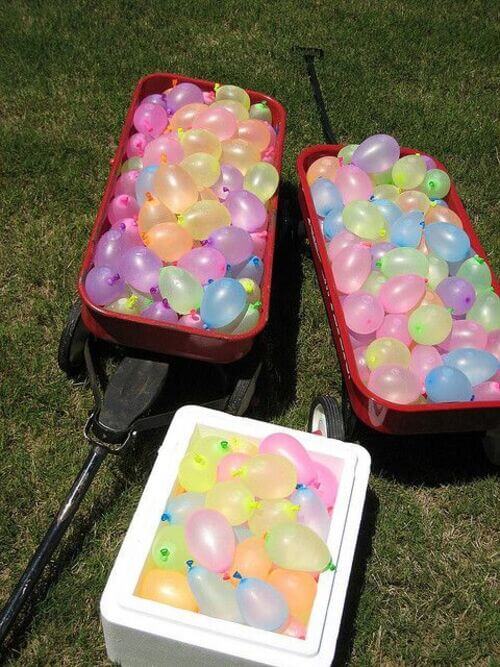 4. Scavenger hunt
Create a graduation-themed scavenger hunt around your backyard or local park.
You can give everyone a list of all the items to be found, riddles to guess, and challenges to make.
Divide people into groups or let each guest do their quest individually. Set the game rules and let everyone complete the hunt as fast as they can!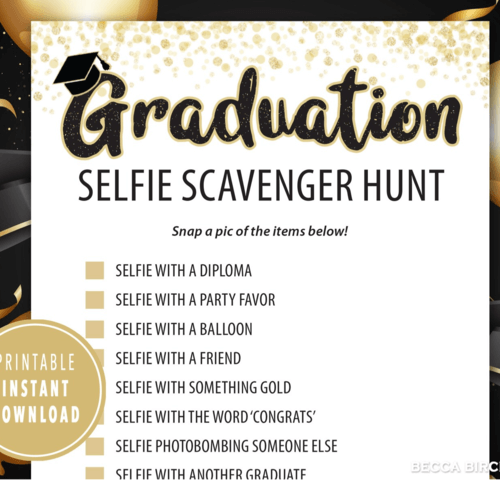 5. Dodgeball
Who doesn't love a ball game when it comes to an outdoor party? Pick up a set of dodgeballs, create a makeshift line in the middle of your yard, and you're off!
6. Bocce Ball
Another ball game that is a fun yard game to play in the spring or summer and is perfect for most backyards.
Generally, one of the teams throws the little white ball out into the yard.
Each team member then stands behind a line and throws their team-colored ball out into the yard.
After everyone has thrown, the person with their team ball closest to the white ball gets points.
It is a simple, yet surprisingly fun game for all ages!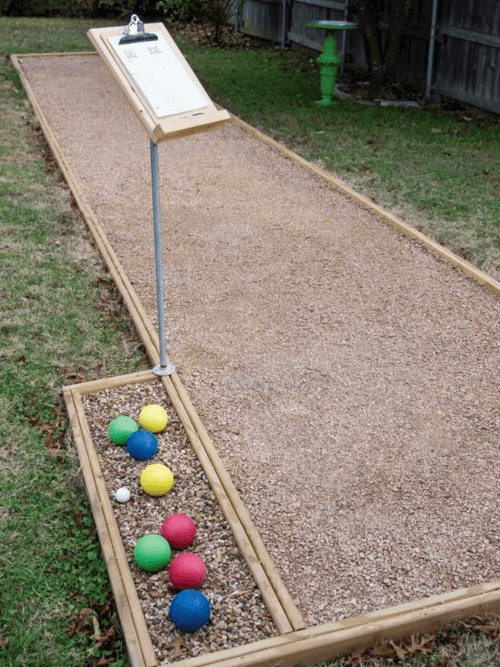 7. Giant Jenga
Giant Jenga: Forget your usual jenga games, this Jenga is bigger and offers more fun for outdoor parties.
The object is to stack wooden blocks and then take turns pulling them out without knocking the tower over.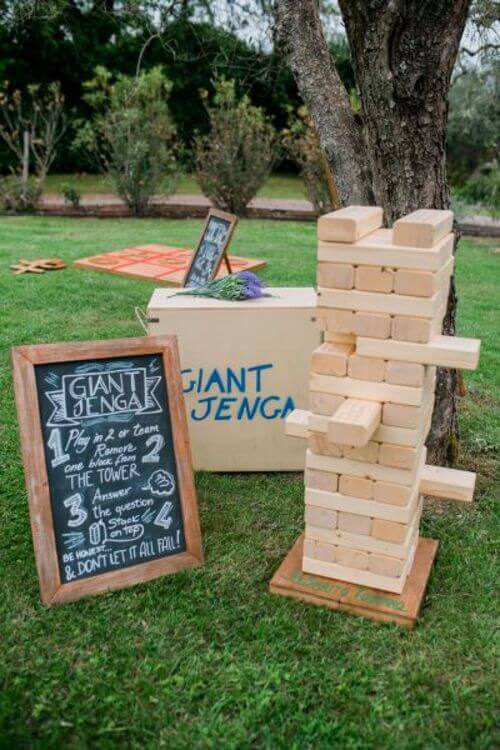 8. Metal pool table
This is great if you have a covered patio in your backyard.
A metal pool table could be a great addition.
Hold your own eight-ball tournament during the party and guests will never want to leave!
After playing, just cover the table when not in use.
9. Spikeball Game
You'll need a spike ball game set for this game, but once you have it, it's the perfect game to move around and bring with you even when you travel.
It's a combination of volleyball and foursquare that's easy to learn, but hard to master.

10. Croquet Game
Croquet Game: It is perfect for kids or teenagers if you have many of them as your guests.
Definitely an oldie but a goodie! It's perfect for 2-6 players and can be enjoyed by all no matter the age.
Indoor Party Games
11. Guess Who?
This game is inspired by one of the most played games in Korean variety shows.
Print out some pictures of teachers, students, staff members, or even celebrities and let them guess who they are.
Play the game in teams.
You can lay out some gifts, and if one of the team members guess the person wrong, you can take the gifts one by one!
12. Guess The Music
Guess the music: Who doesn't need music at their party?
You can create a fun game using music.
Play some music for one or a few seconds and let them guess who the singer and the title of the music is.
You can play this game in a team of 2-3 people and let one person answer for every turn.
One correct answer will be given a point and the team with the highest point is the winner.
13. I Remember When
The guests can create a circle, and each of them will say something that reminds them about the person next to them, such as good memories during school or college.
14. Mafia Game
This is one of the most played games in Korean variety shows.
So basically, the game is about searching for who the mafia is and saving the townspeople.
There can be 1-2 mafias according to the number of players.
There are also police, a doctor, and a host. When the host notifies them of daybreak and reports of murder, the players start to search the mafia and vote for the suspect.
The game ends with the victory of the mafia if he survives until the end of the game, or the townspeople win if they find the mafia.
The fun part of the game is when players are killed and betrayed by the trusted one.
15. Whisper Challenge
Whisper Challenge: This game is usually played in pairs.
The players are provided with headphones (or earphones) so that they could not hear any words or voices of others.
The host will give a keyword to one player, and the player will try to explain the word to the other player.
One rule is that they can't use any gestures, and the other player will try to guess the word with the guidance of the lips movement.
16. Telepathy Game
The telepathy game is played in pairs.
Each pair is given a number of keywords or questions, and they should act or write out the same action and answer.
For example, if the keyword is 'heart,' they should show a heart's gesture.
If they act exactly the same they get a point.
17. Guess The Baby Grad
More trivia games wouldn't hurt! Who doesn't love a baby photo?
Ask your grads for their baby photos and make a little quiz by guessing who the grads are.
You can lay them out on a table for everyone to look at and challenge your guests to match the baby photo to the grad's name for fun.
18. Grad Party Trivia
This is a fun and easy way to get all your guests involved at once.
The quiz could be around general topics, such as sports, music, and TV.
If you are hosting a themed party, you could create your questions around the theme – think travel around the world or college trivia.

19. Graduation Bingo
Bingo games are always fun and simple!
You can create your own bingo cards or just buy them online.
This is a great game for any aged guest at your party.
Prepare gifts for the people who successfully finished their bingo.

20. Who Are We?
Another fun guessing game, but this time only one person guessing, and the other will give hints.
Have one player step outside, and the rest of the players will decide which characters, celebrities, or even another grad to personify as a group.
Then, sit in a circle and have that one player sit in the middle.
The player can ask the rest of the group questions, and the others can answer with yes or no until the player guesses the character.
Concluding
Graduation is the perfect time to celebrate your hard work during school or college.
There are numerous entertaining and original ideas to make your graduation celebration a success, whether you're planning an indoor or outdoor party.
You can create a special occasion that your visitors will remember for years to come with the correct games, décor, food, and beverages.
The ideas are limitless, and you can get creative with the games and activities!
Use the article above as a guide and make your party so entertaining that you guests will remember it forever.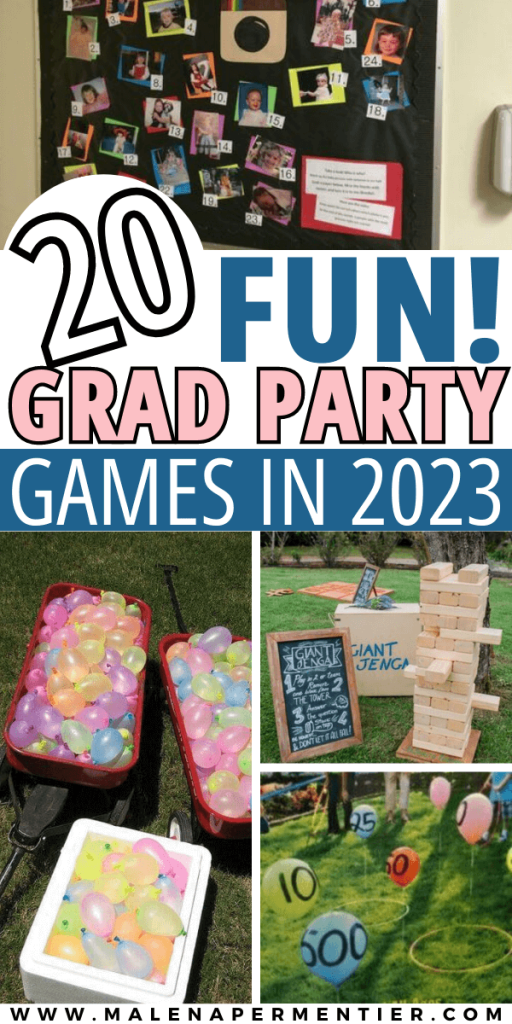 This post showed you the best graduation party games.
You may also like: