This post is all about the best graduation picture ideas!
I don't need to tell you how much of a milestone graduating is because you probably already know :).
That's also why it's so important to capture it!!
Sure, professional photoshoots for graduation are great.
But what's even better is taking candid pictures with your friends (with a bit of preparation).
This post goes over photoshoot ideas, poses with friends, outfit ideas, graduation party picture ideas, and everything related to graduation pictures.
So let's get into it.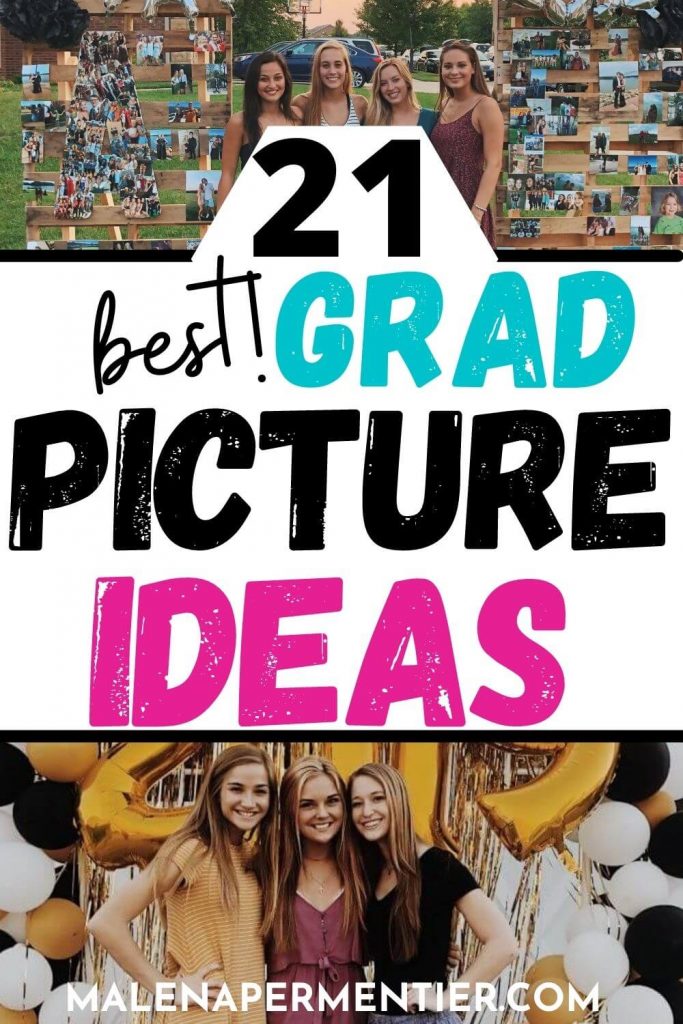 1. Graduation picture ideas with friends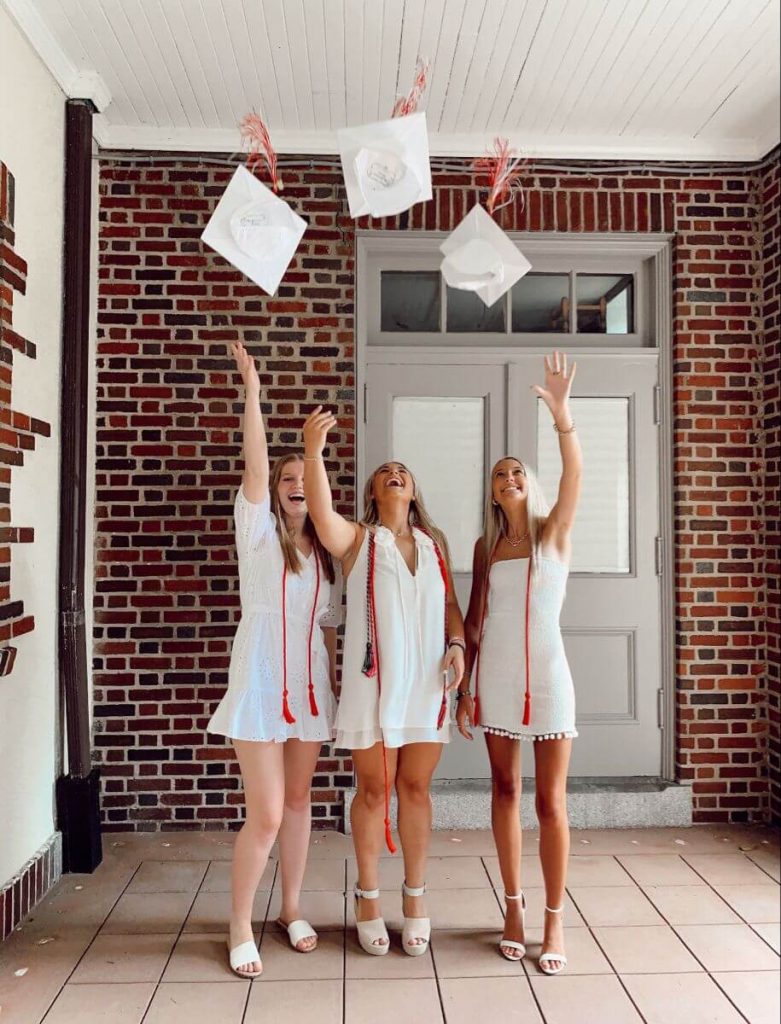 A simple pose and outfit color coordination go a long way!
Decide on a dress code with your friends for the cutest pictures.
Throw your grad caps into the air, and don't forget to smile!
If you've ever taken jumping pictures, you know that throwing a cap in the air simultaneously (and capturing it!) takes a little coordination.
Get a friend behind the camera who knows what they're doing so you get the vibe you want.
2. Photo display for grad party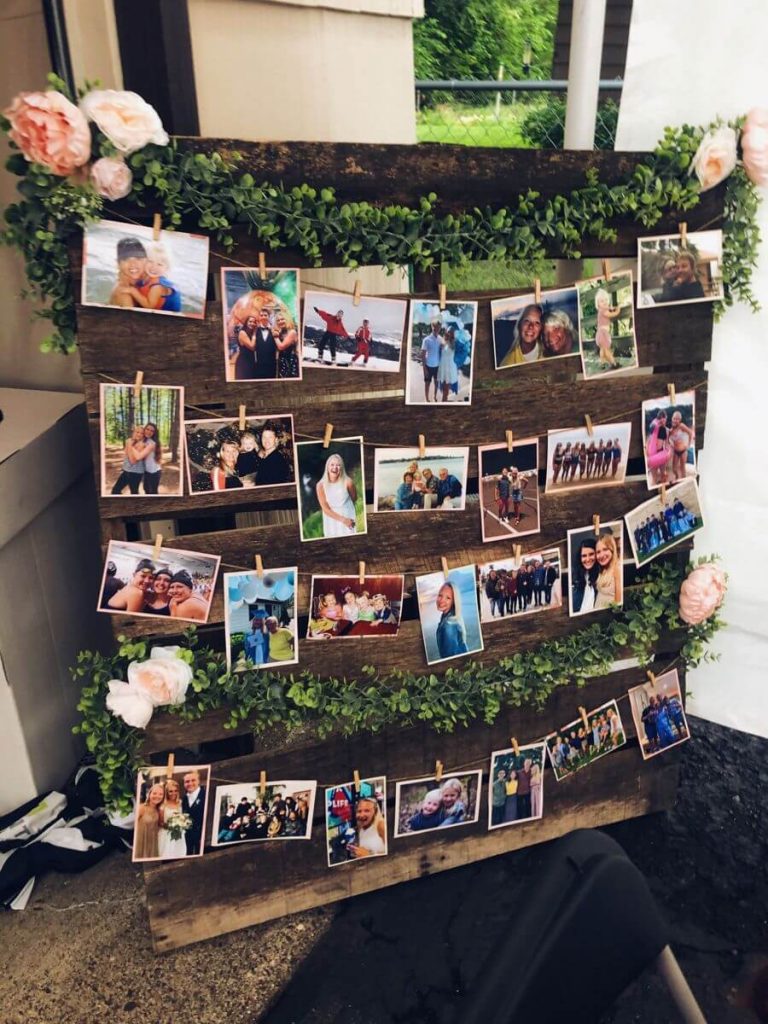 If you're throwing a graduation party, you've probably been thinking about the type of decorations.
An inexpensive and genius way to highlight the grad is with photo displays.
You can DIY this with pallets. You can usually come by these for free through friends or family!
All you need to hang the pictures is twine and clips.
Decorate the pallets with faux greenery and flowers, or attach balloons to the top.
3. Friends grad photoshoot with the same outfits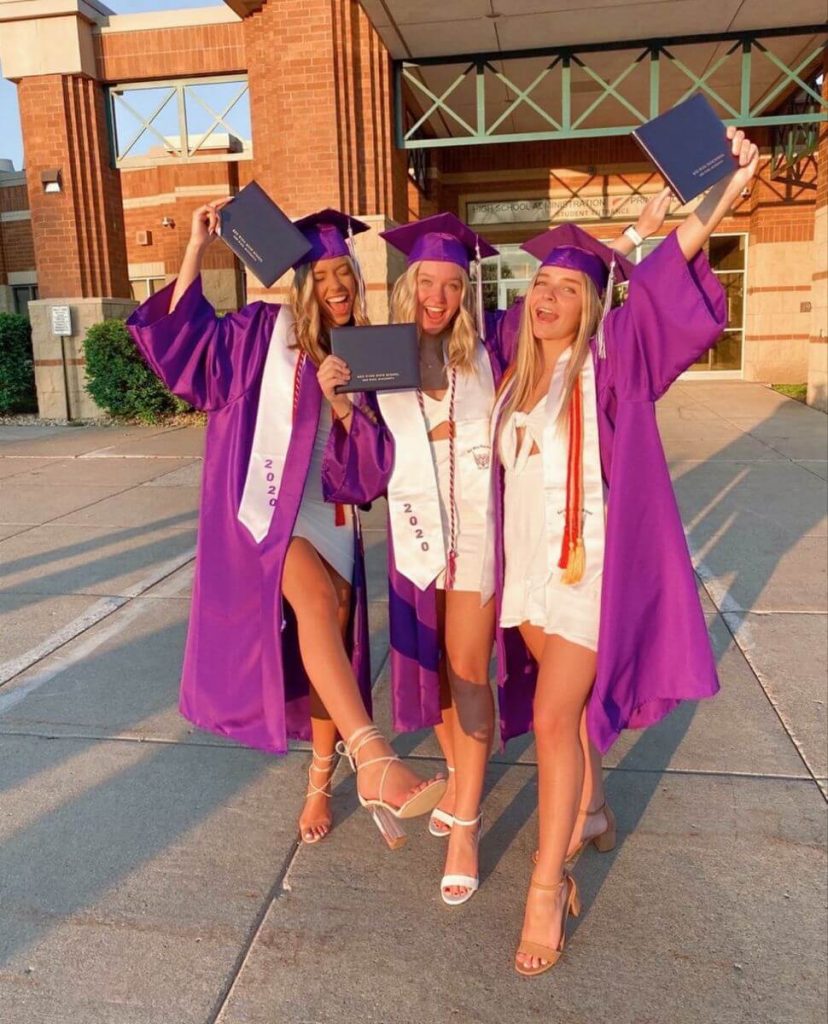 Graduation is usually in summer, and white is always a great choice!! Pair a white dress with a purple graduation robe for a powerful statement.
Loving the fun and simplicity of this graduation photoshoot!
Hold up your diplomas and throw in a little kick.
4. Photo display graduation centerpiece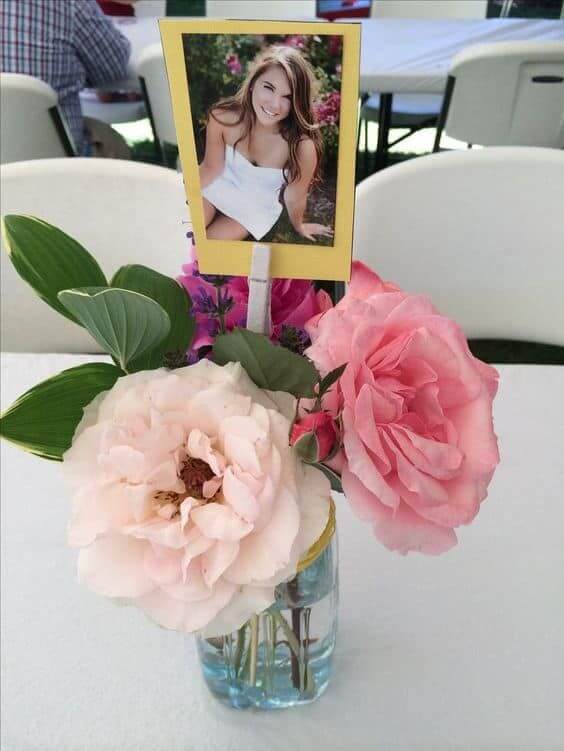 Make photo display centerpieces for the tables at your graduation party!
This is so easy yet really dresses up the party. Get a set of 6 centerpiece vases on Amazon, and fill it with your favorite flowers and picture sticks to attach the pictures you want.
5. Best friends graduation picture pose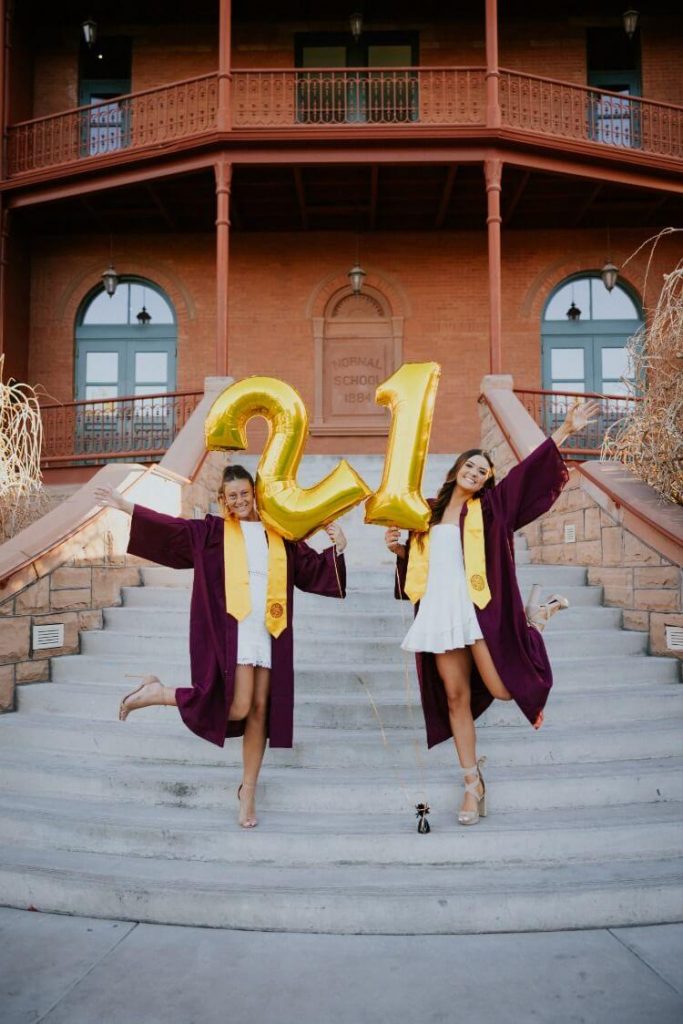 This graduation picture of best friends is the cutest!!
All you need to recreate this is a white dress, maroon robe, and letter balloons for the year of graduation.
White dresses are a favorite for graduation outfits, and it's easy to see why!
White pairs well with a darker color robe, making the sash, decor, and you(!) pop.
6. Backdrop decor for graduation pictures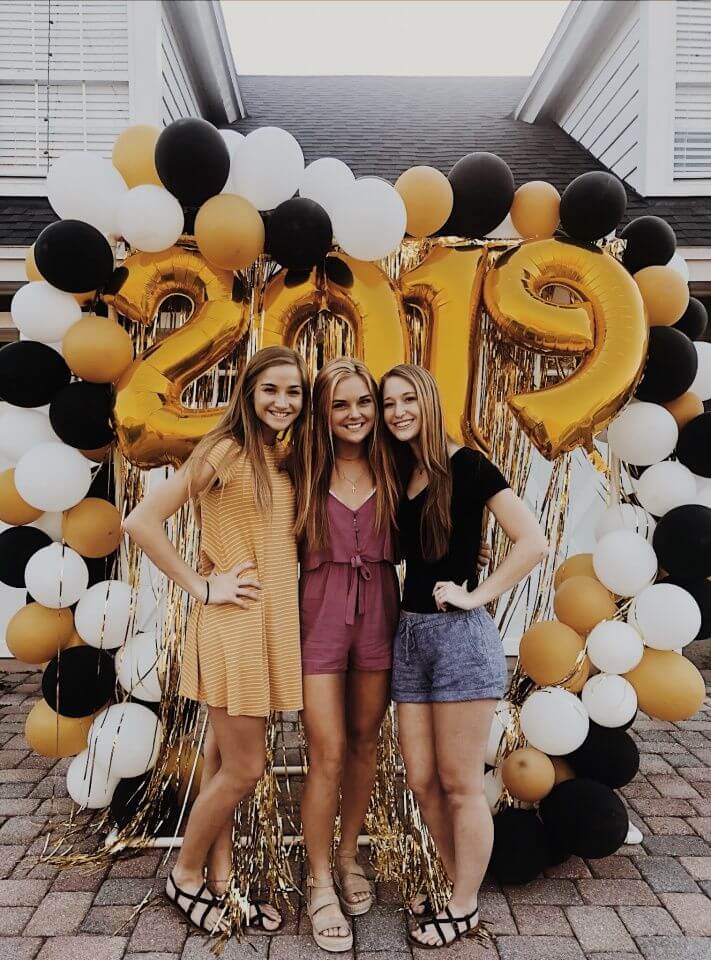 When throwing a grad party, make sure to make an incredible photo backdrop.
Set up a tripod with a camera or your phone, and ask a friend or family member beforehand to help you take pictures.
You can also use the self-timer.
Make a photo backdrop with a tinsel curtain, balloon arch, and year of graduation balloons.
Before deciding on the best spot to set up your backdrop, test the light the day before at the same hour as your party.
I know this sounds lame, but the light can make or break a good picture!!
7. Close-up tassel topper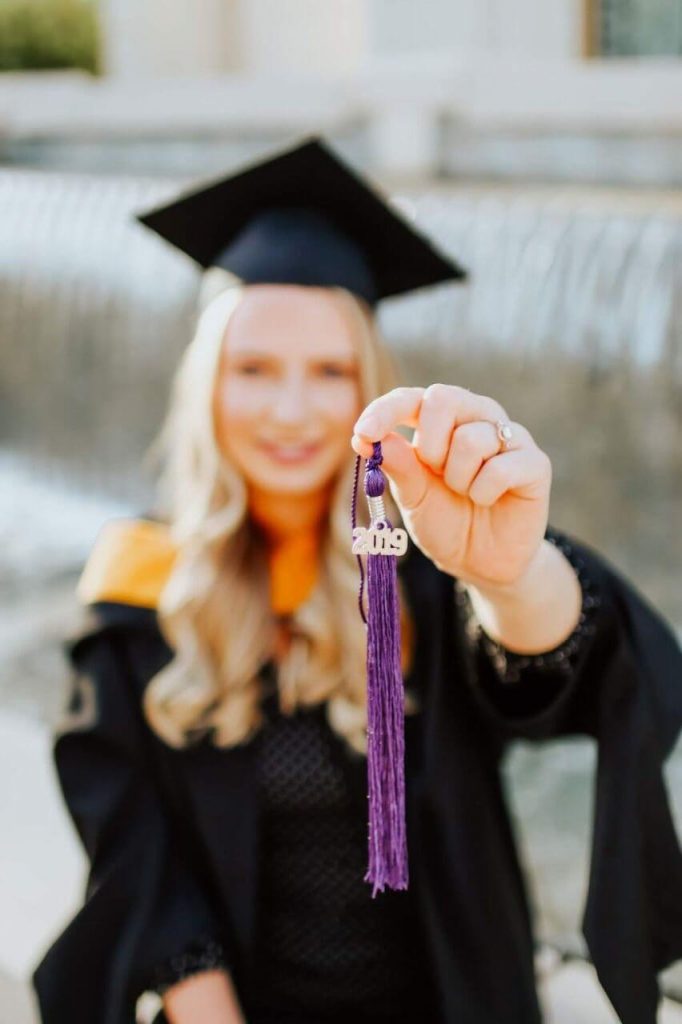 I love this photo idea; it's so easy and cute!!
Basically focus on the 2022 tassel instead of the person holding it, et voila, you've got yourself a picture like this.
If you have a newer iPhone, like 11 or 12, you can effortlessly recreate these types of pictures!!
Of course, it would look even better on camera, but don't worry if you don't have one.
8. Chalkboard photo booth backdrop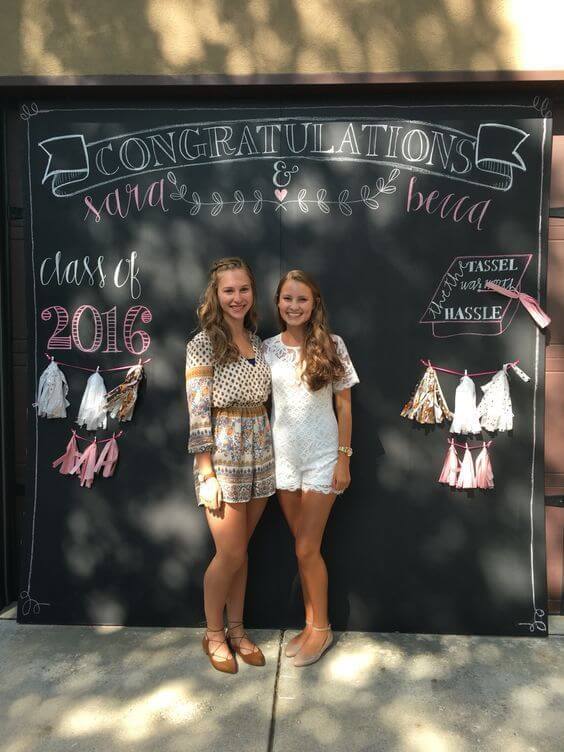 I thought this chalkboard photo backdrop idea was so original and cool!! What you need for this is a large enough piece of smooth wood.
Then use chalkboard paint and let it set.
You can write your favorite graduation captions or hashtags!!
Don't forget to decorate with cute tassel garlands and a graduation banner.
9. Picture display for the graduate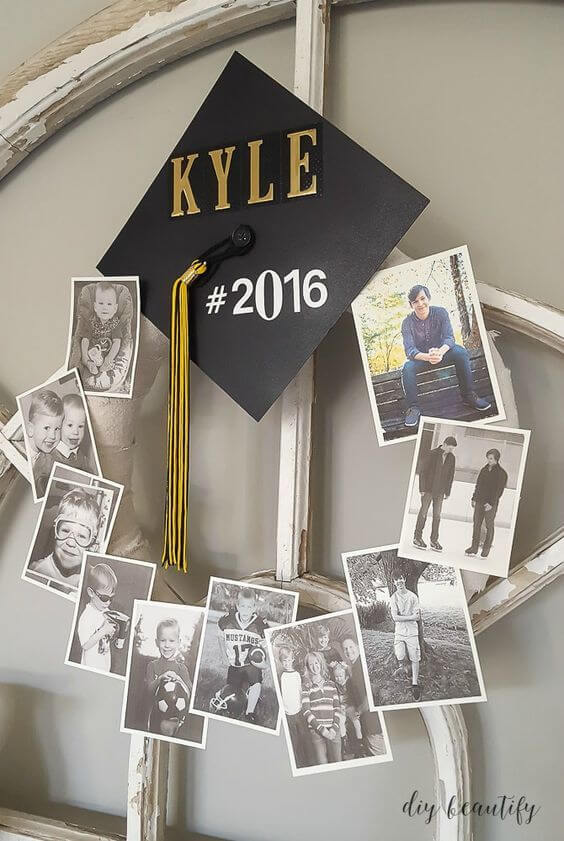 A lot of the graduation picture ideas are more girly, but I love this example as a more neutral way of celebrating the grad!!
So if you're looking for cool graduation picture ideas for guys, this black and white picture display is great.
Line the display with pictures from baby to graduation, make a paper graduation cap, and don't forget to top it off with a tassel.
10. Pallet picture display for graduation party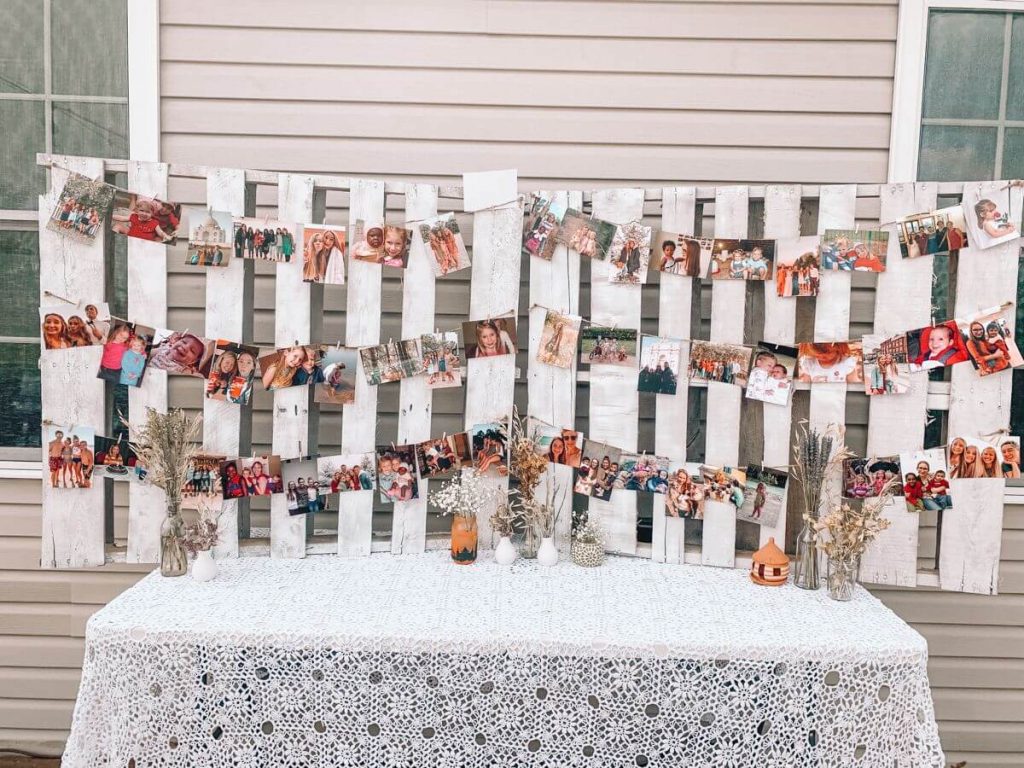 This is another way of rocking a pallet photo display!!
This photo display will work perfectly on the food table if you're throwing a grad party with food.
Hang a congratulations banner or 2022 balloons over the table for a finished look.
**Please note that the Amazon pallets listed above are super tiny!!
They're not large enough to make a photo display, but I just wanted to include them as an example.
11. Photo backdrop with decorated pallets and balloons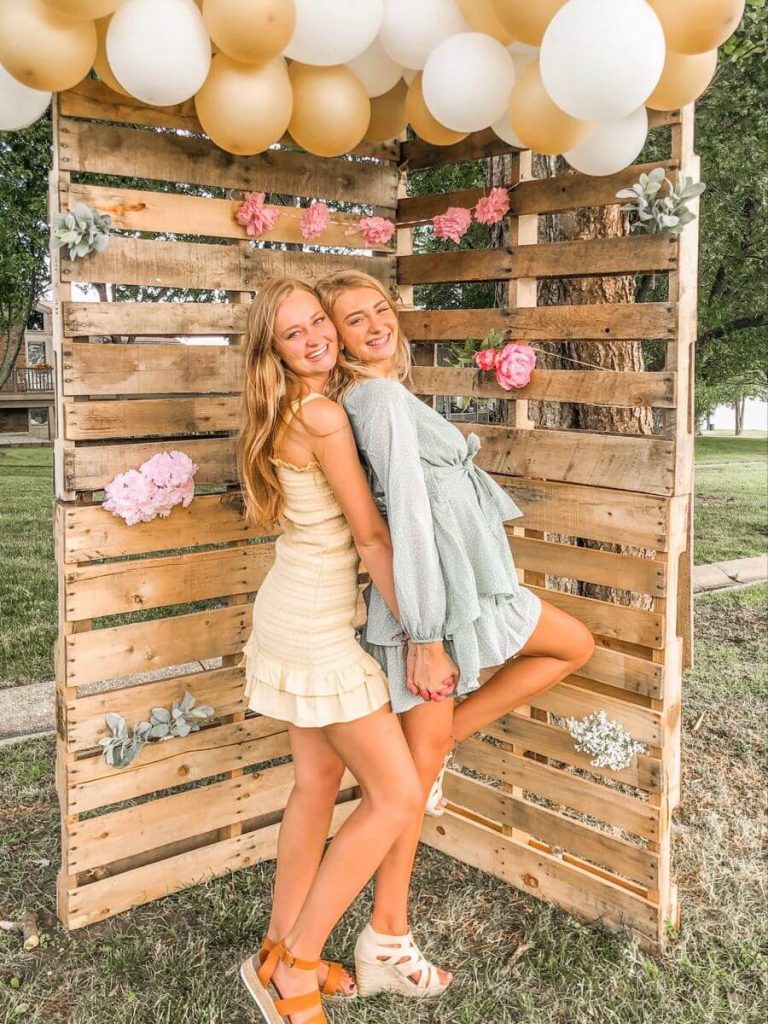 Wood pallet photo backdrops and picture displays are insanely popular.
You can get pallets for free at your local hardware store or construction site if you're lucky.
Ask around to get your hand on them!!
The rustic look of pallets makes them super cute for an outdoor graduation party.
12. Tropical balloon backdrop for pictures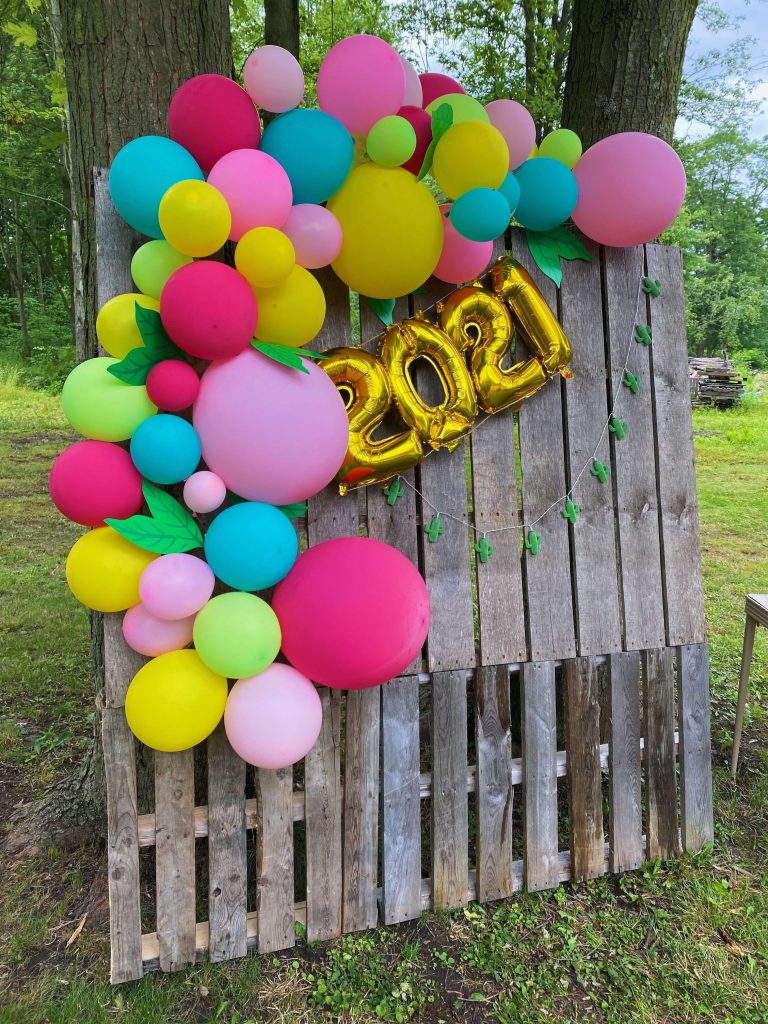 Loving this tropical vibe as a photo booth backdrop.
Put this backdrop together with pallets and decorate with an inexpensive colorful balloon garland from Amazon.
13. Photoshoot with the year of graduation balloons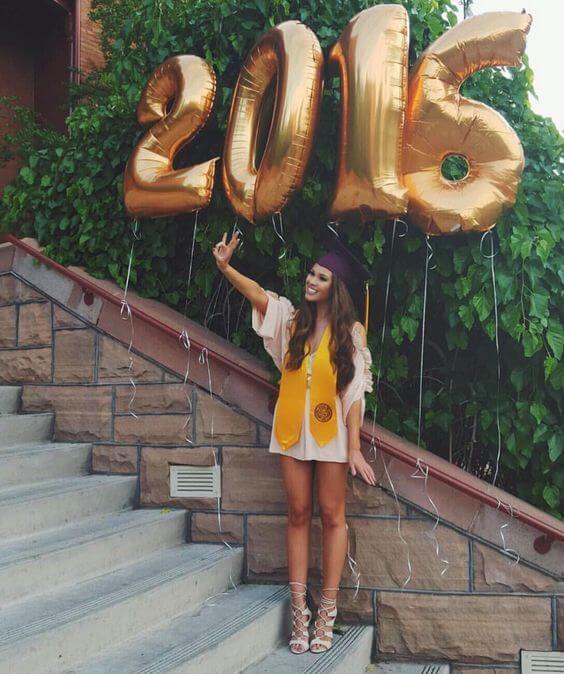 I almost feel that this picture pose and setup are a must for every graduate!!
Year of the graduation balloons makes the picture memorable.
Plus, the balloons look super cute, and it's fun to have some props in your hand when posing for pictures.
The stairs with greenery in the back are the perfect natural backdrop for graduation pictures!!
See if you can find something similar at your high school, college, or neighborhood.
A wall or background is also convenient for getting flattering light for pictures.
14. Graduation photo display with crates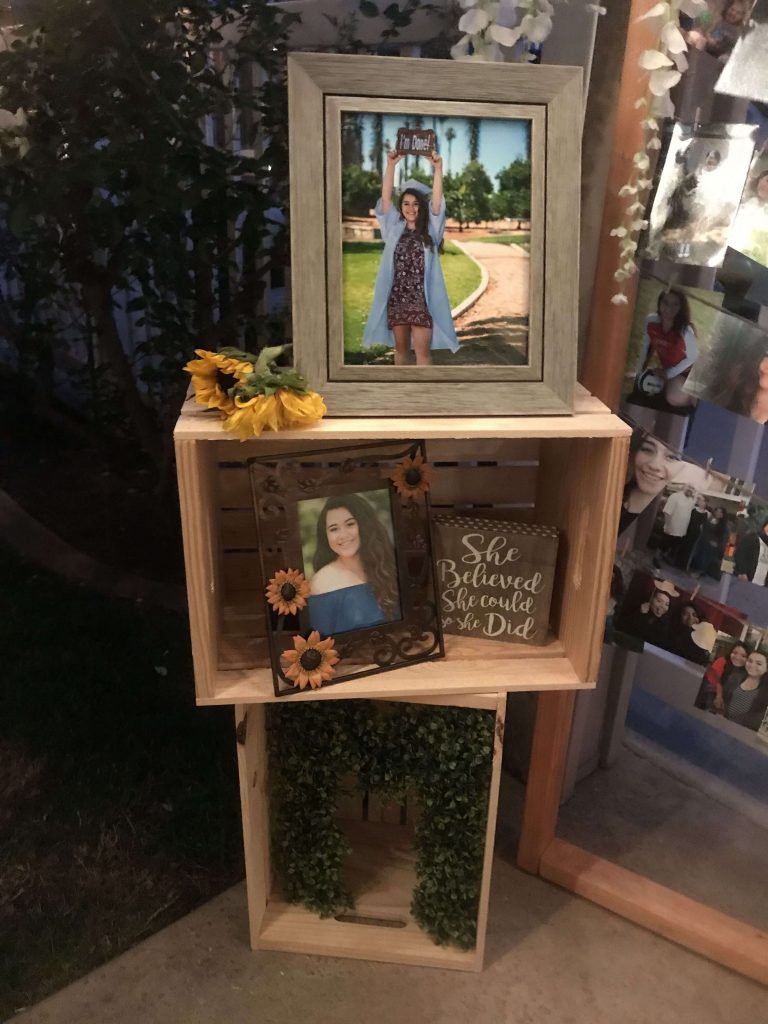 This photo display with crates is easy, inexpensive, and super cute.
Crates are one of those items you could get for free, but if not, they're very affordable.
Decorate with pictures of the grad, greenery, and sunflowers.
You could place this display at the entrance of your grad party, or for example, next to the table where guests can leave cards and gifts for the graduate!
15. Polaroid frame prop for graduation party pictures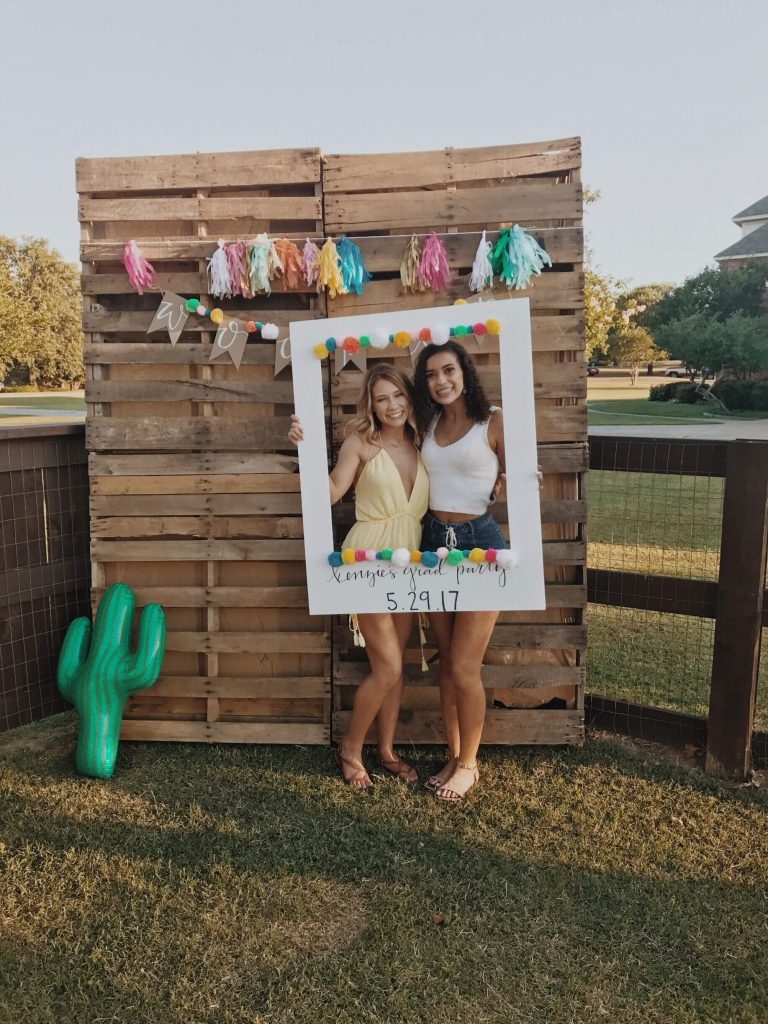 A polaroid picture frame is great as a prop!
Whether you're taking graduation pictures professionally or yourself, having props on hand makes pictures more fun.
If you're not super comfortable posing or being in front of the camera, props like this also help to have something in your hand and feel comfortable!!
16. DIY chic polaroid frame for grad party pictures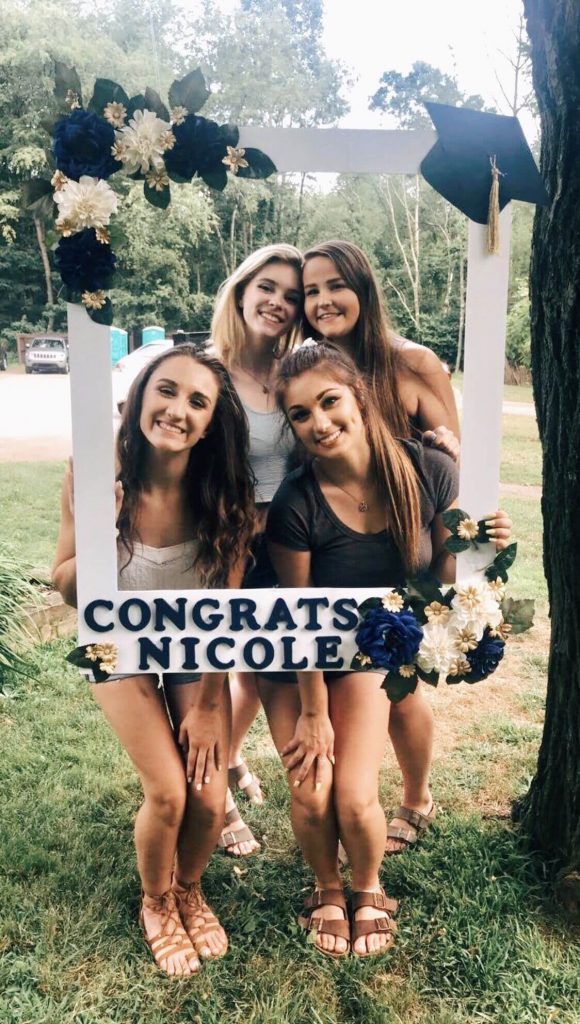 If you weren't convinced about the polaroid frame for grad pictures, the example above will probably do the trick!!
Decorate a simple white frame with flowers, the grad's name, graduation year, etc.
These frames make for the cutest Instagram pictures, so it's a must at your graduation party.
17. DIY graduation cap pictures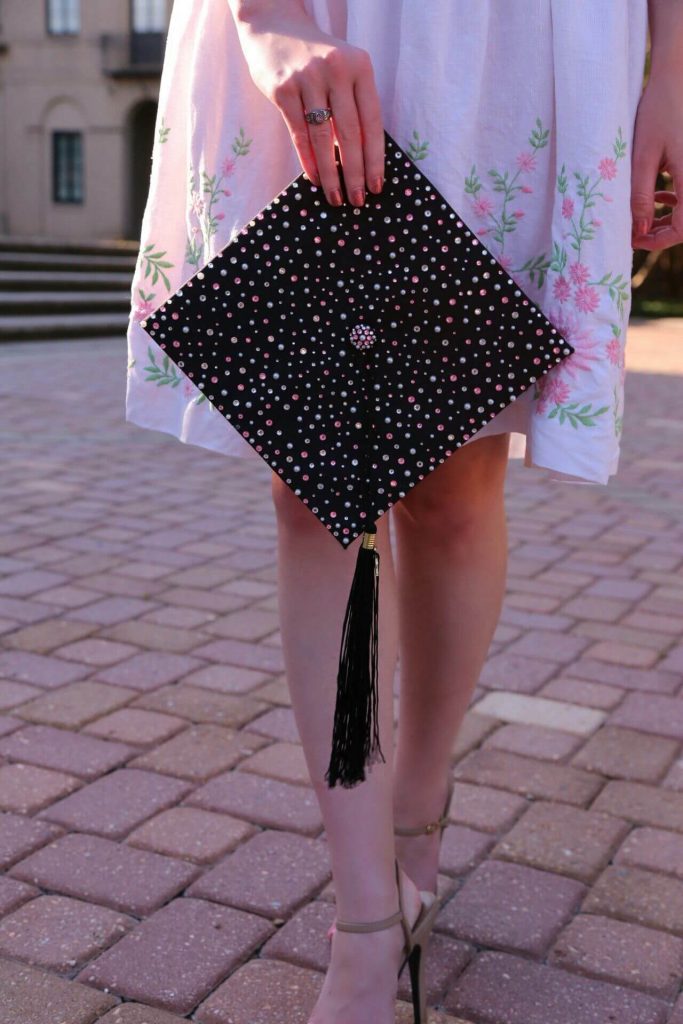 Are you going to decorate your graduation cap?
If so, then you obviously need to get a good picture of it!!
When it comes to graduation pictures, more is better!! You don't want to look back in a few years and regret not taking more pictures.
18. Rustic photo display with branches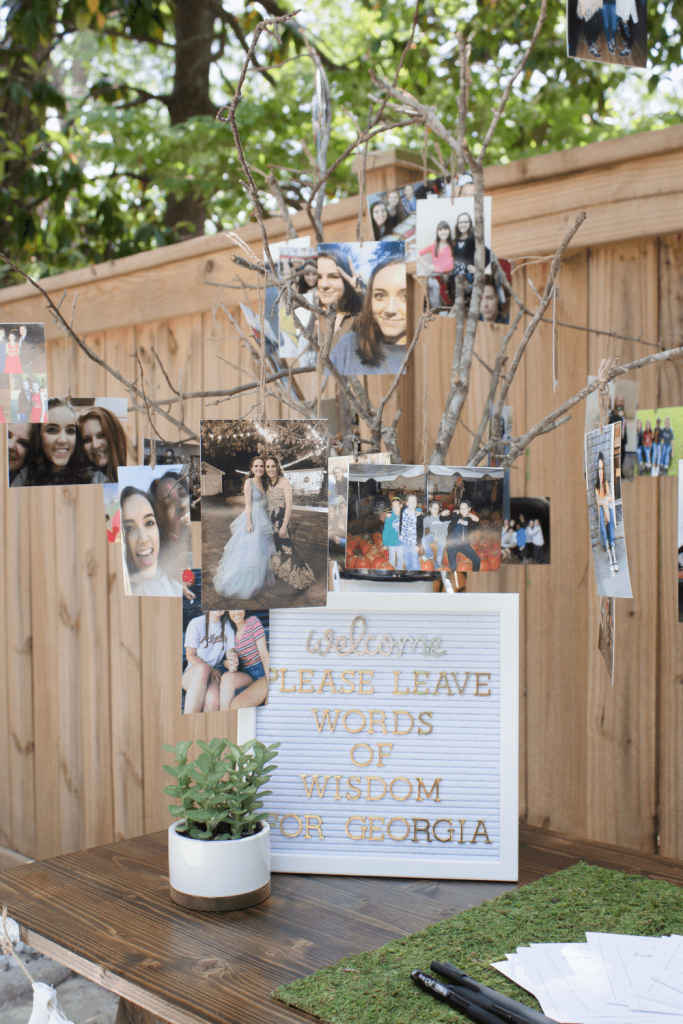 If you're looking for a unique and pretty graduation photo display, this is it!!
Use a vase with pebbles as a base, place in branches, and attach pictures of the grad.
This idea is fantastic for backyard graduation parties with a rustic aesthetic!!
Also, the letter board is the perfect aesthetic and inexpensive way to write a welcome note for your guests!!
19. Genius pallet picture display & backdrop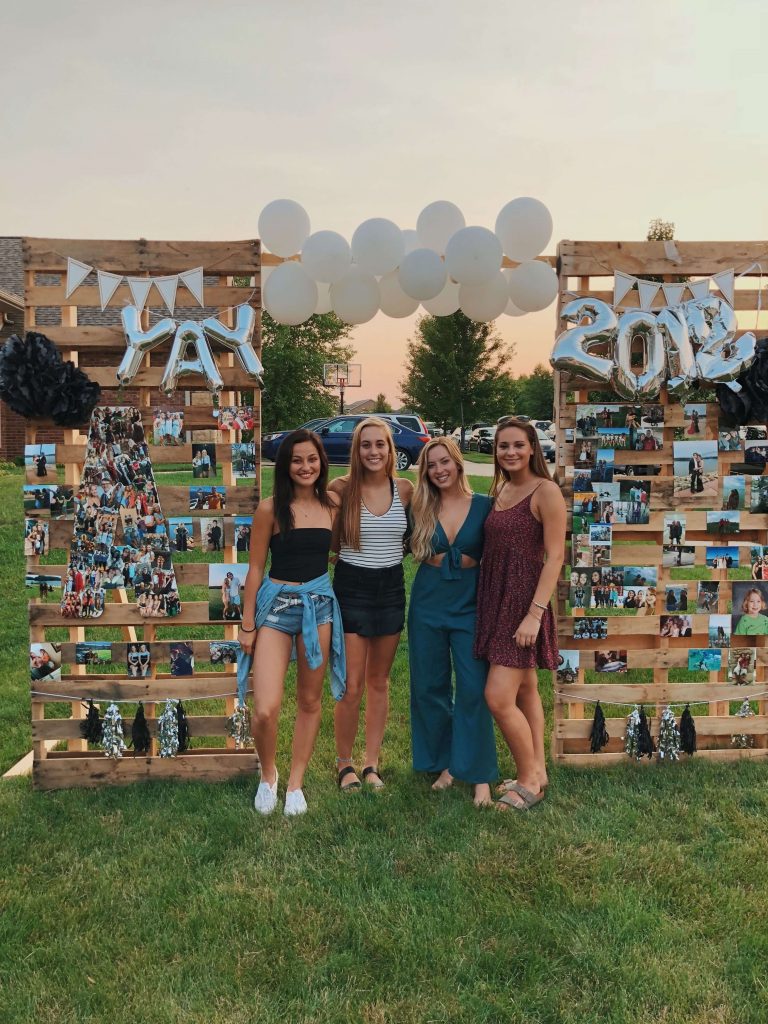 This photo backdrop and picture display take wooden pallets to another level!!
To recreate this, you need 4 pallets, attach them, and have some stand.
I'm not a DIY pro, but I'm sure one of your family members will know how to pull it off!!
20. Customized polaroid frame for graduation pictures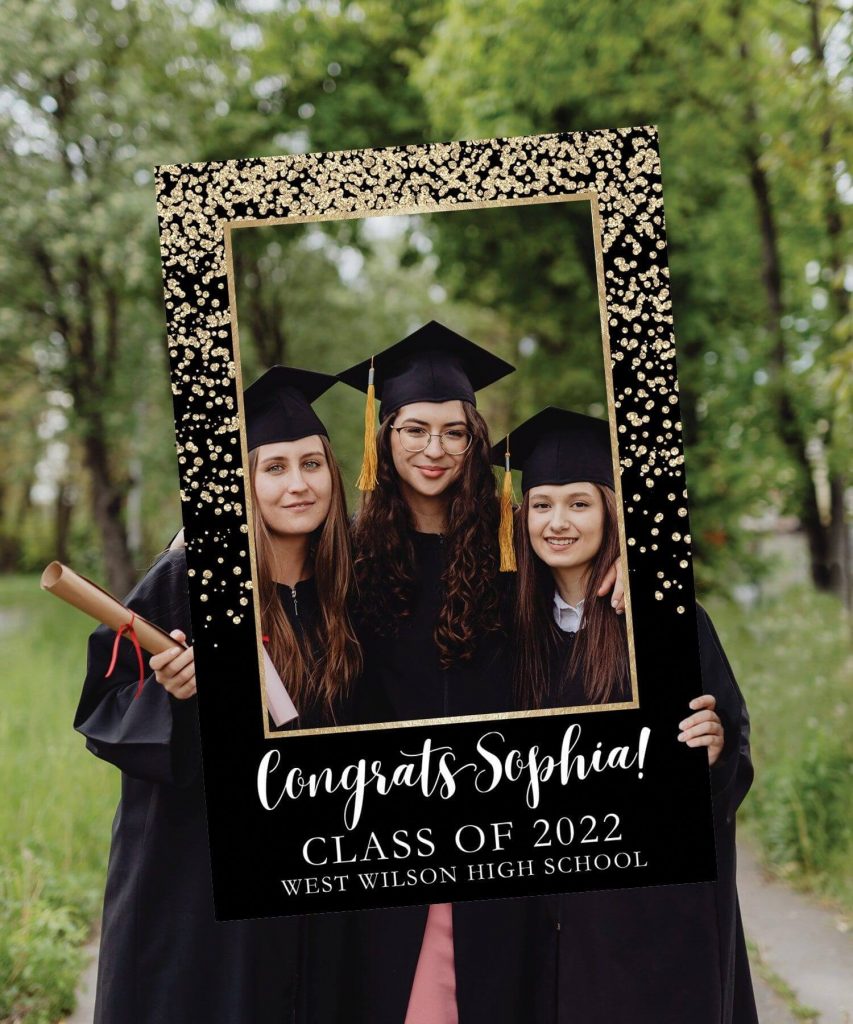 If you want a customized polaroid photo frame – this one from Etsy is IT.
Customize it with your name, school name, and year of graduation!!
This is a great prop to have at your graduating party or take pictures with a professional photographer.
21. Rustic photoshoot backdrop for grad party