This post shows you the best graduation party themes!
You might wonder, isn't a graduation party already a theme by itself? The answer is yes and no.
When throwing a grad party, you'll need class of 2023 decorations and graduation-themed food!
But beyond that, the party doesn't have a theme yet.
So in this post, we'll cover graduation party themes that have to do with color schemes and aesthetics like chic, rustic, tropical, and Mexican fiesta.
Using a theme for your grad party is fun and practical because it makes decision-making in terms of decorations, food, balloons, and activities easier!!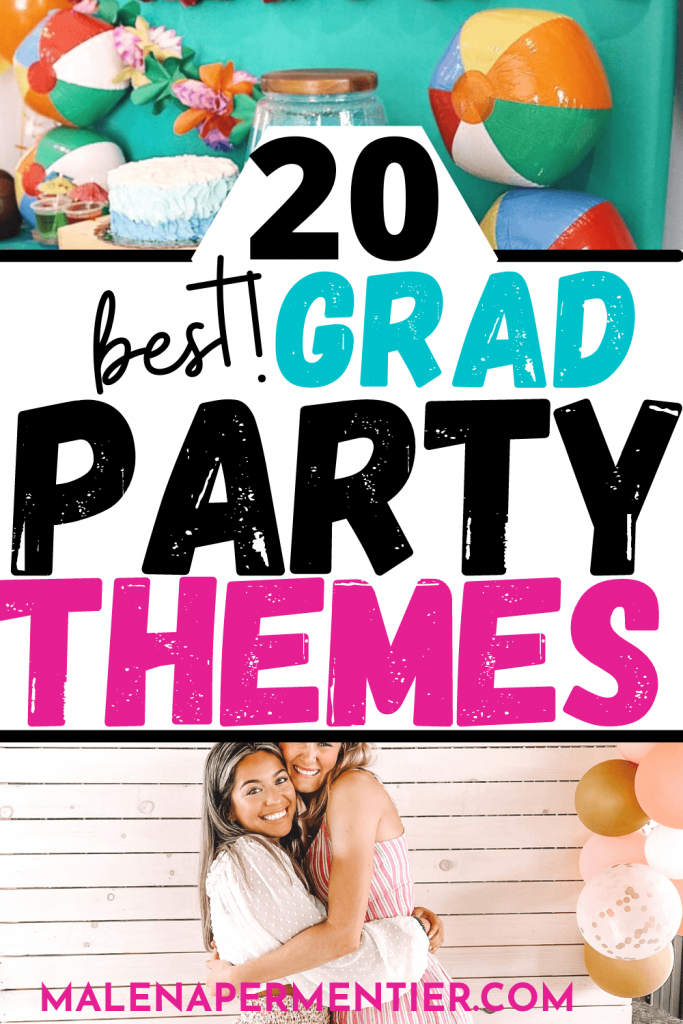 20 Best Graduation Party Theme Ideas In 2023
1. Tropical theme
A grad party with a tropical theme is perfect for backyard parties.
Graduation is during summertime, so what better theme than tropical?
I also love that this theme gives you an excuse to come up with the cutest photo backdrops.
This fun and colorful theme will give you the best memories and the cutest pictures!
Go for Hawaii-themed decor, colorful balloons, tropical leaf garlands, and other fun tropical decorations.
2. Chic floral theme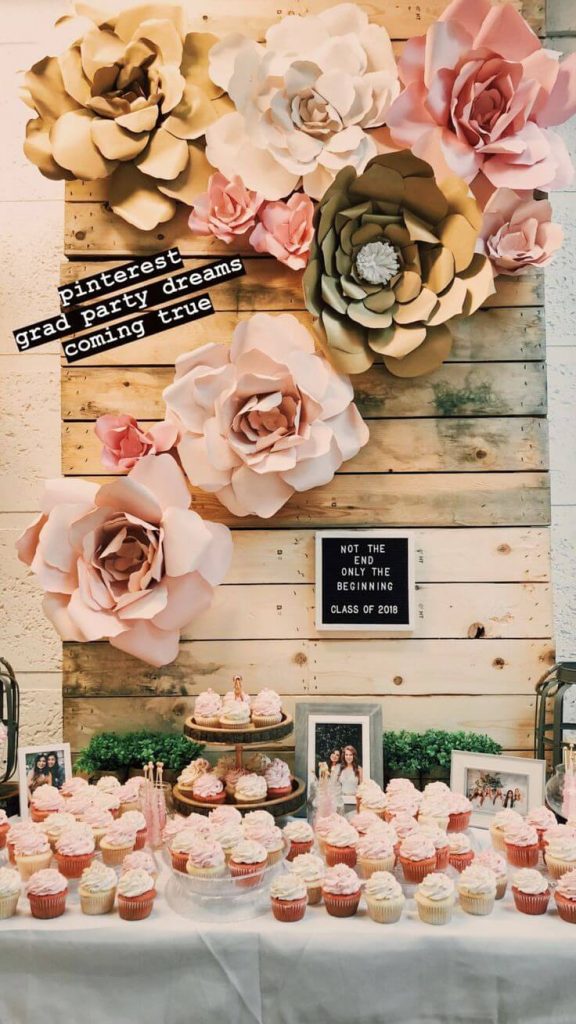 I'm lowkey obsessed with this chic floral theme!
You can DIY these flower decorations with paper or buy a ready-made kit on Amazon.
There are so many cute ways to pull off this flower theme, and you can do so in the color scheme of your choice.
White, gold, and blush pink sure is a winning color theme.
3. Bohemian chic vibes
Create a chic bohemian aesthetic at your party with burnt orange, red, and cream.
Make a cute floor seating area with an abundance and pillows for your guests to sit down on.
This boho theme is perfect if you're throwing your grad party outdoor.
4. The one where they graduate – Friends theme
Everyone loves Friends! I got obsessed when I saw all these cute Friends props and decorations.
Turn your grad party into your favorite Friends episode for you and your friends to enjoy.
Look at these Friends-themed party decorations to get inspo for your party!
5. Mexican fiesta theme

A taco theme or a Mexican fiesta theme is a party favorite!
You can implement the Mexican theme in your decorations and food for a super fun time.
Tacos also happen to be one of the easiest and most delicious grad party food ideas!
6. Future college grad party theme

A grad party theme that's very popular in 2023 is the future college theme.
You decorate your grad party in the colors of your college.
You can also choose the colors of your high school!
After all, a graduation party is goodbye to one place and hello to another.
So playing with this concept makes sense and creates a fun, memorable grad party theme.
7. Classy rose gold backyard grad party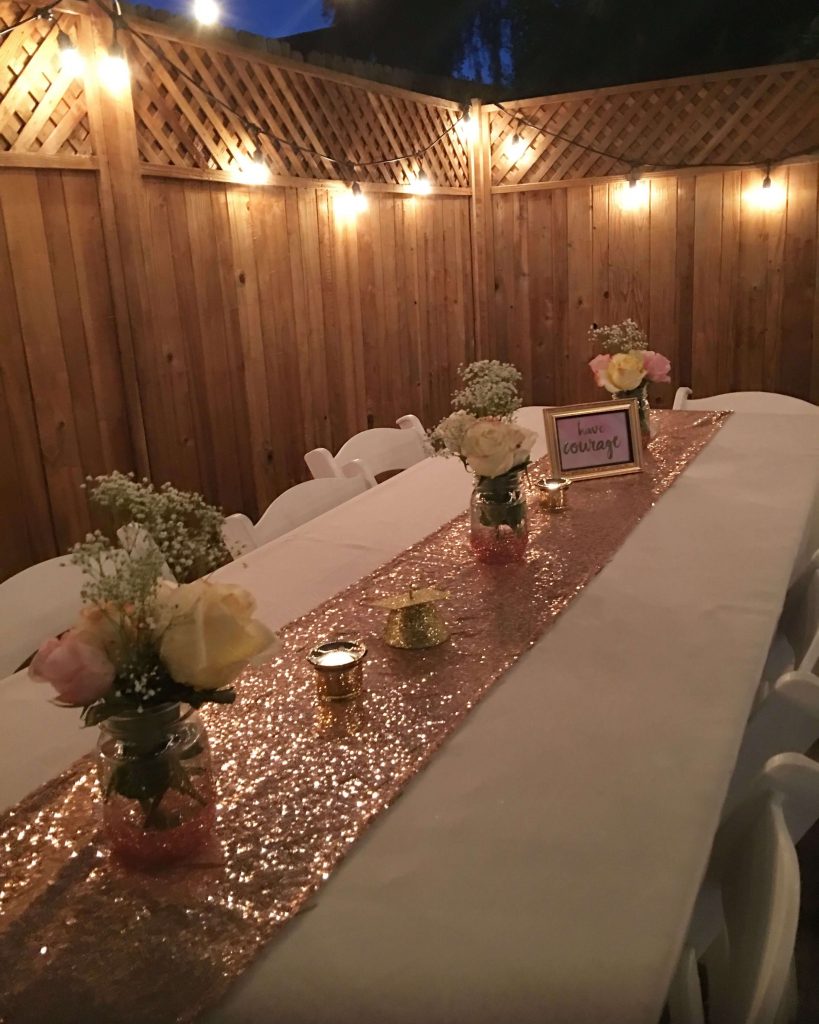 Formal seating isn't a must at a grad party, but you could go for it.
Especially if your graduation party has food, seating would be ideal.
Easily decorate basic patio furniture with a white sheet, rose gold sequin table runner, and cute mason jar centerpieces.
8. Black and gold glam theme
Love a glam aesthetic? Then black and gold are your grad party color theme.
Recreate a glam theme with minimalist decorations in black and white, gold accents, and decorate your food and drink stations with those colors.
9. She's one smart cookie
Go for a cookie theme! Everyone loves sweet treats, and this 'she's one smart cookie theme' also perfectly hits the spot as a graduation party theme.
Give your treats grad-related names like 'smart cookie,' 'bookworms,' or anything else creative you can come up with.
10. Elegant theme
This elegant theme is similar to the black & gold theme in 8, but more than worth sharing!
If you want to create a simple grad party theme, I love taking inspiration from decor like this.
Frame your favorite inspirational quote for a personal touch.
11. Taco about a fiesta theme
Taco about a grad or taco bout a fiesta are similar themes, and both are insanely popular for graduation parties.
Decorate your party with cactus balloons, taco bout a fiesta balloon garland, and cute cupcake toppers and wrappers.
12. Classy theme

Once you have picked out the color theme, it's easy to match it with an aesthetic!
Blush and gold are elegant colors, so your grad party instantly will have that vibe.
You can also combine different themes, like classy and rustic, so the grad party decorations really feel like you!
13. Rustic backyard theme

This rustic backyard grad party theme shows how easy mixing and matching different themes is.
The neutral colors combined with the cool backyard aesthetic look amazing.
Recreate this grad party theme with LED letter lights! You can buy this per letter to make the word 'grad' :).
14. Sunflowers
This is a fun and pretty theme for summertime grad parties: everything with sunflowers!
So your theme would naturally be rustic and yellow.
Amazon has many cute sunflower party decorations like garlands, paper plates, and cupcake toppers.
If you're planning on making a cool photo backdrop for the sunflower theme, I suggest using pallets and lush sunflower decorations like balloons and garlands.
15. Boho chic party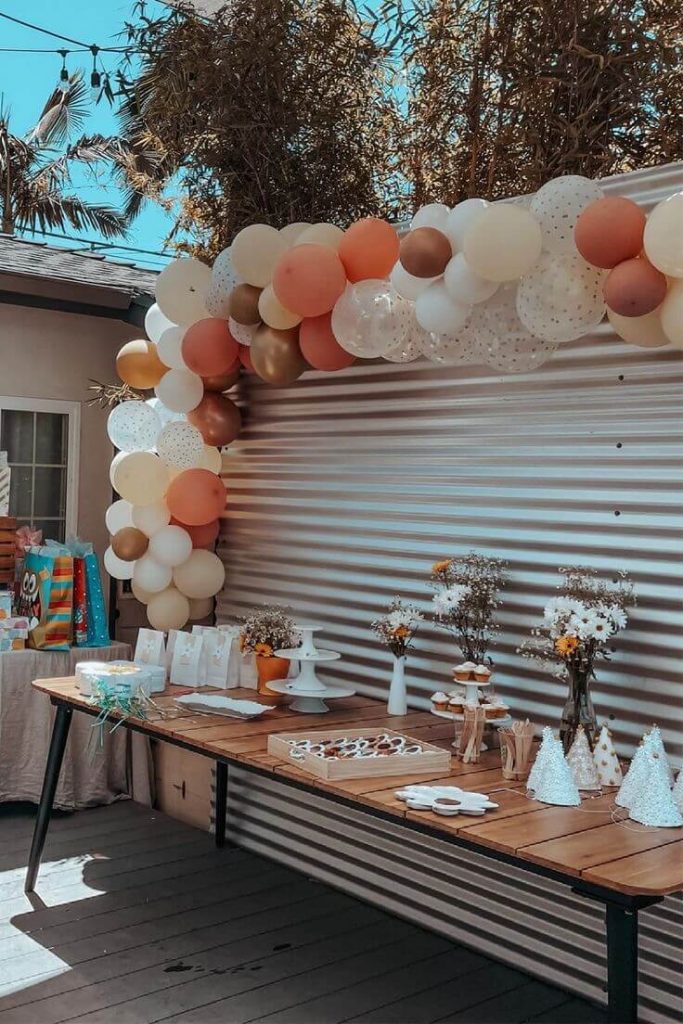 Go for a boho-chic graduation party theme with wood, warm brown, gold, and neutrals.
This theme is perfect for outdoor parties because you can use everything you already have.
Think decorating the trees with string lights and hanging cozy lanterns.
16. Champagne bar for college grads
Graduating from college and 21+? Why not make a champagne bar!
It's the ultimate festive drink; you can turn this into your party theme. Also, add mixers and provide recipes for making champagne cocktails.
You can hire a bartender for the night if your budget allows it.
Give your guests the cocktail dress code and make your party a fancy affair.
If you graduate from high school, you can use the same theme with alcohol-free champagne :).
A champagne theme gives people a reason to dress up, and who doesn't love that?
Rustic outdoor theme
We've touched on the rustic theme before, but this is another example of how to pull it off!
If you're throwing your party outdoors, hang lots of lights, lanterns, and garlands!
The garden's green already does most of the work for pulling off the rustic theme.
All you need to do is elevate the ambiance with lights, cute centerpieces, and other decorations to pull the theme together.
17. Donut party theme

Use a theme revolving around sweet treats, and everyone will be obsessed.
When doing so, make sure to display the food in the cutest way imaginable.
You can buy this donut wall display with two stands with space for 16 donuts each on Amazon.
18. Elegant rustic theme
How cute is this photo booth idea?! Maybe it's just me, but a cute photo backdrop is SO important at a graduation party.
These memories you will make last forever, and you want them to be pictures that look amazing.
Tip: buy a ring light with a tripod to have the most flattering light + and an easy way to make those group selfies.
19. S'mores bar
Have a smores bar at your graduation party, because everyone loves an activity like this!
You can make this into a whole thing, with a s'mores station and toppings.
This will give your guests something to do, and everyone loves this.
20. Sage green rustic theme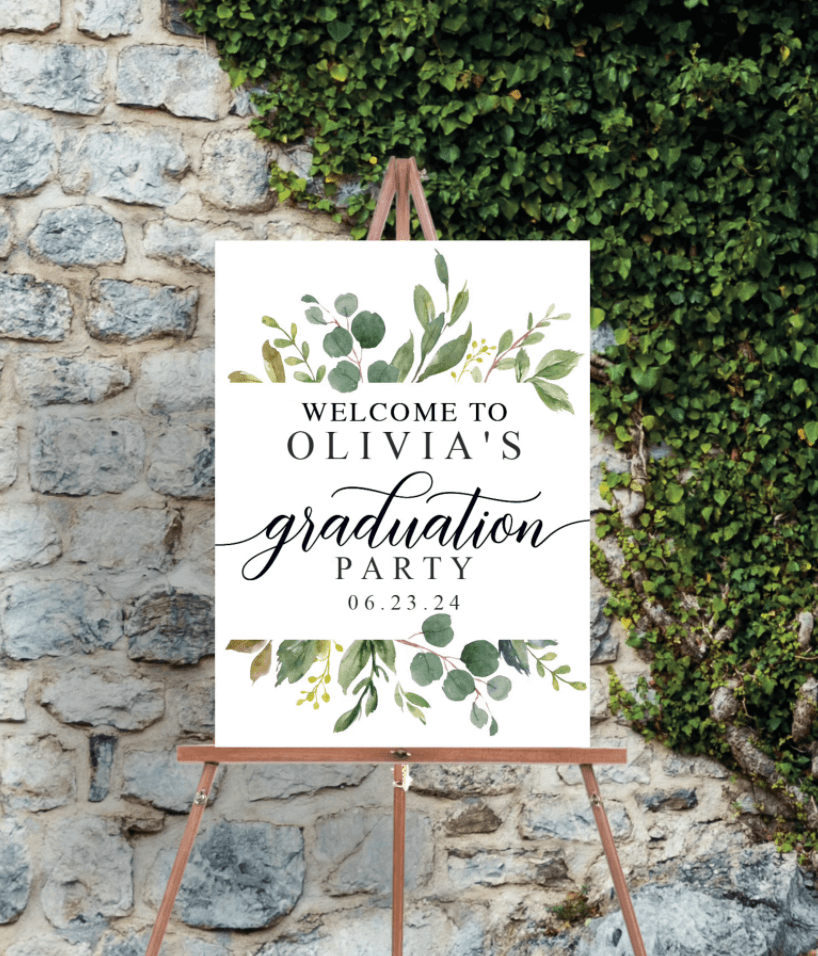 If you're thinking of going with the rustic theme, don't forget to match your welcome sign!
This sage green sign is from Etsy, and you can place it on the street or wherever most people will pass to access your party.
You might think your place is easy to find, but you'll be surprised how many people seem to get lost.
A sign like this is a little pointer in the right direction and a nice welcome.
This post showed you the best graduation party themes for 2023.
You may also like: