Need centerpiece ideas for your graduation party? You're in the right spot!
Here you find the best DIY graduation centerpieces, flower centerpiece ideas, centerpieces with photo displays, graduation cap centerpieces, mason jars, and many more creative ideas that you can easily recreate yourself.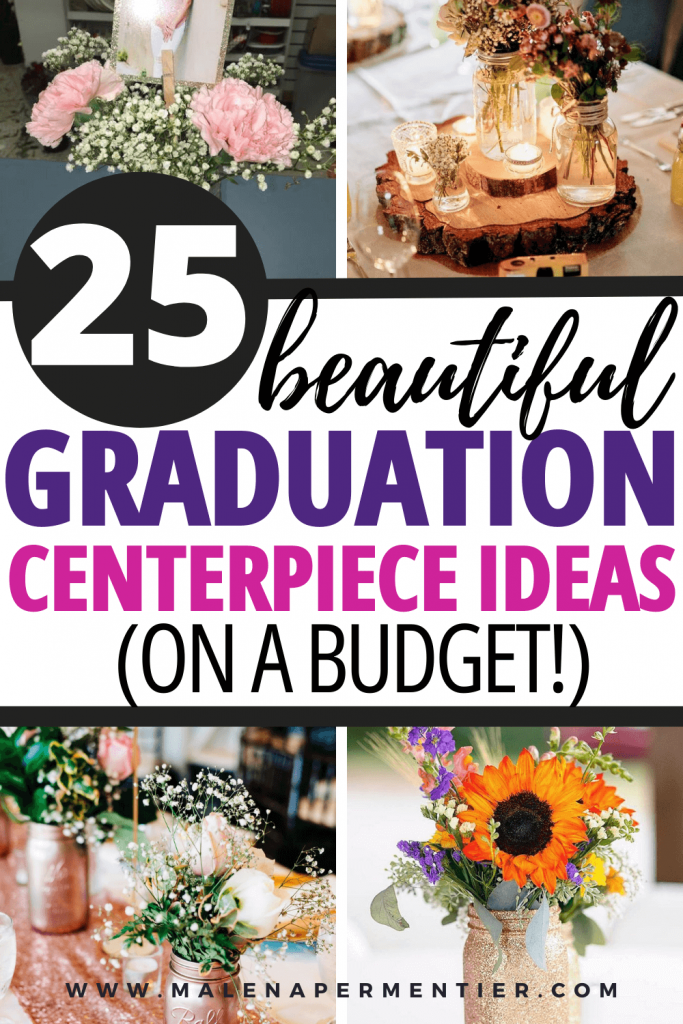 You can use these centerpiece ideas to decorate the tables at your grad party, but they're also cute at your food station or next to the memory jar.
When you have a few cute graduation decorations like centerpiece sticks and flowers, making your centerpieces is easy and budget-friendly.
Now let's look at the best graduation party centerpiece ideas.
Best graduation party centerpiece decorations
Centerpiece sticks with the year of graduation, and picture sticks are great to personalize your centerpieces.
Things like year tags that you can attach to the bottle or mason jar are great ways to decorate your centerpieces.
DIY must-haves for cute grad party centerpieces
You need a base to work with if you're DIYing your centerpieces.
Mason jars are my favorite budget-friendly way to make centerpieces. Maybe you already have some at home, if not, you can buy cheap mason jars.
Besides mason jars, you can also make centerpieces in empty wine bottles.
You can ask your parents to collect them in the months before your graduation.
Then by the time your graduation party rolls around, you have plenty of wine bottles to make centerpieces.
You can also get all sorts of DIY and craft bottles on Amazon, for example, this pack of 12 empty wine bottles.
Depending on what kind of graduation party theme you're going for, you want to pay attention to the color of the wine bottle.
Clear bottles are the most versatile, but green ones could look great for a rustic grad party.
Best centerpiece ideas for graduation
1. DIY wine bottle centerpiece decor

If you've ever tried this candle wax wine bottle DIY, you know how awesome it is!
Buy tall white candlesticks and place them inside an empty wine bottle.
Now let those babies sit and burn. Please be careful and stay in the room at all times.
Place the bottles with candles on a protected surface, so you don't ruin your carpet or floor.
You might need to burn several candles to get this effect, but it's worth it.
2. Rustic floral centerpiece
Make a rustic floral centerpiece with these fantastic wooden plaques for your grad party.
Decorate mason jars with twine at the top, and place a lush and colorful flower bouquet in your mason jar.
Besides flowers, you can also add picture sticks of the grad.
3. Personalized centerpiece sticks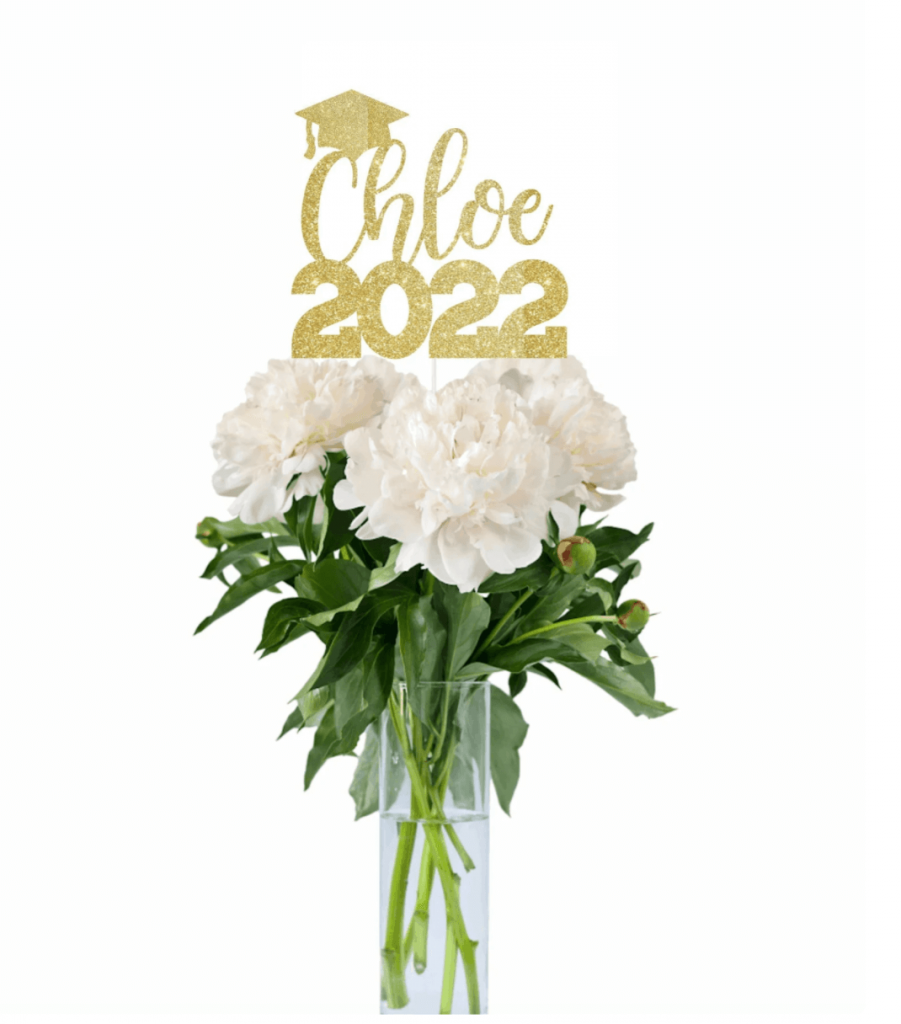 Personalized centerpiece sticks take your centerpiece to the next level.
You can get these in almost any color, like gold glitter or black.
What color is best depends on the colors of your graduation party and the overall ambiance.
4. Baby breath mason jar centerpiece
Baby breath is the cutest white flower and looks amazing in a centerpiece with rustic elements like pinecones and wooden slices.
Decorate the mason jars with silver ribbon for a unique touch.
If you're throwing a backyard graduation party, this is one of my favorite centerpieces to make.
5. Rose gold table setting with centerpieces
This rose gold table centerpiece theme is so cute!
I'm not sure whether you can paint mason jars, but you can recreate this aesthetic with rose gold glitters and modge podge.
Of course, you can also buy rose gold mason jars.
The price is pretty good for a set of 12!
I'm also obsessed with the rose gold table runner; it's cheap and will make your table look super festive.
6. DIY Graduation cap centerpiece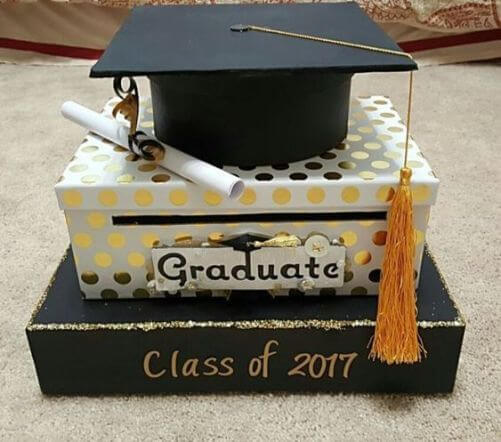 In the spirit of graduation, make graduation cap centerpieces! Stack books or wooden blocks, and paint them in the colors of your grad party.
This black and gold centerpiece looks super chic, and you can easily DIY it.
The only thing you will need to buy is the caps (unless you want to make them).
These graduation caps for crafts are perfect for centerpieces.
7. Photo display centerpiece
Personalize your centerpieces with picture sticks.
You can easily make those yourself with craft sticks and wooden clothespins.
Place them in the middle of your mason jar, alongside flowers.
8. Mason jar centerpiece with quote tags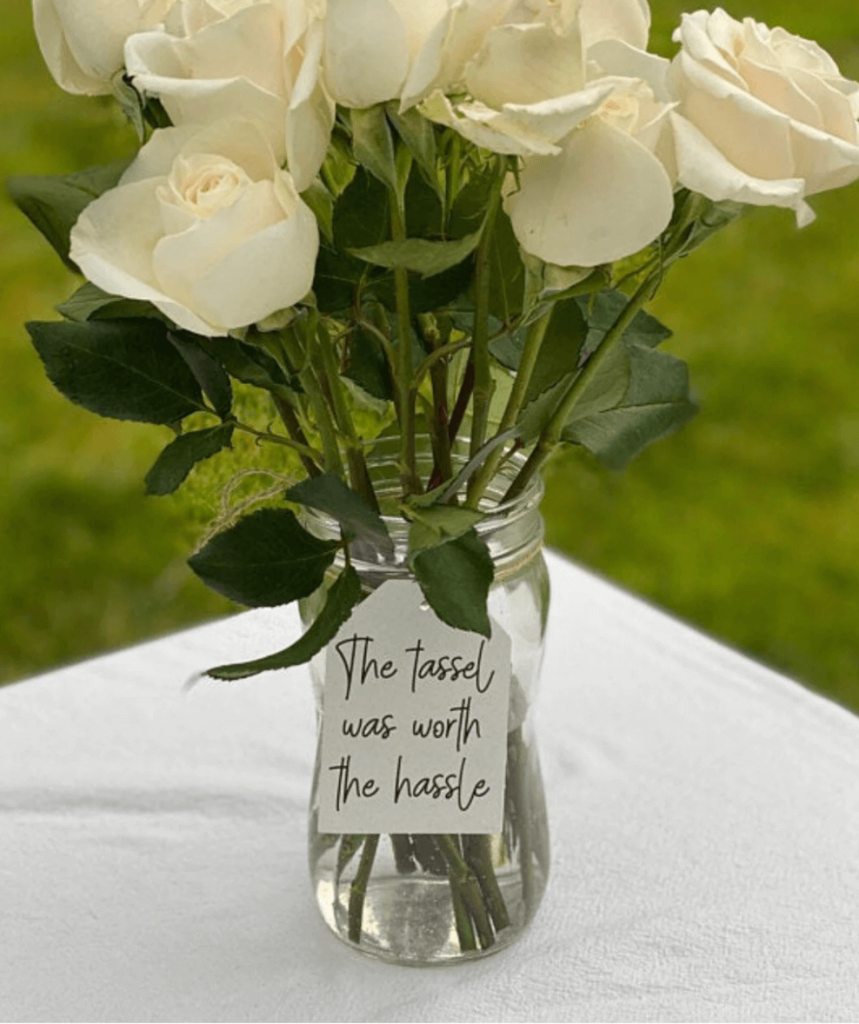 Tags with quotes or graduation year are a great way to spice up your mason jar centerpieces.
You can make these yourself or purchase ready-made centerpiece tags.
I love these cute tags with motivational quotes on Etsy.
9. Flower centerpieces for graduation party
Another cute floral centerpiece to recreate for your graduation party!
Use burlap ribbon to give your mason jars a rustic aesthetic.
Attach your centerpiece tags with twine rope.
You can use just about anything you have on hand in your garden or near your home for flowers!
10. DIY graduation centerpiece for guys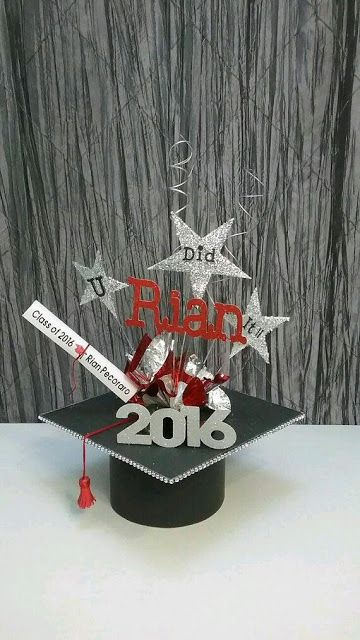 Use a graduation cap to make centerpieces!
Many centerpieces look more feminine with flowers and cute stuff, and guys might not like that.
So I think this graduation cap centerpiece is perfect for guys!
Decorate with grad-themed sticks, the year of graduation, and cute sticks like these with "you did it."
11. Cute DIY photo display

Another twist on the mason jar centerpiece!
This one has a photo collage on it.
Check whether you can print pictures as stickers with your local photo store or printing store.
You can then easily attach those to the mason jars and have the most incredible centerpiece for your part.
12. Flower jars with graduation centerpiece sticks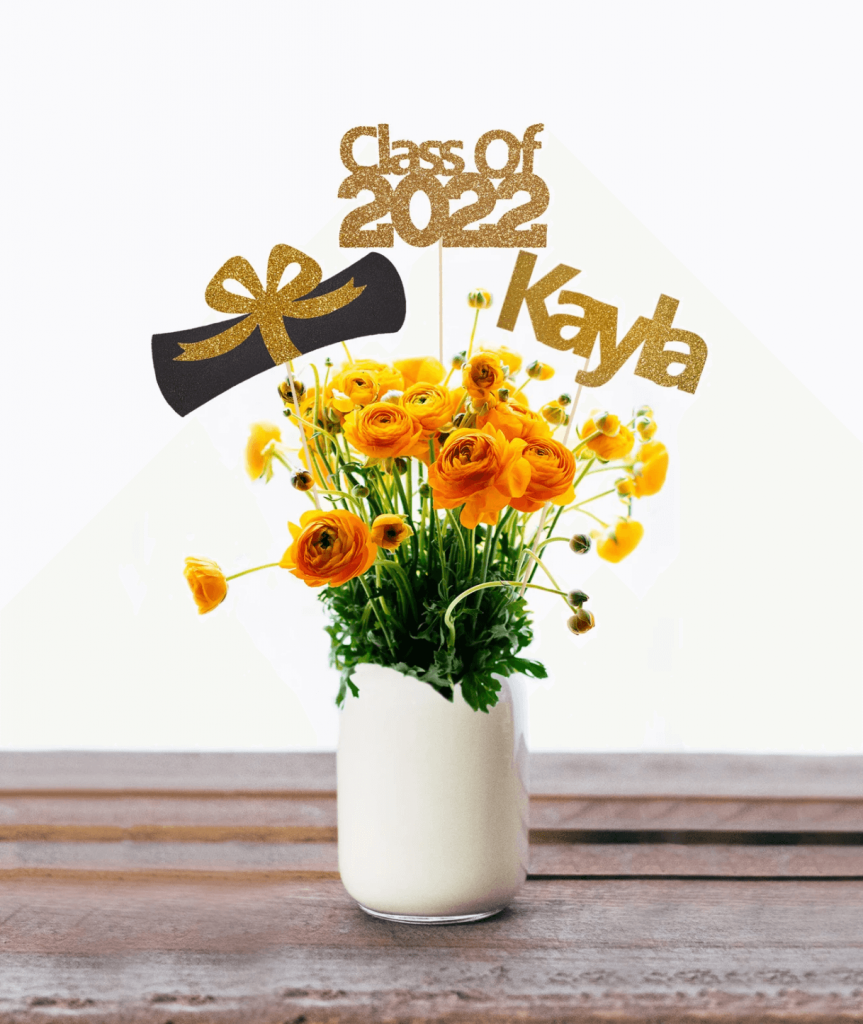 Fun centerpiece sticks like this elevate your centerpiece! This Etsy store lets you get sticks with your name on them – which I love.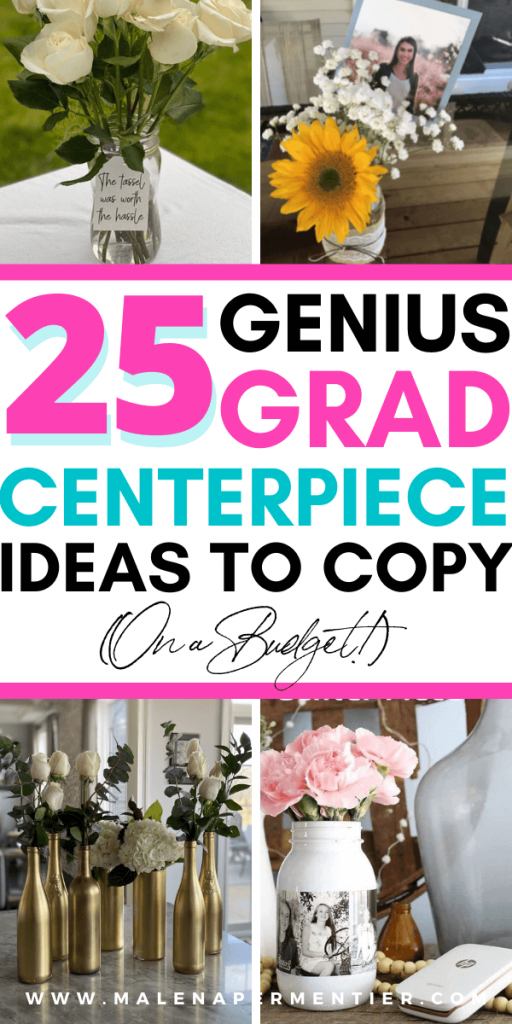 13. Creative graduation balloon centerpiece
You can also make centerpieces for graduation with balloons!
Decorate the balloons with graduation caps and attach them to something that looks like a diploma.
You can set these balloon centerpieces on the table, and guests will love it :).
14. Silver glitter star centerpiece sticks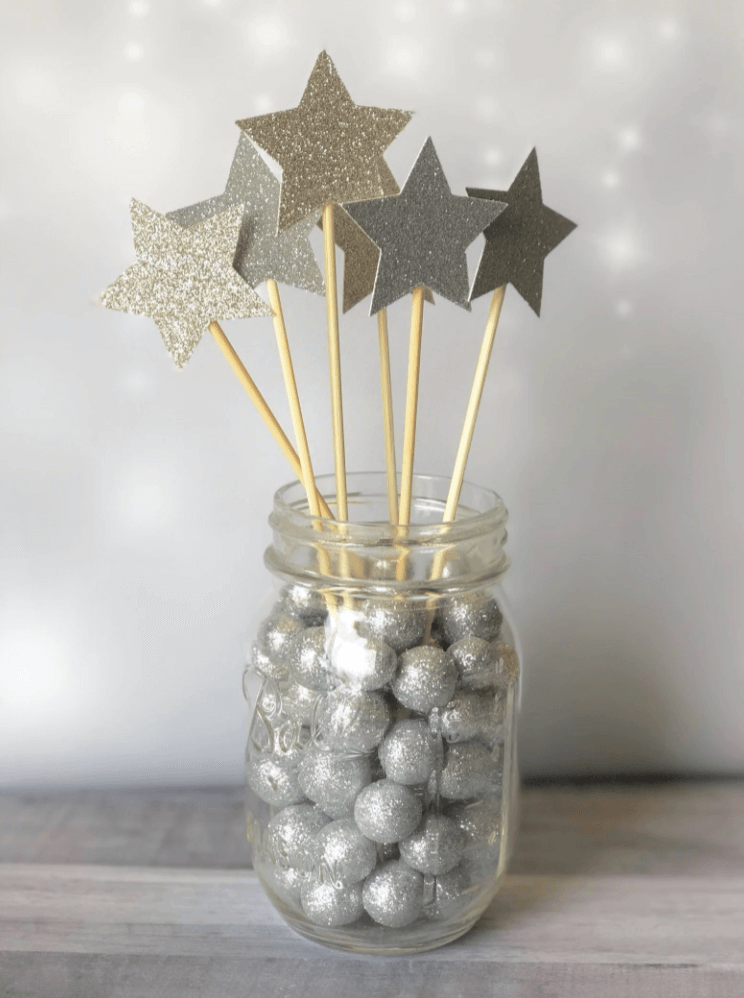 These star centerpiece sticks do the trick if you're looking for something that gives your centerpieces that little extra.
15. Gold-dipped mason jar centerpiece
This is my favorite DIY mason jar centerpiece idea!
Dip the mason jar in glitter for a super cool look.
Beautiful color ideas for your grad party could be blush pink and gold, silver, and black, or your high school or college color scheme.
How to DIY this centerpiece: Tape your mason jar where you don't want glitter. Put glitter on a plate.
Add modge podge to the mason jar. Now dip the jar into the glitter until it's perfectly covered. Let it sit for an hour or so.
16. Decorate with burlap ribbon and sunflowers
Burlap ribbon and crochet are a winning combo for a rustic graduation centerpiece.
As you can see in the picture above, the burlap looks amazing with the yellow sunflowers.
However, this mason jar decor idea works with any flower and color.
17. Centerpiece photo displays for grad parties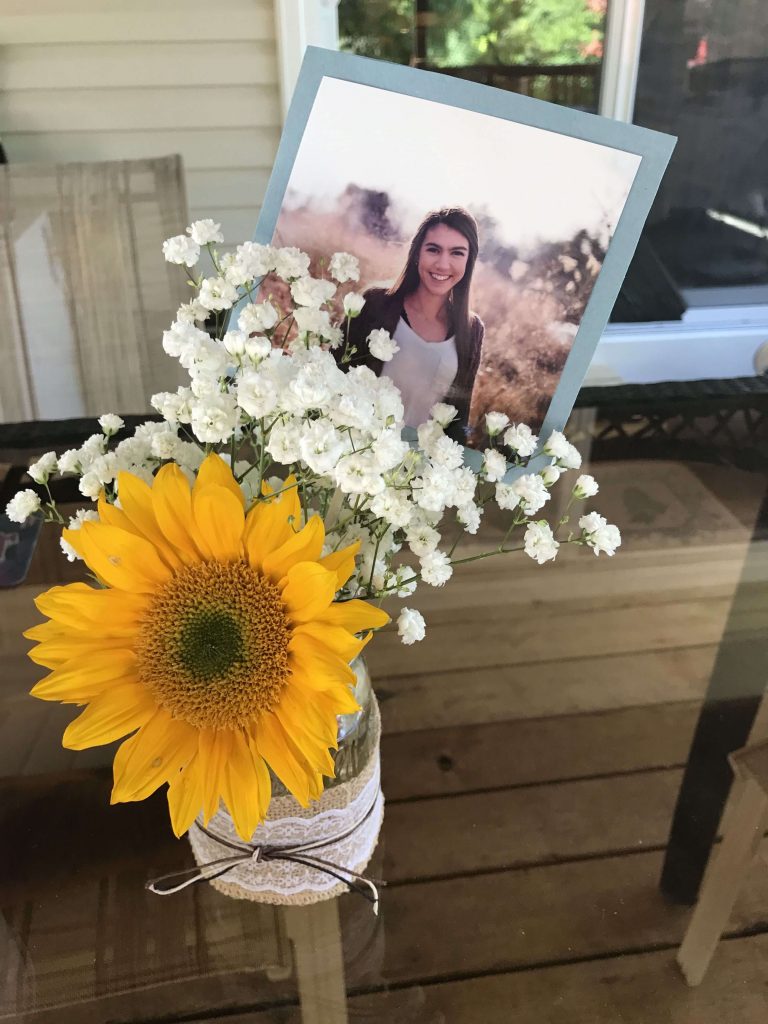 I love the simplicity of this graduation centerpiece! It's SO cute, yet it's something you can recreate yourself within minutes.
Make these picture sticks with craft sticks and tiny clothespins.
Buy lace ribbon to decorate the mason jars, and add a single sunflower alongside baby breath flowers in each centerpiece.
18. Graduation centerpiece ideas for guys
I love this DIY graduation centerpiece for guys.
Fill a graduation cap with shiny paper, and decorate the cap with silver letters.
Don't forget to add the grad's name, because it will make them feel extra special :).
19. Centerpiece with lace ribbon and photo display
I love this colorful centerpiece idea!
This picture makes a case for decorating your mason jars with glitter. It's super easy and makes your centerpieces unique.
You can get glitter in almost any color, but I'm obsessed with this rose gold color.
20. Gold-painted wine bottles
Another super easy centerpiece idea for grads!
Collect those empty wine bottles from your family and friends, and then paint those bottles in any color you want.
These will look amazing if you're going for a gold and black color theme.
21. Graduation balloon centerpieces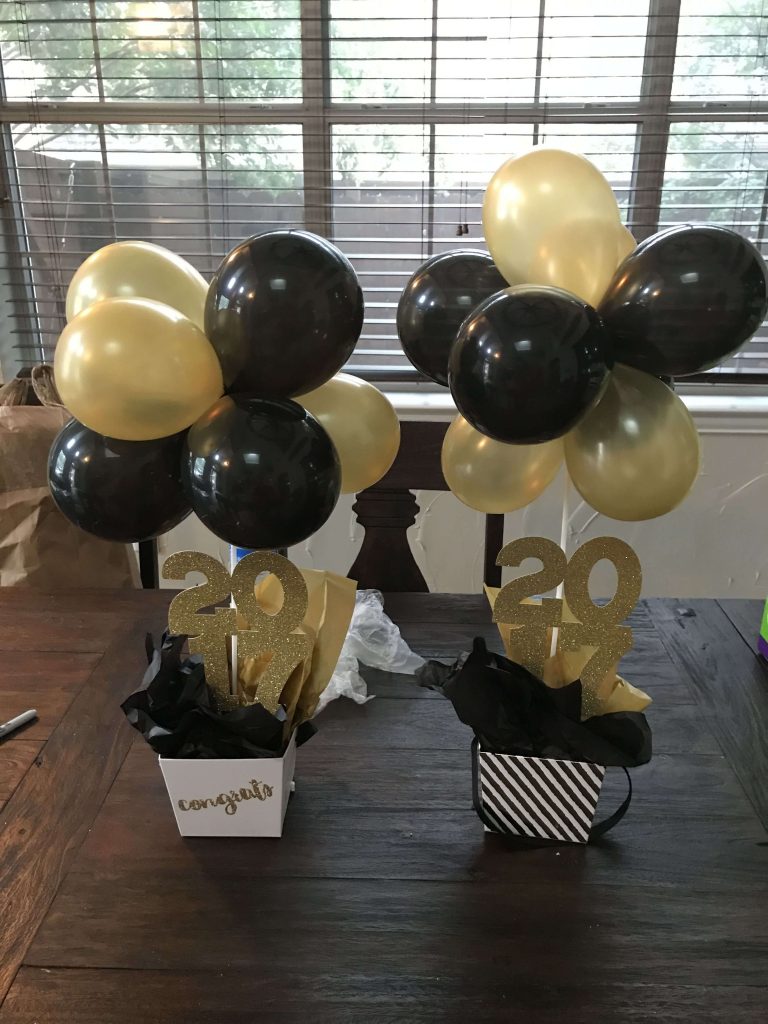 Make centerpieces with balloons for your graduation party!
Nothing is more festive than balloons, so why not use them for your centerpieces?
22. Pictures and tiny chalkboard signs
If you want to write a custom note on your centerpieces, why not do so with chalkboard tags?
You can write the name of the grad and the year of graduation, for example.
23. Graduation table centerpiece with balloons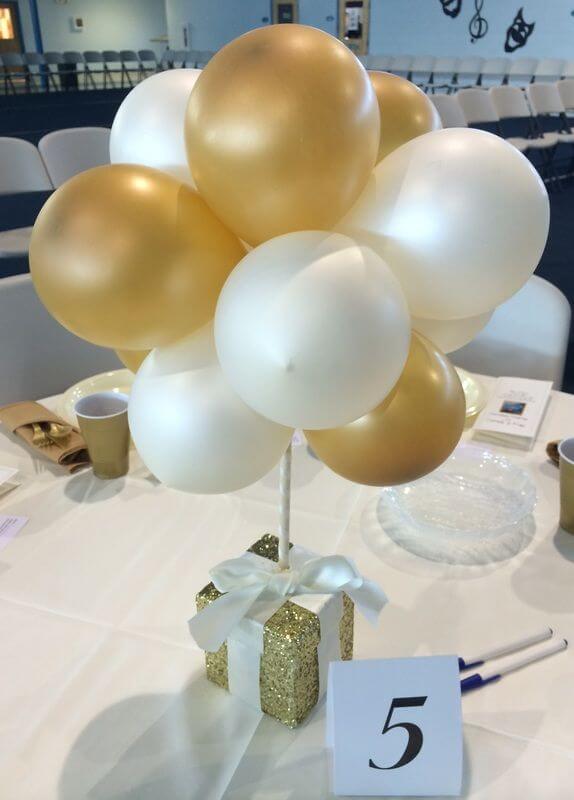 Another cute example of how to use balloons for centerpieces!
Instead of attaching the balloons to a gift, you can attach them to a small graduation cap.
You can easily recreate this idea for your graduation centerpiece when you get grad caps for crafting.
24. Small lavender centerpieces
These small centerpieces with lavender show another cute way to use flowers for your grad party centerpieces.
You can use natural lavender (I love the scent!) or get cheap artificial lavender on Amazon.
25. DIY Graduation cap centerpiece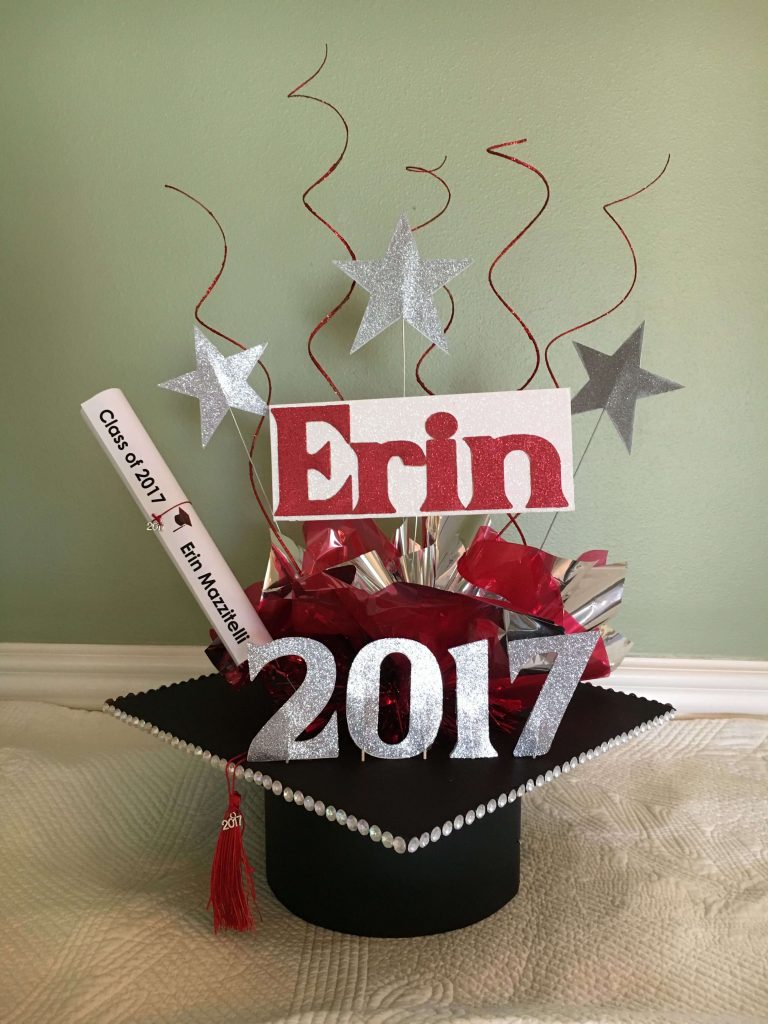 For this centerpiece, you need a graduation cap gift box. Turn it upside down, open it up, and add shiny gift paper, the name of the grad tag, and other personalized graduation decorations!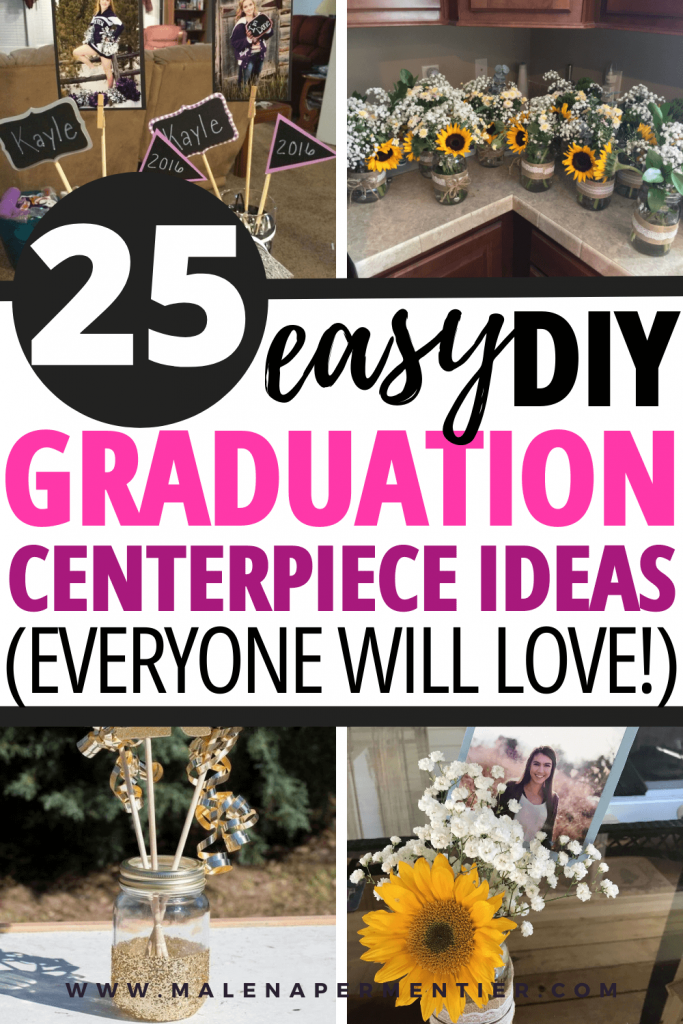 This post showed you the best graduation party centerpiece ideas.
You may also like: