This post shows you the best high school graduation gift ideas for her.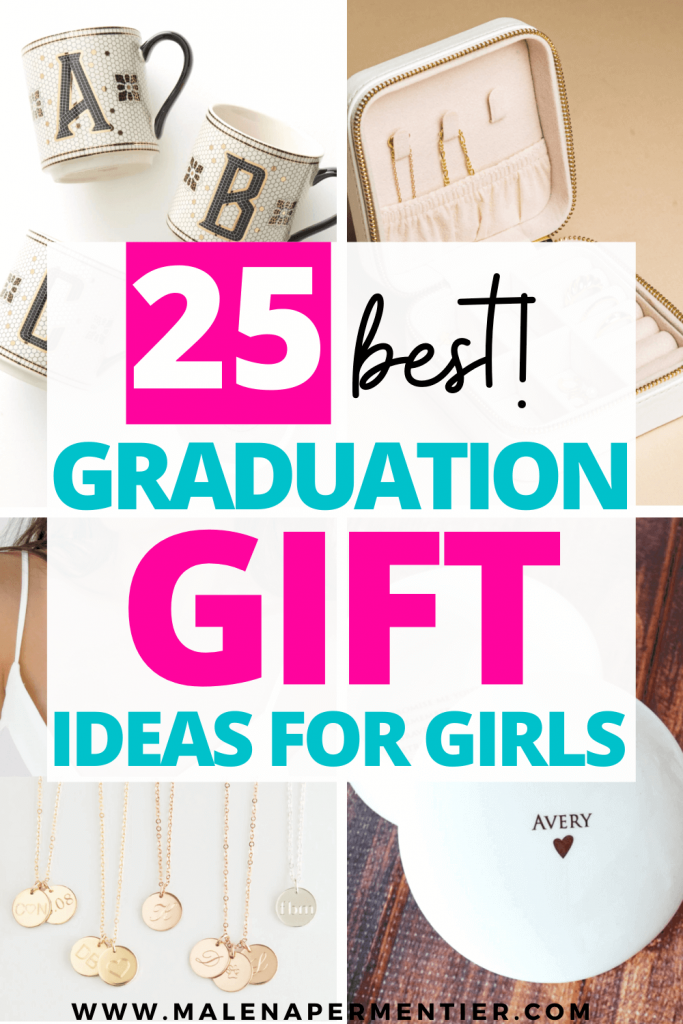 High school graduation is a significant life event and deserves to be celebrated!
You're off to college and starting a brand new phase in life.
This post shows you the best graduation gift ideas for girls.
If you're graduating, use this post as inspiration for what to ask as a gift!
But if your daughter is graduating, this list is equally great for getting some great ideas on the different gifts.
I categorized this post into high school graduation gifts from parents, keepsake/unique graduation gifts for the graduate, and inexpensive gift ideas.
A great gift is not about whether it's expensive or not, but whether it's useful for the graduate and whether it's something they genuinely love!
This post also includes some sentimental gift ideas for the grad.
Graduation is a time they will remember forever, and giving a keepsake gift is so lovely.
Now, without further ado, let's look at the 25 best graduation gifts list.
Best high school graduation gifts for girls
High school graduation gifts from parents
First, let's look at some of the best high school graduation gifts from parents to the graduate.
Many of these are expensive!
Not because that's a must but because it's nice to send high school graduates on their way to college with practical things like a new laptop, luggage set, or noise-canceling headphones.
However, I think that unique keepsake gifts and personal gifts are important to give too!
I think the best combo is something expensive they need, along with a personal and special gift they will want to hold onto forever.
Having that said, let's look at some of the best high school graduation gifts from parents.
1. MacBook air

A MacBook air is a must for everyone heading off to college!
It's the most practical, versatile, and lightweight laptop.
But I might be biased here :).
Truth be told: I have used other brands over the years, too, like HP and Dell, and they don't even begin to match up.
2. Samsonite luggage kit

A good-quality luggage set is a must if you're off to college.
The graduate will most likely go back and forth from college to home, especially during the holidays.
I've been using my Samsonite set for over 5 years, and they're still perfect.
The brand also has an excellent warranty (at least when I needed it 3 years ago).
Luggage handling on a flight doesn't always go smoothly, and when a wheel broke off, I had Samsonite replace it for free.
3. Bose noise-canceling headphones

I got these (the black ones) about 3 months ago as a birthday gift to myself, and wow, I don't know how I ever lived without them!!
I'd have loved to have these during college because I'm so easily distracted and sensitive to sounds.
The noise-canceling on these bose headphones is genuinely superior.
They're also really stylish and great for listening to music.
Yes, these headphones are expensive, but they last forever, and they're great for high school graduates who are off to college and experience dorm living for the first time.
4. Airbnb gift card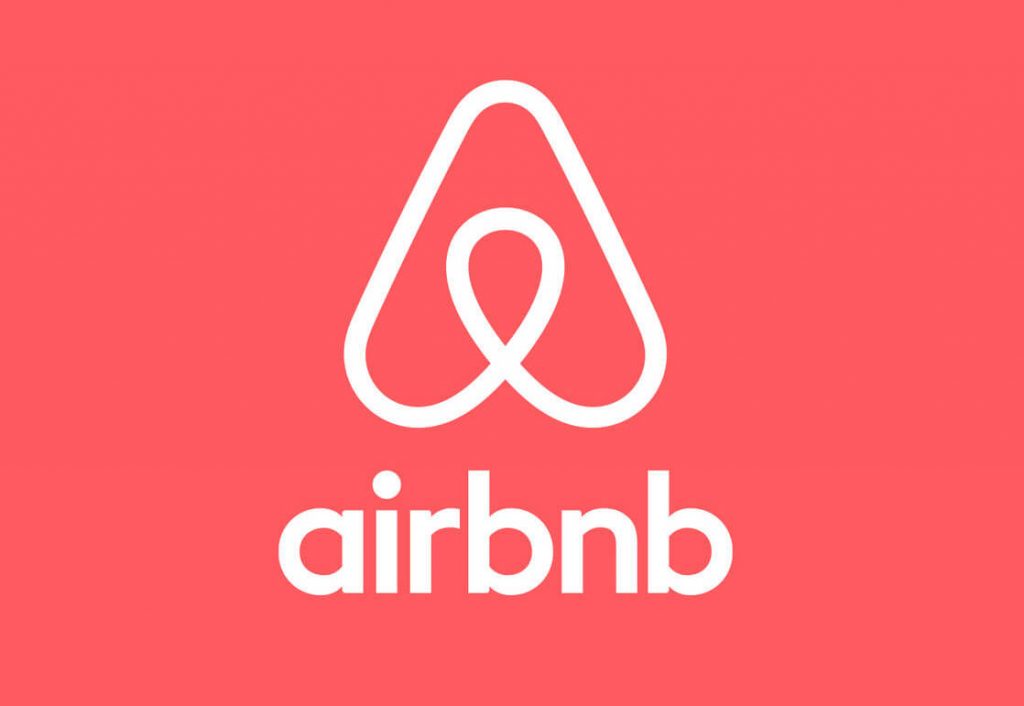 After high school, many graduates will take some trips!!
Whether they travel in the country or out of it, Airbnb is everywhere, and it's such a great way to travel.
Give an Airbnb gift card to the grad anywhere from $25 to $500.
With Airbnb, you can travel to unique locations and pay a fraction of what you would in a hotel at the same location.
5. Apple watch

Apple watches are a favorite among high school and college graduates alike!!
This might be something they've been saving for or wanting for a long time!
You can get Apple watches in many trendy colors; my favorite is this neutral one with rose gold hardware.
6. AirPods

Another tech thing that many graduates will love!
Again, these are pricey but practical as a recent graduate.
These are my headphones of choice when working out or taking a walk when on the phone with family.
7. Fujifilm Instax camera

Polaroid cameras are insanely popular and a beautiful gift for a recent high school graduate.
Especially if they love taking pictures, this is a great way to encourage them to make lots of new memories while heading into this new phase of their life.
Instax cameras are best for party pictures or candidly capturing a trip or event.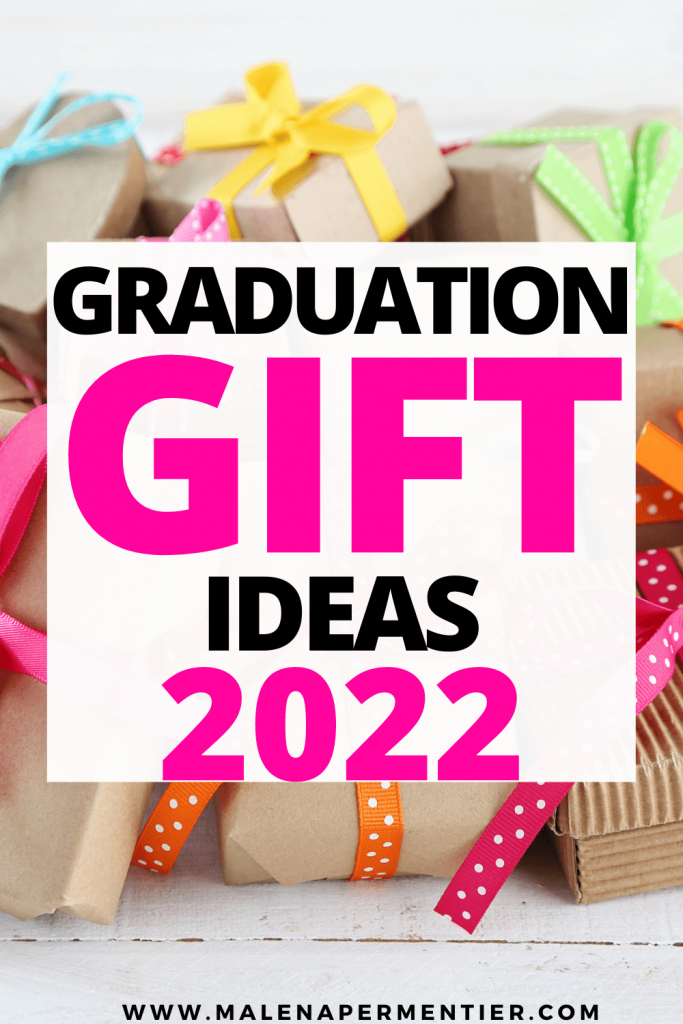 8. Rose gold watch

For a milestone like high school graduation, giving a timeless gift they will use for years is nice.
A classic, high-quality watch they wear daily is a great gift!
9. Amazon Prime membership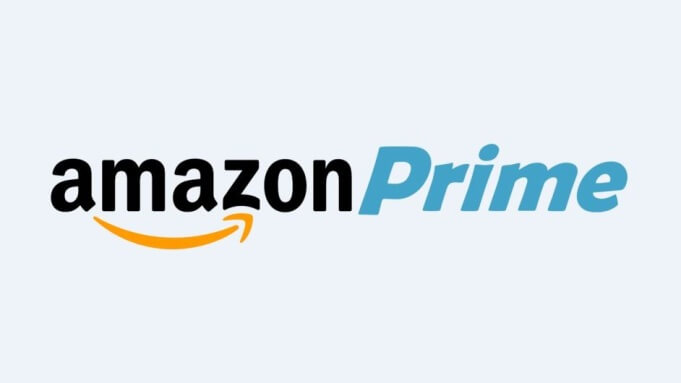 Now that the graduate is leaving for college, they will need their own amazon prime account!!
No more using the family's amazon prime, haha.
But seriously, Amazon prime is great for the series you get to watch, but of course also for the free + insanely fast shipping and other perks 🙂
10. Stylish backpack

A backpack that's equal parts practical and stylish is SO hard to find!
I spent most of my college time torturing myself with pretty bags that weren't good for storing books and college stuff.
Luckily things have gotten better in the style and functionality department.
This laptop/school bag has over 20.000 reviews and a 4.8 rating.
If you know even the slightest about Amazon reviews, that is insanely good!!
It also has a USB port for charging your phone.
11. Pandora charm bracelet

The Pandora charm bracelet is a timeless and cute gift many high school girls will LOVE!
The quality is really good, and the style is classic enough to wear for years to come. You can change the charms so you're not stuck with the same style.
Keepsake graduation gifts for her
OK, let's get into the more sentimental category of gifts for high school grads!
Keepsake gifts can be sentimental, unique, funny, but above all: something they will look back at with sweet memories in years to come.
And let's be honest, a MacBook or pair of noise-canceling headphones doesn't have the same sentimental appeal as a personalized photo frame or a ceramic jewelry box with an engraved message for the graduate.
12. Personalized newspaper print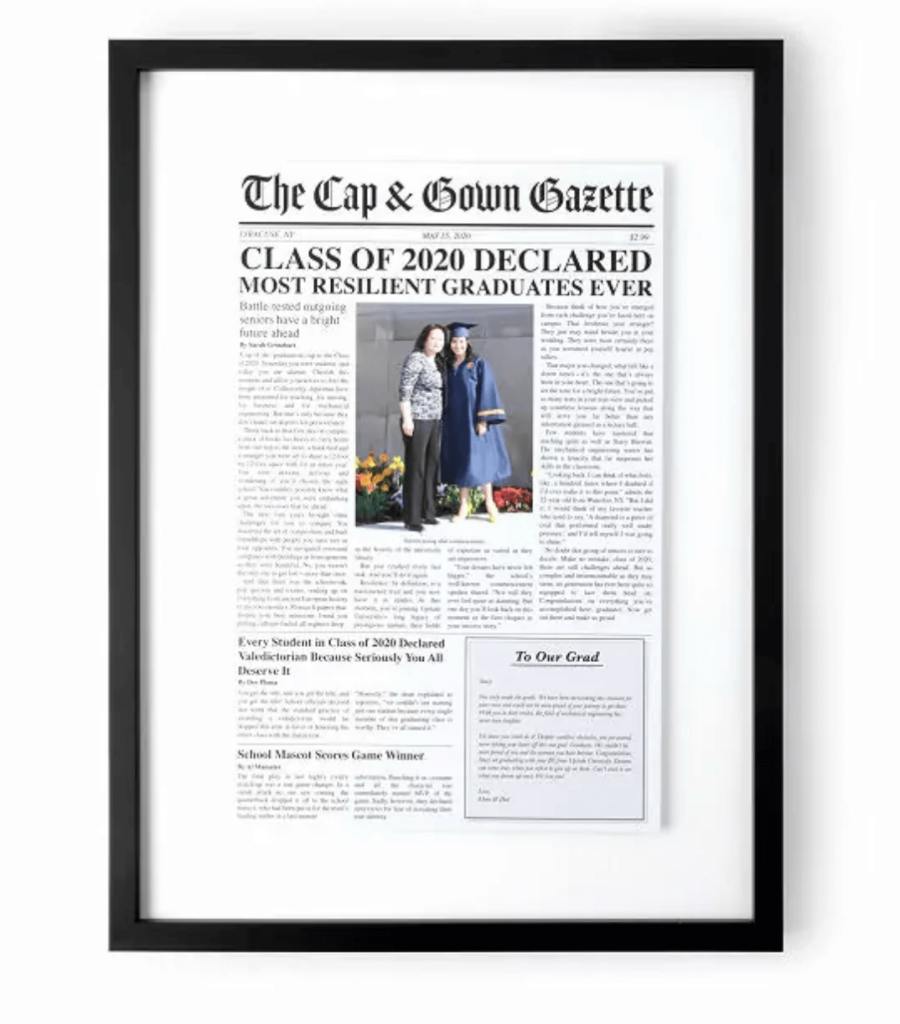 If this isn't the coolest graduation gift ever, I don't know what is!!
On Uncommon Goods, you can customize a newspaper print with a message for the graduate and their picture.
The style of the newspaper and the quality black frame make this a gift they'll want to hold on to forever.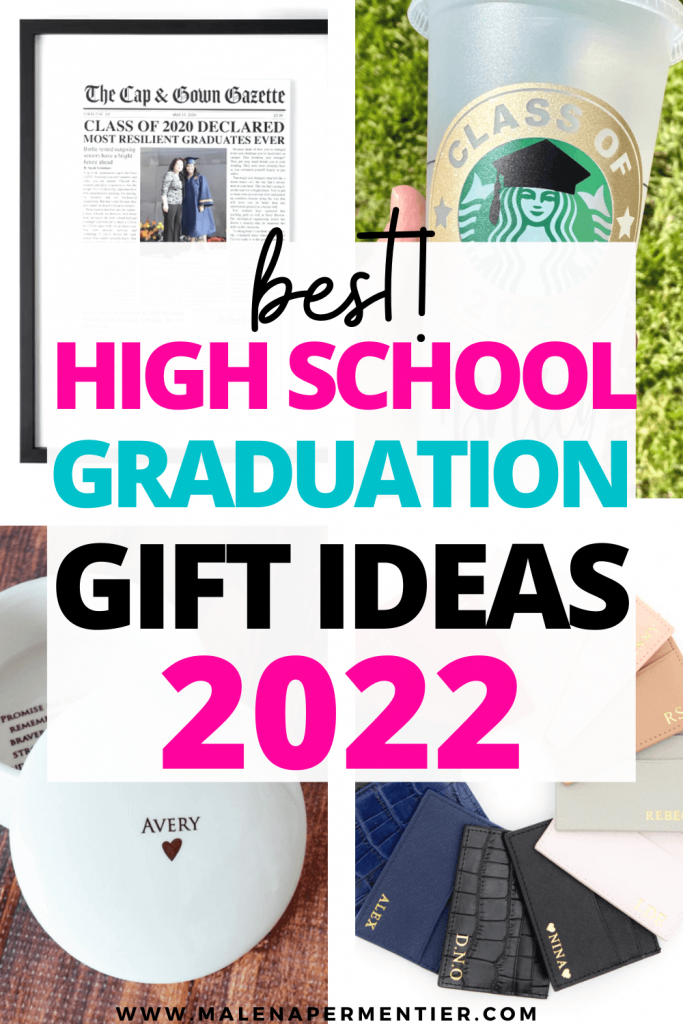 13. Starbucks graduation cup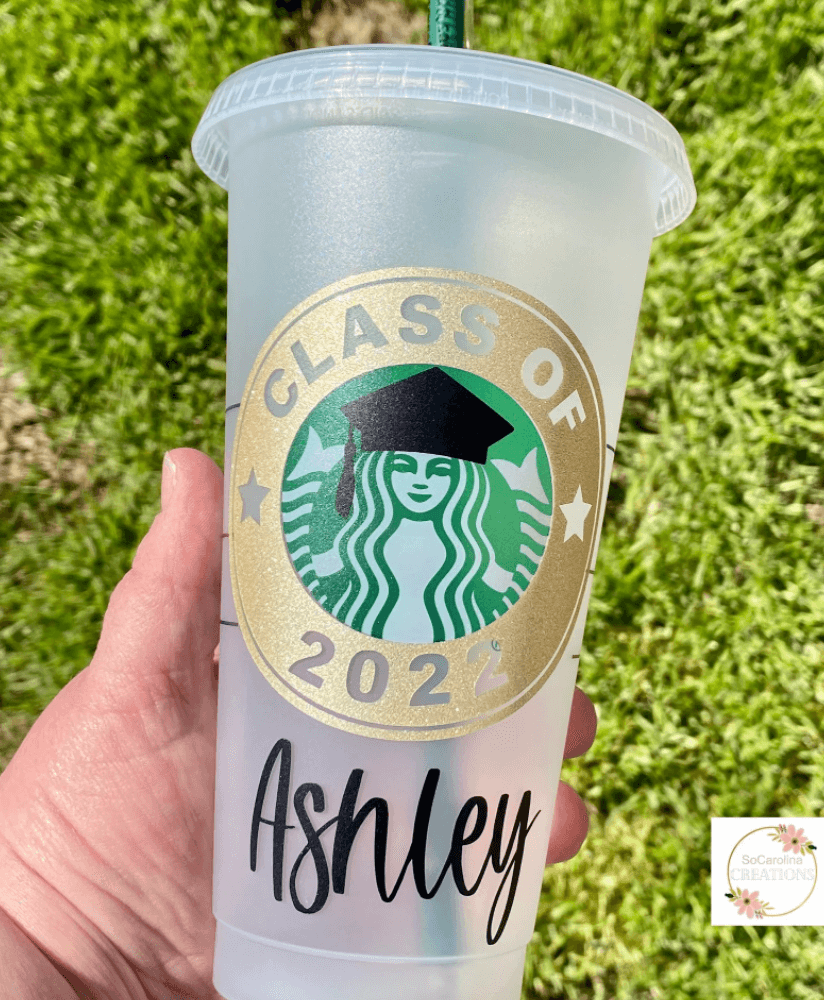 Ps. When this one is out of stock, find a similar style here on Etsy.
This cup is not something that lasts forever, but a super cute and fun keepsake gift for high school graduates.
This is also great to have at a graduation party, for example, as a party favor for your friends.
14. Graduation bracelet

"she believed she could, so she did"; there is no cuter high school graduation caption than this!!
This minimalist silver bracelet with a message for the graduate is an excellent 2023 graduation gift for her.
15. Keepsake box with a message for the grad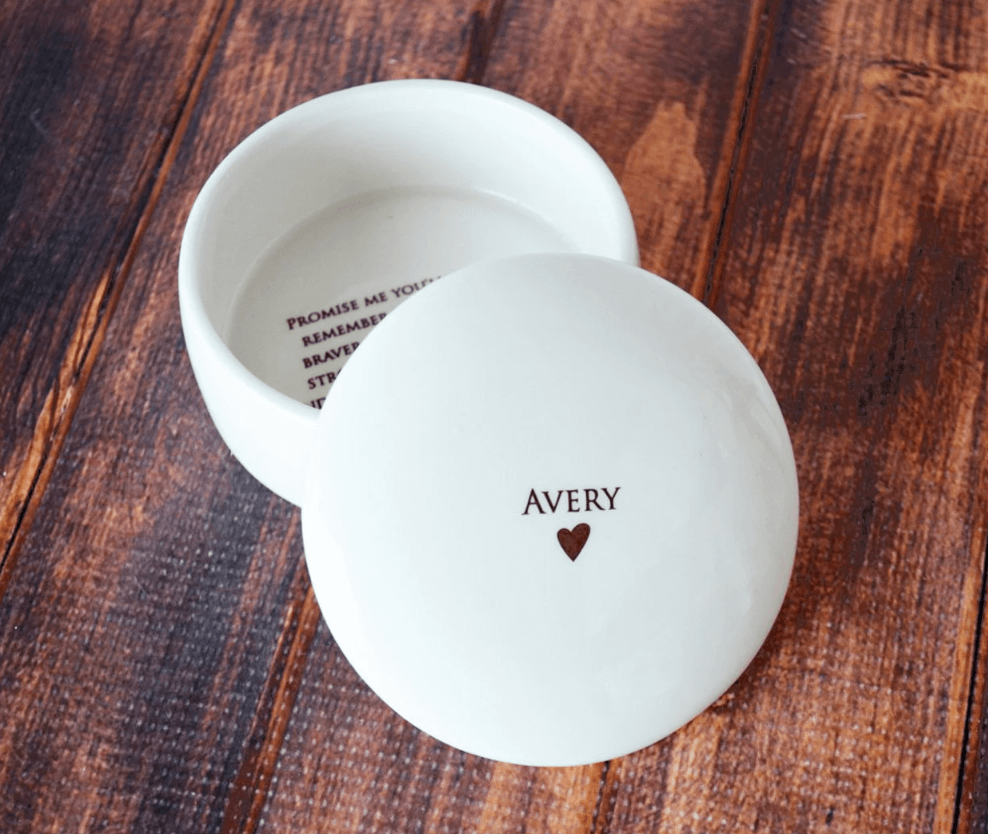 I LOVE this gift idea!! Personalize this ceramic jewelry box with a message for the graduate.
Plus, the cover has their name on it!
People rave about this graduation gift on Etsy, so be quick before it sells out. 🙂
16. Custom photo frame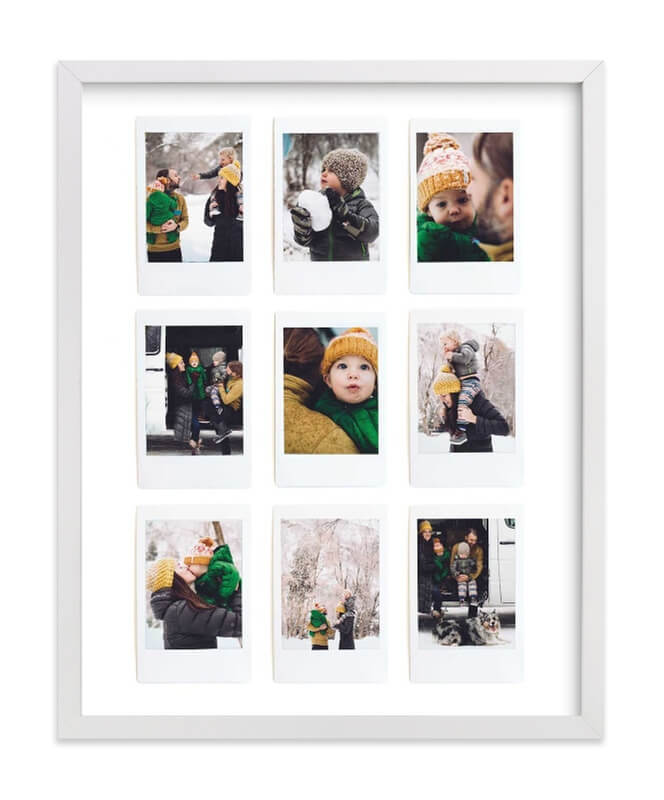 Give a high school graduate a picture frame like this with pictures of themselves and their family from birth until now!
There truly isn't a more sentimental gift than this!!
Also, I love the quality of this frame.
This is one of those gifts that lasts a lifetime.
Inexpensive high school graduation gift ideas
Not every high school graduation gift needs to be expensive!!
There are so many thoughtful and great gift ideas that don't break the bank yet leave a big impression.
Let's look at these insanely good inexpensive high school graduation gift ideas you can give to your friends, daughter, or yourself if you're graduating 🙂
17. The Five Minute Journal

The Five Minute Journal has daily questions and gratitude moments for a positive and grounded mindset!!
If your graduate is off to college, this gift will help them set up a productive and positive morning routine.
Mental health is more important than anything, and journals like this (and having a routine with them!) can help us feel good.
18. Dainty gold initial necklace
One of those things that I LOVE, and with me, many other girls will too!!
Dainty gold jewelry is the best, and you can personalize these necklaces with your initials or a letter.
19. Personalized toiletry bag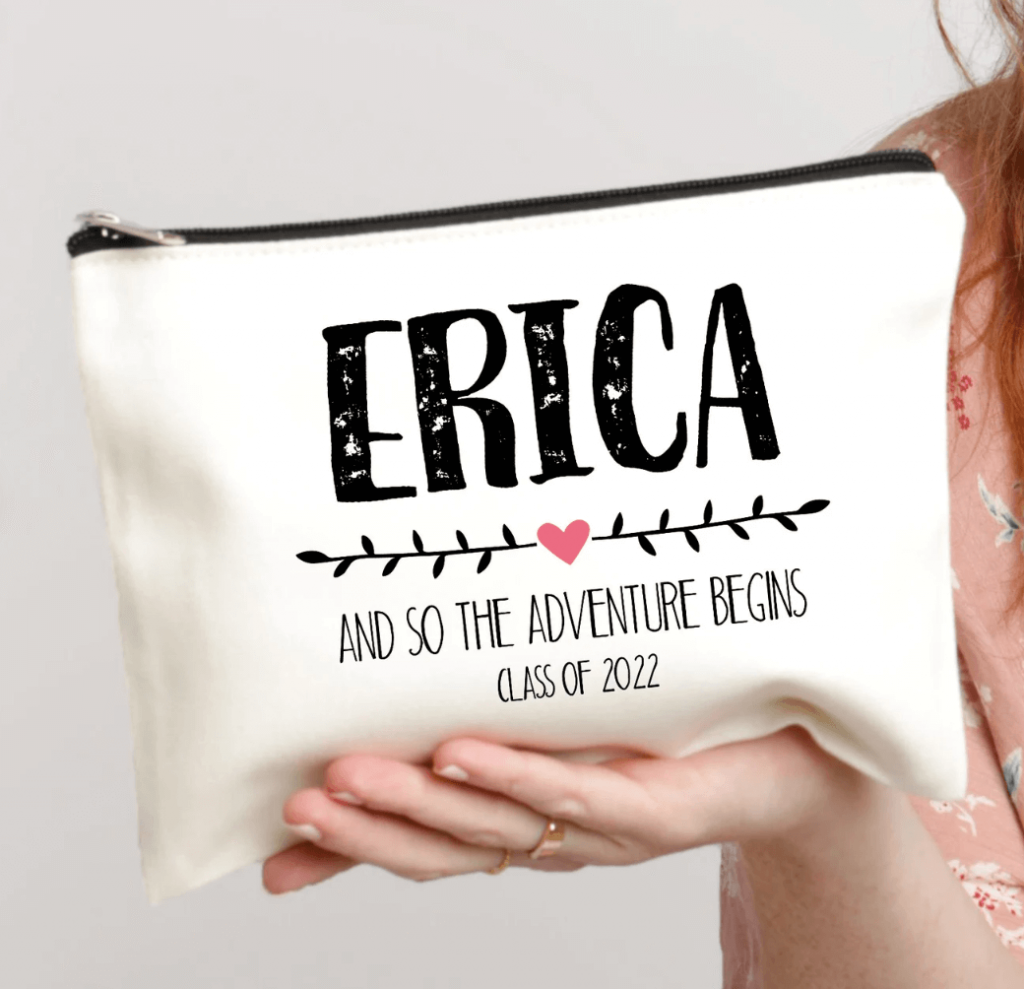 The average girl has about 10 different toiletry bags, and you know what? It's never enough!!
I'm only slightly exaggerating.
You can personalize this bag with the graduate's name; it looks SO cute.
This is one of those insanely popular gifts on Etsy, so get it before it's gone.
20. Jewelry travel case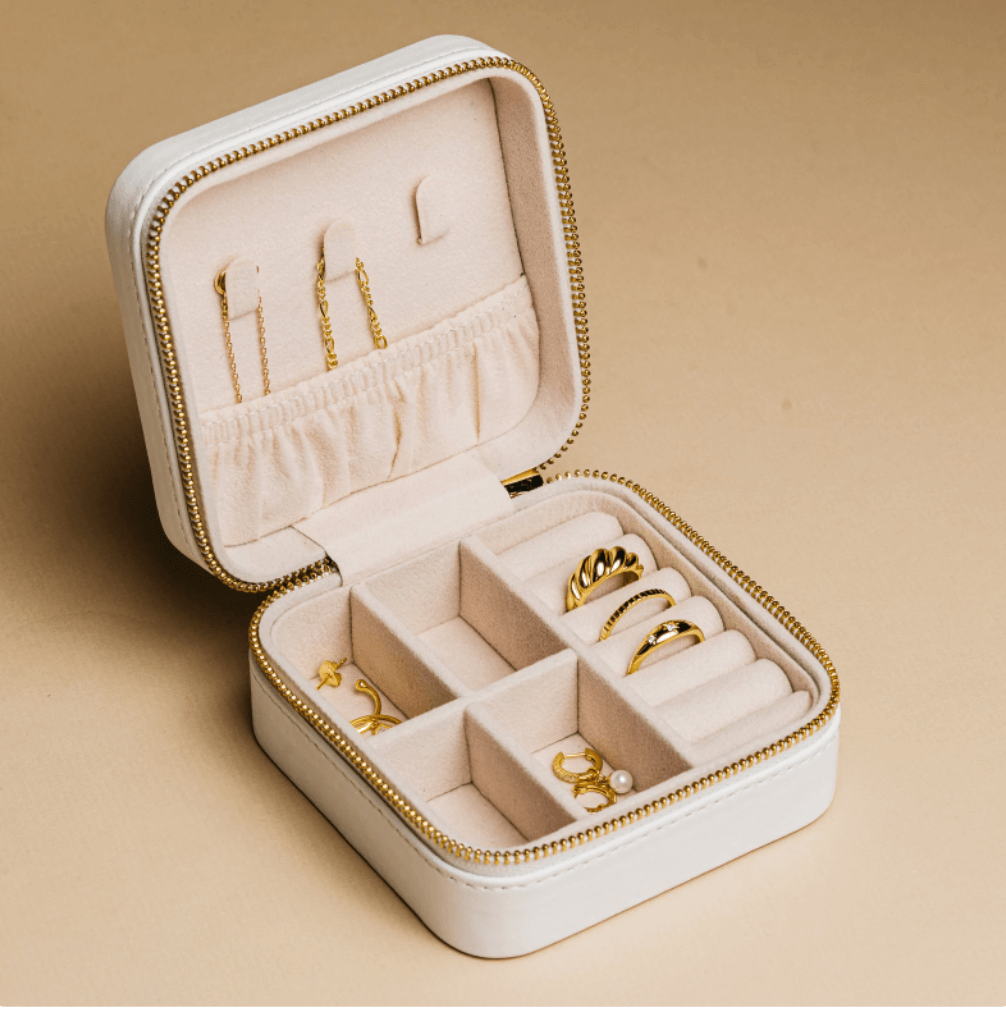 This small, stylish and practical jewelry case is the best for storing dainty rings, necklaces, and other jewelry.
There is nothing worse than tangled necklaces, and this one is so practical and compact.
This is also a great graduation gift for your friends.
21. Amazon gift card

If you're unsure what to give the graduate, an Amazon gift card is always well received.
Amazon has everything, from cute dainty jewelry to tech stuff, watches, and workout clothing.
You can get this gift card for whatever value you want.
22. Black tote bag for college

The bag you show up with to college is a big thing, and everyone knows it.
If your graduate is into tote bags and not backpacks, this one is practical and stylish!!
It's a workbag that has enough space for books and your laptop.
23. Atomic habits book

Everyone in college needs to read this book!!
I've read it twice now, and I get new insights every time.
A big part of succeeding in college (and in life!) is creating habits that serve you.
This book goes over cultivating and maintaining new habits and helps see productivity in a new light.
24. Monogrammed cardholder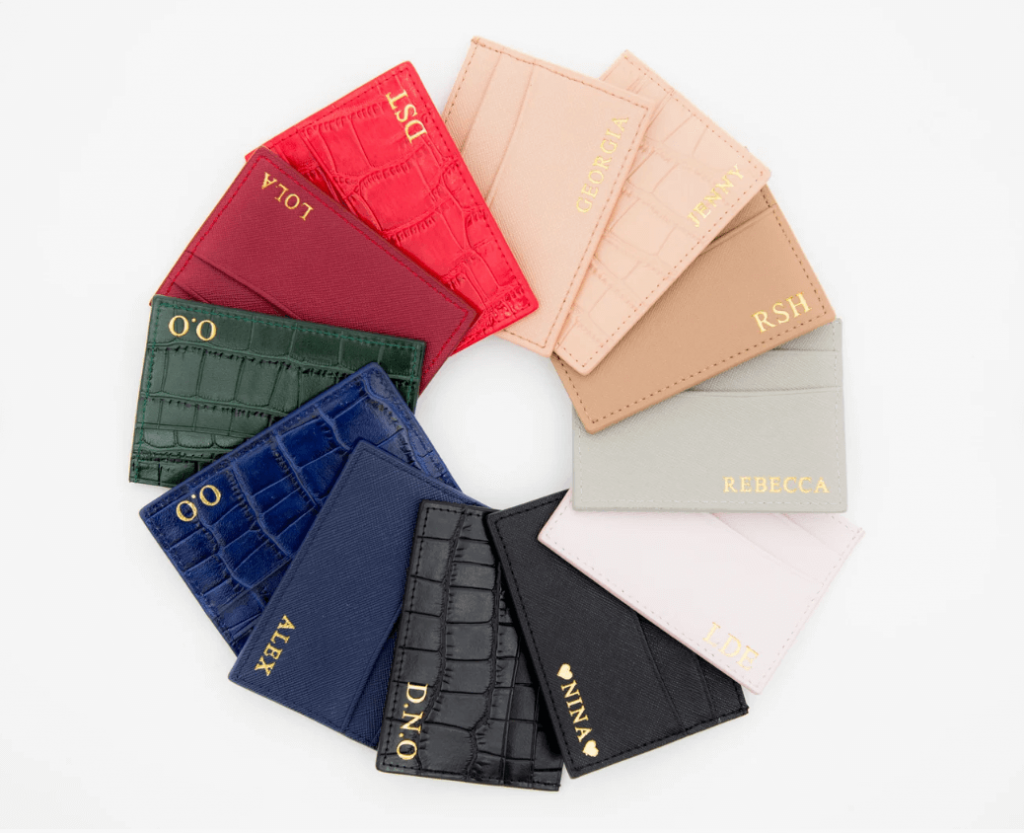 I love this cardholder!! I'm a cardholder girl, not a purse girl!
These stylish cardholders come in various beautiful colors; you can customize them with your initials.
I can guarantee that every graduate (boy or girl) will love this gift.
25. Toiletry travel bag

Last but not least, another practical but insanely good gift: a compact toiletry travel bag.
Great for travel and for storing your toiletries in a college dorm.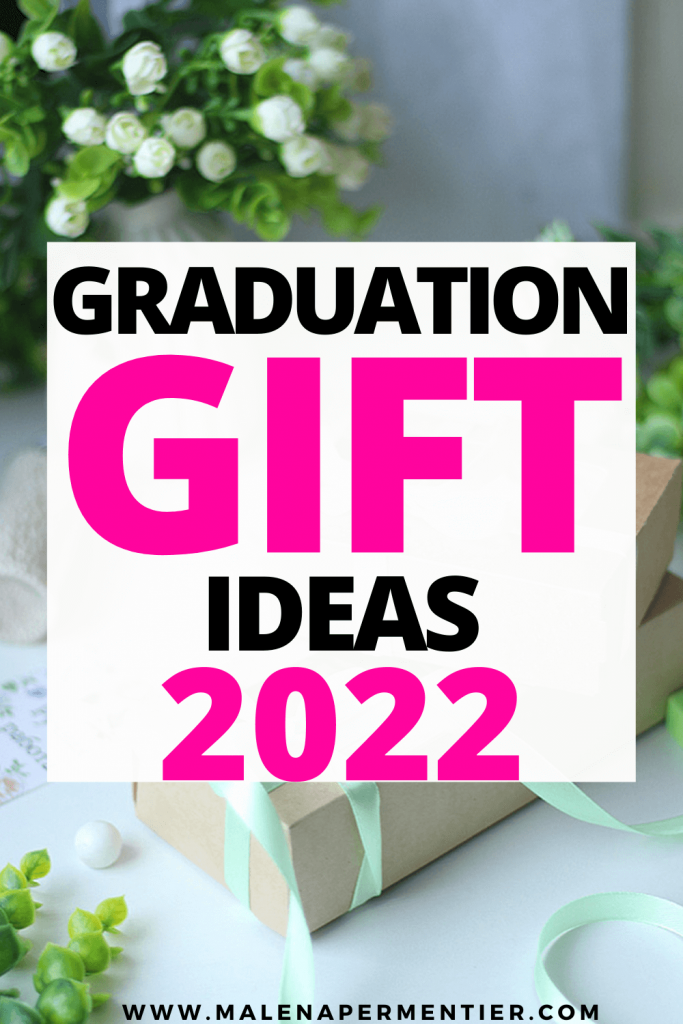 This post showed you the 25 best high school graduation gift ideas for her.
You may also like: