This post shows you the best small living room ideas with TV.
Much of the living room decor and inspiration online don't show TVs! And I get it; TVs aren't the most aesthetic thing to look at.
However, real people want TVs in their living rooms! Haha. So this post shows you small living room ideas with a TV and sometimes a dining area.
Small living rooms can be a real challenge when deciding the layout and where to place the furniture.
This post is a good help for ideas on what to do with a small living room layout, how to position your TV, and overall decor inspo for smaller spaces.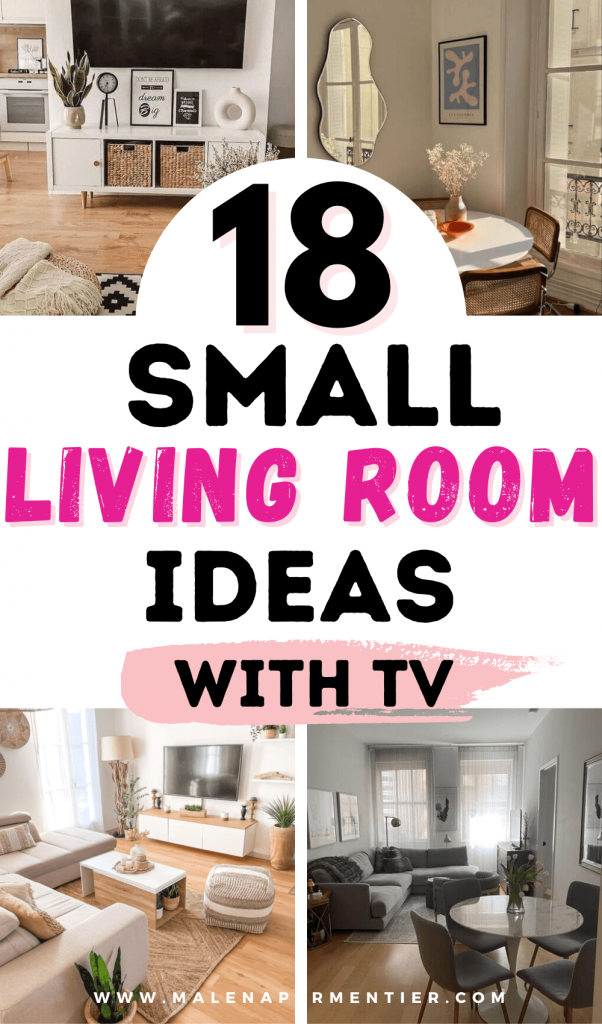 Small living room ideas with TV
1. Large floating shelves on the wall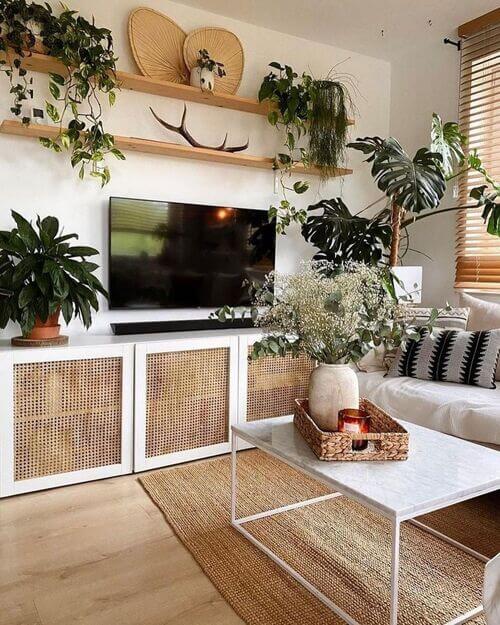 A TV console that goes from the floor up gives your seating area a put-together look. I love how the TV in this living room blends in with the interior. Consider placing large floating shelves over your TV for plants and botanical details – this creates a beautiful balance with modern technology.
2. Wall shelving around TV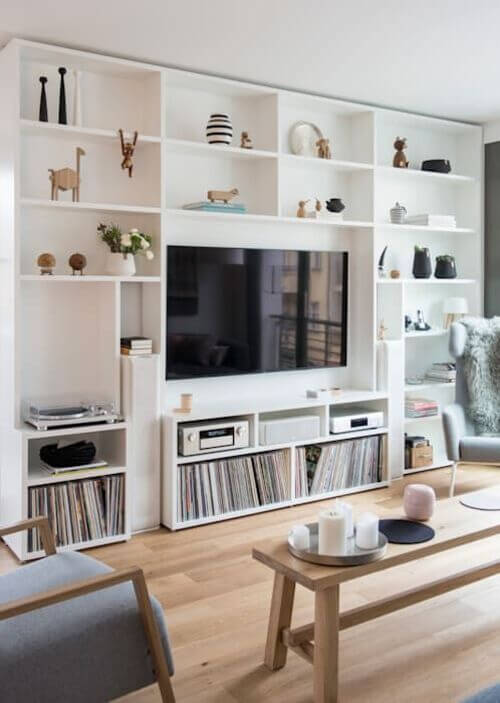 You have to be clever about using wall space in small living rooms! A large shelving system offers space for decor, books, and your TV. It will make your space feel cohesive, and the TV won't look bothersome in a small space.
This shelving unit looks custom-made, but Ikea possibly has something similar (if you're looking to recreate this on a budget)
3. Small living room with tv and dining table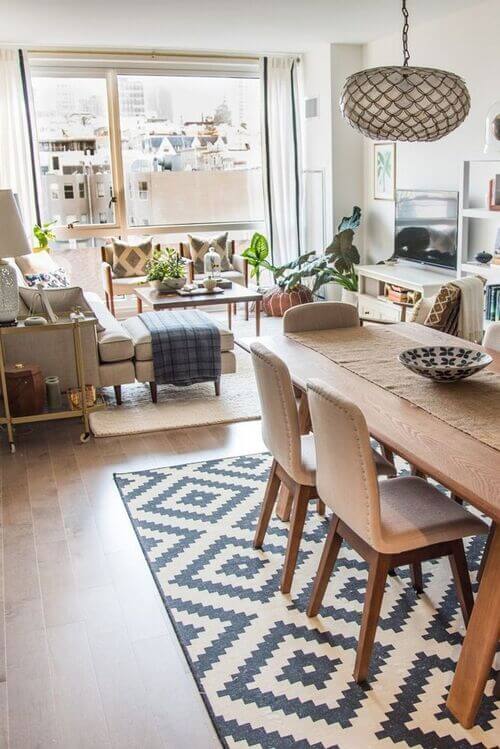 Small living rooms often combine the seating and dining area in one space. Make the dining area feel separate from the seating area by using an area rug. This gives each area a distinctly different atmosphere, yet it all fits. I like how the large table takes up space without overwhelming the living room.
4. Creative gallery wall and cozy decor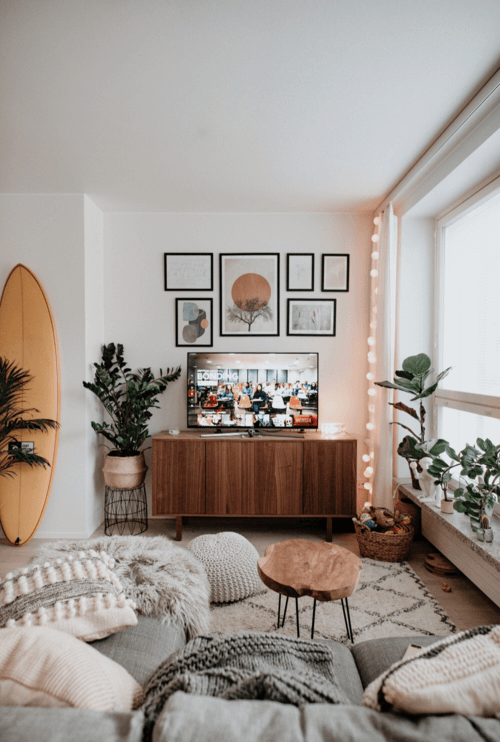 This living room is a great example of how to make a TV in your space look good!! Surround your TV with a small gallery wall for balance. This makes the wall where you put the TV look fun and warm.
Using lots of plants surrounding your TV remains a great way of creating harmony in your living room. I'm not too fond of spaces where the TV is the main point of focus. This space shows you how to have a practical living room layout without sacrificing decor and aesthetics.
5. Modern living room with dining table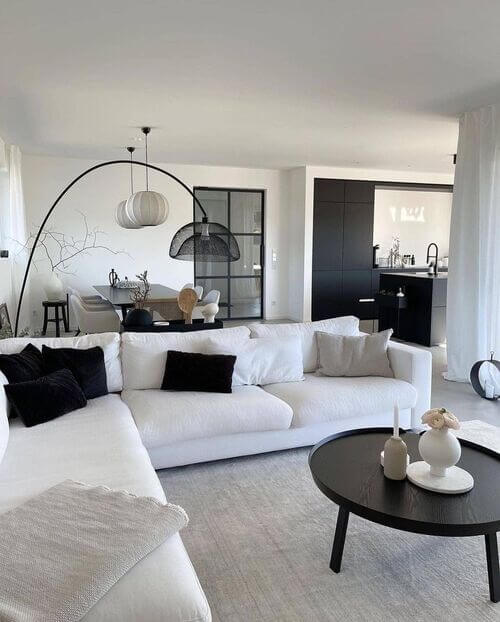 If you have a small living room, using a low coffee table is a clever way of making your space feel bigger and more open. Sleek furniture, like a curved lamp and a modern sofa, also help in making the most of a living room.
6. Compact round table for small living room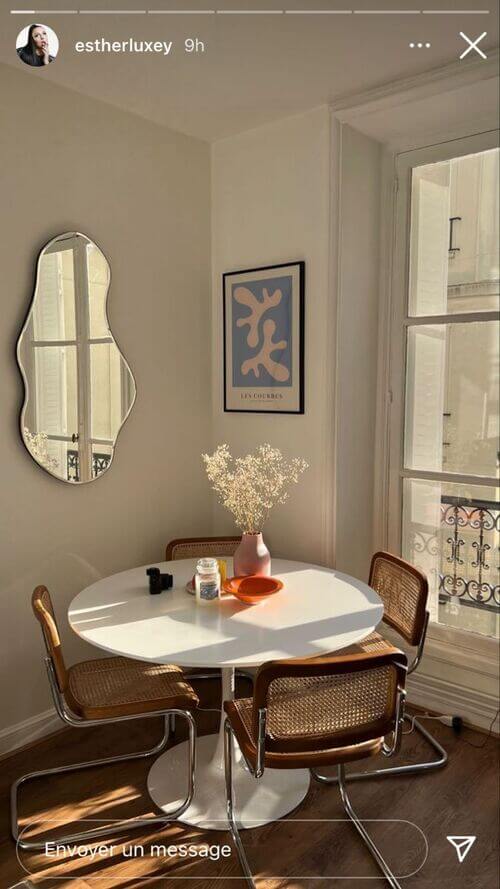 One idea I came across when researching small living rooms with a dining table is that a round table works well for smaller spaces. You can place a round table in the corner and pick chairs that complement your living room decor.
A dining area like this is practical and beautifully designed. Even though it's small, it has enough space for 4 people to have dinner comfortably. If you're multi-using spaces, this type of table also functions nicely as a desk or workspace.
7. Luxurious neutral living room with a small dining area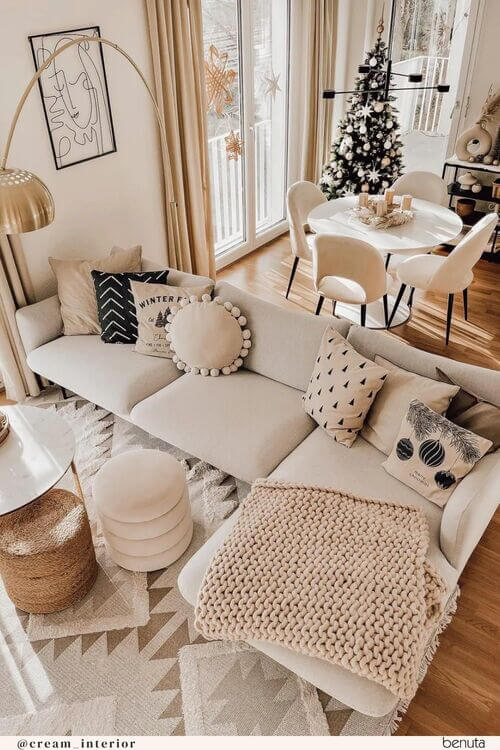 This living room design is the ultimate example of pulling off an all-neutral living room in the most tasteful and cozy way. Combining different fabrics, textures, and subtle prints makes the space come alive.
I also like how this room uses a compact round table for the dining table. The round shape complements a modern living room and makes the space feel inviting.
8. Small living room ideas with TV and fireplace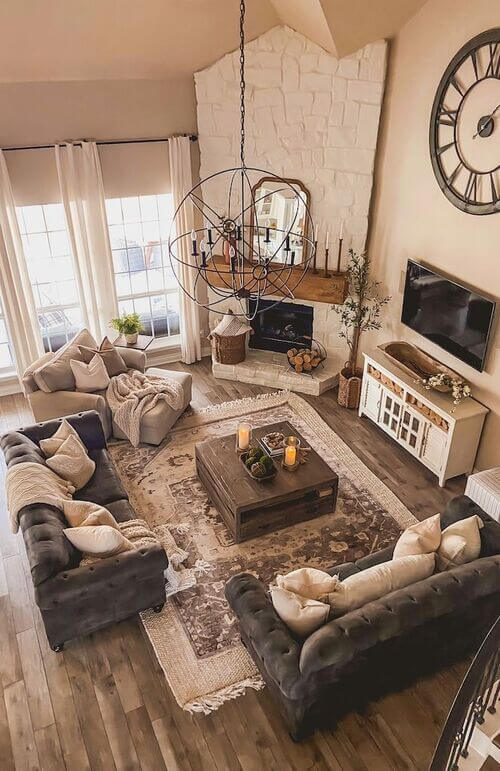 I've heard that people find it tricky to combine having a fireplace with a TV. A fireplace is all atmosphere and coziness; sometimes, a TV can ruin that. However, looking at the living room above, you can have both!
Make the fireplace the centerpiece of your seating area, and hang a beautiful mirror over it. You can place the TV on the wall next to it.
When choosing a TV for your living room, make sure the size makes sense for the size of your space. A too large TV in a small living room can kill the atmosphere you're trying to create.
9. Dark accent wall with art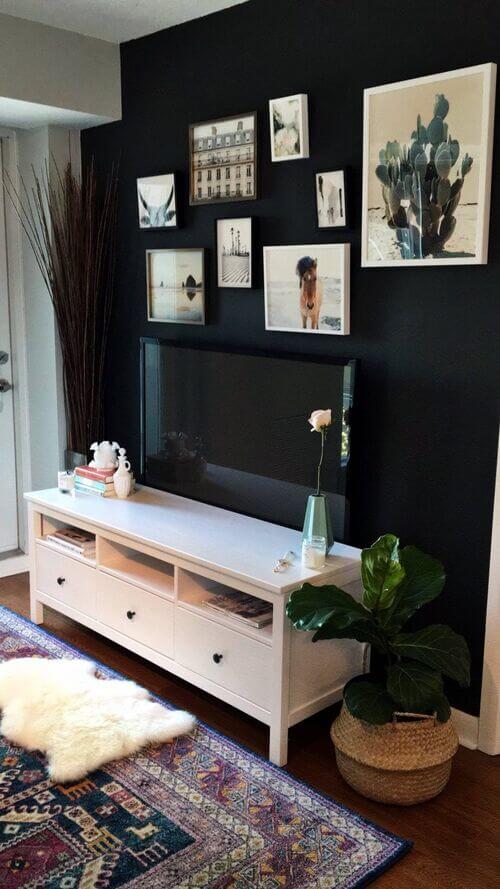 A dark accent wall behind your TV is genius! It makes the TV blend in with the wall. It draws your attention to the art on the wall rather than the TV. I'm not sure if they've done this intentionally, but it's very clever!
Light frames look beautiful on a dark accent wall. It makes the art pop. Ikea has great options when it comes to minimalist TV furniture.
10. Mounted TV and console with neutral & bohemian decor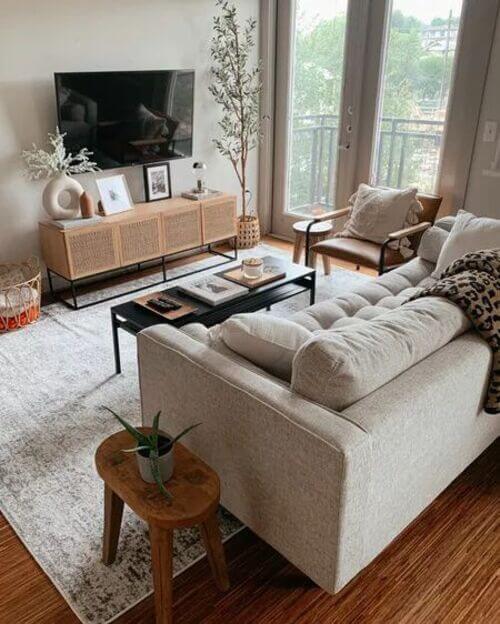 Mounting your TV on the wall is often the best option for small living rooms. It takes up the least visual space.
The TV console decorating in this space is top-notch. The neutral and earthy decorative items balance out the TV. Because the TV is mounted, there is free space underneath for decor.
11. Arty & Industrial aesthetic with earthy tones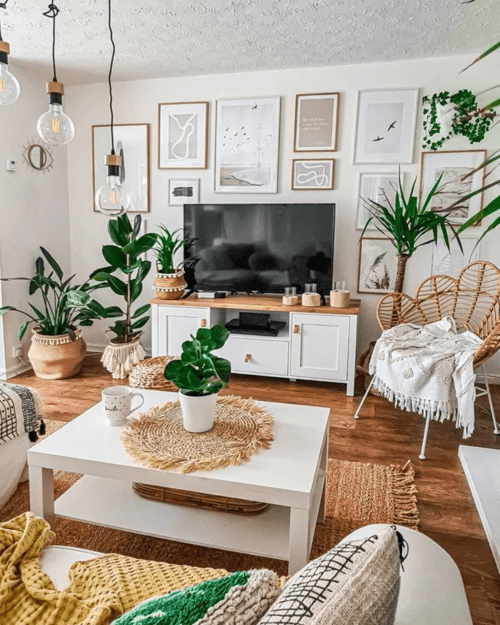 Combine your TV wall with a gallery wall for a super creative feel. The plants and frames make this small living room look cozy and put together.
Layer different throws and pillows on the couch to make your seating area feel cozy. Mixing up different textures is also a great idea for a warm atmosphere.
12. Cozy small living room with TV and Papasan chair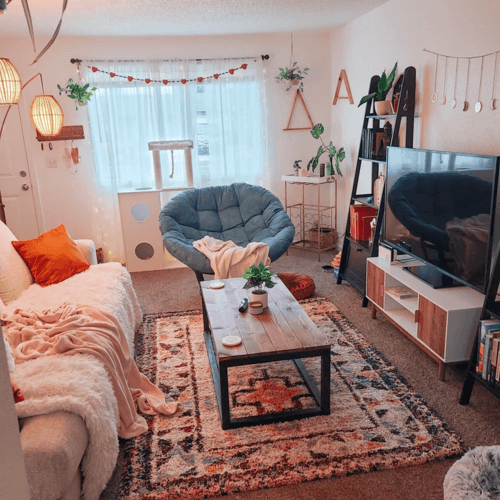 This living room is tiny yet has everything you want in a space! Although the TV is large, it doesn't feel like it's the center of attention in the room.
For extra comfiness (and it looks good too!), consider getting a Papasan chair for your living room. To make your couch look more inviting, layer a fluffy white throw over it. Warm colors like orange tones also do wonders for making a space feel homey.
13. Accent area rug in a small living room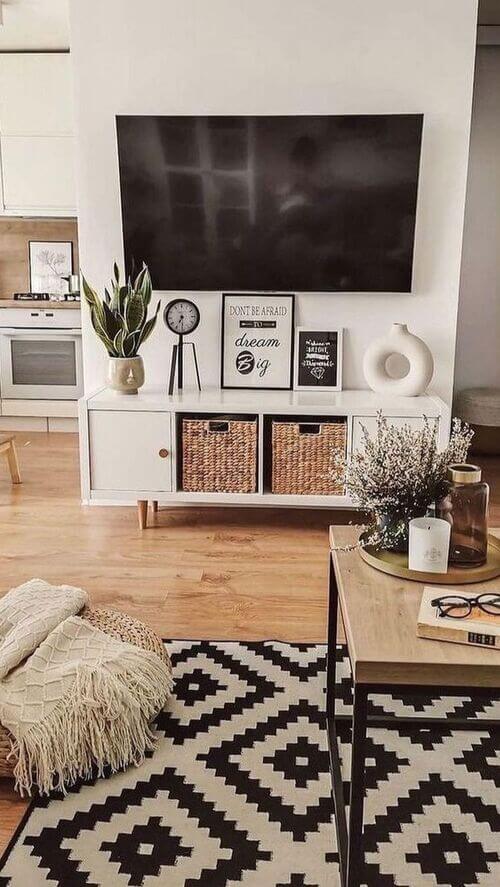 Rugs are a must for almost every seating area! They can make a statement or complete your seating area. The TV mounted on the wall leaves enough space to decorate the console table, which I feel adds to the atmosphere of this room.
14. Natural wood and a large standing mirror to open up the space
I don't think TVs look ugly in every living room per se, but it doesn't hurt to let your eye's attention be drawn by something else! Like art or this beautiful curved mirror.
Choosing wood furniture also helps create a beautiful balance between old and new. Also, can I say how obsessed I am with these bubble candles? Aren't they so cute?!
15. Small seating area with warm wood and neutrals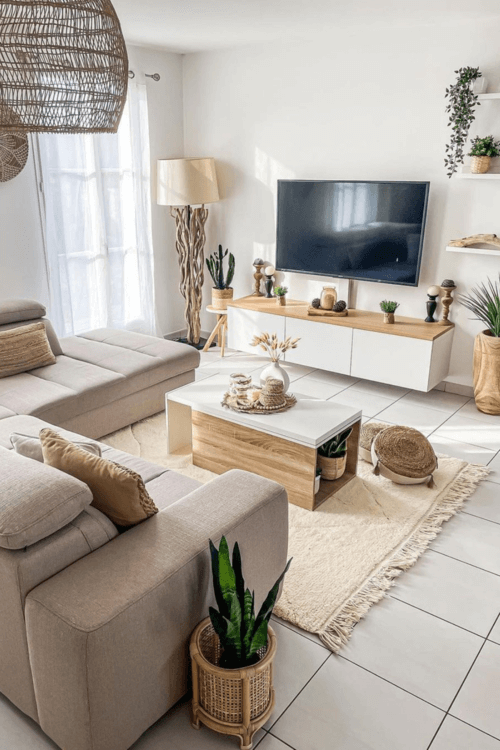 Hang large white floating shelves over your TV or next to your TV. This makes the wall where you place your TV come alive!
Make sure to stay somewhat cohesive when it comes to your furniture colors. I love that this room uses only a particular wood color combined with white.
16. Combined living and dining area (table against the wall to save space)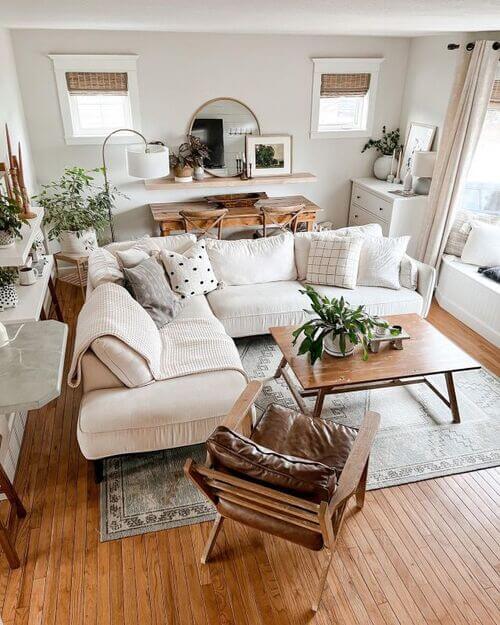 Having it all in small living rooms can be tricky! Placing your dining table against a wall can be a great solution when you want to pull off a small living room with a dining area.
Another thing I like in this layout is using an accent chair to pull the seating area together! The brown leather is still perfectly aligned with the neutral living room aesthetic but adds a unique touch.
I'd recommend getting a beautiful chair that also is comfy! That would make it the perfect spot for reading.
17. Gray living room with small modern round table and chairs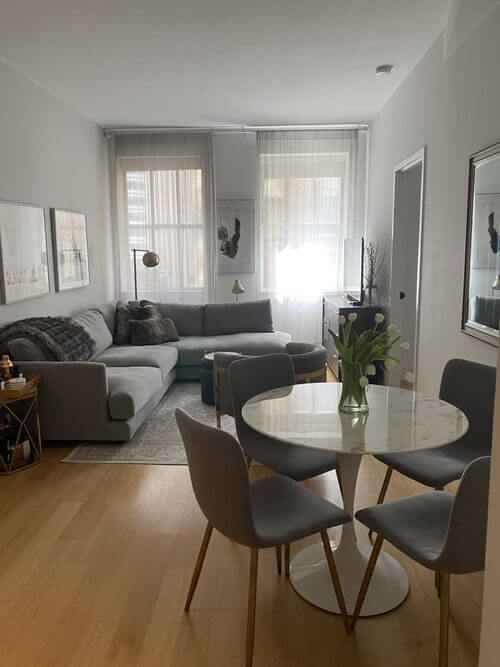 A compact round table is usually the best option in small apartment living rooms! Choose chairs in an accent color, or mix and match different designs to funk things up.
This room is simple, minimalist, and yet chic, which I love. If you have a gray couch, picking chairs to match the color of the sofa is an effortless way to make your living room look put together.
18. Jute area rug and bohemian ottoman for a cozy decor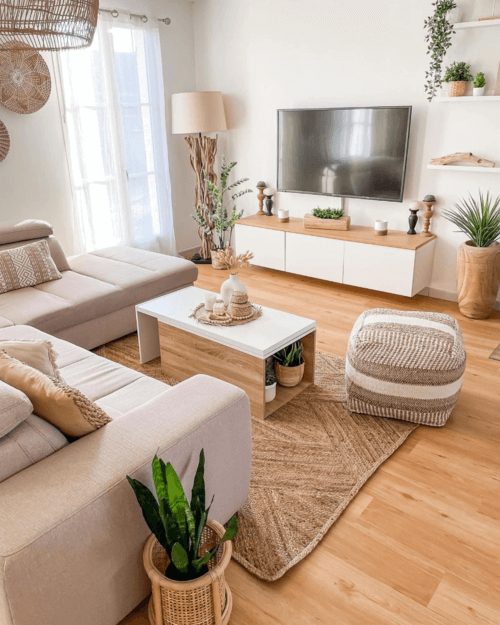 Something I highly recommend for small living rooms is using an ottoman! There isn't enough space for an extra chair in some spaces. Ottoman poufs also look super cute and can elevate your living room decor. Consider a jute rug for a subtle bohemian feel.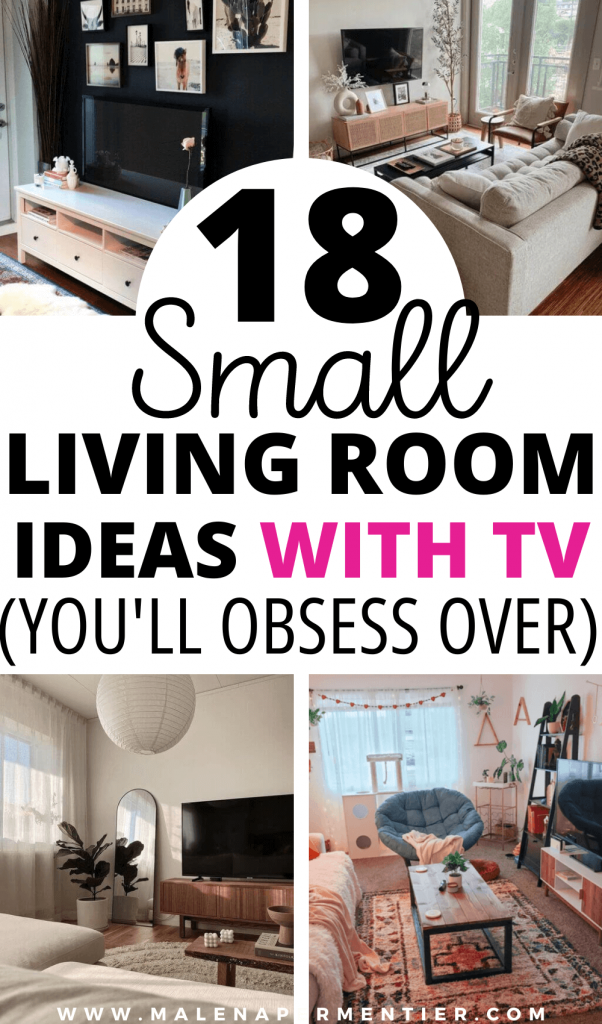 This post showed you 18 small living room ideas with tv.
You may also like: