Accent chairs are one of my favorite furniture pieces for a small living room.
Why? Because they're functional yet don't nearly take up as much space as a big couch.
Plus, accent chairs are great for adding a more personalized touch to your living room and creating extra seating.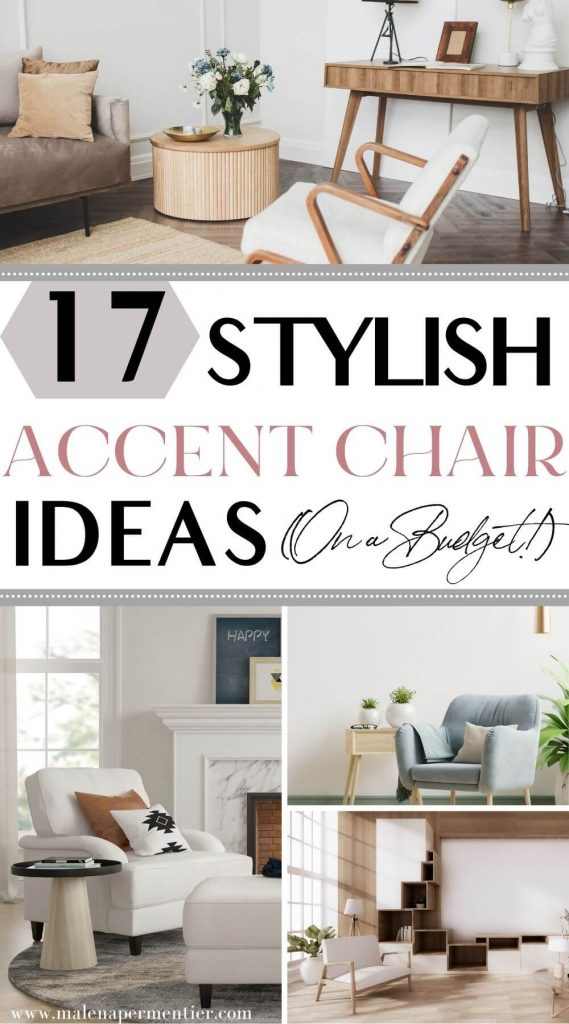 SAVE on Pinterest for later 🙂
Whether you do that by picking a neutral accent chair, one with exposed wood, or a colorful one: it 100% elevates your space.
The beauty of accent chairs is that you can maximize your living room space without sacrificing functionality.
For small spaces, you must pick furniture that is light and airy.
That's why a good rule of thumb for accent chairs in a small living room is to go for chairs with arms and legs that aren't too chunky.
The Best Accent Chairs for a Small Living Room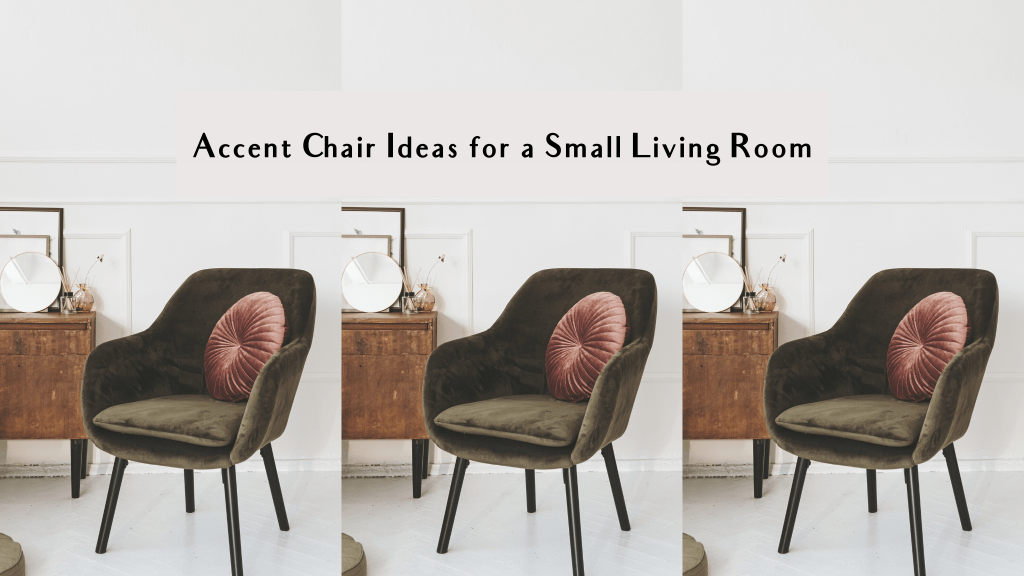 Let's look at some beautiful examples of small living rooms with accent chairs and recreate those rooms. Here you'll find:
the best placement for accent chairs in a small living room
styling an accent chair with an area carpet and the couch
lounge accent chairs ideas
how to color coordinate an accent chair with your living room furniture
the best accent chairs for small spaces
1. Two accent chairs opposite the couch
This is a beautiful example of how one couch + 2 accent chairs, and an area rug make the living room feel spacious without sacrificing seating space.
I also love how the wood details come back in the accent chairs, desk, coffee table, and even couch legs.
Recreate this:

2. One small lounge chair
A tiny lounge accent chair at the edge of the carpet works beautifully. It keeps enough open space to enjoy the gallery wall behind it!
When you pick a small accent chair, you can also be extra creative with color and style because it won't overwhelm the rest of the room.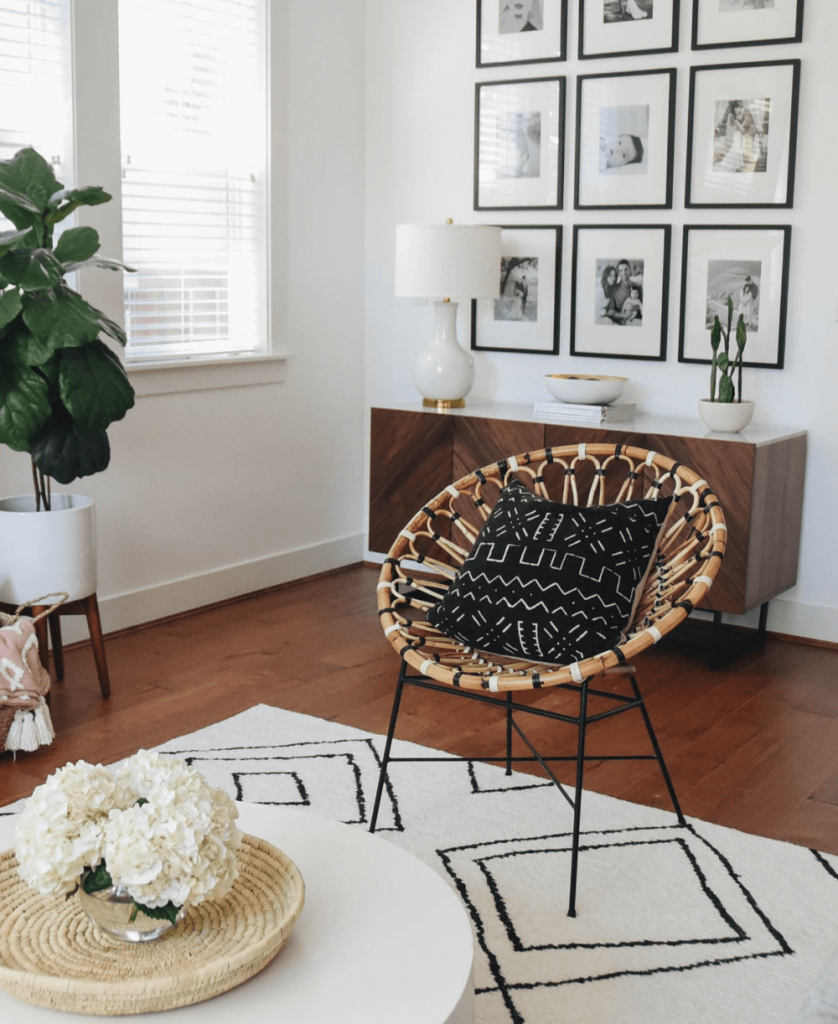 Recreate this:

3. Accent chairs with wood arms and legs
Accent chairs with wood arms and legs are super trendy in 2021. I'm not so much for following home decor trends, but I do adore these chairs. To me, they're timeless additions to a living room.
The wood gives the room a warm ambiance without being too much. You can style these chairs in a neutral living room with warm accent colors like burnt orange or red.
Recreate this:

4. Placing an accent chair in opposite corners
The placement of accent chairs in a living room makes all the difference. In this room, the chairs are in opposite corners of the room.
I also really like how this chair situation works with the L-shaped couch.
Recreate this:

5. Accent chair in the corner
The famous accent chairs with wood legs and arms! Here placed in the corner of the carpet.
Make sure not to go overboard with too many different wood colors in your living room.
Recreate this:

6. Symmetrically placed accent chairs in the living room
For perfect symmetry, place an accent chair in each carpet corner opposite the couch.
Area rugs aren't necessary to make this work, but it does have the power to make your living room together beautifully!
Recreate this:

7. Accent lounge chair
A playful way of implementing an accent chair in your living room is with this lounge-style chair.
This works exceptionally well in a boho-style room with many neutrals and a few warm tones.
Recreate this:

8. Big comfy accent chair
A big comfy accent chair would perhaps not be my first choice in a small living room, but in some spaces, it works.
These chairs are so comfy and truly a must if you're an avid reader who likes to spend a lot of time in the living room reading.
Recreate this:

9. Green velvet chair in living room corner
Green velvet is another 2021 home decor trend, but not one I predict to disappear soon!
There's something timeless, luxurious, and super charming about velvet green, and I love what it can do with space.
Recreate this:

10. Unique accent chairs
Accent chairs are THE furniture to add a little personality to your space. Why not go for a unique woodwork style like these?
Plus, don't forget to style your chairs with some cool (fluffy) pillows.
Recreate this:
11. Woven accent chair
At first sight, a woven accent chair might seem "beach house only', but lately, I've seen these chairs in modern living rooms and Scandinavian-style apartments. And it works!
Recreate this:

12. Pink shell accent chair
Make a statement with a fun pink accent chair. I adore the shape of this chair, and I love how seemingly contrasting colors, green and pink, go so well together in this small living room.
Recreate this:

13. One small accent chair
This room keeps lots of open space, and I love what type of ambiance it creates in the room.
The color palette is playful, with a gray accent chair, a velvety gray/blue couch, and a carpet with beige, red, and black tones. This room breathes creativity, and I love it.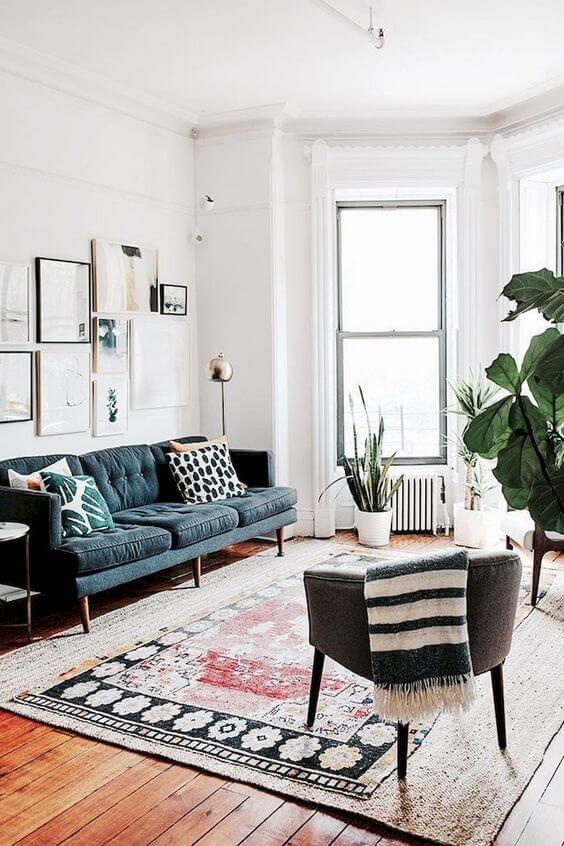 Recreate this:

14. Green accent chairs
This couch, carpet, and 2 accent chairs situation show you how to achieve a neutral living room style with a touch of boho and green accents.
The color of the chairs comes back perfectly in the plants and small decor items.
Recreate this:

15. Accent chair next to the couch
I love the placement of this accent chair right next to the couch. I wouldn't necessarily have thought of it, but it looks great.
Especially in a small living room, an idea like this is great to recreate. And I have to say: I LOVE that dark green velvet color!
Recreate this:

16. Camel accent chair in the corner
A classic accent chair idea is to opt for one with a camel color. The beauty of this warm color is that it's super versatile and works well with many different colors.
Recreate this:
17. Color coordination of two accent chairs with the couch
Get your color coordination on by combining two accent chairs with the colors of your couch.
This living room is a great example of implementing warm brown tones with neutrals.
Recreate this:
This post showed you the best Accent Chair Ideas for a Small Living Room.
You may also like: