I'm a big fan of neutral living room decor, and I've got good reasons for it!
Not that there's a need to justify to do whatever you want with your apartment, but these are my arguments in favor of a neutral living room:
A living room with neutral furniture is easy to change up.

You always get to play with new accent colors.

Neutrals create a zen atmosphere.

Neutrals make a small living room feel bigger.
Below, I'm sharing 10 of my favorite neutral living room decor ideas that you can easily recreate on a budget.
I'm a huge fan of Amazon decor because there are so many good-quality pieces for cheap.
Best affordable neutral couch: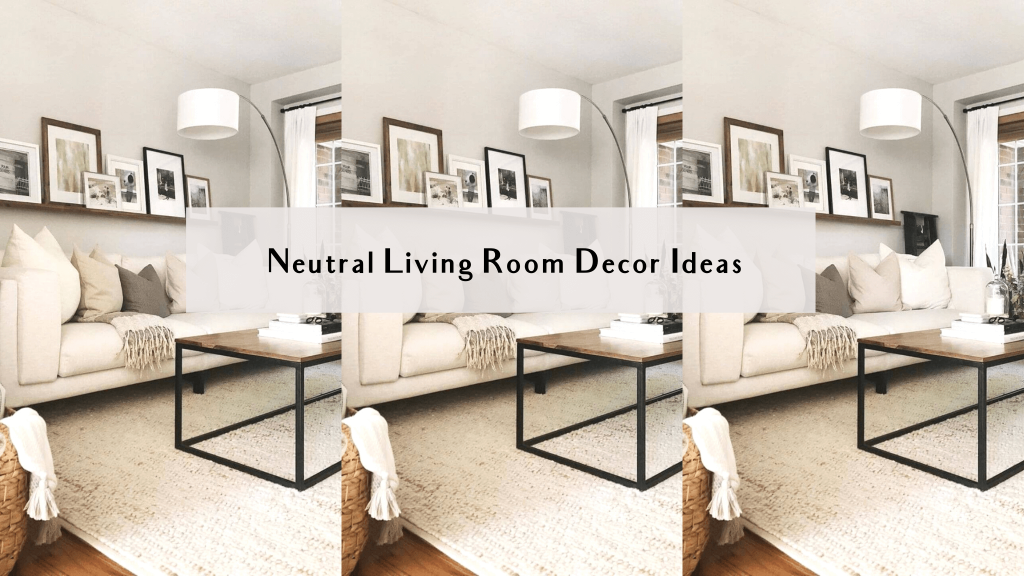 10 Beautiful Neutral Living Room Decor Ideas
1. Picture shelf above the couch
Is it just me, or does it always seem a little daunting deciding what to do with the space above the couch?
This living room really sells me on the picture ledge above the couch idea. Style it with different sized frames, mix up the colors a little, et voila, your couch area is coming together!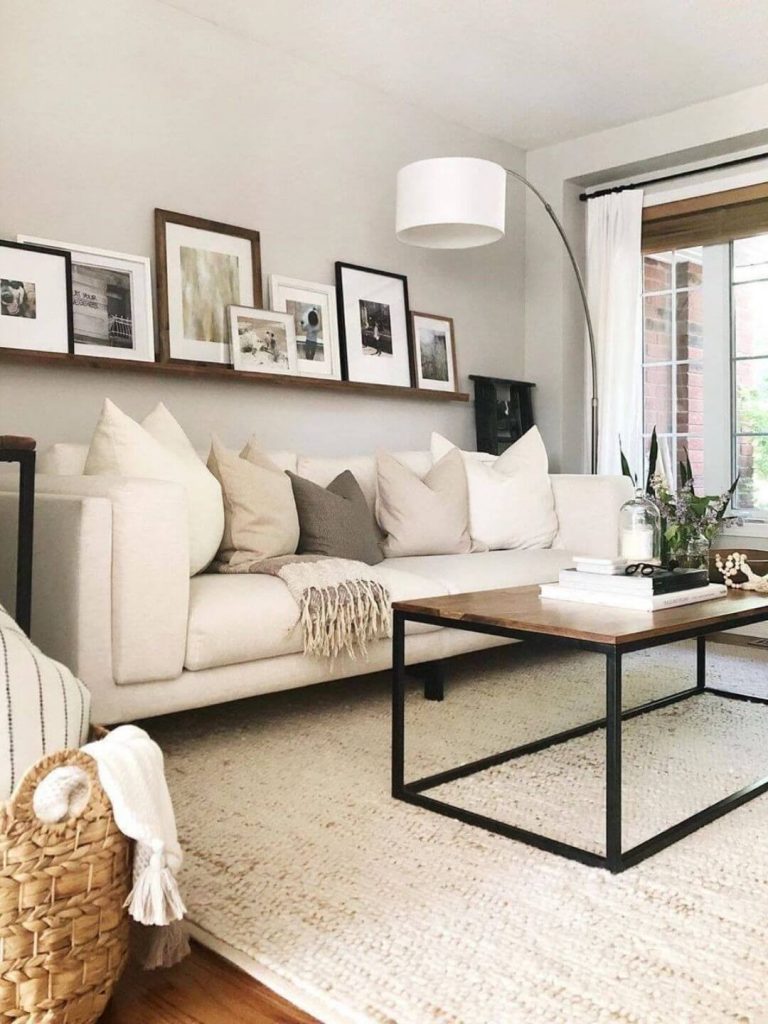 2. Subtle marble and gold accents
A living room with neutral furniture is a great starting point to see what other subtle color accents you might want to add.
I love this neutral living room because its wooden, green, and gold accents come together beautifully.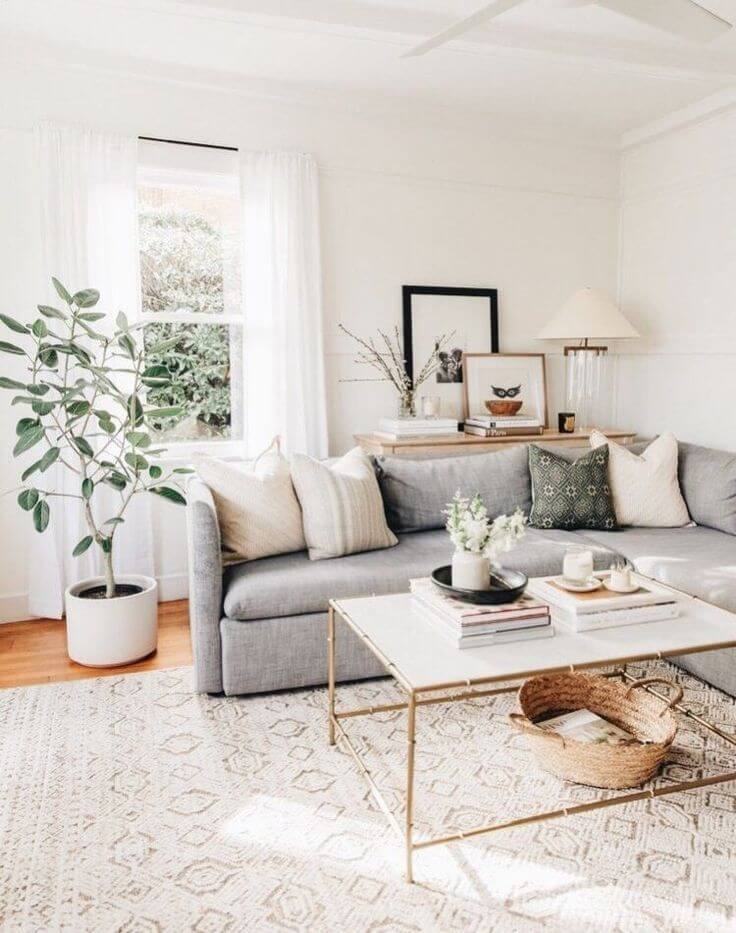 3. Tall entry table beside the couch
Playing with different furniture heights adds a beautiful dimension to a living room. The entry table beside the couch, along with the mirror and different neutral tones, make this space come together beautifully.
This room is also an excellent example of how playing with different neutral colors makes a living room without color look super interesting and playful.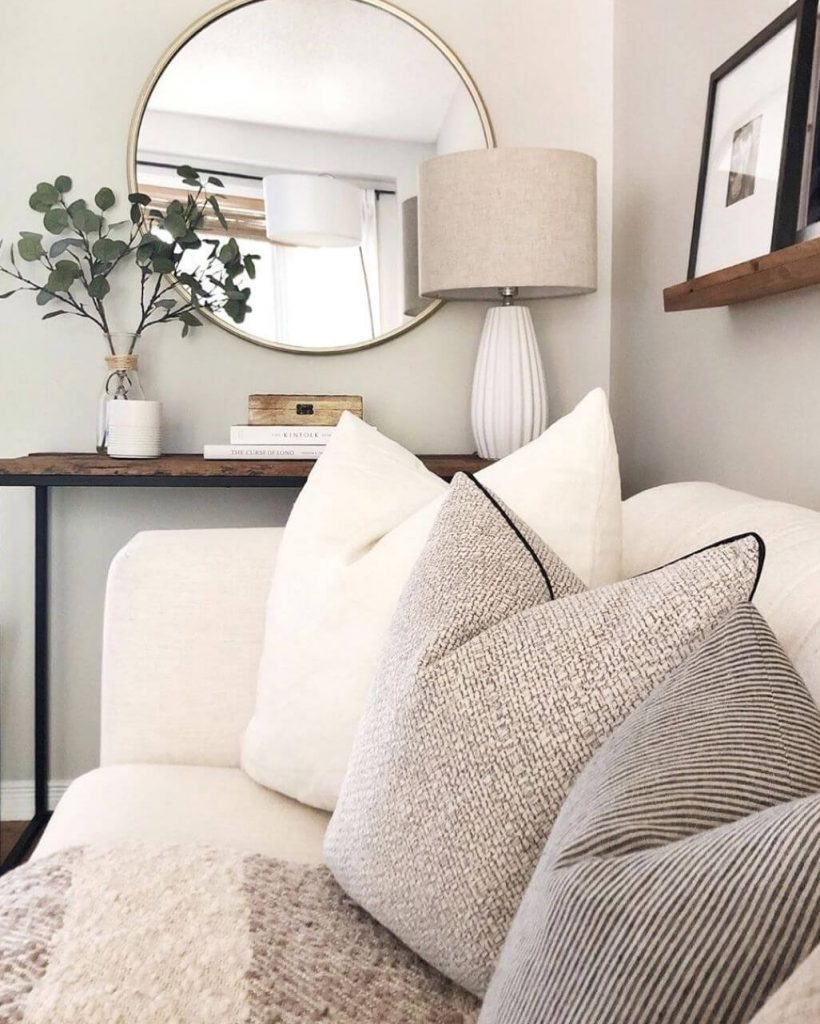 4. Pouf for extra seating
Everyone with a small living room knows that adding one piece of furniture too big for the space can ruin it!
You might not have the space for an extra couch or a big chair, but a small pouf is a great space-friendly solution that adds to the ambiance.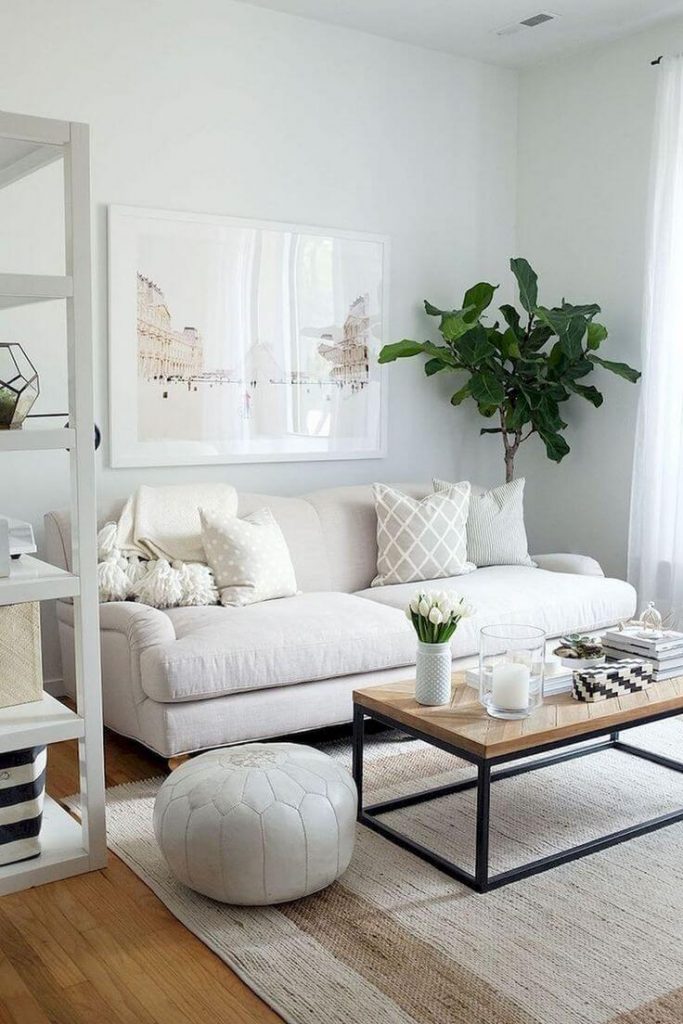 5. Spice up the side table game
There's something so genius about this small side table and tall plant holder beside one and another.
Whether it's big or small, making the most of your living room space is about consciously leaving free space. That's what keeps the room looking bright and spacious.
Choose your art, decor, and plants carefully so you'll enjoy your space to the fullest.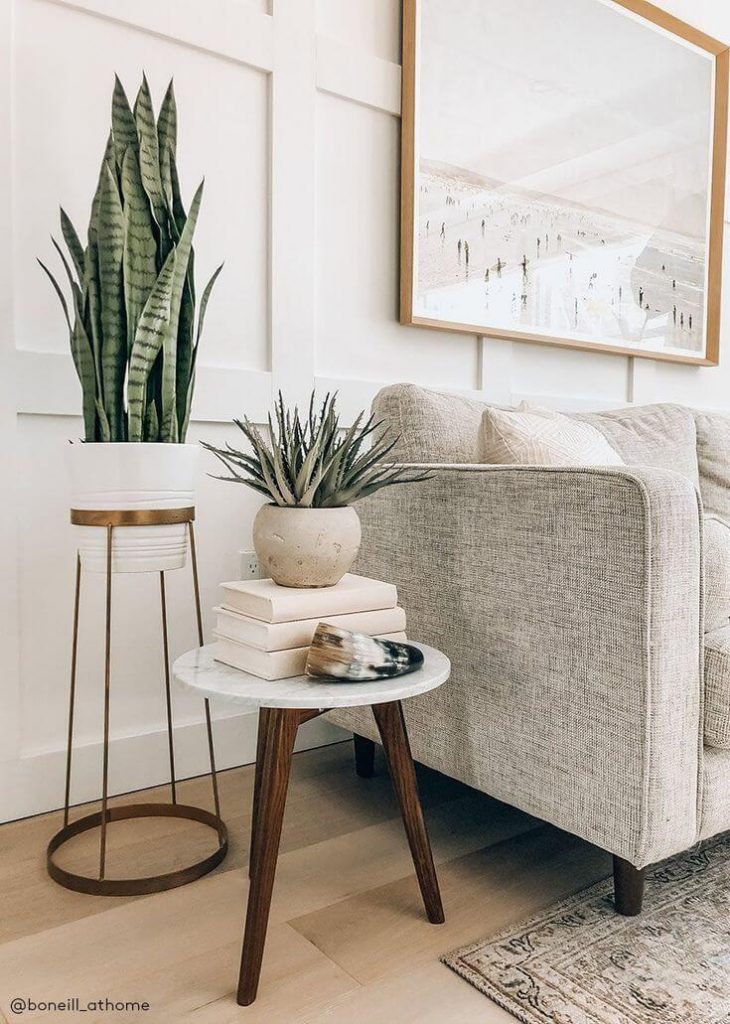 6. Neutrals all the way
This neutral living room might not be for everyone, but it most definitely shows you that a neutral space doesn't have to be boring!
This space has subtle gold tones, a little bit of wood, and some interesting prints going on. The right carpet for your couch can do so much for a space!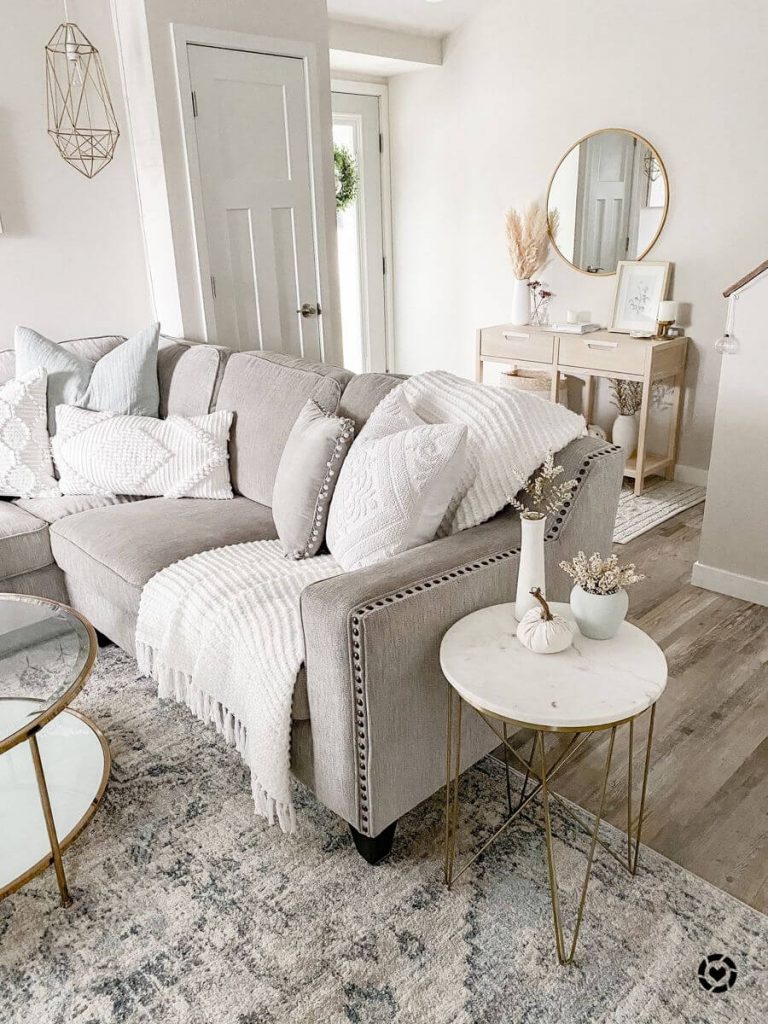 7. Black metal tones
For an industrial Scandinavian touch, black metal tones in a neutral living room work!
I've seen these sleek and tall metal bookshelves everywhere, and I gotta say I love how versatile they are.
The black shelf tower is used for decor purposes in this living room, and I think that works beautifully in the space.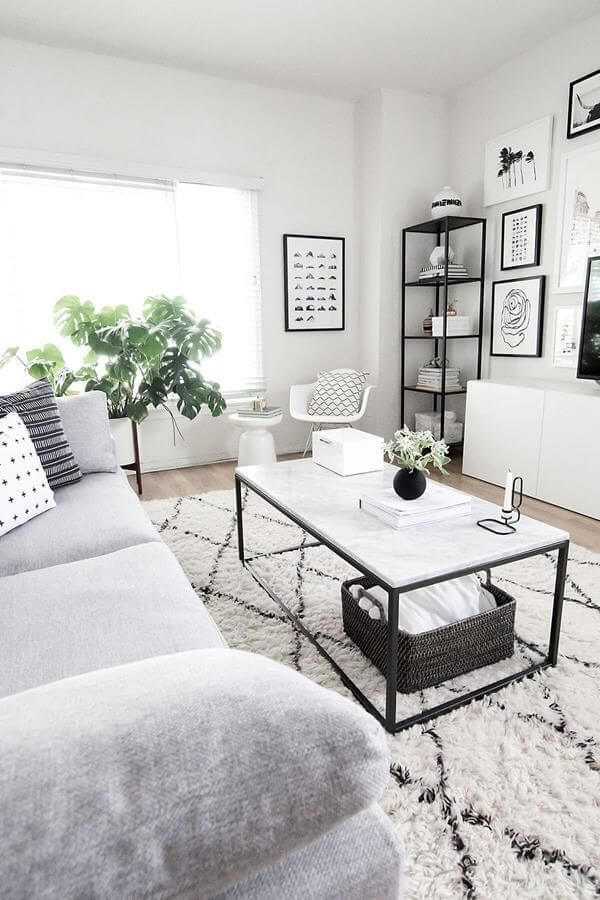 8. Play with prints
A neutral living room is everything but boring (I feel that's one of the main misconceptions), especially when you add in a little print.
This printed carpet makes the couch space come together perfectly, and I love how the carpet isn't too overwhelming.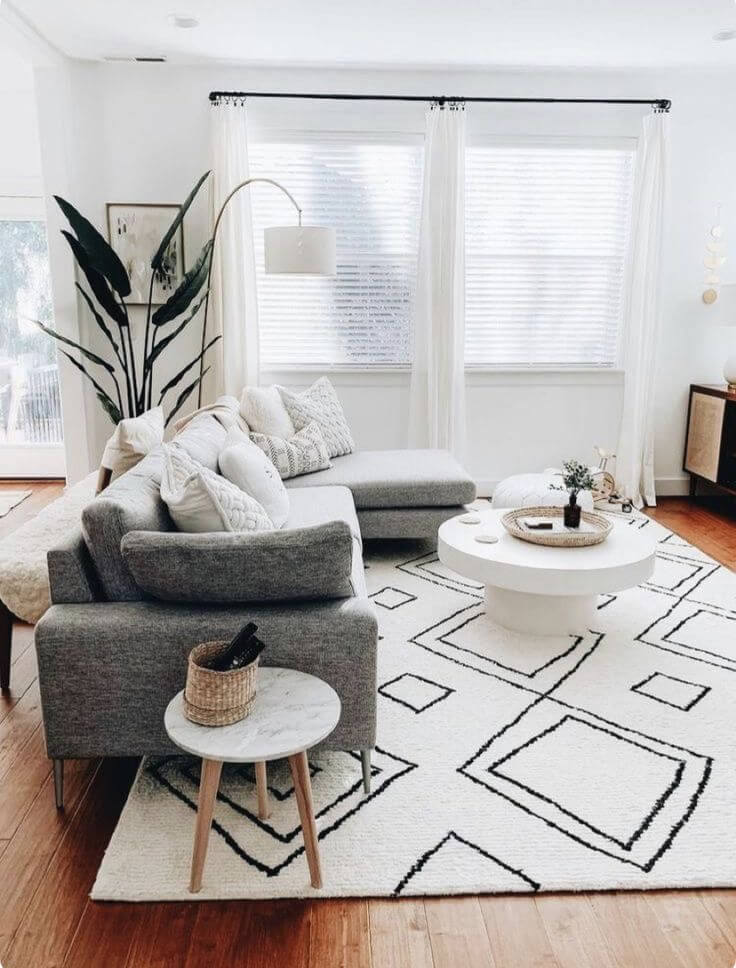 9. Carpet layering
If you want to play with prints and textures, layering carpets is a beautiful way to do so.
What's also great about it is that you can pick one neutral even color (the big carpet) and then add something more playful on top of it.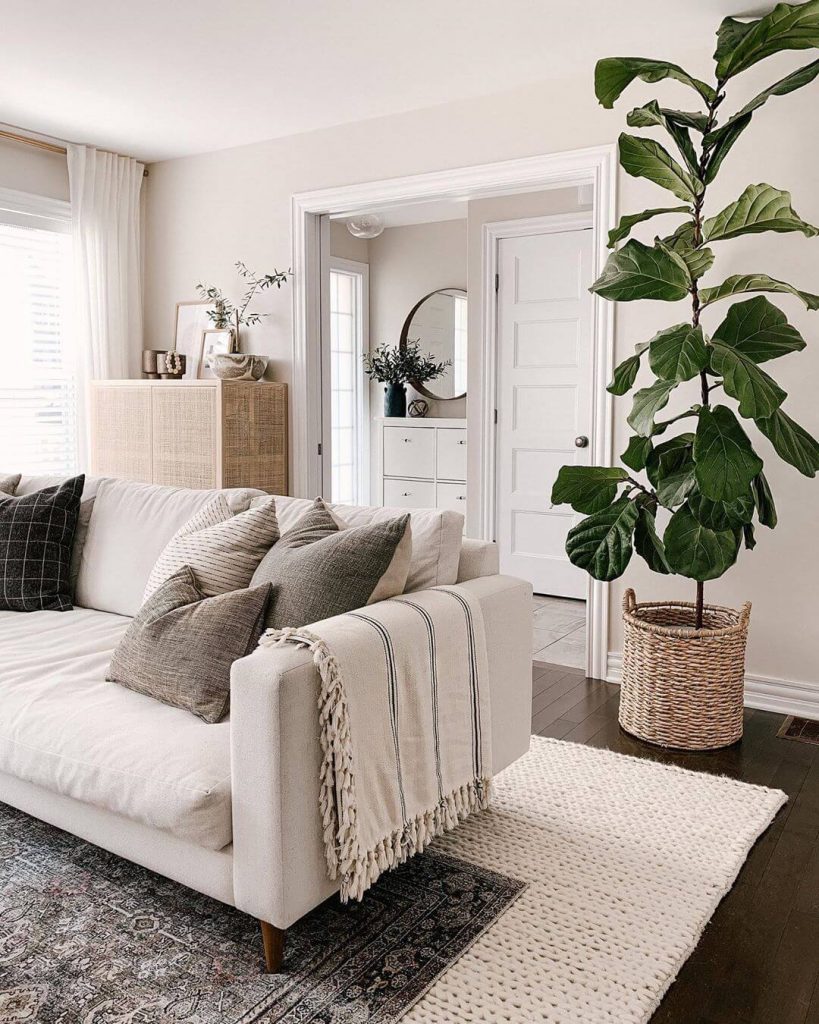 There is something about a hexagon-shaped mirror that works! Especially for above the couch, this shape works beautifully with the rest of the decor.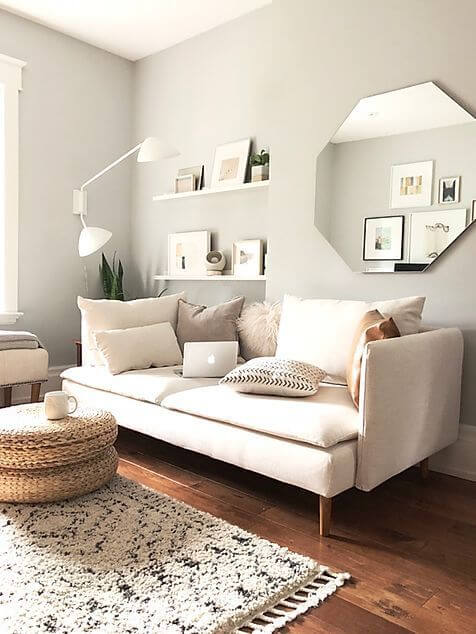 This post was all about the best Neutral Living Room Decor Ideas for Small Spaces.
You may also like: