This post shows you the best apartment balcony privacy ideas.
When you live in a small apartment, creating privacy on your balcony is important!
If your balcony faces other apartments, setting up your balcony so you can create a private nook is great.
There are many different ways to create privacy on your balcony. In this post, we focus on budget-friendly and creative options.
A few great balcony privacy ideas include a bamboo screen and a faux ivy screen lined on the balcony railing. You could also install a curtain to block people's view.
Apartment balconies are quite limited in space. This is probably why you don't want a privacy solution that blocks your entire view from looking out.
That's why we have to be creative in what we use to create privacy on our balcony. So without further ado, let's look at some great options for apartment balcony privacy.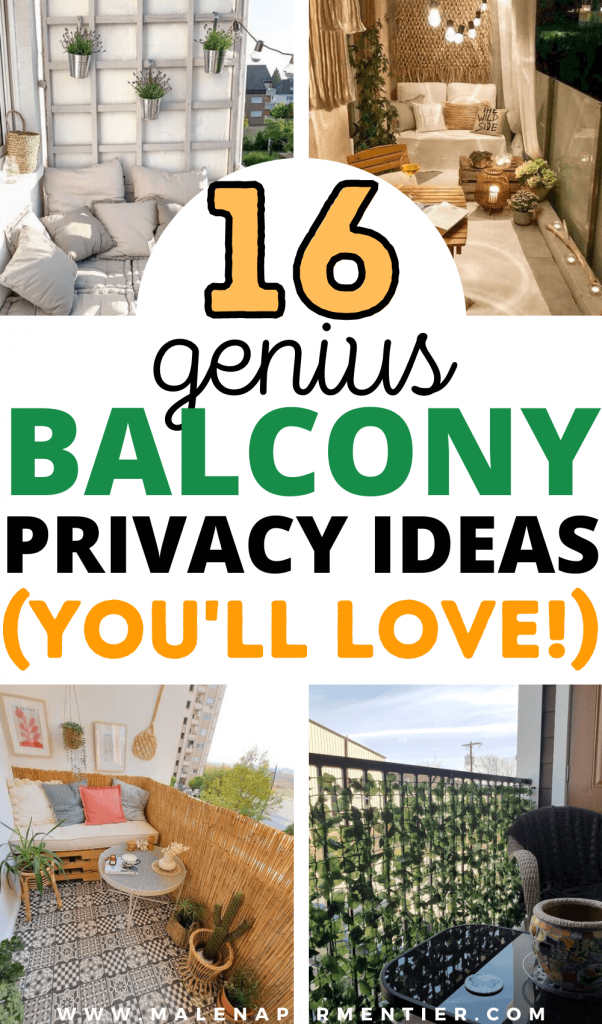 Most versatile balcony privacy screen:

This bamboo privacy screen and planter is one of the most versatile options for balcony privacy. You can move it around how it's needed.
I like that this screen doesn't need to get attached (because I'm lazy like that).
Neutral metal privacy screen

if you don't want to go the bamboo route for your balcony, this metal screen has the ultimate modern aesthetic. It's free-standing, and you can move it around as you please.
Apartment Balcony Privacy Ideas
1. Reed fence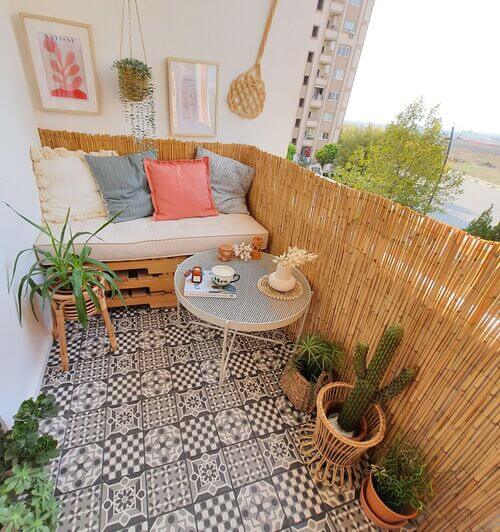 This reed fence screen is versatile because you can attach it to your railing in width or length if you're trying to block the view from your neighbor's apartment balcony.
This reed fencing is aesthetically pleasing and also blocks the sun if that's also something you aim to achieve.
2. Boho ivy balcony screen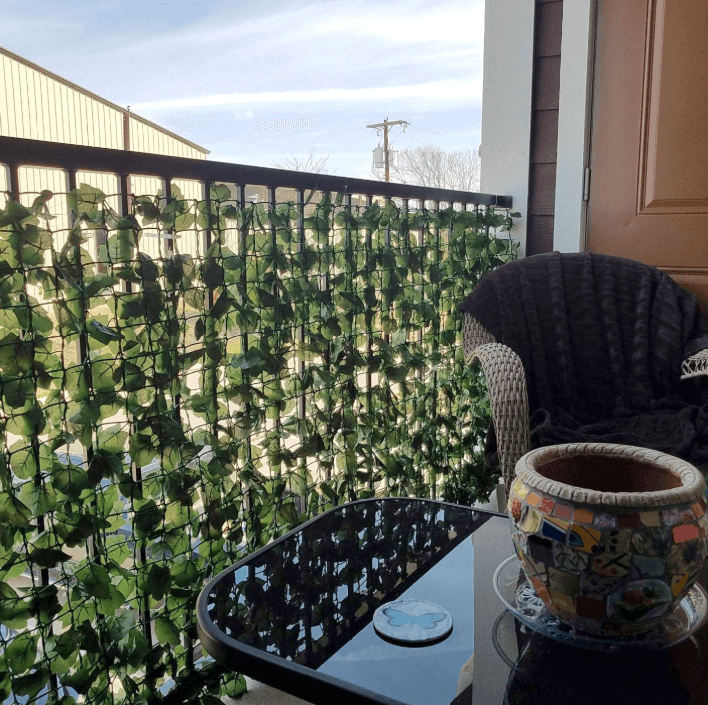 This faux ivy balcony screen is inexpensive, hides ugly details of your balcony railing, and creates a cute bohemian atmosphere.
The ivy leaves make it hard for people to look onto your balcony. Which is perfect for adding a little privacy to your balcony.
The leaves don't cover everything, you can still easily look out, but you have that added privacy when sitting on your balcony.
3. Reed shade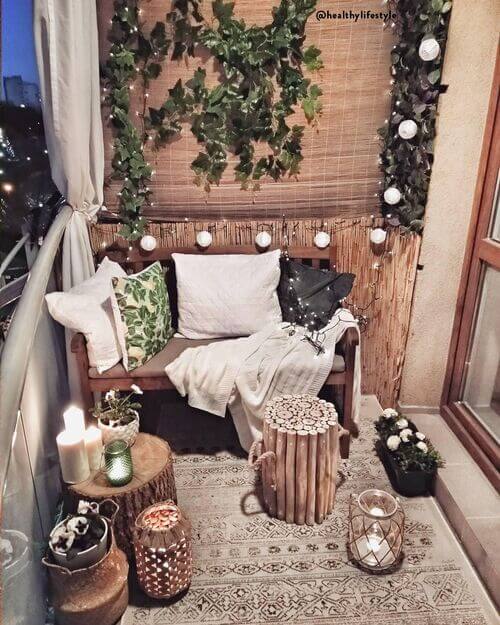 If your neighbors can look onto your balcony from either side, hanging a reed shade creates privacy. This solution could also work nicely on a porch.
I was looking at this product, and people use it on porches to create shade. You can attach the shade to your ceiling.
Many of these screen and curtain-ish solutions offer privacy and shade at the same time.
To add ambiance, attach ivy string lights and drape them over the reed shade.
4. Wood planter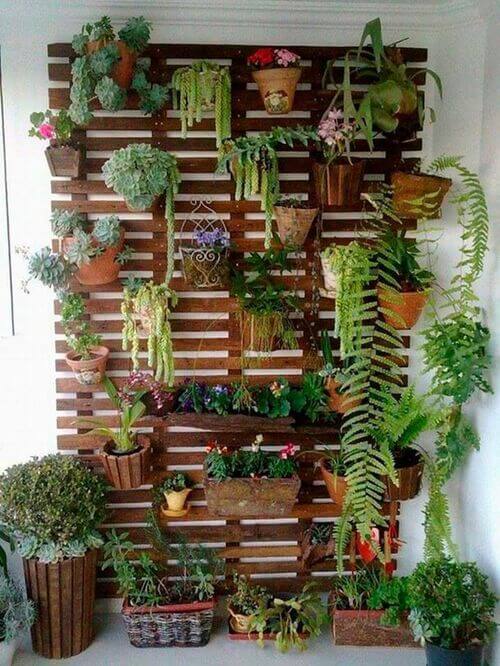 Vertical gardening is great for creating a lush and private balcony! Get a wood frame to hang on the wall. You can also DIY this.
This wall-mounted plant holder adds a nice amount of privacy when the plants start growing and blooming. If your balcony looks a little sterile or boring, this is also a great way to add some life.
5. Tall bamboo fence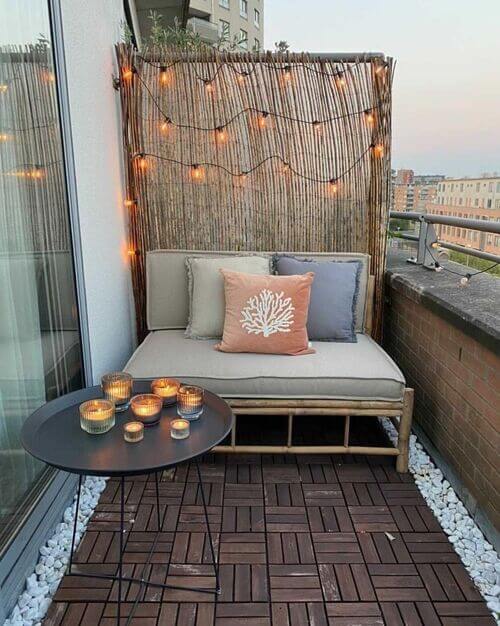 Attach a bamboo fence on both sides of your apartment balcony for privacy. This could also work if you want to make your balcony look nicer.
Many apartment balconies look a little harsh, with lots of concrete and metal. Attaching a bamboo fence can warm up the space.
Consider adding an outdoor loveseat to make your balcony cozy for sitting. This loveseat is not cheap but made with beautiful materials and real wood.
6. Deck screen inspo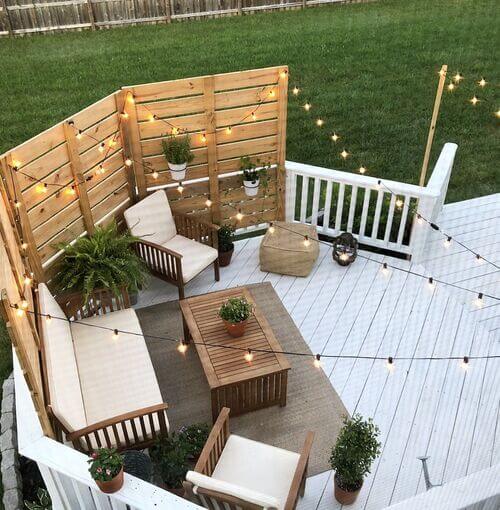 This is a deck, not a balcony, but I still think this is a great example of what you can do with your outdoor space to create privacy and coziness.
Line up the screen around your seating area. This makes the space come together. Plus, the screens will allow you to attach string lights.
7. Bamboo screen for balcony privacy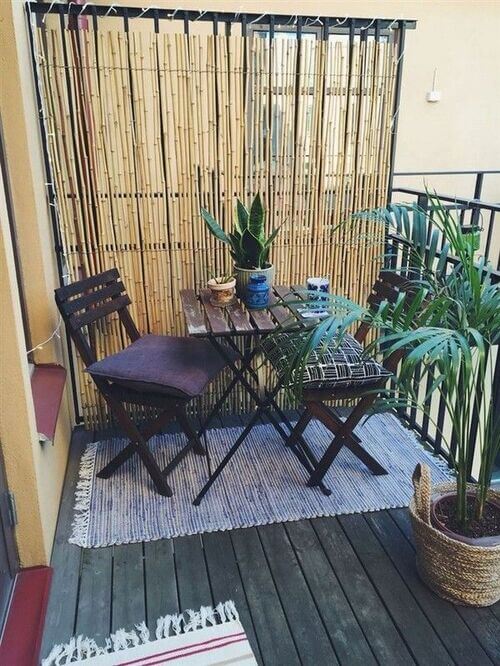 8. Curtains for balcony privacy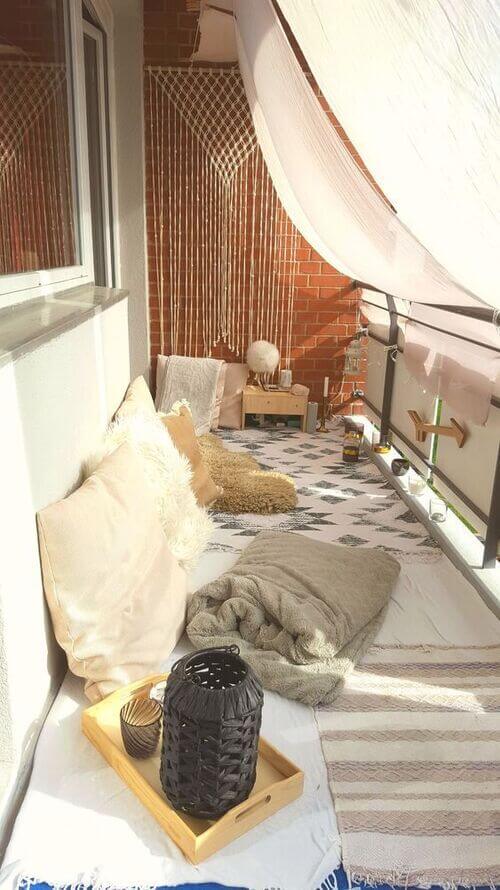 Another way to create privacy on your balcony is with curtains. If your balcony is tiny, a tension rod can do the job. The max reach of those is usually 122-150 inches.
Ropes and hooks could be another solution. But I don't think that works for regular outdoor curtains.

9. Gray wood balcony screen with metal planters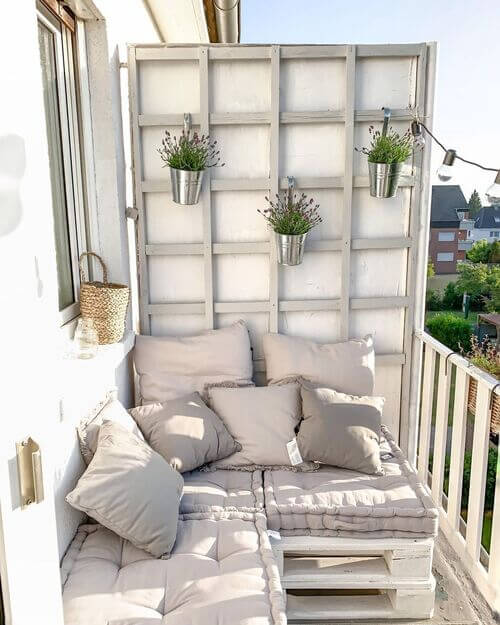 I love this privacy screen idea! I'm pretty sure this is something you could DIY. But I can't give you advice on that because I have zero skills when it comes to woodwork and DIYs of that sort.
This metal privacy screen is really good for recreating something with a similar vibe.
This screen also has a ton of different pattern options. For example, white bamboo leaves, blocks, lines, and other cool geometric shapes.
Create a budget-friendly seating area on your balcony with pallets and cushions. Super comfy, and it doesn't break the bank as some outdoor furniture does.
10. Triangle balcony curtain for shade and privacy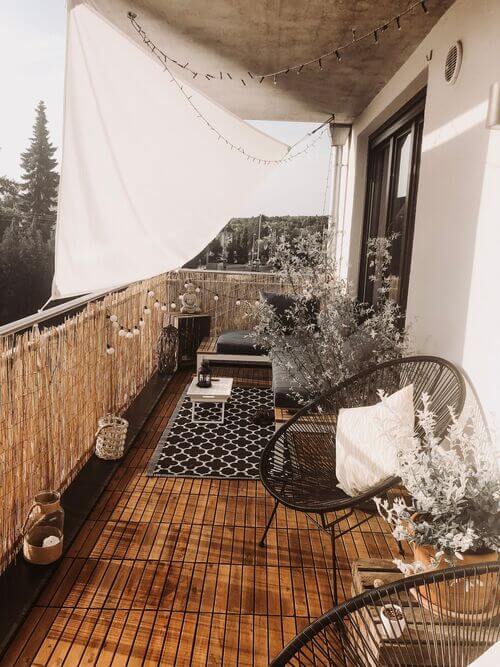 Attach a sheet to the balcony railing and ceiling to create a private nook. This is also called sail canopy, I believe.
This doesn't block the view of your entire balcony but creates a private corner that also blocks the sun.
Another really fun thing in this inspo image is the Acapulco chairs. They give a balcony great charm, and these chairs are so comfy.
11. Expandable faux privacy fence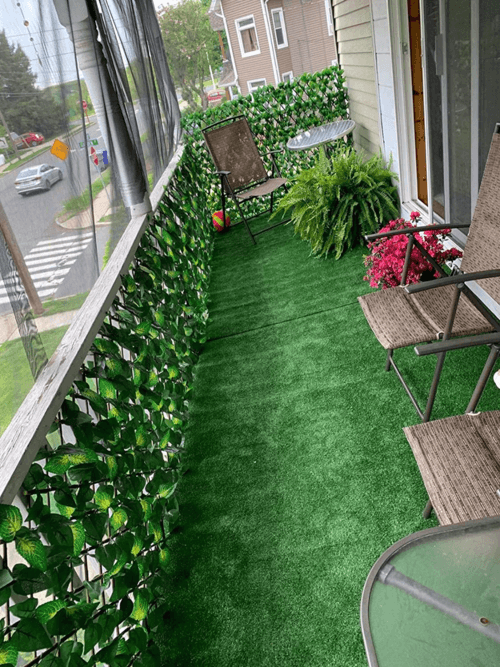 An expandable faux privacy fence is perfect for attaching to your balcony. This fence works for balconies, patios, porches, and more. The buyer reviews of this product show a lot of goof inspiration on how to use it.
You can attach this fence to your balcony with zip ties, which is easy and efficient.
12. Apartment Balcony Privacy Screen with Willow Branches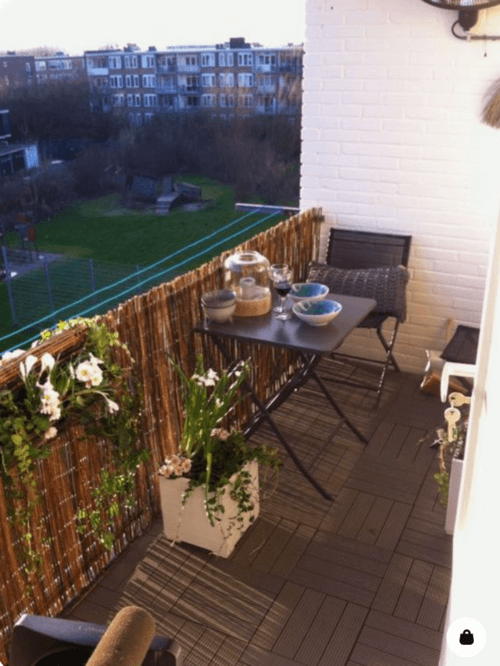 This privacy screen made from branches is perfect to line the balcony. This screen is budget-friendly and does the job if you want to create privacy on your balcony.
Tip: Drape string lights over the screen. This looks super cozy with the branches and makes your balcony come to life.
13. Make a plant wall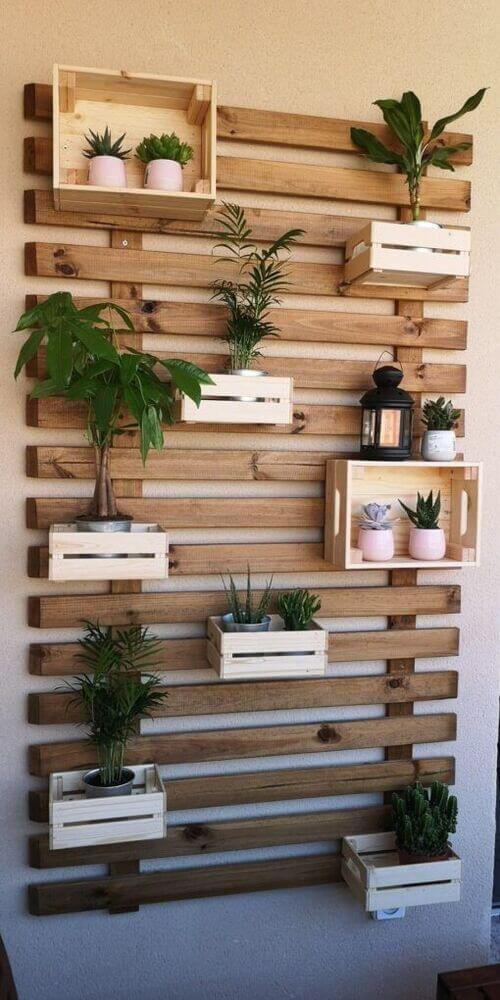 Plant stands and plant wall frames look amazing and will help create privacy on your balcony. This bamboo shelf is by far the most versatile and quite tall.
Balcony privacy solutions like plant stands have more than one benefit. Plants make your space cozy, and a tall stand prevents people from looking inside.
14. Macrame wall hanging and balcony curtains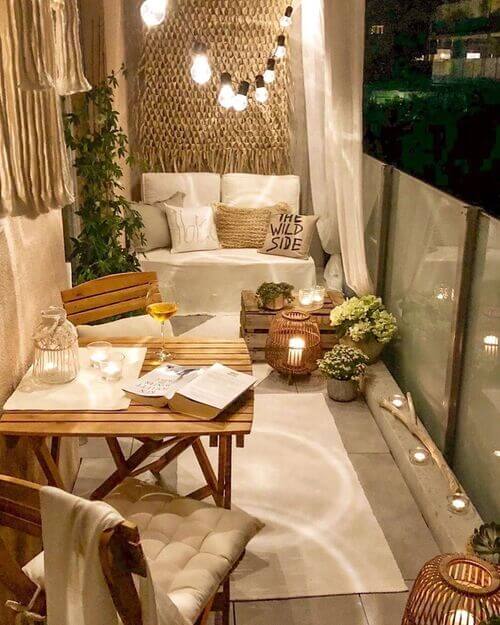 Your balcony seating nook is the perfect spot to hang a curtain. Install hooks on your balcony ceiling to hang a curtain.
Brighten up the concrete walls of a balcony with a macrame wall hanging. This looks beautiful and is a great way to decorate your space.
15. Create privacy with plants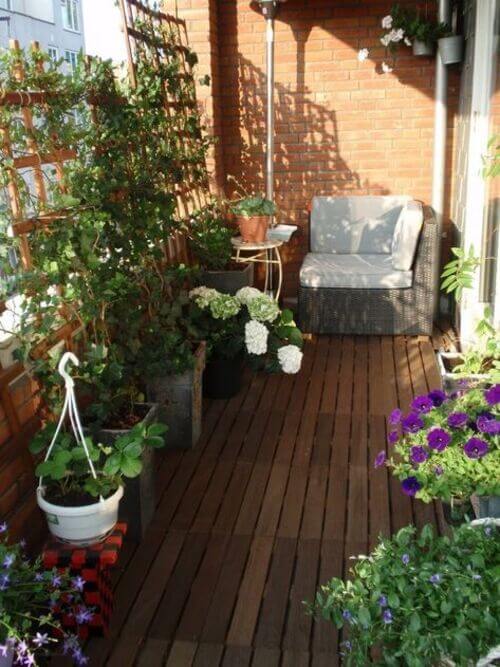 Let's look at another way of using plants to create more privacy on your balcony. Line plant stands along the balcony railing. You can also set up a frame for climbing plants like ivy to grow.
Outdoor plant shelves are easy to install and provide enough space for planters with lush and abundant plants!
16. Fake or real ivy as privacy screen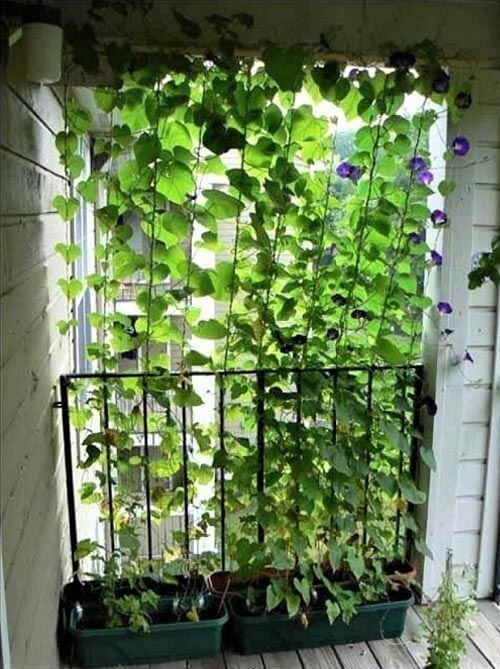 Growing real ivy or another plant takes some patience, but it's an absolutely stunning way to create privacy on your balcony.
You can also opt for a faux ivy screen. It might not look as incredible as the natural one, but it does the job!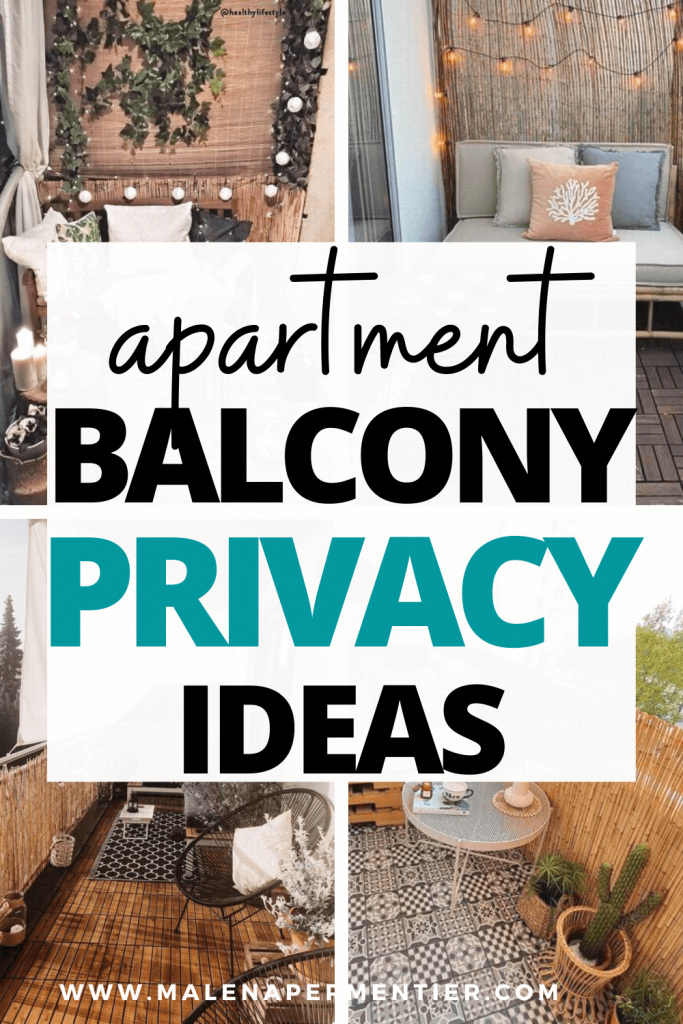 This post showed you the best apartment balcony privacy ideas.
You may also like: