Bringing you the best info about affordable couches!
The couch is one of the most expensive things you'll buy for your living room. That's why it's so important to do your research and find one at the right price-quality ratio.
I've had my fair share of Ikea couches over the years, and some designs are definitely better than others. Nowadays there are more affordable places to buy couches, for example, Amazon and Wayfair.
This post will go over the 11 best affordable couches for apartments focusing on comfort AND style!
#1 Best affordable couch under $1000
Why buy an affordable couch
Maybe you've just moved into your first apartment, or spending big bucks on a couch just doesn't fit your budget right now.
How much you can afford (or justify) to spend on a couch very much depends on the phase of your life you're in. And honestly, there are PLENTY of reasons to opt for a cheap sofa over an expensive one.
If you're living somewhere temporarily, share an apartment with a roommate, have crazy pets, or maybe you prioritize spending your money on experiences like travel.
Truth be told, couches on the cheaper side, like around the $500 mark, aren't always great quality. But if you do your research and plan ahead (think Amazon prime day, for example!), you can find affordable couches that last for years.
What I like about big websites like Amazon is that you can learn a LOT from the reviews! Target is a little more censored, but generally, you'll be able to tell if a couch is worth your money. Ikea is such a big name in furniture that there are always a ton of reviews you can find on famous models like the Kivik or Karlstad.
#1 Best affordable sectional couch
What to pay attention to when buying a couch
Fabric: if you're eyeing a sofa, make sure to check out all the colors of that sofa. Different colors usually give you a better idea of the fabric and whether it looks good, meh, or cheap.
Couch legs: affordable sofas sometimes cut corners on the quality of the legs. Make sure you zoom in to see what the material is. You don't want to be surprised and receive a couch with plastic or cheap-looking legs. This happened to me with a TV console, and I was not happy about it.
The seating: Do the proportions look good? Does the seating look comfortable? Type in the particular model of the couch, and see if there are any online reviews on the comfiness of the sofa.
Durability: In all fairness, a cheap couch will probably not last forever. But that doesn't mean you can't thoroughly enjoy it and find one with a decent lifespan. Other than reviews, see if you can get an idea of the stitching and firmness of the cushions.
Best places to buy affordable couches
Ikea
Amazon (reviews are transparent, which I like)
Article
11 Best affordable couches
Let's look at the 11 best picks for quality, comfortable & affordable couches. They're all on the smaller side, so they're perfect for apartments.
1. Amazon Brand – Stone & Beam Westview
You'll disappear in this comfy stone gray couch – in a good way! This Amazon brand couch comes in 4 versatile colors and has a nice quality fabric that truthfully looks a lot more expensive than it is. My favorite point of reference for Amazon couches is the pictures customers submit! Here you can quickly tell the quality of the sofa.
customer picture
2. Target Winston Reversible Sofa Sectional – Mr. Kate
The Mr. Kate Winston model from Target is also available at Amazon (strangely). This particular black velvet one on Target doesn't have reviews yet, but you can check out more information and reviews on Mr. Kate Winston available on Amazon. Black velvet is an excellent choice if you want a living room with neutral colors but still want to give it an interesting touch. Velvet has a luxurious feel to it, which is great if you're going for a modern chic interior style.
3. Ikea Morabo Small Dark Blue Sofa
The stunning blue velvet color is easily my favorite part about this Ikea Morabo couch! Another fun detail is the couch legs, which is are half wood and half blue velvet. If you've read some of my posts about small living rooms, you know I'm passionate about recommending exposed legs when picking a couch for your apartment living room. Reviews of the Morabo couch aren't plenty, but I found this post reviewing Ikea sofa's in person very helpful.
4. Amazon Mellow ADAIR Mid-Century Modern Couch
This couch conveniently comes in a loveseat or sofa size. The right kind of gray isn't easy to come by when looking for an affordable couch, which is probably something you've already discovered! Find the right shade of gray is especially if you're style conscious and want a neutral gray that looks amazing with your other furniture! A cool detail is the small side pockets for magazines and books on this sofa. This also gives it a custom feel. The sleek legs are made from a dark (faux) wood that looks luxurious and perfectly matches the light gray couch color.
I purchased two of these sofas and could not be happier. They are wonderful – especially for the price. Since there are no back cushions the seat depth is actually larger than many of the sofas we looked at making them more comfortable. They are versatile in style, compact in a thoughtful way, comfortable, light, and easy to assemble.

– lia
customer picture of gray loveseat
5. Target Ansonia Contemporary Sofa – Christopher Knight Home
Target is a great spot to look for unique, affordable couches. Particularly if you're buying a sofa on the cheaper side, I feel it helps if you pick one with interesting detail. Then even if the quality of the fabric doesn't look top-notch, your attention is drawn to the cool details of the couch. Judging from the pictures submitted by customers, I think the material and stitching of this trendy cream couch look really good – especially for the price. Scroll below to see.
customer picture
6. Ashley furniture Kestrel Sofa Chaise
In all fairness, I was in doubt about including this couch on the list of best affordable couches because I'm not 100% convinced about the color. However, color is subjective, and the Kestrel Sofa chaise from Ashley furniture has really good reviews. This couch usually also comes in a few different colors, like beige and light gray. So depending on when you read this, make sure to check out all the available colors.
Petite enough that it can fit reasonably in our smaller living room. Is comfortable and practical for our family.

– karrie a.
customer picture of Kestrel Sofa Chaise
7. Target Josephine Mid-Century Modern Petite Sofa
If you're looking for a compact couch in a cool accent color, the Target Josephine is a great addition to a small space. This couch also comes in light blue and gray. The couch legs are in a fun contrasting light wood that looks great in a room with neutrals and warm shades. Rustic orange is a popular choice if you're going for a living room with a boho-chic interior.
customer picture
8. Amazon Brand – Rivet Revolve Modern Sectional
A small sectional couch is an incredibly clever way to maximize your living room space. The L-shape naturally pulls together your seating area, and well, let's be honest, the chaise is very comfy to chill on watching TV or reading. This sectional sofa is perfect for a small space and versatile linen color. This Amazon brand Rivet couch is also available in a few other beautiful colors, like green, denim, and different shades of gray. You can move the chaise on either side of the couch to fit your living room layout.
9. Esright 84.2"Mid-Century Sofa Couch For Apartments
This couch looks just like a $2000+ leather sofa, without the price tag! If you're looking for an aged couch with a fabulous vintage look while sticking on a major budget, the Esright couch from Amazon is a great choice for your apartment. This is the most comfortable couch you'll find around the $500 mark.
I was skeptical as all heck as an apartment renter with a small space. This couch fit EXACTLY how I wanted it based upon the measurements: it's firm, easy to assemble (1 person) and I ended my night napping in this beauty! 100% approve to all who are curious.

– shaney
10. Wayfair Cazenovia 74" Square Arm Sofa
Wayfair is another great place to shop for affordable couches. However, more often than not, you'll find the exact model a lot cheaper on Amazon. So make sure always to double-check that! I've not seen The Wayfair Cazenovia elsewhere, and it's truly the cutest and most compact perfect sofa in a beautiful gray color. The sofa's legs are made from solid wood in black color. If you're going for an industrial aesthetic, this couch pairs great with rustic wood and metal furniture and decor.
Pro-tip for styling a cheap couch: decorate with expensive-looking throw pillows and a cute woven throw.
customer picture
11. CosmoLiving Modern green reversible sectional couch
Green couches are a furniture trend that carries well into 2022, and it's easy to tell why. This beautiful rich color is incredibly versatile and makes a living room feel warm and cozy. The Cosmoliving green couch has raving reviews and is surprisingly inexpensive. Colors that go great with a green couch sofa are beige, neutrals, burnt orange, gold, and furniture like a coffee table or TV console with black metal legs. I have a green velvet accent chair in my living room, and I'm still in awe of how much the color does for my space!
If you're like me and are wanting a true dark green couch and kept finding ones that had reviews that said they were more blue green, this is the perfect couch. Not blue at all, a very true dark green. This was super easy to put together by myself and pretty comfortable. Shipping was way faster than it said as well. Such a great couch for the price!

– amazon customer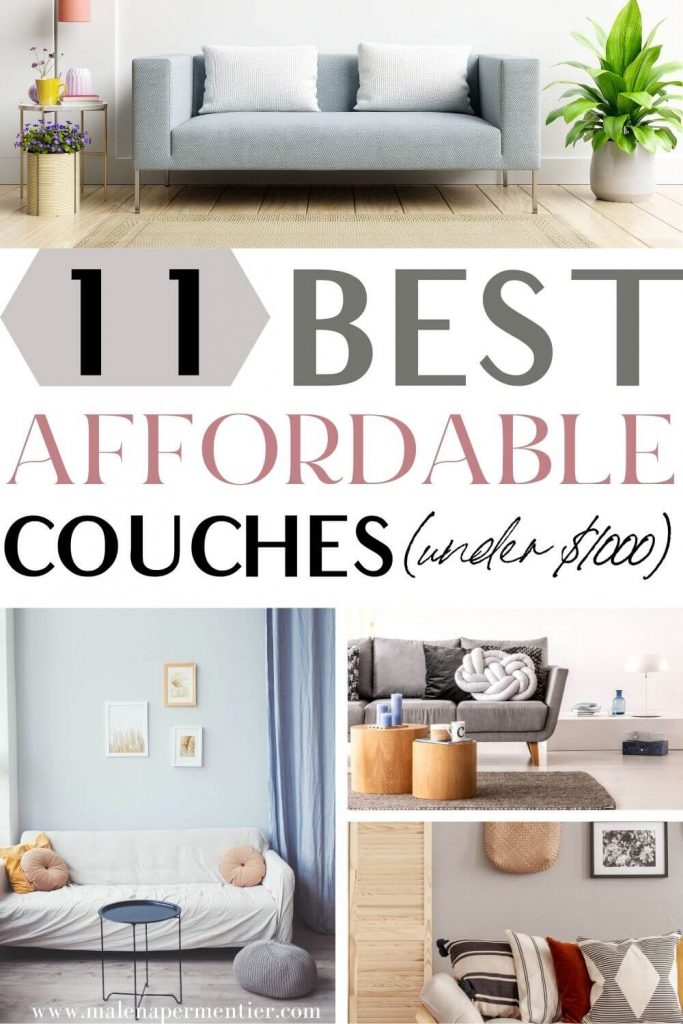 Enjoyed this post about the best affordable couches?
You may also like: