This post shows you the best minimalist coffee table ideas.
Are you looking for the best minimalist coffee table to complement your living room?
This post shows you an in-depth buyer's guide, key features of each coffee table, and customer reviews so you know exactly what to expect.
If you've just moved into a new apartment, you've probably already spent a lot of money on the big living room furniture, like a couch and dining table.
That's why this list only includes coffee tables that are good value for money.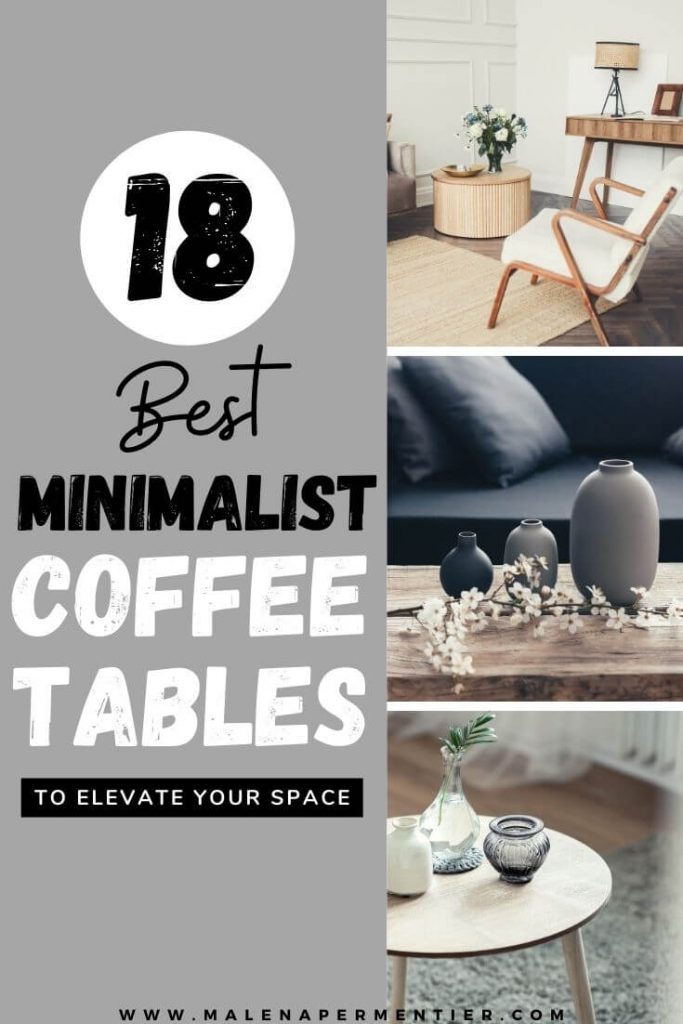 SAVE THIS post on Pinterest to come back to later!
These coffee tables' simple shapes and designs are small apartment-friendly yet perfectly put together. Great living room decor is about striking the right balance, and these tables will help you do that.
Remember that it's not about making your entire home minimalist (unless that's what you want) but picking those items that create the right balance with the rest of your space.
Simple coffee tables like these help create a calming & soothing atmosphere you want to come home to.
Quick navigation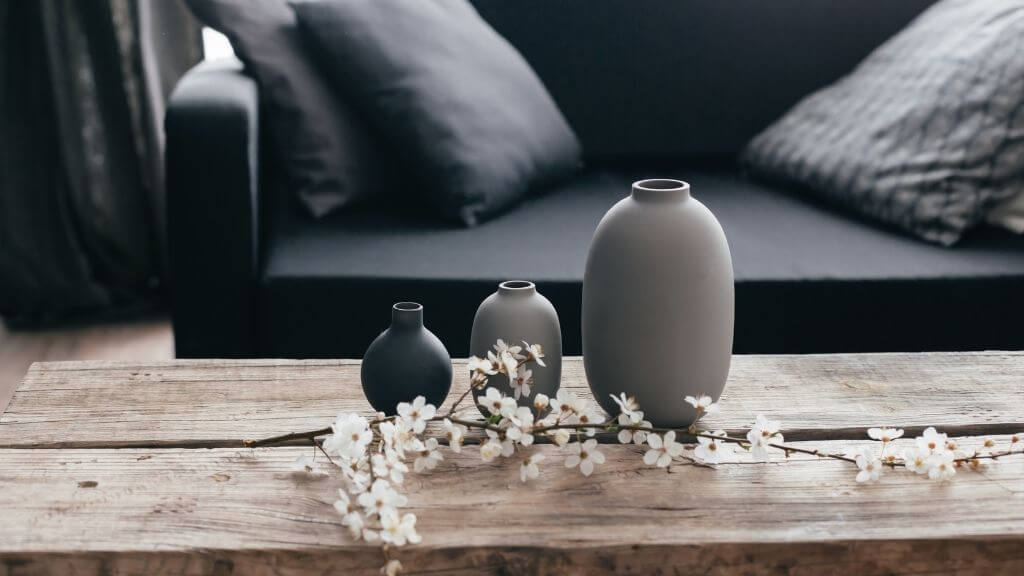 How to choose a coffee table
You have decided you want a minimalist coffee table for your living room; that's a great start! Now let's consider a few essential things before deciding which table to buy.
Shape: Do you want a rectangle, square, or round coffee table?
What works best for your living room depends on your setup and the size of other furniture.
For example, I have a very narrow and small living room.
The best coffee table for this type of room is a small round or rectangular one.
Height: Your coffee table must be harmonious with your couch and other items surrounding it.
A low coffee table sits at the same height as your couch. You can also opt for a taller coffee table.
A low coffee table (a cocktail table) will work better in small spaces.
Low coffee tables are around 15″ or 16″. Regular coffee tables are around 18″.
Rule of thumb: the top of your coffee table should not be more than 4″ taller or shorter than the seat of your couch.
Style and Design: There are a lot of different minimalist styles and designs to choose from—for example, rustic, wooden, trendy, metal accents, sleek, modern, glass, Scandinavian, and so on.
Pay attention to the color and style of your other living room furniture to pick the right match.
Don't forget about harmonizing the furniture legs too.
Storage: Lift top coffee tables are excellent if you plan to work on your couch or eat there.
You can also go for a design with extra shelves or secret storage.
Consider whether it's important to you that your coffee table has storage space or a liftable top.
Color and materials: What color is your couch? And your TV console? Are you planning to get a rug? What about wall decor?
These questions might not seem related to choosing the best minimalist coffee table, but they are!
Your other living room furniture determines whether you can best pick a coffee table in a solid color or a more dynamic design.
Remember that darker tables look cozier, but light tables open up your space. What's best depends on the whole picture.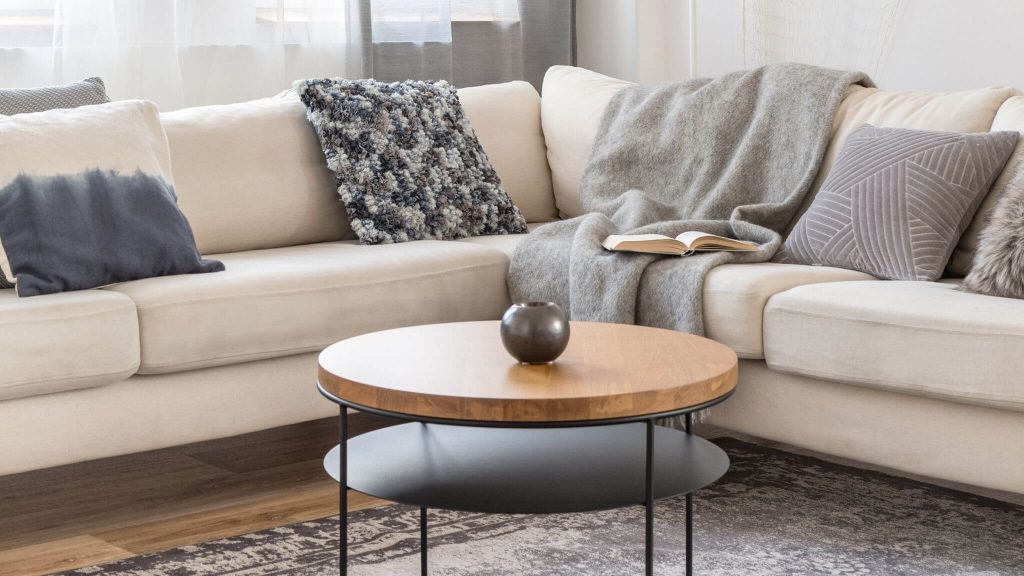 Round coffee tables look great with sectionals!
1. HAIOOU Coffee Table with drawer and storage

This coffee table design is equal parts minimalist and style. It has a sleek shape, a drawer, and extra storage space. This one is an excellent choice if you're looking for a modern minimalist coffee table. Adding wood to a minimalist living room creates warmth & ambiance.
Key features:
Retro brown wooden color
21.7″D x 41.3″W x 17.7″H
Very sturdy coffee table with a sleek design
It complements a gray couch
"Exactly what I was looking for, a nice beautiful coffee table. Very easy to install and very firm, not like IKEA stuff. I love it."

– james
2. Sauder North Avenue Oak Coffee Table

Regarding budget-friendliness and versatility, the Sauder North Avenue Oak coffee table wins! Customer reviews point out the great quality and sturdiness. Also, this table looks a lot more expensive than it is.
Key features:
Charter oak finish and metal
20″D x 31.5″W x 16.54″H
Design complements a minimalist living room
Perfect for small apartments, according to customer reviews on Amazon:
"I tend to read multiple reviews before I purchase an item and many have said that the table is quite small. It is smaller than I expected it to be, for sure, but it actually worked to my advantage because my apartment is also small. It actually makes my small living quarters look much more spacious."

– Alexis
3. Best Choice Products 36in Modern Round Tempered Glass Table

According to science, circular shapes make you feel more calm and peaceful!
A round coffee table softens your space and creates a nice balance with rectangle-shaped furniture.
I included this minimalist round coffee table because it would look incredible in many living rooms and color schemes.
Key features:
Versatile round table with black metal frame and glass
35″D x 35″W x 19″H
Sturdy and perfect for apartment living rooms
"LOVE it! We were looking for a round, glass top table to make the most of our tiny Brooklyn living room and this exceeded my expectations! The price is amazing and I sort of thought it may be too good to be true but it's very sturdy! My boyfriend and I put it together in about 10 minutes but I think I could have easily done everything but putting the glass top on (it's heavy)."

– lauren
4. IBF Rustic Wood and Metal Coffee Table

The rustic and minimalist features of this table go exceptionally well together.
This coffee table is simple, sturdy, and well put together.
The gray/brown oak is versatile and would look great with neutrals or other furniture with brown tones.
Key features:
Gray oak and black metal
Rustic and minimalist wood coffee table
23.26″D x 47.24″W x 18.3″H
Space for storage underneath
"This is a coffee table that will stand up to the grandchildren–trucks rolling across it, cups placed on it without coasters, lots of coloring. We also have some small chairs for the children and they fit under it for game playing time. The top is a little bit rough-textured, so when the children color, we just put a book or extra paper under their sheet so the texture doesn't show up in their picture. Super easy to put together."

– MDB
5. Walker Edison Anastasia Modern Metal Wrap Coffee Table

The metal wrap-around style and dark wood make for a unique coffee table!
This minimalist table is on the smaller side and would be a good choice if living in a small apartment.
Key features:
Rustic oak color
30.63″D x 30.63″W x 17″H
"Love the combination of wood and iron, it fits in so well with my light oak furniture and floor."

– Judith
6. Nathan James Hazel Mid-Century White Wood Tray Top Coffee Table with Narrow Cone Legs

If you're going for a light and airy aesthetic in your living room, a white minimalist coffee table will help you achieve that. Although this table has an effortless design, the tray and rectangle shape makes it unique and practical.
Key features:
Simple and sophisticated design
21″D x 41″W x 17″H
Convenient tray top that's perfect for coffee table decor
Made from rubberwood and wood laminate
What customers say about this white minimalist coffee table
I was hesitant to purchase this because of the price point- I have learned too many times that you pay for what you get. It's also super hard to find a clean-lined coffee table that isn't $300-500. I took a chance and am so glad we made this purchase. This table fits perfectly in our office/playroom and complements our mix or design styles (modern and traditional). It also took about 90 seconds to unpack and set up. It was so easy to assemble. We have been propping our feet up on it (unintentionally of course) and the sturdiness is top notch. This table is a great value for the money and all-around solid purchase!

– mark
7. Walker Edison Cora Marble Top Coffee Table

If you're looking for a minimalist coffee table with a bit of extra something, this one with a marble top and gold frame is it.
This style looks incredible in neutral living rooms with muted and calm colors.
Pro tip: this coffee table would look amazing with a jute rug.
Key features:
Faux marble top made from durable material
19" H x 36" D x 36" L
Matte gold frame
Customer review of this marble-top coffee table:
"I am super pleased with this table, it looks beautiful, the marble doesn't look tacky and it only took 5 minutes to put together! It's exactly what I wanted, in love!"

– Ashley
8. SAYGOER Small Square Black Coffee Table

This modern square coffee table will tie your seating area together! It's on the lower side, 15″, so make sure that it works with your living room aesthetic.
It's a compact table that works in small spaces. A black metal coffee table is a little cold, so make sure you balance it with some cute decor.
For example, faux eucalyptus stems in a clear vase.
Key features:
Made from tempered glass and black metal
27.6″D x 27.6″W x 15.7″H
What people say about this black minimalist coffee table:
"Good modern-looking coffee table. It's a bit low, but that was the height we were looking for. I would give it 5 stars if it was just a bit bigger, but it's a good size for small spaces."

– jamie
9. Nathan James Paloma 2-Tier Coffee Table

Key features:
Dark oak and matte black
Modern & minimalist design
32″D x 32″W x 18″H
A minimalist coffee table with a twist.
This round Nathan & James table has a cool edge, bottom shelf for storage, and versatile dark oak color.
Customer review of this table:
"Favorite coffee table hands down! Easy to assemble, sturdy, and super cute in our space!"

– devin
10. Nathan James Asher Mid-Century Rectangle Coffee

The combo of gold, glass, wood, and storage space immediately stands out about this table while still being a simple and minimalist coffee table.
I know, it sounds almost impossible! This table looks super high-end but is not expensive at all.
Customer review of this table:
"Hands down one of my favorite purchases on Amazon! When it comes to putting anything together let alone furniture, I was worried but for me, it was super easy to assemble. The color of the wood went perfectly with my decor! Loved it so much, would buy again!"

– rachelle
11. Nathan James Piper Faux White Marble Round Modern Coffee Table

Marble is a texture that adds an exciting touch to your living room without being overwhelming.
This coffee table combines an industrial metal frame with a minimalist marble top.
Key features:
Functional, modern, and minimalist design
36.5″D x 36.5″W x 18″H
Easy assembly
"The perfect coffee table! It is made really well & looks just like real marble. I also like how it is easy to move around & not heavy/bulky. I can also easily clean it after any mess gets on it. Definitely recommend!"

– joe
12. Rolanstar Lift Top Coffee Table with Storage and Rattan Baskets

A coffee table with a liftable top and storage space is incredible in smaller areas.
However, not all of these lift-top tables are made equally. Sturdiness is crucial!!
I've done my research, and this table passes the test of sturdiness and durability. The sleek and straightforward design is a beautiful addition to any minimalist living room.
Key features:
Minimalist rectangle design in espresso color
Sturdy liftable top
41.7″D x 19.7″W x 18.6″H
Includes two storage boxes
Sturdy liftable top, according to customer reviews of this table:
"My husband has repeatedly told me that this is the best investment we've ever made. Easy assembly, lots of storage space, very sturdy, doesn't wobble even when our cats jump on and off. Low profile, my husband was doubtful that there was space for a coffee table in the living room but, like I said, he loves it and thinks it fits perfectly. Saves us the trouble of pulling tv trays out every time we want to watch a show with dinner."

– kelly
13. WELLAND Rustic Square Old Elm Coffee Table

This table combines minimalist and trendy, with unique metal legs and a wooden top. It's compact, small, and 16″ in height, on the lower side.
Key features:
Square minimalist coffee table with metal legs
27″D x 27″W x 16″H
Made from solid reclaimed elm
What customers say about this coffee table:
Love it! It is a bit small, but works perfect with our sectional. I found it extremely easy to put together. I used a power drill and I had it completed in about 5 mins. Super cute table. Nice solid wood top.

– Debbie
14. Small Acrylic Coffee table 32 inch

Acrylic tables are the ultimate minimalist design.
Because of its see-through quality, this table is fantastic for small spaces like studios or NYC apartments!
You must choose a quality item with clear acrylic tables because you don't want the material to look cheap. This acrylic table has a fair price point and an excellent 4.8 amazon rating.
Key features:
Made from thick transparent raw acrylic sheet material
16″D x 32″W x 16″H (sleek and low)
No assembly
Customer review of this clear acrylic table:
"We have a small NYC apartment and needed a coffee table that wouldn't feel too "heavy" in the room. This one is perfect! It looks beautiful and has been very durable. And I love that it doesn't have sharp corners for my baby! I would buy this table or other items from this seller again! Shipping was a little slow (my item actually showed up 2 days late), but it was worth it!"

– chloe
15. GreenForest Black Coffee Table with Industrial Metal Frame and Open Storage Shelf

This simple black coffee table is an excellent addition to any living room, big or small.
If your couch and other furniture are neutrals, this table strikes a great balance.
Combine the black table with a creme-colored printed rug for contrast.
Key features:
Waterproof and scratch resistant
Minimalist and masculine design
21.46″D x 39.37″W x 17.7″H
Easy to assemble
The coffee table is extremely high quality and looks just as nice as a coffee table you might buy at a higher end furniture store. It is solid and easy to put together. I have bought coffee tables from big retail chains for the same price but their construction was much less solid. I would highly recommend this coffee table if you are looking for a minimal modern look.

– Amazon customer
16. Nnewvante Coffee Table Foldable Bamboo Cocktail Table

This bamboo minimalist coffee table proves that furniture can be stylish and practical!
Believe it or not, this table is foldable and reduced to nothing in moments.
This is it if you live in a small space or just like the idea of a foldable coffee table.
Key features:
Foldable with shelf
19.7″D x 38.6″W x 15.7″H
Bamboo, Scandinavian and Minimalist design
I purchased this table for my niece for her 1st apartment moving out of her dorm. She is thrilled with the color and the fact that it is bamboo! We bought the end tables as well. It went together literally in 60 seconds!! It does not weigh a ton, but is sturdy enough. The second shelf option is very nice for versatility! I am sure she will have this for a few years!

– jayal
17. Household Essentials Grey Top Black Frame Ashwood Round Coffee Table

It's round, compact, and stylish: this coffee table from Household Essentials matches any living room color scheme.
This is the ultimate minimalist coffee table for small spaces.
Key features:
Ashwood top with black frame
Laminate top for easy cleaning
31.5″D x 31.5″W x 16″H
"I bought the coffee table and side table. Each took only 10 mins to put together and I'm amazed at the quality for such a low price. They seem durable so far! You can't normally buy just one coffee table for this price at a regular store! Def recommend!"

– megan
18. Henn&Hart Modern Geometric-Inspired Glass Coffee Table Nickel

This table has a unique and minimalist design with a glass top in stunning satin nickel color.
It's not quite silver, though! It has double shelves, perfect for storing things like books and remotes.
Key features:
Low coffee table (also called cocktail table)
Unique satin nickel color
45″D x 20″W x 17″H
I just received and built this table today! I absolutely love it. The reviews are right about it not being completely silver. It's more between a silver and gold but I still love the color. I built this by myself in about 25 minutes. Would definitely recommend!

– Stacey
Living room without coffee table: minimalist alternatives
In some living rooms, a coffee table is not the best choice. Maybe your living room is tiny, or you prefer to keep open space.
There are a couple of great coffee table alternatives that are worth considering.
If your concern is space, you could opt for a small side table or a foldable coffee table instead.
Another option is an ottoman pouf that you can quickly move around as you please.
Let's look at some minimalist alternatives to coffee tables.
Minimalist side table with storage basket
Use this side table with a storage basket instead of a coffee table.
It has enough space to store books, magazines, and remotes, yet it doesn't nearly take up as much space as a coffee table.
Small foldable side table

Opt for a small foldable side table that you can put away when you're not using it.
This black minimalist table is versatile and super easy to use.
Simple industrial end table

End tables are essentially a smaller version of a coffee table.
This industrial minimalist design has two small storage shelves for books and other things.
C-shaped end table

This c-shaped table is an excellent coffee table alternative to keeping snacks or a book.
Its shape allows you to slide the table under your couch, making it the ultimate space saver.
If you have a narrow living room, you can use a table like this instead of a coffee table.
Ottoman stool

A firm ottoman stool can be used as a footrest, seat, or coffee table. Use a tray to place your snacks or drinks on the ottoman.
Multipurpose furniture like this is ideal in smaller spaces. It also makes your seating area look more put-together and cozy.
Wooden stool

Use a simple stool like this as a footrest or snack table.
I have a similar stool next to my lounge chair to keep books on (and my morning coffee!)
Minimalist ottoman
Combine an ottoman with your minimalist coffee table for an elevated look. This accent ottoman is made by Ashley Furniture and is a beautiful addition to any neutral living room with a minimalist aesthetic.
Minimalist coffee table books
A minimalist coffee book can mean two things: the cover has a neutral, minimalist aesthetic, or its content is about minimalism!
Simple, neutral coffee table books like this are a great way to add decor to your table.
Concluding
This post showed you the 18 best minimalist coffee tables in different styles and designs!
Coffee tables (or their alternatives) are essential in any living room.
Whether you go for something wooden, rustic, marble, or gold, there are many ways to style a coffee table in your space.
I hope this buying guide was super helpful!
This post showed you the best minimalist coffee table ideas.
You may also like: