This post shows you the best ways to decorate a coffee table.
If you're looking for easy and fail-proof ways to decorate your coffee, you've come to the right place.
A great formula to decorate a coffee table is to start with a tray.
You can go for either a round or rectangle one. Or any shape you wish basically, haha!
Then you can decorate the tray with things like a vase, greenery, a candle, and some decorative items that are meaningful to you.
Anyways, let's look at the examples!!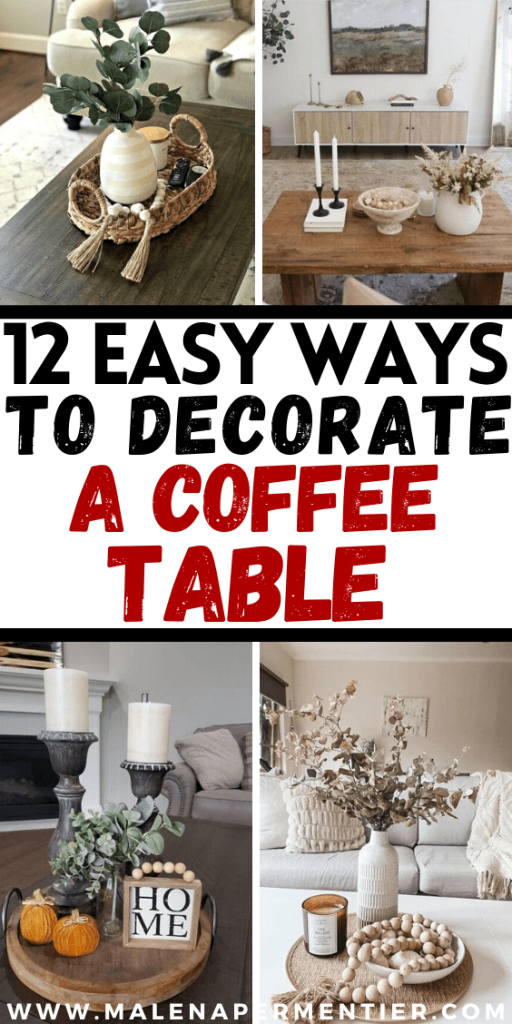 12 ways to decorate a coffee table
1. Add a centerpiece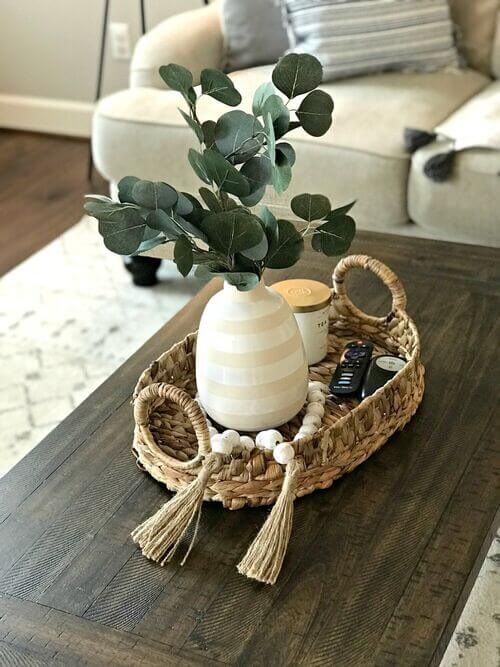 If you want to keep your coffee table decor simple and centered, a centerpiece is the way to go!
You can use any tray you like to make a centerpiece. This woven tray is great for a rustic farmhouse feel.
You can also complement the hardware in your living room with a metal or brass tray.
2. Arrange coffee table books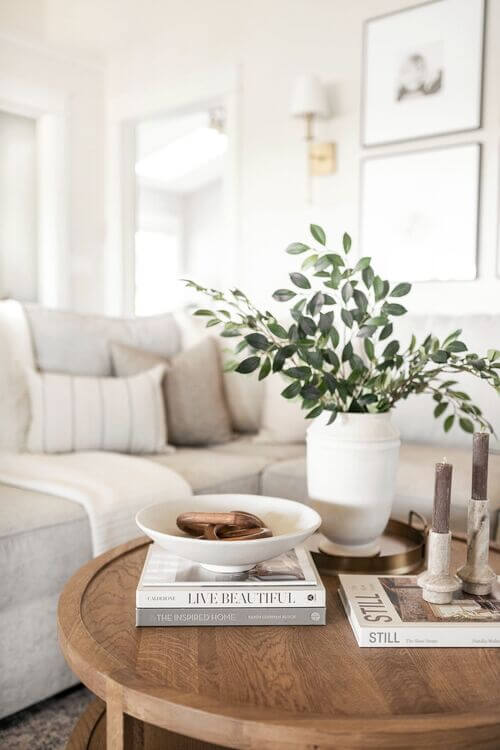 Books are a beautiful and timeless coffee table decor.
Use books you already have or stack your favorite coffee table books aesthetically alongside one another.
I'd always recommend to pick books that are close to your heart! You sit here everyday, so you want it to be meaningful.
3. Create fun decorative accents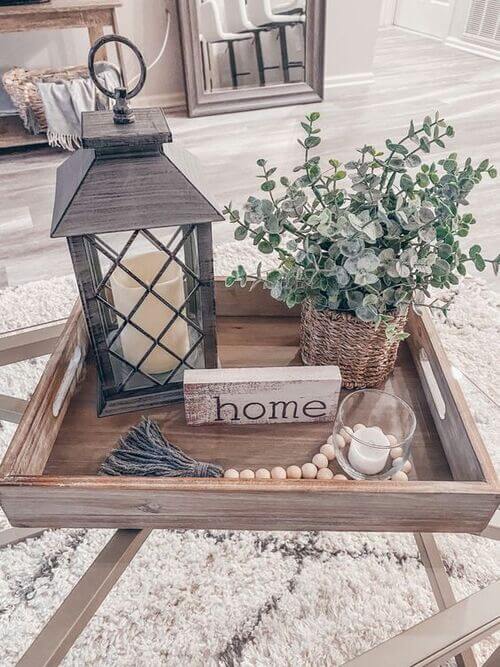 You can make your coffee table look more exciting with decorative accents.
Think of lanterns, a cute farmhouse sign, a wood bead garland, or a cute small plant.
Arrange these 'random' items together on a tray – et voila, you have some beautiful and personal coffee table decor.
4. Style your coffee table with accessories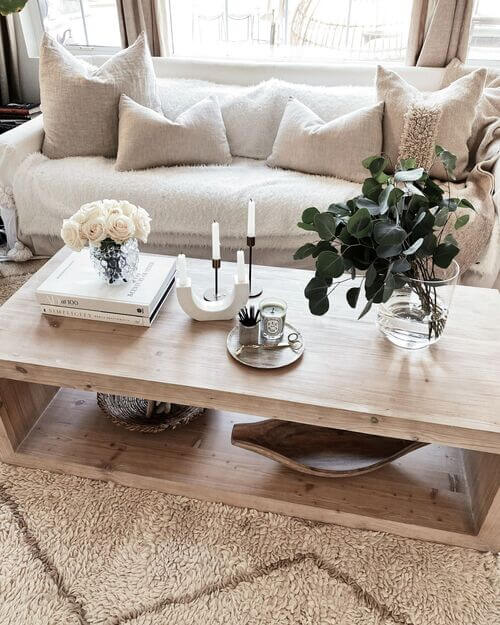 A beautiful candle holder or large vase can really set the tone for your coffee table.
If your coffee table has a rectangular shape, you will have plenty of space to add decorative accents to your table.
A favorite of mine is eucalyptus stems arranged in a clear vase. So simple yet so stylish.
5. Use a tray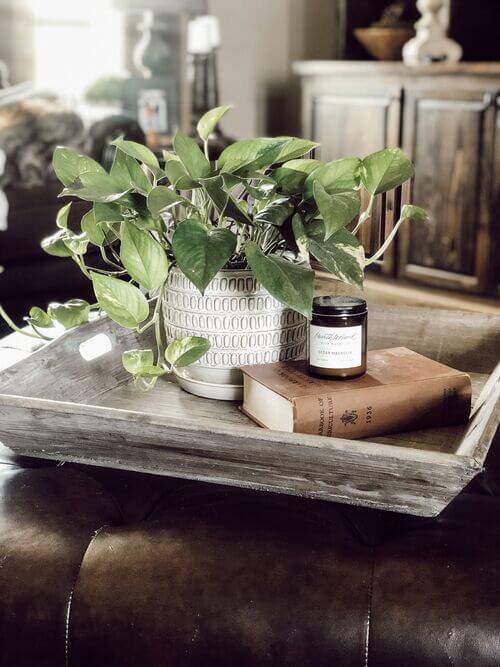 Trays are great versatile pieces to have on your coffee table.
They also allow you to switch up your coffee table decor every once in a while.
Go for a rustic farmhouse type of tray for a beautiful lived in look.
6. Make a centerpiece with pampas grass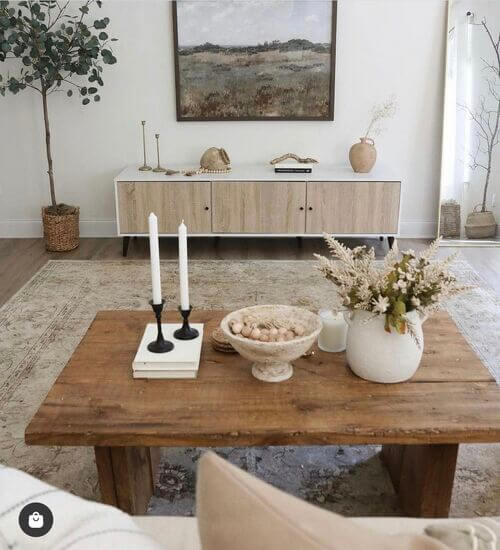 Fill your coffee table vase with dried greenery! We can't always get fresh flowers, so this is a great way to change it up.
I also think dried greenery like pampas grass looks amazing in the fall.
7. Play with scale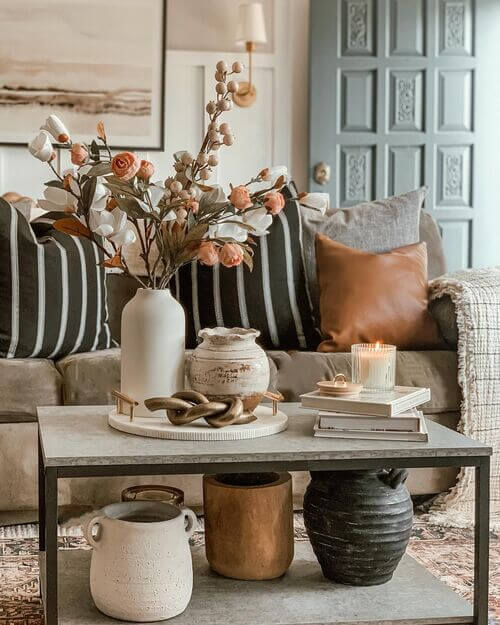 Make your coffee table decor look balanced and amazing by playing with scale.
What does that mean? Make sure that you decorate your coffee table with decor items that vary in size!
For example, a tall vase with greenery, and then other items with varying heights and shapes.
8. Go for a farmhouse theme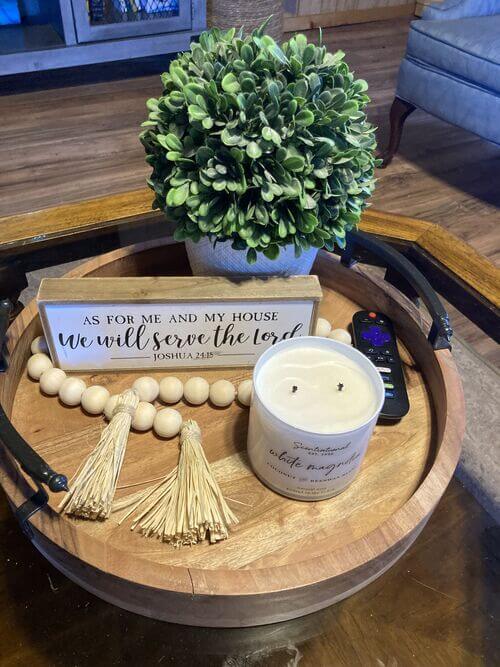 I feel like farmhouse coffee table decor is some of the most fun ways to decorate!
There are just so many cute decorative items, like wood bead garlands and cute signs.
9. Use seasonal accents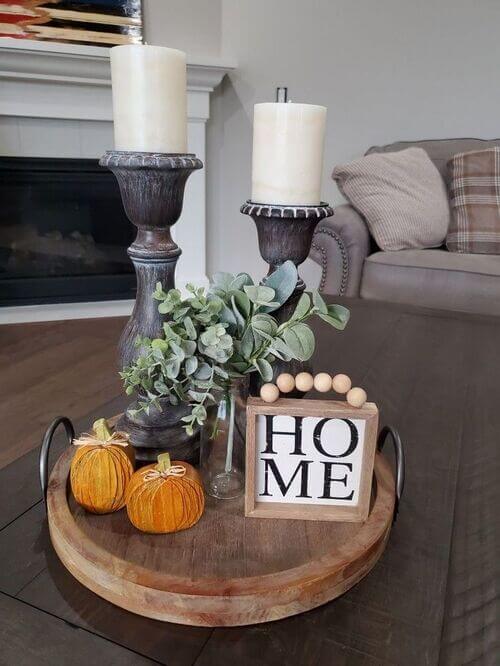 A coffee table is a great spot to add some seasonal decor.
This doesn't have to be anything big or expensive.
For fall, you can add some cute velvet pumpkins. Easter time asks for cute ceramic bunnies.
10. Consider the size of your coffee table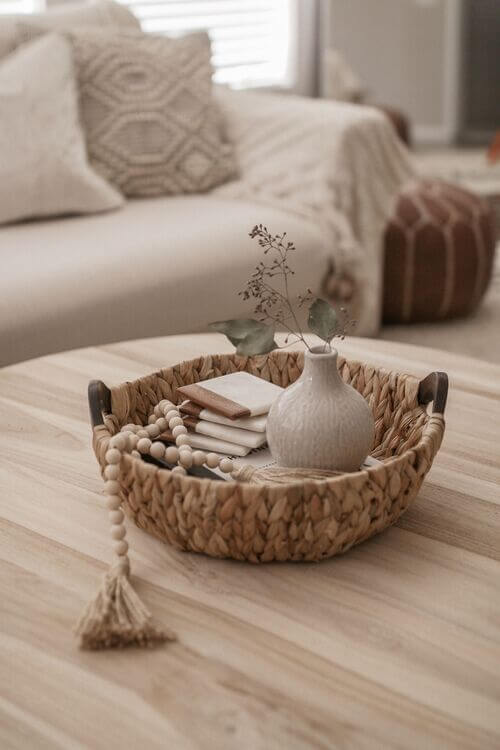 Get decor that fits the size of your coffee table!
Also, if you're someone who likes to work at their coffee table or have your tea set-up there, it's good to consider that when deciding what kind of decor you want on your coffee table.
Want plenty of space around the edges? Then a simply woven tray in the middle with decorative items will suffice.
11. Natural dried greenery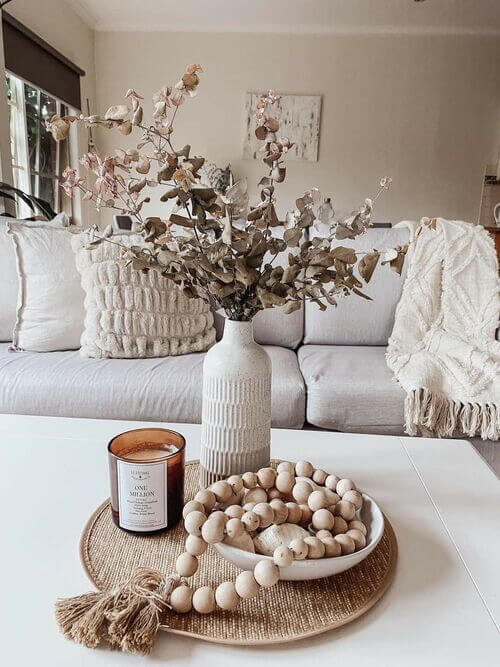 Natural dried greenery can look super chic and full of character.
Decorate and layer your coffee table decor with all neutral accents! when you pick different textures, it will look elegant and rich.
12. Centerpiece for glass coffee table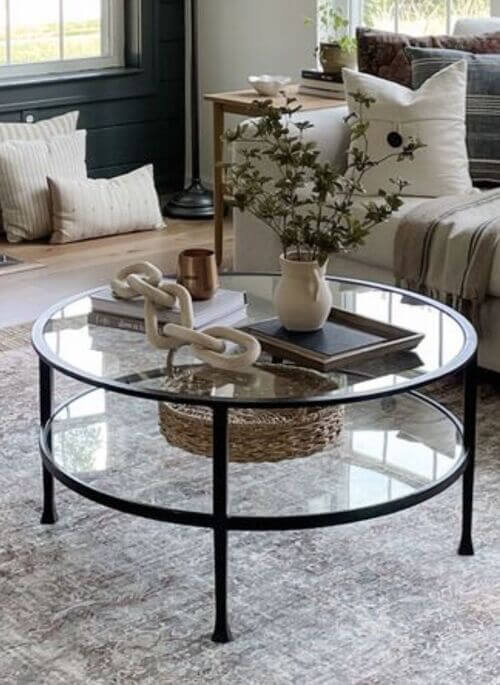 Glass coffee tables can add an extra fun dimension to your decor.
Decorate two different sides of your coffee table and connect them with a decorative chain link.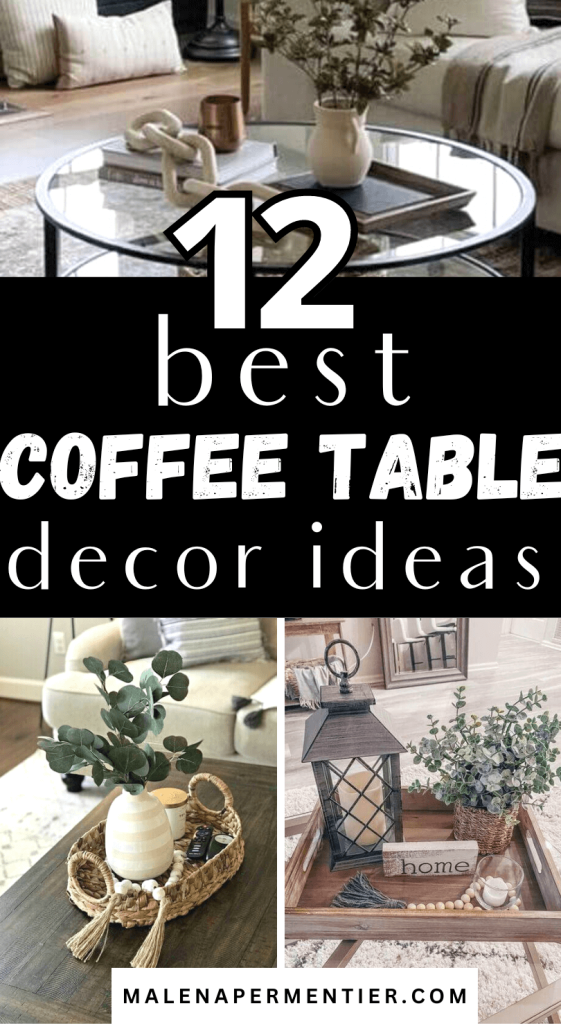 This post showed you the best ways to decorate a coffee table.
You may also like: