*This post may contain affiliate links, which means I'll receive a commission if you purchase through my link, at no extra cost to you.
This post shows you the Best Amazon Prime Day Furniture Deals.
Amazon Prime Day is a HUGE annual sale where they put 100.000+ items on sale for two days.
I'm an Amazon Prime member, and I love using my membership for deals that are ACTUALLY worth it. Haha.
No, but seriously, there have been so many 'deals' and 'sales' that don't live up to the hype in the past few years.
Best Deals Amazon Prime Day June 21 and June 22
How to get a free Amazon Prime Account To Take Advantage of Prime Day Deals

EVERYONE: Amazon Prime offers a free 30-day trial. That way, you can benefit from all the prime deals without paying for a membership. You can stop the membership at any time. No weird stuff there, I tested!

Click here to sign up for a FREE 30-day Amazon Prime trial.

STUDENTS: Amazon Prime offers a FREE six-month trial for anyone with a valid .edu address (college and high school students).

Click here to sign up for a FREE Amazon Prime Student account.
Reclaimed wood coffee table – Deal Starts at 2:00 am on 6/21

Metal Side Table – Deal Starts at 2:00 am on 6/21

Wood Tray Coffee Table – Deal Starts at 2:00 am on 6/21

Simple Gorgeous Drawer Dresser – Deal Starts at 2:00 am on 6/21

Gold and White small desk – Deal Starts at 2:00 am on 6/21

The Best Sheet Set – Deal Starts at 6:00 pm on 6/21

Under shelf wire basket – Deal Starts at 2:00 am on 6/21

Best Kitchen Utensils Set – Deal Starts at 2:00 am on 6/21

Stunning Upholstered Bed – BEST Deal!! Deal Starts at 2:00 am on 6/21

Extra Thick Mattress Topper – Deal Starts at 7:35 am on 6/21

Modern dresser – Deal Starts at 2:00 am on 6/21

Walnut bookshelf – Deal Starts at 2:00 am on 6/21

Set of 2 nightstands – Deal Starts at 2:00 am on 6/21

Tall dresser – Deal Starts at 2:00 am on 6/21

Perfect Simple Side Table – Deal Starts at 2:00 am on 6/21

Cozy rug – Deal Starts at 2:00 am on 6/21

Under-cabinet organizer – Deal Starts at 2:00 am on 6/21

29 Best Amazon Prime Day Furniture Deals
If you're moving into a new apartment, now is the time to get your things and save a ton of money.
I used Prime day to get a lot of things for my apartment. An extra duvet, a new coffee table, living room decor, and kitchen utensils, to name a few.
Besides the furniture deals above, Amazon seems to have discounted a ton of other furniture and decor. I'm not sure how long it lasts, but I strongly recommend to check out the below deals as well.
I handpicked these items because 1) I have some of them and I LOVE. 2) The reviews + quality of the product are insane and 3) All of these items have a SIGNIFICANT discount.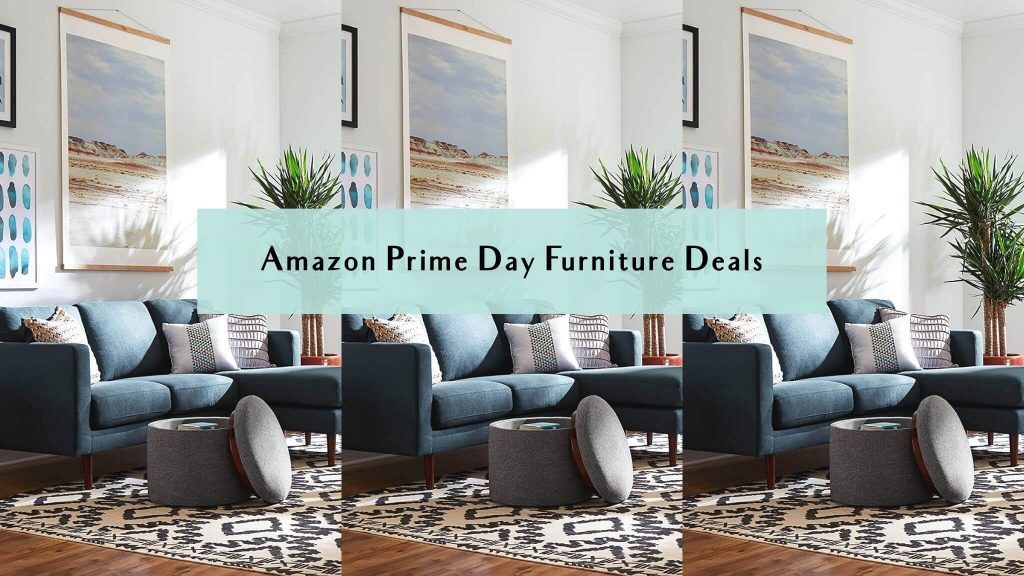 Get a Free Amazon Prime Membership for Prime Day 2021
This year, Amazon Prime Day is on June 21 starting at midnight (Pacific time). Get ready to buy because things sell out FAST!
Don't worry; if you're not an Amazon Prime member, you can get a FREE 30-day trial. Or, if you're a student, a FREE six-month student trial.
Because I can see all the Prime day deals early, I thought I'd share so you can make the most of it!
To prepare for Prime Day, make sure you are an Amazon Prime Member.
Amazon Prime Day Furniture Deals 2021 – Living Room
Amazon does a few furniture items exceptionally well AND affordable, which are: coffee tables, side tables, accent chairs, and cheap rugs. Below I'm listing the best living room deals for Amazon Prime Day.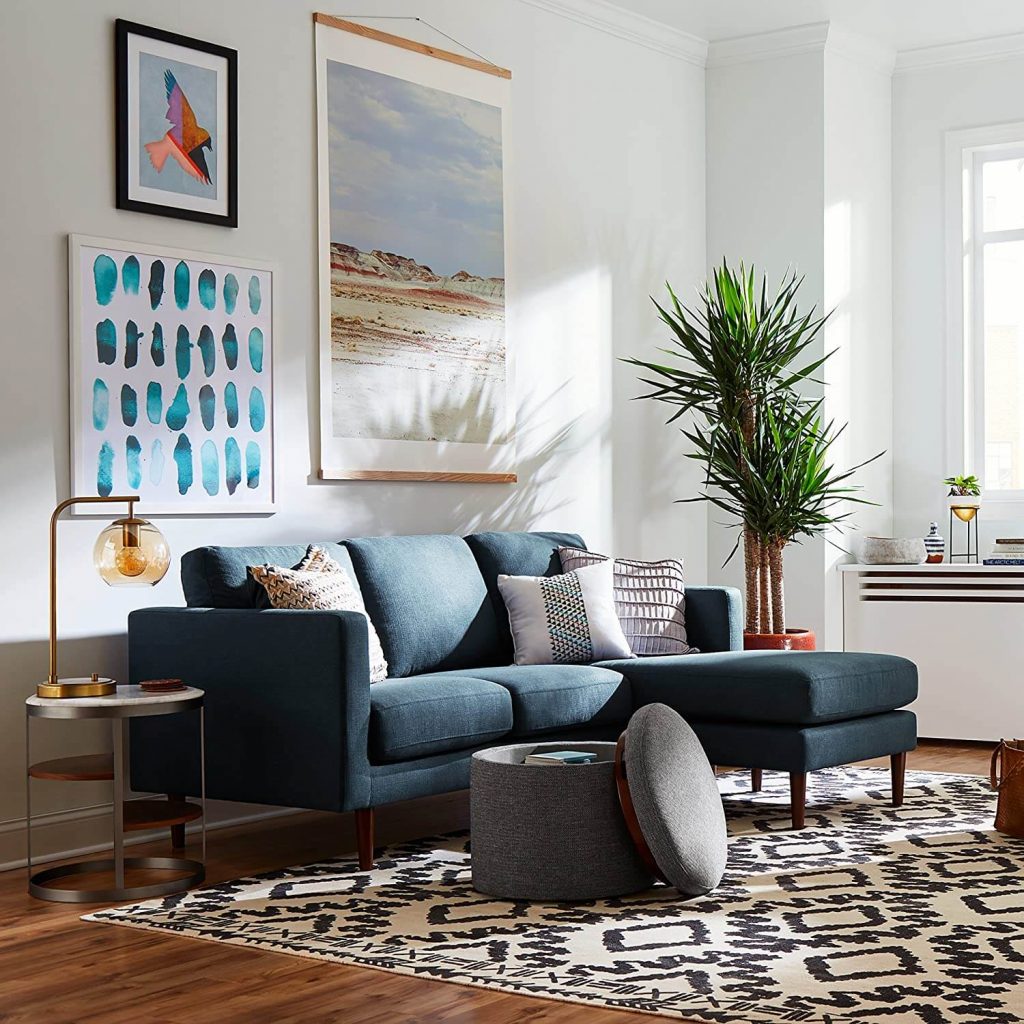 1. Metal and Oak coffee table
A super versatile coffee table that is solid and looks expensive while it's ABSOLUTELY not. This coffee table looks great in just about any apartment aesthetic.

2. Tiny Gold and Marble Side Table
A tiny side table for snacks and tea!! This one is super mobile, so you can move it out of the way when you don't need it. Small apartment living people will know what I'm talking about.

This side table also comes in black and wood – which for some reason is even cheaper!

3. Modern Farmhouse TV Table
This TV table in farmhouse aesthetic works perfectly in small apartments because it's sleek and even has some storage space. I love the open space in the middle for some intentional decor.

4. Gold bar cart
There's something about gold bar carts that has me obsessed. It looks super classy and creates a special little corner in your apartment. I was honestly surprised how affordable this gold bar cart is, and it's even better with the current discount.

5. Velvet decorative pillows
These luxurious velvet decorative pillows come in a ton of different colors. They are insanely affordable and I love how you can mix and match colors for your apartment aesthetic.

6. Gray Area Rug
Rugs are a tricky thing! First of all, the right size is crucial. You don't want to go too small for the room. Second of all, rugs are often expensive. However, I found that this gray vintage rug ticks all the right boxes, which come in many different sizes.
Want to read more about rug placement? In this apartment living room post, you find some great rug placement tips and ideas.

7. Boho print rug
If you want to add a fun accent to your living room, this boho print area rug is a great choice. You can also use it to layer over a neutral larger rug.
When buying rugs on Amazon, my best tip is to look at the customer's pictures of the rug. It gives you a very accurate idea of the quality and style.

8. Super trendy walnut accent chair
These walnut accent chairs are SO stylish, and only a fraction of the price of 'real' designer chairs. This chair comes in five different colors, but I love this one in brown and charcoal the most. There's also a charcoal/black one which is probably the most versatile.

9. Storage ottoman pouf
Ottoman poufs with storage are truly live savers in small apartments. They're cozy, add a nice touch to your living room, create extra seating AND give you some extra storage space for books and magazines.

10. Small gray sofa
The Amazon brand does a few things very well, and small sofa's is one of them!! This small gray sofa is an affordable and stylish looking option for small living rooms. Plus, the four different color options are insanely good.

11. Entry Table
This entry table honestly doesn't look different from the $500 West Elm entry tables, but it's so much cheaper. The thin metal legs and sleek shape make this entry table a great choice for small spaces.

Amazon Prime Day Furniture Deals 2021 – Bedroom
Bedroom furniture is EXPENSIVE, so Amazon Prime Day is a great time to take advantage of deals. Things I have from Amazon: their insanely fluffy and soft mattress topper, a duvet, and silk pillowcases.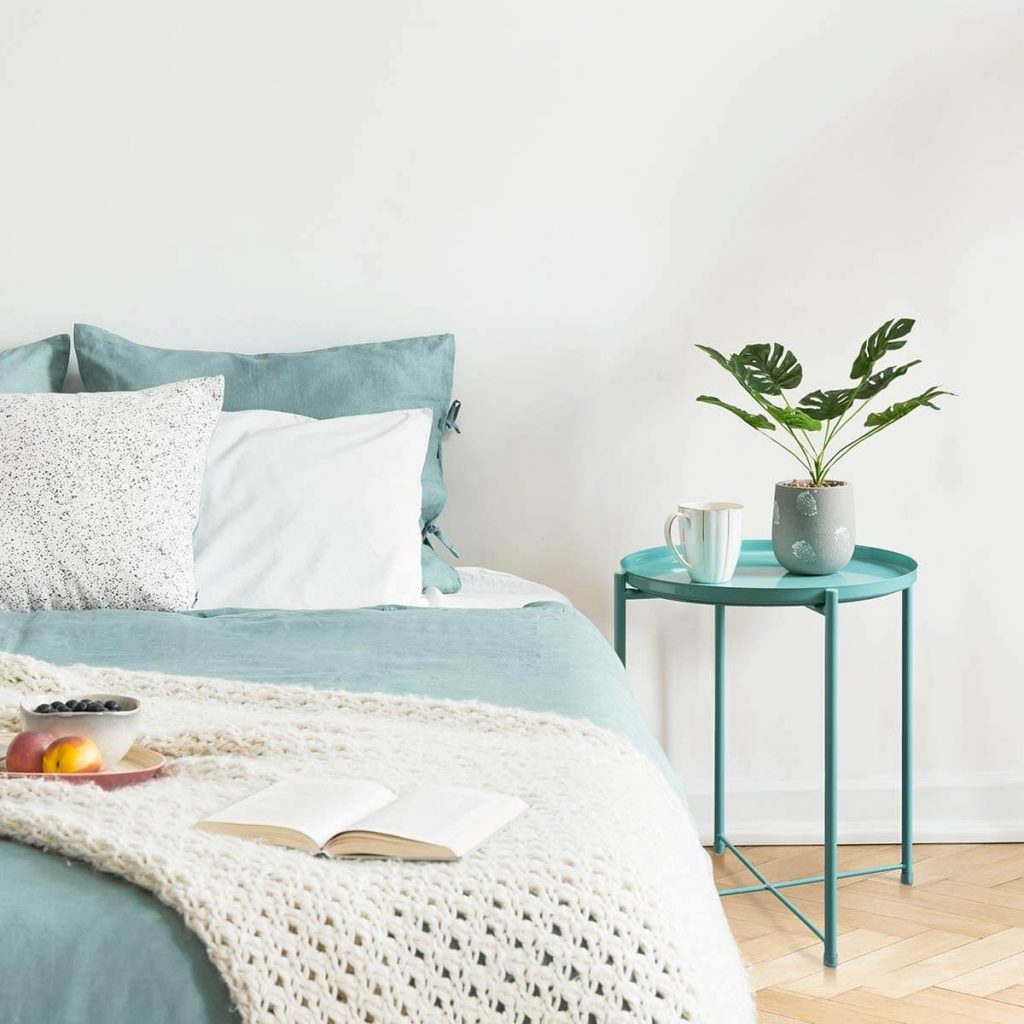 12. Stylish black headboard
This black headboard is perfect for those who love a classic aesthetic in their bedroom. This one comes in a few other colors, but black is by far the best looking one in my opinion.

13. Silk pillowcases
In case you want to add some extra luxury to your bedroom… these silk pillow cases are your pal. I love that they're insanely affordable and the color options are gorgeous.

14. Metal bed frame with storage space
In a small bedroom, I'd always recommend going for a bed frame that allows for storage space underneath. This genius metal bedframe does exactly that. Use the space to store seasonal clothing or things you don't need every day.

15. Extra thick mattress topper
This is by far the best trick to make a cheap mattress feel like a hotel bed. We might all be wasting our money on an insanely expensive mattress when there's this 🙂

16. Small bedroom desk
Whether you're living with roommates or just want to create a cloffice, a small bedroom desk is essential! This one is small, insanely budget-friendly, and stylish.

17. Insanely affordable fluffy rug
Suuuper affordable fluffy rug alert!! It's totally understandable if you don't want to spend over $50 on a bedroom rug, and this fluffy rug delivers. Must check out if you're looking for a cheap but very cute rug.

18. Tall bookshelf
Making the most of vertical space in your apartment is essential if you have limited space. And even if you have plenty of space, this bookshelf is simply adorable. Dark wood and metal works amazing if your furniture is mostly neutrals.

Amazon Prime Day Furniture Deals 2021 – Apartment Decor
Let's look at the best Amazon Prime Day Home Decor Deals. Apartment Decor doesn't have to be expensive, but we often make it so, haha! Below I've included some great timeless apartment decor ideas that look good in any space.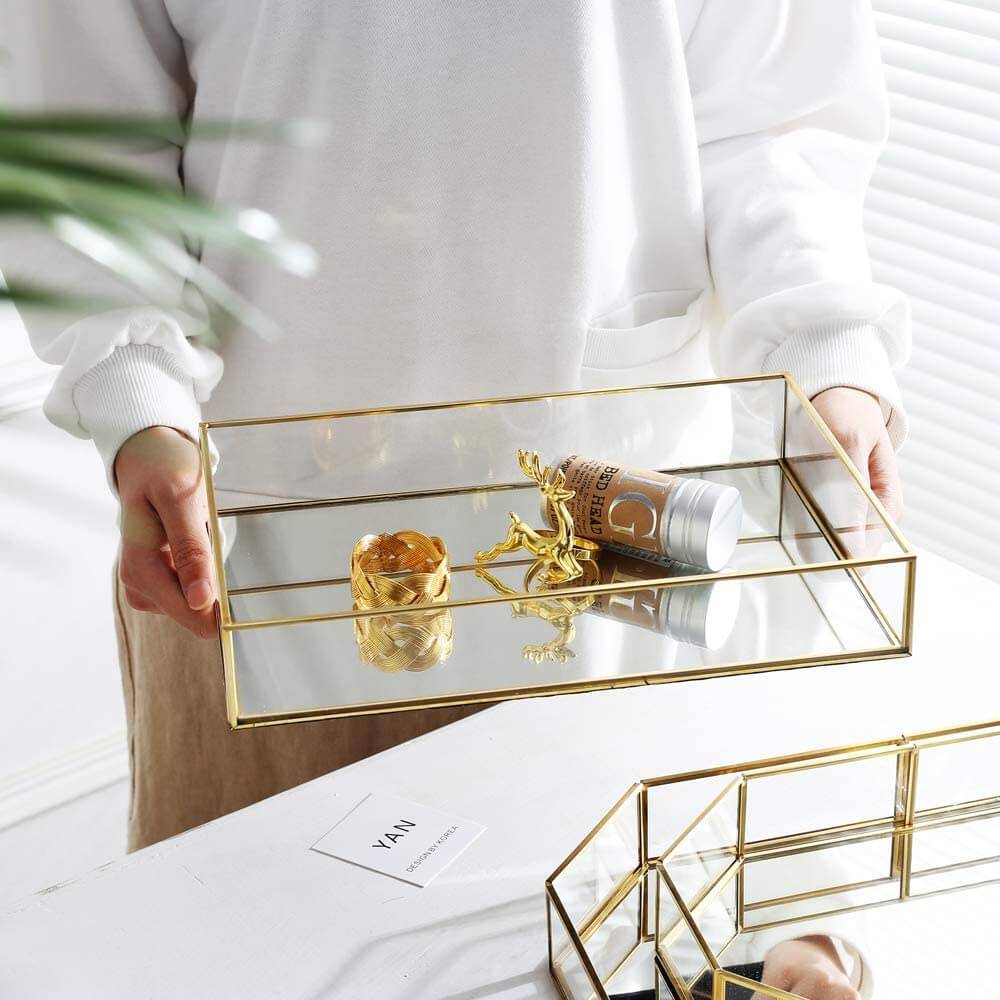 19. Small accent table
These small accent tables are so versatile I had to include them. The pop of color elevates your decor; use it as a nightstand, side table, or little decor spot.

20. Ceramic planter pots
Expensive looking ceramic planter pots, count me in! These ones are so subtle yet so stylish. Perfect for bedroom or living room decor.

21. Decorative tray
Decorative trays are great for keeping jewelry or styling your coffee table. Basically, there always is a purpose for pretty little things like this.

22. Moon wall decor
Moon wall decor to brighten up any boring spot: hang it above your desk, bedroom, seating area or anywhere else you see fit. You hang it either horizontal or vertical; which makes it super versatile. If you're someone who likes to change things around in their apartment, these things are great.

23. Walnut gallery wall set
A (small) gallery wall looks great in any apartment. This walnut gallery wall set has 7 frames in different sizes and a ton of different options to hang them. I really like gallery walls above the couch or on a bedroom wall.

24. Money tree
Money trees are super cute and easy to take care of plants. Plus, they are said to bring prosperity to the owners of the plant. So buy one for yourself, or give it to someone as a super cute first apartment gift!

25. Flower diffuser
Scents make a home feel so much more… homey! Haha. This aromatherapy diffuser also happens to be super cute to look at.

26. Minimal art
Minimal art is my favorite because it doesn't overwhelm your space. This is something to keep in mind if you live in a small apartment. Either go for one big piece of art, for example, above the couch, or go for smaller frames with simple art.

27. Gold round mirror
A round mirror is always good. I actually keep finding new and better ones so I'm constantly tempted to upgrade the ones that I already have haha. This gold round mirror is a classic and would look great above the wall next to your dining table or at the entry.

28. Unique wine glasses
Amazon Prime day is THE time to buy luxurious things that you wouldn't usually permit yourself to buy. These unique wine glasses come in a set of 4, and they'd look SO good on that gold bar cart with a vintage look that I showed you earlier.

29. Bartender set
Another one of those things that is not a necessity, yet so cute to have. This bartender set is so so stylish, and would look great exposed on your bar cart.

This post showed you the Best Amazon Prime Day Furniture Deals
I've made sure ONLY to include furniture and decor that actually have decent discounts.

I'll be updating this page when Amazon publishes more Prime Day Furniture Deals on the 21st and 22nd.
HAPPY SHOPPING!! 🙂
You may also like: