This post shows you everything you need for your dorm room!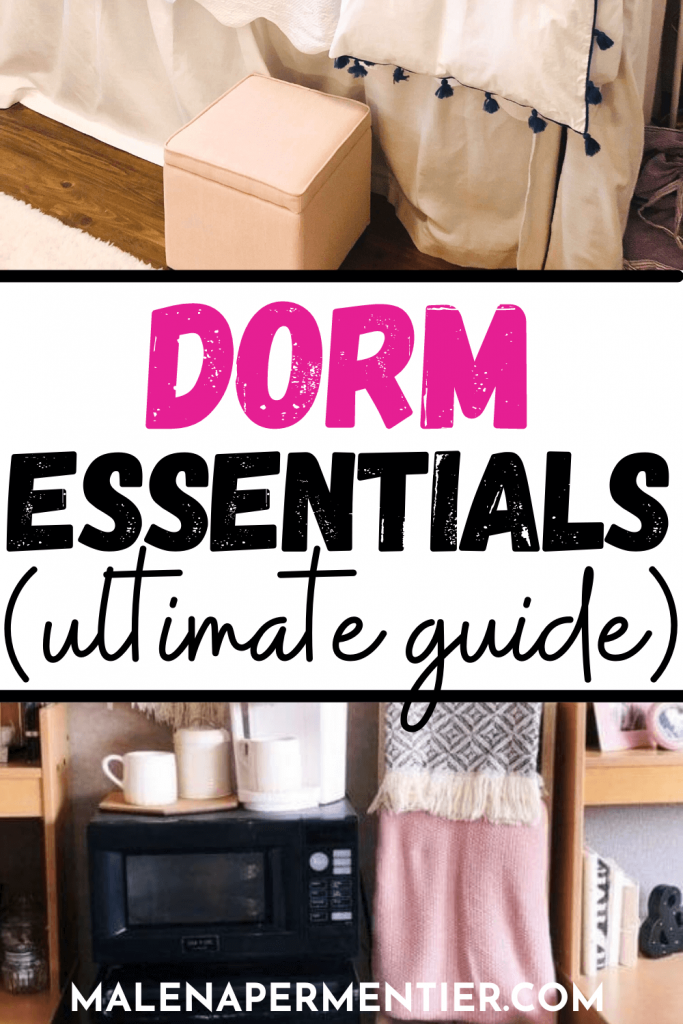 The transition to dorm life is not easy, and it takes a lot of preparation.
It's probably the first time you don't live at home, and you will have many new responsibilities!!
One exciting part of moving into a college dorm is that you get to decorate it and buy a ton of essentials to make it feel like 'home.'
Dorm rooms require specific necessities, especially storage and making everyday life in small college dorms go smoothly.
Below, you'll find a list of all the best dorm room essentials for bedding, bathroom, storage, kitchen, and other must-haves.
Must-haves for dorm
When it comes to dorm necessities, you want to be smart about storage space.
The dorm room above is a great example of utilizing the space under the bed.
Plastic storage drawers are convenient for storing smaller clothing items or college books and papers.
Storing shoes in dorms is tricky because there's a lack of space.
A great solution is using a 3 tier shoe rack under your lofted dorm bed.
Make sure to check the measurements so it will fit your under-bed space.
You might have seen this idea before, but a small storage ottoman is excellent for storage, provides extra seating, and looks super cute :).
Related: 27 Dorm Room Storage Ideas That Look Cute & Save Space
1. Storage cart with drawers
I still use these in my closets because they're the best!
OK. You'll likely have a lofted bed with storage space underneath in dorms.
Instead of getting individual cubbies, get storage carts with drawers instead.
It's so much easier to get you more storage space, and whenever you need something, you can roll the entire cart out from under your bed.
2. Mesh shower caddy
3. Mattress pad
Mattress pads are an instant and super cheap way to make a meh mattress feel comfier.
When I moved into my first apartment, I was impatient and bought a random Ikea mattress that sucked big time.
This would have made it so much better!
I didn't know mattress pads existed until a friend told me about them. If you're not vibing with your dorm room mattress, get a pad like this.
pin it for later 🙂
4. Air purifier
Air purifiers might not be an exciting thing to buy for your dorm, but it's so essential!
I haven't used this during my college years, but I currently live in a tiny city apartment, and it's been such a game-changer.
After waking up several times a week gasping for air, I knew I needed to change something.
College dorms are cramped, plus you'll likely be sharing them with roommates.
I can't recommend this Levoit air purifier enough; it's the best must-have for any dorm room.
5. Towel wrap
6. Extra-long iPhone charging cord
You don't want to be struggling to charge your phone because the cable can't reach your bed or wherever comfy spot you want to be charging your phone from.
In college dorms (and anywhere, really), a 10 feet iPhone charger makes your life so much easier.
7. Extension cord
Outlets in dorms aren't always in the most convenient place, and you likely have to share them with your roommate.
Get an extension cord for convenient phone and laptop charging, and plug your bedside lamp the way you want.
Dorm bedding essentials
Bedding is one of the most important dorm essentials!!
Make this spot as comfy as possible.
You're likely not the first to use this dorm mattress, so things like mattress pads and covers are more important than ever.
8. Sheets set
Quality sheets are a must-have for dorm rooms.
White is the most versatile because it lets you play around with throws and decor without overwhelming your space!
I use these Mellanni sheets on my queen bed, but they're also available for a twin xl dorm bed!!
This set has 1 fitted sheet, 1 flat sheet, and 1 pillowcase.
9. Duvet cover
Next, you need a duvet cover!! You might already have a duvet, but if not, this twin xl size duvet is perfect.
You can for a print or a color, but plain white covers are ideal if you're thinking of playing things up with your decor and throws.
10. White bedskirt
If you're going to store a lot of stuff under your dorm bed or the bed frame looks shitty, a bed skirt will make your bed looks pretty and put together.
Many girls have these in their dorm, but it's honestly a matter of preference.
This is a great example of a dorm room with white bedding!!
It's super versatile for pairing it with printed throws and cute throw pillows.
Get white bedding in a cool texture or style, like this ruched duvet cover.
I also really like a waffle pattern for duvet covers.
11. Bedside caddy
Bedside caddies are practical if you sleep in a bunk bed.
But even if you don't, a little spot for keeping things like your phone, earplugs, or other sleep essentials next to you is ideal.
12. Dorm headboard
Not everyone chooses to have a headboard in their dorm because it's just another expense!!
But it does look very cute, plus it's comfy to lean on if you're studying or reading from bed.
Go for a headboard with a tufted and soft design.
13. Cozy throw blanket
Get a throw blanket (or two) to decorate your bed, but they're also ideal when studying from bed.
You can get one fleece blanket and one decorative throw, for example.
Dorm closet essentials
Dorm closets are tricky because they're so different on every campus.
The above dorm closet is one of the better ones I've seen!!
In most dorms, closet space will be limited.
Getting space-saving hangers and extra storage cubbies can therefore be practical to have.
14. Storage bins
Use the storage cubbies on the left for large open shelves.
They're perfect for storing items you need every day, like socks, underwear, or sports clothing.
The smaller storage boxes with lids on the right are perfect for jewelry, makeup, or other items.
15. Magic clothing hangers
You'll most definitely lack space in the hanging part of your dorm closet.
The way to maximize your hanging space is with these "magic hangers."
They're perfect for stacking lighter blouses or shirts together without taking up a ton of space.
16. Clothing hangers
Get convenient (and pretty!) non-slip hangers.
These velvet hangers are seriously the best, and everyone should have them in their closet.
17. Laundry bags or hamper
You'll need either laundry bags or a laundry hamper for your dorm room!!
I love the personalized laundry bags on the left.
They could be more practical than a hamper because they're easy to hide and store under your bed.
It honestly couldn't hurt to have both.
18. Closet storage hanger
Create some extra shelving in your dorm closet with this storage hanger.
It's perfect for keeping sweaters and t-shirts organized.
19. Clothing steamer
This is something I've been obsessed with for years!!
A clothing steamer seriously makes all the difference.
This steamer does the same job as an iron, but faster and better.
This is especially good for t-shirts, blouses, and stuff made of lighter materials.
Dorm kitchen essentials
Your dorm kitchen is a nook in your dorm room where you might keep a mini-fridge or microwave!
I think it's a must-have because it gives you so much more freedom.
You don't always want to leave your room to get food or drinks.
Here are some of the dorm kitchen essentials to consider for your dorm room:
20. Mini fridge
You need a mini-fridge in your dorm!! It will make your life easier.
This isn't cheap, so see if you can share expenses with your roommate.
After all, you'll probably both be using it.
21. Brita water filter
Having drinking water in your dorm room is essential.
Fill it up wherever you can, and have fresh drinking water ready in your room.
22. Dinnerware set
A few basic kitchen essentials like plates, utensils, and cups will make dorm room snacking easier!
This acrylic dinnerware set is inexpensive and has everything you need.
23. Keurig coffee maker
Coffee drinkers, raise your hand!!
Drinking coffee has been a ritual and obsession for years, and yes, it started during my college days.
Having a small coffee maker in your dorm will help feel at home and get you through those studying days.
24. Small microwave
A small microwave in your dorm is ideal for noodles, soup, or a hot drink.
Get the 5 ingredient college cookbook for inspiration!!
Dorm bathroom essentials
Most dorms don't have private bathrooms (if you do, lucky you!!).
But you'll most likely be using the communal bathrooms.
Below I've listed a few essentials to make life easier going back and forth from your dorm room to the bathrooms.
25. Shower slippers
Get yourself some shower slippers to walk back and forth to the bathrooms and showering.
They're a must-have for college dorms. Floors aren't exactly always clean, so you need to be prepared.
26. Mesh caddy
Showering in communal bathrooms means lugging with all your bathroom items like shampoos and skincare.
Make sure to get a mesh shower caddy to fit all your essentials.
Don't use anything other than mesh!!
If you go for a plastic one, it will keep all the water inside, and it's impossible to get dry.
27. Towel wrap
The towel wrap and the headwrap are two convenient college dorm items every girl needs to have!!
At the top of this post, I also listed an Etsy towel wrap that you can personalize, but this one from Amazon is equally good (and cheaper).
28. Towel-set
Also, get some regular towels for your dorm!! Get a set, so you always have towels on hand in different sizes.
This set has great reviews, and it's available in pretty colors.
29. Bathrobe
You'll love having a bathrobe in college!! It's the perfect transition from the shower to chill mode in your dorm room or for studying.
You can also wear it over your clothing when you're cold, lol.
Seriously robes are the best, and this one has a hood which is even better.
Dorm decor
The most fun part of moving into your dorm room is the decorating part!!
Neutral bedding allows for many different decorating styles, for example, boho chic or preppy dorm decor.
Stick to a color scheme with 3-5 colors, and pair it with lots of neutral for good balance.
Dorm rooms are small, so you want to use light colors to open up the space.
Let's look at some of the best dorm decor essentials.
Related: 36 Absolute Best College Dorm Room Ideas For Girls in 2023
30. Throw pillows
Throw pillows help you achieve a particular aesthetic in your room.
Plus, they're comfy to have when chilling in bed.
Don't get more than 3 or 5, because you will get annoyed when making your bed in the morning.
Vary the sizes, so it looks more fun!
31. Throws
Pick throws that complement the aesthetic of your throw pillows!!
Burnt orange and peachy pink are cozy colors that look nice in many dorms.
You can also go for neutrals like white or gray.
32. Wall decor
Let's be honest; dorm walls are usually not very pretty to look at!!
So you need to make the most of wall decor.
There are a lot of cool arty posters with fun prints, like this Matisse wall collage kit.
You can also choose to hang triangle shelves or a wall grid to brighten up your dorm walls.
33. Rug
Dorm floors are usually another thing that could use some help.
Place an area rug next to your bed for a cozy ambiance.
This fluffy area rug comes in several pretty colors.
White is my favorite, but it might be tricky in terms of getting dirty.
34. Fairy lights
Fairy lights will brighten your dorm room and make it look super cozy.
Get plain fairy lights or ones with vines.
You can even get string lights with photo clips to hang your pictures.
35. Lamp
A cute bedside lamp will make your dorm look so much better!!
Go for a fun design, or choose a light with a USB port for charging your phone.
36. Personalized dorm sign
I found this dorm sweet dorm sign on Etsy, and I'm obsessed.
It's so cute!!
You can customize this with your and your roommate's names and hang it on the door.
This is also an adorable gift for someone heading off to college.
Random freshman dorm room essentials
Now let's look at a few random items to consider getting for your dorm!!
Not all of these are essentials, but they're nice to have in dorms.
37. Clip-on fan
Dorms are small, and during the warmer months, it gets hots quickly.
Get a small clip-on fan to clip on your bed and get some cool vibes.
38. Sewing kit
A sewing kit!!! Quite the must-have. You might think you won't need this right now, but trust me, you most likely will, haha.
There is nothing more annoying than having a hole at the seam of your favorite shirt, and this lets you fix it quickly.
It's not complicated.
39. Makeup mirror
Dorms don't have the best light, so a vanity mirror is ideal!!
Also, you don't want to be going back and forth to the communal bathrooms when doing makeup.
Place this on your desk for conveniently getting ready.
40. Hydro flask
Hydro flasks are something you will use every day in college!!
Get a good quality one that lasts.
I got one a few months ago, and I don't know how I lived without it? It helps you stay hydrated and stay focused 🙂
41. Command hooks
If you're not allowed to make holes in the wall, these command hooks (they stick) are perfect.
Use them to hang decor, towels, or clothing, for example.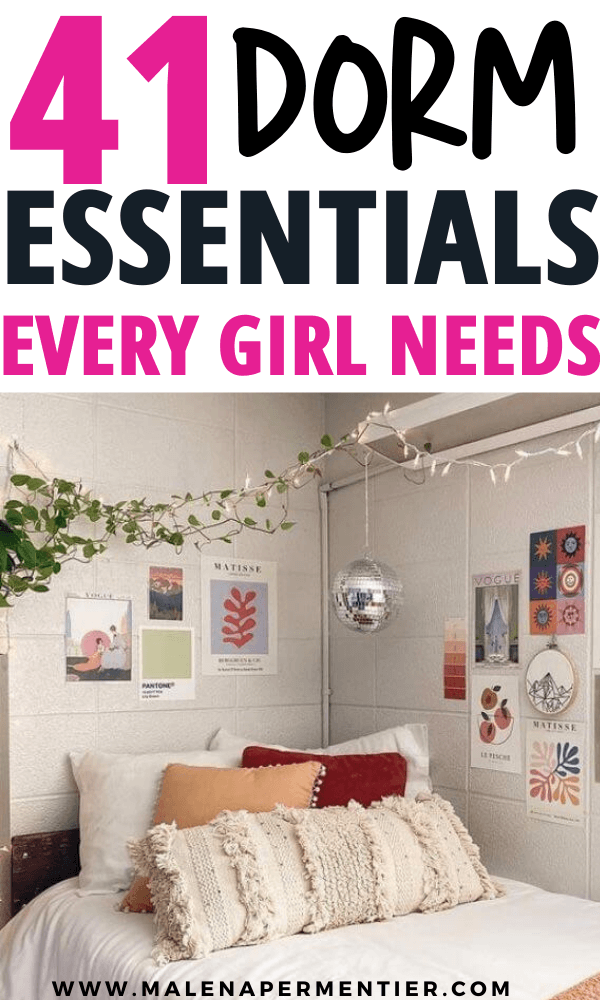 This post showed you all the dorm room essentials for 2023.
You may also like: