Looking for badass but easy ways to decorate your room?
In this post, we'll go over the coolest dorm wall decor for guys.
When moving into your college dorm, you need all the essentials like a good mattress cover, a rug, and storage bins.
But in this post, we aren't going to cover the practical things!
We only list cool ways to decorate your room with posters, wall art, flags, and other fun stuff.
So let's look at some of the best college room decor for guys that you can easily recreate for cheap.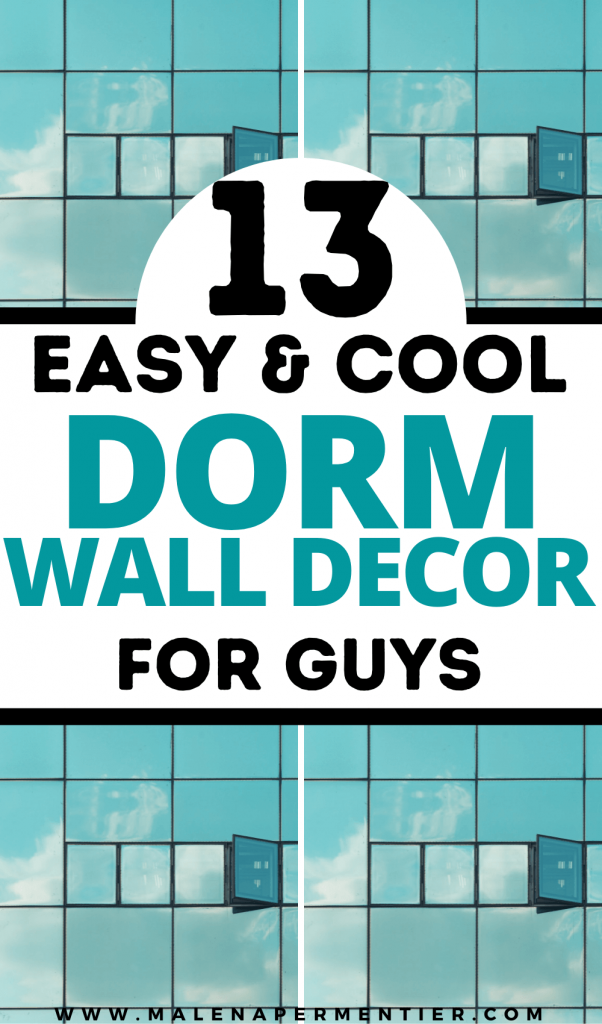 Dorm Wall Decor For Guys
1. Decorate with flags
Flags are a guy's favorite when it comes to dorm decor.
Hang a state or country flag or your favorite football team.
Online you can find flags and banners for almost every team, and they're affordable too.
Things like this make your dorm look more personal and instantly tell people what you're about.
2. The office dorm poster
Dorm decor can be funny and badass at the same time!
The office has many hilarious quotes that are totally worth having a spot on your dorm wall.
You can get Dwight or Michael Shot posters on Amazon for $15.
They don't come framed, but you can get cheap frames here.
3. Wall tapestry

Let's be honest; dorm walls can look a little drab sometimes.
An easy way to make your dorm look nice is with a wall tapestry.
Hang this tapestry behind your bad for a homey vibe.
It sure is better than leaving the walls blank.
4. Flag with a hilarious Kanye quote

This "I need a room full of mirrors so I can be surrounded with winners" quote by Kanye is both hilarious and a little out of touch, but hey, let's be honest, this makes a great guys dorm room poster!!
5. Decorate dorm wall with led strip lights

Cozy lights on the walls are a great way to liven up your dorm room and make it look cozy.
These led strip lights are super easy to attach and will make a badass room.
These lights have a remote control, so you can decide which color you want to show.
This is such a cool way to decorate your room for guys. Plus, it's super cheap.
6. Open late neon sign

This open late neon sign poster is the coolest.
The size is 12″ x 16," and you can buy it framed or unframed.
Hang this one over your desk or on any empty wall space in your dorm.
Wall art like this is super simple and cool but also creates a statement!
7. Industrial string lights

People often use these industrial string lights for patio's and outdoor, but they also look awesome inside.
Depending on your dorm size, go for string lights between 10 and 24 feet.
Spread the lights all over your dorm or just over your bed, depending on the size.
This will seriously make your room look super cool.
8. Brick stone wallpaper (Peel and Stick)

This is one of my favorite ways to decorate boring walls.
Peel-and-stick wallpaper is super easy to install and adds a ton of atmosphere to your dorm.
Go for a cool brick print, or maybe wood or some other badass print.
9. Map of your hometown
Hang a map of your hometown, state, or any other place in the world you love.
Maps always look cool and are a great way to decorate boring dorm walls.
10. 'Merica Flag
OK, there are plenty of cool and non-cheesy ways to hang an American flag in your dorm.
One thing that looks cool is a vintage flag with muted colors. Of course, you can also go for the traditional flag.
11. Hang cool wall art
Hang some funky or cool art on the wall, for example, this retro shot recipe poster or colorful Elon Musk.
Wall art doesn't have to be expensive, and you can really get creative here.
12. World map tapestry

World maps look cool and always give you some perspective when you're overthinking your life!
This black-and-white world tapestry makes great dorm decor for guys who are a little worldly and love to travel.
13. Glow in the dark stars
Yes, this is super lame and fun at the same time.
But let's be honest; everyone loves a good old glow-in-the-dark moons and stars ceiling!!

This post showed you the best dorm wall decor for guys.
You may also like: