Hey there! Some links on this page are affiliate links which means that, if you choose to make a purchase, I may earn a small commission at no extra cost to you. I greatly appreciate your support!
Are you looking for beautiful bathroom ideas?
This post shows you 28 easy ways to revamp a small apartment bathroom.
Rental bathrooms often aren't the prettiest *sigh*. Luckily there are inexpensive ways to make even the most drab-looking bathroom look so much better.
This small bathroom inspiration post shows you the best paint colors, how to update your floors with peel and stick tiles, simple bathroom decor, and other ways to update a small bathroom on a budget.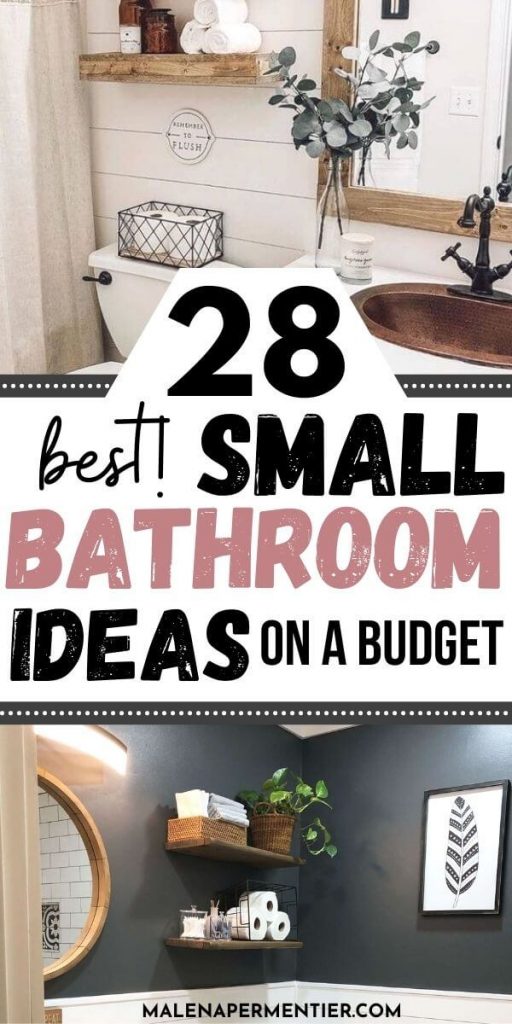 Small Apartment Bathroom Ideas and Tips
Be intentional about the stuff you keep in plain sight. Get bathroom accessories that match your overall aesthetic for a beautiful put together look.
Don't overcrowd your bathroom counter. Use the cabinet space instead. Shelf stackers are a great way to maximize space.
Add a fresh element, like vines or faux eucaluptus leaves.
Peel and stick tiles can transform a small bathroom on a very tight budget!
Don't like your bathroom counter color? Consider using spray paint in white or stone for a fresh look.
Change out the towel holder and toilet paper holder for something fancy looking like brass or black metal.
Now let's look at some serious small apartment bathroom inspiration and how you can recreate these bathroom ideas in your own home.
1. Keep your counter cohesive
A simple way to make your bathroom look better is by being selective about what's on your counter.
Buy a dispenser set that matches the color scheme of your bathroom, plants, and cute minimalist bathroom towels are a few simple and very inexpensive ways to make a bathroom look better.
2. Paint a wall in a dark color
Dark paint colors look luxurious and are a quick and inexpensive bathroom update—paint one wall black or an ashy dark gray color for a put-together look.
3. Use reclaimed wood shelves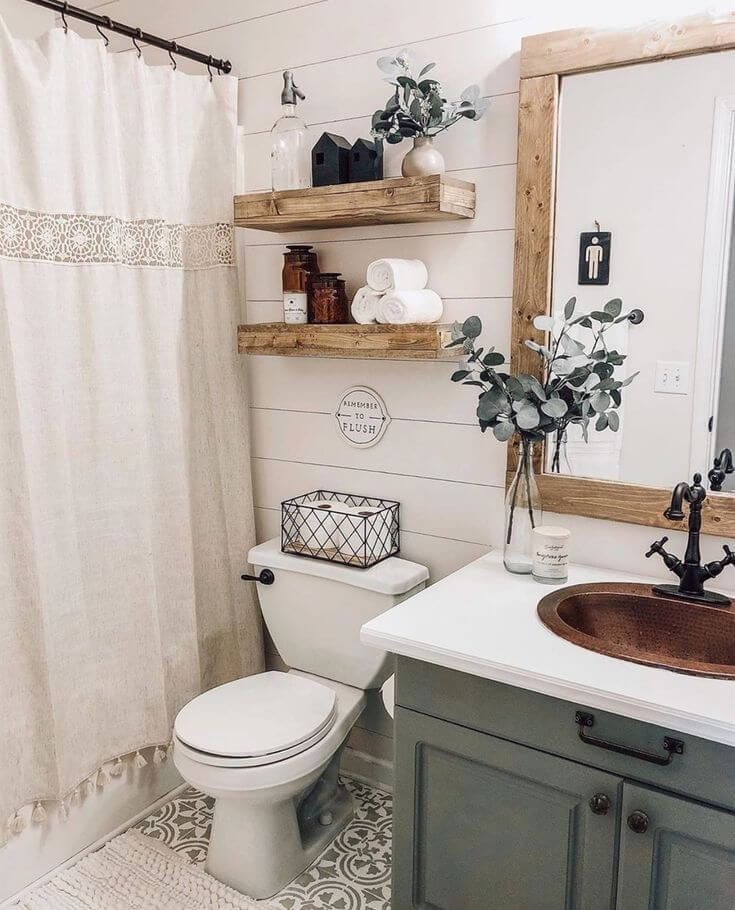 Add some warmth and character to a bathroom with reclaimed wood.
If your bathroom falls in the category of sterile looking, this is a great way to make your bathroom look cozy and luxurious.
4. Match tiles with shelving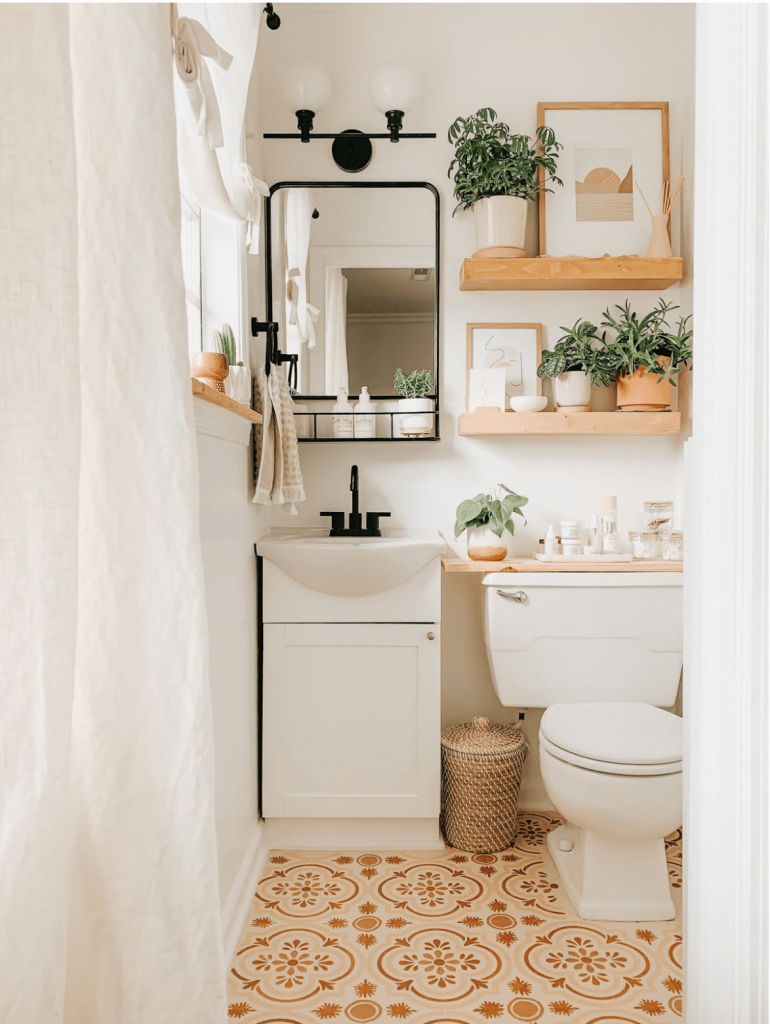 What's not to love about this bathroom?
The shelves above the toilet create extra space for storage and decor.
Plus, the wood matches beautifully with the floor tiles.
5. Update your mirror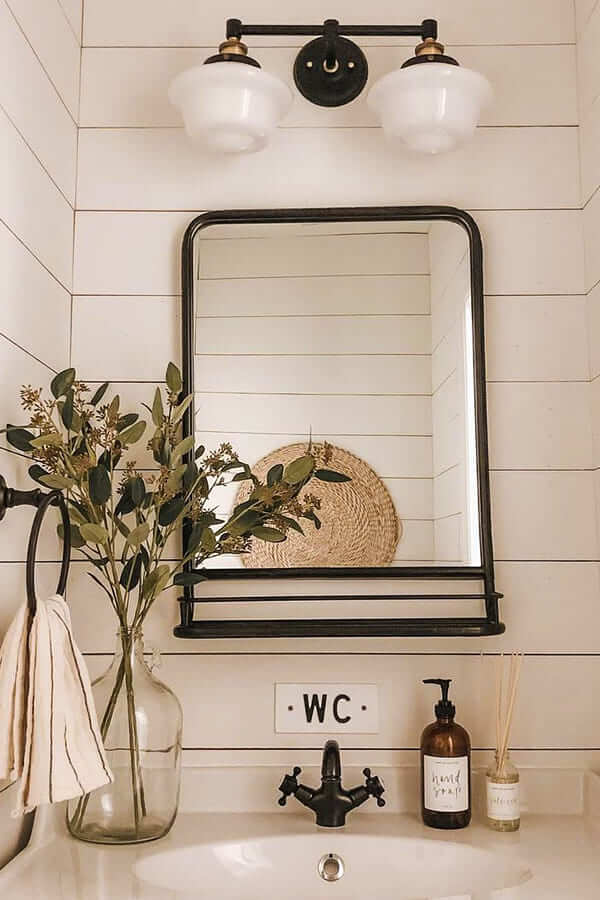 Replacing your bathroom mirror with something more stylish instantly makes your bathroom look better.
If you go for something dark metal, make sure you pick accessories and dispensers in a complementing style.

6. Use peel-and-stick tiles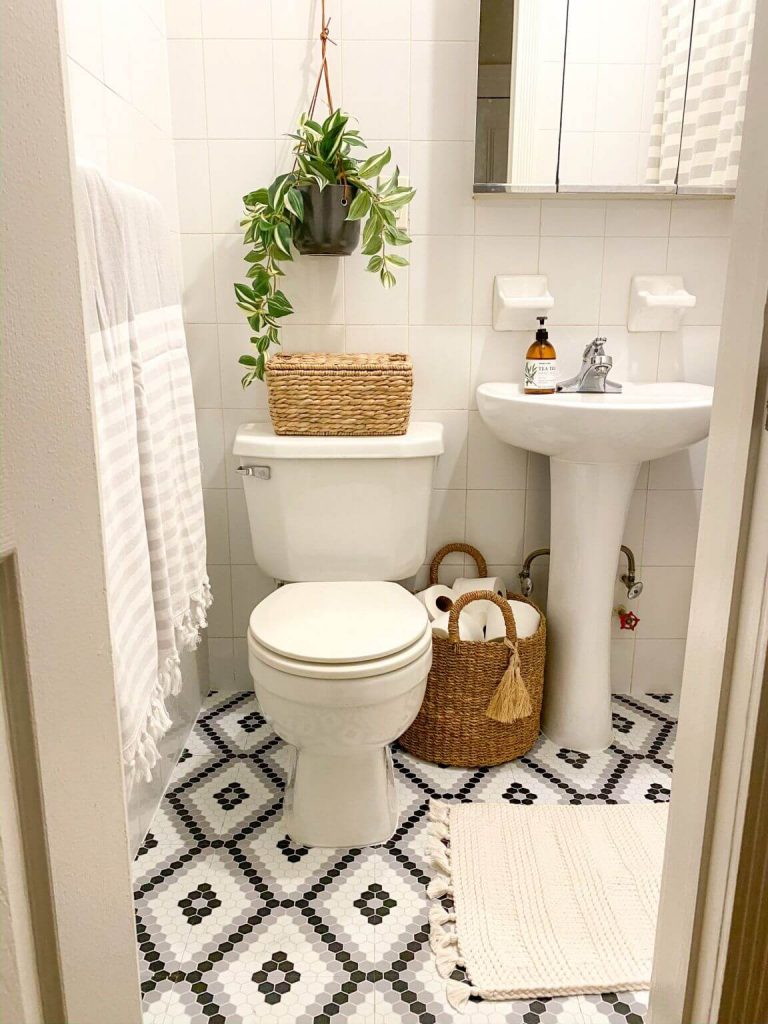 Want to update your bathroom floor? You can easily do so with peel and stick floor tiles.
It gives your bathroom a custom feel, and you won't need a lot of tiles for a small bathroom.
According to these Amazon reviews, customers love the result of these tiles.

7. Add a gallery wall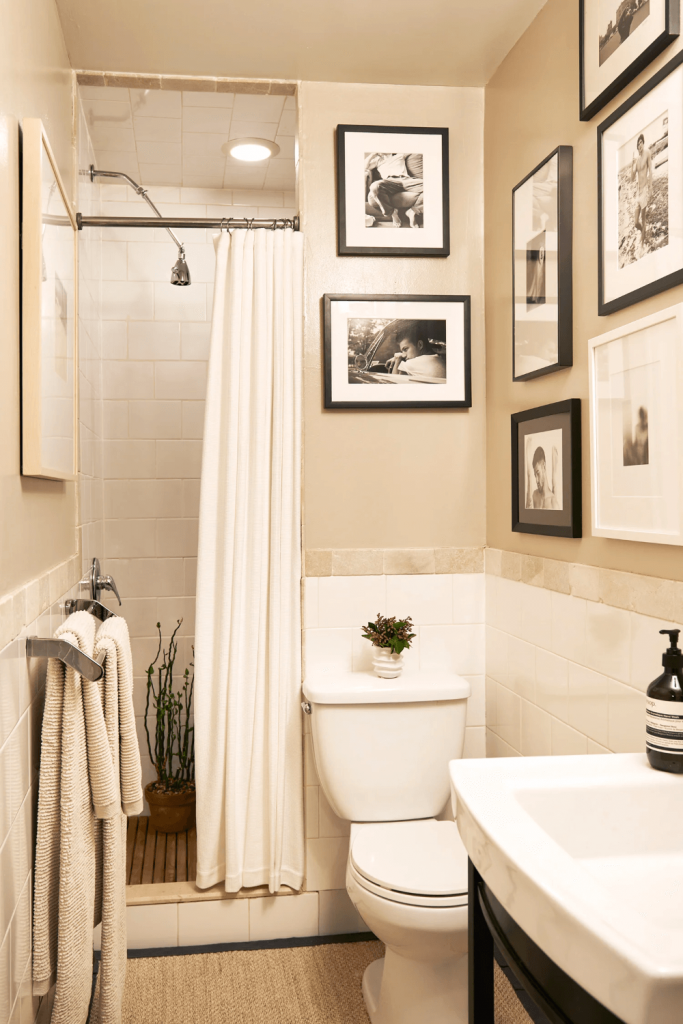 If you have lots of wall space in your bathroom that you don't use for storage purposes, why not use it for a photo gallery?
Pick frames matching the color scheme of your bathroom for the best look.
I love this idea with black and white photos in black and white frames.
8. Earthy color scheme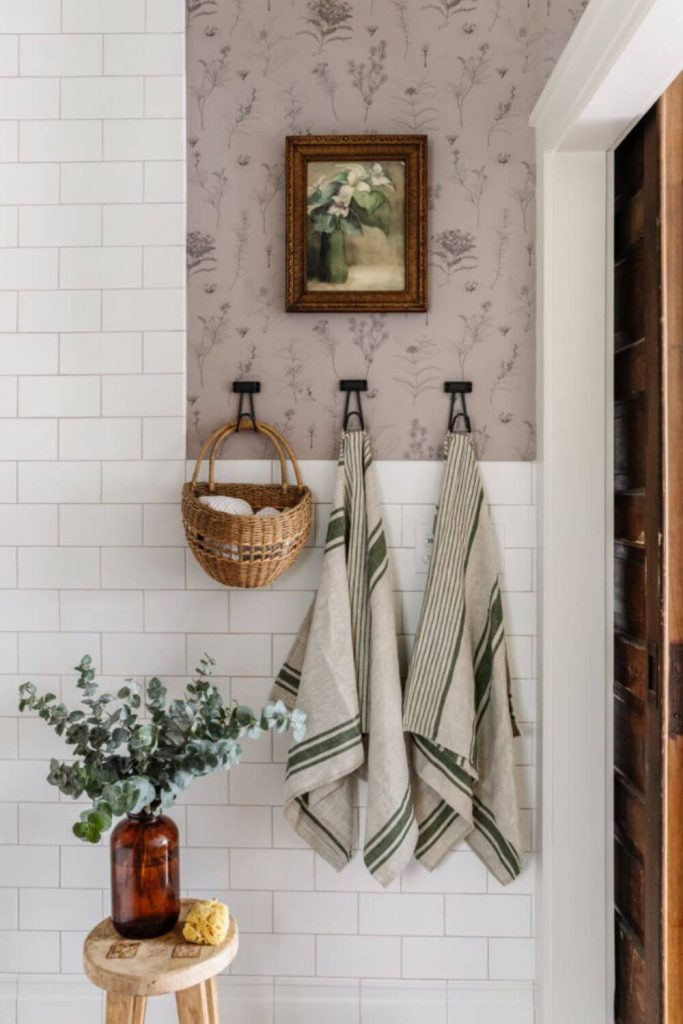 Considering adding wooden elements and some warm earthy colors to a white bathroom.
You can even hang some antique-looking frames or update your walls with floral print wallpaper.
9. Tropical wallpaper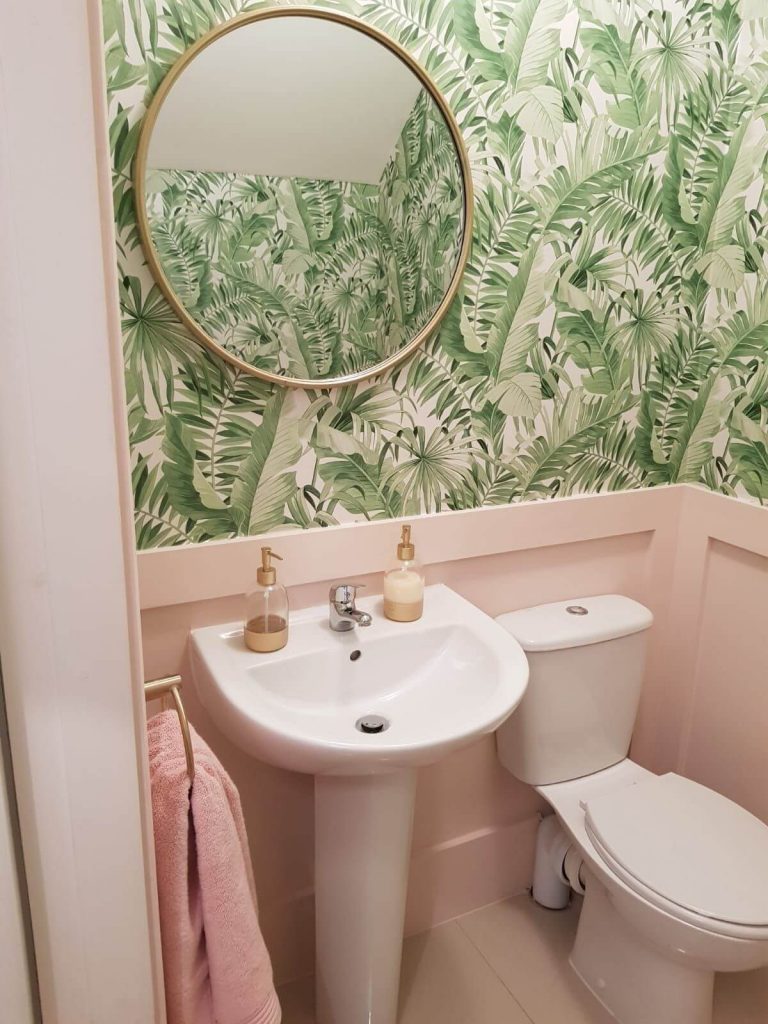 Wallpaper is a cheap and relatively easy way to make a small apartment bathroom look great.
You can get super creative with this.
The soft pink of these walls, tropical wallpaper print, and gold accents make this small bathroom come together.
10. Use clever storage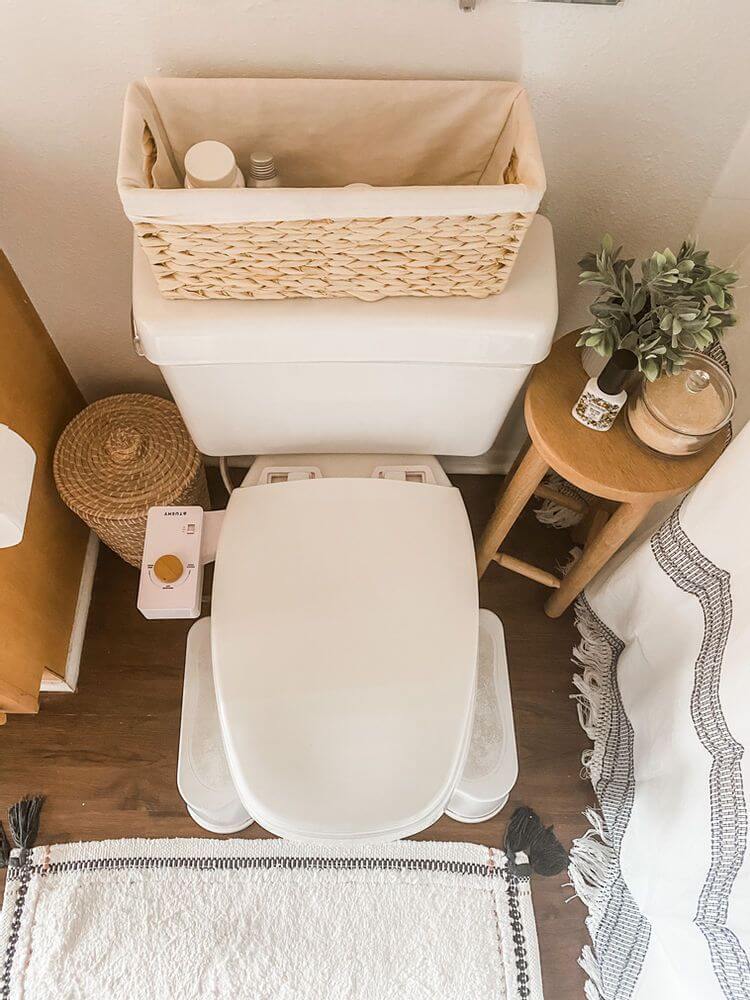 Make your bathroom look better by hiding not-so-pretty items like toilet paper and products.
Toilet tank baskets are a great way to help with that.
11. Revamp a wall with peel and stick wallpaper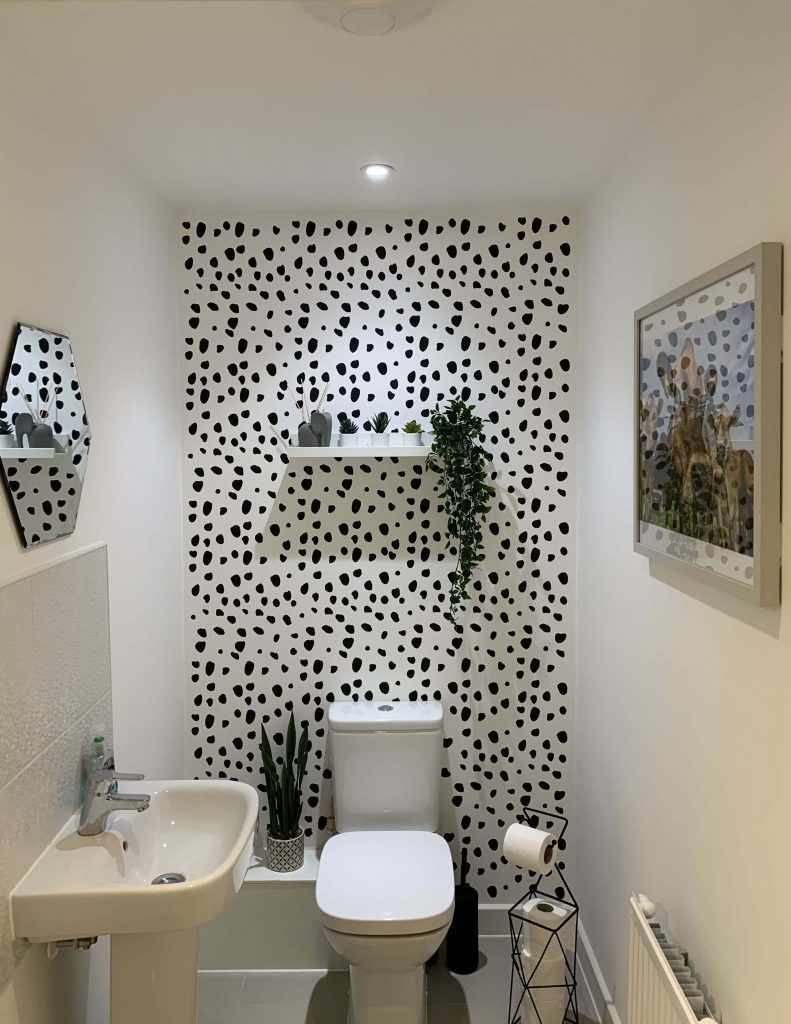 Dalmatian print wallpaper has become a popular home decor trend, and it's here to stay!
I love what simple peel-and-stick wallpaper can do for a bathroom – it takes it to another level.

12. Green and pink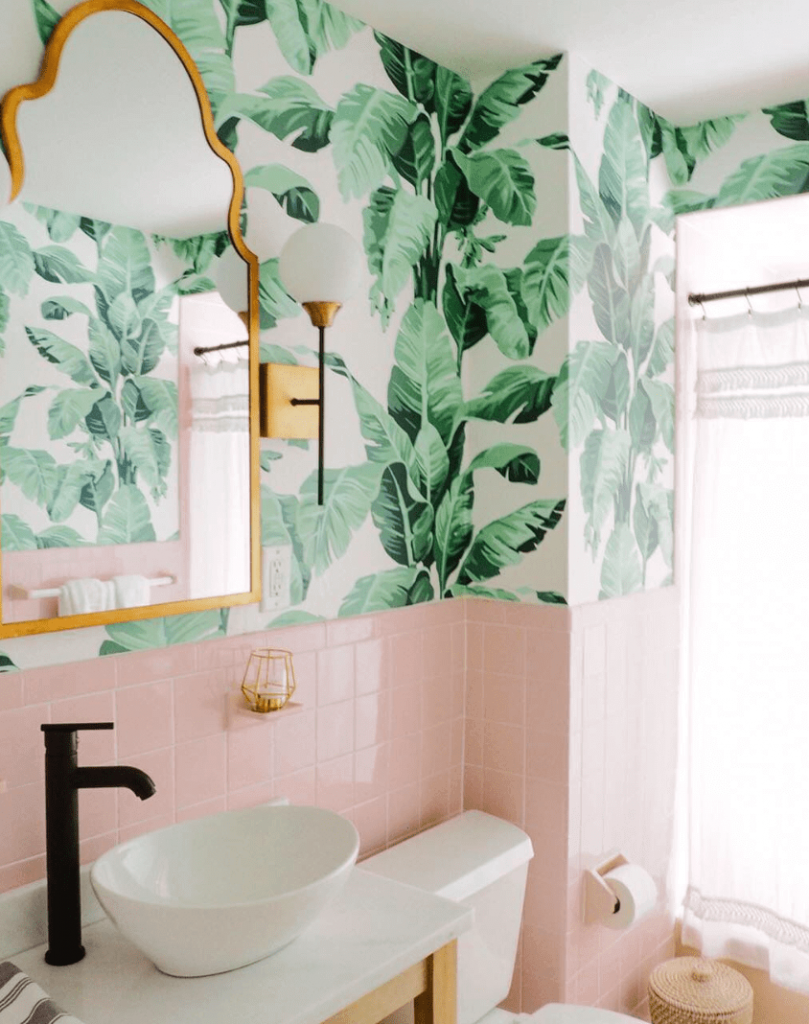 A funky bathroom mirror is a budget-friendly way to make your bathroom look expensive!
Opt for a large bathroom mirror in a unique shape to open up the space in a small apartment bathroom and make it look incredibly creative and styled.
I love a good scalloped gold mirror.
13. Coordinate shower curtain with accessories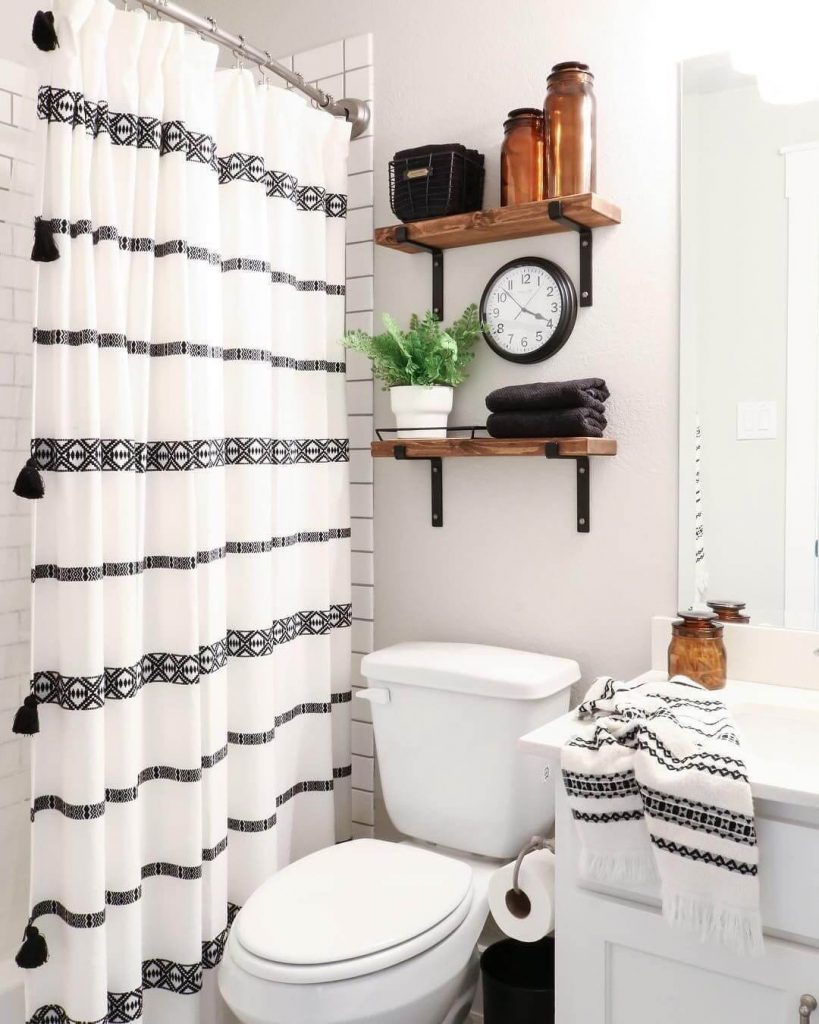 If you don't like how your bathroom looks, a new shower curtain is one of the cheapest ways to make your bathroom look better.
This black & white Aztec print shower curtain has been a popular bathroom decor option, and I understand why!
The print looks great with neutrals, apothecary dispensers, matching towels, and rustic wooden shelves.

14. Hang some art over your toilet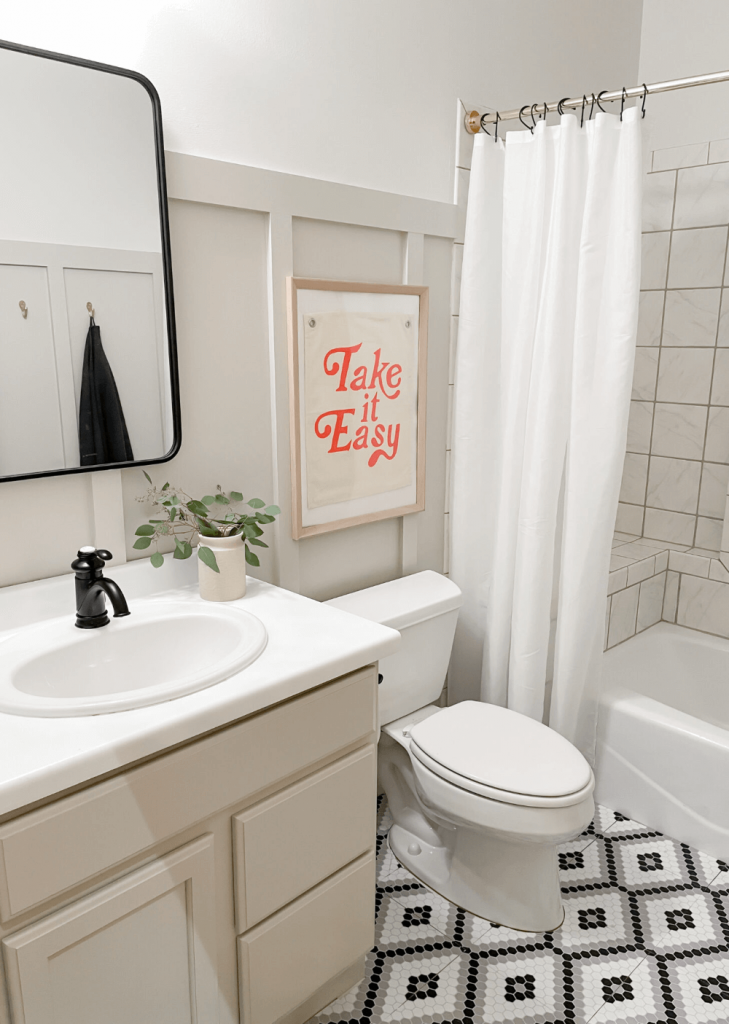 Not everyone agrees whether bathrooms should have art, but it's a yes for me!
I love this small bathroom idea with a cute quote print. Make sure to pick a frame large enough to make a statement.
15. Decorate with faux eucalyptus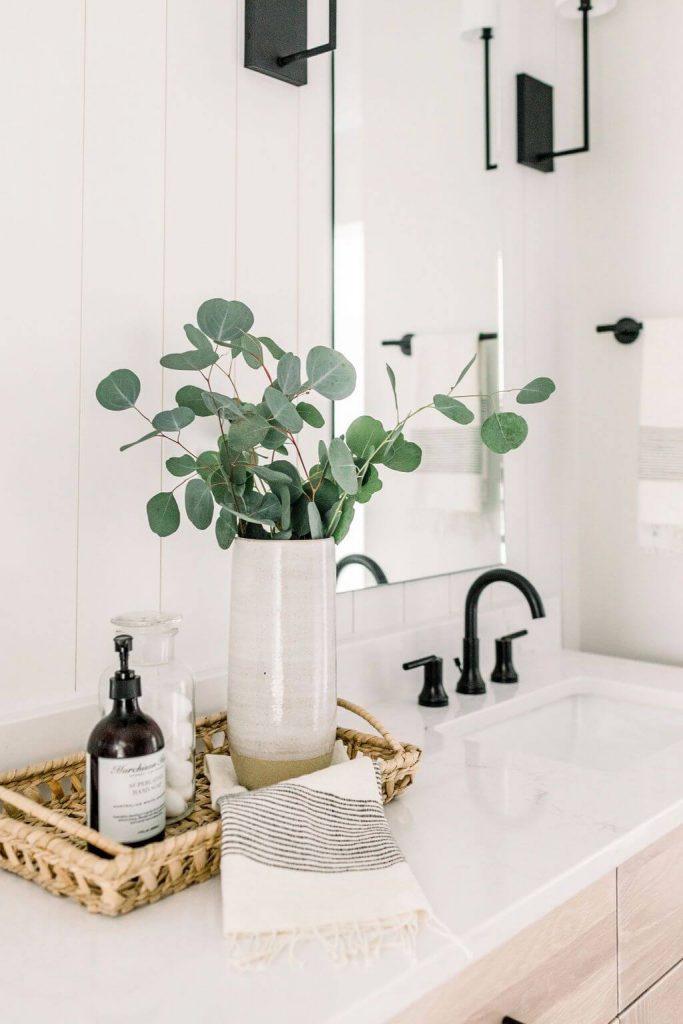 Faux eucalyptus stems are classy and make a bathroom look luxurious.
You can style these stems in a vase on a tray, along with bathroom products and a soap dispenser.


16. Hang two cute frames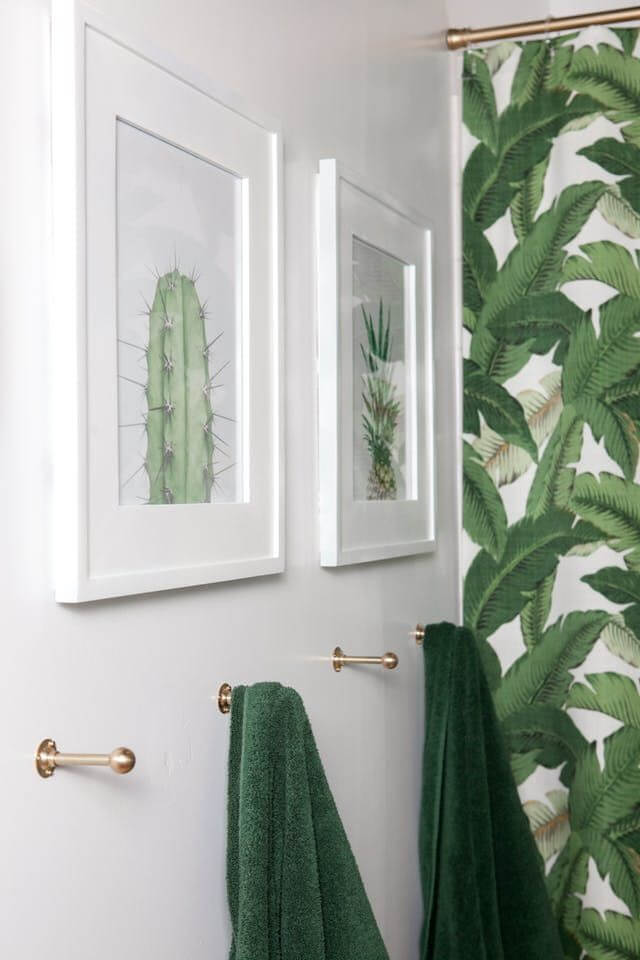 Hang two identical frames with an art print in your bathroom to liven up your walls.
What's great about this bathroom decor is the green theme! Pick two or two main colors for your bathroom update to guarantee a coherent and styled look.
17. Add gold accents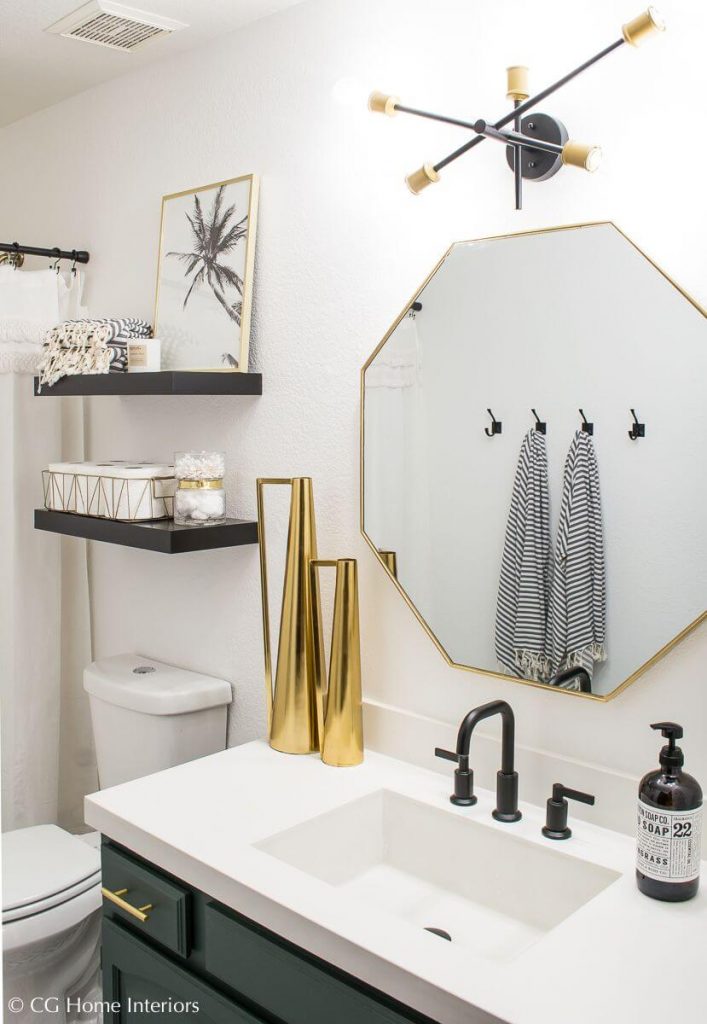 Most bathrooms have neutral colors; a great way to add some extra pizzazz is with a gold or silver accent.
Changing your drawer knobs, adding a gold mirror, and playing with gold decorative accents are great ways to add warmth and luxury to a small apartment bathroom.

18. Decorate with pampas grass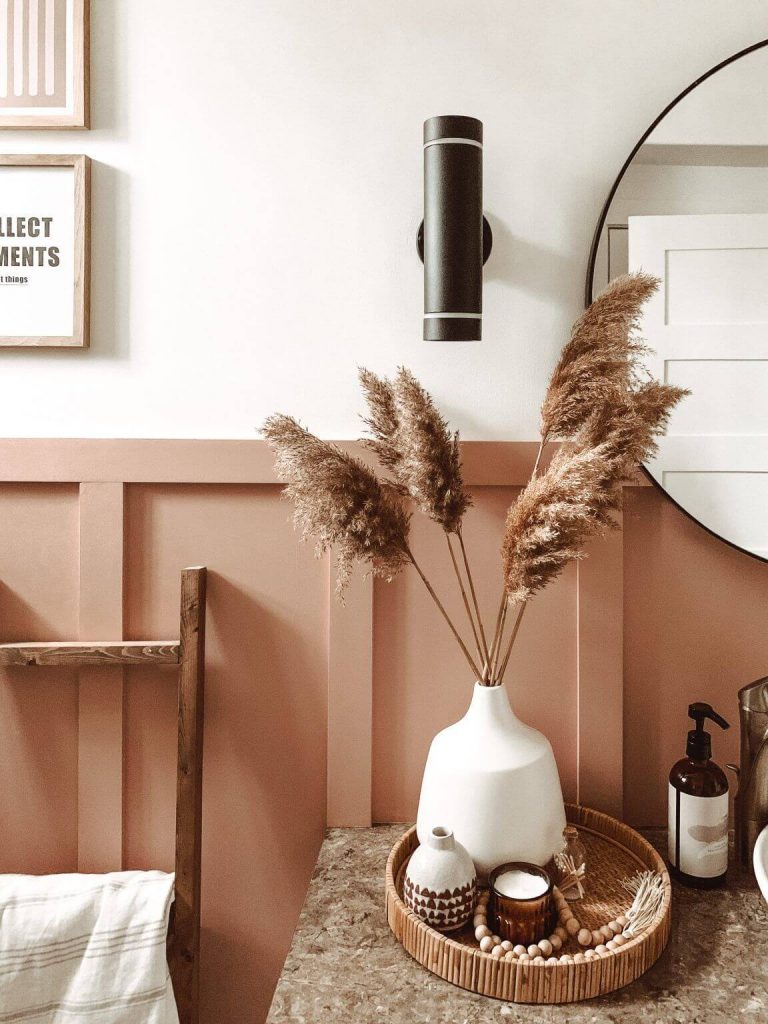 Pampas grass is a beautiful lush grass that comes in different shades of brown and beige.
You can opt for the natural grass or faux pampas grass; they look equally good.

19. Shower curtain with tropical print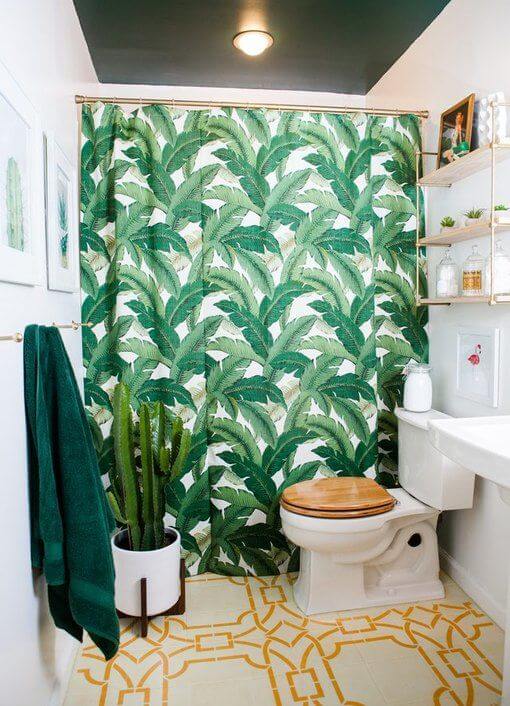 This small apartment bathroom proves you can turn anything into a creative and beautiful space, even a tiny one.
Express yourself with your favorite color scheme, and use a funky shower curtain with a tropical leaf print to turn your bathroom into a calming sanctuary.

20. Hang fancy lamps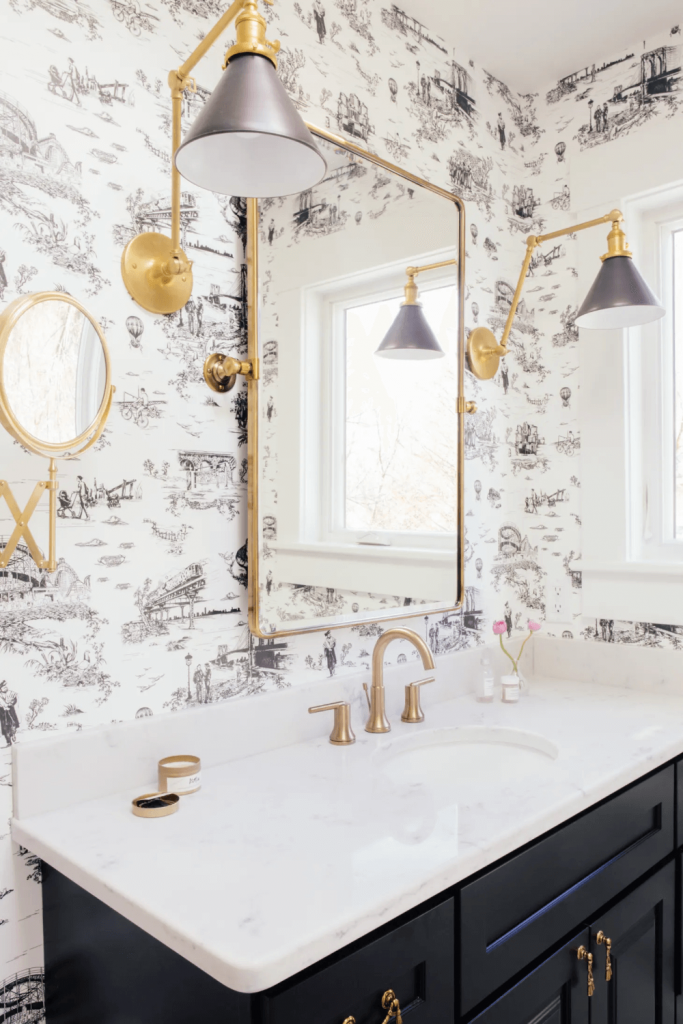 There's something about wall-mounted lamps that instantly looks fancy!
This bathroom is an excellent example of how to pair gold with dark grays and navy.
21. Combine decor and functionality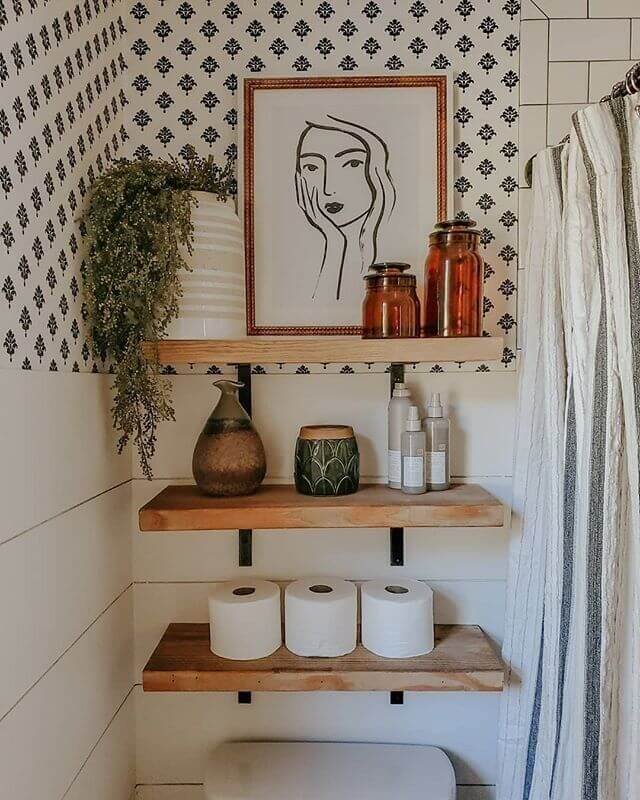 Wall-mounted shelves are the holy grail of small bathroom storage and can also be used for some cute bathroom decor.
In very small bathrooms, floating shelves are about the only thing you can change in your bathroom, but it makes a huge difference.

22. Mount a small picture ledge for bathroom products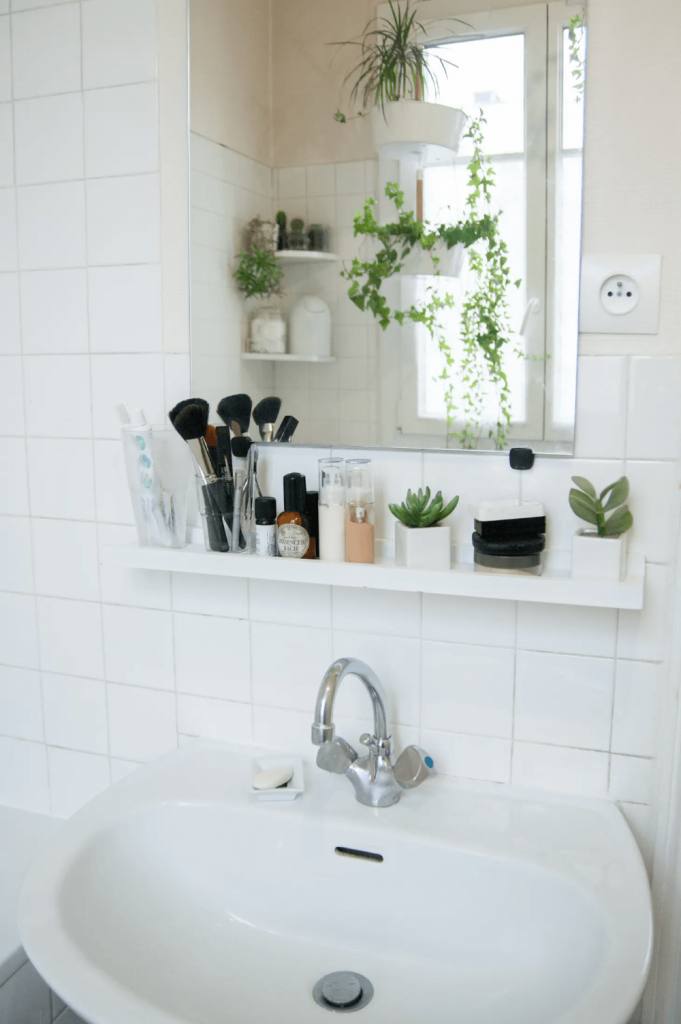 If your bathroom has a little space beneath the mirror, you can use it to mount a small picture ledge.
This isn't only great for storage; you can also use it for some tiny decor.
I love this cute idea with the small succulents.
23. Pick cute dispensers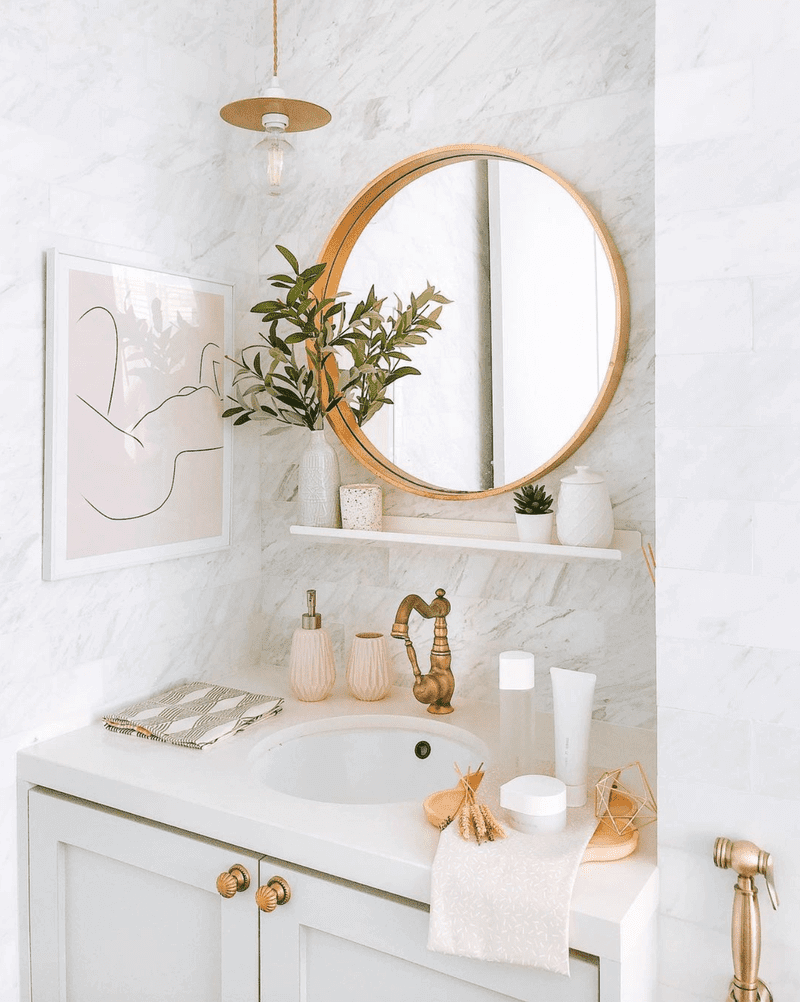 There's so much to adore about this bathroom!
I could go on and on about the marble, custom cabinet knobs, and gold antique faucet!
An inexpensive way to recreate something similar is by changing out the knobs on cabinets and picking a stylish dispenser set.
Another great idea I recently discovered is that you can spray paint your bathroom counter into a different color.
For example, give your brown bathroom counter a makeover with white spray paint.
You can also opt for spray paint with a texture or try a marble effect spray paint.
To transform small bathroom surfaces, you can also use self-adhesive film.
I've seen many people use this in their DIY bathroom projects, and I love how good it looks.
24. Farmhouse bathroom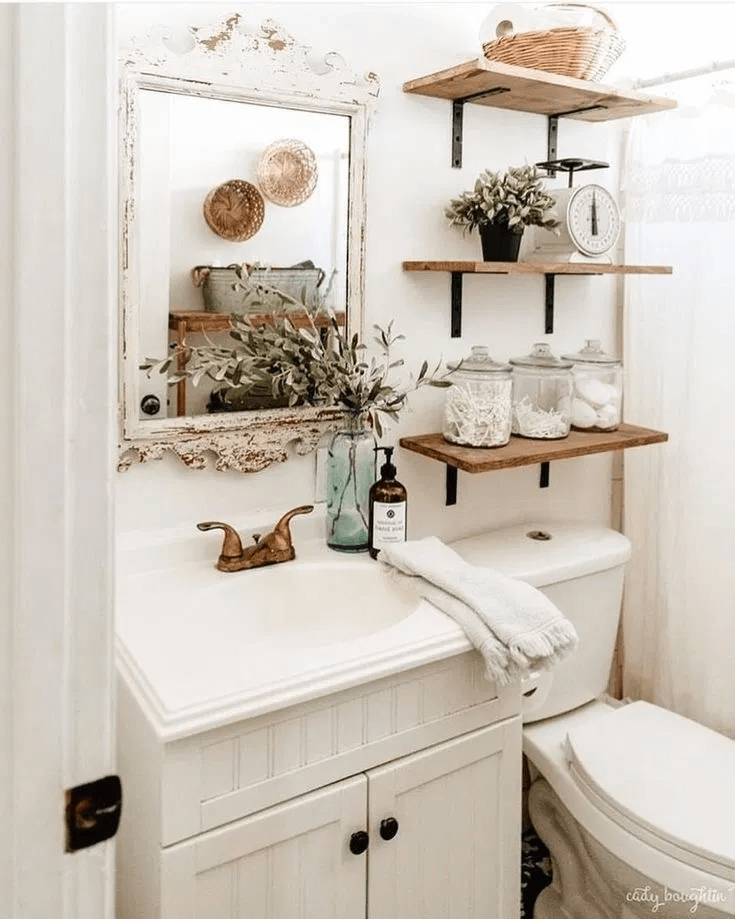 Give your neutral bathroom a farmhouse aesthetic by replacing your mirror and hanging floating shelves made from reclaimed wood.
Adding glass canisters and beautiful faux olive tree stems is another way to elevate your small bathroom decor without breaking the bank.
25. Update bathroom walls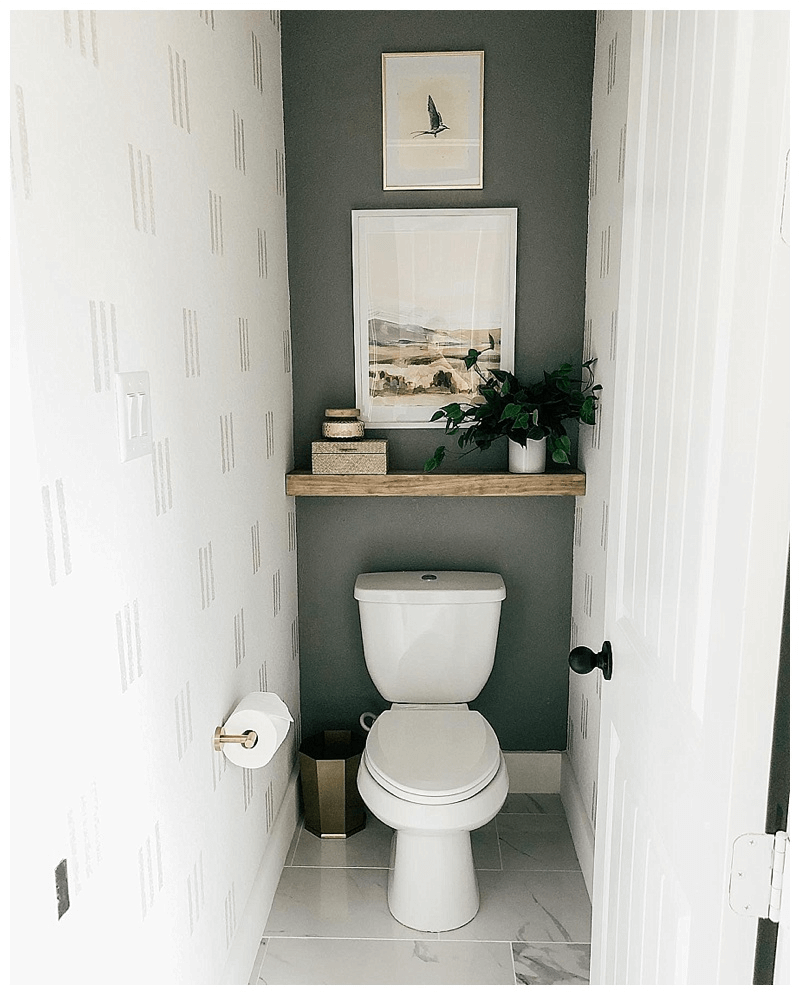 Paint the wall behind your toilet black or anthracite for a modern look.
This is also a great trick for making a small apartment bathroom appear larger.
Don't forget to hang some framed pictures or art.
26. Hang cute lamps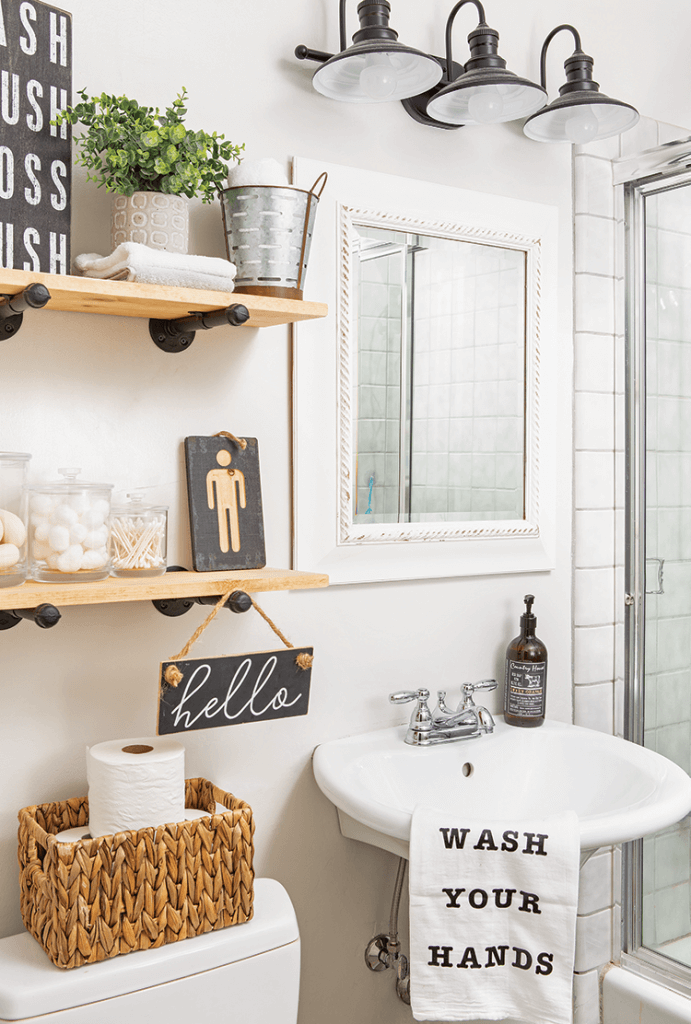 Give a small bathroom that beautiful industrial farmhouse aesthetic with black metal wall sconces.
Add warmth with baskets and wood, and add some cute (faux) plants for a fresh look.
27. Decorate with plants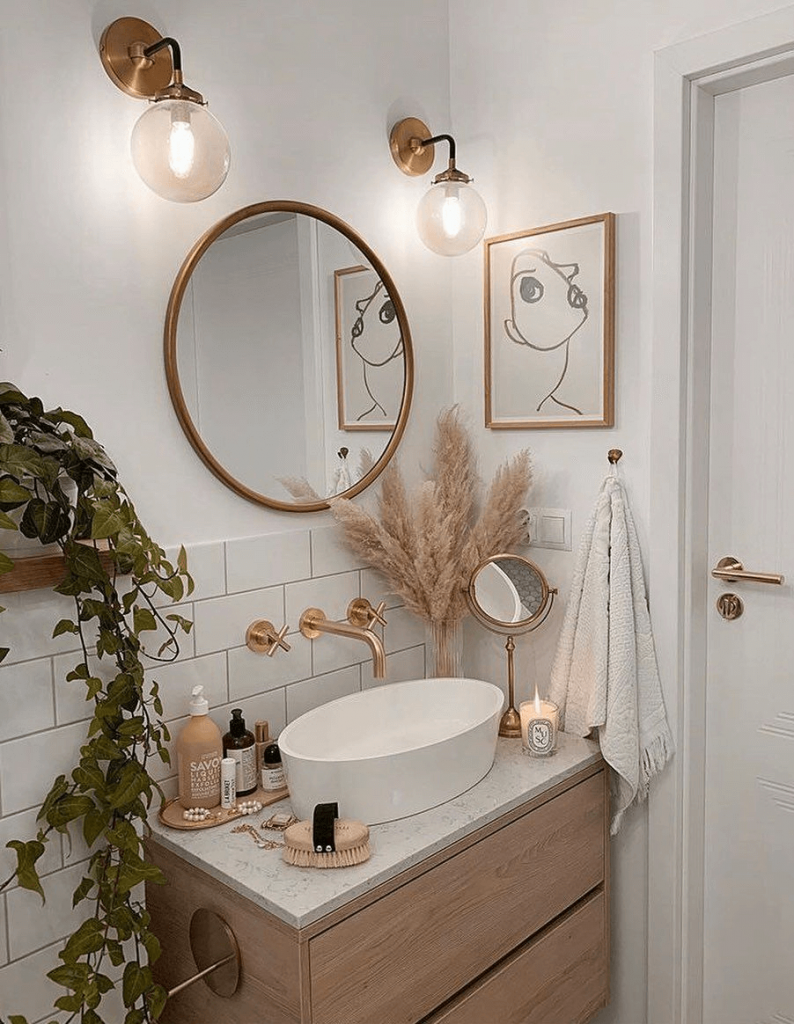 Vines and other hanging plants make a bathroom look effortlessly stylish.
Not into real plants? You can also opt for faux vines to hang in your bathroom.
28. Use a tray and update hooks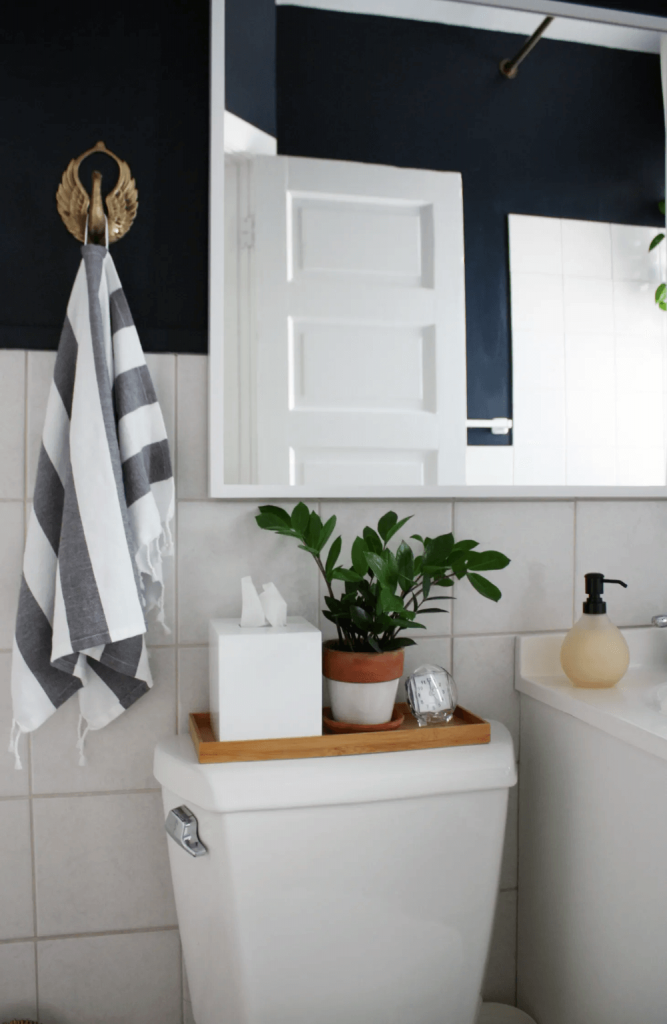 Wooden trays are great to place on your toilet tank (if the flush button isn't there).
Use it for products like tissues or small decor.
Another way to improve a small bathroom is by updating your towel hooks.
This post showed you 28 beautiful small apartment bathroom ideas.
You may also like: